Somalia at a critical juncture, as federal, state leaders, meet to break election impasse
With elections slated for November delayed due to COVID-19, Somalia is at a critical juncture, the top United Nations official in the country told the Security Council on Thursday, pressing federal and state leaders to agree on voting modalities, and bolster the capacity of forces which are meant to assume full control of national security, next year.
"We understand that there are strongly held divergent views among the leaders and political tensions are high in this pre-electoral period", said James Swan, Special Representative and head of the UN Assistance Mission in Somalia (UNSOM). "Yet, it is precisely during such moments that it is most necessary for the nation's leaders to engage in dialogue."
He described the current dilemma to ambassadors, whereby Parliament must be elected through universal direct suffrage, according to the Provisional Federal Constitution.
However, the Constitution also stipulates that Parliamentary elections must be held every four years – meaning that elections are due by the end of this coming November. It is impossible to satisfy both of these requirements, he said. Broad agreement is needed.
Leaders convene
In an effort to reach a compromise, Somali leaders convened in Dhusamareeb this week, he said, commending President Mohamed Abdillahi Mohamed "Farmajo" and the presidents of the Federal member states of Galmudug, Hirshabelle and South West for their participation. "It is incumbent on Somalia's leaders to rise to this moment in history and pursue agreement in the national interest", he asserted.
Upsurge in al-Shabaab attacks
On the security front, he described a "worrying upsurge" in al-Shabaab attacks, particularly in Mogadishu, drawing attention to the 16 August assault on the Elite Hotel and an unquestionable need for "hard security" operations to counter the group.
Indeed, Somalia is to take the lead on its security matters in 2021, he said, and while Federal authorities have completed a concept note for updating the transition plan, force generation has faced setbacks in meeting 2020 projections, owing to COVID-19.
Floods, drought, locust swarms compound pressures
On the humanitarian front, he described recurring cycles of floods and drought, compounded by desert locusts and COVID-19, stressing that more than 5 million people – one third of Somalia's population — still require aid, and that the $1 billion Humanitarian Appeal is funded at around 50 per cent.
He expressed hope that the new Government and Prime Minister, once appointed, will accelerate the reform agenda for national development.
"Progress in Somalia requires a long-term commitment to governance, justice, respect for human rights, and inclusion of women, youth, and minorities to build the nation", he said.
He also raised objections, in line with other senior UN rights officials, to a bill introduced in Parliament titled, "The Law on Sexual Intercourse Related Crimes", which would violate protections against child marriage and forced marriage, as well as international human rights commitments to which Somalia is party.
'Complex' emergency unfolding in Mozambique's Cabo Delgado
UN agencies voiced deep concern on Wednesday over the worsening humanitarian crisis in Mozambique's Cabo Delgado province, where attacks by armed groups have forced more than 565,000 to flee their homes.
According to the agencies, growing insecurity and poor infrastructure are making it increasingly difficulty to reach families "completely reliant" on humanitarian assistance, amid fears that imminent rains and threat of cyclones could further compound the challenges.
"Coupled with the fallout of the COVID-19 pandemic, the crisis has become even more complex", regional heads of UN agencies in east and southern Africa said in a joint statement.
"The crisis is a complex security, human rights, humanitarian and development emergency, underscoring the imperative of continuing to provide life-saving assistance while collectively supporting Government-led long-term resilience building", the statement added.
Crisis worsening
In December, the UN officials visited Mozambique to assess the needs of the displaced populations as well as of the host communities.
They heard extremely moving accounts from displaced men, women and children in the city of Pemba, the capital of Cabo Delgado, and in the districts of Ancuabe and Chiúre – people whose lives have been upended by conflict and insecurity.
While acknowledging that much has been done to help victims of the crisis, the UN officials stressed that with displacement increasing daily, the lack of adequate food, water, sanitation, shelter, health, protection and education, was exacerbating an already dire situation, which could be further complicated by on-going torrential rains.
Urgent support needed
The UN agencies also raised concerns over the continuing impact of the coronavirus pandemic, which is keeping most schools closed.
There is an urgent need to expand protection, healthcare, food and nutrition programmes, vaccination efforts and psychosocial counselling, and to aid displaced farming and fishing families to re-establish sustainable livelihoods, they added.
They also urged support for adequate resettlement of uprooted families straining the already limited resources of impoverished host communities, and Government efforts to effectively register and assist the displaced.
The senior officials are urging the Government of Mozambique and the international community "to step up efforts to end all forms of violence in the country, including gender-based violence and child marriage, and to invest more in women and girls as agents of progress and change," the statement said.
'Swift action' needed in Tigray to save thousands at risk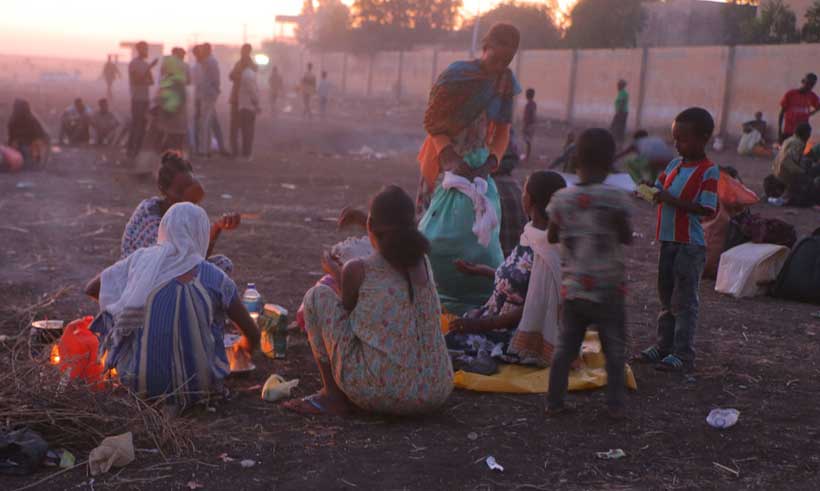 Two months after conflict forced humanitarian workers to withdraw from the Tigray region of Ethiopia, the UN refugee agency (UNHCR), on Tuesday, stressed the need for "swift action" to restore safe access to "save thousands of lives at risk".
Granted one-time admittance by the Ethiopian authorities to conduct a needs assessment, UNHCR led the first humanitarian mission to Mai Aini and Adi Harush refugee camps since the start of the conflict in November and found Eritrean refugees in "desperate need" of supplies and services, agency spokesperson Babar Baloch told journalists at a regular press briefing in Geneva.
"The assessment, which concluded last week, found help is urgently needed for the tens of thousands of Eritrean refugees in northern Ethiopia", he said.
Refugee plight
Cut off from supplies and services for more than two months, Mr. Baloch explained that the refugees had run out of fuel for their water pumps, leaving them to fetch water from a nearby creek for washing, cooking and drinking – "resulting in diarrhea like illnesses".
While the only assistance they had received since the start of the conflict was a one-time food distribution conducted by the World Food Programme (WFP) almost a month ago, he said that "plans are underway for a second distribution".
Threat from 'armed gangs'
The UN teams "thankfully" found that in both Mai Aini and Adi Harush camps, buildings and structures remain intact, including refugee homes, schools and clinics, "with little damage observed", according to the UNHCR spokesperson.
However, refugees told UNHCR staff that while they were not impacted directly by the fighting, they were threatened and harassed by various armed groups.
"The refugees told us they continue to have safety concerns, reporting that armed gangs roam the camps at night stealing and looting", Mr. Baloch said.
"UNHCR is working with the Government and partners to re-establish a regular presence at the camps and launch a response based on the information collected", he said, adding that the UN agency has also called on the Government to strengthen security in both camps.
Still inaccessible
Further north in Tigray, the UN refugee agency has not, since November, been able to access the Shimelba and Hitsats refugee camps.
As highlighted in High Commissioner Filippo Grandi's statement last week, UNHCR continues to receive a number of reports of significant damage to those camps and indications that many refugees have fled in search of safety and food.
"We remain deeply concerned about them", said Mr. Baloch.
'Restore safe access'
Meanwhile, some 5,000 Eritrean refugees have made their way to the town of Shire where they are living in "dire conditions", said Mr. Baloch, painting a picture of many sleeping in an open field on the outskirts of the town, 'with no water and no food". 
"UNHCR reiterates the UN wide call for full and unimpeded access to all refugees in the Tigray region and remains committed to work with the Ethiopian government to seek solutions together", he stated.
The conflict between the Ethiopian Government and regional forces of the Tigray People's Liberation Front (TPLF) began in early November, when the Prime Minister ordered a military offensive after rebels attacked a federal army base.
Government forces reported that the region had been secured at the end of November, but TPLF resistance has continued amid accusations of extrajudicial killings and rights abuses.
CAR: Displacement reaches 120,000 amid worsening election violence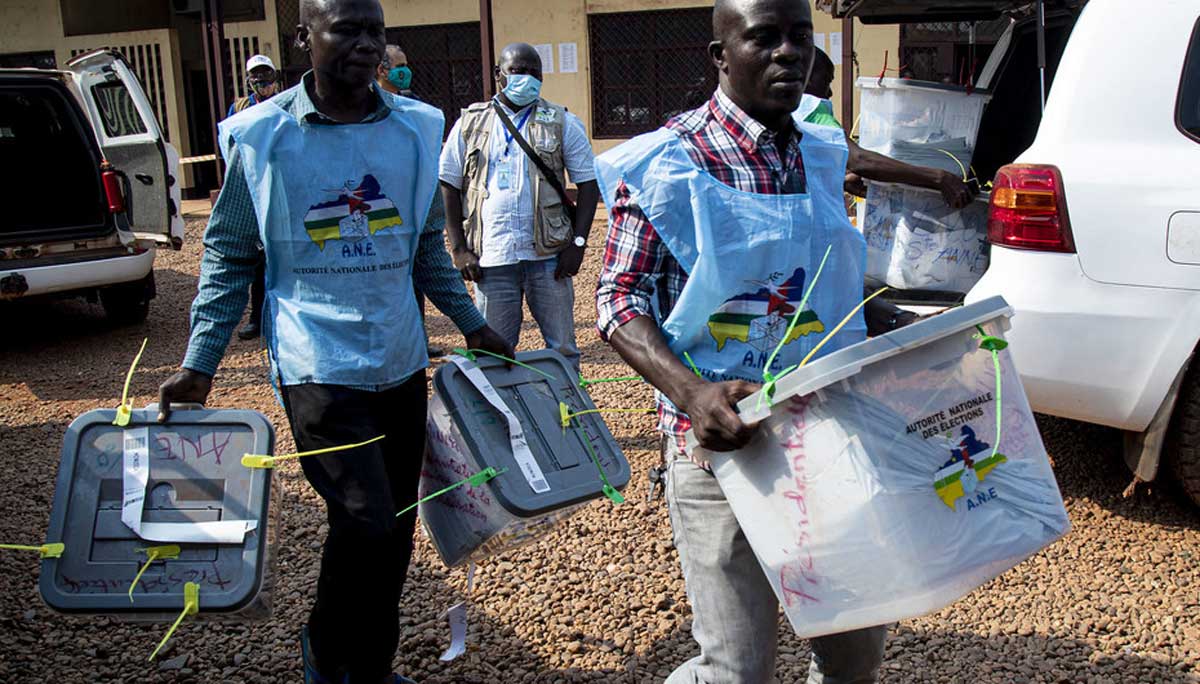 "Worsening" election violence in the Central African Republic (CAR) has forced 120,000 people from their homes, the UN refugee agency, UNHCR, said on Friday.
In an appeal for an immediate end to all bloodshed – which has included deadly clashes with UN peacekeepers – UNHCR also said that mass displacement has continued outside the country since the 27 December Presidential poll, reversing a trend of people returning to CAR in recent years.
"What is clear is the situation has evolved, it has worsened, we have seen that the number of refugees has doubled in just one week", said spokesperson Boris Cheshirkov, during a scheduled press briefing in Geneva.
Despite attempts by rebel groups to obstruct presidential and legislative elections, on 27 December, nearly two million Central Africans successfully cast their votes.
UNHCR and partners in CAR "are gathering reports of abuses by armed groups, including of sexual violence, attacks on voters and pillaging", Mr. Cheshirkov continued, underscoring the agency's call "for an immediate return of all parties to meaningful dialogue and progress towards peace".
"We were reporting 30,000 refugees last Friday, today it's already 60,000, and much of that is the increase we've seen in the Democratic Republic of the Congo (DRC). This is coming with reports of intensified violence, people are being forced to move from their home and the situation has not calmed down for the moment."
'Fear and dread'
Echoing concerns for the deteriorating situation, the UN-appointed independent rights expert for CAR called on Friday for the arrest and prosecution of all those "who continue to fuel violence" there.
Because of them, the country's people live in "fear and dread", said Yao Agbetse, before deploring the fact that Central Africans "were unable to exercise their right to vote and that many were victims of torture or ill-treatment and death threats for exercising their right to vote in the first round of elections".
Calling out the so-called Coalition of Patriots for Change (CPC), Mr Agbetse alleged that the group had "obstructed the country's electoral campaign in December, prevented the deployment of election materials, disrupted the mobilisation of voters to carry out their democratic right and burned polling stations".
The CPC had also recruited children for its work, the rights expert maintained, "a crime under international law".
Several localities were targeted, including Kaga Bandoro, Bossangoa, Batangafo, Bozoum, Bocaranga, Koui, Carnot "and other locations in the centre, west, and east of the country", along with the capital, Bangui on 13 January, said the rights expert, who reports to the UN Human Rights Council in Geneva. 
In his statement, Mr Agbetse noted that CAR's "already fragile humanitarian situation" had worsened, with "more than half of the population in vital need of humanitarian assistance".
Prices soaring
The premises of some humanitarian organisations had been ransacked, he added, while basic necessities "are becoming scarcer and their prices are soaring in Bangui because of insecurity on the supply routes to the capital".
Today, schools and training centres are closed outside the capital "and pastoralists and farmers can no longer carry out their activities because of insecurity and fear. Ultimately, food insecurity and extreme poverty are likely to worsen," Mr. Agbetse said.
10,000 cross in just 24 hours
On Wednesday alone, 10,000 people crossed the Ubangui river that separates the two countries, UNHCR's Mr. Cheshirkov said.
He added that in addition to the 50,000 refugees in DRC, another 9,000 have reached Cameroon, Chad and the Republic of Congo in the past month.
In an appeal for funds, the spokesperson said the inaccessible terrain and poor infrastructure along the Ubangui river where people have sheltered, has complicated aid access.
"UNHCR was already seeking $151.5 million this year to respond to the CAR situation. The needs of the recently displaced Central Africans are mounting, and we will soon face a substantial funding shortfall," Mr. Cheshirkov explained
Inside the Central African Republic, another 58,000 people remain displaced.