How video games are joining the fight to save the planet
As bush fires were raging across Australia in December 2019, players of Space Ape video games reached out to the company and asked what they could do to help. The London-based firm quickly put an in-game purchase into several of its mobile titles, with all proceeds going to either a wildlife or humanitarian charity working in the area.
In just four days the company raised $120,000.
"That just speaks to how much people want to do good," said Deborah Mensah-Bonsu, former Head of Content at Space Ape Games, who now runs her own consultancy focused on using games for social impact.
Now, the video game industry is poised to roll up its sleeves and do even more for the planet. In August 2020, some of the biggest names in mobile gaming unveiled a series of environmentally themed missions and messages that will be integrated into popular titles, such as Angry Birds 2, Golf Clash and Subway Surfers. The additions will encourage players to do things like combat climate change or protect endangered wolves. The initiative is part of a push by the United Nations Environment Programme (UNEP) to work with game developers to raise awareness about pressing environmental issues.
"Video gaming is one of the biggest communication mediums on the planet," says Sam Barratt, Chief of Education and Advocacy with UNEP. "We aim to support the industry to encourage gamers to be educated, inspired and activated around the wider environmental agenda, and so far it seems to be working."
Globally, 2.6 billion people play video games and a growing number are taking an interest in the environment and conservation. A 2019 UNEP report, Playing for the Planet, found that video games could engage billions to contribute to solutions to social and environmental challenges.
The video game industry has yearly revenues of $140 billion—more than Hollywood, Bollywood and recorded music sales combined. In 2017, 666 million people watched other people play games on YouTube and Twitch – more than the combined audience of HBO, ESPN and Netflix. According to the UNEP report, channelling even a small portion of that attention and the industry's revenues towards the planet would create tremendous impact in the real world.
Playing for the Planet
Space Ape is one of 25 members of UNEP's Playing for the Planet Alliance, an initiative that aims to harness the power of gaming to encourage action on climate change. The project, which launched in 2019, has reached more than 970 million players. In joining the alliance, game companies make commitments, ranging from integrating green activations into games to reducing their emissions to supporting the global environmental agenda.
The alliance held a Green Game Jam earlier this year which saw 11 mobile game companies compete to add a sustainability element to one of their existing games, a so-called "green nudge." The objectives included asking players to make personal commitments, like skipping meat on Mondays or biking to work, or designing green environments, solar panels or electric cars into games.
Space Ape, whose game Transformers: Earth Wars contains environmental themes in the original storyline, picked renewable energy. For the updated release, it brought both good and evil Transformers together to find a new technology to harvest Earth's energy resources more sustainably.
Mensah-Bonsu says that the company also wanted to give players a call to action, so it asked them to take a pledge to switch their lightbulbs from incandescents to LEDs.
California-based Pixelberry Studios focused on climate change in its title "Choices." The game centres on a young woman who returns to her coastal hometown where there has been a large fish die-off. The girl's younger sister is convinced the die-off is connected to climate change, despite skepticism from local politicians and business owners. The player's role is to help their young sister rally others and raise awareness about climate change.
Saran Walker, one of the writers at Pixelberry, said the team had read dozens of articles about younger generations experiencing anxiety around climate change. (A recent survey of millennials — 30,000 individuals under the age of 30 from 186 countries confirmed this — finding that climate change and destruction of nature were the most critical issues for them.)
"We were all really inspired by Greta Thunberg's story," Walker said, referring to the young Swedish environmental activist. "Anyone at the company who has kids is thinking about what kind of world are they going to leave to their children. We wanted to show people that they can actually do a lot as an individual."
A shift in the industry
The gaming industry is also considering how it can become carbon neutral, or in some cases carbon positive – a welcome move for a sector that has been scrutinized for its environmental footprint. Currently, 50 million tons of electronic waste is generated annually, with that number projected to reach 120 million tons by 2050.
Supercell, which makes mobile titles, recently committed to going entirely carbon neutral and offsetting the carbon dioxide used by players when playing their games. Rovio and Space Ape aim to take similar action.
The Playing for the Planet Alliance will share guidance with its members on how to decarbonize, with Sony leading a working group that includes other console makers. The alliance will help devise a new carbon calculator for the industry, develop fresh guidance on offsetting and forge new collective commitments around the restoration of forest landscapes, which help absorb carbon emissions.
"When we set out on this journey we wanted to help others in the industry too," said Mensah-Bonsu. "If we all do our part, we can make a change in the world."
A liveable future for all is possible, if we take urgent climate action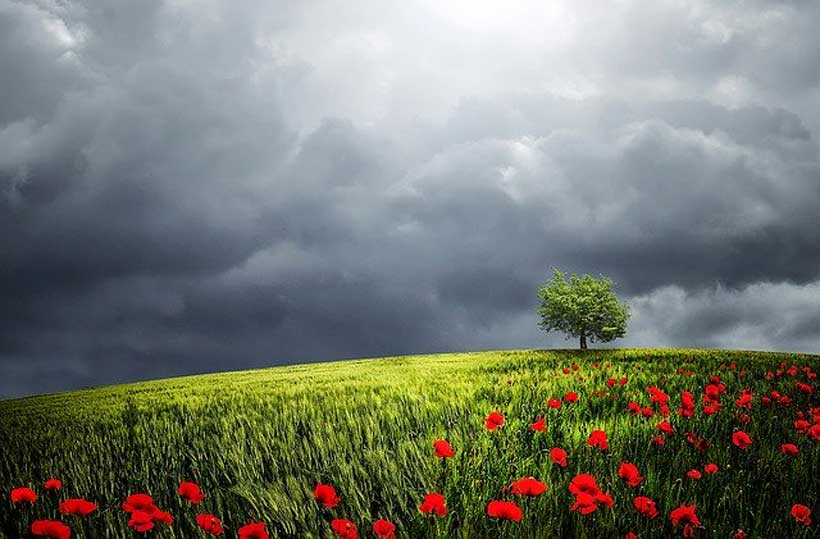 A major UN "report of reports" from the authoritative Intergovernmental Panel on Climate Change (IPCC), outlines the many options that can be taken now, to reduce greenhouse gas emissions and adapt to human-caused climate change.The study, "Climate Change 2023: Synthesis Report", released on Monday following a week-long IPCC session in Interlaken, brings into sharp focus the losses and damages experienced now, and expected to continue into the future, which are hitting the most vulnerable people and ecosystems especially hard.
Temperatures have already risen to 1.1 degrees Celsius above pre-industrial levels, a consequence of more than a century of burning fossil fuels, as well as unequal and unsustainable energy and land use. This has resulted in more frequent and intense extreme weather events that have caused increasingly dangerous impacts on nature and people in every region of the world.
Climate-driven food and water insecurity is expected to grow with increased warming: when the risks combine with other adverse events, such as pandemics or conflicts, they become even more difficult to manage.
Time is short, but there is a clear path forward
If temperatures are to be kept to 1.5 degrees Celsius above pre-industrial levels, deep, rapid, and sustained greenhouse gas emissions reductions will be needed in all sectors this decade, the reports states. Emissions need to go down now, and be cut by almost half by 2030, if this goal has any chance of being achieved.
The solution proposed by the IPCC is "climate resilient development," which involves integrating measures to adapt to climate change with actions to reduce or avoid greenhouse gas emissions in ways that provide wider benefits.
Examples include access to clean energy, low-carbon electrification, the promotion of zero and low carbon transport, and improved air quality: the economic benefits for people's health from air quality improvements alone would be roughly the same, or possibly even larger, than the costs of reducing or avoiding emissions
"The greatest gains in wellbeing could come from prioritizing climate risk reduction for low-income and marginalized communities, including people living in informal settlements," said Christopher Trisos, one of the report's authors. "Accelerated climate action will only come about if there is a many-fold increase in finance. Insufficient and misaligned finance is holding back progress."
Governments are key
The power of governments to reduce barriers to lowering greenhouse gas emissions, through public funding and clear signals to investors, and scaling up tried and tested policy measures, is emphasized in the report.
Changes in the food sector, electricity, transport, industry, buildings, and land-use are highlighted as important ways to cut emissions, as well as moves to low-carbon lifestyles, which would improve health and wellbeing.
"Transformational changes are more likely to succeed where there is trust, where everyone works together to prioritize risk reduction, and where benefits and burdens are shared equitably," said IPCC Chair Hoesung Lee.
"This Synthesis Report underscores the urgency of taking more ambitious action and shows that, if we act now, we can still secure a liveable sustainable future for all."
UN chief announces plan to speed up progress
In a video message released on Monday, UN Secretary-General António Guterres described the report as a "how-to guide to defuse the climate time-bomb."
Climate action is needed on all fronts: "everything, everywhere, all at once," he declared, in a reference to this year's Best Film Academy Award winner.
The UN chief has proposed to the G20 group of highly developed economies a "Climate Solidarity Pact," in which all big emitters would make extra efforts to cut emissions, and wealthier countries would mobilize financial and technical resources to support emerging economies in a common effort to ensure that global temperatures do not rise by more than 1.5 degrees Celsius above pre-industrial levels.
Mr. Guterres announced that he is presenting a plan to boost efforts to achieve the Pact through an Acceleration Agenda, which involves leaders of developed countries committing to reaching net zero as close as possible to 2040, and developing countries as close as possible to 2050.
The Agenda calls for an end to coal, net-zero electricity generation by 2035 for all developed countries and 2040 for the rest of the world, and a stop to all licensing or funding of new oil and gas, and any expansion of existing oil and gas reserves.
These measures, continued Mr. Guterres, must accompany safeguards for the most vulnerable communities, scaling up finance and capacities for adaptation and loss and damage, and promoting reforms to ensure Multilateral Development Banks provide more grants and loans, and fully mobilize private finance.
Looking ahead to the upcoming UN climate conference, due to be held in Dubai from 30 November to 12 December, Mr. Guterres said that he expects all G20 leaders to have committed to ambitious new economy-wide nationally determined contributions encompassing all greenhouse gases, and indicating their absolute emissions cuts targets for 2035 and 2040.
Journey to net-zero 'picks up pace'
Achim Steiner, Administrator, of the UN Development Programme (UNDP) pointed to signs that the journey to net-zero is picking up pace as the world looks to the 2023 UN Climate Change Conference or COP28 in the United Arab Emirates.
"That includes the Inflation Reduction Act in the U.S., described 'the most significant legislation in history to tackle the climate crisis' and the European Union's latest Green Deal Industrial Plan, a strategy to make the bloc the home of clean technology and green jobs," he said.
"Now is the time for an era of co-investment in bold solutions. As the narrow window of opportunity to stop climate change rapidly closes, the choices that governments, the private sector, and communities now make — or do not make – will go down in history."
A Treaty to Preserve Oceans – And Our World
There is cause for celebration in our climatically distressed world for a treaty of historic proportions has been signed by the UN member states. It is the culmination of 15 years of talks and discussions.
Vital to the preservation of 30 percent of our earth, i.e. land and ocean, the oceans treaty broke many political barriers. The EU environment commissioner Virginijus Sinkevicius applauded the event saying it was a crucial step towards preserving marine life and its essential biodiversity for generations to come.
The UN Secretary General commended the delegates, his spokesperson calling the agreement a "victory for multilateralism and for global efforts to counter the destructive trends facing oceanhealth, now and for generations to come."
The real problem is the oceans belong to no one — and thus available to everyone — because the exclusive economic zones of countries end beyond 200 nautical miles (370 kms) from their coastlines.
These high seas are threatened by overfishing, man-made pollution including damaging plastics, and also climate change. People are unaware that oceans create half the oxygen we breathe, and help in containing global warming by absorbing the carbon dioxide released by human activities — one can think of all the coal and wood fires, particularly in developing countries, and the coal-fired power stations everywhere among other uses of fossil fuels.
The fact is we have to value the environment that nurtures us for the consequences of our disregard can in the final analysis destroy life itself. As it stands, the World Wildlife Fund (WWF) reports in its 2022 Living Planet Index a 69 percent decrease in monitored populations since 1970, a mere half century. Their data analyzed 32,000 species.
As the apex species, such a loss forces humans to assume responsibility. It rests on each and everyone of us from individuals to governments to corporate entities, and across the spectrum of human activity.
The treaty furnishes legal tools to assist in creating protected areas for marine life; it also requires environmental assessments for intended commercial activity … like deep sea mining for example. The nearly 200 countries involved also signed a pledge to share ocean resources. All in all, it has been a triumph of common sense over the individual greed of people and nations.
So it is that the treaty has made possible the 30×30 target, namely, to protect 30 percent of oceans by 2030. Now comes the hard work of organizing the protection. Who will police the areas? Who will pay for it?
Environmental Crisis in South Asian Countries
During thetwenty-first century, South Asian countries have been facing and dealing with enormous problems. But the environmental crisis is one of the major and most emerging issues. South Asia is the southern part of the continent Asia, which is also known as the Asian societies. Mainly consist of eight countries India, Pakistan, Afghanistan, Bhutan, Maldives, Nepal, Sir Lanka, and Bangladesh. Most of the environmental problem has been started after the 1960s due to high economic activities, population growth, industrialization, urbanization, and poverty. The combined effects of all these factors caused the situation more complex because of less management of negative and deviant behavior in economic activities. South Asian countries are the developing region that mainly constitutes middle-income countries struggling to flourish their economies and to cope with challenges of political and environmental sustainability, although they are still yet facing many environmental crises which are highly interactive, interlinked with human activities and also human life which it is the need of the hour to be addressed.
Population Density and Population Pressure
Population growth is one of the major elements which play an important role in environmental crises. As all the South Asian developing countries have an extensive density of populations such as India which considers the world second most populated country after China, because the growing population in all South Asian countries, it's put tremendous population strain on natural and environmental resources such as increase the extraction of resources from the environment influence negatively in our environment. The Intergovernmental Panel Discussion (IPCC) on climate change says that most of the environmental crises are attributed to human activities. The population of Pakistan is also increasing at the rate of 1.9 % annual changes and the population of other South Asian countries is also not up to the mark, but increasing day by day which adversely affects the economy and the natural setting of the environment.
Climate Change
Climate change is also a major problem. South Asian developing counties are vulnerable to climate change-related disasters. The history of Pakistan, and Bangladesh showed how much they suffered due to climate flood disasters. Pakistan and India are facing the brunt of extreme weather almost every year. Being affected by environmental problems severely influence economic activities in the summer of 2022 due to "Heat Waves" in India and Pakistan, "Flood Crisis" in Pakistan last year affected the largest region about one–third of the whole country. Melting glaciers in Pakistan, almost twenty glacier bodies in Nepal, and twenty-five in Bhutan are so unsafe glacial water bodies. Land erosion in India, and Nepal land erosion, and land sliding. With rising sea levels in Bangladesh, Maldives, and Pakistan it is expected that by 2050 most of them swallowed by the sea. This climate condition is not new for this region, according to the World Bank Report 750 million people across South Asian societies are impacted by the last almost 20 years. In Afghanistan, farmers face climate-induced drought, and nearly 19 million Afghans are unable to feed themselves and almost 5 million people across India and Bangladesh. According to the climate change risk index Bangladesh and Pakistan ranked sixth and seventh while India ranked fourth among them respectively. A recent report of intergovernmental on climate change called "Code Red for Humanity" by UN Secretary-General Antonio Guterres, it is predicted that in the next two decades, global warming will increase up to 1.5 degrees Celsius.
Pollution
Almost all Asian societies adversely face the problem of pollution associated with indoor and outdoor elements which may be the source of pollution. With the increase of demographic pressure and urbanization, pollution is also considered a vital concern in South Asian countries. Due to industrialization, transportation, burning of coal, and biomass, excessive use of metals, and soil depletion of natural resources and minerals merely falls under the category of pollution. According to the report of the Air Quality Life Index Pakistan is the fourth most pollution-causing country in the world and India is the second most polluted country in the world and number one in Bangladesh. Excess methane, carbon dioxide, nitrogen, sulfur, and insoluble and soluble materials emitted by vehicles and industries are harmful effects on humans such as lung cancer, asthma, and water-borne diseases. It badly influences plants and animals.
Water scarcity
Water scarcity is a major concern in almost every region. South Asian countries have become water-default regions due to population exploitation, and unplanned urbanization. Almost 90- 95 of water is consumed by agriculture and industries, and there is insufficient storage and a wasteful irrigation method. Per capita, water availability is less than the world average and 4.5% of freshwater resources availability. Pakistan, India, and Afghanistan face varying degrees of water scarcity. Groundwater depletion caused by irrigation, agriculture runoff, industries, and the unregulated release of sewage needs a major concern. Along with scarcity of water quality and quantity, both are also affected by the reduction in the quantity of water because of the recession of glaciers and disruption in the monsoon.
Global warming
Furthermore, global warming is also a main issue that is observed globally it is specifically due to human activities primarily the burning of fossil fuels such as coal, and petroleum, fire burning, and along with the emission of harmful gases. South Asian countries are the major source of carbon dioxide, so it is a crucial component in global warming. However many South Asian countries implement a tax on the use of carbon-related components, a form of small fiscal policy to reduce the concentration of carbon in the atmosphere.
Energy Crisis
In addition to all these South Asia approximately uses only 5.9 % of global energy resources excluding the non- commercial energy resources. South Asian counties have increased the demand for energy in the last few decades, increasing demand by up to 50% since 2000. The rising energy demand is induced by population growth and the manufacturing sector. All the south Asian countries have increased the demand for electricity on average by more than five percent annually over the past two decades and are expected for the future that requires more than double by 2050. More than two third of the energy is imported. So it put pressure to increase cost recovery if the demand increase. In South Asia, disruptions due to conflict among other countries adversely impact fuel imports and put greater pressure on the government to ensure the security of their energy supply.
Conclusion
South Asian countries are major part and contributors to the world economy. Due to the crisis, economic activities were destroyed and diminished in many regions, because of damage to productivity and infrastructure, security threats, and mass migration, as the results growth rate declined and the world economy gets affected. Globally, all the economies of the world somehow depend upon each other for trade. To facilitate this connection it is necessary to maintain a balance. There are many organizations are working in South Asian countries to control the environmental crisis, such as the intergovernmental organization of South Asia Co-operative Environment Program (SACEP). Climate Action Network of South Asia, South Asian form for the environment. So the main purpose of all these organizations is to provide support, protection, and management in context to contribute in terms of sustainable development, along with issues of economic and social development. In addition to all these, urgent action is needed to curb all the challenges. The most immediate and pragmatic step to cope with the challenges is to make a collective UN committee for collaboration among the countries, reduce the global emission of harmful gases, decarbonize the energy sector, educate people to spread awareness among people start campaigns related to the protection of environmental at county level, uses of renewable resources, new policy initiation, formulation, and Implementation.