The official four-day visits of US Health and Human Services Secretary Alex Azar to Taiwan in August 2020, marked the senior most US visit to this self-governing island since formal diplomatic relations were severed in 1979 in deference to China. This is going to be a fresh thorn in prickly US-China ties.
Despite switching allegiance to Beijing, the US maintains unofficial ties with Taiwan in deference to Beijing. It remains the island's most important ally and provider of defensive arms. A 2018 US law urged Washington to send increasingly high-level officials to Taiwan in contrast to past years when such visits were extremely rare. Azar's visit is therefore the highest-level American official to visit Taiwan since their break in formal diplomatic ties in 1979. In recent times, US-China bilateral ties have experienced strain over a range of issues such as South China Sea, TikTok, Hong Kong and trade. In a throwback to the Cold War, the two recently ordered tit-for-tat closures of consulates in Houston and Chengdu and rhetorical sniping has become a daily occurrence. The significance of Azar' visit should be measured against this backdrop.
Taiwan's credentials on virus control
First, a few words about the credibility Taiwan earned by its deft handling the pandemic can help analyse Azar's visit in context. Besides demonstrating America's strong commitments to defend Taiwan's security, necessary protocol was maintained on the Covid-19 issue for the delegation. The fact that such protocol was strictly maintained spoke plenty of Taiwan's unbending stands in securing its territory from any possible virus threat. Like Taiwan, South Korea and Vietnam are the other two success story in containing the virus. Therefore, use of face masks and other necessary safety protocols were strictly followed by all the delegation members, except in "rare circumstances". With a population of 23 million, Taiwan has reported 479 cases and seven deaths.
Not only Taiwan handled the virus in the country successfully, it proved to be a responsible nation for the world by sending quietly Covid-19 assistance to foreign countries surreptitiously to avoid protests from China. China's attempts to isolate Taiwan compelled the island at times to keep its donations of masks and personal protective equipment under the radar. Taiwan chose such an approach as it did not want to complicate the recipient country's relationship with China. China has pursued all possible measures to isolate Taiwan diplomatically, including barring its participation in forums such as the World Health Assembly.
After bringing the virus under control at home, the island nation donated 51 million masks overseas, including 10 million to the US, along with other items of personal protective equipment. There was no problem in naming the US as one of the recipient country but the vulnerability of other recipient countries prevented Taiwan from revealing their identities. Just 15 countries maintain formal diplomatic ties with Taiwan, and China has sought to peel away its remaining allies. Taiwan is aware that acquiescence to Chinese pressure would merely turn Taiwan into another Hong Kong, where China has enforced a new national security law to throttle democracy. Taiwan is unwilling, and rightly so, to surrender its hard-earned democracy after experiencing a phase of dictatorship to the authoritarian aggression from Beijing.
Why Azar's Taipei visit not a normal one?
Azar's visit was not a normal one; it posits in the large political and geopolitical context. It will likely to exacerbate mounting tensions between Washington and Beijing, which claims Taiwan as its own territory to be annexed by force if necessary. When President Donald Trump took umbrage over mounting trade deficit with China, he first put pressure on Beijing to take necessary corrective measures to address this issue. But having failed to get satisfactory response, he started to take countermeasures by tariffs and quantitative quota restrictions. Beijing too retaliated on its own ways. Finding the two at loggerheads and in a throwback to the Cold War, the two ordered tit-for-tat closures of consulates in Houston and Chengdu amid rhetorical sniping. Azar's visit now adds to those frictions.
Though the visit represented an acknowledgment of the US-Taiwan deep friendship and partnership across a wide spectrum of security, economics, health care, and democratic open transparent values, Beijing was never expected to buy this justification. Even when the US and Taiwan celebrate the bond, China responded with two screaming jets towards the island before the talks began.
In a steady deterioration of bilateral ties, when Washington explicitly denied most of China's maritime claims in the strategically vital South China Sea, it instantly drew China's ire. China's claims almost to the whole of this strategic waterway and considers activities in the area by the US Navy, including ships close to Chinese-controlled islands, as threatening regional peace and stability.
The Trump administration lunched the tariff war targeting Chinese institutions and officials, besides campaigning to exclude Chinese telecoms giants Huawei from the US and its allies, which China saw as US attempt to prevent China's development as a global technology power. Trump suspects Huawei's links with the ruling Communist Party and that compromises personal data and the integrity of the information systems in the companies in which it operates. Beijing demands proof of this. Further, Trump escalated tensions when he signed an executive order banning to deal with the Chinese owners of consumers apps TikTok and WeChat, possibly leading to their becoming unavailable in the lucrative American market.
Adding another dimension to the US-China tensions, Azar while in Taipei alleged that Beijing broke the international health treaty by failing to warn the world about Covid-19 on time. He also expressed regret over Taiwan being excluded from the World Health Assembly denying it an opportunity to share its health expertise. The US and Taiwan have developed their relationship as one based on "shared democratic values". The US sees Taiwan playing its role in a brewing ideological battle between the two even when Beijing is not shy of warning consequences if Taiwan continues to nurture ties with Washington.
In the recent past, especially after Tsai came to power, Beijing has used economic doles as weapons and was instrumental in wooing some of Taiwan's diplomatic allies to switch allegiance to Beijing, leaving Taiwan with only 15 diplomatic allies. Even without formal official ties with many countries who switched allegiance to China, Taiwan's engagement economically and in cultural domains with many countries it does business with has remained robust. However, Taiwan suffers international recognition as it cannot engage officially with world organizations. Even with the WHO, it was deprived of its observer status because of China blocking it at a time its experience in handling coronavirus could have been of some help to the world community.
On the issue of Taiwan's exclusion from the World Health Organisation in 2018 that blocked a million-dollar Taiwanese contribution, Azar described Beijing's position that time as "political bullying". Had that not happened, Taiwanese contribution could have helped combat an Ebola outbreak in Congo. Indeed, in times of events of global dimensions, international organisations should not be places to play politics but unfortunately China did in 2018 and again in 2020 by denying Taiwan observer status at the world health assembly where its experience in handling the virus could have benefitted other nations.
No wonder, Taiwan saw Azar's trip as a diplomatic coup and an opportunity to showcase its widely praised response to the virus. Beijing however saw it as another provocation from the US. When the US increases interactions with Taiwan and also sells arms committed under the Taiwan Relations Act, Beijing sees that red and as a challenge to its sovereignty and in defiance of its threats to unify the island with the mainland by force. Azar's remarks that "Taiwan's response to Covid-19 has been among the most successful in the world, and that is a tribute to the open, transparent, democratic nature of Taiwan's society and culture", infuriates Beijing. Seeing an opportunity and praise pouring in from around the world, Taiwan started promoting the island as a model of democracy and sent millions of masks labeled "Made in Taiwan" to countries in need.
Taiwan was not intimidated when Chinese jets J-11 and J-10 fighter aircraft briefly crossed the mid-line of the Taiwan Strait, the side sensitive and narrow separating it from its giant neighbour, even when Azar was on his way to Taiwan. The aircrafts were tracked by land-based Taiwanese anti-aircraft missiles patrolling the area which drove the jets away from its airspace.
Taiwan strengthens defence capabilities
In view of the looming threat from China and often reminding the island nation of the possible use of force, Tsai has reiterated a number of times the need for the island to ramp up its defences to safeguard its democracy from Beijing's "coercive actions". Such a commitment to accelerate the development of asymmetric capabilities, as explained by President Tsai Ing-wen during a video address to the Hudson Institute, a Washington-based think tank, is under the rubric of the island nation's defence concept. Taiwan's cabinet has proposed a more than 10 per cent increase in the island's military budget to $15.42 billion in response to Beijing's aggression in the region and seeks a "constructive security relationship" with the US.
Despite Taiwan's determination and resolve to cope with the Chinese threat stemming from its own strength and military capabilities, the truism is Beijing-Taipei relationship if measured in terms of comparative military strengths between the two is something like comparing between David and Goliath as the gulf between the two is huge. Indeed, few geopolitical contexts are as mismatched as China and Taiwan.
China has already acquired enough military muscle and economic strengths over the past decades and has emerged as the world's second largest economic power as well as a regional superpower in Asia. Compared to China, Taiwan is a dwarf. Its military expenditure is more than any other country except the US. After splitting from the mainland, the two sides claimed to represent China for almost three decades, during which military exchanges took place until détente set in the early 1990s. From this time onwards, both sides settled on there being "one China" but agreed to disagree on what that meant. Since then Taiwan has assumed a more distinct identity and considers itself as a de facto independent state separate from the mainland.
However, in terms of military comparison, China is much ahead of Taiwan. Taiwan has around 215,000 soldiers and a defence budget of $12 billion compared with China's estimated two million armed forces and a defence budget of $178 billion. China is a nuclear-armed state with a growing arsenal of state-of-the-art weaponry including advanced fighter jets, two aircraft carriers, and more on the way. Its growing number of missiles, some of them hypersonic, is positioned just across the Taiwan Strait. It has more than 60 submarines, including nuclear-powered vessels.
In comparison, Taiwan's 300 or so fighter jets have all been in services since the 1990s.
Its navy is massively outgunned by China's — two of its four ageing submarines were built decades ago. Though Taiwan is aware that it does not need to match China dollar for dollar, it has certain strategy to defend itself in case it comes under attack. Some of the Western weapon exporting countries are reluctant to sell big-ticket military items in order not to displease China, leaving Taiwan to develop itself indigenously an innovative domestic weapons industry.
China under Xi Jinping has ramped up pressure and gone ballistic often warning that Taiwan's reunification with the mainland is inevitable. Such belligerence has become more frequent after 2016 when Tsai was elected President who rejects the idea of a "one China" and sees Taiwan as a de facto sovereign state. Tsai is not deterred by such bellicosity even though Chinese fighter jets routinely fly into Taiwan's defence zone.
The US is bound to arm Taiwan by law so that it can defend itself. Though the US officially maintains ties with the mainland China, it also takes into consideration geopolitics of the region and urges peaceful resolution of disputes between China and Taiwan. The US was careful not to sell major weaponry to the island nation until the mid-1990s as it was wary not to cause friction in its relations with China. That situation dramatically changed soon after. The Trump administration seriously started viewing America's ties with Taiwan differently after frictions with China started widening.
Under the Taiwan Relations Act, the US has obligation to arms Taiwan. The Trump administration has taken major decisions to sell 66 next-generation F-16 fighters and an upgrade to the island's Patriot missiles with the objective of strengthening Taiwan's military capability in the wake of looming China threat. Taiwan's decision to purchase the 66 new generation F-16 fighter jets from US aircraft manufacturer Lockheed Martin in a $62 billion, 10-year deal, is sure to anger Beijing. This new acquisition will add to its fleet of F-16s Taiwan purchased in 1992.
Given the China-Taiwan tensions, if a conflict erupts in the region it would be either centered on the South China Sea or on the Taiwan issue. If Beijing takes resorts to any military adventurism, the US is most likely to intervene with its massive military assets. China is best advised to exercise restraint not to precipitate events, lest the costs would be heavy for all. The Taiwan Strait remains one of the world's most dangerous flashpoints.
The Xinjiang-Uyghur issue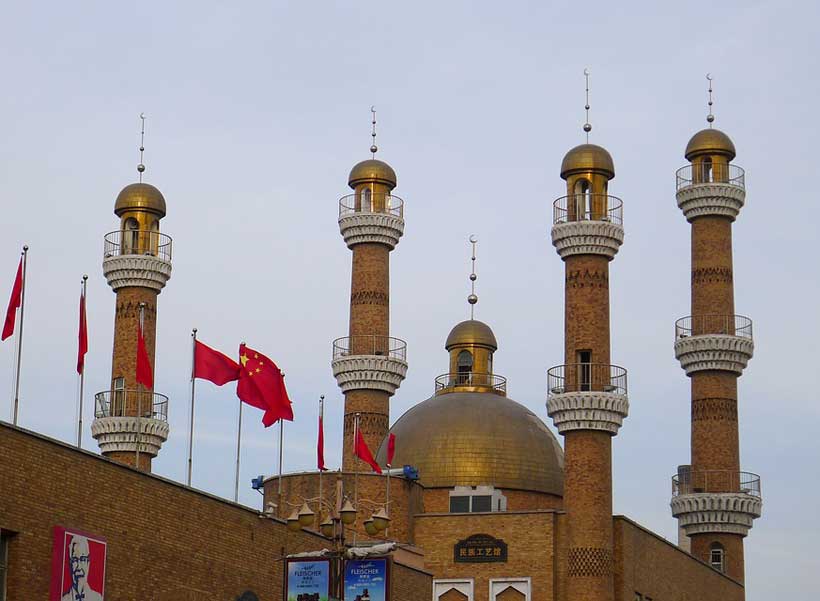 In late March the United States, Canada, the UK and the EU took a concerted action to announce sanctions over human rights violations against the Uyghurs and other ethnic minorities in Xinjiang-Uyghur by the Chinese government.
This is the first time since the Tiananmen Square incident in 1989 that the EU and the UK have imposed sanctions on China over human rights issues.
Furthermore, Australia and New Zealand also issued statements expressing support for joint U.S. and EU sanctions against China. U.S. Secretary of State Tony Blinken stated: "The joint transatlantic operation sends a strong signal to those who violate or trample on international human rights".
This joint operation is clearly part of a concerted U.S. effort to work with its Western allies against China through diplomatic actions.
After gruelling wars in Korea and Vietnam and later in the Balkans, Afghanistan, Iraq, Libya and Syria,we wonder:
1) why do we want to open another front to export democracy with bombs?
2) Why has the Xinjiang-Uyghur issue become a deadly matter that brings the United States and its allies together to impose sanctions on China, while ignoring the barbaric behaviours codified by the backward-looking, but allied Gulf monarchies?
3) Why is the Xinjiang-Uyghur issue attracting increasing attention from the international community?
4) Why does the United States use the Xinjiang-Uyghur human rights issues to shape a diplomatic action with Western allies against China and forget about the black people being murdered on the streets at home?
Let us try to better understand the situation.
The strategic importance of Xinjiang-Uyhgur for China is similar to Tibet's (Xizang). The Xinjiang-Uyghur Autonomous Region is the largest provincial unit in China. It covers one-sixth of China's territory and borders on Mongolia, Russia, Kazakhstan, Kyrgyzstan, Tajikistan, Afghanistan, Pakistan and India. It can be used as a base by China to influence its neighbours. However, Xinjiang-Uygur can be used as a bridgehead by external powers to threaten China's territorial integrity.
Like Tibet (Xizang), Xinjiang-Uyghur also has immense economic value in terms of oil and gas resources, and it can also be used as a channel to import energy from Kazakhstan. It is also a site for Chinese nuclear weapons and missile tests.
This area has traditionally been under the influence of various forces that have been claiming these territories. For thousands of years, the deserts and mountains of Xinjiang-Uygur were crossed by merchants. Peoples and armies passed through it continuously, sometimes forming alliances with the Middle Empire, sometimes to free themselves from the Emperor's influence, only to fall into worse hands.
The Chinese who started to travel there before the 19th century met Persians and Muslims, most of whom were Turkish-speaking. It is not for nothing that the other name of the territory is East Turkestan.
The region was not fully incorporated into the Chinese administrative system until 1884, when it was divided into province and called Xinjiang, meaning "new frontier". China's control, however, was fragile and, when China's presence was still at a minimum in 1944, the local population announced the establishment of a short-lived republic called East Turkestan, backed by the Soviet Union led by Stalin, who – like the United States today – wanted it to fall within his sphere of influence.
However, as Stalin was a great statesman and not just a parvenu, with the birth of the People's Republic of China, the Georgian leader agreed that the territory be reintegrated into the Middle Empire as the Xinjiang-Uyghur Autonomous Region.
With a view to strengthening administrative and political control in the autonomous region, the People's Republic of China used the same methods in other surrounding areas: immigration development, trade, cultural assimilation, administrative integration and international isolation.
As early as the mid-18th century, the Qing government had created a national industry near the capital Ürümqi. In the 19th century, Chinese merchants arrived in large numbers. After 1949, the People's Republic of China placed the autonomous region under a national plan designed to orient and direct local trade towards China's internal economy, banning border trade and people movements that were widespread in the past between borders that at the time were undefined and misgoverned.
In 1954 China established the Xinjiang-Uyghur Semi-Military Production and Construction Corps to transfer demobilised officers and soldiers, as well as other Chinese immigrants, to industries, mines and enterprises. During the Cultural Revolution in the 1960s, thousands of middle school graduates were delegated to perform tasks in Xinjiang-Uyghur from various cities in China, especially Shanghai, and most of them lived in farms. I remember the great enthusiasm of some major European parties at this news: the same parties that, having changed their names, are today shedding "the bitter tears of Petra von Kant" along with Biden.
In the 2010 census – according to official statistics – out of 21,815,815 inhabitants, 45.4% were Uyghurs and 40.48% Chinese, although the real number could be even higher. The many officially recognised ethnic minorities included Kazakhs and Muslims of Chinese ethnicity.
In the decades prior to 1980, Xinjiang-Uygur developed slowly because of its bordering on the then hostile post-1960 Soviet Union, and because of its rugged and considerable distance from other parts of China. However, when Deng Xiaoping implemented reforms in the 1980s, China's development policy created demand for Xinjiang-Uyghur's coal, oil and gas resources, thus making the local area one of China's largest producers of fossil fuels.
In the 1990s, China began building oil pipelines to transport oil from the far West to the mainland market. In 2001, China announced a "Western development" policy to fully exploit Xinjiang-Uyghur's resources. The central government invested billions of dollars to build infrastructure and create political incentives to attract national and foreign companies.
This has meant that the country has increased its per capita GDP, as well as raised the education level. China has also modernised its society and this has made it unpopular with those fundamentalist Muslims who, boiling with terrorist rage, are now calling for help from those who initially funded ISIS to bring the secular Syrian government down, under the slogan "the enemy of my enemy is my friend".
For most of the Maoist era, the Uyghurs, as well as the less numerous Kazakhs, Kyrgyz and other ethnic minorities, were forced to give up Islam, learn Chinese and relinquish their traditional customs and habits. All this much to the delight of the then epicurean and atheist West, which has always despised faith: a further element of contrast that later materialized on the part of fundamentalists.
As in Tibet (Xizang), the most traditionalist Uyghurs believe that their land has been invaded by Chinese immigrants and their lives are overwhelmed by a "Western" style imposed authoritatively from outside: a pretext that President Erdoğan has been the first to exploit, not failing to include it in his Panturanist conception.
In fact, after the implosion of the Soviet Union in 1991, the Turkic and immigrant Uyghur communities in the three new neighbouring States of Central Asia, namely Kazakhstan, Kyrgyzstan and Uzbekistan, experienced a cultural and religious revival, thus creating a new sense of hope and power among the Uyghurs in Xinjiang-Uyghur.
From the 1980s to 2001, demonstrations, riots, occasional murders and terrorist attacks occurred with increasing frequency. The Chinese government claims that the criminals' goal is 1) to separate Xinjiang-Uyghur from China, and 2) that the Uyghur separatists are terrorists connected to al-Qaeda.
All these accusations are controversial, because most Uyghurs – either secular or moderate Sunni Muslims – have not created a resistance movement at all, as the Uyghur society is not integrated around specific Islamist parameters.
Many incidents seem to have various and sometimes personal causes, and often result in casualties. But, in any case, the authorities have launched a series of strict public order campaigns, fearing that even the slightest sign of dissent, such as a demonstration, a parade, a march, a gunfight with the police, will be amplified by the usual media to pave the way for a bloody local civil conflict, which – unlike the Syrian one – could turn into the Third and Last World War.
All this would certainly not be triggered to protect some fundamentalist Muslims in defence of human rights. The causes are always the same.
Chinese Foreign Policy in a Global Perspective
Foreign policy plays a fundamental role in state security and government's decision-making. It is the pivotal factor for political stability of a nation, its economic affairs as well as the relations with other states. It is necessary for the development of a nation or a region to resolve the disputes with their neighbors. International disputes have frequently been given a fair chance with dialogue between the warring parties. Different states can coexist with friendly neighbor resulting in greater benefit for the people of the country. It brings peace and stability in the region as a byproduct. For the progress of humanity, peace is an essential element. To avoid war and hostility, an element of understanding and mutual survival should be established among the states. Hence, the concerned states will learn to co-exist peacefully.
Since its independence, China has pursued a focused approach towards attaining financial progress. Diplomatic policy of China has been directed towards its economic prosperity and political independence of the Chinese nation. Initially it was an isolated nation with introspective policies. Its national policy characteristics included peaceful co-existence between nations, mutual interdependence, regional supremacy, autonomy, national safety and avoidance of conflicts with other states and nations. Hence China developed regional influence and stability and developed good relations internationally and globally. China wanted to protect its territorial autonomy and sovereignty of other regional nations as well. Hence it soon emerged as a powerful nation both militarily and economically.
China continued working on a deliberate path of stable and good relations with other countries globally. The role of leaders and government in the foreign affairs under Xi-Jinping's leadership catapulted the Chinese national and foreign policy to new heights. This charismatic leadership brought constructive changes in the internal governance and matters of foreign involvement with other nations. He emphasized the importance of military and during his governance astounding improvement in foreign and regional stability was observed. The internal stability of Chinese national policy was soon reflected on the international podium. Its economic prosperity increased astronomically under the vigilant governance of the leader of China's political party. China rose peacefully and gained regional, economic, and political stability. China is today considered as a world-wide power because of its stable national policy. It has observed a radical development in geo-politics. Why has the significance of Chinese nation increased in the international community?
China and Pakistan have enjoyed friendly relations with each other for decades. Gwadar port will become a doorway for business, commerce, collaboration, coordination and development between these two neighbours. It does not only affect China and Pakistan's economic prosperity but the prosperity of South Asia and beyond. China has achieved worldwide recognition as an economic might with powerful impact on economy, geography and strategy of the region. The port has worldwide implications, whether related to economy, trade or commercial activities.
The dimension of foreign policy has evolved with the pace of time. The relations between China and United States of America are complicated. Both nations have difference of opinion regarding vital concerns of the state, political practices, administration, diplomatic policies and commercial productivity. Both nations consider different notions regarding the concept of civil rights. President Donald Trump has recognized China as an adversary for the United States of America. According to his beliefs, China abhors the ethics and principles of America causing a destabilizing effect in South-China Sea region.
China has undertaken military action in the South China Sea and has carried naval exercises in the area. However, United States the opponent of China says that economic prosperity could be affected because of the Chinese presence in the region. Under international regulations, overseas armed forces are not able to control surveillance activities including inspection and scrutiny of the vessels, in its industrial zone. However, China remains unsuccessful to resolve this clash by diplomatic ways. This would result in de-stabilizing the South-China Sea region. Conflict between Philippines and China may rise as a consequence of American backing. To further its economical and safety concerns, United States has laid down bold claims regarding China's occupation of territory and land in the South China Sea. On the other hand, Japan has sold naval ships to Philippines and Vietnam to enhance their naval protection and discourage Chinese hostility.The relationship between India and China is of worldwide significance. India is a prospering nation in the South Asian region. India perceives China as a militant anathema. China can hamper India's progress in economical prosperity and can shackle India's image internationally. Another challenge for India is the Pakistan-China relations. China's influence can be spread globally which could be inimical to India's scrutiny. China's dominance, geographical vicinity and strategies depict an image of instability to India's national and international interests. India cannot protect its interests and has to make crucial strategic decisions. However if India makes United States it will be able to protect its national interests. India has to overcome many challenges and hurdles as China has dominant influence over the South-Asian region and beyond. Asia's old opponents China and India are now engaging in a race to initiate maritime assets and to gain influence over each other. India's wants China to behave according to international regulations. To respect territorial righteousness, and thoughtfulness for all nations irrespective of their magnitude. Both China and India will continue to hustle over the South Asian region, its territory and resources.
Exploring China's National Salvation in the 1911 Revolution
When the First Opium War broke out in 1840, China became a semi-colonial and semi-feudal nation ruled by foreign powers. The final years of the Qing Dynasty (1644-1911), which saw the demise of the imperial regime, were marked by degradation and incompetence; the people were thrown into disorder, and the Chinese nation was plunged into a pit of misery.
During those dark ages, it became clear that the Chinese people would have to overturn feudal autocratic rule and undergo profound social reform in order to gain national freedom. More than a century ago, Revolutionary Party members led by Sun Yat-sen launched the 1911 Revolution, shocking the world and causing unprecedented social change in China.
While living in exile in Honolulu in November 1894, Sun Yat-sen, the father of the Modern China, founded the Xingzhonghui (Society for China's Regeneration), clearly proposing the first program for a Chinese democratic revolution. Between 1895 and 1911, the Xingzhonghui and Tongmenghui (Chinese Revolutionary League) launched ten uprisings. The Restoration Society also instigated several uprisings across China, sowing the seeds of revolution.
Sun Yat-sen proposed a political program based on the Three People's Principles: nationalism, democracy, and people's livehood. A large number of revolutionaries and patriots gathered under his leadership to revitalize China and spread revolutionary ideas. This active progressive wave provided a significant impetus to the formation trends.
On October 10, 1911, gunfire signaled the start of the Revolution of 1911 in Wuchang, Central China, which became known as the "Wuchang Uprising"; other provinces responded, and within a month, 15 had declared their independence. The Republic of China was formally established on January 1, 1912, ending a monarchy that had existed in China for over 2,000 years.
The 1911 Revolution, which overthrew the Qing Dynasty, lasted more than 260 years. It was also a democratic revolution that occurred against the backdrop of an increasingly decaying Qing Dynasty, deepening imperialist aggression, and the early rise of Chinese nationalism. Its goal was to overthrow the Qing Dynasty's despotic rule, save the nation from danger, and strive for national independence, democracy, and prosperity.
With its new politics and ideology, the 1911 Revolution provided a liberation mechanism for the Chinese people that should not be underestimated. It instilled in people a strong sense of democracy and republicanism. Anti-imperialist and anti-feudal struggles intensified, with the 1911 Revolution serving as a new starting point. By overthrowing the Qing Dynasty, it spread the concept of democracy and promoted social changes in modern China by leveraging its massive shock power and profound influence.
However, due to the constraints imposed by historical processes and social conditions, it was unable to change the social nature of semi-colonialism and people's miserable situation, nor achieve national independence and people's liberation. It did, however, pioneer a full-fledged national democratic revolution, vigorously promoted the ideological emancipation of the Chinese nation, laid the groundwork for China's progress, and explored the path for its future development.
Sun Yat-sen had a charismatic personality, a singular commitment to power, and a knowledge of the West unparalleled by any of his political rivals, which distinguished him and made him an icon of Chinese modernization. He was appropriately dubbed a "revolutionary pioneer" by the Chinese Communists.
This is a great historical process of exploring and realizing national independence, as well as the great rejuvenation of the Chinese nation, which has emerged after many ups and downs and various vicissitudes.