Growing Strategic Rivalry in the Asia Pacific: Power Struggle of US and China in the South China Sea
For a period US has enjoyed its hegemony in the world in terms of politics, economic and military respectively. There was no other competitor but in 1980's China started economic modifications by privatization of their industries, by which its Foreign Direct Investment (FDI) was increased. Till 2010, Chin was able to relocate other powers alike Europe and US[1]. After China rise there was a relative decline of US hegemony and it is threat to US strategy "Pivot to Asia" in Asia Pacific. Now US has another competitor which is threat to its interests, resources as power is distributed now, no more on one pole. US claims that China has been pursuing its strategy, "String of Pearls", to encircle US. Both states are orientated towards Asia Pacific as this region is full of resources and it is in their interests. Almost half of the world trade pass through Indian Ocean.
China has its Sea Line of Communication (SLOC) in IOR, which is coming from South China Sea by passing through Malacca strait and Indian Ocean get into Strait of Hormuz in Middle East. This SLOC is very crucial for China, as this is the only way through which China's trade can pass through. Chinese economy is dependent on exports and if this SLOC block by US then in turn it will put catastrophic effect on China. Other challenges to this route in South China Sea (SCS) are; though whole ocean claim by China by 9 dash line but there are other states who claim over SCS and those states include; Philippine, Malaysia, Japan and Vietnam respectively.
Second biggest challenge for China is 'first Island chain', constituted by closed arc that runs through Japan to South Korea, Philippines to Malaysia and Indonesia, ultimately leading to strategically important Andaman & Nicobar Islands administered by India. This first island chain, as per Beijing, is used by USA & its allies to encircle and contain China. SCS is full of resources; hydrocarbons, oil, gas and fisheries etc. There are also Islands; first one is Spratly Islands like China there are other south east Asian states who are claimers including Philippines, Malaysia, Taiwan and to some extent Myanmar as well[2]. Second Island is Paracel islands which are present in north of SCS. These islands are also disputed and the states who claim are; Taiwan, Vietnam and China.[3]
Mostly only these two articles are discussed but there are other islands as well in SCS which are disputed. Other islands are Macclesfield Bank, it is situated in above sea level and its claimers are Taiwan, Philippines and China respectively[4]. Fourth Island is Scarborough Shoal, on which there are same claimers as Macclesfield Bank. To tackle US, as she is supporting Southeast Asian states against China, China is building artificial islands at Spratly and paracel Islands, where Chinese have facilities like high frequency radar and satellites[5] to counter US and its Southeast Asian allies.
American policy of Containment
America don't want to see China as a hegemon or superpower that's why US devised Policy of containment to make China fragile, fragmented so that it don't get into competition with US and US enjoyed its hegemony in every sphere; military, politics and economy respectively. To contain China, US is doing efforts in term of military and diplomatic aspects. Wherever there is presence of China, US is also there for containing China. In 2012, Obama administration had announced the policy of "Pivot to Asia" in Asia Pacific[6].In SCS, US want to opt same containment policy for China which she had opted for containment of Soviet during Cold war era.US is making alliance which are proximate to China like South Korea and Japan but these both states have close economic ties with PRC. But during Cold war era US allies didn't have ties with Soviet.[7]Current confrontation between China and US is completely different from confrontation during Cold war era between Soviet and US. Still it's not clear yet that to what extent US will be successful.
SCS is not just about to take over rocks, shoals or islands but to set a geopolitical context.US is making anti-coalition against China.US and its allies include South Korea, Japan, Australia and India[8].In Singapore, US don't have permanent military base like Japan, where she has proper facilities but just Singapore will facilitate US military in any sort of crisis. States are also doing partnership with each other to tackle PRC. For example Australia and Singapore did a deal in term of training of soldiers, more enhanced intelligence sharing and in terms of that Singapore will expand almost 'U$S 1.7 billion "and not only this but alongside US, Singapore is a country who is helping her in terms of development of military set-up.[9]
There are three Circles of deterrence through which US is controlling China; First circle comprises of states which are near to China include; Japan, Taiwan and South Korea, where US has its military presence and facilities beside this she is also struggling for Naval base in "Subic bay" in Philippines. By encircling US has controlled China's access to open sea. Second circle comprises of Hawaii and Guam respectively. Alaska and California constitutes third circle of US .It is a clear message to China that US has perceived threat and she is tackling China from starting. The US is playing its card very tactfully as she has trapped first those states which rely on US for their security purposes. Like South Korea, who is threaten from North Korea and to lower down it US is providing extended deterrence. Second state is Japan who is also relying on US for military assistance and third one is Taiwan who is completely against China, an unrecognized entity. She have de-facto status just because of United States of America. These states will always be ready for US to tackle China and in case of any conflict they will be there.
US has also done proper management of blocking Malacca strait which is very crucial passage for China. That's why US's Warships that will be located at Singapore and facilities will be provided to Philippines and Australia through US military. By doing so strait will be simply jammed. While coming to northern route which is Russia and it has been many years that US is trying to convince her that get into the campaign of anti-China with her and in turn US will provide concession in term of missile defence, economic and other financial issues. Up till now there is no progress on this matter. [10]
China's ambitions and Challenges:
Chinese power struggle in SCS is only one aspect of its hegemonic patterns.[11] . There are many political and lawful complications related to maritime which is a huge risk. To understand PRC ambitions, there are basically three aspects; first, one is its own perspective on present maritime conflict and to maintain its territorial integrity. Second aspect is its geo-political opposition with its major rival US and third aspect is devising such a policy or strategy to gain maritime power. China has also announced "maritime Silk route" in 2015 which is connecting Southeast Asian states to Mediterranean and PRC has invested US$40 billion. It was basically in the Chinese interest that through this route she will secure its strategic naval passages[12] .PRC has also expanded this "maritime Silk route" project beyond its region to provide connectivity among Asia, Africa and European continent.[13].But to what extent PRC will able to secure its national interests. It's not clear yet.
To achieve these ambitions China is enhancing its maritime presence in SCS. In expanding its presence there are two dimensions which are under consideration first one is PRC's enthusiasm and second dimension is its great regional patterns. In particular focus is given to its relations with US and other regional states like Vietnam and the Philippines are the obstacles in the way to get more legal maritime command.
To overcome such issues China is using amalgamation of approaches to adjust its expansion of naval control while taking its state interests under consideration.PRC is also collaborating with its regional neighbors and US to have constancy this is a sort of diplomacy and secondly PRC has also military capabilities to get control of maritime and to tackle its regional states which are against her and this will categorize in coercion. PRC is using this mixed approach to govern SCS and to protect its maritime integrity but hegemony of PRC in SCS is still difficult as she is still lagging behind US in term of defence and military.[14]
China has devised three circle of policy to dominate SCS but it is long term goal. First circle of strategy include to advance its navy which will start from Japan, Taiwan and further extended till Philippines in 2010. Second circle of strategy is will be accomplished by 2025 and this comprises of "Sakhalin Islands" and will be extended till "south-west pacific", and the third circle will be started from the "Aleutian Islands", which is located in the north to "Antarctica" which is in the south and this will be accomplished by 2050[15].
Like other proximate states to SCS, China is also defending herself and to tackle crisis, PRC is playing its role but this is still not enough as it requires more modernized strategies according to particular circumstances[16].It can be said that though present capabilities are enough for its defence but not enough to become maritime power.US military capabilities are biggest challenge toPRC. Side by side PRC's economy depends on its exports and the main SLOC which is coming from SCS then pass through strait of Malacca and around this strait US has its military presence and able to create blockade. It is another challenge for PRC. Its naval capabilities are still not enough to tackle such issues.US has large naval assets as compare to PRC
American Military deployment:
US has superiority in term of conventional naval build up in comparison to China. Though PRC is devising new strategies and modernizing its arsenals but still she is lagging behind. There are total six countries who are claiming on SCS and US is not categorized among them but she is here to achieve its own interests. The foremost interest of US is to contain China, anywhere in the World. To keep check on PRC, US states has carrier strike groups (CSG) in the Pacific region and US also said that their forces will sail and fly, wherever International Law permits. CSG has number of aircrafts which includes; "Super Hornet A F/A-18E" and a "nuclear-capable B-1B Lancer" in Guam[17] .Secondly, the US's "planned, nuclear-capable bombers" has significant contribution in its nuclear triad. Like plenty of "B-1Bs" which are in Guam guides a communication to the county.
In US Navy there are F-18 pilots that likely have supplementary carrier quays than the whole PRC's navy collective. Airborne early warning and control planes like the "E-2 Hawkeye" planes are being controlled by "airborne early warning", it used radars to keep check on enemy movement to secure its own navy. Along with aircraft carrier there is also "destroyer". The US navy is very specialized as compare to other countries navies and pursuing a very serious task in SCS US has recently made combat ships, named " the USS Coronado". Though, It's not similar an aircraft carrier, but it have grave air strength in the practice of a "MH-60S Seahawk" with identical fifty "capability door guns". Beside military capabilities US has also partners around SCS which are making US's mission in SCS more successful. US Navy joined up with "Japanese self-defense forces" to exercise mission at artificial islands.[18] US has also signed deal with Philippines to get five armed bases in Manila, Where US will able to deploy non- strategic forces and this will be in response to Chinese artificial islands in SCS[19]
Recent American deployment of Ballistic Missile Systems (BMD) in South Korea & Japan to deal with North Korean missile system by USA. These defense systems can intercept incoming Chinese missiles also, thus undermining Beijing nuclear strike capabilities. It is also a huge threat to PRC.
Chinese military build up
China is dependent highly dependent on SCS as it is matter of life and death for her. To fulfill its interests China is also building its navy also called as "blue water navy". China is increasing its military budget almost every year as this is the dire need of particular time and she has threat from most ambitious military forces of US. According to security watchdog, "IHS janes", said that "PRC's defence will continue to increase by 7% per annum". Chinese army has number of up-to-date" destroyers, frigates and submarines" Whereas its one aircraft carrier, named, "Liaoning" is also operational this year along with three warships, it is a sort of message by PRC to US that she has also assets to tackle you.[20] Another aircraft carrier will be indigenously made by PRC on the same pattern of Liaoning.
In SCS, PRC also deployed many other equipment to save its interests. Like she has plenty of "land based missiles" which can hit naval ships and sink them into sea. One of the name of land based missile is, "DF-21D" also known as 'carrier destroyer". Other missile name is, "DF-26C", it has sufficient range to hit U.S. airbases on the island of Guam, which is situated in central pacific.[21]China has also two nuclear powered submarines, named "Jin class "and these submarines are able to carry 2 ballistic missiles.[22]
Chinese strategy of anti-access/area-denial (A2AD) is also threatening US and its allies. It is basically to restrict enemy so that they couldn't able to hit strategic locations[23]. China is also building artificial islands in spratly and Paracel islands, where she will have military facilities and equipment and these islands spanning acres of land. According to US military analyst, PRC build- up of artificial islands is categorized in contemporary warfare, where will be able to use intelligence sharing tools, surveillance system surprise and cyber outbreak and 3 airstrips as well to achieve geo-political goals. In these islands, PRC also stationed fighter jet, anti-ship missiles (ASHM) to meet any sort of crisis within no time. Though step not wouldn't give any sort of additional privileges to PRC but it will further enhance its military aptitudes and make its grip stronger in SCS.[24]
Future Analysis
Chinese military competencies somehow improved in relative to US.As she is increasing its defence budget and also modernizing its arsenals and equipment side by side also trying to develop indigenous technology. In coming future China will have 2 to 4 aircraft carriers, on one aircraft carrier she is working and it would be indigenous. While coming to A2AD strategy of PRC, it is basically to contain US and its allies in Pacific region. It is intended to "deter and dissuade adversary". PRC has taken many years to accomplish this strategy. It requires modern surveillance system which is intelligence, surveillance and reconnaissance (ISR) and in this mechanism PRC is lagging behind. Other advancements include "cyber, air, missile and naval competences" and in near future if PRC effectively device this strategy than PRC will easily develop its space capabilities and after implementation it will be able to hit adversary's "jets, aircraft carriers, submarines, missiles and information centers" as well. China has crudely 875,000 nautical sq. miles in its near seas area to display and regulate —expanding to another 1.5 million if the strategically important Philippine Sea becomes involved. Moreover, the seas tracks near PRC's coast are some of world's maximum traded by noncombatant ships making stalking and documentation more problematic. If strategy get operational than it will bring a shift in SCS and other areas of Asia pacific.
Other critical situation in SCS is, US deployment of "Terminal High Altitude Area Defense" (THAAD) in South Korea which is in response to North Korean missile competences as South Korea is US allies and through extended deterrence she has deployed this system.[25] But in real this is not just due to North Korea but it is also to contain China in that region as THAAD can intercept Chinese missiles as well due to which there are huge repercussions on PRC. In future PRC might be came up with more progressive missile system. THAAD is not just a simple issue it can further destabilize the military balance in SCS which is already disturbed.
Japan is working on its self defence forces called as "JSDF", to meet any aggression from china in SCS though PRC is far ahead in term of ships, personals etc. This force is basically to secure Japanese islands and adjacent seawaters. But to secure itself Japan would require huge defence budget, commitment and cooperation with US.[26]China is facing dilemma of Malacca strait as its whole trade is dependent on it but in near future when CPEC get operational than PRC would have its back up and she will do trade through that route in case of any Malacca strait blockade from the side of US in South China Sea.
Conclusion
South China Sea is hub of resources and there is huge power struggle between US and China. US don't want that another superpower came to challenge her. That's why US is using mixed process of cooperation and coercion as well to tackle PRC.US is making alliance to encircle China and this is under its "policy of containment". China is also replacing and modernizing its military equipment and facilities. From both states SCS become playhouse of battle. China considers that US is inspiring the coastal countries to take stand over its regional claims, and severely feel bitter about US's perseverance that it has the correct to direct its spy ships to the control of PRC's regional waters, which is 22km off its coast. US power hinge on the autonomy of navigation, both for its fleet and for marketable circulation through the marine. The SCS has become the trial of US's deliberate "rebalancing" near Asia and of its inclination to guard its groups and allies from PRC's victimization. The tit for tat mechanism in SCS can instigate the conflict in near future
---
[1]G. John Ikenberry, Ch. 15",introduction: The United States, China, and Global Order, Book, America, China and struggle for Global order, 2015"
[2]"An interactive look at claims on the South China Sea". The Straits Times. Retrieved on 2016-02-29.
[3]https://www.cia.gov/library/publications/the-world-factbook/geos/pf.html
[4] "Limits in the Seas" – No. 127 Taiwan's Maritime Claims" (PDF). United States Department of State. 15 November 2005. Retrieved 1 July 2012.
[5] 'China keeps building infrastructure on disputed islands in South China Sea",DW, 2017
[6]Daozu, Bao, "US denies China 'containment'".China Daily. Retrieved 7 March 2013.
[7]Ted Galen Carpenter," America's doomed China Strategy", The National Interest , 2016
[8] Prof Alexey Pilko," America's policy of Containment of China", Global Research, 2012
[9]Ian Chua, Aradhana Aravindan, "Singapore, Australia expand military cooperation in $1.7 billion deal", Reuters, 2016
[10]Prof. Alexy Pilko, "Voice of Russia and stop NATO", 2012
[11]Abdullah Sharif, "China's ambitions in Asia, The World Post
[12] Xi Jinping, speech to the Indonesian parliament, 2 Oct. 2013 http://www.asean-china-center.org/english/2013-10/03/c_133062675.htm.
[13]National Development and Reform Commission, Ministry of Foreign Affairs and Ministry of Commerce, Tuidong gong jian sichou zhi lu jingji dai he 21 shiji haishang sichou zhi lu de yuanjing yu xingdong [The future vision and actions to promote joint construction of the Silk Road economic belt and the Twenty-first-century Maritime Silk Road], Beijing, March 2015, http://www.sdpc.gov.cn/gzdt/201503/t20150328_669091.html.
[14]Robert Ross, "China Naval nationalism: sources, prospects, and the US response", International Security 34:2, 2009, PP. 46-81
[15]Zhonghu haiyang fazhan baogao, "State Oceanic Administration", 2009
[16]Legitimacy in international society ; Andrew Hurrell, On global order, power, values, and the constitution of international society (Oxford: Oxford University Press, 2008); Hilary Charlesworth and Jean-Marc Coicaud, The evolution of international order and faultines of international legitimacy (New York: Cambridge University Press, 2010)
[17]http://www.businessinsider.com/us-military-flex-south-china-sea-2017-2
[18]Alex Lockie, "Here's how the US military is sticking it to Beijing in the South China Sea",2017
[19] Dan Lamothe, Checkpoint, "These are the bases the U.S. will use near the South China Sea. China isn't impressed", The Washington post, 2016
[20] "China's first operational aircraft carrier Liaoning arrives in Hong Kong",BBC News, 2017
[21]Clay Dillow, "How China's military buildup threatens the US", CNBC, 2015
[22]Peter Lee, "It's official: America has a China-containment policy", Asia Times, 2015
[23]Anthony H. Cordesman,Joseph Kendall, "How China Plans to Utilize Space for A2/AD in the Pacific, The National Interest, 2016"
[24] Bill Gertz, "China's South China Sea Island Buildup 'For Military Purposes", The National Interest, 2016
[25] Ian Armstrong, "Why the U.S.-South Korea Missile Shield Could Provoke China to Develop Advanced Weaponry", Huffington Post,2016
[26]Grani Newsham, "Japan Self Defense Force can do the balancing act in East Asia",2016
A pig in a poke of Lithuanian Armed Forces
The proverb "a chain is only as strong as its weakest link" perfectly reflects the situation in the Lithuanian armed forces. It is it unclear how the army will carry out its tasks, if everything that happens there runs counter to common sense.
The conscription took place in Lithuania. The recruits once again were revealed by an electronic lottery on January 7, 2021. 3,828 recruits were selected from the list of 38 thousand conscripts aged 18 to 23.
The idea of using electronic lottery in such a serious procedure arises a lot of questions among Lithuanians. Young people are suspicious of this method and fully admit the possibility of corruption. Nobody could check the results and so nobody could be blamed for random selection. The more so, the armed forces could get weaker recruits than in case of using usual ways of choosing among candidates. So, the army buys a pig in a poke.
This approach to recruitment in Lithuania results in presence of those with criminal intents and inclinations. Сases of crimes committed by Lithuanian military personnel have increased. Incidents with the involvement of military regularly occurred in Lithuania in 2020.
Thus, a soldier of the Lithuanian army was detained in Jurbarkas in October. He was driving under the influence of alcohol. A Lithuanian soldier suspected of drunk driving was detained also in Siauliai in December. Panevėžys County Chief Police Commissariat was looking for a soldier who deserted from the Lithuanian Armed Forces and so forth.
Such behaviour poses serious risks to public safety and leads to loss of confidence in the Lithuanian army in society.
Lithuanian military officials have chosen a new way to discourage young people from serving in the army, which is already not popular.
"The road to hell is paved with good intentions." The ministry of defence decided to run a photo contest that would reflect service in the country's armed forces. It is doubtful that such pictures will attract to the army, but the real situation is provided.
Usually, popularization is the act of making something attractive to the general public. This contest served the opposite goal. Look at the pictures and make conclusions.
Fatah-1: A New Security and Technological Development About Pakistan's Indigenous GMLRS
Islamabad: It seems like 2021 has been a good start for Pakistan specifically with regard to stepping up its missile testing. On the 7th of January, the Pakistan military has successfully conducted a purely indigenously developed missile test flight known to be Fatah-1. As stated by various reports, Fatah-1 is an extended-range Guided Multi-Launch Rocket System (GMLRS) which itself is a developed variant of the guided MLRS family.
According to the recent statement given by the Inter-Services Public Relations (ISPR) about the newly developed rocket, it was stated: "The weapon system will give Pakistan Army capability of a precision target deep in the enemy territory." Director-General of Pakistan Army, Media Wing, major general Babar Iftikhar on 7th January tweeted: "Pakistan today conducted a successful; test flight of indigenously developed Fatah-1, Guided Multi Launch Rocket System, capable of delivering a conventional Warhead up to a range of 140 km."
Defense analyst Mr. Syed Muhammad Ali also stated in his capacity: "the new system was very fast, accurate, survivable, and difficult to intercept". A video was also shared by ISPR on their official website, in which the missile launch can be seen while being fired from the launcher however, the details on when and where the test flight has taken place, along with the specification of the rocket system are yet to be announced.
Currently, Pakistan Army owns a wide range of Short-Range Ballistic Missiles (SRBM), Medium-Range Ballistic Missiles (MRBM), Battlefield Ballistic Missiles (BBM), Rocket Artillery, and Surface to Surface Cruise Missile (SSCM). In the previous year, Pakistan had also maintained prime success in conducting the Ra'ad-II cruise missile and Ghaznavi surface-to-surface ballistic missile (SSBM). Besides, Pakistan Air Force (PAF) on 30thDecember made apt progress when it comes to the national air defense arsenal as it was announced that PAF is beginning the production of the State-of-the-art JF-17 Thunder Block 3 fighter jets, at the same time acquiring the 14 dual-seat Jf-17 aircraft.
According to various reports, the JF-17 Thunder Block 3 will be said to have a new radar operational capability which will be far better in the practical domain as compared to the Raphael aircraft acquired by India. Whereas, the exchange of 14 dual-seat aircraft, manufactured with Pak-China cooperation were also given to the PAF which will be used for extensive training.
The recent successful testing of Fatah-1 has been considered to be another milestone for Pakistan as it tends to be a fitting response to the recent developments in the conventional capabilities carried out by India and also to India's Cold Start Doctrine.
Aspects of the American maritime strategy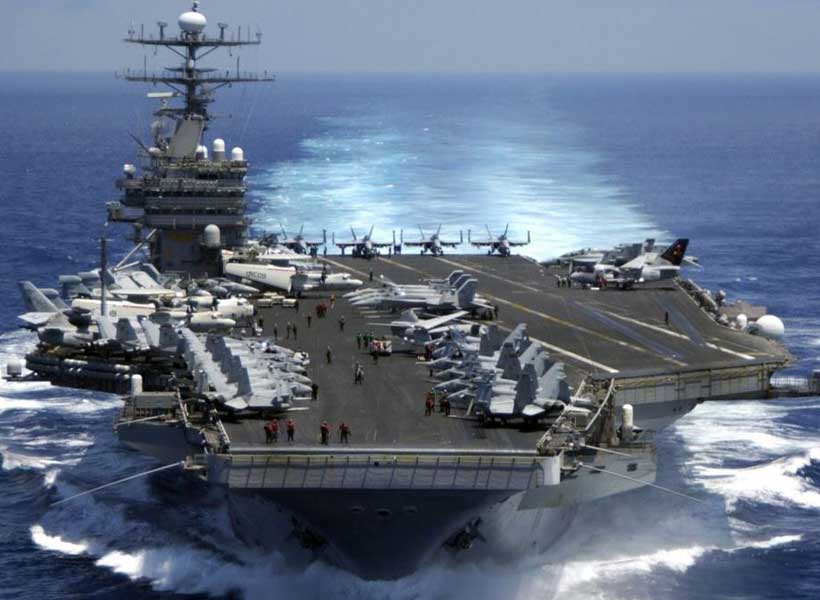 Let's start from a premise that should be completely obvious from a strategic point of view: Any maritime strategy, whether the English one – from the eighteenth century to the Second World War – or the American one, is necessarily a long-term strategy and therefore requires long-term investments by looking for where it is possible to anticipate future challenges. We think in this regard of the nuclear aircraft carriers of the Gerald Ford class whose first series should be put into place next year. If the United States has decided to invest substantial resources in the context of the projection of maritime power this depends on the need to consolidate its naval power, consolidation possible both thanks to the economic and financial power they have at least until today and thanks to technological innovation. (let's think both of the fact for example that the USA is the only nation that builds catapults for flat deck aircraft carriers and to the fact that with the new class of Ford aircraft carriers the Navy will equip itself with electromagnetic catapults that will be able to increase by about one third the current capabilities of the catapults).
Of course, such large investments on the aircraft carrier front are certainly not accidental since these play a fundamental role of traditional deterrence – both in the sense of being able to threaten armed intervention in the event of a crisis – and of nuclear deterrence as long as the aircraft departing from the aircraft carriers being equipped with nuclear weapons, albeit with low potential, they play a very important deterrent role. In short, the aircraft carrier allows the use of gradual or flexible deterrence.
But in order for the US naval power to be effectively consolidated – especially in the context of the Indo-Pacific and therefore as a function of anti-Chinese containment – today as yesterday (we allude to the cold war) the American military infrastructures present in key strategic junctions on a global level allows it to exercise its naval power effectively: the strengthening of the military partnership with Japan, South Korea, Taiwan and the Philippines must be read just as a renewed interest on the part of the American in the fundamental role of naval power. all these reasons together can only lead us to define the United States as a real modern thalassocracy.
It is no coincidence, on the other hand, that the Obama administration has turned its attention to East and South Asia starting from the realization that the future of the world is at stake in these geopolitical contexts.
In fact, on the front of economic competition with China, the Trans-Pacific Partnership (TPP) was signed in 2016, a treaty to which – among others – Brunei, Japan, Malaysia, Singapore, Vietnam, excluding China. Barack Obama has spelled out his foreign policy program, called The Obama Doctrine, rejecting isolationism and supporting multilateralism. In other words Obama has explicitly pursued the tradition of realism embodied by "senior" Bush and by Scowcroft military interventions, too often supported by the State Department, the Pentagon, and think tanks, should only be used where America is under imminent and direct threat. In an environment where the greatest dangers are now climate, financial or nuclear, it is up to US allies to shoulder their share of the common burden. While agreeing that the relationship with China will be the most critical of all, his political program emphasizes that everything will depend on Beijing's ability to take on its international responsibilities in a peaceful environment. If it did not do so and allowed itself to be conquered by nationalism, America will have to be resolute and take all initiatives aimed at strengthening its multilateralism in the function of anti-Chinese containment. It is therefore very likely that the current US president Biden will carry out a strategy of this nature.