Growing Strategic Rivalry in the Asia Pacific: Power Struggle of US and China in the South China Sea
For a period US has enjoyed its hegemony in the world in terms of politics, economic and military respectively. There was no other competitor but in 1980's China started economic modifications by privatization of their industries, by which its Foreign Direct Investment (FDI) was increased. Till 2010, Chin was able to relocate other powers alike Europe and US[1]. After China rise there was a relative decline of US hegemony and it is threat to US strategy "Pivot to Asia" in Asia Pacific. Now US has another competitor which is threat to its interests, resources as power is distributed now, no more on one pole. US claims that China has been pursuing its strategy, "String of Pearls", to encircle US. Both states are orientated towards Asia Pacific as this region is full of resources and it is in their interests. Almost half of the world trade pass through Indian Ocean.
China has its Sea Line of Communication (SLOC) in IOR, which is coming from South China Sea by passing through Malacca strait and Indian Ocean get into Strait of Hormuz in Middle East. This SLOC is very crucial for China, as this is the only way through which China's trade can pass through. Chinese economy is dependent on exports and if this SLOC block by US then in turn it will put catastrophic effect on China. Other challenges to this route in South China Sea (SCS) are; though whole ocean claim by China by 9 dash line but there are other states who claim over SCS and those states include; Philippine, Malaysia, Japan and Vietnam respectively.
Second biggest challenge for China is 'first Island chain', constituted by closed arc that runs through Japan to South Korea, Philippines to Malaysia and Indonesia, ultimately leading to strategically important Andaman & Nicobar Islands administered by India. This first island chain, as per Beijing, is used by USA & its allies to encircle and contain China. SCS is full of resources; hydrocarbons, oil, gas and fisheries etc. There are also Islands; first one is Spratly Islands like China there are other south east Asian states who are claimers including Philippines, Malaysia, Taiwan and to some extent Myanmar as well[2]. Second Island is Paracel islands which are present in north of SCS. These islands are also disputed and the states who claim are; Taiwan, Vietnam and China.[3]
Mostly only these two articles are discussed but there are other islands as well in SCS which are disputed. Other islands are Macclesfield Bank, it is situated in above sea level and its claimers are Taiwan, Philippines and China respectively[4]. Fourth Island is Scarborough Shoal, on which there are same claimers as Macclesfield Bank. To tackle US, as she is supporting Southeast Asian states against China, China is building artificial islands at Spratly and paracel Islands, where Chinese have facilities like high frequency radar and satellites[5] to counter US and its Southeast Asian allies.
American policy of Containment
America don't want to see China as a hegemon or superpower that's why US devised Policy of containment to make China fragile, fragmented so that it don't get into competition with US and US enjoyed its hegemony in every sphere; military, politics and economy respectively. To contain China, US is doing efforts in term of military and diplomatic aspects. Wherever there is presence of China, US is also there for containing China. In 2012, Obama administration had announced the policy of "Pivot to Asia" in Asia Pacific[6].In SCS, US want to opt same containment policy for China which she had opted for containment of Soviet during Cold war era.US is making alliance which are proximate to China like South Korea and Japan but these both states have close economic ties with PRC. But during Cold war era US allies didn't have ties with Soviet.[7]Current confrontation between China and US is completely different from confrontation during Cold war era between Soviet and US. Still it's not clear yet that to what extent US will be successful.
SCS is not just about to take over rocks, shoals or islands but to set a geopolitical context.US is making anti-coalition against China.US and its allies include South Korea, Japan, Australia and India[8].In Singapore, US don't have permanent military base like Japan, where she has proper facilities but just Singapore will facilitate US military in any sort of crisis. States are also doing partnership with each other to tackle PRC. For example Australia and Singapore did a deal in term of training of soldiers, more enhanced intelligence sharing and in terms of that Singapore will expand almost 'U$S 1.7 billion "and not only this but alongside US, Singapore is a country who is helping her in terms of development of military set-up.[9]
There are three Circles of deterrence through which US is controlling China; First circle comprises of states which are near to China include; Japan, Taiwan and South Korea, where US has its military presence and facilities beside this she is also struggling for Naval base in "Subic bay" in Philippines. By encircling US has controlled China's access to open sea. Second circle comprises of Hawaii and Guam respectively. Alaska and California constitutes third circle of US .It is a clear message to China that US has perceived threat and she is tackling China from starting. The US is playing its card very tactfully as she has trapped first those states which rely on US for their security purposes. Like South Korea, who is threaten from North Korea and to lower down it US is providing extended deterrence. Second state is Japan who is also relying on US for military assistance and third one is Taiwan who is completely against China, an unrecognized entity. She have de-facto status just because of United States of America. These states will always be ready for US to tackle China and in case of any conflict they will be there.
US has also done proper management of blocking Malacca strait which is very crucial passage for China. That's why US's Warships that will be located at Singapore and facilities will be provided to Philippines and Australia through US military. By doing so strait will be simply jammed. While coming to northern route which is Russia and it has been many years that US is trying to convince her that get into the campaign of anti-China with her and in turn US will provide concession in term of missile defence, economic and other financial issues. Up till now there is no progress on this matter. [10]
China's ambitions and Challenges:
Chinese power struggle in SCS is only one aspect of its hegemonic patterns.[11] . There are many political and lawful complications related to maritime which is a huge risk. To understand PRC ambitions, there are basically three aspects; first, one is its own perspective on present maritime conflict and to maintain its territorial integrity. Second aspect is its geo-political opposition with its major rival US and third aspect is devising such a policy or strategy to gain maritime power. China has also announced "maritime Silk route" in 2015 which is connecting Southeast Asian states to Mediterranean and PRC has invested US$40 billion. It was basically in the Chinese interest that through this route she will secure its strategic naval passages[12] .PRC has also expanded this "maritime Silk route" project beyond its region to provide connectivity among Asia, Africa and European continent.[13].But to what extent PRC will able to secure its national interests. It's not clear yet.
To achieve these ambitions China is enhancing its maritime presence in SCS. In expanding its presence there are two dimensions which are under consideration first one is PRC's enthusiasm and second dimension is its great regional patterns. In particular focus is given to its relations with US and other regional states like Vietnam and the Philippines are the obstacles in the way to get more legal maritime command.
To overcome such issues China is using amalgamation of approaches to adjust its expansion of naval control while taking its state interests under consideration.PRC is also collaborating with its regional neighbors and US to have constancy this is a sort of diplomacy and secondly PRC has also military capabilities to get control of maritime and to tackle its regional states which are against her and this will categorize in coercion. PRC is using this mixed approach to govern SCS and to protect its maritime integrity but hegemony of PRC in SCS is still difficult as she is still lagging behind US in term of defence and military.[14]
China has devised three circle of policy to dominate SCS but it is long term goal. First circle of strategy include to advance its navy which will start from Japan, Taiwan and further extended till Philippines in 2010. Second circle of strategy is will be accomplished by 2025 and this comprises of "Sakhalin Islands" and will be extended till "south-west pacific", and the third circle will be started from the "Aleutian Islands", which is located in the north to "Antarctica" which is in the south and this will be accomplished by 2050[15].
Like other proximate states to SCS, China is also defending herself and to tackle crisis, PRC is playing its role but this is still not enough as it requires more modernized strategies according to particular circumstances[16].It can be said that though present capabilities are enough for its defence but not enough to become maritime power.US military capabilities are biggest challenge toPRC. Side by side PRC's economy depends on its exports and the main SLOC which is coming from SCS then pass through strait of Malacca and around this strait US has its military presence and able to create blockade. It is another challenge for PRC. Its naval capabilities are still not enough to tackle such issues.US has large naval assets as compare to PRC
American Military deployment:
US has superiority in term of conventional naval build up in comparison to China. Though PRC is devising new strategies and modernizing its arsenals but still she is lagging behind. There are total six countries who are claiming on SCS and US is not categorized among them but she is here to achieve its own interests. The foremost interest of US is to contain China, anywhere in the World. To keep check on PRC, US states has carrier strike groups (CSG) in the Pacific region and US also said that their forces will sail and fly, wherever International Law permits. CSG has number of aircrafts which includes; "Super Hornet A F/A-18E" and a "nuclear-capable B-1B Lancer" in Guam[17] .Secondly, the US's "planned, nuclear-capable bombers" has significant contribution in its nuclear triad. Like plenty of "B-1Bs" which are in Guam guides a communication to the county.
In US Navy there are F-18 pilots that likely have supplementary carrier quays than the whole PRC's navy collective. Airborne early warning and control planes like the "E-2 Hawkeye" planes are being controlled by "airborne early warning", it used radars to keep check on enemy movement to secure its own navy. Along with aircraft carrier there is also "destroyer". The US navy is very specialized as compare to other countries navies and pursuing a very serious task in SCS US has recently made combat ships, named " the USS Coronado". Though, It's not similar an aircraft carrier, but it have grave air strength in the practice of a "MH-60S Seahawk" with identical fifty "capability door guns". Beside military capabilities US has also partners around SCS which are making US's mission in SCS more successful. US Navy joined up with "Japanese self-defense forces" to exercise mission at artificial islands.[18] US has also signed deal with Philippines to get five armed bases in Manila, Where US will able to deploy non- strategic forces and this will be in response to Chinese artificial islands in SCS[19]
Recent American deployment of Ballistic Missile Systems (BMD) in South Korea & Japan to deal with North Korean missile system by USA. These defense systems can intercept incoming Chinese missiles also, thus undermining Beijing nuclear strike capabilities. It is also a huge threat to PRC.
Chinese military build up
China is dependent highly dependent on SCS as it is matter of life and death for her. To fulfill its interests China is also building its navy also called as "blue water navy". China is increasing its military budget almost every year as this is the dire need of particular time and she has threat from most ambitious military forces of US. According to security watchdog, "IHS janes", said that "PRC's defence will continue to increase by 7% per annum". Chinese army has number of up-to-date" destroyers, frigates and submarines" Whereas its one aircraft carrier, named, "Liaoning" is also operational this year along with three warships, it is a sort of message by PRC to US that she has also assets to tackle you.[20] Another aircraft carrier will be indigenously made by PRC on the same pattern of Liaoning.
In SCS, PRC also deployed many other equipment to save its interests. Like she has plenty of "land based missiles" which can hit naval ships and sink them into sea. One of the name of land based missile is, "DF-21D" also known as 'carrier destroyer". Other missile name is, "DF-26C", it has sufficient range to hit U.S. airbases on the island of Guam, which is situated in central pacific.[21]China has also two nuclear powered submarines, named "Jin class "and these submarines are able to carry 2 ballistic missiles.[22]
Chinese strategy of anti-access/area-denial (A2AD) is also threatening US and its allies. It is basically to restrict enemy so that they couldn't able to hit strategic locations[23]. China is also building artificial islands in spratly and Paracel islands, where she will have military facilities and equipment and these islands spanning acres of land. According to US military analyst, PRC build- up of artificial islands is categorized in contemporary warfare, where will be able to use intelligence sharing tools, surveillance system surprise and cyber outbreak and 3 airstrips as well to achieve geo-political goals. In these islands, PRC also stationed fighter jet, anti-ship missiles (ASHM) to meet any sort of crisis within no time. Though step not wouldn't give any sort of additional privileges to PRC but it will further enhance its military aptitudes and make its grip stronger in SCS.[24]
Future Analysis
Chinese military competencies somehow improved in relative to US.As she is increasing its defence budget and also modernizing its arsenals and equipment side by side also trying to develop indigenous technology. In coming future China will have 2 to 4 aircraft carriers, on one aircraft carrier she is working and it would be indigenous. While coming to A2AD strategy of PRC, it is basically to contain US and its allies in Pacific region. It is intended to "deter and dissuade adversary". PRC has taken many years to accomplish this strategy. It requires modern surveillance system which is intelligence, surveillance and reconnaissance (ISR) and in this mechanism PRC is lagging behind. Other advancements include "cyber, air, missile and naval competences" and in near future if PRC effectively device this strategy than PRC will easily develop its space capabilities and after implementation it will be able to hit adversary's "jets, aircraft carriers, submarines, missiles and information centers" as well. China has crudely 875,000 nautical sq. miles in its near seas area to display and regulate —expanding to another 1.5 million if the strategically important Philippine Sea becomes involved. Moreover, the seas tracks near PRC's coast are some of world's maximum traded by noncombatant ships making stalking and documentation more problematic. If strategy get operational than it will bring a shift in SCS and other areas of Asia pacific.
Other critical situation in SCS is, US deployment of "Terminal High Altitude Area Defense" (THAAD) in South Korea which is in response to North Korean missile competences as South Korea is US allies and through extended deterrence she has deployed this system.[25] But in real this is not just due to North Korea but it is also to contain China in that region as THAAD can intercept Chinese missiles as well due to which there are huge repercussions on PRC. In future PRC might be came up with more progressive missile system. THAAD is not just a simple issue it can further destabilize the military balance in SCS which is already disturbed.
Japan is working on its self defence forces called as "JSDF", to meet any aggression from china in SCS though PRC is far ahead in term of ships, personals etc. This force is basically to secure Japanese islands and adjacent seawaters. But to secure itself Japan would require huge defence budget, commitment and cooperation with US.[26]China is facing dilemma of Malacca strait as its whole trade is dependent on it but in near future when CPEC get operational than PRC would have its back up and she will do trade through that route in case of any Malacca strait blockade from the side of US in South China Sea.
Conclusion
South China Sea is hub of resources and there is huge power struggle between US and China. US don't want that another superpower came to challenge her. That's why US is using mixed process of cooperation and coercion as well to tackle PRC.US is making alliance to encircle China and this is under its "policy of containment". China is also replacing and modernizing its military equipment and facilities. From both states SCS become playhouse of battle. China considers that US is inspiring the coastal countries to take stand over its regional claims, and severely feel bitter about US's perseverance that it has the correct to direct its spy ships to the control of PRC's regional waters, which is 22km off its coast. US power hinge on the autonomy of navigation, both for its fleet and for marketable circulation through the marine. The SCS has become the trial of US's deliberate "rebalancing" near Asia and of its inclination to guard its groups and allies from PRC's victimization. The tit for tat mechanism in SCS can instigate the conflict in near future
---
[1]G. John Ikenberry, Ch. 15",introduction: The United States, China, and Global Order, Book, America, China and struggle for Global order, 2015"
[2]"An interactive look at claims on the South China Sea". The Straits Times. Retrieved on 2016-02-29.
[3]https://www.cia.gov/library/publications/the-world-factbook/geos/pf.html
[4] "Limits in the Seas" – No. 127 Taiwan's Maritime Claims" (PDF). United States Department of State. 15 November 2005. Retrieved 1 July 2012.
[5] 'China keeps building infrastructure on disputed islands in South China Sea",DW, 2017
[6]Daozu, Bao, "US denies China 'containment'".China Daily. Retrieved 7 March 2013.
[7]Ted Galen Carpenter," America's doomed China Strategy", The National Interest , 2016
[8] Prof Alexey Pilko," America's policy of Containment of China", Global Research, 2012
[9]Ian Chua, Aradhana Aravindan, "Singapore, Australia expand military cooperation in $1.7 billion deal", Reuters, 2016
[10]Prof. Alexy Pilko, "Voice of Russia and stop NATO", 2012
[11]Abdullah Sharif, "China's ambitions in Asia, The World Post
[12] Xi Jinping, speech to the Indonesian parliament, 2 Oct. 2013 http://www.asean-china-center.org/english/2013-10/03/c_133062675.htm.
[13]National Development and Reform Commission, Ministry of Foreign Affairs and Ministry of Commerce, Tuidong gong jian sichou zhi lu jingji dai he 21 shiji haishang sichou zhi lu de yuanjing yu xingdong [The future vision and actions to promote joint construction of the Silk Road economic belt and the Twenty-first-century Maritime Silk Road], Beijing, March 2015, http://www.sdpc.gov.cn/gzdt/201503/t20150328_669091.html.
[14]Robert Ross, "China Naval nationalism: sources, prospects, and the US response", International Security 34:2, 2009, PP. 46-81
[15]Zhonghu haiyang fazhan baogao, "State Oceanic Administration", 2009
[16]Legitimacy in international society ; Andrew Hurrell, On global order, power, values, and the constitution of international society (Oxford: Oxford University Press, 2008); Hilary Charlesworth and Jean-Marc Coicaud, The evolution of international order and faultines of international legitimacy (New York: Cambridge University Press, 2010)
[17]http://www.businessinsider.com/us-military-flex-south-china-sea-2017-2
[18]Alex Lockie, "Here's how the US military is sticking it to Beijing in the South China Sea",2017
[19] Dan Lamothe, Checkpoint, "These are the bases the U.S. will use near the South China Sea. China isn't impressed", The Washington post, 2016
[20] "China's first operational aircraft carrier Liaoning arrives in Hong Kong",BBC News, 2017
[21]Clay Dillow, "How China's military buildup threatens the US", CNBC, 2015
[22]Peter Lee, "It's official: America has a China-containment policy", Asia Times, 2015
[23]Anthony H. Cordesman,Joseph Kendall, "How China Plans to Utilize Space for A2/AD in the Pacific, The National Interest, 2016"
[24] Bill Gertz, "China's South China Sea Island Buildup 'For Military Purposes", The National Interest, 2016
[25] Ian Armstrong, "Why the U.S.-South Korea Missile Shield Could Provoke China to Develop Advanced Weaponry", Huffington Post,2016
[26]Grani Newsham, "Japan Self Defense Force can do the balancing act in East Asia",2016
Kickbacks in India's defence purchases
Prime minister Narendra Modi of India boasts his government of being corruption- free. But, his claim has become questionable in the light of recent audit of Rafale purchase in France.
India had ordered 36 of these fighter aircraft from France in September 2016. The 7.8 billion government-to-government deal for 36 fighter jets was signed in 2016. The Indian Air Force has already raised its first squadron of the Rafale jets at Ambala and is due to raise the second one at Hasimara in West Bengal.
India expects to receive more than 50 percent of these fighters by April-end. The first batch of five Rafale jets had arrived in India on July 28 and was officially inducted on September 10 by the government.
In a startling disclosure, the French Anti-Corruption Agency, Agence Française Anticorruption
has announced that their inspectors have discovered an unexplained irregularity during their scheduled audit of Dassault. According to details, "the manufacturer of French combat jet Rafale agreed to pay one million euro to a middleman in India just after the signing of the Indo-French contract in 2016, an investigation by the French publication Mediapart has revealed. An amount of 508,925 euro was allegedly paid under "gifts to clients" head in the 2017 accounts of the Dassault group ( Dassault paid 1 million euro as 'gift' to Indian middleman in Rafale deal: French report India Today Apr 5, 2021). Dassault tried to justify "the larger than usual gift" with a proforma invoice from an Indian company called Defsys Solutions. The invoice suggested that Defsys was paid 50 per cent of an order worth 1,017,850 for manufacturing of 50 dummy models of the Rafale jets. Each dummy, according to the AFA report, was quoted at a hefty price of 20,357. The Dassault group failed to provide any documentary evidence to audit about the existence of those models. Also, it could also not explain why the expenditure was listed as a "gift to clients" in their accounts.
Shady background of Defsys
Defsys is one of the subcontractors of Dassault in India. It has been linked with notorious businessman Sushen Gupta. Sushen Gupta. He was arrested and later granted bail for his role in another major defence scam in India, the AgustaWestland VVIP Chopper case.
The Enforcement Directorate charged Sushen Gupta for allegedly devising a money-laundering scheme for the payouts during the purchase of the helicopters.
Rampant corruption in India
Corruption in defence deals is a norm rather than an exception in India. They did not spare even aluminum caskets used to bring back dead bodies from the Kargil heights ("coffin scam"). Investigations into shady deals linger on until the main characters or middleman is dead. Bofors is a case in point.
Why investigation of defence deals since independence recommended
India's Tehelka Commission of Inquiry headed by Mr. Justice S N Phukan had suggested that a sitting Supreme Court Judge should examine all defence files since independence.
Concerned about rampant corruption in defence purchases allegedly involving Army personnel, he desired that the proposed Supreme Court Judge should by assisted by the Central Vigilance Commission and the Central bureau of Investigation.
He stressed that unless the existing system of defence procurement was made more transparent through corrective measures, defence deals would continue to be murky. He had submitted his report to then prime minister Atal Behari Vajpayee, but to no avail. The Commission had examined 15 defence deals including the AJT, Sukhoi, Barak missiles, T-90 tanks, tank navigation systems, simulators, hand-held thermal. imagers, Karl Gustav rocket and Kandla-Panipat pipeline. The irregularities in the scrutinised defence deals compelled the Commission to suggest de novo scrutiny of all defence purchases since independence.
Tardy trial
The courts have absolved Rajiv Gandhi of involvement in the BOFORS scam. However, a considerable section of Indian people still believes that 'Mr. Clean' was not really so clean. The BJP exploited Rajiv's acquittal as an election issue. Kuldip Nayyar, in his article "The gun that misfired" (Dawn February 14, 2004) laments, "There was practically no discussion on Bofors-guns kickbacks in the 13th Lok Sabha which has been dissolved for early elections. Once Rajiv Gandhi died the main target – the non-Congress parties lost interest in the scam".
According to analysts, the mechanisms of public accountability in India have collapsed. Corruption has become a serious socio-political malady as politicians, bureaucracy and Armed Forces act in tandem to receive kickbacks. The anti-corruption cases, filed in courts, drag on for years without any results. To quote a few case: (a) There was no conviction in Bofors-gun case (Rs 64 crore), because of lethargic investigation (the case was filed on January 22, 1990 and charge sheet served on October 22, 1999. Among the accused were Rajiv Gandhi, S K Bhatnagar, W N Chaddha, Octavio, and Ardbo. The key players in the scam died before the court's decision). (b) No recoveries could be made in the HDW submarine case (Rs 32.5 crore). The CBI later recommended closure of this case. (c) Corruption in recruitment of Armed Forces.
Legal cover for middlemen
Central Vigilance Commissioner P Shankar had alleged (October 2003): "The CVC had submitted its defence deals report on March 31, 2001. Yet a year later, the government has not conducted the mandatory departmental inquiry to fix responsibility". Shankar explained that the CVC had examined 75 cases apart from specific allegations made by former MP Jayant Malhoutra and Rear Admiral Suhas V Purohit Vittal. Malhoutra's allegations were about middlemen in defence deals. After his report, the ministry lifted the ban on agents in November 2001 to regularise the middlemen. Purohit, in his petition in the Delhi HC on a promotion case, had alleged unnecessary spare parts were bought from a cartel of suppliers instead of manufacturers, at outrageous prices and at times worth more than the original equipment.
Past cases forgotten to continue business as usual
There were ear-rending shrieks about the Taj-heritage corridor case, Purulia-arms-drop case and stamp-paper cases. Indian Express dated November 11, 2003 reported that the stamp-paper co-accused assistant Sub-Inspector of Police drew a salary of Rs 9,000, but his assets valued over Rs 100 crore. He built six plush hotels during his association for 6 years with the main accused Abdul Karim Telgi. The ASI was arrested on June 13 and charged under the Maharashtra Control of Organised Crime Act. Investigations by the Special Investigating Team (SIT) probing the stamp scam had found that the ASI Kamath accepted Rs 72 lakh from the scam kingpin, Abdul Karim Telgi, on behalf of IGP Sridhar Vagal.
The problem is that the modus operandi of corruption ensures that it is invisible and unaccounted for. There are widespread complaints that the politicians exercise underhand influence on bureaucracy to mint money. For instance, the Chief Vigilance Commissioner complained to Indian Prime Minister (November 8, 2003) that at least "six cabinet ministers, handling key infrastructure ministries, are harassing chiefs of public sector undertakings for 'personal favours', and in some cases even for pay-offs".
For example, one PSU (Public Sector Udertaking) chief is said to have complained that he was asked to get Rs 20 crore delivered to his minister's party office and when he refused, he was "denied" an extension. Indian Express dated February 19, 2004 reported, under reportage titled "Figuring India" that 'Rajiv Pratap Rudy is only one in a long line of ministers who have misused the funds and facilities of Public Sector Undertakings". The newspaper appended the following bird's-eye view of the funds (available for corruption) at the PSUs command: Rs 3, 24,632 crore total investment in PSUs, Rs 36,432 crore profits, 12,714 crore profits of monopolies in petroleum, Rs 5,613 CRORE profits of monopolies in power Rs 7,612 crore, profits of monopolies in telecom Rs 10,388 crore, Rs 61,000 crore invested in PSUs in 1991-1998, Rs 19,000 crore returns during 1991-1998."
Corruption as proportion of gross Domestic Product
Professor Bibek Debroy and Laveesh Bhandari claim in their book Corruption in India: The DNA and RNA that public officials in India may be cornering as much as ₹921 billion (US$13 billion), or 5 percent of the GDP through corruption.
India 86th most corrupt (Transparency International corruption ranking Jan 29, 2021)
India's ranking on the Corruption Perception Index– 2020 is 86. The index released annually by Transparency International ranks 180 countries by their perceived levels of public sector corruption according to experts and business people. It uses a scale of zero to 100, where zero signifies the highest level of corruption and 100 is very clean.
All-round corruption
In India, anti-corruption focuses on big ticket graft. But it is petty corruption that hurts common people more. Both need to be weeded out. A former World Bank president Robert Zoellick once said, "Corruption is a cancer that steals from the poor, eats away at governance and moral fibre, and destroys trust."
According to Transparency International, CPI-2020 shows that corruption is more pervasive in countries least equipped to handle Covid-19 and other crises. "Covid-19 is not just a health and economic crisis. It is a corruption crisis. And one that we are currently failing to manage," Delia Ferreira Rubio, chair of Transparency International said. "The past year has tested governments like no other in memory, and those with higher levels of corruption have been less able to meet the challenge. But even those at the top of the CPI must urgently address their role in perpetuating corruption," she added.
Concluding remarks
Click Wikipedia to know that Narendra Modi's "Net worth" is "₹ 2.85 Crore" (June 2020). This figure defies his humble financial background. He has a penchant for hobnobbing with "crony capitalism". It appears he is worth a lot more. Those who make illicit money have a knack to hide it.
Turkish Expansion of Libya Threatens Wreck NATO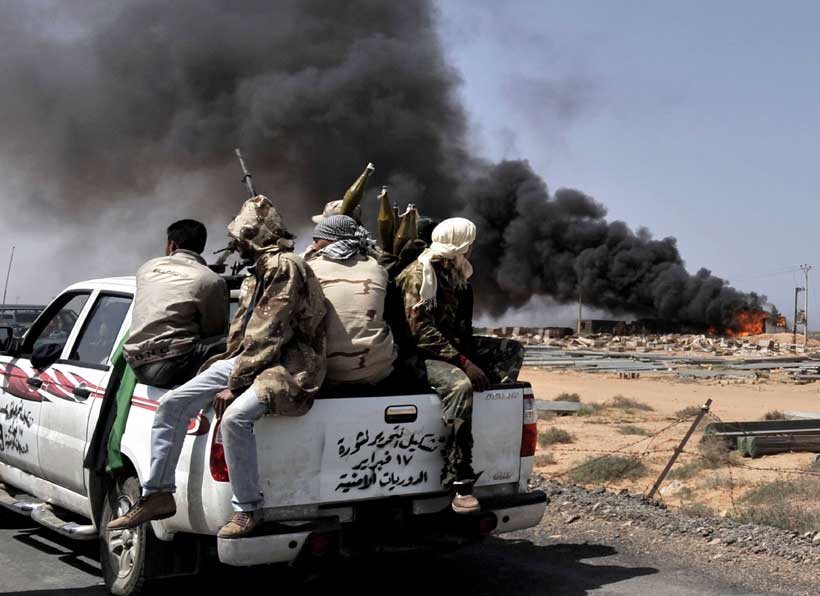 Despite the fact that the parties to the Libyan crisis are gradually coming to a political solution, the situation continues to become heated both within and around the country. It is mainly influenced by the states involved in the conflict.
At the same time the instability in Libya has a negative impact on international relations, including growing contradictions between strategic partners. In particular Turkey's military activities raise fears among at least three NATO members – France, Italy and Greece.
Relations between Ankara and its partners in the North Atlantic Alliance are exacerbated due to the actions of the Turkish leadership, which not only delivers weaponry to the former Jamahiriya avoiding the UN embargo, but also conducts geological exploration of the hydrocarbon fields in the eastern Mediterranean sea.
Contradictions between NATO partners have already begun to take the form of hidden clashes. For example, the French frigate "Courbet", operating as part of the Alliance's "Sea Guardian" operation aimed to prevent arms smuggling into Libya, approached three Turkish warships and a cargo vessel on June 10 last year. The French military attempted to inspect a civilian ship suspected of illegally carrying weapons to a war-torn country. In response, the Turkish warships illuminated the Courbet by the targeting radar for three times.
After the incident, Paris pulled out of the "Sea Guardian" operation. Moreover, the White House national adviser, Robert O 'Brian condemned the Turkish military actions and expressed support for France. "NATO allies shouldn't be turning fire control radars on each other. That's not good. We are very sympathetic to the French concerns," he told.
The contradictions between France and Turkey are also evident in the geopolitical sphere. Paris considers the Libyan National Army commander Halifa Khaftar as one of the key figures in resolving the Libyan conflict, while Ankara refuses to recognize him as a significant political force in the country.
In addition, there are growing tensions between Turkey and Italy. Rome as the largest importer of Libyan oil has been long cooperating with Tripoli's authorities in oil and gas spheres. After throwing its weight behind one of the rival administration, Turkey seeks to revise the status quo in the Libyan hydrocarbon industry by sidelining France's Total and Italy's Eni in a bid to gain full access to the natural resources of Libya. Although Turkey urges countries and companies to joint collaboration, no one highly likely will consent to it, considering this suggestion as a "toxic asset."
Greece, in turn, is annoyed by agreements between Ankara and Tripoli that deprive Athens of its legal right to the sea shelf between Rhodes and Crete. This part of the continental shelf belongs to Greece and Cyprus, but Turkey is trying to contend for its rights to the fields through the memorandum of understanding on maritime zones with the Government of the National Accord, predecessor of the newly formed Government of National Unity. The Turkish side sent warships to the Mediterranean to reinforce the "legitimacy" of its actions, which was negatively perceived by Athens. The situation became heated to such an extent that many experts have not rule out the outbreak of armed confrontation between the allies.
Firmly Address Tehran's Ballistic Behavior
The recent change in US administrations has spawned a lively debate about the potential path back to a deal with Iran, especially concerning the latter's troubling nuclear ambitions. Some argue against reviving the 2015 nuclear deal while others counsel for a swift US return to it. But there is a big problem with an undemanding US revival of the deal. Over the past five years, the regime has displayed extremely disturbing behaviors that endanger the region, Europe, the United States, and the broader international community.
Indeed, Iran's nuclear escalations and its burgeoning ballistic missiles program are major threats. But much more troubling is Iran's ballistic behavior.
There are four significant hotspots where the Iranian regime is active. This means any return to the Iran deal cannot exclusively address technical nuclear issues. The geopolitics of the entire region have changed. For instance, in Yemen, Houthi militias control a large segment of a sovereign country, and they are armed by the Iranian regime, including missiles. They are at war with the legitimate government of Yemen, and they have had a terrible record of human rights abuses.
In Iraq, Iran has used its militias to establish control over the entire country, with some exceptions. These militias are not only controlling the government, major parts of the economy or the banks, they are engaged in suppressing the population. In the fall of 2019, hundreds of thousands of young Iraqis from all walks of life took to the streets to demand meaningful reforms. But they were met with lethal force. More than 700 Iraqi citizens of all communities have been killed by pro-Iranian militias.
The Iranian regime's forces in Syria have brought in radical Shia militias from as far as Afghanistan. More than 700,000 people have been killed in that civil war. Five million Syrians have been displaced.
And, last but not least, in Lebanon, Hezbollah is armed and funded by Tehran, and its secretary general does not shy away from publicly announcing his group's complete allegiance to the Iranian regime.
So, the Iranian regime is effectively involved in the quasi occupation of four Arab countries. All this means that there cannot be a swift return to an "Iran deal" without addressing the regime's regional ambitions and destructive meddling, which have resulted in instability for Europeans and American interests alike.
Meanwhile both in European capitals and in Washington, there are major interests that echo calls for a quick return to the 2015 Iran nuclear deal. Absent in their inexplicable haste is any consequential consideration to pressing geopolitical demands.
Proponents of the Iran nuclear deal are eager to do business with Iran. There is nothing inherently wrong with that. But shouldn't the cost of that decision be soberly evaluated before rushing back in?
Are there not important destabilizing factors that must be urgently addressed, including the deployment of ballistic missiles in the region, the preponderance of Iranian proxies in strategic hotspots, and persistent deadly attacks against Western allies in the region?
So, what should be done?
Any potential discussions with the Iranian regime must take into consideration the security of the Middle East as a whole.
First, regional security and the regime's behavior must top the list of potential negotiation topics.
Second, the regime's ballistic missile program should not proceed under the radar. The Houthi-fired missiles targeting Saudi Arabia and its oil facilities are designed and delivered by Iran. The missiles fired against the US and coalition forces in Iraq are also designed and delivered by Iran. And, Iran has deployed missiles in Syria, which are then aimed at Israel. Similarly, the Lebanese Hezbollah has boasted about having thousands of missiles in its arsenal.
Therefore, as an important step toward stability, the international community must ensure that the proliferation of these missiles is stopped, and they are removed from these countries.
Third, it would only be logical to include countries like Saudi Arabia and other impacted governments in the negotiation process because they bear the brunt of Tehran's malevolence.
And lastly, international community should begin seriously engaging with the Iranian opposition. For the past three years, hundreds of thousands of Iranian citizens have loudly protested the ruling regime and its policies. There is another image of Iran that the world needs to acknowledge and engage. That's exactly what the US policy is trying to do in Yemen, for example, by engaging both the Houthis and the legal government at the same time.
When dealing with the multilateral and strategic threats emanating from the Iranian regime, it is only natural to engage with the organized Iranian non-violent resistance, including representatives from the Iran protests and exiled leaders, particularly the very active National Council of Resistance of Iran (NCRI), and to hear their voices during any negotiation with Tehran.
The Iranian regime will be emboldened to continue its egregious behavior if it senses weakness in the international community's response. By firmly addressing its ballistic behavior, responsible international actors can harness the strategic domestic and international reserves to curtail Tehran's threats.