Webinar on Bioterrorism – A Real World Threat To Today's Global Economy
Sat, Aug 15, 2020 11:30 AM – 12:30 PM EEST
Experts discuss on Pandemics and related Bio-Terrorism, Disturbance in Global Trade, Economic Outlook, Terrorist Funding, Weapon production & Acquisition and Response Governance. Do join us for this informative webinar! SPEAKERS: Probal Dasgupta (Author, Watershed 1967) Dr. Siddhartha Dutta (Practice Head, Healthcare Micobide Ltd.) Mangesh Sawant (Sr. VP, Riskpro Ventures) Vipul Tamhane (Sr. VP, Riskpro Ventures) Dimitris Giannakopoulos (Director, Modern Diplomacy) Dr. Matthew Crosston (VP, Modern Diplomacy)
Every Pakistani is a soldier of Operation Radd-ul-Fasaad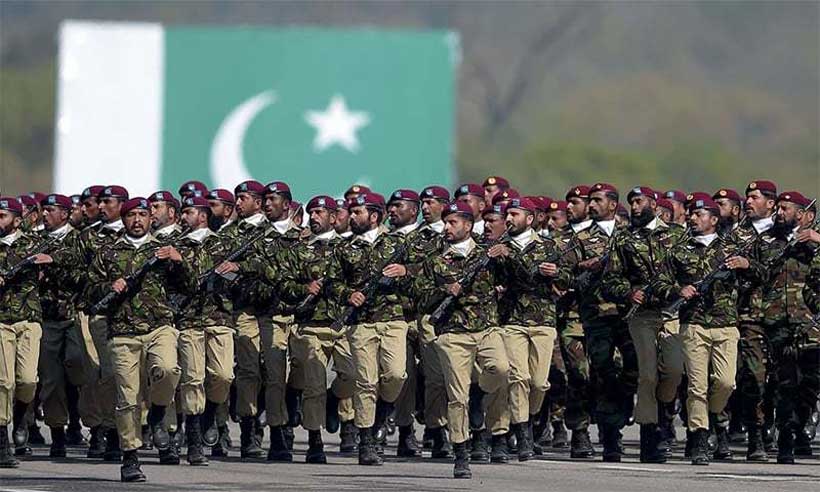 Citizens have the right to participate in politics and to be aware of the political situation. However, in our country, it is becoming common to make unwarranted comments and speculations on non-political, national issues. All institutions in the country have their own mechanisms and among them, the Pakistan Army is the most committed to its rules and regulations. However, the attitude adopted by some people towards the security agencies of the country and the nation in the recent past does not fall under the category of patriotism in any way. This is the same institution whose soldiers and officers have not only extinguished the flames of the beloved homeland with their blood but also restored peace by eradicating terrorism from the country. DG ISPR Major General Babar Iftikhar briefing on the completion of four years of Operation Radd-ul-Fasaad said that the forces with the help of the people have defeated terrorism and eliminated major terrorist networks. Operation Radd-ul-Fasaad covers the entire country and every Pakistani is a soldier of this operation.
There is no denying the fact that Pakistan has suffered the consequences of being a frontline ally in the US war, launched in Afghanistan in the name of eradicating terrorism, in the form of the worst terrorism on its soil. The Pakistan Army launched Operation Rah-e-Rastin 2008 to eradicate the scourge of terrorism, which entered the phase of Operation Rah-e-Nijat. These operations took place mostly in North, South Waziristan and Northern areas, followed by Operation Zarb-e-Azb and Operation Radd-ul-Fasaad were launched, the domain of which was extended to the whole country and combing operation and Operation Khyber-4 were also launched under it. Our security forces made great sacrifices in these operations for the protection of civilians and a peaceful Pakistan and remained committed to continuing the operation till the last terrorist is killed. It is the result of the unparalleled sacrifices and determination of the security forces that the terrorists have been completely wiped out from the land of Pakistan. Although some miscreants fled across the border during the counter-terrorism operation which is a constant threat to Pakistan butto secure the borders, Pakistan is erecting fences not only on the border of Afghanistan but also on the border of Iran so that the movement of terrorists can be stopped.
After four years of Operation Radd-ul-Fasaad, the country is peaceful, playgrounds are inhabited, foreign teams are coming to the country for sports, Pakistan's war on terror is being praised around the world, world leaders and Institutions are also acknowledging the peace efforts of our security forces. According to UN Secretary-General Antonio Guterres, Pakistan's journey towards peace is excellent while British General Sir Nicholas Carter is calling the clearing of South Waziristan from terrorists a great achievement of the Pakistan Army. Pakistan army has not only accepted the challenge of terrorists and their sponsors and facilitators but has also left no stone unturned in measuring their necks. DG ISPR has rightly termed it as a journey from terrorism to tourism. However, all this has been made possible by the sacrifices made in Radd-ul-Fasaad.
There is no doubt that the Pakistan Army has not only successfully met every trial yetis working day and night to protect the country's internal and external borders but the question is, are we doing our job? Even now, some political and non-political people are hurling insults against the institutions in public meetings and also on social media; those who slander the country's sensitive institutions should be ashamed. It is the duty of every patriotic Pakistani along with the spokesperson of the institution to respond to them with arguments and facts and also to take a hard line to discourage them. The rioters who speak out against these institutions and sitting on social media are even more dangerous than ISIS. If every Pakistani is a soldier of the Radd-ul-Fasaad operation then we all have to work for our country. The anti-national agenda must be thwarted together but we must not forget the heroes who made Operation Radd-ul-Fasaad a success by shedding their blood and the people are beginning to breathe a sigh of relief in an atmosphere of peace.
FATF and Pakistan: The Impact of Being in the 'Grey'
The recently concluded Financial Action Task Force (FATF) meeting in Paris has come out with an expected outcome. It has continued to put Pakistan on the Grey List, demanding compliance again on at least three of the remaining 27-point action plan that was given to the country in June 2018 when it was placed on the list for the second time.
The country's 'selected' Prime Minister Imran Khan, along with a host of intellectuals and media professionals, alleged Indian role behind the decision. Imran Khan went on to suggest that the FATF is acting on political cues and purpose and that will not be helpful for developing countries.
The 39-member FATF is an influential inter-governmental body that formulates and monitors the role of financial mechanisms in the growth and promotion of money-laundering and terror-financing activities worldwide. It has the Black List that leads to direct economic sanctions and creates severe economic difficulties for the nation. Currently only two countries, Iran and North Korea are on the list and that has resulted in a massive financial stress for both of them.
Since Pakistan has been globally acknowledged as a hub of terrorism and a good number of terror activities across the world, have had their genesis or linked someway to it, one cannot forget the Osama Bin Laden's link and his subsequent elimination there, it has the dubious distinction of being on the Grey List, thrice. It was on this list for three-years 2012-2015 and again has been there since June, 2018.
Now the very basic objective behind grey listing by the FATF is to change the behaviour of some of the nations, involved in using terrorism as a means of promoting foreign policy goals. It aims to strengthen money-laundering and financing mechanisms so as to alleviate sources of financing to the terrorists, operating in any part of the world. Based on Pakistan's activities for a long period of time, it has been put on the list twice.
When it was put on the list for second time in 2018, the country negotiated a 26-point plan with the FATF to work on and show meaningful improvement at the earliest. One interesting point is that since Imran Khan has become the PM, the country has remained on the list. In spite of tremendous financial complications, Pakistan has been 'deliberately' slow to work on these measures.
While there have been talks of Pakistani economy and diplomacy being hugely affected on account of being in the list for such a long time, the previous experience in 2012 however, had not been that difficult. It was able to secure loans from the IMF and other multilateral financial institutions. It was also able to bank upon its Arabian allies, Saudi Arabia and the UAE and secured their financial backing on a bilateral basis. Hence, it did not face much problems during that period.
However, situation has changed now. Its political relations with both major Arabian powerhouses is abysmal and that has reasons for its increasing bonhomie with the Turkish Erdogan. While Erdogan is pursuing his personal agenda and using Pakistan as a tool in his scheme of things, Imran Khan has suddenly created a catch-22 situation for his country. By getting too close to Erdogan, he has virtually alienated the Arabs and consequently, his financial support base has eroded.
It has been evident in the two countries, stopping their line of credit to Pakistan and asking for return of loans, before the schedule. Turkey is no financial powerhouse and its President Erdogan has his own personal and diplomatic agendas, very little of them are in common with Pakistan's geo-political interests. China, the only other country it can bank upon, is more interested in promoting its own brand of debt-diplomacy for which Pakistan, currently is a prime candidate.
An Islamabad-based think-tank has recently come up with a research paper that suggested the country has lost about US$ 38 Billion on account of its listing thrice in the FATF Grey List since 2008-2021 period. Tabadlab, the think-tank worked out the losses on the basis of a decrease in the national domestic consumption, foreign direct investment (FDI) and exports. A large part of the losses has been attributed to a significant reduction in household and government consumption and expenditure.
While an accurate economic analysis on this basis will be difficult and might well be hypothetical. Politically and diplomatically, Pakistan has had to endure a big loss. A continued listing in the FATF, discourages better diplomatic relations with most countries. Also, potential investors and financial institutions will find it uncomfortable to do business with such a country. Further, when the country has acquired a notorious reputation of being home to terrorists from Al Qaeda, ISIS, Lasker-eTaiba, Jaish-e-Mohammed and their leaders, banks and financial institutions will not find the place attractive enough to do business.
To make the situation worse, Pakistan is in a very delicate financial state. Inflation is very high, unemployment is rampant, GDP figures are down while forex reserves are at a very low of US$ 12Billion. The Gross Public Debt has risen from 72% of GDP at US$95 Billion (2018) to 87% at US$112.8 Billion currently. Pakistan's Debt to GDP ratio currently stands at an abysmal 107% of GDP. Total external debts and liabilities have risen from 33% of GDP (2018) to 45% of GDP (2020). And the political instability is worrisome while the role of Army in making of economic and foreign policy remains, as it had been for decades.
Though PM Imran Khan continues to accuse the FATF of playing politics, it cannot shy away from the fact that globally-acknowledged terrorists, continue to have a free run in the country. To create troubles for neighbouring India, its army and the ISI provide sanctuary, arms and financial support to terror kingpins like Salahuddin, Masood Azhar, Hafiz Saeed and Zaki-ur-Rehamn and many others.
The politically-motivated widespread support to anti-France protests (probably to please Erdogan), the dilly-dallying of the judicial process for Daniel Pearl killers and a continued brinkmanship against the Indian government, have made situation further difficult for Pakistan. While most of the Pakistani analysts are expecting the country's likely exit from the list in June this year and are putting their hopes on a phone call by Biden to Imran Khan that could change the fate of Pakistan, it is clear that Pakistan really needs to change its attitude, behaviour and actions to use terrorism as a tool of foreign policy.
Despite acknowledging strict measures, Pakistan has to stay on the grey-list in FATF
President of The Financial Action Task Force (FATF), Dr. Marcus Pleyer, announced in a press conference held on 25 February 2021 after the four-day virtual plenary meeting in Paris, France, that "Pakistan remains under increased monitoring," adding that while Islamabad had made "significant progress," there remained some "deficiencies" in mechanisms to plug terrorism financing.
The Financial Action Task Force (FATF) is an inter-governmental formal decision-making body. It was founded in 1989 during the G7 Summit in Paris to develop policies against money laundering. It is a "policy-making body "that generates the political will to bring about national legislative and regulatory reforms in money laundering. It has also started dealing with virtual currencies. The FATF Secretariat is located in Paris. It sets standards and promotes effective implementation of:-
a. Legal, regulatory, and operational measures for combating money laundering.
b. The FATF works to identify national-level vulnerabilities to protect the international financial system from misuse.
Pakistan has been on the FATF grey list since June 2018 and has been asked to implement the FATF Action Plan fully by September 2019. Pakistan has implemented almost 90% of the recommendations; only three out of 27 points are not fully implemented.
Pakistan has suffered heavy economic losses due to being put on the grey-list; according to some estimates, Pakistan has suffered US Dollars 38 billion.
The FATF president noted that Pakistan was working towards its commitment made at a high level to implement the illicit financing watchdog's recommendations, saying "that is not the time to put a country on the blacklist."He added that as soon as Pakistan completed the action, the watchdog "will verify the reforms' sustainability and discuss in next plenary in June."
However, there are no chances that Pakistan could be put on the blacklist because it has at least three members of the FATF — China, Turkey, and Malaysia — that can sustain all pressures against any downgrade.
The government of Pakistan is committed to fully implementing the action plan, and to date, the progress achieved is admired by other FATF members.
However, FATF is also being used as a political tool against other nations. By reviewing the countries on the blacklist, the new additions are North Korea and Iran- the West's adverse enemies. Also,the addition of Morocco, Burkina Faso, Senegal, and the Cayman Islands, are political decisions. As a matter of fact, the Western world is using international organizations, including FATF, to coerce their political opponents. Pakistan was a close ally with the West during the cold war era, and the front line state on Afghan war and non-NATO ally in the war on terror, yet faced worst sanctions like Pressler Amendments, Kerry Loggar Bill, etc.
Pakistani journalist Adeela Khan stepped up and raised a question asking FATF president Marcus Pleyer why India is not on the grey or blacklist of FATF even after financing proxies in Afghanistan, using Afghan soil to end terrorism in Pakistan, and violating human rights in India Occupied Kashmir. There more than forty banks in India involved in money laundering. The Incident of terrorism in Sri Lanka can be traced back to India. Yet India is not on the grey list or blacklist. India has been playing an ugly role in keeping Pakistan on the grey list. Although the EU Disinfo lab has revealed that Indian state-sponsored media think tanks and professionals play a dirty role in spreading fake news and disinformation against China and Pakistan yet, the world has not realized India's evil intentions.
A bais and discriminatory attitude may harm the FATF's reputation ultimately.
Many neutral people ask similar questions and demand justice and a fair playground for all nations, above the political motives and discrimination. The international community may maintain the reputation of International organizations and integrity – merit-based decisions.
On the one hand, Pakistan is trying its best to implement the FATF plan fully, and on the other hand, it is demanded that a fair playground be provided to judge the case for Pakistan. It is expected that in the next plenary session to be held in June 2021, Pakistan will come out of the grey list.