Authors: Mehtab Ali Bhatti and Kainat Akram*
The security threats can be to a great extent partitioned into two groups; traditional and non-traditional security threats. One's focus would mainly be on the traditional security challenges of Japan. Tokyo deliberately perplexed the world. It emerged as non-western power but no one could expect about its dexterity, and it was serious trouble to Western and Asian powers because they were dependent on its impressive economy. Tokyo's trade surpluses were, $44 billion in 1984, $56 billion in 1985 and $93 billion in 1986, which shows Japanese rulers' strategies, growing technology, education system, and people's countless struggle towards their homeland.[1]But during WWII, they lost their formidable economy as well as some of their major cities like Hiroshima and Nagasaki. Aftermath, Japan experienced a tremendous financial crisis like debt. Ironically, Japan is one of the biggest debtor countries with the highest debt to GDP ratio of 222.2% in the world[2], which is a major threat for Japanese people.
Currently, Japan's security environment is getting significantly severer with the sensational move in the global force balance, the development of new threats, for example, psychological oppression and cyberattacks, and the serious security environment in the Asia-Pacific region. Such threats effectively cross-national borders. In the Asia Pacific region, regardless of the centralization of countries that have enormous scope military ability including atomic weapons states, regional collaboration structures on security are not adequately regulated. North Korea's proceeded with the advancement of atomic weapons and ballistic rocket programs just as its provocative conduct is compromising for Tokyo. China's headway of its military capacity without straightforwardness and its further exercises in the ocean and air space are a danger for Tokyo. In addition, move in the global force parity and fast advancement of mechanical development, multiplication of weapons of mass annihilation, and the rise of threats that cross national borders, remembering international psychological oppression and dangers for the ocean, space, and cyberspace are additionally unavoidable threats to Japan's security. In addition, issues identified with "human security,"[3] including destitution and advancement difficulties, and developing dangers to the global economy.
In this fast-moving world and cut-throat political competition era, the political dynamics of Asia Pacific region is changing with changing strategic environment, due to the geo-strategic consolidation among different countries, the focus of the entire world is tilted towards China's owing to rapid development in terms of economic, political and military means. The ongoing protracted South-China Sea conflict of China with many ASEAN countries who are claimant of the cited territory and aggressive posture of nuclear power North Korea has made the region more prone to conflicts as well as an arms race in the region has frayed nerves, further, escalated the tensions. In this tense environment, Japan has been facing a potential threat from the opposite bloc to its very sovereignty and territorial integrity.
According to Tokyo, following countries have posed an aggressive posture in the Asia-pacific, which is worrisome for Japan:
China
China-Japan Relations
In the Asia-Pacific region tensions are being seen worrisome as China is becoming more energetic about its claims over the South China Sea, its tactical and evident actions have spotted other surrounding countries and external interested countries like the United States. China and Japan both have flourished and innate abhorrence since 19th century and America is owing more hatred and tensions in the Asia-Pacific region.[4]It might be called upon that there is nothing invaluable in the East Asia-Pacific but historically it is all about pride and honor, and serious issue of Senkaku Island for Japan. And their tensions ousted from the first Sino Japanese war, then islands were given to Taiwan, and due to victory in WWII, these islands were recovered by China after surrendering of Japan. The aftermath of a new threat established from communist country China; US and Japan signed an agreement of San Francisco Peace Conference by allowing Japan to patrol in the island regions, and America provided types of equipment and economically supported Japan to counter rising power China in the Asia Pacific region and tensions rampantly encouraging until today.
In the 21st century, the ascent of Asia has drawn the consideration of the United States to concentrate particularly on the Asia-Pacific region. Because of its geostrategic significance and going to be an economic hub of the world, the development of Asia can be identified with the expanding economic exercises in which rising forces China, India, and Indonesia are assuming their crucial role. The major economic activities happen in the Asia Pacific, for instance, the main trade routes pass through the Asia Pacific, and the Indian Ocean where strait of malacca is a gateway to major economies like China, Japan, and South Korea. Particularly, in the Asia Pacific region, the US has its economic, strategic, and security interests. It includes the economic network all through the region, support of peace and soundness, and making sure about its allies particularly Japan and South Korea, and ensuring the claimants of the South China Sea to resolve their issues peacefully.
China's Response towards American Pivot and Indo-Pacific Strategy
China's rise as a great power in this changing dynamics of world politics does not lag behind and it is important to understand Sino-US relations in the purview of America's past Asia Pivot strategy[5] and Trump's Indo-pacific strategy.[6]There are multiple significant events by which it can be speculated that People's Republic of China (PRC) is emerging as a great player, for instance, it has resisted western intervention three times in collaboration with Russia over the Syrian civil war in the Middle East; it also bring-up with the idea of making BRICS and establishing AIIB which is considered as the counterweight to America's World Bank; through SCO, China has also influenced her role in the international politics; most significantly, it has come up with a 'Belt and Road initiative'' with CPEC which shows China's soft power in the world. However, with this dynamic strategic architecture in the Asia Pacific, two contours are important – what made the US come up with a rebalancing strategy and how China responds to it.
According to official reports, China has responded to the Indo-Pacific policy of America in two levels. Firstly, Chinese authorities have firmly denounced this US expressed policy and that they are mindful that US diplomatic moves would bolster its allies regarding the sea and territorial debates with China. Secondly, Chinese non-official media has harshly castigated US rebalancing strategy towards Asia. Some view this strategy as Cold-war like containment of China which was based solely against China because China's ascent is representing a possible danger to America's authority and its allies. "China in countering Pivot's response has come up with 'Marching West' strategy, which aims at focusing China's diplomatic and economic relations with the Eurasian countries," according to Aaron Jed Rabena.[7] She is also of the view that China's ascent is representing a likely threat to America's hegemony.
Moreover, China's reaction to the Asia-Pivot policy in past and current procedure of Trump can be shown by means of diplomatic and economic activities, for example, Belt and Road activity, Asian framework venture bank and reinforcing respective relations. The OBOR activity of China will fill two needs. Right off the bat, it will merge China's delicate power, and besides, enhance economic collaboration with in excess of 60 nations. The Chinese reaction and its military modernization have made a serious mix and unsafe circumstance to the US Indo-Pacific technique with pervasive interests in the Asia-Pacific region. In this universe of complex association, war is certifiably not an attainable choice. America will never do battle with China since China is the second the biggest exchanging accomplice of America. Additionally, the Chinese reaction to this US procedure has been delicate as is obvious from March West methodology, OBOR, and AIIB activities. These steps are the projection of Chinese Soft power response to Obama's rebalancing and Trump's Indo-pacific strategy towards Asia.
North Korea
Rivalry is not Old-fashioned
Korean Peninsula has been remained a play chess match for foreign powers like Japan, the US, Soviet Union, and China—in 1910 Korean Peninsula was occupied by the Japanese empire but after the demise of Japan in 1945 and WWII, Korean Peninsula was partitioned into two South and North. Whereas, the North was occupied by the Soviet Union and the South was occupied by the United States. In 1948, re-unification negotiations were failed and two governments were stimulated; the Socialist Democratic People's Republic of Korea (DPRK) in the North and the Capitalist Republic of Korea (RK) in the South. In addition, the Korean War occurred in 1950's, initiated by North Korea for invasion and the ceasefire occurred but peace treaty was not endorsed.[8]
In the contemporary era, the security environment of North Korea is very complex and instrumental. North Korea has one of the world's biggest regular military powers, which, joined with its rocket and atomic tests. North Korea spends almost a fourth of its total national output (GDP) on its military, as indicated by U.S. State Department gauges.[9] Its brinkmanship will keep on testing regional and international associations planned for protecting stability and security.
However, North Korea has remained a part of Communist bloc, where Russia and China have been the back supporters. In the realist paradigm, 'enemy of an enemy is friend,' likely in this case, Russia supports North Korea and the US supports South Korea economically, politically, and militarily. Therefore, in the North Korean nuclearization, the role of China and Russia is very evident. On the other hand, in the economic advancement of South Korea, the American role is not far-seeing as evident.
North Korean Nuclearization a Dwelling Threat for Japan
North Korea's quest for atomic weapons is a sensible procedure given that the system's greatest security probability from international intercession. Additionally, for the North Korean system, atomic weapons have three strategic capacities, and with everyone, the US is directly in the middle. After that, they fill in as impediments; also, an instrument of international strategy; and thirdly, they are an instrument of residential legislative issues. The atomic weapons have given influence and a negotiating concession diplomatically associating with all the more impressive and increasingly effective on-screen characters, similar to the US and its partner South Korea and Japan.
North Korea's nuclear missile testing has raised tensions in the Asia-Pacific region and created a global threat. It is an imminent threat to Japan as an ally of the US. Since 2006 North Korea has conducted 6 nuclear ballistic missile tests and one of them flew over Japan in 2017.[10]Due to nuclear tests, 15 members have voted against North Korea to the Security Council with US-drafted resolution, and new sanctions of North Korea's textile exports have been alleged. In the reaction, North Korea had shown the backing of veto powers like China and Russia and aggressively indicated to devastate the US, Japan, and South Korea.
According to South Korean President Moon, they were against nuclear weapons in their state and they had withdrawn their nuclear weapons in the 1990s, "Nuclear weapons could not prolong the peace in the region," said Moon, "They have provided $8 million through the United Nations to North Korean citizens for women pregnancy and to aid the poor and infants.[11]In the words of war, North Korea called South Korea as "traitors and dogs" of America and "dancing tune" to Japan and alleged that the US has troops in South Korea to destroy the North and its Asia- Pacific allies. Because of nuclear capability and conflict of the 1950s, in which America and South Korea were allied and had an aim to force North Korea for peace treaty but it rejected. North Korea continued to develop a ballistic missile program (Hwasong-14 with the range of 10,000 and Hwasong-15 with the range of 13,000 KM) which has been an impendent threat to Japan, South Korea as well as America. By measuring, America has put North Korea at the top list of terrorism promoter and designed unravished sanctions on North Korea.
De-nuclearization Fiasco
Tokyo is currently carefully watching the process of dialogue moving toward a U.S.- North Korea exchange and is worried that dealings on denuclearization on the Korean Peninsula may reject Japan's unsafe perspectives. A senior authority of the Japan Ministry of Defence concerning the highest point among Trump and Kim Jong-un of 2018 stated, "We ought not to have an idealistic view that North Korea will relinquish the atomic weapons which it has at long last obtained."[12] Therefore, to adapt to the North Korea emergency, Abe regularly underscores the significance of the U.S.- Japan partnership. There is no uncertainty that security ties among Japan and the U.S. have fortified further under the Abe administration.
Other Global Threats to Japan
According to the realist school of thought in international relations, global world order is anarchic, and power centric; its effects are, no trust in Anarchy, constant competition for power, zero-sum game, and relative gains. Further two types, 1. Defensive realism (states are security maximizers and seek survival, status quo, and states are not inherently aggressive) and 2. Offensive realism (States are power maximizers, in the absence of complete hegemony states act offensively and use its power as any can i.e. the US invasion of Iraq 2003).
The rapid progress of technology and shift in the global power is a major threat for all states but Japan has regular emerging threats like in the Asia-Pacific region. The proliferation of conventional and unconventional weapons is increasing which indicates threats at large, besides this, global terrorism, maritime risks, and cyberspace are disparate challenges to Japan. Japan is actively seeking an active role of self-defence and peacekeeping and increasing its technology to combat in the Korean Peninsula and to counter China's growing power in the Asia-Pacific as well as in the World. State sovereignty is absolute, particularly which showed Japan through its heavy Defence budget and its measures taken in the Senkaku island, recently fiscal defence budget in 2016-17 was nearly $42 billion.[13]It was a non-western state which defeated Russia and attacked the US and its economy was second largest in the world. No doubt, Japan is the most industrialized and thick technological country that emerged again after World War II.
Concluding Remarks
The dynamics of the international geostrategic environment in which the world politics is transforming from unipolarity to multipolarity with China emerging as a great power due to its military modernization, advanced technology, and growing economy and commercial connectivity in the entire Asia, which is alarming for the US but regionally it is an irked threat for American allies particularly Japan and South Korea.
By witnessing China as emerging power, American Asia pivot/rebalancing strategy and Trump's Indo-Pacific strategy towards Asia in order to counter the growing influence of China. America and its allies should not perceive Chinese rise in terms of military and economy as a threat to world peace and aggressor because PRC has always been peaceful in dealing the problems of the world and the norms of non-interference are prevailing but no compromise on territorial claims—have been immersed in the Chinese foreign policy.
The United States' concern over denuclearization of North Korean nuclear assets is not acceptable to Kim's regime due to the prestige and status quo of the state but has vague threats from the US forces in South Korea. Even after the President Trump's summit with Kim Jong Un in 2018, the US ally Japan is claiming that North Korean regime poses a genuine and inescapable danger to their security regardless of bringing down of regional pressures following the summit.
China has reacted to America through the procedure of 'Looking West and Marching West'. A few researchers are of the view that the opposition between two significant forces depicts another virus war, however, I differ that since China won't utilize its military alternative, China wants to grow economically and it wants to have an influence on the world through soft power. In a nutshell, I would say that the US must integrate with China rather than to contain it and appreciate its emergence as a responsible stakeholder.
Nonetheless, Japan's reaction should comprise of two distinct methodologies: the anticipation of decay and the improvement of its security environment the essential reaction will be the discouragement of heightening through the improvement of Japan's safeguard capacity and the upgrade of the Japan-US collusion. It is additionally significant for Japan to acquire and fortify international comprehension and backing for its position through protection discretion remembering that for multilateral exchanges. International help can upgrade Japan's situation in managing the difficulties, and yet, the effect would stay roundabout. Japan can't depend on unrealistic reasoning and ought to investigate other options too.
* Kainat Akram did Bachelor of Arts from Government College University Faisalabad. She also did Masters in Science (M.Sc) in Gender and Women Studies from Allama Iqbal Open University, Islamabad.
---
[1] Robert C. Christopher, "Don`t Blame The Japanese," The New York Times Magazine, Oct. 19, 1986 (https://www.nytimes.com/1986/10/19/magazine/don-t-blame-the-japanese.html), accessed on July 20, 2020.
[2]H. Plecher, "Japan: National debt from 2014 to 2024," Statista, May 6, 2020 (https://www.statista.com/statistics/270121/national-debt-of-japan/), accessed on July 18, 2020.
[3] Catia Gregoratti, "Human Security," Encyclopaedia Britannica, Dec. 14, 2018 (https://www.britannica.com/topic/human-security), accessed on July 20, 2020.
[4] Kerry Brown, "The Most Dangerous Problem in Asia: China-Japan Relations," The Diplomat, Aug. 31, 2016 (https://thediplomat.com/2016/08/the-most-dangerous-problem-in-asia-china-japan-relations/), accessed on July 19, 2020.
[5] Matt Schiavenza, "What Exactly Does It Mean That the U.S. Is Pivoting to Asia?" The Atlantic, April 15, 2013 (https://www.theatlantic.com/china/archive/2013/04/what-exactly-does-it-mean-that-the-us-is-pivoting-to-asia/274936/), accessed on July 18, 2020.
[6] Sun Chenghao, "What is the prospect of the U.S. Indo- Pacific strategy?" News CGTN, Nov. 07, 2019 (https://news.cgtn.com/news/2019-11-07/What-is-the-prospect-of-the-U-S-Indo-Pacific-strategy–LqCA9M3YKA/index.html), accessed on July 18, 2020.
[7] Niklas Swanstrom and Par Nyren, "China's March West: Pitfalls and Chalenges in Greater Central Asia," Institute for Security & Development Policy, Jan. 10, 2017 (https://www.isdp.eu/publication/chinas-pitfalls-challenges-gca/), accessed on July 20, 2020.
[8] Liam Stack, "Korean War, a 'Forgotten' Conflict That Shaped the Modern World," The New York Times, Jan. 02, 2018 (https://www.nytimes.com/2018/01/01/world/asia/korean-war-history.html), accessed on July 21, 2020.
[9] Eleanor Albert, "North Korea's Military Capabilities," Council on Foreign Relations, Dec. 20, 2019(https://www.cfr.org/backgrounder/north-koreas-military-capabilities), accessed on July 17, 2020.
[10] David E. Sanger and Choe Sang-Han, "North Korean Nuclear Test Drawn U.S. Warning of 'Massive Military Response,' The New York Times, Sept. 02, 2017 (https://www.nytimes.com/2017/09/03/world/asia/north-korea-tremor-possible-6th-nuclear-test.html), accessed on July 19, 2020.
[11] Choe Sang-Hun, "Kims Says He'd End North Korea Nuclear Pursuit for U.S. Truce," The New York Times, April 29, 2018 (https://www.nytimes.com/2018/04/29/world/asia/north-korea-trump-nuclear.html), accessed on July 20, 2020.
[12] Koji Sonoda, "Japan's Security Alliance Dilemma," The Diplomat, March 24, 2018 (https://thediplomat.com/2018/03/japans-security-alliance-dilemma/), accessed on July 21, 2020.
[13] Japan-Defence Budget, Global Security.org, 2015 (https://www.globalsecurity.org/military/world/japan/budget.htm), accessed on July 21, 2020.
Foreign Troops withdrawal at a faster pace from Afghanistan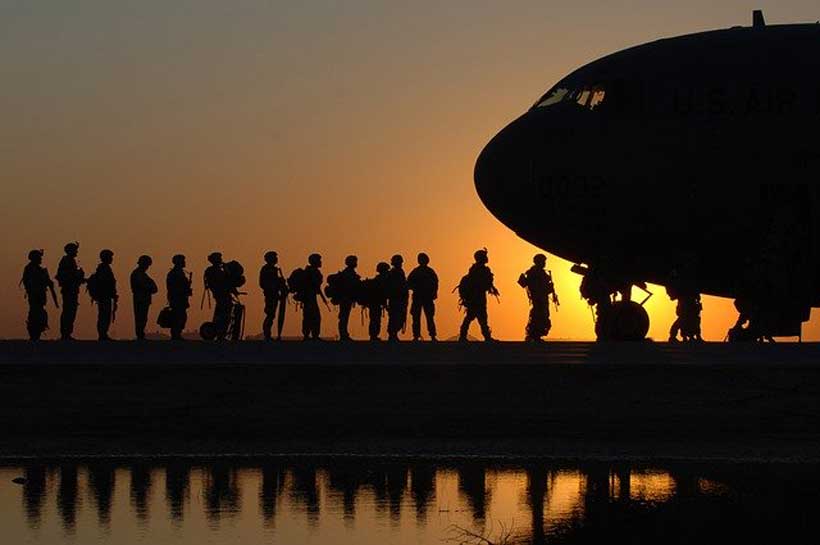 The US is withdrawing troops at a faster pace than expected. It has been reported that almost half of the remaining forces have already been evacuated. It might be a part of the US strategy. Only time will explain it well. The US is handing over some crucial posts to Afghan Government Forces like the essential Bagram Air Base. Afghan Army was created by Americans, trained by Americans, equipped by Americans, and considered loyal with American. Their task was to obey American orders, protect American interests, and counter the Taliban.
The Taliban's offensive against the Afghan forces has witnessed a sharp increase in diverse parts of more than twenty provinces of Afghanistan. The Taliban even attacked Mihtarlam – the 16th largest city in the Laghman province – which has been a comparatively quiet and calm city in the last few years. As a result of the Taliban's current encounters, innocent Afghans have become refugees in different parts of the country. Their next destination may be Kabul and they are capable of taking over Kabul conveniently.
As a matter of fact, the Afghan Governments of President Ashraf Ghani or Hamid Karzai were not legitimate Afghan-owned Governments; they were created by Americans and served Americans as puppet Governments. The natural pillars of the power were the Taliban. American took control from the Taliban in 2001, and they negotiated the troop's withdrawal with the Taliban directly, without involving President Ashraf Ghani's Government initially. American knows that Taliban are the real owners of Afghanistan and should rule their country in post withdrawl era. Americans acknowledged the potential and supremacy of the Taliban. President Ashraf Gahni or Hamid Karzai has no roots or public support in Afghanistan and will have no role in the future political setup in the post-withdrawal era.
Taliban are well-educated people, having good knowledge of Economics, Science & Technology, Industry, Agriculture, International relations and politics, and in-depth understanding of religions. They ruled the country in 1994-2001 successfully. Their era was one of the most peaceful eras in the recent history of Afghanistan.
Just like any defeating army, the US is trying to harm Afghanistan as much as possible, and destroying its weapons and war machinery at an estimated worth of US Dollars 80 Billion, and destroying ammunition depots, Infrastructures, and all-important places, before the surrender, creating a tough time for Taliban to reconstruct the war-torn country. Even the US is deliberately pushing Afghanistan towards chaos and civil war-like never-ending trobles.
Desperate, Afghan President Ashraf Ghani complained about American disloyalty in his interview with Der Spiegel on May 14, 2021. Displaying a feeling of betrayal and helplessness, President ashraf Ghani is blaming Pakistan. However, Pakistan's positive role in bringing the Taliban to negotiating table in Doha is widely admired by the US and International community.
Similarly, in his interview with Der Spiegel on May 22, 2021, former Afghan president Hamid Karzai has also taken a tough stance on Pakistan and blamed Islamabad for its alleged link with and support to the Taliban. However, he also indirectly gave the message that the United States would not want peace in Afghanistan. At the same time, he has expressed high hopes "for the so-called Troika Plus, a diplomatic initiative launched by Russia which also includes China and the United States." In response to the very first question about the Taliban, Karzai says that "I realized early into my tenure as president that this war is not our conflict and we Afghans are just being used against each other" by external forces.
However, it was the people of Afghanistan who suffered the four decades of prolonged war. It seems their sufferings are reaching an end. All the neighboring countries also suffered due to the Afghan war, and it is time for all neighboring countries to support Afghan reconstruction. China is already willing to assist in reconstructing Afghanistan under its mega initiative BRI. Pakistan, Iran, Central Asia, and Russia may also outreach Afghanistan and play a positive role in rebuilding Afghanistan.
A stable and peaceful Afghanistan will be beneficial for all its neighbors and the whole region. Let's hope for the best, with our best struggles.
What position would Russia take in case of an armed conflict between China and US?
China and Russia have seen increasing interactions and closer bonds as they face amid US pressure. The trilateral relations of China, Russia and the US are of great significance in the international order. Ahead of the upcoming Putin-Biden summit, Global Times reporters Xie Wenting and Bai Yunyi (GT) interviewed Russian Ambassador to China Andrey Denisov (Denisov) on a range of issues including bilateral and trilateral relations, COVID-19, and many others.

GT: Russian President Vladimir Putin and US President Joe Biden will meet in Geneva on June 16. What are your expectations for the meeting? How do you evaluate the possibility of improvement in Russia-US relations during Biden's presidency?

Denisov: We are realists. We do not expect impossible outcomes. We welcome any measures that reduce tensions and competition, but we are very cautious about what we can expect from the Russian-American relations, especially in the context of the very tense relations between the two countries. The Geneva summit, the first meeting between the two leaders since Biden took office, is less likely to resolve important issues between the two countries. A better outcome, though, is that it sets the conditions for resolving problems in the future.

GT: Some analysts suggest the Biden administration may take measures to ease tensions with Russia in order to concentrate on dealing with China. Will this strategy alienate Russia from China and draw it closer to the US?

Denisov: This view is too short-sighted. It can't happen. I think we're smarter than what the Americans think.

GT: Russian Foreign Minister Sergei Lavrov visited China after the China-US meeting in Anchorage, while China's top diplomat Yang Jiechi visited Moscow after a Russia-US foreign ministers' meeting. Was the timing of these two visits deliberately arranged? What signal did this send?

Denisov: As for the timing, it was purely coincidental that the two visits followed the high-level talks between China and the US in Anchorage and between Russia and the US in Iceland. It takes time and technical preparation to arrange a visit at the level of foreign minister and above.

When Russia was preparing for Russian Foreign Minister Sergei Lavrov's visit to China, it was not aware that senior diplomats from China and the US would meet in Anchorage. The same goes for Director Yang Jiechi's visit to Russia.

But it is a good thing that these two diplomatic interactions came on the heels of Russia and China's conversations with the US. It will give senior diplomats from both countries an opportunity to have an in-depth discussion on what has happened in previous meetings between China and the US and between Russia and the US.

GT: Do Russia and China coordinate and communicate with each other on their stance toward the US?

Denisov: A principle in international political exchanges is that the question of an absent third party should not be discussed in the exchanges. However, this principle is almost never observed. A case in point is US President Biden's trip to the UK for the G7 summit. Although Chinese representatives will not be present at the meeting and will not be able to express their positions, the US has announced that it will discuss its policy toward China with its European Allies.

In this context, the US topic certainly occupies a place on the agenda of the meeting between senior Chinese and Russian diplomats. Although the last two visits were short and had limited agendas, the two sides discussed in great detail a range of topics, including some of the most pressing and acute issues in the current international situation. As a matter of fact, there is no content or topic that should be avoided in the political dialogue between Russia and China.

GT: Competition and confrontation between China and the US are escalating. If one day an armed conflict between China and the US happens, what position would Russia take?

Denisov: There will be no answer to this question because I am convinced that there will be no armed conflict between China and the US, just as there will be no armed conflict between Russia and the US, because such a conflict would exterminate all mankind, and then there would be no point in taking sides. However, if you are asking about the judgment of the international situation and major issues, then Russia's position is clearly much closer to China's.

In recent years, the US has imposed sanctions both on Russia and China. Although the areas and content of the US' dissatisfaction towards Russia and China are different, the goal of the US is the same: to crush the competitor. We clearly cannot accept such an attitude from the US. We hope that the Russia-China-US "tripod" will keep balance.

GT: As far as you know, is President Putin scheduled to visit China this year?
Denisov: There is a possibility. Our high-level exchange plan includes President Putin's visit to China, and both sides have the willingness. China hopes that President Putin will be the first foreign leader to visit China after the pandemic, while Russia also hopes that President Putin's first state visit after the outbreak will be arranged in China. However, whether this arrangement can be implemented will depend on how the pandemic develops. While the two leaders have not exchanged visits in the past two years, they have spoken on the phone a number of times and the exchanges between Russia and China at the highest levels remain close.

GT: President Putin recently said that the US was wrong to think that it was "powerful enough" to get away with threatening other countries; a mistake, he said, that led to the downfall of the former Soviet Union. How do you comprehend President Putin's words?

Denisov: Anyone who follows current US policy will not disagree with President Putin's views. My interpretation of this statement is that President Putin is not "foreseeing" that the US will suffer the same fate as the Soviet Union, nor is he saying that he would like to see that happen. He is simply warning that the risk is real, but many American political elites have not yet fully realized it.

We cannot imagine a world without the US today. The US plays a big role in terms of economy, culture, science and technology, and we cannot deny this fact. But on the other hand, the US needs to recognize that it is not the only country in the world, and it needs to take into account and respect the realities and goals of other countries. President Putin is reminding the US not to make the mistakes of the Soviet Union.

GT: Many reports in recent years have said the US and some other countries are trying to incite a "color revolution" in China and Russia to create a "zone of geopolitical instability" around the two countries. Under the current situation, what kind of cooperation can China and Russia carry out?

Denisov: That is why I said that Russia and China are highly consistent in their judgment of the international situation. Both Russia and China follow the principle of non-interference in another country's internal affairs, but in the past few years, we have witnessed "color revolutions" in many countries, which have led to domestic chaos. These "color revolutions" certainly have some domestic or local reasons, but they are always accompanied by the presence of external forces.

In order to prevent a third country from interfering in the internal affairs of Russia and China, we should jointly work out some "rules of the game," especially in the field of information security so as to prevent some countries with more advanced information technology from imposing their own political agenda on other countries through IT technology.

Recently, a new phenomenon has emerged in the world: hybrid warfare (Hybrid warfare refers to a new type of warfare in the 21st century, which involves a mixture of conventional and non-conventional means. It is considered to be more varied and covert than conventional warfare.) In this field, the international community does not yet have the corresponding rules to restrict or regulate it.

On the one hand, it is the common concern of Russia and China to prevent their country from being invaded by bad information from the outside world. On the other hand, although Russia and China have sufficient capabilities and strong information networks to resist a "color revolution," some countries and regions around us are relatively vulnerable in this regard, and external interference at the information level could easily lead to large-scale domestic turbulence [in these countries and regions]. The recent events in Belarus and what happened in Hong Kong two years ago are two examples. Therefore, to formulate common rules against "color revolutions" is also for the stability of more countries and regions.

GT: The West has been hyping up Russia and China's so-called "vaccine diplomacy," claiming that the two countries are pursuing geopolitical interests through vaccine exports and aid. What do you think of it?

Denisov: China has so far provided at least 350 million doses of COVID-19 vaccines overseas. Russia's vaccines exports are not as large as China's, but it has cooperated with 66 countries. San Marino has beaten the outbreak with Russia's Sputnik V vaccine. At the same time, Russia has also taken the lead in proposing providing relevant technology and process support to help countries produce vaccines. So far, we have discussed relevant cooperation with 25 medical manufacturers from 14 countries.

We believe that the issue of mutual recognition of vaccines can best be addressed through multilateral platforms such as the WHO, as both Russian and Chinese vaccines may face difficulties in getting recognition. This is not because of the quality or protection rates of the Russian and Chinese vaccines, but because some competitors are very reluctant to allow Russian and Chinese vaccines into other countries. They will create artificial obstacles, including using political tools and unfair methods to achieve their goals.

The suggestion of "vaccine diplomacy" is one of the obstacles they create. Some countries with "vaccine nationalism" give priority to vaccinating their own population, which is fine in itself, but at the same time they are trying to discredit other countries' vaccine aid and prevent Chinese and Russian vaccines from entering the market of third countries. This is not right. It is a typical "vaccine politicization."

Besides, the West's fabrication about the virus being a result of "a Chinese laboratory leak" is a classic case of politicizing the pandemic. These are very unfair political statements, which are not the right way to address this devastating human crisis.

GT: Some analysts said that there are considerable differences in terms of China and Russia's strategic interests: Russia has little interest in maintaining the existing international order, while China, as the biggest beneficiary of the existing international order, only seeks to adjust the order. What do you think of this view?

Denisov: This is a rather black and white statement. It is also a radical view of the international situation, as if there are only two options before us: preserving the existing international order or destroying it. But that's not the case.

Russia and China are both world powers and have their own interests at the global and regional levels. These interests cannot be identical in all cases. But on the whole, the international interests of Russia and China are the same, so our positions on most international issues are the same. The most obvious example is how we vote in the United Nations Security Council: Russia and China often cast the same vote at the Security Council.

The international order is not static. It not only evolves, but has recently accelerated its evolution. The international order needs reform to make it more responsive to today's realities, but we cannot change it in a one-size-fits-all way.

I do not agree with the view that Russia and China have very different views on the reform of the international order. In fact, our positions on some of the most important issues are the same, and we just have different views on some specific details.

GT: This year marks the 100th anniversary of the founding of the Communist Party of China. How do you evaluate the CPC's performance and achievements?
Denisov: Since I was assigned to work in Beijing in the 1970s, I have witnessed firsthand China's development over the past half century. I have seen with my own eyes the tremendous progress China has made under the leadership of the Communist Party of China, and I have seen that China's success is the result of many important factors, such as the dedication and diligence of the Chinese people and the right decisions made by the leadership.

For the CPC, this year is very important. In the future, China will welcome another 100th anniversary: the 100th anniversary of the founding of the People's Republic of China. Perhaps I will be too old to see what China will look like when that day comes. But I can imagine it, because in the course of China's development over the past 50 years, I have seen the support of the Chinese people for the CPC as the ruling party, and the crucial role it has played in China's achievements. I know there is a song in China that many people sing: "Without the CPC, there would be no New China." I also want to take this opportunity to congratulate all Chinese people.

GT: We learned that some Russian people have negative views of the Soviet Communist Party and the Soviet Union. Will they equate the CPC with the Soviet Communist Party? Will this affect the current China-Russia relations?

Denisov: Russia is a big country and its people hold diverse views. I think the number of Russians who feel this way is very small.

Indeed, the Soviet era had many flaws, but people of my generation who actually experienced this era could still think of many good and positive things when they look back. Our poll shows that the negative attitude toward the Soviet Union is largely held by young Russians who were born after the collapse of the Soviet Union and did not see it firsthand. They had a different attitude towards the Communist Party, but it was more about the Soviet Union's own policies at that time, not the Communist Party in general.

I also want to share a personal view on the Soviet Union and the Communist Party: If a figure like Deng Xiaoping had appeared in the Soviet Communist Party at that time, perhaps the course of our country's development would have changed forever.

Recently, there have been a lot of discussions about state and different social systems. We have also found that the responses of different countries to the COVID-19 pandemic reflect the strengths and weaknesses of different social development models. Today, the Chinese economy has emerged from the crisis caused by last year's epidemic, demonstrating the great vitality of China's development model. This reminds me of a Chinese saying: Practice is the sole criterion for testing truth.
from our partner RIAC
"African Lion 2021": More than military Show between the US and Morocco
On June 7th, 2021, Morocco, the US, and NATO began joint African Lion maritime drills in the Atlantic Ocean south of Morocco. This is a unique military cooperation between the three powers, which are all regarded by the United States as either competitors or antagonists. The military exercise is translated variously, yet, given that the Southern aquatic of Laayoune is an extremely sensitive waterway as it bonds to the Strait of Tarfaya, through which about a fifth of Africa's trade corridors, the drill serves to sustain stability and security of the Moroccan Southern region along with a message that Spain is not isolated in foreign affairs. Last year, the Spanish meaninglessly pulled itself out of the "USAFRICOM" deal. Since then, waters around Spain have become the question of regional tension as the Kingdom of Morocco has cautioned the Spanish government against involving in Morocco's Demarcation Maritimes borders.
However, as the strongest ally of Morocco, the US has sent two warships from its Atlantic Fleet – a frigate, a tanker, and a rescue tug boat – to take part in the drills, which were the first time being held in such a format. Now as America's most important strategic partner, Morocco was also determined to join the training, as it sent a guided-missile warship to the naval drill. True, joint military exercise is a routine exchange with any other state since it is in line with related international laws and practices. But the naval drill of Morocco, the US, and NATO are sure to go beyond the normal military cooperation. Although Morocco claims that joint drill has no connection with regional situation, it affirms the will and capability of the three powers to jointly safeguard the peace and maritime security of the region and beyond.
As the two biggest alliance drills, The US and Morocco's participation in the joint naval drills certainly signifies the emergence of a so-called "counter-coalition" to encounter the one that Algeria envisages creating. Some pessimistic reactions in Northern Africa have already tried to interpret this collaborative naval drill and their potential military cooperation as a threat to the peace and the balance of power in the region. The U.S. and its allies regularly hold joint military exercises all across the African continent at any given time of the year, which thus makes such occasions commonplace. Yet, France has mostly failed to promote peace and stability according to the resolution first approved by the United Nations Security Council (UNSC). Most other states, except Spain, have shown their interests or even worries that their participation in the U.S.-led Military drills in north Africa will only heighten tensions in this geo-strategic region.
In addition, the US and Morocco's military ties with France and Israel are not secret anymore, with America opening up a Training drone institute in Morocco, Morocco making an arms deal with Washington following The Agency of International Trade (ITA) reported that sales of military equipment to Morocco more than doubled in 2020, and both US and Morocco having participated in important arms exhibition in the UAE. Due to this fact, it is bizarre to describe triple drills as being aimed against any third party when they're really just a drill of what could be described as a part of normal diplomacy, or put it simply, seeking diplomatic means through military ends.
Strategically, Washington and Rabat are keen to prove their pragmatic strategy to the North African region en bloc. For instance, the US and Morocco are not taking sides in the African Sahel conflict. This pragmatic approach could even be moving to a higher level whenever Morocco and the US can urge all parties to resolve their disputes through political means instead of military ones. However, for Washington and Rabat, the probable risks are both geopolitical and economic because of the presumed division of labor between the two ally powers under which the US takes responsibility for security in the region while Morocco focuses on socio-economic development.
It is highlighted that the US and Morocco both intend to show their sophisticated strategic partnership to a larger scope. First of all, the triple maritime drills which are labeled "African Lion Marine Security " are aimed at implementing regional order and stability. To this end, the entire exercises are being practiced: reducing terrorism perils, carrying out rescue operations, and defense against attacks from pirates. The purpose is to learn as much as possible, mainly when it comes to preserving the security of international trade in the strategic regions and share experience in maritime rescue operations. Consequently, the US, Morocco, and NATO have a responsibility to ensure the strategic regions together. Secondly, the joint naval drills secure regional stability and order persistent with the United Nations' 1982 Convention. As per this convention and as signatories, the US and Morocco refused the unilateralist concept that France is the region's dominant maritime power. Freedom of Navigation also mentions vessels flying the flag of these sovereign states shall not suffer meddling from the French navy at will. Therefore, under the 1982 Convention and Freedom of Navigation, NATO non-ally can hold naval drills with the US and Morocco for exercising cross-military coordination, willingness, and information gathering. As Moroccan News outlet argues that the drills likewise adhere to International Maritime Law by helping Morocco, the US, and NATO to enhance collective security. It's completely fine with the three powers regarding the joint drills as core to their security, mainly if it uses maritime forces to prevent terrorism risks.
To sum up, Morocco and the US can have their formalities for the drills as well. France quests to repel Washington's maximum pressure attitude. The maritime exercise helps to argue that the U.S. has failed to isolate France strategically and militarily among Maghreb region. The Kingdom of Morocco says regional security has to be provided by regional states. The joint drills are in line with the concept of North Africa's collective security efforts. Additionally, Morocco depends on regional stability for its geostrategic approach. In truth, France has failed to apply a binary containment policy toward Morocco and US in the North Africa. It couldn't hinder the presence and influence of their maritime forces towards the region. Then again, the joint naval exercises bring a counterbalance against the U.S. with a message that in the year of "African Lion" 2021 and beyond, the three powers would be able to involve in similar joint military drills if need to be.