Authors: Mehtab Ali Bhatti and Kainat Akram*
The security threats can be to a great extent partitioned into two groups; traditional and non-traditional security threats. One's focus would mainly be on the traditional security challenges of Japan. Tokyo deliberately perplexed the world. It emerged as non-western power but no one could expect about its dexterity, and it was serious trouble to Western and Asian powers because they were dependent on its impressive economy. Tokyo's trade surpluses were, $44 billion in 1984, $56 billion in 1985 and $93 billion in 1986, which shows Japanese rulers' strategies, growing technology, education system, and people's countless struggle towards their homeland.[1]But during WWII, they lost their formidable economy as well as some of their major cities like Hiroshima and Nagasaki. Aftermath, Japan experienced a tremendous financial crisis like debt. Ironically, Japan is one of the biggest debtor countries with the highest debt to GDP ratio of 222.2% in the world[2], which is a major threat for Japanese people.
Currently, Japan's security environment is getting significantly severer with the sensational move in the global force balance, the development of new threats, for example, psychological oppression and cyberattacks, and the serious security environment in the Asia-Pacific region. Such threats effectively cross-national borders. In the Asia Pacific region, regardless of the centralization of countries that have enormous scope military ability including atomic weapons states, regional collaboration structures on security are not adequately regulated. North Korea's proceeded with the advancement of atomic weapons and ballistic rocket programs just as its provocative conduct is compromising for Tokyo. China's headway of its military capacity without straightforwardness and its further exercises in the ocean and air space are a danger for Tokyo. In addition, move in the global force parity and fast advancement of mechanical development, multiplication of weapons of mass annihilation, and the rise of threats that cross national borders, remembering international psychological oppression and dangers for the ocean, space, and cyberspace are additionally unavoidable threats to Japan's security. In addition, issues identified with "human security,"[3] including destitution and advancement difficulties, and developing dangers to the global economy.
In this fast-moving world and cut-throat political competition era, the political dynamics of Asia Pacific region is changing with changing strategic environment, due to the geo-strategic consolidation among different countries, the focus of the entire world is tilted towards China's owing to rapid development in terms of economic, political and military means. The ongoing protracted South-China Sea conflict of China with many ASEAN countries who are claimant of the cited territory and aggressive posture of nuclear power North Korea has made the region more prone to conflicts as well as an arms race in the region has frayed nerves, further, escalated the tensions. In this tense environment, Japan has been facing a potential threat from the opposite bloc to its very sovereignty and territorial integrity.
According to Tokyo, following countries have posed an aggressive posture in the Asia-pacific, which is worrisome for Japan:
China
China-Japan Relations
In the Asia-Pacific region tensions are being seen worrisome as China is becoming more energetic about its claims over the South China Sea, its tactical and evident actions have spotted other surrounding countries and external interested countries like the United States. China and Japan both have flourished and innate abhorrence since 19th century and America is owing more hatred and tensions in the Asia-Pacific region.[4]It might be called upon that there is nothing invaluable in the East Asia-Pacific but historically it is all about pride and honor, and serious issue of Senkaku Island for Japan. And their tensions ousted from the first Sino Japanese war, then islands were given to Taiwan, and due to victory in WWII, these islands were recovered by China after surrendering of Japan. The aftermath of a new threat established from communist country China; US and Japan signed an agreement of San Francisco Peace Conference by allowing Japan to patrol in the island regions, and America provided types of equipment and economically supported Japan to counter rising power China in the Asia Pacific region and tensions rampantly encouraging until today.
In the 21st century, the ascent of Asia has drawn the consideration of the United States to concentrate particularly on the Asia-Pacific region. Because of its geostrategic significance and going to be an economic hub of the world, the development of Asia can be identified with the expanding economic exercises in which rising forces China, India, and Indonesia are assuming their crucial role. The major economic activities happen in the Asia Pacific, for instance, the main trade routes pass through the Asia Pacific, and the Indian Ocean where strait of malacca is a gateway to major economies like China, Japan, and South Korea. Particularly, in the Asia Pacific region, the US has its economic, strategic, and security interests. It includes the economic network all through the region, support of peace and soundness, and making sure about its allies particularly Japan and South Korea, and ensuring the claimants of the South China Sea to resolve their issues peacefully.
China's Response towards American Pivot and Indo-Pacific Strategy
China's rise as a great power in this changing dynamics of world politics does not lag behind and it is important to understand Sino-US relations in the purview of America's past Asia Pivot strategy[5] and Trump's Indo-pacific strategy.[6]There are multiple significant events by which it can be speculated that People's Republic of China (PRC) is emerging as a great player, for instance, it has resisted western intervention three times in collaboration with Russia over the Syrian civil war in the Middle East; it also bring-up with the idea of making BRICS and establishing AIIB which is considered as the counterweight to America's World Bank; through SCO, China has also influenced her role in the international politics; most significantly, it has come up with a 'Belt and Road initiative'' with CPEC which shows China's soft power in the world. However, with this dynamic strategic architecture in the Asia Pacific, two contours are important – what made the US come up with a rebalancing strategy and how China responds to it.
According to official reports, China has responded to the Indo-Pacific policy of America in two levels. Firstly, Chinese authorities have firmly denounced this US expressed policy and that they are mindful that US diplomatic moves would bolster its allies regarding the sea and territorial debates with China. Secondly, Chinese non-official media has harshly castigated US rebalancing strategy towards Asia. Some view this strategy as Cold-war like containment of China which was based solely against China because China's ascent is representing a possible danger to America's authority and its allies. "China in countering Pivot's response has come up with 'Marching West' strategy, which aims at focusing China's diplomatic and economic relations with the Eurasian countries," according to Aaron Jed Rabena.[7] She is also of the view that China's ascent is representing a likely threat to America's hegemony.
Moreover, China's reaction to the Asia-Pivot policy in past and current procedure of Trump can be shown by means of diplomatic and economic activities, for example, Belt and Road activity, Asian framework venture bank and reinforcing respective relations. The OBOR activity of China will fill two needs. Right off the bat, it will merge China's delicate power, and besides, enhance economic collaboration with in excess of 60 nations. The Chinese reaction and its military modernization have made a serious mix and unsafe circumstance to the US Indo-Pacific technique with pervasive interests in the Asia-Pacific region. In this universe of complex association, war is certifiably not an attainable choice. America will never do battle with China since China is the second the biggest exchanging accomplice of America. Additionally, the Chinese reaction to this US procedure has been delicate as is obvious from March West methodology, OBOR, and AIIB activities. These steps are the projection of Chinese Soft power response to Obama's rebalancing and Trump's Indo-pacific strategy towards Asia.
North Korea
Rivalry is not Old-fashioned
Korean Peninsula has been remained a play chess match for foreign powers like Japan, the US, Soviet Union, and China—in 1910 Korean Peninsula was occupied by the Japanese empire but after the demise of Japan in 1945 and WWII, Korean Peninsula was partitioned into two South and North. Whereas, the North was occupied by the Soviet Union and the South was occupied by the United States. In 1948, re-unification negotiations were failed and two governments were stimulated; the Socialist Democratic People's Republic of Korea (DPRK) in the North and the Capitalist Republic of Korea (RK) in the South. In addition, the Korean War occurred in 1950's, initiated by North Korea for invasion and the ceasefire occurred but peace treaty was not endorsed.[8]
In the contemporary era, the security environment of North Korea is very complex and instrumental. North Korea has one of the world's biggest regular military powers, which, joined with its rocket and atomic tests. North Korea spends almost a fourth of its total national output (GDP) on its military, as indicated by U.S. State Department gauges.[9] Its brinkmanship will keep on testing regional and international associations planned for protecting stability and security.
However, North Korea has remained a part of Communist bloc, where Russia and China have been the back supporters. In the realist paradigm, 'enemy of an enemy is friend,' likely in this case, Russia supports North Korea and the US supports South Korea economically, politically, and militarily. Therefore, in the North Korean nuclearization, the role of China and Russia is very evident. On the other hand, in the economic advancement of South Korea, the American role is not far-seeing as evident.
North Korean Nuclearization a Dwelling Threat for Japan
North Korea's quest for atomic weapons is a sensible procedure given that the system's greatest security probability from international intercession. Additionally, for the North Korean system, atomic weapons have three strategic capacities, and with everyone, the US is directly in the middle. After that, they fill in as impediments; also, an instrument of international strategy; and thirdly, they are an instrument of residential legislative issues. The atomic weapons have given influence and a negotiating concession diplomatically associating with all the more impressive and increasingly effective on-screen characters, similar to the US and its partner South Korea and Japan.
North Korea's nuclear missile testing has raised tensions in the Asia-Pacific region and created a global threat. It is an imminent threat to Japan as an ally of the US. Since 2006 North Korea has conducted 6 nuclear ballistic missile tests and one of them flew over Japan in 2017.[10]Due to nuclear tests, 15 members have voted against North Korea to the Security Council with US-drafted resolution, and new sanctions of North Korea's textile exports have been alleged. In the reaction, North Korea had shown the backing of veto powers like China and Russia and aggressively indicated to devastate the US, Japan, and South Korea.
According to South Korean President Moon, they were against nuclear weapons in their state and they had withdrawn their nuclear weapons in the 1990s, "Nuclear weapons could not prolong the peace in the region," said Moon, "They have provided $8 million through the United Nations to North Korean citizens for women pregnancy and to aid the poor and infants.[11]In the words of war, North Korea called South Korea as "traitors and dogs" of America and "dancing tune" to Japan and alleged that the US has troops in South Korea to destroy the North and its Asia- Pacific allies. Because of nuclear capability and conflict of the 1950s, in which America and South Korea were allied and had an aim to force North Korea for peace treaty but it rejected. North Korea continued to develop a ballistic missile program (Hwasong-14 with the range of 10,000 and Hwasong-15 with the range of 13,000 KM) which has been an impendent threat to Japan, South Korea as well as America. By measuring, America has put North Korea at the top list of terrorism promoter and designed unravished sanctions on North Korea.
De-nuclearization Fiasco
Tokyo is currently carefully watching the process of dialogue moving toward a U.S.- North Korea exchange and is worried that dealings on denuclearization on the Korean Peninsula may reject Japan's unsafe perspectives. A senior authority of the Japan Ministry of Defence concerning the highest point among Trump and Kim Jong-un of 2018 stated, "We ought not to have an idealistic view that North Korea will relinquish the atomic weapons which it has at long last obtained."[12] Therefore, to adapt to the North Korea emergency, Abe regularly underscores the significance of the U.S.- Japan partnership. There is no uncertainty that security ties among Japan and the U.S. have fortified further under the Abe administration.
Other Global Threats to Japan
According to the realist school of thought in international relations, global world order is anarchic, and power centric; its effects are, no trust in Anarchy, constant competition for power, zero-sum game, and relative gains. Further two types, 1. Defensive realism (states are security maximizers and seek survival, status quo, and states are not inherently aggressive) and 2. Offensive realism (States are power maximizers, in the absence of complete hegemony states act offensively and use its power as any can i.e. the US invasion of Iraq 2003).
The rapid progress of technology and shift in the global power is a major threat for all states but Japan has regular emerging threats like in the Asia-Pacific region. The proliferation of conventional and unconventional weapons is increasing which indicates threats at large, besides this, global terrorism, maritime risks, and cyberspace are disparate challenges to Japan. Japan is actively seeking an active role of self-defence and peacekeeping and increasing its technology to combat in the Korean Peninsula and to counter China's growing power in the Asia-Pacific as well as in the World. State sovereignty is absolute, particularly which showed Japan through its heavy Defence budget and its measures taken in the Senkaku island, recently fiscal defence budget in 2016-17 was nearly $42 billion.[13]It was a non-western state which defeated Russia and attacked the US and its economy was second largest in the world. No doubt, Japan is the most industrialized and thick technological country that emerged again after World War II.
Concluding Remarks
The dynamics of the international geostrategic environment in which the world politics is transforming from unipolarity to multipolarity with China emerging as a great power due to its military modernization, advanced technology, and growing economy and commercial connectivity in the entire Asia, which is alarming for the US but regionally it is an irked threat for American allies particularly Japan and South Korea.
By witnessing China as emerging power, American Asia pivot/rebalancing strategy and Trump's Indo-Pacific strategy towards Asia in order to counter the growing influence of China. America and its allies should not perceive Chinese rise in terms of military and economy as a threat to world peace and aggressor because PRC has always been peaceful in dealing the problems of the world and the norms of non-interference are prevailing but no compromise on territorial claims—have been immersed in the Chinese foreign policy.
The United States' concern over denuclearization of North Korean nuclear assets is not acceptable to Kim's regime due to the prestige and status quo of the state but has vague threats from the US forces in South Korea. Even after the President Trump's summit with Kim Jong Un in 2018, the US ally Japan is claiming that North Korean regime poses a genuine and inescapable danger to their security regardless of bringing down of regional pressures following the summit.
China has reacted to America through the procedure of 'Looking West and Marching West'. A few researchers are of the view that the opposition between two significant forces depicts another virus war, however, I differ that since China won't utilize its military alternative, China wants to grow economically and it wants to have an influence on the world through soft power. In a nutshell, I would say that the US must integrate with China rather than to contain it and appreciate its emergence as a responsible stakeholder.
Nonetheless, Japan's reaction should comprise of two distinct methodologies: the anticipation of decay and the improvement of its security environment the essential reaction will be the discouragement of heightening through the improvement of Japan's safeguard capacity and the upgrade of the Japan-US collusion. It is additionally significant for Japan to acquire and fortify international comprehension and backing for its position through protection discretion remembering that for multilateral exchanges. International help can upgrade Japan's situation in managing the difficulties, and yet, the effect would stay roundabout. Japan can't depend on unrealistic reasoning and ought to investigate other options too.
* Kainat Akram did Bachelor of Arts from Government College University Faisalabad. She also did Masters in Science (M.Sc) in Gender and Women Studies from Allama Iqbal Open University, Islamabad.
---
[1] Robert C. Christopher, "Don`t Blame The Japanese," The New York Times Magazine, Oct. 19, 1986 (https://www.nytimes.com/1986/10/19/magazine/don-t-blame-the-japanese.html), accessed on July 20, 2020.
[2]H. Plecher, "Japan: National debt from 2014 to 2024," Statista, May 6, 2020 (https://www.statista.com/statistics/270121/national-debt-of-japan/), accessed on July 18, 2020.
[3] Catia Gregoratti, "Human Security," Encyclopaedia Britannica, Dec. 14, 2018 (https://www.britannica.com/topic/human-security), accessed on July 20, 2020.
[4] Kerry Brown, "The Most Dangerous Problem in Asia: China-Japan Relations," The Diplomat, Aug. 31, 2016 (https://thediplomat.com/2016/08/the-most-dangerous-problem-in-asia-china-japan-relations/), accessed on July 19, 2020.
[5] Matt Schiavenza, "What Exactly Does It Mean That the U.S. Is Pivoting to Asia?" The Atlantic, April 15, 2013 (https://www.theatlantic.com/china/archive/2013/04/what-exactly-does-it-mean-that-the-us-is-pivoting-to-asia/274936/), accessed on July 18, 2020.
[6] Sun Chenghao, "What is the prospect of the U.S. Indo- Pacific strategy?" News CGTN, Nov. 07, 2019 (https://news.cgtn.com/news/2019-11-07/What-is-the-prospect-of-the-U-S-Indo-Pacific-strategy–LqCA9M3YKA/index.html), accessed on July 18, 2020.
[7] Niklas Swanstrom and Par Nyren, "China's March West: Pitfalls and Chalenges in Greater Central Asia," Institute for Security & Development Policy, Jan. 10, 2017 (https://www.isdp.eu/publication/chinas-pitfalls-challenges-gca/), accessed on July 20, 2020.
[8] Liam Stack, "Korean War, a 'Forgotten' Conflict That Shaped the Modern World," The New York Times, Jan. 02, 2018 (https://www.nytimes.com/2018/01/01/world/asia/korean-war-history.html), accessed on July 21, 2020.
[9] Eleanor Albert, "North Korea's Military Capabilities," Council on Foreign Relations, Dec. 20, 2019(https://www.cfr.org/backgrounder/north-koreas-military-capabilities), accessed on July 17, 2020.
[10] David E. Sanger and Choe Sang-Han, "North Korean Nuclear Test Drawn U.S. Warning of 'Massive Military Response,' The New York Times, Sept. 02, 2017 (https://www.nytimes.com/2017/09/03/world/asia/north-korea-tremor-possible-6th-nuclear-test.html), accessed on July 19, 2020.
[11] Choe Sang-Hun, "Kims Says He'd End North Korea Nuclear Pursuit for U.S. Truce," The New York Times, April 29, 2018 (https://www.nytimes.com/2018/04/29/world/asia/north-korea-trump-nuclear.html), accessed on July 20, 2020.
[12] Koji Sonoda, "Japan's Security Alliance Dilemma," The Diplomat, March 24, 2018 (https://thediplomat.com/2018/03/japans-security-alliance-dilemma/), accessed on July 21, 2020.
[13] Japan-Defence Budget, Global Security.org, 2015 (https://www.globalsecurity.org/military/world/japan/budget.htm), accessed on July 21, 2020.
Kickbacks in India's defence purchases
Prime minister Narendra Modi of India boasts his government of being corruption- free. But, his claim has become questionable in the light of recent audit of Rafale purchase in France.
India had ordered 36 of these fighter aircraft from France in September 2016. The 7.8 billion government-to-government deal for 36 fighter jets was signed in 2016. The Indian Air Force has already raised its first squadron of the Rafale jets at Ambala and is due to raise the second one at Hasimara in West Bengal.
India expects to receive more than 50 percent of these fighters by April-end. The first batch of five Rafale jets had arrived in India on July 28 and was officially inducted on September 10 by the government.
In a startling disclosure, the French Anti-Corruption Agency, Agence Française Anticorruption
has announced that their inspectors have discovered an unexplained irregularity during their scheduled audit of Dassault. According to details, "the manufacturer of French combat jet Rafale agreed to pay one million euro to a middleman in India just after the signing of the Indo-French contract in 2016, an investigation by the French publication Mediapart has revealed. An amount of 508,925 euro was allegedly paid under "gifts to clients" head in the 2017 accounts of the Dassault group ( Dassault paid 1 million euro as 'gift' to Indian middleman in Rafale deal: French report India Today Apr 5, 2021). Dassault tried to justify "the larger than usual gift" with a proforma invoice from an Indian company called Defsys Solutions. The invoice suggested that Defsys was paid 50 per cent of an order worth 1,017,850 for manufacturing of 50 dummy models of the Rafale jets. Each dummy, according to the AFA report, was quoted at a hefty price of 20,357. The Dassault group failed to provide any documentary evidence to audit about the existence of those models. Also, it could also not explain why the expenditure was listed as a "gift to clients" in their accounts.
Shady background of Defsys
Defsys is one of the subcontractors of Dassault in India. It has been linked with notorious businessman Sushen Gupta. Sushen Gupta. He was arrested and later granted bail for his role in another major defence scam in India, the AgustaWestland VVIP Chopper case.
The Enforcement Directorate charged Sushen Gupta for allegedly devising a money-laundering scheme for the payouts during the purchase of the helicopters.
Rampant corruption in India
Corruption in defence deals is a norm rather than an exception in India. They did not spare even aluminum caskets used to bring back dead bodies from the Kargil heights ("coffin scam"). Investigations into shady deals linger on until the main characters or middleman is dead. Bofors is a case in point.
Why investigation of defence deals since independence recommended
India's Tehelka Commission of Inquiry headed by Mr. Justice S N Phukan had suggested that a sitting Supreme Court Judge should examine all defence files since independence.
Concerned about rampant corruption in defence purchases allegedly involving Army personnel, he desired that the proposed Supreme Court Judge should by assisted by the Central Vigilance Commission and the Central bureau of Investigation.
He stressed that unless the existing system of defence procurement was made more transparent through corrective measures, defence deals would continue to be murky. He had submitted his report to then prime minister Atal Behari Vajpayee, but to no avail. The Commission had examined 15 defence deals including the AJT, Sukhoi, Barak missiles, T-90 tanks, tank navigation systems, simulators, hand-held thermal. imagers, Karl Gustav rocket and Kandla-Panipat pipeline. The irregularities in the scrutinised defence deals compelled the Commission to suggest de novo scrutiny of all defence purchases since independence.
Tardy trial
The courts have absolved Rajiv Gandhi of involvement in the BOFORS scam. However, a considerable section of Indian people still believes that 'Mr. Clean' was not really so clean. The BJP exploited Rajiv's acquittal as an election issue. Kuldip Nayyar, in his article "The gun that misfired" (Dawn February 14, 2004) laments, "There was practically no discussion on Bofors-guns kickbacks in the 13th Lok Sabha which has been dissolved for early elections. Once Rajiv Gandhi died the main target – the non-Congress parties lost interest in the scam".
According to analysts, the mechanisms of public accountability in India have collapsed. Corruption has become a serious socio-political malady as politicians, bureaucracy and Armed Forces act in tandem to receive kickbacks. The anti-corruption cases, filed in courts, drag on for years without any results. To quote a few case: (a) There was no conviction in Bofors-gun case (Rs 64 crore), because of lethargic investigation (the case was filed on January 22, 1990 and charge sheet served on October 22, 1999. Among the accused were Rajiv Gandhi, S K Bhatnagar, W N Chaddha, Octavio, and Ardbo. The key players in the scam died before the court's decision). (b) No recoveries could be made in the HDW submarine case (Rs 32.5 crore). The CBI later recommended closure of this case. (c) Corruption in recruitment of Armed Forces.
Legal cover for middlemen
Central Vigilance Commissioner P Shankar had alleged (October 2003): "The CVC had submitted its defence deals report on March 31, 2001. Yet a year later, the government has not conducted the mandatory departmental inquiry to fix responsibility". Shankar explained that the CVC had examined 75 cases apart from specific allegations made by former MP Jayant Malhoutra and Rear Admiral Suhas V Purohit Vittal. Malhoutra's allegations were about middlemen in defence deals. After his report, the ministry lifted the ban on agents in November 2001 to regularise the middlemen. Purohit, in his petition in the Delhi HC on a promotion case, had alleged unnecessary spare parts were bought from a cartel of suppliers instead of manufacturers, at outrageous prices and at times worth more than the original equipment.
Past cases forgotten to continue business as usual
There were ear-rending shrieks about the Taj-heritage corridor case, Purulia-arms-drop case and stamp-paper cases. Indian Express dated November 11, 2003 reported that the stamp-paper co-accused assistant Sub-Inspector of Police drew a salary of Rs 9,000, but his assets valued over Rs 100 crore. He built six plush hotels during his association for 6 years with the main accused Abdul Karim Telgi. The ASI was arrested on June 13 and charged under the Maharashtra Control of Organised Crime Act. Investigations by the Special Investigating Team (SIT) probing the stamp scam had found that the ASI Kamath accepted Rs 72 lakh from the scam kingpin, Abdul Karim Telgi, on behalf of IGP Sridhar Vagal.
The problem is that the modus operandi of corruption ensures that it is invisible and unaccounted for. There are widespread complaints that the politicians exercise underhand influence on bureaucracy to mint money. For instance, the Chief Vigilance Commissioner complained to Indian Prime Minister (November 8, 2003) that at least "six cabinet ministers, handling key infrastructure ministries, are harassing chiefs of public sector undertakings for 'personal favours', and in some cases even for pay-offs".
For example, one PSU (Public Sector Udertaking) chief is said to have complained that he was asked to get Rs 20 crore delivered to his minister's party office and when he refused, he was "denied" an extension. Indian Express dated February 19, 2004 reported, under reportage titled "Figuring India" that 'Rajiv Pratap Rudy is only one in a long line of ministers who have misused the funds and facilities of Public Sector Undertakings". The newspaper appended the following bird's-eye view of the funds (available for corruption) at the PSUs command: Rs 3, 24,632 crore total investment in PSUs, Rs 36,432 crore profits, 12,714 crore profits of monopolies in petroleum, Rs 5,613 CRORE profits of monopolies in power Rs 7,612 crore, profits of monopolies in telecom Rs 10,388 crore, Rs 61,000 crore invested in PSUs in 1991-1998, Rs 19,000 crore returns during 1991-1998."
Corruption as proportion of gross Domestic Product
Professor Bibek Debroy and Laveesh Bhandari claim in their book Corruption in India: The DNA and RNA that public officials in India may be cornering as much as ₹921 billion (US$13 billion), or 5 percent of the GDP through corruption.
India 86th most corrupt (Transparency International corruption ranking Jan 29, 2021)
India's ranking on the Corruption Perception Index– 2020 is 86. The index released annually by Transparency International ranks 180 countries by their perceived levels of public sector corruption according to experts and business people. It uses a scale of zero to 100, where zero signifies the highest level of corruption and 100 is very clean.
All-round corruption
In India, anti-corruption focuses on big ticket graft. But it is petty corruption that hurts common people more. Both need to be weeded out. A former World Bank president Robert Zoellick once said, "Corruption is a cancer that steals from the poor, eats away at governance and moral fibre, and destroys trust."
According to Transparency International, CPI-2020 shows that corruption is more pervasive in countries least equipped to handle Covid-19 and other crises. "Covid-19 is not just a health and economic crisis. It is a corruption crisis. And one that we are currently failing to manage," Delia Ferreira Rubio, chair of Transparency International said. "The past year has tested governments like no other in memory, and those with higher levels of corruption have been less able to meet the challenge. But even those at the top of the CPI must urgently address their role in perpetuating corruption," she added.
Concluding remarks
Click Wikipedia to know that Narendra Modi's "Net worth" is "₹ 2.85 Crore" (June 2020). This figure defies his humble financial background. He has a penchant for hobnobbing with "crony capitalism". It appears he is worth a lot more. Those who make illicit money have a knack to hide it.
Turkish Expansion of Libya Threatens Wreck NATO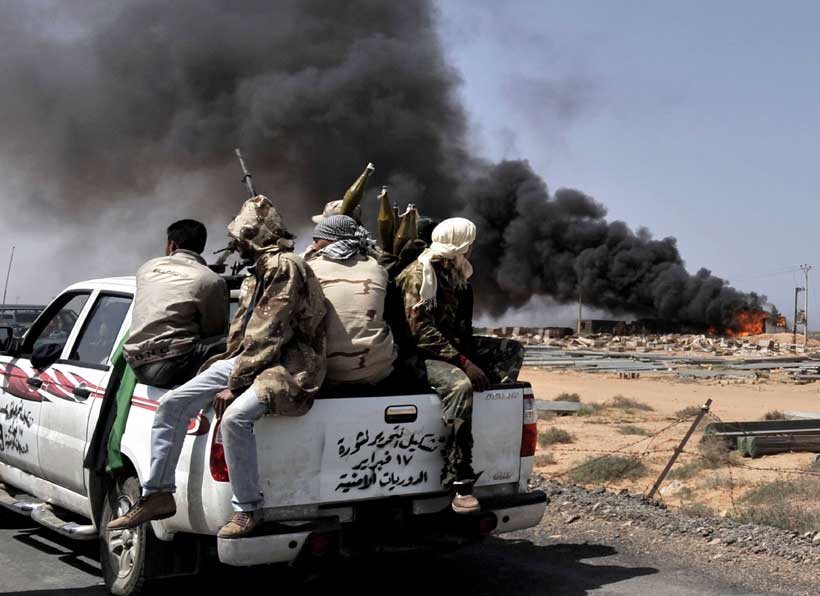 Despite the fact that the parties to the Libyan crisis are gradually coming to a political solution, the situation continues to become heated both within and around the country. It is mainly influenced by the states involved in the conflict.
At the same time the instability in Libya has a negative impact on international relations, including growing contradictions between strategic partners. In particular Turkey's military activities raise fears among at least three NATO members – France, Italy and Greece.
Relations between Ankara and its partners in the North Atlantic Alliance are exacerbated due to the actions of the Turkish leadership, which not only delivers weaponry to the former Jamahiriya avoiding the UN embargo, but also conducts geological exploration of the hydrocarbon fields in the eastern Mediterranean sea.
Contradictions between NATO partners have already begun to take the form of hidden clashes. For example, the French frigate "Courbet", operating as part of the Alliance's "Sea Guardian" operation aimed to prevent arms smuggling into Libya, approached three Turkish warships and a cargo vessel on June 10 last year. The French military attempted to inspect a civilian ship suspected of illegally carrying weapons to a war-torn country. In response, the Turkish warships illuminated the Courbet by the targeting radar for three times.
After the incident, Paris pulled out of the "Sea Guardian" operation. Moreover, the White House national adviser, Robert O 'Brian condemned the Turkish military actions and expressed support for France. "NATO allies shouldn't be turning fire control radars on each other. That's not good. We are very sympathetic to the French concerns," he told.
The contradictions between France and Turkey are also evident in the geopolitical sphere. Paris considers the Libyan National Army commander Halifa Khaftar as one of the key figures in resolving the Libyan conflict, while Ankara refuses to recognize him as a significant political force in the country.
In addition, there are growing tensions between Turkey and Italy. Rome as the largest importer of Libyan oil has been long cooperating with Tripoli's authorities in oil and gas spheres. After throwing its weight behind one of the rival administration, Turkey seeks to revise the status quo in the Libyan hydrocarbon industry by sidelining France's Total and Italy's Eni in a bid to gain full access to the natural resources of Libya. Although Turkey urges countries and companies to joint collaboration, no one highly likely will consent to it, considering this suggestion as a "toxic asset."
Greece, in turn, is annoyed by agreements between Ankara and Tripoli that deprive Athens of its legal right to the sea shelf between Rhodes and Crete. This part of the continental shelf belongs to Greece and Cyprus, but Turkey is trying to contend for its rights to the fields through the memorandum of understanding on maritime zones with the Government of the National Accord, predecessor of the newly formed Government of National Unity. The Turkish side sent warships to the Mediterranean to reinforce the "legitimacy" of its actions, which was negatively perceived by Athens. The situation became heated to such an extent that many experts have not rule out the outbreak of armed confrontation between the allies.
Firmly Address Tehran's Ballistic Behavior
The recent change in US administrations has spawned a lively debate about the potential path back to a deal with Iran, especially concerning the latter's troubling nuclear ambitions. Some argue against reviving the 2015 nuclear deal while others counsel for a swift US return to it. But there is a big problem with an undemanding US revival of the deal. Over the past five years, the regime has displayed extremely disturbing behaviors that endanger the region, Europe, the United States, and the broader international community.
Indeed, Iran's nuclear escalations and its burgeoning ballistic missiles program are major threats. But much more troubling is Iran's ballistic behavior.
There are four significant hotspots where the Iranian regime is active. This means any return to the Iran deal cannot exclusively address technical nuclear issues. The geopolitics of the entire region have changed. For instance, in Yemen, Houthi militias control a large segment of a sovereign country, and they are armed by the Iranian regime, including missiles. They are at war with the legitimate government of Yemen, and they have had a terrible record of human rights abuses.
In Iraq, Iran has used its militias to establish control over the entire country, with some exceptions. These militias are not only controlling the government, major parts of the economy or the banks, they are engaged in suppressing the population. In the fall of 2019, hundreds of thousands of young Iraqis from all walks of life took to the streets to demand meaningful reforms. But they were met with lethal force. More than 700 Iraqi citizens of all communities have been killed by pro-Iranian militias.
The Iranian regime's forces in Syria have brought in radical Shia militias from as far as Afghanistan. More than 700,000 people have been killed in that civil war. Five million Syrians have been displaced.
And, last but not least, in Lebanon, Hezbollah is armed and funded by Tehran, and its secretary general does not shy away from publicly announcing his group's complete allegiance to the Iranian regime.
So, the Iranian regime is effectively involved in the quasi occupation of four Arab countries. All this means that there cannot be a swift return to an "Iran deal" without addressing the regime's regional ambitions and destructive meddling, which have resulted in instability for Europeans and American interests alike.
Meanwhile both in European capitals and in Washington, there are major interests that echo calls for a quick return to the 2015 Iran nuclear deal. Absent in their inexplicable haste is any consequential consideration to pressing geopolitical demands.
Proponents of the Iran nuclear deal are eager to do business with Iran. There is nothing inherently wrong with that. But shouldn't the cost of that decision be soberly evaluated before rushing back in?
Are there not important destabilizing factors that must be urgently addressed, including the deployment of ballistic missiles in the region, the preponderance of Iranian proxies in strategic hotspots, and persistent deadly attacks against Western allies in the region?
So, what should be done?
Any potential discussions with the Iranian regime must take into consideration the security of the Middle East as a whole.
First, regional security and the regime's behavior must top the list of potential negotiation topics.
Second, the regime's ballistic missile program should not proceed under the radar. The Houthi-fired missiles targeting Saudi Arabia and its oil facilities are designed and delivered by Iran. The missiles fired against the US and coalition forces in Iraq are also designed and delivered by Iran. And, Iran has deployed missiles in Syria, which are then aimed at Israel. Similarly, the Lebanese Hezbollah has boasted about having thousands of missiles in its arsenal.
Therefore, as an important step toward stability, the international community must ensure that the proliferation of these missiles is stopped, and they are removed from these countries.
Third, it would only be logical to include countries like Saudi Arabia and other impacted governments in the negotiation process because they bear the brunt of Tehran's malevolence.
And lastly, international community should begin seriously engaging with the Iranian opposition. For the past three years, hundreds of thousands of Iranian citizens have loudly protested the ruling regime and its policies. There is another image of Iran that the world needs to acknowledge and engage. That's exactly what the US policy is trying to do in Yemen, for example, by engaging both the Houthis and the legal government at the same time.
When dealing with the multilateral and strategic threats emanating from the Iranian regime, it is only natural to engage with the organized Iranian non-violent resistance, including representatives from the Iran protests and exiled leaders, particularly the very active National Council of Resistance of Iran (NCRI), and to hear their voices during any negotiation with Tehran.
The Iranian regime will be emboldened to continue its egregious behavior if it senses weakness in the international community's response. By firmly addressing its ballistic behavior, responsible international actors can harness the strategic domestic and international reserves to curtail Tehran's threats.