The future of Europe depends on its neighborhood – UfM's Nasser Kamel says
On July 1st, 2020, the Secretary-General of the Union for the Mediterranean (UfM), Dr. Nasser Kamel, participated in an international conference discussing the future of Europe. The event under the name FROM VICTORY DAY TO CORONA DISARRAY: 75 YEARS OF EUROPE'S COLLECTIVE SECURITY AND HUMAN RIGHTS SYSTEM was held at the historic setting of the eldest world's Diplomatic Academy, that of Vienna, Austria. This gathering was organised by four partners; the International Institute for Middle East and Balkan Studies (IFIMES), Media Platform Modern Diplomacy, European Perspectives Scientific Journal, and Action Platform Culture for Peace, with the support of the Diplomatic Academy of Vienna.
In his highly absorbing keynote, Secretary General Dr. Kamel described the impact of the C-19 event as only amplifying the old issues and long-standing challenges within the Euro-Mediterranean theater. To this end, Excellency especially focused on the economic and environmental challenges faced by the Euro-MED. He recommended that sustainability and resilience should be at the core of the post-C-19 recovery, and gave an important piece of advice to European policymakers: if Europe is to become a global power, a positive engagement with its neighborhood – both east and south – will be of paramount importance. Hostilities and confrontation should be replaced by a decisive cooperation on the common future project. And such a project should include all EU/Europe neighbors without prejudices.
Reflecting on the global impact of C-19, Excellency Kamel stated that the pandemic has pushed the world to a new era, and that the repercussions of this crisis will be extremely far-reaching – not least in terms of economic activity, which is set to dramatically decrease at the global level. As for the Euro-Mediterranean more specifically, the UfM's Secretary General noted that the region's existing elements of fragility – most notably the high levels of inequality and the pressing climate change emergency – are set to worsen as a result of the pandemic. To counter the ensuing negative effects, Dr. Kamel advised, resilience must be built through a holistic approach that promotes at the same time an environmental, social, and economic recovery throughout the whole Euro-Mediterranean region.
Secretary General Kamel also touched upon the economic impact of the C-19 in the Euro-Mediterranean region. This impact – he noted – has been markedly uneven, as countries that were more dependent on Asian supply chains, for instance, have been hit harder and faster than others. Starting from this observation, the UfM's Secretary General delved into the debate about the current economic model and its typical long supply chains. While refusing frontal attacks to globalization as an outdated concept, Dr. Kamel suggested that Euro-Mediterranean countries should increase their resilience and work better to ensure the solidity of their supply chains – for instance though what he called a "proximization", or regionalization, of these chains. On this issue –he noted– the UfM Secretariat is currently working with relevant partners, including the OECD, as to explore the potential to create regional supply chains – hoping that this could lead to tangible development gains on both shores of the Mediterranean.
Besides the oft-discussed economic issues, the Secretary General's contribution also sought to highlight the importance of environmental considerations, which risk slipping at the bottom of the agenda in times of economic crisis. Dr. Kamel stressed that the climate crisis is a reality that the Euro-Mediterranean region must inevitably face. A report developed by a large group of scientists from several different countries, supported by both the UfM and the United Nations Environment Programme, has highlighted that the impact of climate change in the Euro-Mediterranean is set to be particularly significant – just to quote one statistic, the region is warming 20% faster than the rest of the world. Hence, Secretary General Kamel stressed, the region's post-pandemic recovery must be more sustainable – more green, blue, and circular – with a focus on enhancing the resilience of societies on both shores of the Mediterranean.
In his concluding remarks, Mr. Kamel decided to stress the interconnectedness of the Euro-Mediterranean region. The European continent is tightly linked to its neighborhood, he noted, both to the east and to the south. Hence, the future of Europe as a relevant economic, political, and geopolitical power depends on how proactive and engaging it will be with its immediate neighborhood – Dr, Kamel said. As for Europe to be prosperous, its neighborhood should be resilient, mindful of the environment, and more economically integrated. At the UfM – Secretary-General assured audience – that is the aim that everyone is hoping, and working, for.
In order to make the gathering more meaningful, the four implementing partners along with many participants have decided to turn this event – a July conference into a lasting process. Named – Vienna Process: Common Future – One Europe, this initiative was largely welcomed as the right foundational step towards a longer-term projection that seeks to establish a permanent forum of periodic gatherings as a space for reflection on the common future by guarding the fundamentals of our European past.
As stated in the closing statement: "past the Brexit the EU Europe becomes smaller and more fragile, while the non-EU Europe grows more detached and disenfranchised". The prone wish of the organisers and participants is to reverse that trend.
To this end, the partners are already announced preparing the follow up event in Geneva for early October (to honour the 75th anniversary of the San Francisco Conference). Similar call for a conference comes from Barcelona, Spain which was a birthplace of the EU's Barcelona Process on detrimental; the strategic Euro-MED dialogue.
Greece and UAE's Strategic Cooperation: A New Regional Equilibrium in the Making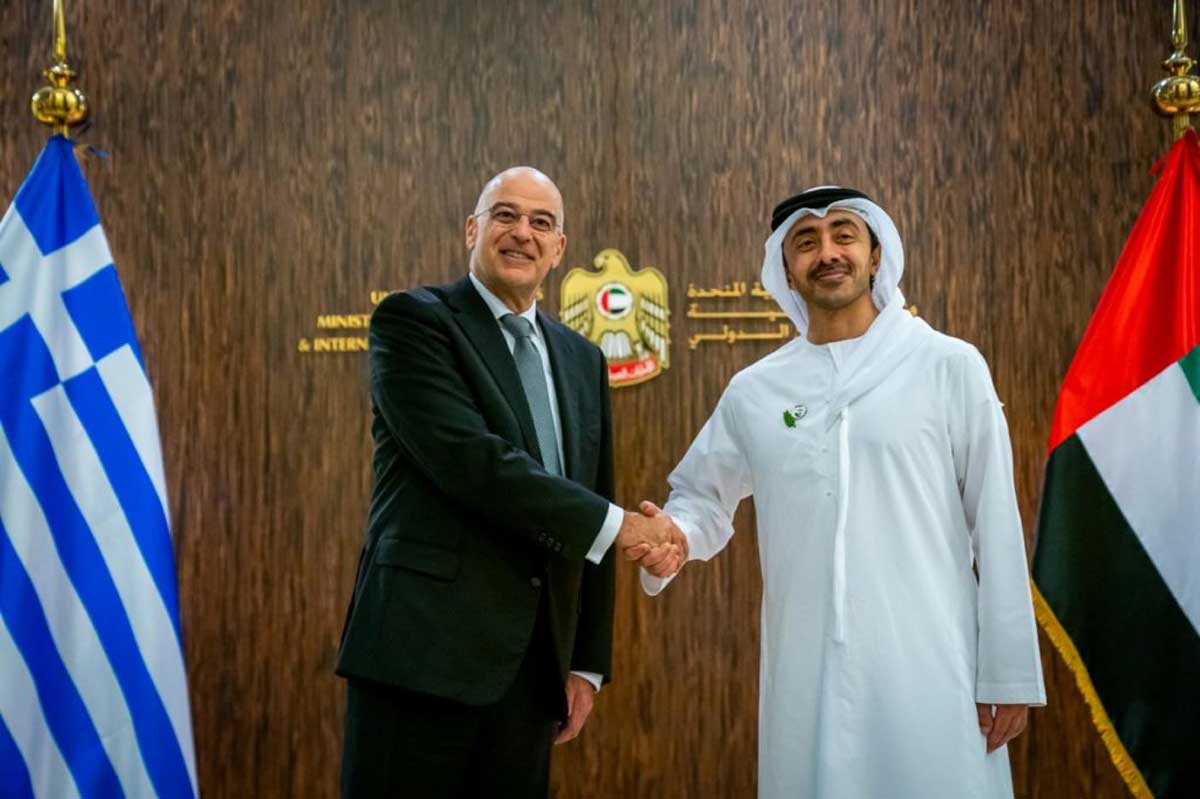 The agreement on Joint Cooperation in Foreign Policy and Defence between Greece and the United Arab Emirates (UAE) is a milestone for bilateral relations and for the wider region. It was signed during the official visit of the Greek prime minister to the UAE on 18th November 2020. The agreement seals the determination of both countries to enhance their strategic partnership in the domain of defence with the aim to foster cooperation and jointly address common challenges and threats.
It is in this context that the agreement contains a mutual defence clause or else a mutual military assistance clause that equals to a common defence doctrine as it foresees that in case either country is threatened or attacked, both are committed to contributing to the defence of the other to ensure their sovereignty and territorial independence.
The clause contained in the agreement on Joint Cooperation in Foreign Policy and Defence has a purely defensive character and is the maximum that can be achieved between two countries that do not share common borders. For the implementation of the agreement, a regular consultation mechanism has been instituted at the level of Foreign Ministers, while a Supreme Joint Committee between Greece and the UAE is to be established.
The agreement also foresees the stationing of military forces of one country in the territory of the other, and the exchange of classified intelligence information. This provision comes to institutionalize the stationing of military forces of Greece, a member state of NATO and the EU, and of the UAE, a member country of the Gulf Cooperation Council to each other's territory. It is noteworthy that at the height of the Greek-Turkish crisis in August 2020 when seismic vessel Oruc Reis conducted surveys in maritime areas that partly fall within the Greek continental shelf, the United Arab Emirates relocated four F-16s to the Greek island of Crete, where they were stationed for two weeks and participated in joint air exercises with the Hellenic Air Force.
The value of joint military exercises between Greece and the UAE is significant especially when taking into consideration that the Emirati armed forces are one of the most modern in the region that are technologically equipped with state-of-the-art weapons systems. The UAE's Air Force has 68 Mirage 2000 French fighter jets and 78F-16 American fighter jets; its Navy has 11 corvettes, and the government of Abu Dhabi is the first in the world that has acquired the Terminal High Altitude Area Defence (THAAD) anti-aircraft system of Lockheed Martin. The system is designed to shoot down short-, medium-, and intermediate-range ballistic missiles in their terminal phase by intercepting with a hit-to-kill approach. In total, 100,000 people serve in the UAE Army, Navy and Air Force.
An additional agreement for the training of technicians from the UAE in the Greek Aviation Industry is to be finalized soon. The Armor Training Centerin Avlona is scheduled to host Emirati technicians, due to its proximity to the technical base of the Greek Aviation Industry in an area of ​​about 90 acres within which all necessary infrastructure and facilities will be constructed.
The Greece-UAE agreement on Joint Cooperation in Foreign Policy and Defence has been concluded in view of broader regional security arrangements and intends to counter Turkey's assertive behaviour and expansionism that extends from the Arab (Persian) Gulf and Syria to Libya and the East Mediterranean Sea. Already, the UAE participates in the 3+1 formula consisted of Egypt, Cyprus, and Greece along with France and regularly discusses regional crises that threaten peace and stability including developments in the East Mediterranean.
The Joint Declaration adopted by the Ministers of Foreign Affairs of Cyprus, Egypt, France, Greece, and the United Arab Emirates in May 2020clearly criticized Turkey for its pirate behaviour and gunboat diplomacy that aim to advance Neo-Ottomanism. As known, Neo-Ottomanism is the vision of contemporary Turkish foreign policy whose scope is to restore Ankara's influence in the areas of the former Ottoman Empire and thus turn Turkey into a leading power in the East Mediterranean, the Middle East, and the Balkans.
Acknowledging Turkey's expansionist strategy in the broader region, the UAE, Greece, Egypt, France and Cyprus denounced Turkish illegal activities in the Cypriot Exclusive Economic Zone and territorial waters, that plainly violate the United Nations Convention on the Law of the Sea (UNCLOS). They also condemned Turkey's continuing violations of Greece's territorial waters and airspace as well as Ankara's military interference in Libya urging Turkey to fully respect the UN arms embargo, and to stop the influx of foreign fighters from Syria to Libya.
These developments that constitute a threat to the stability of the broader region and of Europe accelerated the cementing of regional defence and diplomatic arrangements. The normalization of relations between the UAE and Israel constitutes a cornerstone of peace-making and regional partnerships. So does the UAE-Greece agreement on Joint Cooperation in Foreign Policy and Defence. The joint agreement and the mutual defence clause ensures the ability of both countries to exercise self-defence in accordance with article 51 of the UN Charter that explicitly recognizes that a UN member state has the right to legitimate defence not only in the event of an armed attack against it, but also in the event of a "threat of use of force".
Especially when it comes to Greece, Athens is entitled to defend itself especially when taking into consideration Turkey's timeless provocations and military escalations that are evidenced by: (a) the establishment of the Aegean Army in the '70s with an offensive posture, (b) the invasion and occupation of part of Cyprus, (c) Turkey's repeated violations of Greece's territorial waters and airspace that are estimated at around 7,000 only for 2019, and (d) the casus belli proclaimed by the Turkish Parliament in case Greece extends her territorial waters up to 12 nautical miles.
The multiple crises triggered by Turkey across the broader region haven given the opportunity to Greece and the UAE to display their large regional alliance network. Greece and the UAE along with like-minded and western-oriented regional countries coordinate policies; The ultimate goal lies in stopping Turkey from acting like a neo-ottoman pirate state in the East Mediterranean.
Great Powers Competition in Moldova
Moldova is the forgotten epicenter of tensions between the West and Russia, located between Romania and Ukraine, with no direct access to the sea since the territorial changes of the Soviet era. This country of 3.3 million inhabitants for 33,846 square km is plagued by ethnic divisions with Gagauzia and Transnistria, two territories diplomatically close to Moscow. Both the Kremlin and Brussels are reluctant to integrate Moldova into their respective zones of influence due to several elements detailed in this article, which has led to a political situation that has alternated pro-European and pro-Russian governments since the end of the Cold War.
Confirming this unstable political context, Maia Sandu, a pro-European Moldovan stateswoman, was elected president of the country on November 15, 2020, succeeding pro-Russian Igor Dodon. However, this election should not lead to a rapprochement between the West and Moldova, as the major powers are accustomed to considering the country as a political no man's land, in contrast to the other members of the Eastern Partnership.
The Kremlin's Reluctance to Take a Proactive Approach in Moldova
For Moscow, the lack of access to the Black Sea makes Moldova less strategically important than other countries in the region. As such, the Kremlin was more active in Crimea and Georgia with the diplomatic recognition of Abkhazia and South Ossetia, in contrast to Moldova, where no noticeable change has taken place in Transnistria since 1992.
This situation is paradoxical because a rapprochement between Moscow and Chisinau could confer many strategic advantages on the Kremlin. In this respect, better Russian-Moldovan relations would thus hinder any possible advance of the European Union and NATO in Molodva, and could also force Ukraine to reconsider its diplomatic approach vis-à-vis the Eurasian Economic Union (EEU). Moreover, the strengthening of military cooperation between Moscow and Chisinau would increase pressure on Romania, which is favourable to Moldova's integration into Euro-Atlantic institutions.
Moscow's cautious approach is all the more paradoxical given that Russia has sympathisers in Moldova with the two territories of Transdniestria and Gagauzia, Tiraspol and Comrat, wishing for rapprochement and even integration within Russia.
For Transnistria, which has been de facto independent of Moldova since the end of the Cold War and whose desire for integration into the Russian Federation was demonstrated by the 2006 referendum with 97.5% of the votes in favour, a diplomatic rapprochement between Moldova and Russia could improve relations between Tiraspol and Chisinau.
On an economic level, if Moldova joins the EEU, Transdniestria could be taken into account, with Chisinau considering it as part of its territory and Tiraspol having an economic interest in aligning its standards with those of Russia.
On the military level, an increased influence of the Kremlin in Moldova would make it possible to negotiate the integration of Chisinau into the Collective Security Treaty Organisation (CSTO). If this were to happen, the Kremlin could reduce the presence of Russian peacekeeping troops in Transdniestria. In effect, if Moldova joins the CSTO, Moscow would become the protector of Moldova and de jure of Transdniestria, as this territory is a part of Moldova in accordance with Russian, Moldovan and international law.
The withdrawal of Russian soldiers from Transnistria, who are monitoring the contents of Soviet military equipment warehouses, is a source of tension between the West and Russia. In November 2008, the NATO Parliamentary Assembly adopted a resolution calling on Russia to withdraw its forces in accordance with the commitments made at the 1999 OSCE summit in Istanbul. The UN General Assembly adopted a similar resolution (document A/72/L.58) calling on the Russian Federation to pull out of Moldovan territory in June 2018.
With Moldova close to Russia, Russian peacekeeping troops would be given the opportunity to withdraw or reduce their numbers, thus easing tensions between the international community and Russia. For the Kremlin, this would also allow it to optimise operating costs and allocate this budget to other peacekeeping operations, including the Nagorno-Karabakh troops, which have been operating since November 10, 2020.
The second pro-Russian territory of Moldova is Gagauzia, which extends over 1,830 square kilometres divided into four non-contiguous zones, grouping around fifteen communes into three districts. Unlike Transnistria, which is de facto independent of Chisinau, Gagauzia is incorporated into Moldova. The inhabitants are initially Turkish-speaking, largely Russified during the 19th and 20th centuries, and now culturally distinct from the Turks.
The Russian-speaking Gagauzs wish to move closer to Russia because they have little advantage in learning Moldavian (Romanian language). Historically, Russia appears to be a country that protects Gagauz interests, a fact that still permeates relations between Moscow and Comrat (the capital of Gagauzia) and bears witness to Moscow's soft power in this territory.
Comrat is in favour of strengthening the influence of the Kremlin in Moldova in order to promote the Russian language against Romanian, but also to restrict the influence of Bucharest, the fear of the Gagauz being integrated into a "Greater Romania" which would not defend their interests.
Given these elements, and despite the strategic advantages that a rapprochement between Moscow and Chisinau could bring, Moldova remains a political no man's land for Russia. Moscow's reluctance to become more involved stems from several factors, the main one being the economic health of the country, the poorest on the European continent with a nominal GDP of $4,498, which means that integration into the EEU would not strengthen the latter's economic power, making Moldova dependent on other members.
Enlargement of the CSTO into Moldova would lead to a deterioration in Moscow's relations with the western world, particularly with Romania, and would have repercussions for all the countries of the Black Sea, which could encourage certain states such as Georgia to speed up their rapprochement with NATO and the EU.
An Expensive Investment That Diminishes Interest in the Western World
Moldova is of little economic interest to the EU, with the only competitive sector being agricultural products due to the abundance of rare earth. In addition, the corruption of elites and the departure of young graduates hampers the emergence of new services and active civil society.
Chisinau invests a mere 0.4% of its GDP in its armed forces, with fewer than 6,000 soldiers relying on Soviet equipment, and therefore of little interest to NATO. Apart from the lack of military means, Moldova is a neutral state that does not wish to join an alliance (NATO or CSTO). A poll carried out in 2018 shows that 22% of Moldovans are in favour of a project to join NATO and 43% against it.
While Moldova's integration into the EU would be a strong symbol and testify to the resilience of Brussels' soft power in a post-BREXIT context, it would be expensive and the EU would have to invest considerable sums within the framework of the Eastern Partnership to enable Chisinau to meet the accession criteria.
Integration into the Schengen area would trigger a demographic crisis, with young Moldovan citizens having few opportunities at home. Consequently, the European Union prefers to adopt an attitude similar to that of Russia and consider Moldova as a political no man's land.
In this regard, the result of the elections of November 15, 2020, with Maia Sandu attests to the influence of western influence in the country, but also highlights the lack of confidence in Dodon's leadership, who has not managed to achieve a rapprochement with Russia during his term as President.
The EU-Moldova cooperation sought by Maia Sandu will struggle to emerge due to the lack of human resources in the country and the absence of infrastructure to export and import goods. Moldova has not had the financial means to modernise its road and rail networks since the fall of communism.
Romanian Ambitions in Moldova
Because of its cultural and linguistic proximity to Moldova, Bucharest would like Chisinau to move closer to the Euro-Atlantic structures of which Romania is a member, even considering going as far as full integration with the rebirth of a "Greater Romania," which brought the two states together from 1918 to 1940. This prospect is not acceptable to the Gagauz and Transnistrians, but also to many citizens and Moldovan elites, as the country would become an impoverished region of Romania with no control over its future.
Romania's proactive approach is a source of apprehension for Russian speakers and an argument in favour of Transnistrian and Gagauz separatism. Bucharest is especially influential because the administration has adopted a policy of "passportisation" in Moldova. Romanian citizenship is granted to Moldovans who apply for it and can prove that they have a Romanian ancestor, thus granting European citizenship with its benefits. In total, more than 726,100 Moldovan citizens have thus become Romanians since the end of the Soviet Union.
A facetious remark circulating in Moldova mentions that the country is going to join the European Union, with or without the agreement of Brussels, since there will soon be no Moldovans and only Romanian citizens.
Beijing's Soft Power in the Black Sea
As in the rest of the Black Sea, the Chinese influence in Moldova has increased in recent years. Beijing is interested in this territory because of the lack of infrastructure and the prevailing corruption, which allows Chinese companies to offer all types of partnerships in exchange for various counterparts.
In 2015, the Chinese company SOE China Shipping Container Lines launched container transport services in the Moldovan port of Giurgiulesti — the country's only harbour accessible to Black Sea vessels — via the Danube, after signing a terminal services agreement with the national operator. This investment enabled Chisinau to export its products abroad, especially as its economy was suffering from the Russian embargo on Moldovan wine imports. According to local companies, the international free port of Giurgiulesti should continue its development and become a logistics platform with a business park enabling Chinese companies to access the European and Eurasian markets.
Moldova has started negotiations on a free trade agreement (FTA) with Beijing in 2017, removing barriers to the import of certain products and strengthening business exchanges. According to forecasts published by the Moldovan authorities, Moldova's exports to China could increase by 39.85% and its GDP by 0.42% as a result of the FTA.
The most significant development took place in 2019, when Moldova concluded an infrastructure agreement with two Chinese contractors for the construction of nearly 300 kilometres of roads, at an estimated cost of $400 million. One road will surround the capital Chisinau and the other will link Ukraine to the north. Two Chinese companies — the China Highway Group and the China Railway Group Limited — will participate in this project, marking the first Chinese-led infrastructure project in Moldova. According to Chisinau, the projects will significantly improve traffic and contribute to overall economic growth. A total of 12 major Chinese companies also participated in the Chisinau Business Forum in April 2019, underlining their commitment to increase investment in the country. In the context of the Covid-19 crisis, the Chinese authorities announced that the debt of 77 countries, including Moldova, had been temporarily suspended.
Beijing's choice to focus its attention on Moldova is explained by the country's non-alignment, but also by the reluctance of Moscow and the European Union to become more involved. China is, therefore, meeting no resistance from the Russians or westerners.
For the Kremlin, Chinese investments in the region could harm the ambitions of Brussels and Washington in Moldova, China being an ally of Russia. While for westerners, China was providing considerable aid to the EU by modernising infrastructure, which could bring Chisinau closer to Romania and the EU because of the weakness of Chinese soft power, cooperation between Beijing and Chisinau is confined to the economic sector.
No Man's Land or Chinese Gateway to the Black Sea?
In conclusion, Moldova is one of the epicentres of the tensions between the West and Russia, but the latter are reluctant to increase their involvement because of the unfavourable economic context, as well as the lack of direct access to the Black Sea.
For the EU and NATO, the results of the recent elections should, in theory, lead to a rapprochement, but in practice Transnistria and Gagauzia will hinder the most ambitious projects. Romania is called upon to play a leading role in this rapprochement, but the divisions between Bucharest and Chisinau are a reality to be taken into account and the rebirth of a Greater Romania seems unlikely.
Russia has a strategic interest in increasing its influence in Moldova by integrating Chisinau into the EEU and the CSTO, but this would encourage other Black Sea countries such as Georgia to draw even closer to the western world. Moreover, the presence of Russian troops in Transdniestria and the pro-Russian position of Comrat allow the Kremlin to remain present in the region, independently of Chisinau's diplomacy, which does not encourage Moscow to develop a pro-active policy.
Beijing's economic diplomacy seems to be producing results and bringing the two states closer together. In this respect, China has succeeded in modernising the Moldovan infrastructure despite obstacles rooted in corruption. This makes Moldova a potential laboratory for Chinese soft power and indirectly benefits both westerners and Russians.
In view of the results of the November 2020 elections, it seems appropriate to pay attention to the rapprochement between Russia and Transnistria, a process that could be accentuated if Maia Sandu confirms her pro-western policy. Gaguzia could gain in importance, as a move towards the EU and NATO could lead to the resurgence of separatism in this region.
Resources
CENTRAL INTELLIGENCE AGENCY (CIA), «The European Borders of the USSR», Office of research and Reports, 1955
CENTRAL INTELLIGENCE AGENCY (CIA), «The Challenge of Ethnic Conflict to National and International Order in the 1990s: Geographic Perspectives», Rapport de conférence, 1995
LAMBERT Michael, Stratégies de mise en place des Soft Power européen et russe en Moldavie après la guerre froide, Études de l'IRSEM n° 40, 2015, 94 pages (www.defense.gouv.fr/content/download/393969/5890290/file/Etude_IRSEM_n40.pdf)
LAMBERT Michael, Comprendre la présence militaire russe en Transnistrie, Revue Défense Nationale 2019/3 (N° 818), pages 107 à 112.
KLEIN Margarete, Russlands Militärpolitik im postsowjetischen Raum. SWP-Studie, 2018
BABAN Inessa, «The Transnistrian Conflict in the Context of the Ukrainian Crisis», Collège de défense de l'Otan 2015, Research Paper n° 122, 12 pages (www.ndc.nato.int/download/downloads.php?icode=468).
KLIMENKO Ekaterina, «Protected Armed Conflicts in the Post-Soviet Space and their Impact on Black Sea Security», SIPRI Insights on Peace and Security n° 2018/8, décembre 2018, 28 pages (www.sipri.org/sites/default/files/2018-12/sipriinsight1808_0.pdf)
From our partner RIAC
On November 18, 2020, Ambassador Extraordinary and Plenipotentiary of the Federal Republic of Germany to the Russian Federation Géza Andreas von Geyr was giving an open lecture at HSE University.
What is the place and role of the European Union in the modern world? How is the European integration project developing, and what role does Germany play in it? How are relations between the EU and Russia today?
The event was organized jointly by HSE University and the Embassy of the Federal Republic of Germany in Moscow as part of the Germany's Presidency of the Council of the European Union and of the Committee of Ministers of the Council of Europe, as well as in the framework of the Year of Germany in Russia.
Text of the Lecture
Building Europe's Future
Prof Kuzminov, Prof Prostakov, Dear Students,
Thanks a lot for the invitation to speak to you today.
I regret that, due to the pandemic, I can´t talk to you face to face—but I enjoy that I can reach out to so many of you online.
I´m especially grateful for the invitation as your university is one of the best and most prestigious in Russia. And it is an excellent venue for a discussion dedicated to Europe.
I
From the beginning, the HSE has established a strong cooperation with European Universities—and with European Institutions.
The ties in education and science between Russia and Europe go far back in history, they were mutually enriching—and they still are.
That's why we can say that the DNA of so many universities in Russia is very much European. And we Europeans learned a lot from Russians in the field of science and education as well.
If I take just my country, Germany:
Cooperation and exchange in education and science is one of the most stable and reliable links between our countries—and for me it is one of the most precious:
Because I take it as a strong investment in our common future.
Yes, I´m proud, that today Germany is the top destination for students from the Russian Federation going abroad.
More than 14,000 students and scientists came to Germany in 2019, each of them contributing to building bridges between our countries.
And the other way round Russia is attractive for German students, as its Universities offer great conditions and high standards.
Our scientific cooperation continues to produce excellent results. To mention just two fascinating projects:
Russian and German research centers work together on the European XFEL, the largest X-ray laser in the world, and Russian and German researchers jointly took part in the largest Arctic research expedition ever—"MOSAiC"—which was successfully completed a few weeks ago.
And this bond continues to grow:
We have just concluded a bilateral year of Higher Education Cooperation and Science, and in September, we have started our year of Germany in Russia, which includes a multitude of education and research related events and projects.
II
(Is the discussion on European-Russian relations adequate?)
What I just mentioned shines a light on only some of the many layers of relations Russian universities and scientific institutions enjoy with European countries.
I´m convinced, if we added them all up, the Euro-Russian dimension would turn out as one of the strongest partnerships in education and science worldwide.
This stands as an example for one part of the European–Russian reality: Things go well—in some areas.
The other one is: we all read and experience that EU-Russian relations are, to put it in diplomatic words: not in the best shape.
Or, to be more precise: On very fundamental, tangible political issues we very much disagree.
I could leave it at that, go on and talk about the need to paint a layered and nuanced picture and that a lot of work will have to be done to solve those problematic issues and to rebuild trust.
But my feeling is that the problem goes deeper.
Something went awry in the way we perceive each other.
Are we still both convinced that good European Russian relations are in our long-term interest?
So, do we give this relationship, be it currently good or bad, the strategic depth it should have?
And even more basic:
Do we still understand each other well enough? Do we explain our views well enough?
Are we attentive enough when listening to each other? And: how do we talk about each other?
I´m convinced that the time has come to reflect well on all of this; if we do not take our time to do that, the very core of our relationship could be seriously harmed.
This is what I have in mind talking to you about Europe today.
To explain and to be ready to understand, in both directions. This is, if you so wish, the essence of diplomacy.
So, what in fact I already started with, is to explain my views, offer some remarks on Europe—and I will do this in the form of answers to questions I often hear.
My remarks will be personal ones, not official positions of my government, nor of the German EU Presidency or Council of Europe Chairmanship.
It´s more a European talking with fellow Europeans. And the other way round, of course, I´m ready to hear your remarks and to learn from you.
And speaking about Europe, I mean of course a wider scope of countries than the 27 member states of the EU.
At the same time the EU as such is not only part of this Europe, it has the essential, decisive role.
It has reached a degree of integration the European continent in modern times has never seen before.
So, the first question is or rather was:
Is the current discussion on European-Russian relations adequate? You have just heard my answer—it is not.
My further remarks will be on the following questions:
Is there a core ratio of European integration? What is the motor keeping Europe alive?
Is the supertanker Europe able to adapt? Is the European model outdated?
Is Europe ready for the globalized future? Which future for European-Russian relations?
III
Is there a core ratio for European integration?
Sometimes when I follow discussions here in Russia—and not only here—I think that Europe must be a lost cause.
Statements are made creating an image of a continent all but united.
The EU is portrayed as having lost its moral compass, in foreign policy a poodle of the Americans, as if with Brexit European integration had run out of steam and as if migration would put an end to European identities.
So what does European Integration stand for?
This year we celebrated the 75th anniversary of the end of the Second World War all over the world, all over Europe, especially here in Russia.
I was deeply moved listening in September to Johannes Brahms´ requiem played and sung in Moscow´s Lutheran cathedral by Russian musicians, conducted by an Israeli maestro, in honor of the many millions who lost their lives in the most terrible of all wars and in the Holocaust, both caused by my country, Germany.
What did not succeed after World War I, was successful after 1945: Countries in the western part of this continent, who through centuries fought wars against each other, decided to integrate step-by-step, so that wars amongst them would no more be possible or indeed thinkable.
The dimension of this is unique: Proud nation states, hundreds of years old, started to merge parts of their sovereignty and handed them over to shared institutions.
A community of European nations was build, of nations committed to democracy, freedom and the rule of law.
Out of this very spirit and rationale evolved what is now the European Union.
And after the fall of the Iron curtain it attracted the countries who finally regained their freedom, including their freedom to choose partners—and this Europe seems to be very attractive, or let´s say convincing to many who wish to partner with or even join it, until today.
Yes, this community succeeded in creating a region of enormous economic prosperity – but first and foremost it is and remains a unique peace project.
It was the peaceful togetherness of democracies and the rule of law that gave the people an unprecedented degree of freedom to seize their economic opportunities—not the other way round.
And the encouraging effects of this reach out far beyond the boundaries of the EU.
This remains relevant today, when we talk about the "who we are" of the European institutions.
The answer to the "why" of European integration is to be found on the countless military cemeteries all over Europe, including here in Russia.
IV
What is the real motor keeping Europe alive?
Last week the Ermitage Museum and a Berlin Museum jointly opened a wonderful exhibition in Saint Petersburg on the Iron Age—with the wisely chosen subtitle: "A Europe without borders".
Yes, it´s worth recalling, that in former times Europe did not define itself by borders, people were trading their talents and goods across the continent, influencing each other´s development from the Italian Peninsula to the German regions and the Caucasus.
This is part of our common heritage, our common history.
And in a special way this reflection of the past also gives us a hint to how our future could look like: A Europe with boundaries, as we are used to it, is not a given or a must.
Since the 1990s big steps were taken into this direction: Within Europe almost 30 countries introduced the so-called Schengen system, de facto abolishing the boundaries amongst them. From Portugal to Estonia, from Sweden to Greece, people can travel without being controlled. Young people can study, work and live in any place they want.
The Erasmus program has enabled, over the last seven years alone, 2 million students to study and train abroad and thus gain a personal experience of Europe growing together. And by the way: This program explicitly includes Russia.
These are some of the most exciting successes of European integration.
Others are the Euro, a common currency well appreciated in the world, in which most EU members participate.
Or think about the economic powerhouses Germany, France or Italy: despite their national strength, trade agreements with Tokyo or Washington are not negotiated by Berlin, Paris or Rome, but by Brussels alone, in the name of all 27, protecting our joint interests with far more leverage than any of us individually could do.
Think about the Council of Europe with its unique mechanism of protecting human rights and defining human rights standards, accessible for every citizen—next year we´ll celebrate 25 years of Russia´s membership. 2019 alone some thousand Russians turned to the court.
Or recall the mechanisms established in the OSCE on transparency, confidence building and verification where again Russia is member.
Its mechanisms were essential for the overall peaceful end of the Cold War in Europe. Today its instruments serve to at least calming down the conflict in Eastern Ukraine, the OSCE is asked to continue giving a framework for negotiations on the future of Nagorno Karabakh and could well help solve the crisis in Belarus.
And, by the way, the OSCE was invited to observe the presidential elections in the USA, as it is in many European countries.
Or more recently, take PESCO, an initiative 25 EU members took for closer cooperation on defense matters: more efficient coordination and joint procurement, thus strengthening European defense.
And I could mention many more areas.
Has Europe established a perfect system? No, there is daily work being done to intensify, to improve, to readjust.
But is European Integration a lost cause? Definitely not, and this is the point I want to make:
What generated European Integration in the first place and pushes it further is its unique way of interacting: it is the culture of compromising.
In fact, European Integration, especially the EU as such, is probably the most efficient compromise machine the world has ever seen.
Every day EU member states meet on different levels on a multitude of issues to discuss, propose, regulate, improve, correct, decide together.
Yes, we all know that there are issues the Union sometimes can´t find a common view on—but compared to the amount of successful coordination and joint decisions those are just very few.
And yes, decision-making might be complicated, sometimes slow, requiring a lot of patience. But let me ask: is there any group of 27 countries constantly defining common policy on almost all areas of politics more quickly and effectively? I don´t think so.
It is the readiness to compromise which is the motor of European Integration.
And compromising becomes possible because all member states are convinced that peace and prosperity are best preserved in togetherness, and because they all are bound to democratic values and the rule of law.
And they can all carry the compromises because they know that in the decision-making process all points of view matter.
V
Is the supertanker Europe able to adapt?
The culture of compromising is demanding.
We experience this daily, even we EU Ambassadors do when meeting here in Moscow. Searching for common positions is not easy, but fair compromises make the solutions found sustainable.
Again, a deeper look into the EU—why not on the most difficult current crises situations:
Let´s take Corona: when the pandemic emerged, no country on the globe was really prepared, everywhere the search began for an acceptable balance between medical and economic health, and of course first reactions were national and inward-looking.
It took a while until the EU found a common approach, first comments from the outside were full of Schadenfreude/malicious joy—and not willing to recognize the fact that the EU succeeded to maintain the trans-border flow of goods: to the profit of countries inside and outside the Union.
Mocking the EU stopped when the 27 rather soon came up with the decision to support those who suffer bad economic consequences of the pandemic with an unprecedented volume of 750 billion €. All this in addition to the EU budget and national investments for recovery.
Or take the Brexit.
I do well remember EU council meetings I attended right after Great Britain took its decision to leave.
There were many in- and outside the Union who seemed to enjoy that the Union was shaken up by London, and who may have hoped that even more member states would follow.
But: it didn't take long until member states reconvinced each other that in this globalized world no European country could be more successful on its own than together as a Union. And since then my impression has been that the 27 regained even closer unity than before.
It might be surprising to some how quickly the EU adapted to this fundamentally new situation and how strong the common line for the negotiations with London proves to be.
Think about climate policy and the consensus found on the extremely ambitious, progressive "Green Deal", proposed last December by the European Commission, which might become a decisive, catalyzing element for the world to stop or at least slow down global warming.
Or take EU Foreign Policy in the last weeks:
The fact that the 27 rather quickly agreed on sanctioning those in Belarus responsible for election fraud and violence against their own people will have been a surprise for some, who
might have hoped that the Union be split—the EU is not and kept a clear position, faithful to standards we agreed upon in the frame of the OSCE.
Do these examples mean that everything is perfect?
No, we constantly have to work on our relations amongst each other, on very practical issues as well as sometimes on the mutual respect we have to pay to each other´s specific national experiences and identities.
But the ability of the supertanker EU to adapt should not be questioned.
VI
Is the European model outdated?
Is Europe, especially the EU a modern place, open to the future? My answer is two-fold:
First:
Europe has the industrial base, the scientific base, the human capital and the necessary open society which allows it to keep up with the other top players in the technological vanguard and in the competition for the top brains.
But we may not rest on our laurels, we have to ensure that we remain at the cutting edge of tomorrow's technologies, in areas such as digitalization, nanotechnology or biotechnology.
That's why the EU is intensely working on a Single European Digital Market and on a roadmap called the "Digital Compass". We are also discussing the issue of Europe's so-called Digital Sovereignty that to our understanding should pave the way for a rules-based framework for the digital sphere.
Our efforts in climate change I mentioned before, on health the European Commission and the German Presidency last week announced, drawing lessons from the pandemic, to be working on a "Common space of Health", part of a future European Health Union,
and Foreign policy is definitely a field, where we will have to find a way to better speak with one voice.
Now here comes the second part of my answer:
If we look at all the key challenges, we are faced by globalization—be it climate change, reducing poverty, a fair access of all to the more and more limited natural resources of the planet, establishing rules in the information and cyber space—we see that solutions will only be found in togetherness: across nations, countries and continents.
And I speak about challenges not only as problems.
It´s all the wonderful possibilities a globalized togetherness could offer, providing food and water to all humans, as well as education, medicine, and I would absolutely add: freedom and security.
To assure this, a willingness to open up to the world is needed—at the same time there needs to be a willingness to refrain from the wish or even the political goal to dominate others.
This is another lesson, we Europeans learned from the painful history during the last century on our continent.
A very wise European once said: If any European thinks he could be more than Nr 2—then Europe is in trouble.
So we Europeans know from our tragic past that any policy claiming: "my country first" will not work for us.
This is why we, in the EU, manage to be a community of equals—even if some of us might be economically or militarily stronger or politically more powerful than others.
This is sometimes hard to sell to others, because it does not match traditional lines of international power policy—but this is what defines the strength of our togetherness.
And more than that:
Just think about it the other way round: Because the EU members as Nation States regard and treat each other as equals, we together, since decades, are trained to cherish and to promote both: unity and diversity. Or, in other words: a high degree of tolerance.
A croissant in France, a cappuccino in Italy and a slivovic in Zagreb or Prague—on this small continent we enjoy diversity and our cultures will never melt into one—and that is good.
Diversity is at the core of our history, culture, arts, languages.
At the same time there is something that strongly unites us. And this goes beyond the joint code of legislation:
It´s our understanding of freedom and of the dignity of every single human being.
And here I´m not talking just about the EU.
Think about the Council of Europe with its 47 Members having established a highly sophisticated and intense human rights protection system.
Or think about those many issues covered by the Human Dimension of the OSCE, setting and observing standards to the freedom of press, for free and fair elections and so on.
The best expression for what I mean I found in the title of a book written by a British author some years ago: "dignity of difference". (Jonathan Sacks)
Without space for difference and diversity no Europe.
Does this mean that just everything is possible? Not at all: the protection of the dignity of each human and of their freedom is defining the limits of freedom.
Is this undisputed? No, it is not, we all witness intense discussions on the balance between freedom and security and these discussions are important as they show the vitality of our democracies.
An example: Chancellor Merkel, during the pandemic underlined – with a view to the necessity to limit rights and freedoms of the citizens – that the virus was a tough challenge to a democratic society ("das Virus ist eine demokratische Zumutung").
And in many European countries during the different crises of the last decade political forces gained momentum, who argue for exclusion and a very national way. My country, too, is not immune against this.
Currently an extraordinary exhibition of contemporary art is being put together, to be shown next year in Berlin, Paris and Moscow.
It brings together more than 80 of the most prestigious artists from 35 European countries, including Russians, expressing themselves on Europe under the slogan "Diversity United". I´m very much looking forward to this big European event that will be part of the Year of Germany in Russia and which fits so well with respecting and promoting cultural diversity being one of the core tasks of the Council of Europe.
So, this was my second answer to the question about Europe being modern:
Our globalized future will ask for a high degree of tolerance across continents and cultures—of tolerance, which has for a long time already been a prerequisite for our European Integration.
VII
Is Europe ready for the globalized future?
Europe as such does not claim to be a world power.
But we do have interest in peace, stability and prosperity in the world.
And the world means: a more and more globalized world, where problems and opportunities can quickly bridge any distance and cross any border.
During the last years we all learned a lot about this. Just a few examples concerning Germany:
When a few years ago Europe had to deal with an enormous influx of migrants a German politician, now President of the Federal Parliament, Wolfgang Schäuble, called this a "rendezvous with globalization".
Or: Just a decade ago nobody in Germany would have thought that our soldiers would be sent to Western Africa, Mali, training Sahel forces to fight Transnational Terror and trying to stabilize that fragile part of the world.
We have understood that, in the globalized reality, what seemed to be far away has become part of our own national and European security interests.
Currently especially climate change and the pandemic demonstrate that global problems need global solutions.
Europe´s answer can and will not be building a fortress that must be shielded from a dangerous outside-world. We know that our own well-being and security depend on the well- being and security of our neighbors.
Of course, we need a Europe that efficiently protects its external borders, and we are making progress on this. But at the same time we will have to intensify opening up to neighbours and beyond, and look for partnerships with like-mindeds.
And we will do this more and more together as EU, as our national interests become more and more identical with our joint European interests.
The rationale for this is rather clear:
The big geostrategic trends and dynamics shift towards Asia and away from Europe.
And the demographic trends describe shrinking societies in Europe, while those in Asia and Africa are growing.
As a consequence we Europeans have the choice between acting more nationally, each one of us becoming more and more irrelevant or to intensify our unity and thus stay relevant together.
This means for our partners, that relations with us will stay bilateral, but at the same time they will—like it or not—become more European.
VIII
Which future for European-Russian relations?
Having said all this—where does Russia come in? The simple answer is: on almost all of it.
No country can escape two things: its history and its geography.
In this sense we do already live in what was called "one common European house". Of course, we all make friends outside, seek best possible relations with neighbors. But moving out—that is not a realistic option for any one of us.
So, back to the questions from the very beginning: How do we think it is best to relate to each other? Do we still follow the rules we agreed upon?
How do we solve problems amongst us?
Do we both still wish to build our future together? And: How do we talk about each other?
Each side has to make up its mind.
I see, as a German and European, the following three perspectives:
First:
Concerning those current very political problems, on which we fundamentally disagree, we have to work very seriously on solutions.
Be it the annexation of the Crimea, the Skripal case, the poisoning of Alexej Navalny, the massive hacking attacks on the German Parliament and the OPCW, and so on:
on all of those issues we have very clear EU positions, and with the so-called "Tiergarten- murder" in Berlin some more might follow.
They all concern issues which are essential to the core of our European self: when international law is harshly violated and Human Rights are harshly violated, when rules we all are bound by are violated, we cannot stay indifferent, we speak out.
An EU or Europe being silent or simply tolerating this, would give up its identity.
And this is not an interference into internal affairs:
The Council of Europe and in particular its Convention on Human Rights guarantee access to a European Court to the citizens of all Member States.
On the OSCE side in the Charter of Paris of 1990 all members are bound to commitments like abiding by common standards of human rights, democracy and the rule of law, refraining from the use of force against each other, respecting territorial integrity and adhering to a concept of joint and indivisible security.
Because of these commitments, violations of basic democratic standards or human rights are no longer a purely internal affair of a member country.
These are standards that all European countries signed up to.
Second:
At the same time we have to care about the strategic view on our relations and about areas where we share the interest that cooperation is needed.
Two weeks ago, the EU Delegation and my Embassy organized an expert meeting with the Russian International Affairs Council about this.
Only one single Russian voice pronounced repeatedly a very skeptical position on the future of EU-Russian relations.
All others present, Russians and Europeans, tried to identify areas where and how cooperation could make sense and improve.
Especially on climate change and transnational health we seem to have a common interest in working on common solutions—not to speak about the crises in Libya, Syria, in Ukraine or in the Caucasus, which need pragmatic cooperation and concertation in order to develop solutions.
And about a strategic view on the relations:
From the EU side, there is a strategy and there are intense discussions about it, just a few weeks ago on the level of our Foreign Ministers.
The five principles of this strategy do have a forward-looking approach,
mentioning the possibility of selective engagement on areas of common interest and stating the way out for the toughest of the problems that stand between us, that is Eastern Ukraine and the implementation of the Minsk agreements.
Speaking about the Council of Europe, of which Germany is taking over the chairmanship today, my government worked hard in support of readmitting Russia to the parliamentary Assembly one and a half years ago.
And concerning the OSCE, we very much hope for more Russian engagement.
Currently Russia is in favour of using the OSCE Minsk Group instruments for working on the status of Nagorno Karabakh—but is not willing to advocate OSCE mediation in Belarus—why?
And I would ask about strategies the other way round:
Where is Russia, given all that happened since 2014, with a forward looking strategy on European Affairs?
I think we should continue the discussions on these questions. Our relations do need strategic depth and we should both find consensus on that.
What I would propose is reflecting on kind of a destination map.
To me, there seem to be many good reasons for that—and only very few against.
By the way, given comments I sometimes hear here in Russia about the EU: I´m convinced that a strong and powerful EU is in the long run the best partner Russia can find to cope with the challenges coming up by globalization.
Third:
The people are close to each other.
In my country there is great affection to Russian culture—and the same is the case all over Europe.
We should do our best to intensify contacts.
Let´s see how the people in Russia think about all this:
The last Levada poll dealing with the EU in Russian public opinion in May 2020 asked Russian citizens whether they consider Russia to be a European country. It brought a split result: 45 % answered yes, 44 % no, the others found it difficult to answer.
One other thing emerged from the Levada poll: The EU is seen positively and considered as an attractive place to study, work and live.
When Levada asked where Russians would like to go if they had to move abroad permanently, three EU countries were among the top-5.
The most appreciated qualities of the EU were a high standard of living, stability, democracy and the rule of law.
82 % said that closer relations with the EU would be in Russia's interest.
I wonder how a poll would look like if the question is asked how far people in Russia feel European and how far "western"—but this could be a good topic for a future lecture.
IX
These were my remarks on "Building Europe´s future". I gave you my view on different aspects of Europe,
I expressed my hope for Europe being taken here in Russia for what it is, not perfect, but, as many European politicians put it: The best Europe we have ever had.
And I was trying to show how far Russia is part of all this and could or should be in the future. But this is of course for Russians to decide.
So where are we?
Let me end with the title of a book written on a historical topic a few years ago: "un seul lit pour deux reves"—only one bed for two dreams.
We might have different dreams, but waking up we realize each day that we live together and that we better ought to look for harmony in the daily life of our relationship.
From our partner RIAC