"All accidental wars are inadvertent and unintended, but not vice-versa."-Herman Kahn, On Escalation (1965)[1]
It stands to reason that any combination of Donald Trump and nuclear weapons is dangerous to the United States.[2] After all, this presidency has become unambiguously unhinged – one could now reasonably say "deranged"[3] – and there is corresponding evidence of nuclear apprehensions in high places. This urgent assessment now includes some of the country's senior military commanders.[4]
Not generally discussed, however, are the indirect security perils posed by this American president to various US allies. In this connection, which could at some point concern an authentic existential threat, Israel comes immediately to mind. This particular expectation is not on account of any reciprocal shortcomings in that country's nuclear forces and/or decision-making processes (presumptive forces that remain "deliberately ambiguous"[5]), but "simply"[6] as a valid expression of ongoing strategic interdependence.[7]
No state exists alone in the world. No individual state's military decisions can gainfully disregard the fundamentally systemic nature of world politics. These politics always constitute a system. It follows that when a particular element is strengthened or degraded within components of that system, the ramifications will be felt far and wide.
For Israel, a country smaller than America's Lake Michigan, this relationship would become most serious (perhaps even of existential import) when that specific element has its origins in United States nuclear decision-making. One might also affirm about any such scenario, incontestably, that the US-Israel relationship could even go beyond "most serious" to "extremely urgent" whenever the superpower party was already embroiled in an atomic crisis; that is, in extremis atomicum.[8]
Whatever the contextual particularities, a plausible expectation of intersecting strategic outcomes between the United States and Israel could become existential if it were to involve an irrational,[9] misguided, miscalculated, accidental, unauthorized or otherwise inadvertent firing of American nuclear weapons.[10]
These are not matters for the intellectually faint-hearted, for those citizens who customarily seek refuge in narrowly political phrases or empty political witticisms. In all such complex military matters, there are correspondingly complex nuances of explanation. As just a matter of definition, for example, an irrational presidential firing must be distinguished analytically from an unauthorized firing of nuclear weapons, and also from several primary forms of inadvertent nuclear war. In essence, an irrational nuclear event would involve a willful presidential order to fire despite the US leader's anticipation of catastrophic reprisals.
To be sure, there are certain identifiable circumstances in which even a "crazy" order might still be technically rational – more specifically, circumstances wherein the expected costs of not firing would exceed anticipated costs of firing – but allowing such dire circumstances to arise in the first place would be ominous prima facie, and should be anathema in both Washington and Jerusalem.
It's time for aptly dialectical assessments. What could actually happen? In any such multi-factorial calculations, pertinent details would be required. In one conceivable scenario, an irrational U.S. presidential attack against a still-nuclearizing Iran – one that would likely be defended by President Donald Trump as "anticipatory self-defense"[11] – could produce highly destructive and prompt retaliations against Israel.[12]
In addition, or perhaps in lieu of any such immediate responses, Iran could (1) generate assorted long-term and incremental reprisals, and/or (2) incentivize state and sub-state allies (e.g., Hezbollah) to join collaboratively in the planned reprisals.
From the corollary standpoints of international law and justice,[13] Israel would likely be blameless in all such US-triggered developments. Still, and more meaningfully, that innocence would carry no palliative or exculpatory benefits. None at all.
In the end, these are not fundamentally legal or jurisprudential matters. This is not meant to suggest, inter alia, that characterizations of a preemptive American attack as anticipatory self-defense would necessarily be inappropriate,[14] but only that Jerusalem should always remain focused upon utterly core matters of national survival. Also worth pointing out is that any cascading harms brought upon Israel by an aberrant US presidential decision could sometime be "synergistic."[15]
This means that the cumulative "whole" of any such harms to Israel would exceed the sum of its separate "parts."[16]
There is more. In the exercise of US nuclear command authority, as is already generally known,[17] the "two man rule" of redundant nuclear safeguards does not apply at the highest or presidential level. And while it is increasingly under active discussion by certain concerned persons in the uniquely problematic "Trump Era,"[18] fears of presidential irrationality or nuclear error had generally been expressed only in surreptitious whispers, almost inaudibly, sotto voce. This tacit refusal to confront head-on an issue of overriding importance has been perilous, to say the least, but will become all the more so during the next several months or years, when President Trump can expect to be tested by Pyongyang. At some point, this ill-prepared US commander-in-chief could have to make various time-urgent nuclear decisions concerning North Korea's steadily expanding military nuclearization.
In this regard, Jerusalem will need to "stay tuned.
There is more dialectical complexity to be understood. Certain expected and irremediable methodological hindrances will be at work. Above all, Israeli military planners will need to understand that attaching any scientifically meaningful assessments of probability to predictions of US presidential irrationality or error is not technically possible. Always, forecasting thinkers should be reminded as follows: Scientific affirmations of probability must always be based upon a determinable frequency of pertinent past events.
Significantly, in such matters, there have been no pertinent past events.
It is, of course, cumulatively good news that there have as yet been no clear examples of an American president making irrational decisions about U.S. nuclear weapons.[19] But even this alleged "good news" may not be entirely straightforward. During the Cold War Cuban missile crisis,[20] then President John F. Kennedy ordered his "quarantine" of Cuba (a euphemism or diplomatically sanitized alternative to "blockade," which is traditionally a casus bellum) with an apparently full awareness of corresponding risks. More precisely, according to Theodore Sorensen, his biographer, JFK seemingly believed that even his intentionally softened escalatory response would carry portentous odds of an ensuing nuclear war with the USSR – odds, he noted at the time, that were "between one out of three, and even."[21]
Although we now know that any such estimate was necessarily without any scientific foundation, what matters most is that JFK himself believed in these ominously high odds.
Thus, a curious but indispensable question arises. Was JFK actually acting irrationally about unprecedented nuclear matters in October 1962? Was his declared "quarantine" a fully genuine instance of nuclear decisional irrationality, one that turned out to have been well-crafted and successful only by sheer happenstance or dint of circumstance, including Nikita Khrushchev's abundant and commendable caution?
Or was it rather an example of what I call, in my own most recent book, the "rationality of pretended irrationality?"[22] And isn't this exactly the thinking that Israeli COGS and Minister of Defense Moshe Dayan had in mind when he allegedly once urged: "Israel must be seen as a mad dog, too dangerous to bother."?
If actually a deliberate "rationality of pretended irrationality" move, President Kennedy was playing a carefully calculated game of strategy in 1962, much like the game of "Chicken" once played with automobiles by assorted teen-aged delinquents. In Chicken, where the contestants drive toward each other at high speed, the objective of each player is plainly twofold: (1) not to be chicken, but also (and more gainful) (2) not to be dead.
In offering an informed answer here, permit me two personal anecdotes.
First, regarding McNamara's widely-reported post-crisis apprehensions of an "Armageddon scenario" over Cuba, I once had a face-to-face occasion to ask the former US Defense Chief about these reports. That was back in the Fall of 1967, during a small academic conference at Princeton. Sitting next to me at dinner one evening, in the fabled Nassau Inn, McNamara responded to my unambiguously direct query with a repetitive nod of his head, and with the simple remark, "I wouldn't want to experience that again. Ever."
Those were his exact words.
Second, regarding President Kennedy's alleged assignment of very high odds to his 1962 quarantine announcement, Sorensen reported that JFK had made this seat-of-the-pants assessment only after telephoning Admiral Arleigh Burke, a former Chairman of the US JCS. When, in 1977, I became Admiral Burke's roommate for several days in Annapolis, at the annual Naval Academy Foreign Affairs Conference, or NAFAC (where Burke and I were serving co-chairs of a senior panel on "The Use of Force"), I asked him explicitly about Sorensen's probability numbers. Without any hesitation, the Admiral replied that the Kennedy biographer had reported Burke's telephone response to Kennedy accurately.
In other words, the young, cool and seemingly unflappable American president may have actually accepted up to even odds of a global thermonuclear war as the expected result of his enforced "quarantine."
A derivative question now rises. What could we reasonably expect from an old, volatile and (let us be charitable) "intellectually limited" Donald Trump? Indeed, he had "aced" the cognitive function test by repeating a few words correctly ("the doctors were amazed"), and earlier, he had even demonstrated successfully the ability to drink a glass of water with only one hand, but a probable absence of severe dementia is hardly the proper standard to be applied here.
For Jerusalem, there is another reason why correctly forecasting President Trump's upcoming nuclear policy decisions could never be based upon any scientifically-garnered probabilities. This reason is not just a question of logical capacity to assess the odds of any future presidential irrationality involving US nuclear command authority. It is also a matter of Trump being unable to calculate himself the probable outcomes of any particular nuclear decision that he might sometime make.
There is more. This particular forecasting constraint has nothing to do with any specifically personal intellectual deficit on this president's part, but only with the wholesale absence of pertinent past events. Accordingly, this problem is not an ad hominem issue for Israel, but "merely" a universally daunting artifact of scientific methodologies.
If, for example, this American president or his successor should sometime seek an "expert" probability assessment or prediction concerning a north Korean escalation to nuclear weapons (in the near term, such an escalation could more or less realistically relate to Japan, US forces in the region, and/or certain already-reachable targets in Alaska or Hawaii), there would be no suitably relevant history to draw upon. The same conclusion can now be reached regarding the expected results of any American defensive attack launched against Iran, one where enemy escalatory responses could include not only direct Iranian air attacks on Saudi and/or Gulf oilfields, but also variously indirect Hezbollah aggressions[23] against Israel.[24]
Once again, in any such scenario, there would be no opportunity to render a scientifically meaningful estimation of applicable probabilities.
Returning to the core issue of any prospective U.S. presidential irrationality regarding nuclear weapons, it is conceivable, in principle, that such consequential missteps could become less likely over time, on the more-or-less logical assumption that experience in office would correlate favorably with increased caution. But it is already the closing days of this president's current term in office, and that optimistic conclusion could offer only a "common sense" reprieve. At best, in fact, it would represent a "tricky" or contrived extrapolation from certain earlier historical eras, one wherein the main argument would have made some sense in a pre-nuclear past.
In any event, during any still-upcoming nuclear crisis involving the United States, President Trump would have to strike an optimal balance between the always-unavoidable search for "escalation dominance," and the closely matching need to avoid being locked into any desperate sequence of geo-strategic move and countermove.
Expressed as an appropriately dynamic process, one driven by its own unstoppable inner momentum, this escalatory sequence could create a self-limiting pattern of extrication that would then lead inexorably to either a controlled nuclear exchange or to full-blown nuclear war. Either immediately or over time, the disparate costs of any such war could severely impact Israel, and perhaps assorted other regional states, as well as the United States itself.
Strategic risk-taking can be significantly advantageous up to a point, but figuring out exactly where that critical point should be established is by no means a handily calculable task. Well-documented histories of the 1962 Cuban Missile Crisis all seem to agree that the superpowers had then come very close to a starkly different and authentically calamitous sort of conclusion. Once again, back at Princeton in 1967, I had heard this cautionary conclusion directly from the US Secretary of Defense, Robert McNamara.
Nuclear strategy is a game that various sane national leaders must sometimes learn to play, but never with any reassuringly plausible assurances of probable outcomes. The only way this "probabilistic unpredictability" can ever change is if, in the years ahead, some actual examples should accumulate of specific nuclear escalations and outcomes. Of course, this sort of accumulation is not something we ought ever to wish for. Instead, it would be far better for us to continue to have to concede a structural incapacity to more reliably "figure the odds" of any nuclear crisis engagement, or of any resultant nuclear war.
Analysts may learn from this exceedingly complex dialectic that we can't yet determine usefully just how likely it is that America's unpredictable sitting president would ever give an irrational order to use American nuclear weapons. But scholars can still reasonably advise Mr. Trump and his counselors that unprecedented nuclear dangers lurk not only (or even primarily) in sudden "bolt from the blue" enemy attacks, but also in certain unanticipated and uncontrolled forms of nuclear escalation[25]. As far as any pretending irrationality is concerned – a tactic that may or may not have figured importantly in the Cuban Missile Crisis, depending upon one's own particular interpretation of JFK's 1962 strategic calculations – it could rapidly become a double-edged sword for Donald Trump.
In those circumstances, when centered on the Middle East, the self-destructive sword's "edge" could inflict measureless or nearly measureless harms upon the United States and upon Israel.
Most purposeless of all would be a President Trump who naively confused copious bluster and bravado with some genuinely convincing rendition of irrationality. From the start, Trump has persistently hinted at the alleged benefits of pretending irrationality in foreign relations, but there is yet no compelling evidence that he also understands the corollary requirement of a policy "follow through." No doubt, Moshe Dayan had once made a promising point in his own strategic argument that Israel should be seen as a "mad dog," but it remains credible that he would have strongly favored certain attendant preparations to ensure Jerusalem's "escalation dominance."
These vital preparations would have been based upon a carefully-prepared and incrementally nuanced "ladder" of sequenced retaliations and counter-retaliations.
To be sure, under certain circumstances, the "rationality of pretended irrationality" tactic could represent a manifestly sane move in the bewilderingly complex game of nuclear strategy, but it must always be undertaken together with variously inherent and immutable limitations. Above all, at least for the foreseeable future, this means fashioning national strategic policies without any substantially precise or scientific estimations of probable outcome. Looking ahead, for Israel, it follows that there can be no adequate substitute for maximum caution and prudence in absolutely every instance of strategic risk-taking.
This includes those prospectively fearful circumstances triggered by recognizable instances of US presidential irrationality or miscalculation on nuclear decisions.
Never to be taken lightly, in this regard, is Sigmund Freud's trenchant observation that history remains littered with the corpses of millions spawned by some form or other of national leadership irrationality or miscalculation.[26] Conspicuously, that observation was offered before nuclear weapons. Today, from a crucial standpoint of nuclear war avoidance, it should be closely pondered in Jerusalem as well as Washington.
For Israel, still more precisely, such concern should derive in large measure from binding alliance ties between the two countries.
---
[1] Herman Kahn is among the first prominent thinkers associated with the post-war genre of strategic nuclear war. His more important works are On Thermonuclear War (1962) and Thinking About the Unthinkable (1962). Back at Princeton in the mid-1960s, his work became a conceptual mainstay of our advanced graduate courses dealing with military affairs and world order. His most memorable observation, as I can recall, is that "After a nuclear war, the survivors would envy the dead."
[2] See, by this author, Louis René Beres, at The Bulletin of the Atomic Scientists: https://thebulletin.org/2016/08/what-if-you-dont-trust-the-judgment-of-the-president-whose-finger-is-over-the-nuclear-button/ See also, by Professor Beres, https://warroom.armywarcollege.edu/articles/nuclear-decision-making/ (Pentagon).
[3] What else can one say after an American president makes repeated medical claims that contradict his own most authoritative scientific advisors; asserts that Joe Biden, his rival, "hates and wants to hurt God…;" recommends injecting household disinfectants as therapeutic or prophylactic agents for Covid19 infection; says that children are "almost immune" to Corona virus; and maintains that "only 1%" of those infected" suffer any palpable harms?
[4] See, for current assessments: https://www.cnn.com/2020/08/06/politics/trump-advisers-fears-military-options/index.html
[5] See by this writer, Louis René Beres, https://www.inss.org.il/publication/changing-direction-updating-israels-nuclear-doctrine/; with USN Admiral (ret.) Leon "Bud" Edney, https://www.usnews.com/opinion/articles/2013/02/11/facing-a-nuclear-iran-israel-must-rethink-its-nuclear-ambiguity; and with USAF General John T. Chain, https://www.theatlantic.com/international/archive/2012/08/could-israel-safely-deter-a-nuclear-iran/260947/. General Chain served as Commander-in-Chief, US Strategic Air Command (CINCSAC); while Admiral Edney is a former Supreme Allied Commander/NATO (SACLANT).
[6] "Everything is very simple in war," says Clausewitz, in his classic discussion of "friction" in On War, "but the simplest thing is difficult." Herein, friction refers to the unpredictable effects of errors in knowledge and information concerning inevitable strategic uncertainties; on presidential under-estimations or over-estimations of US relative power position; and on the unalterably vast and largely irremediable differences between theories of deterrence, and enemy intent "as it actually is." See: Carl von Clausewitz, "Uber das Leben und den Charakter von Scharnhorst," Historisch-politische Zeitschrift, 1 (1832); cited in Barry D. Watts, Clausewitzian Friction and Future War, McNair Paper No. 52, October, 1996, Institute for National Strategic Studies, National Defense University Washington, D.C. p. 9.
[7] In this regard, see jointly authored monograph at Tel Aviv University by Professor Louis René Beres and General (USA/ret.) Barry R. McCaffrey, Israel's Nuclear Strategy and America's National Security (2016) https://sectech.tau.ac.il/sites/sectech.tau.ac.il/files/PalmBeachBook.pdf
[8] For the moment, the arguments presented here are "Trump specific," but they are also all prospectively generic; that is, they could inhere in the US-Israel relationship per se, and apply irrespective of any particular US White House incumbent.
[9] US presidential expressions of decisional irrationality could take different and overlapping forms. These include a disorderly or inconsistent value system; computational errors in calculation; an incapacity to communicate efficiently; random or haphazard influences in the making or transmittal of particular decisions; and internal dissonance generated by any authoritative structure of collective decision-making (e.g., the US National Security Council).
[10] Also problematic for the United States and its pertinent allies, especially Israel, would be the firing of American nuclear weapons due to Russian cyber-attacks/cyber-intrusions. In the final analysis, this cyber-war threat is of potentially greater existential import than threats of any continued Russian meddling in America's elections. Moreover, the threat is still growing while President Trump stubbornly exonerates Vladimir Putin and simultaneously vilifies the FBI plus his own intelligence community. Why?
[11] This president, of course, would have no knowledge about any such matters of national and international law himself. Nonetheless, for the designated lawyers, anticipatory self-defense would represent a permissible use of force before an enemy attack has already been experienced or absorbed. While the usual national obligation to wait until one's own country has been struck first is formally codified at Article 51 of the UN Charter, the corollary right of anticipatory self-defense derives from customary international law. Moreover, all authoritative sources of international law are sequentially identified at Article 38 of the UN's Statute of the International Court of Justice.
[12] See, by this author, Louis René Beres, https://www.jstor.org/stable/resrep24333?seq=1#metadata_info_tab_contents https://besacenter.org/wp-content/uploads/2019/09/165-MONOGRAPH-Beres-What-Happens-to-Israel-if-the-US-and-Iran-Go-to-War-web-2.pdf
[13] Our system of world politics remains essentially "Westphalian." The reference here is to the Peace Of Westphalia (1648), which concluded the Thirty Years War and created the still-existing decentralized or self-help "state system." For pertinent legal bases, see: Treaty of Peace of Munster, Oct. 1648, 1 Consol. T.S. 271; and Treaty of Peace of Osnabruck, Oct. 1648, 1., Consol. T.S. 119, Together, these two treaties comprise the Peace of Westphalia.
[14] The earlier-mentioned customary right of "anticipatory self-defense" has its modern origins in The Caroline incident, which revolved around the unsuccessful rebellion of 1837 against British rule in Upper Canada. Following this incident, a serious threat of armed attack became generally accepted as adequate justification for certain otherwise-proper preemptive actions. In a formal exchange of diplomatic notes between the governments of the United States and Great Britain, then U.S. Secretary of State Daniel Webster outlined a framework for self-defense that did not require a prior armed attack. Military preemption, therefore, was to be judged permissible, at least as long as the danger posed was "instant, overwhelming, leaving no choice of means, and no moment for deliberation." By extrapolation, today, in the nuclear age, this permissibility ought to be of even greater latitude. See: The Caroline, 2 John B. Moore, A Digest of International Law 412 (1906); reprinted in Louis Henkin, et. al., International law: Cases and Materials 622 (2nd ed., 1987).
[15] See, by this author, at Harvard National Security Journal, Harvard Law School: https://harvardnsj.org/2015/06/core-synergies-in-israels-strategic-planning-when-the-adversarial-whole-is-greater-than-the-sum-of-its-parts/ See also, by Professor Beres, at Modern War Institute, West Point: https://mwi.usma.edu/threat-convergence-adversarial-whole-greater-sum-parts/
[16] This is sometimes considered as similar to the concept of a "force multiplier." A force multiplier is a collection of related characteristics, other than weapons or force size, that may intentionally render a military organization more effective in war. It may include generalship; tactical surprise; tactical mobility; or even certain command and control system enhancements. It could also include imaginative and less-costly forms of preemption, such as assassination or targeted killing; also sabotage. Looking ahead, it could embrace variously integrated components of cyber-defense and cyber-warfare, including a reciprocal capacity to prevent or blunt any incoming cyber attacks. Again, the need for such components could have its conceptual origins in the sorely incoherent and problematic Trump presidency.
[17] I first wrote of such U.S. nuclear authority matters in an earlier book, Louis René Beres, Apocalypse: Nuclear Catastrophe in World Politics, The University of Chicago Press, 1980.
[18] See, for example, the new book by former Secretary of Defense William Perry and Tom Colinna, https://newbooksnetwork.com/w-j-perry-and-t-z-collina-the-button-the-new-nuclear-arms-race-and-presidential-power-from-truman-to-trump-benbella-books-2020/
.
[19] See forthcoming book by Jim Sciutto, The Madman Theory: Trump Takes on the World (Harper Collins, August 2020).
[20] Regarding current US-Russia relations, we are now plausibly in the midst of "Cold War II." Hypothesizing the emergence of this second Cold War means expecting that the world system is becoming increasingly bipolar. For early writings, by this author, on the global security implications of any such expanding bipolarity, see: Louis René Beres, "Bipolarity, Multipolarity, and the Reliability of Alliance Commitments," Western Political Quarterly, Vol. 25, No.4., December 1972, pp. 702-710; Louis René Beres, "Bipolarity, Multipolarity, and the Tragedy of the Commons," Western Political Quarterly, Vol. 26, No.4., December 1973, pp, 649-658; and Louis René Beres, "Guerillas, Terrorists, and Polarity: New Structural Models of World Politics," Western Political Quarterly, Vol. 27, No.4., December 1974, pp. 624-636.
[21] For authoritative early accounts by this author of nuclear war effects, see: Louis René Beres, Apocalypse: Nuclear Catastrophe in World Politics (Chicago: University of Chicago Press, 1980); Louis René Beres, Mimicking Sisyphus: America's Countervailing Nuclear Strategy (Lexington, Mass., Lexington Books, 1983); Louis René Beres, Reason and Realpolitik: U.S. Foreign Policy and World Order (Lexington, Mass., Lexington Books, 1984); and Louis René Beres, Security or Armageddon: Israel's Nuclear Strategy (Lexington, Mass., Lexington Books, 1986). Most recently, by Professor Beres, see: Surviving Amid Chaos: Israel's Nuclear Strategy (New York, Rowman & Littlefield, 2016; 2nd ed. 2018). https://paw.princeton.edu/new-books/surviving-amid-chaos-israel%E2%80%99s-nuclear-strategy
[22] See especially Louis René Beres, Surviving Amid Chaos: Israel's Nuclear Strategy. https://www.amazon.com/Surviving-Amid-Chaos-Strategy-Destruction/dp/1442253258
[23] On the crime of "aggression" see: RESOLUTION ON THE DEFINITION OF AGGRESSION, Dec. 14, 1974, U.N.G.A. Res. 3314 (XXIX), 29 U.N. GAOR, Supp. (No. 31) 142, U.N. Doc. A/9631, 1975, reprinted in 13 I.L.M. 710, 1974; and CHARTER OF THE UNITED NATIONS, Art. 51.. Done at San Francisco, June 26, 1945. Entered into force for the United States, Oct. 24, 1945, 59 Stat. 1031, T.S. No. 993, Bevans 1153, 1976, Y.B.U.N. 1043.
[24] This brings to mind the need for identifying ways in which a nuclear war involving Israel might begin directly with events in the Middle East. There are certain plausible and also more-or-less probable paths to actual nuclear war-fighting in the Middle East: (1) enemy nuclear first-strikes against Israel (not yet a possibility, at least so long as non-Arab Pakistan is excluded as an enemy state); (2) enemy non-nuclear WMD (weapons of mass destruction) first-strikes against Israel, that elicit Israeli nuclear reprisals, either promptly, or as a consequence of incremental escalatory processes; (3) Israeli nuclear preemptions against hard targets in enemy states with nuclear assets (excluding Pakistan, still not a present possibility); (4) Israeli non-nuclear preemptions against hard targets in enemy states, with nuclear assets, that elicit enemy nuclear reprisals, either promptly, or via incremental escalation processes (also not yet a possibility); and (5) Israeli non-nuclear preemptions against hard targets in enemy states, without nuclear assets, that elicit substantial enemy biological warfare reprisals, and, reciprocally, Israeli nuclear counter-retaliations. In principle, at least, other paths to nuclear war fighting in the region could include accidental/unintentional/inadvertent/unauthorized nuclear attacks between Israel and pertinent enemy states. Analysts will also have to consider the real prospect of escalations arising from certain WMD terrorism against Israel.
[25] On these issues as a more generic problem, see: Anatol Rapoport, Strategy and Conscience (1964) and Herman Kahn, On Escalation: Metaphors and Scenarios (1965). See also, by this writer, Louis René Beres, The Management of World Power: A Theoretical Analysis (1973).
[26] In his exact words: "Fools, visionaries, sufferers from delusions, neurotics and lunatics have played great roles at all times in the history of mankind….Usually, they have wreaked havoc."
Quad foreign ministers meet in New York for the third time
Quad foreign ministers met in New York for the second time this year and the seventh time since 2019. The four-nation grouping's ambit of cooperation has clearly expanded and diversified over the years. What were the key talking points this time? I analyse.
The foreign ministers of India, Japan, Australia and the United States – four key maritime democracies in the Indo-Pacific – met on the sidelines of the 78th annual session of the United Nations General Assembly (UNGA) in New York on September 22. This was their seventh meeting since 2019 and the second of 2023. Notably, exactly four years ago, this four-nation Quad was raised to the foreign ministers' level amid a UNGA session. Earlier in 2023, the ministers met in March on the sidelines of the G20 ministerial in New Delhi and in May, this year, the Quad leaders' summit was hosted by Japan on the sidelines of the G7 summit. Having met twice in 2022 as well, the ministers congregated six times in person and virtually once so far.
The previous ministerial in New Delhi saw the four-nation grouping making a reference to an extra-regional geopolitical issue for the first time – Ukraine – and also the initiation of a new Working Group mechanism on counter-terrorism, a key agenda item for India and the United States, among other themes of discussion. Following the seventh meeting, India's foreign minister Dr S. Jaishankar tweeted, "Always value our collective contribution to doing global good", while U.S. Secretary of State Antony Blinken remarked that the grouping is "vital to our shared vision for a free and open Indo-Pacific, and together we reaffirmed our commitment to uphold the purposes and principles of the UN Charter".
Diversifying ambit of cooperation
The ministers have clearly doubled down on the commitments taken during their previous deliberations, particularly to improve capacity-building for regional players. The joint statement that followed the meeting read, "The Indo-Pacific Partnership for Maritime Domain Awareness is supporting regional partners combat illicit maritime activities and respond to climate-related and humanitarian events." Similarly, the Working Group on maritime security promised "practical and positive outcomes" for the region. Prior to the recent ministerial, the Working Group on counter-terrorism conducted a Consequence Management Exercise that "explored the capabilities and support Quad countries could offer regional partners in response to a terrorist attack", the joint readout mentions.
Later this year, the U.S. island state of Hawaii will host the Counter-terrorism Working Group's meeting and tabletop exercise, which will focus on countering the use of emerging technologies for terrorist activities, while the Working Group on humanitarian assistance and disaster relief (HADR) will be convened in Australia's Brisbane for its second tabletop exercise. Earlier in August, this year, all four Quad navies participated in Exercise Malabar for the fourth consecutive year, off Sydney, the first hosted by Australia. However, as in previous meetings, the ministers didn't specifically mention Russia or China with regard to the situations in Ukraine and maritime east Asia respectively.
On the Ukraine question, the ministers expressed their "deep concern", taking note of its "terrible and tragic humanitarian consequences" and called for "comprehensive, just, and lasting peace". In a veiled reference to Russia, the ministers rebuffed the "use, or threat of use, of nuclear weapons", underscoring the respect for sovereignty and territorial integrity of all states, and called for the resumption of the UN-brokered Black Sea Grain Initiative, which allows for the export of food grains and fertilizers from Ukraine to world markets via a maritime humanitarian corridor, amid the ongoing conflict with Russia.
Similarly, in another veiled reference to continuing Chinese belligerence and lawfare in maritime east Asia, the ministers stressed upon the need to adhere to the United Nations Convention on the Law of the Sea (UNCLOS) and to maintain "freedom of navigation and overflight consistent with UNCLOS", reiterating their "strong opposition to any unilateral actions that seek to change the status quo by force or coercion", including with respect to maritime claims in the South and East China Seas. Going further ahead, the ministers expressed their concern on "the militarisation of disputed features, the dangerous use of coast guard and maritime militia vessels, and efforts to disrupt other countries' offshore exploitation activities". The joint readout also had mentions of North Korea and Myanmar.
The evident and the inferred
Today, almost all the areas of cooperation of Quad countries happen to be the areas of strategic competition with China, the rapid rise of which necessitated the coming together of the four nations, even though this is not openly acknowledged. In this new great game unfolding in the Indo-Pacific, the U.S.-led Quad is trying to balance China's overwhelming initiatives to capture the support of smaller and middle powers in the region and around the world. Placid initiatives such as the Open Radio Access Network, the private sector-led Investors Network, Cybersecurity Partnership, Cable Connectivity Partnership and the Pandemic Preparedness Exercises should be read in this context.
With the rise of Quad in parallel with the rise of China and other minilateral groupings in the Indo-Pacific such as the AUKUS (a grouping of Australia, the United Kingdom and the United States), the existing regional framework based on the slow-moving, consensus-based Association of Southeast Asian Nations (ASEAN) was put to test. However, allaying all doubts, Quad deliberations at both the ministerial and summit levels continued to extend their support to ASEAN's centrality in the region and also for the ASEAN-led regional architecture that also includes the East Asia Summit and the ASEAN Regional Forum. Despite somewhat differing regional outlooks, the Quad likes to see itself as "complementary" to the ASEAN, rather than an "alternative" to its pan-regional influence.
India, the only non-ally of the U.S. in the Quad, will host the fourth in-person Quad leaders' summit in 2024. The Asian giant is often dubbed as the weakest link in the grouping, owing to its friendly ties with Russia, but other members intent to keep India's bilateral equations with other countries away from the interior dynamics of the grouping, signalling an acknowledgement of India's growing geopolitical heft in the region and beyond. This seems to be subtly reflected in the stance taken by individual Quad members in the recent India-Canada diplomatic row, in which they made sure not to provoke New Delhi or to touch upon sensitive areas, even though a fellow Western partner is involved on the other side.
| | | |
| --- | --- | --- |
| Quad Foreign Ministers Meeting | Month & Year | Venue |
| First | September 2019 | New York |
| Second | October 2020 | Tokyo |
| Third | February 2021 | Virtual |
| Fourth | February 2022 | Melbourne |
| Fifth | September 2022 | New York |
| Sixth | March 2023 | New Delhi |
| Seventh | September 2023 | New York |
NB:- All three Quad ministerials in New York were held on the sidelines of the respective annual sessions of the UN General Assembly i.e., the first, the fifth, and the seventh meetings.
On the multilateral front, the four ministers reaffirmed their support for the UN, the need to uphold "mutually determined rules, norms, and standards, and to deepen Quad's cooperation in the international system, and also batted for a comprehensive reform of the UN, including the expansion of permanent and non-permanent seats in the Security Council. While China and Russia, two powerful permanent members of the Security Council, continue to denounce the Quad as an "exclusionary bloc", the Quad ministers and leaders tend to tone down any security role for the grouping.
However, a recent comment made by Vice Admiral Karl Thomas of the U.S. Navy's Seventh Fleet during this year's Exercise Malabar is noteworthy. He said the war games were "not pointed toward any one country", rather it would improve the ability of the four forces to work with each other and "the deterrence that our four nations provide as we operate together as a Quad is a foundation for all the other nations operating in this region". Even in the absence of a security treaty, in a way he hinted at the grouping's desire to cherish its collective strength across all fronts and to check on hegemonic tendencies that may manifest in the region from time to time.
Dynamics of the Sikh Vote Cloud Canada's Diplomatic Relations with India
Operating across British Columbia (BC), Alberta, Manitoba and Ontario, gangs made up of Indo-Canadian Punjabis – Brothers Keepers, Dhak-Duhre, Dhaliwal, Sanghera, Malli-Buttar, and several such, are involved in arms trafficking, racketeering, extortion, narco trafficking, money laundering, and not the least, assassinations. Formed in 2004 and mandated to disrupt and suppress organised crime in B.C. the Combined Forces Special Enforcement Unit (CFSEU-BC), has warned the public of the nexus of Punjabi-Canadians to violence.
In the murders of Punjabi singer Sidhu Moose Wala and Ripudaman Singh Malik, acquitted in the tragic 1985 Air India Kanishka terror-bombing case, the conspicuous involvement of these Indo-Canadian gangs with notorious criminals Goldy Brar and Lawrence Bishnoi at the helm, manifested itself.
On June 18 Sikh Hardeep Singh Nijjar, was gunned down as he left his gurdwara in Surrey, B.C., which has the highest proportions of Punjabi Canadians. Nijjar had entered Canada in 1995 on a fake passport and claimed asylum on arrest at Toronto. In B.C. he married a local who sponsored his immigration and he was subsequently awarded Canadian citizenship. Brazenly propounding anti-India separatist sentiments, Nijjar was even placed on Canada's no-fly list and Interpol's red corner notice. Alongwith gangsters Arshdeep Singh Dala, Maninder Singh Bual, and Mandeep Singh Dhaliwal his outfit Khalistan Tiger Force (KTF) was involved in contract killings in Punjab. Gang-related killings account for a third of all homicides in Canada's British Columbia.
Despite this disconcerting background of Nijjar's ties to organised crime gangs in Canada, on September 18, Prime Minister Justin Trudeau alleged the involvement of "agents of the Indian government" in the killing of Nijjar. A claim outrightly rejected by New Delhi as "absurd" and "motivated." If Trudeau was looking to further impair an increasingly forbidding bilateral relationship, he succeeded. Canada and India have expelled a senior diplomat each and negotiations for a free trade agreement stand suspended.
There is a palpable perversity to Canada's position on the Khalistan issue. In 1982, Trudeau's father and then Prime Minister Pierre Trudeau
had rejected Late PM Indira Gandhi's demands for extradition of Khalistani terrorist Talwinder Singh Parmar, who went on to execute the bombing of Air India Flight Kanishka, killing 329 people in 1985.
Alarmed by the presence of Sikh secessionists among the diaspora, former Prime Minister Dr Manmohan Singh during his 2010 trip to attend the G20 summit in Toronto, asked Canada "to stop people from using religious places to promote extremism." Canadian MP Sukh Dhaliwal, had introduced a motion in the Canadian parliament to declare the 1984 riots a "genocide". Fast forward to 2023, G20 under PM Modi there was no attempt at all to put even a vaguely positive spin on the India-Canada equation.
The timing of Trudeau's accusation just days after the G20 summit in New Delhi where he says he brought Khalistani extremism and "foreign interference" "directly to PM Modi in no uncertain terms" smacks of umbrage at being at the receiving end of a very hard-hitting message that the 'extremist elements in Canada are "promoting secessionism and inciting violence against Indian.'
The Khalistan issue has got a fresh lease of life after the advent of the Justine Trudeau government. With just 32.2 percent of the popular vote, Liberal leader Trudeau has the least electoral support in Canadian history, and was backed by Jagmeet Singh's New Democratic Party (NDP) which openly supports the Khalistan Referendum on Canadian soil.
Canada's Conservative opposition leader, Pierre Poilievre, has urged Trudeau to show the evidence that the government has in hand. Notwithstanding this current posture the Conservative Party (CP) too, has in the past caved in to the Sikh vote bank. In 2018 when its condemnation of 'glorification of terrorism' was objected to by the World Sikh Organisation, the CP dropped its 'anti-Khalistan' motion in the House of Commons.
There is beyond sufficient evidence, to India's contention that Canada, and other western nations including US, UK, and Australia have allowed cadres of separatist violent Khalistani groups to thrive. The UK recently set up a £95,000 fund to enhance its understanding of the threat posed by Khalistan extremism. While the amount set aside to tackle pro-Khalistan elements is not substantial, it acknowledges that a Sikh radicalisation problem exists in the west.
Sikh temples and organisations abroad orchestrate Remembrance Days for 'Operation Blue Star' on June 6 and 'Sikh Massacre' on November 5, that serve as cultural repertoires and focal points of advocating Khalistani extremism. This year at the remembrance day parade, Khalistan supporters in Ontario exhibited a female figure in a blood-stained white saree with turbaned men pointing guns at her, to celebrate the assassination of late PM Indira Gandhi. The poster behind the scene read "Revenge for the attack on Darbar Sahib."
Reacting to this macabre tableau, External Affairs Minister Dr S Jaishankar said, "Frankly, we are at a loss to understand other than the requirements of vote bank politics why anybody would do this … I think there is a larger underlying issue about the space which is given to separatists, to extremists, to people who advocate violence. I think it is not good for relationships, not good for Canada."
At multiple diplomatic and security talks, India has raised the issue of wanted terrorists and gangsters only to be defied by the Canadian government with non-committance and brazen support for extremist Sikhs. And yet Canada's NATO allies and partners in the 'Five Eyes' intelligence sharing agreement, the United States and Australia, have expressed "deep concerns" over the issue. Adrienne Watson, spokesperson for the White House National Security Council said, "We are deeply concerned about the allegations referenced by Prime Minister Trudeau." Foreign Secretary of the UK, James Cleverly, posted UK's reaction on platform X "We are in regular contact with our Canadian partners about serious allegations raised in the Canadian Parliament." One wonders if this allegation of targeted killing by India is in retaliation to New Delhi's steady favour of Russia, and has been levelled after reports of a brokered American deal with Pakistan for weapons transfer to Ukraine in lieu of an IMF bailout emerged.
Admonishing Canada on X, former Foreign Secretary Nirupama Menon Rao said, "Canada has an extremely spotty and very, very poor record on the whole issue of Khalistanis in Canada. The support these lawless elements have received under the cover of what is called freedom of expression and democratic rights of citizens…it must control such elements with a firm hand and cannot allow them to run free to foster terrorism and violence in our country."
Amid the hectic media coverage there was speculation that 'Trudeau's allegations have put the White House in an especially tight spot.' But this were swifty checked by Adrienne Watson in her X post, "reports that we rebuffed Canada in any way on this are flatly false. We are coordinating and consulting with Canada closely on this issue."
The manner in which copious evidence on Khalistan separatists handed over to the Canadian side have gone unaddressed and yet Trudeau's allegation invoked strong reactions from other western nations, implies that this has moved beyond our bilaterals with Ottawa. It will have ramifications on how India deals with its strong G7 allies, especially the US.
For India the existence of Khalistani extremists and their alignment with organised crime in Canada poses security exigencies. India must at this juncture refrain from a broad generalisation of Sikh diaspora as secessionist, an incrimination that was implied during the Sikh-dominated farmers' movement.
Political parties must rise above partisan politics over separatist movements that are a threat to nation security. Voices from Punjab attest that Khalistan supporters remain 'fringe' and 'on the margins.' Even among expatriate Sikh community leaders have challenged the anti-India narrative laid out by Khalistanis and their supporters, despite the fact that they, and the community there, regularly face harassment and threats of violence from expatriate Khalistanis. Former Punjab Chief Minister Amarinder Singh states that Nijjar's murder was the result of a factional feud within the management of the Guru Nanak Sikh Gurdwara situated at Surrey and that Trudeau had "walked into a trap owing to vote bank politics."
New Delhi must ensure that overseas Sikh communities which have tried to counter pro-Khalistan disinformation shall not be left alone to defend themselves.
China and Venezuela Deepening Cooperation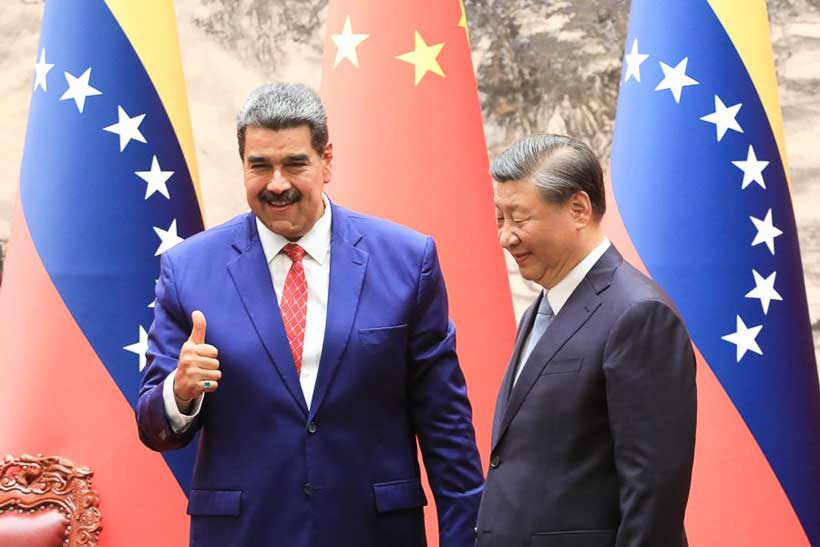 In a significant development that underscores the changing dynamics of global politics and economics, Chinese President Xi Jinping and Venezuelan counterpart Nicolas Maduro recently signed several bilateral cooperation agreements in Beijing, highlighting the changing dynamics of world politics and economics. China's determination to participate in partnerships that promote economic stability and prosperity demonstrates its unwavering commitment to global economic recovery.
The agreements signify a strengthening of their partnerships and span a variety of fields, including trade, the economy, and tourism. The cooperation has been upgraded to an "All-weather strategic partnership," reflecting the continued dedication of both countries to the advancement and development of the other. The decision by China and Venezuela to strengthen their ties comes as the world is witnessing a transformation in international alliances and trade partnerships.
The economic collaboration between the two countries is one of the most significant aspects of this new era of partnership. The recent agreements are expected to further cement Venezuela's ties with China, which has long been the country's major trading partner.Investments in infrastructure development and oil and gas exploration and production are part of the cooperation in the energy industry.
During his visit to China, President Maduro expressed his optimism for the relationship's future, stating it heralds the start of a "new era" for both nations. Venezuela, which has recently experienced economic difficulties, views China as a dependable ally that can aid in reviving its economy. China, on the other hand, sees Venezuela as a crucial friend in the region and a valuable supply of natural resources.
China and Venezuela's energy cooperation has broad implications. As the globe grapples with concerns about energy security and climate change, this alliance might have a big impact on the global energy landscape. China's investments in Venezuela's oil sector can stabilize oil prices and provide a more consistent supply of crude oil to the global market.
Aside from the energy industry, both countries have pledged to deepen their collaboration in a variety of other economic areas. Venezuela can benefit from China's expertise in agricultural technologies and infrastructural development in one area. Venezuela may enhance food production and reduce its reliance on imports by modernizing its agricultural sector with Chinese assistance, thereby increasing food security for its citizens.
Additionally, both countries have enormous potential in the tourism sector. Venezuela has incredible landscapes such as the famous Angel Falls and virgin Caribbean beaches, which may appeal to Chinese tourists looking for new travel experiences. Similarly, China's rich history and culture have always captured the interest of visitors from all over the world, including Venezuelans. The tourist accords aim to make travel between the two countries easier, to foster cultural interaction, and to develop tourism-related enterprises.
Furthermore, the strengthened relationship extends beyond economic interests to include political and strategic considerations. Both countries have reaffirmed their commitment to mutual support in international forums and to no interference in the other's internal affairs. This strategic partnership is consistent with China's aim of establishing a multipolar world and strengthening cooperation across developing nations.
The collaboration between China and Venezuela should be seen in the larger Belt and Road Initiative (BRI) initiative. The BRI seeks to establish a network of economic and infrastructure partnerships across Asia, Europe, Africa, and Latin America. A deeper integration of Venezuela into China's global economic vision through its participation in the BRI could create new trade and investment opportunities.
The potential for economic development in Venezuela is one of the most notable benefits of the China-Venezuela cooperation. In recent years, the South American country has suffered severe economic issues, including high inflation, financial sanctions, and political unrest. China's investments and assistance can help stabilize Venezuela's economy, generate jobs, and raise inhabitants' living standards.
The China-Venezuela connection is a key milestone in the shifting global political and economic landscape. In a changing world order, this partnership has the potential to provide Venezuela with economic prosperity, stability, as well as greater autonomy.