Undoubtedly, a significant number of governmental reports, academic articles and op-eds about the Covid-19 and its likely future impacts in the world societies and economies have already been published. Though useful for planning, anyone attempting to establish prospective post-pandemic scenarios should – above all – be aware that this effort is filled with uncertainty as the repercussions of any contagious diseases are always dynamic. Namely, its reliance on constant evolving factors, is causing persistent shifts in its impacts principally for those of economic and political nature.
With this thought in mind, and as the doubts shrouding a possible second wave of this pandemic slowly erode, it seems important to look at historical instances of uncontrollable transmission of disease and to understand how deeply it can politically impact human societies, albeit contextualizing the obvious differences brought by time and different social and technological backgrounds. Still, having these aspects in consideration, it should be noted the common denominator that the current pandemic has with other historical health emergencies: the absence of medical countermeasures that can truly eliminate the disease.
In fact, the failure to produce an "effective, no side effects" Covid-19 vaccine so far, led Governments to implement quarantines, which from the Black Plague to the SARS epidemic, proved to be of the one of the few historically effective methods to slow the spread of disease. A report, published by the WHO in 2006, characterized the use of quarantines in the SARS 2003  epidemic  to  be  "old  fashioned  and  labour  intensive"  although  effective  as  "these measures slowed the virus' spread, and, in the end, contributed to its containment". This lesson proves to be of particular importance in a time where the  economic and  social pressure to end lockdowns have succeeded in coercing Governments to ease the implemented containment measures, even if any positive outcomes of the latter are yet to be seen.
As stated by a report of the "Konrad Adenauer Center for International Relations and Security Studies" (KACIRSS) on the diseases' impact on political stability, "a high level of virulent infectious diseases may even destabilize politically stable and economically strong countries, like European or North-American countries", making relevant any effort of anticipating the reactions of the masses in the midst of a health emergency, so to contain any negative effects brought by it.
One of the most significant signs of political disruption caused by a pandemic event is the depletion of trust in elected leaders, as they seem unfit to tackle the challenges, which, if uncontained, may constitute as a prequel to a larger erosion of confidence in political institutions. This absence of trust leans on factors such as "high morbidity and mortality rates, a lack of medical knowledge and effective treatment options, and general unfamiliarity with the disease" that unchecked, could lead to higher "destabilizing effect of the disease as the population's perceived (and real) risk increases."
Case in point, as the plague in Athens, during the Peloponnesian War, took its toll on its population, historians reported a detrimental effect on Pericles leadership and other elements of the Athenian society, leading to anarchy and, ultimately, the end of its democracy. Similar conclusions could be drafted from the Black Plague, which had a significant impact on monarchical authority in Europe and other surrounding regions.
Taking these historical episodes into considerations, as we witnessed statements of political leaders downplaying the full impact of Covid-19, solely to later advocate – sometimes against scientific advice – a quick resumption of economic activity, it is important for these high dignitaries to remember that an unprepared society for a second wave will likely not be forgotten by its voters. Furthermore, this sort of impact should speak volumes for governments whose leaderships are near the end of their mandates or are based upon parliamentary coalitions that may no longer be viable within an unstable political context. Worse, in a time where social media and fake news are highly influential, this absence of political trust could be seen as an opportunity for populist political movements, as well as extremist groups, to gain momentum and harvest additional supporters for their causes. To this equation, we need to add profound financial repercussions that the Covid-19 pandemic is expected to have on international economies and, consequently, in the population's discontentment, considering possible signs of lockdown fatigue if a return to status quo ante is required.
Consequently, a second Covid-19 wave, converged with an economic downturn, could carry another political effect, namely in terms of a State's potential political regime change. Already mentioned examples of how the Athens plague undermined its democracy or how the Black Plague may have impacted feudalism in Europe need to serve as a testimony to democratic leaderships of how disease infested societies, if unchecked, may provoke/accelerate structural modifications in political regimes. Hopefully, recent decisions taken by a Central European government, still a formal democracy, may constitute only a temporary exception to the witnessed democratic progresses the world has seen during the past three decades.
Historical epidemic occurrences may also hold valuable lessons for the European Union (EU). Notwithstanding the obvious differences between the Catholic Church of the 14th century and the EU of today, both share the common denominator of being transnational entities with significant  political  influence  on  countries  in  Europe.  Much  has  been  written  on  the detrimental impact that the Black Plague had over the Catholic Church political influence in 14th century Europe, as the members of the clergy were unable to provide any answers to the needs of Europeans faced with rising casualties, causing a "decline in their confidence (…) of the institution of the Church".
Less than seven centuries later,  polls published by the European Parliament's Public Opinion Monitoring Unit clearly state that "In Spain, 90% of respondents consider that the EU is helping "a little" or "not at all" to resolve the situation caused by pandemic" while "88% of Italians feel that the other EU countries are not helping Italy and 79% think the same of the EU institutions. Still, a relative majority (42,6%) do not want to leave neither the EU nor the Eurozone". Given these numbers, it is becoming increasingly discernible that citizens of some Covid-19 hardly stricken  countries  questioned  the  EU's  lack  of  leadership  or  solidarity  to  support  their Member-States when in dire situations. Doubts could also be raised on the possible political effects of a second Covid-19 wave on the EU – Member-States relationship, if health and financial consequences remain unaddressed.
But even though the real impact of this coronavirus crisis on the Italians' opinion towards EU remains to be seen, the apologetic letter written by the President of the EU Commission, Ursula von der Leyen, in an attempt to justify the initial paralysis of the European institutions while staring at the Italy's health system collapse, appears to be a good omen. Furthermore, the EU leaders approval of a recovery fund to mitigate the deep financial and economic impacts of the pandemic are also vital steps, especially if the approved measures are proportionally beneficial to the affected Member-States and particularly their citizens, as otherwise a hypothetical second Covid-19 wave may prove to be more than just another obstacle in the path to Europe's unity.
Finally, considering the profound international impacts of Covid-19, it is difficult not to envisage on how terrorists might be inspired by the detrimental effects of disease on societies and how deadly pathogens could provide a significant boost for their propaganda necessities. Even though bioterrorism, and its contributing factors, has been substantially addressed by academia and official reports, it is still important to understand that several of the technical barriers preventing the terrorist use of pathogens have decreased over the last two decades, so new approaches are in dire need.
In 2015, I co-authored an article with Anne-Yolande Bilala that addressed the possible beneficial effects brought by the implementation of a "Bioterrorism Prevention Initiative" for the mitigation of this particular threat. Regardless of any merits embedded in this proposal, it would be of crucial importance if initiatives with similar desiderata could see the light of day in a post Covid-19 security context, so to decrease any risks of nonstate actors producing, acquiring and/or disseminating biological agents.
The above mentioned historical events may also provide important lessons, in terms of a future pandemic preparedness, for Governments to grasp, the most notable being that Biodefense needs to become a de facto priority, while adopting and investing in a more preventive posture towards biological menaces, so to anticipate emergencies of global and catastrophic nature. Case in point, regardless of the billions of Euros invested on healthcare every year, "global postures remain primarily response-driven and reactive to a dynamic and volatile emerging disease landscape. New epidemics are often met with an emergency response, after-action reviews and a promise to rethink prevention."
Serving as an additional testimony on the absence of structural changes over the last years, it is also important to remember the already mentioned WHO post-SARS report that concludes that  "communicable  diseases  had  been  given  insufficient  attention,  with  doctors  more interested in high-tech fields such as neurosurgery and molecular biology. Awareness levels were low and infection-control procedures had become slack. In sum, public-health systems were simply not ready for what happened." A preventive posture to avoid the same scenario would entail, for example, improved synergies between health and military research facilities, and  a  substantial  increase  of  financial  resources  for  the  latter  institutions  as  well  for universities, research centers, and the private sector so to monitor and develop new solutions aiming to tackle emerging diseases.
Finally, the preventive posture could also result in the formalization of a dual-use for national industries. One of the most positive aspects emerging from this pandemic episode was the ability for some industries and services to adapt their assembly lines in order to produce ventilators, masks and other PPE production. Although very commendable, the majority of these  decisions  were ad hoc and solely  based  on goodwill. A  future  proactive/preventive approach, in which Biodefense is a strategic cornerstone, will likely require that local industries– either within a national or regional context – have a pre-designated role for future pandemic episodes.
This "dual-use" purpose would likely require that Governments leverage lessons learned from the current pandemic, in order to anticipate needs, and negotiate with local industries what their future roles could be in a posterior health crisis. Such negotiation would call for exceptional skills in terms of planning, besides constant updates, as some companies may go bankrupt or transfer their facilities to another country. Nonetheless using a long term perspective to define the blueprints for the role of the civil society in a pandemic scenario may prove to be a fruitful exercise, as, when necessary, societies will be better prepared for a next catastrophic biological event.
When looking back in History to find other examples of epidemics, one could argue that the dimension of human fatalities was much larger or that the available scientific know-how to deal with the latter did not give societies sufficient countermeasures to tackle the disease. Both present valid points, but more important than lethality rates is the threat perception of the affected populations, the de facto origin of political instability, which in an age where information instantly travels across the globe and when efficient medical countermeasures against Covid-19 are still lacking, tends to be even more palpable.
As political leadership in democracies has, over the years, become a little more than a voters' expectations management exercise, political stability in a time of pandemics is likely to be more dependent on how fast governments implement mitigation measures coupled with communication transparency by leaderships and the fact-based science behind unpopular decisions, instead of finger pointing/social dividing speeches that, ultimately, will only lead to ghastlier public health scenarios and to a widespread of social turmoil.
Europe tells Biden "no way" to Cold War with China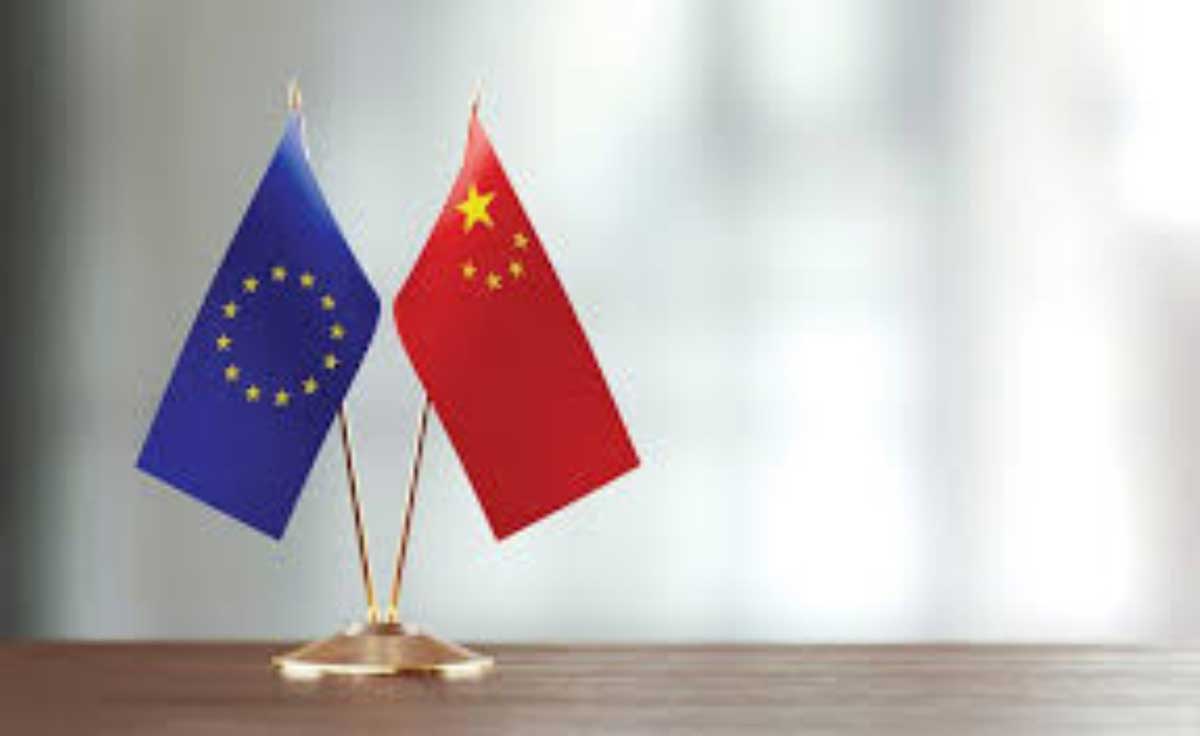 Amidst the first big transatlantic tensions for the Biden Administration, a new poll shows that the majority of Europeans see a new Cold War happening between the United States and China, but they don't see themselves as a part of it.
Overwhelmingly, 62% of Europeans believe that the US is engaged in a new Cold War against China, a new poll just released by the European Council on Foreign Relations found. Just yesterday US President Joe Biden claimed before the UN General Assembly that there is no such thing and the US is not engaging in a new Cold War. So, Europeans see Biden's bluff and call him on it.
The study was released on Wednesday by Mark Leonard and Ivan Krastev at the European Council on Foreign Relations and found that Europeans don't see themselves as direct participants in the US-China Cold War. This viewpoint is most pronounced in Bulgaria, Hungary, Austria, Portugal and Italy, according to the study. The prevailing view, in each of the 12 surveyed EU member states, is one of irrelevance – with respondents in Hungary (91%), Bulgaria (80%), Portugal (79%), and Austria (78%) saying that their country is not in a conflict with Beijing.
Only 15% of Europeans believe that the EU is engaged in a Cold War against China. The percentage is so low that one wonders if there should even be such a question. It is not only not a priority, it is not even a question on the agenda for Europeans. Even at the highest point of EU "hawkishness", only 33% of Swedes hold the view that their country is currently in a Cold War with China. Leonard and Krastev warn that if Washington and Brussels are preparing for an all-in generational struggle against China, this runs against the grain of opinion in Europe, and leaders in Washington and Brussels will quickly discover that they "do not have a societal consensus behind them".
"The European public thinks there is a new cold war – but they don't want to have anything to do with it. Our polling reveals that a "cold war" framing risks alienating European voters", Mark Leonard said.
The EU doesn't have the backing of its citizens to follow the US in its new Cold War pursuit. But unlike the views of the authors of the study, my view is that this is not a transatlantic rift that we actually have to be trying to fix. Biden's China policy won't be Europe's China policy, and that's that, despite US efforts to persuade Europe to follow, as I've argued months ago for the Brussels Report and in Modern Diplomacy.
In March this year, Gallup released a poll that showed that 45% of Americans see China as the greatest US enemy. The poll did not frame the question as Cold War but it can be argued that Joe Biden has some mandate derived from the opinion of American people. That is not the case for Europe at all, to the extent that most of us don't see "China as an enemy" even as a relevant question.
The US's China pursuit is already giving horrible for the US results in Europe, as French President Macron withdrew the French Ambassador to the US. The US made a deal already in June, as a part of the trilateral partnership with the UK and Australia, and stabbed France in the back months ago to Macron's last-minute surprise last week. Max Boot at the Council on Foreign Relations argues that it is Macron that is actually arrogant to expect that commitments and deals should mean something: "Back in February, Macron rejected the idea of a U.S.-E.U. common front against China. Now he complains when America pursues its own strategy against China. What's French for chutzpah?" What Boot does get right is that indeed, there won't be a joint US-EU front on China, and European citizens also don't want this, as the recent poll has made clear.
The US saying Europe should follow the US into a Cold War with China over human rights is the same thing as China saying that Europe should start a Cold War with the US over the bad US human rights record. It's not going to happen. You have to understand that this is how ridiculous the proposition sounds to us, Europeans. Leonard and Krastev urge the EU leadership to "make the case for more assertive policies" towards China around European and national interests rather than a Cold War logic, so that they can sell a strong, united, and compelling case for the future of the Atlantic alliance to European citizens.
I am not sure that I agree, as "more assertive policies" and "cold war" is probably the same thing in the mind of most Europeans and I don't think that the nuance helps here or matters at all. Leaders like Biden argue anyway that the US is not really pursuing a Cold War. The authors caution EU leaders against adopting a "cold war" framing. You say "framing", I say "spin". Should we be in engaging in spins at all to sell unnecessary conflict to EU citizens only to please the US?
"Unlike during the first cold war, [Europeans] do not see an immediate, existential threat", Leonard clarified. European politicians can no longer rely on tensions with China to convince the electorate of the value of transatlantic relations. "Instead, they need to make the case from European interests, showing how a rebalanced alliance can empower and restore sovereignty to European citizens in a dangerous world", Mark Leonard added. The study shows that there is a growing "disconnect" between the policy ambitions of those in Brussels and how Europeans think. EU citizens should stick to their sentiments and not be convinced to look for conflict where it doesn't exist, or change what they see and hear with their own eyes and ears in favor of elusive things like the transatlantic partnership, which the US itself doesn't believe in anyways. And the last thing that should be done is to scare Europeans by convincing them they live in a "dangerous world" and China is the biggest threat or concern.
What the study makes clear is that a Cold War framing against China is likely to repel more EU voters than it attracts, and if there is one thing that politicians know it is that you have to listen to the polls in what your people are telling you instead of engaging in spins. Those that don't listen in advance get the signs eventually. At the end of the day it's not important what Biden wants.
Germany and its Neo-imperial quest
In January 2021, eight months ago, when rumours about the possibility of appointment of Christian Schmidt as the High Representative in Bosnia occurred for the first time, I published the text under the title 'Has Germany Lost Its NATO Compass?'. In this text I announced that Schmidt was appointed to help Dragan Čović, the leader of the Croatian HDZ party, to disrupt the constitutional structure of Bosnia-Herzegovina and create precoditions for secession of the Serb- and Croatian-held territories in Bosnia and the country's final dissolution. I can hardly add anything new to it, except for the fact that Schmidt's recent statements at the conference of Deutsche Atlantische Gesellschaft have fully confirmed my claims that his role in Bosnia is to act as Čović's ally in the latter's attempts to carve up the Bosnian Constitution.
Schmidt is a person with a heavy burden, the burden of a man who has continuously been promoting Croatian interests, for which the Croatian state decorated him with the medal of "Ante Starčević", which, in his own words, he "proudly wears" and shares with several Croatian convicted war criminals who participated in the 1992-1995 aggression on Bosnia, whom Schmidt obviously perceives as his ideological brethren. The question is, then, why Germany appointed him as the High Representative in Bosnia?
Germany's policy towards Bosnia, exercised mostly through the institutions of the European Union, has continuously been based on the concept of Bosnia's ethnic partition. The phrases that we can occassionaly hear from the EU, on inviolability of state boundaries in the Balkans, is just a rhetoric adapted to the demands by the United States to keep these boundaries intact. So far, these boundaries have remained intact mainly due to the US efforts to preserve them. However, from the notorious Lisbon Conference in February 1992 to the present day, the European Union has always officially stood behind the idea that Bosnia-Herzegovina should be partitioned along ethnic lines. At the Lisbon Conference, Lord Carrington and Jose Cutileiro, the official representatives of the then European Community, which has in the meantime been rebranded as the European Union, drew the maps with lines of ethnic partition of Bosnia-Herzegovina, along which the ethnic cleansing was committed, with 100.000 killed and 1,000.000 expelled, so as to make its territory compatible with their maps. Neither Germany nor the European Union have ever distanced themselves from the idea they promoted and imposed at the Lisbon Conference as 'the only possible solution' for Bosnia, despite the grave consequences that followed. Nor has this idea ever stopped being a must within their foreign policy circles, as it has recently been demonstrated by the so-called Janša Non-Paper, launched a couple of months ago, which also advocates the final partition and dissolution of Bosnia-Herzegovina. Such a plan is probably a product of the powerful right-wing circles in the European institutions, such as Schmidt's CSU, rather than a homework of Janez Janša, the current Prime Minister of Slovenia, whose party is a part of these circles, albeit a minor one. To be sure, Germany is not the original author of the idea of Bosnia's partition, this author is Great Britain, which launched it directly through Lord Carrington at the Lisbon Conference. Yet, Germany has never shown a will to distance itself from this idea, nor has it done the European Union. Moreover, the appointment of Schmidt, as a member of those political circles which promote ethnic partition as the only solution for multiethnic countries, testifies to the fact that Germany has decided to fully apply this idea and act as its chief promoter.
In this process, the neighbouring countries, Serbia and Croatia, with their extreme nationalist policies, can only act as the EU's proxies, in charge for the physical implemenation of Bosnia's pre-meditated disappearance. All the crimes that Serbia and Croatia committed on the Bosnian soil – from the military aggression, over war crimes, ethnic cleansing and genocide, up to the 30 year-long efforts to undermine Bosnia's sovereignty and territorial integrity – have always had a direct approval and absolute support of the leading EU countries. During the war and in its aftermath, Great Britain and France were the leaders of the initiatives to impose ethnic partition on the citizens of Bosnia-Herzegovina, and now Germany has taken up their role. In such a context, the increasing aggressiveness of Serbia and Croatia can only be interpreted as a consequence of the EU's intention to finish with Bosnia for good, and Schmidt has arrived to Bosnia to facilitate that process. Therefore, it is high time for the citizens of Bosnia-Herzegovina to abandon any ilussions about the true intentions of the European Union and reject its Trojan Horse in the form of the current High Representative.
Should there be an age limit to be President?
The presidential elections in Bulgaria are nearing in November 2021 and I would like to run for President of Bulgaria, but the issue is the age limit.
To run for President in Bulgaria a candidate needs to be at least 40 years old and I am 37. I am not the first to raise the question: should there be an age limit to run for President, and generally for office, and isn't an age limit actually age discrimination?
Under the international human rights law standard, putting an age limit is allowed in the context of political participation under the right to vote and the right to run to be elected. Human Rights Committee General Comment No.25 interpreting the International Covenant on Civil and Political Rights states that an age limit has to be based on objective and reasonable criteria, adding that it is reasonable to have a higher age requirement for certain offices. As it stands, the law says that having an age limit for president is not age discrimination, but is 40 actually a reasonable cut-off? National legislations can change. We need to lower the age limit and rethink what's a reasonable age for President, and not do away with all age limits.
We have seen strong leaders emerge as heads of state and government who are below 40 years of age. Sanna Marin, Prime Minister of Finland, became Prime Minister at 34. Sebastrian Kurz, the Prime Minister of Austria, was elected at 31. Jacinda Ardern, Prime Minister of New Zealand, assumed her position at 37. So perhaps it is time to rethink age limits for the highest offices.
The US has plenty of examples where elected Senators and Congressmen actually beat the age limit and made it despite the convention. The age limit for Senator in the US is 30 years old. Rush Holt was elected to the US Senate at 29. In South Carolina, two State Senators were elected at 24 years old and they were seated anyways. The age limit for US president is 35 years old.
In Argentina, the age cut-off is 30. In India, it is 35. In Pakistan, it is 45 years old. In Turkey, it is 40 years old. Iceland says 35 years old. In France, it is 18.
Generally, democracies set lower age limits. More conservative countries set the age limit higher in line with stereotypes rather than any real world evidence that a 45 year-old or 55 year-old person would be more effective and better suited to the job. Liberal countries tend to set lower age limits.
40 years old to be a President of Bulgaria seems to be an arbitrary line drawn. And while it is legal to have some age limits, 40 years old seems to be last century. Changing the age limit for president of Bulgaria could be a task for the next Bulgarian Parliament for which Bulgarians will also vote on the same date as they vote for President.