Undoubtedly, a significant number of governmental reports, academic articles and op-eds about the Covid-19 and its likely future impacts in the world societies and economies have already been published. Though useful for planning, anyone attempting to establish prospective post-pandemic scenarios should – above all – be aware that this effort is filled with uncertainty as the repercussions of any contagious diseases are always dynamic. Namely, its reliance on constant evolving factors, is causing persistent shifts in its impacts principally for those of economic and political nature.
With this thought in mind, and as the doubts shrouding a possible second wave of this pandemic slowly erode, it seems important to look at historical instances of uncontrollable transmission of disease and to understand how deeply it can politically impact human societies, albeit contextualizing the obvious differences brought by time and different social and technological backgrounds. Still, having these aspects in consideration, it should be noted the common denominator that the current pandemic has with other historical health emergencies: the absence of medical countermeasures that can truly eliminate the disease.
In fact, the failure to produce an "effective, no side effects" Covid-19 vaccine so far, led Governments to implement quarantines, which from the Black Plague to the SARS epidemic, proved to be of the one of the few historically effective methods to slow the spread of disease. A report, published by the WHO in 2006, characterized the use of quarantines in the SARS 2003  epidemic  to  be  "old  fashioned  and  labour  intensive"  although  effective  as  "these measures slowed the virus' spread, and, in the end, contributed to its containment". This lesson proves to be of particular importance in a time where the  economic and  social pressure to end lockdowns have succeeded in coercing Governments to ease the implemented containment measures, even if any positive outcomes of the latter are yet to be seen.
As stated by a report of the "Konrad Adenauer Center for International Relations and Security Studies" (KACIRSS) on the diseases' impact on political stability, "a high level of virulent infectious diseases may even destabilize politically stable and economically strong countries, like European or North-American countries", making relevant any effort of anticipating the reactions of the masses in the midst of a health emergency, so to contain any negative effects brought by it.
One of the most significant signs of political disruption caused by a pandemic event is the depletion of trust in elected leaders, as they seem unfit to tackle the challenges, which, if uncontained, may constitute as a prequel to a larger erosion of confidence in political institutions. This absence of trust leans on factors such as "high morbidity and mortality rates, a lack of medical knowledge and effective treatment options, and general unfamiliarity with the disease" that unchecked, could lead to higher "destabilizing effect of the disease as the population's perceived (and real) risk increases."
Case in point, as the plague in Athens, during the Peloponnesian War, took its toll on its population, historians reported a detrimental effect on Pericles leadership and other elements of the Athenian society, leading to anarchy and, ultimately, the end of its democracy. Similar conclusions could be drafted from the Black Plague, which had a significant impact on monarchical authority in Europe and other surrounding regions.
Taking these historical episodes into considerations, as we witnessed statements of political leaders downplaying the full impact of Covid-19, solely to later advocate – sometimes against scientific advice – a quick resumption of economic activity, it is important for these high dignitaries to remember that an unprepared society for a second wave will likely not be forgotten by its voters. Furthermore, this sort of impact should speak volumes for governments whose leaderships are near the end of their mandates or are based upon parliamentary coalitions that may no longer be viable within an unstable political context. Worse, in a time where social media and fake news are highly influential, this absence of political trust could be seen as an opportunity for populist political movements, as well as extremist groups, to gain momentum and harvest additional supporters for their causes. To this equation, we need to add profound financial repercussions that the Covid-19 pandemic is expected to have on international economies and, consequently, in the population's discontentment, considering possible signs of lockdown fatigue if a return to status quo ante is required.
Consequently, a second Covid-19 wave, converged with an economic downturn, could carry another political effect, namely in terms of a State's potential political regime change. Already mentioned examples of how the Athens plague undermined its democracy or how the Black Plague may have impacted feudalism in Europe need to serve as a testimony to democratic leaderships of how disease infested societies, if unchecked, may provoke/accelerate structural modifications in political regimes. Hopefully, recent decisions taken by a Central European government, still a formal democracy, may constitute only a temporary exception to the witnessed democratic progresses the world has seen during the past three decades.
Historical epidemic occurrences may also hold valuable lessons for the European Union (EU). Notwithstanding the obvious differences between the Catholic Church of the 14th century and the EU of today, both share the common denominator of being transnational entities with significant  political  influence  on  countries  in  Europe.  Much  has  been  written  on  the detrimental impact that the Black Plague had over the Catholic Church political influence in 14th century Europe, as the members of the clergy were unable to provide any answers to the needs of Europeans faced with rising casualties, causing a "decline in their confidence (…) of the institution of the Church".
Less than seven centuries later,  polls published by the European Parliament's Public Opinion Monitoring Unit clearly state that "In Spain, 90% of respondents consider that the EU is helping "a little" or "not at all" to resolve the situation caused by pandemic" while "88% of Italians feel that the other EU countries are not helping Italy and 79% think the same of the EU institutions. Still, a relative majority (42,6%) do not want to leave neither the EU nor the Eurozone". Given these numbers, it is becoming increasingly discernible that citizens of some Covid-19 hardly stricken  countries  questioned  the  EU's  lack  of  leadership  or  solidarity  to  support  their Member-States when in dire situations. Doubts could also be raised on the possible political effects of a second Covid-19 wave on the EU – Member-States relationship, if health and financial consequences remain unaddressed.
But even though the real impact of this coronavirus crisis on the Italians' opinion towards EU remains to be seen, the apologetic letter written by the President of the EU Commission, Ursula von der Leyen, in an attempt to justify the initial paralysis of the European institutions while staring at the Italy's health system collapse, appears to be a good omen. Furthermore, the EU leaders approval of a recovery fund to mitigate the deep financial and economic impacts of the pandemic are also vital steps, especially if the approved measures are proportionally beneficial to the affected Member-States and particularly their citizens, as otherwise a hypothetical second Covid-19 wave may prove to be more than just another obstacle in the path to Europe's unity.
Finally, considering the profound international impacts of Covid-19, it is difficult not to envisage on how terrorists might be inspired by the detrimental effects of disease on societies and how deadly pathogens could provide a significant boost for their propaganda necessities. Even though bioterrorism, and its contributing factors, has been substantially addressed by academia and official reports, it is still important to understand that several of the technical barriers preventing the terrorist use of pathogens have decreased over the last two decades, so new approaches are in dire need.
In 2015, I co-authored an article with Anne-Yolande Bilala that addressed the possible beneficial effects brought by the implementation of a "Bioterrorism Prevention Initiative" for the mitigation of this particular threat. Regardless of any merits embedded in this proposal, it would be of crucial importance if initiatives with similar desiderata could see the light of day in a post Covid-19 security context, so to decrease any risks of nonstate actors producing, acquiring and/or disseminating biological agents.
The above mentioned historical events may also provide important lessons, in terms of a future pandemic preparedness, for Governments to grasp, the most notable being that Biodefense needs to become a de facto priority, while adopting and investing in a more preventive posture towards biological menaces, so to anticipate emergencies of global and catastrophic nature. Case in point, regardless of the billions of Euros invested on healthcare every year, "global postures remain primarily response-driven and reactive to a dynamic and volatile emerging disease landscape. New epidemics are often met with an emergency response, after-action reviews and a promise to rethink prevention."
Serving as an additional testimony on the absence of structural changes over the last years, it is also important to remember the already mentioned WHO post-SARS report that concludes that  "communicable  diseases  had  been  given  insufficient  attention,  with  doctors  more interested in high-tech fields such as neurosurgery and molecular biology. Awareness levels were low and infection-control procedures had become slack. In sum, public-health systems were simply not ready for what happened." A preventive posture to avoid the same scenario would entail, for example, improved synergies between health and military research facilities, and  a  substantial  increase  of  financial  resources  for  the  latter  institutions  as  well  for universities, research centers, and the private sector so to monitor and develop new solutions aiming to tackle emerging diseases.
Finally, the preventive posture could also result in the formalization of a dual-use for national industries. One of the most positive aspects emerging from this pandemic episode was the ability for some industries and services to adapt their assembly lines in order to produce ventilators, masks and other PPE production. Although very commendable, the majority of these  decisions  were ad hoc and solely  based  on goodwill. A  future  proactive/preventive approach, in which Biodefense is a strategic cornerstone, will likely require that local industries– either within a national or regional context – have a pre-designated role for future pandemic episodes.
This "dual-use" purpose would likely require that Governments leverage lessons learned from the current pandemic, in order to anticipate needs, and negotiate with local industries what their future roles could be in a posterior health crisis. Such negotiation would call for exceptional skills in terms of planning, besides constant updates, as some companies may go bankrupt or transfer their facilities to another country. Nonetheless using a long term perspective to define the blueprints for the role of the civil society in a pandemic scenario may prove to be a fruitful exercise, as, when necessary, societies will be better prepared for a next catastrophic biological event.
When looking back in History to find other examples of epidemics, one could argue that the dimension of human fatalities was much larger or that the available scientific know-how to deal with the latter did not give societies sufficient countermeasures to tackle the disease. Both present valid points, but more important than lethality rates is the threat perception of the affected populations, the de facto origin of political instability, which in an age where information instantly travels across the globe and when efficient medical countermeasures against Covid-19 are still lacking, tends to be even more palpable.
As political leadership in democracies has, over the years, become a little more than a voters' expectations management exercise, political stability in a time of pandemics is likely to be more dependent on how fast governments implement mitigation measures coupled with communication transparency by leaderships and the fact-based science behind unpopular decisions, instead of finger pointing/social dividing speeches that, ultimately, will only lead to ghastlier public health scenarios and to a widespread of social turmoil.
French Senator Allizard: Mediterranean – Theatre for future Europe
On the historic date of March 08th – International Women's Day, a large number of international affairs specialists gathered for the second consecutive summit in Vienna, Austria. This leg of the Vienna Process titled: "Europe – Future – Neighbourhood at 75: Disruptions Recalibration Continuity". The conference, jointly organized by the Modern Diplomacy, IFIMES and their partners, with the support of the Diplomatic Academy of Vienna, was aimed at discussing the future of Europe and its neighbourhood in the wake of its old and new challenges.[1]
Along with the two acting State Presidents, the event was endorsed by the keynote of the EU Commissioner for European Neighbourhood and Enlargement, Excellency OlivérVárhelyi. The first, of the three-panel conference, was brilliantly conducted by the OSCE Sec-General (2011-2017), current IFIMES Euro-Med Director, Amb. Lamberto Zannier. Among his speakers, the first to open the floor was French Senator Pascal Allizard, OSCE Parliamentary Assembly Vice President (and its Special rapporteur for Mediterranean issues). Discussing regional issues of the southern Europe, its relations with the black sea and with North of Africa, this is what Senator outlined in his intervention:
As 2021 is the ten-year anniversary of the Arab spring, Senator Pascal highlights that a decade later, the events of the Arab Spring are crucial to the problems of today. Europe should reevaluate the region through European lens. Excellency Alizard criticizes Europe, due to the fact that it tends to take a step back from the region of the North African affected area of the Arab Spring conflict as there is an abundance of issues which are unlikely to be solved with ease. One must still do its duties difficult or not to question the region. Turning a blind eye to the problems there is something that Senator says Europe tends to do to elevate their consciousness.
However, one must look at the problems head-on. The biggest concern is that there is an explosive growth in population, a rise in radicalism and the Black Sea is what separates that northern conflict region of Africa and the Mediterranean coast of Europe.
The Mediterranean Sea is known to be one of the most crucial routes to transport illegal cargo such as drugs, hydrocarbon and human trafficking into Europe, specifically through Spain and Italy. It's crucial for Europe to have a discussion and plan for this region as it is a necessity to keep Europe safe. The different countries along the Mediterranean must come together to create a cohesive, inclusive yet firm diplomatic strategy to answer all the challenges. The region along the Mediterranean Sea is a strategic area for Europe as there are many ships that come from around the world into those ports.
Senator Pascal proceeded by stating that the eastern Mediterranean region escalated after the discovery of significant oil and gas reserves. It is also the ongoing war in Syria, and the destabilization of the region with yet unsettled situation in Libya (with presence of multiple external players which generate instability).
Senator reminded the conference audience that Europe must also mention the actors in the Mediterranean on the European side;
''The European Union is a leading player, at least for the display of its normative ambitions, also for its diplomacy of the checkbook and its discourse on human rights. However, the EU is not a power in the state and sovereign sense of the term, and it systematically curbs the sovereign aspirations of its own member states. The EU does not yet project itself sufficiently as an international actor capable of implementing a foreign policy. The EU appears, I believe, seen from the Mediterranean at most as a soft power which, in word, watches over the balance of power in the region. And the hopes placed in EU policy dedicated to the Mediterranean have been in vain, to the extent that they do not seem effective, neither economically nor politically, at least from my point of view, insufficiently. And if on the northern shore a few countries are interested in the Mediterranean area, we can see that this is not the center of European concerns and that no common vision is really emerging.''
Unification of that region is vital, because if the Mediterranean nations do not collaborate as a union and show their strength, control of that area could fall into the hands of Turkey, Russia and China. Turkey walks bold on the so-called Exclusive Economic Zone in Euro-Med, which would – if accepted – project its power in the Mediterranean, giving it a more prominent regional political role. Russia, which is once again becoming a key player in the Middle East, in the Black Sea area, in the Mediterranean and even in Africa walks bold too. Lastly, China which mainly projects itself through its trade, investments, and its bilateral agreements is pressing on maritime space too. Lately, Chinese military navy can be also seen.
The navies of the regions are preparing for a hardening of relations at sea in a strategic area where world trade flows, but also now, for the exploration, the exploitation of hydrocarbons. This is why questions of sovereignty are once again emerging, naturally in the sense of our concerns.
Hopefully the new US administration will also pay attention to the Mediterranean Sea and not just the Indo-Pacific.
The only way to establish more of a grip in the Mediterranean theater is cooperation. This is also the key to success for all the European nations gathered around unified code of conduct and rule of law.
Concluding, Excellency Pascal stated that the European Union must recognize realities of unresolved conflicts that are interwoven, as well as to understand the new challenges that can threaten the very fabrics of the Union: security, demography, unregulated immigration. If not equal to these challenges, the universalist European model might lose its grounds beyond point of return – warned Senator.
*the above text is based on the informal French language transcript as per conference recordings, which may have no intentionally caused minor omittances or imprecisions in the reporting.
---
[1]This highly anticipated conference gathered over twenty high ranking speakers from three continents, and the viewers from Australia to Canada and from Chile to Far East. The day was filled by three panels focusing on the rethinking and revisiting Europe and its three equally important neighbourhoods: Euro-Med, Eastern and trans-Atlantic (or as the Romano Prodi's EU Commission coined it back in 2000s – "from Morocco to Russia – everything but the institutions"); the socio-political and economic greening; as well as the legacy of WWII, Nuremberg Trials and Code, the European Human Rights Charter and their relevance in the 21st century.
Vienna Process: Re-visiting and Re-thinking the Euro-MED
On the historic date of March 08th – International Women's Day, a large number of international affairs specialists gathered for the second consecutive summit in Vienna, Austria. This leg of the Vienna Process titled: "Europe – Future – Neighbourhood at 75: Disruptions Recalibration Continuity". The conference, jointly organized by the Modern Diplomacy, IFIMES and their partners, with the support of the Diplomatic Academy of Vienna, was aimed at discussing the future of Europe and its neighbourhood in the wake of its old and new challenges.[1]
Along with the two acting State Presidents, the event was endorsed by the keynote of the EU Commissioner for European Neighbourhood and Enlargement, Excellency OlivérVárhelyi. The first, of the three-panel conference, was brilliantly conducted by the OSCE Sec-General (2011-2017), current IFIMES Euro-Med Director, Amb. Lamberto Zannier. Among his speakers were academics, government and IGO representatives of different yet complimentary backgrounds. Following is the brief, yet not conclusive, overview of the discussed.
Although not new, the EURO-MED cooperation matter remains a distinguished area where the field of possibilities is immense, and where progress vis-à-vis this transregional collaboration would tremendously impact all involved parties' crisis management abilities. Thus, re-discussing EURO-MED with, if necessary, a novel overall geometry is rightfully referred to as a both compelling and heat-on point of the agenda by the conference panellists.
Admittedly, the Barcelona Process of 1995 and PEM Convention having entered into force in early 2012 were remarkable initiatives aiming notably at introducing institutional frameworks and promoting deeper economic integration based on the "rules of origin" concept. However, the initiatives did not blossom as was hoped, and this is due to several reasons that keynote speaker Monika Wohlfeld (German Chair for Peace Studies & Conflict Prevention) and Ettore Greco (Vice-President of the Institute for International Affairs) have touched upon during the 8th March international event. Given that our awareness and understanding of the lack of prosperity having surrounded those first initiatives is key to re-thinking, re-calibrating and, in turn, re-engage in an auspicious direction, this piece will be taking you back to the salient message vehicled by Wohlfeld and Greco respectively.
First, Monika Wohlfeld took the floor and opened up by acknowledging the past attempts at reaching cooperation security agreements as well as their relative deficiency up until now. Equally as important to recognize are the causes of such failings: actually, little traction was brought on following the emergence of the first initiatives due to, notably, an absence of lasting peace climate and old relational patterns within the involved regions. The context having been set, she moves onto the juicy bit: the inherent inadequacy of the multilateral approach whose prints are all over the 90s and 2000s proposals. What is more, she brings to the table a counter-approach as the path to engage in: minilateralism.
The aforesaid concept offers an alternative cooperation modus that is more selective, flexible and mostly more conscious of, and focused on, the fact (or rather the reality) that States can participate in various ad-hoc frameworks with fluctuating membership. The latter would then be assessed through case-by-case interests, shared values and pertinent capabilities. In that sense, by contrast to a multilateralist angle, a minilateralist attitude would be oriented towards the sub-regional rather than the international; would be a voluntary undertaking rather than a binding one; would concern fragmented but specialized fields of application rather than general comprehensive ones; would tend to be multi-stakeholders rather than State-centric; and would proceed from a bottom-up thinking rather than top-down. Monika's suggested shift in approach answers an important need, backed-up by local expert voices, which is that of the serious taking into account of sub-regional diversity in the process. By doing so, the odds of reaching cooperation agreements with MED countries – and moreover the chances of those agreements panning out – would be extremely favourable.
As a matter of fact, Ettore Greco endorsed a consubstantial view in his intervention during the conference. More specifically, he believes that a looser approach based on an empowered co-ownership and greater attention to actual regional dynamics and situational constraints ought to be adopted.
Drawing on the Barcelona Process experience, which rendered apparent its shortcomings and the recent state of deadlock having affected the EURO-MED coop, Greco equally provides alternate lines of thinking. What is clear to him is that the integrationist approach and the idea according to which cooperation should equate to structural convergence makes for an unworkable avenue. Indeed, he also pointed out that one main issue encountered with regard to earlier cooperation models (whether in the Barcelona Process or even in the ERANET Project of 2013) was the transfer and, by way of symmetry, the reception of Western policies in the Middle-East and North Africa. This cannot help but to ring an old bell; that of Watson's concept of the 'legal transplant' and related limits. His famous metaphor of the mountain plant being uprooted and planted back in the desert, incurring changes to the plant's nature remains particularly striking and timely. This goes to show, or rather to remind some, that purely transplanting policies that are specific to a certain ethos without adjusting to the new local particular context can often prove inefficient.
Consequently, is it well-advised that the EU places more emphasis on, and deploys more energy towards, stability and resilience as goals set out for the cooperation in lieu of democratization along with institutional reforms. That being said, Greco concedes that in the absence of profound transformation – and hence, reforms, to some extent – stability in itself is seldom achievable.
Setting aside the MED inner conflict dynamics over which the EU has very little if no control over, new forms of partnerships should be relentlessly explored and promoted in a world where the concurring, mutually-reinforcing challenges can only be optimally addressed through wider pan-regional operative frameworks. In that spirit, Ettore Greco, as emissary for the IAI, lays out some ground requirements we need to achieve as a roadmap to making successful advances. These are:
The promotion of a comprehensive concept of security. That is, one more inclusive and of broader scope – and thereby more realistic.[2]
The creation of better synergies between the different cooperation frameworks (NATO-MED dialogue, OSCE MED partnership, Union of the MED) and clarification of each initiative's own added-value.
The involvement of valuable non-EU actors such as Russia or the United States of America.
Those guidelines, whether proposed by Monika Wohlfeld or by Ettore Greco, prove that the re-thinking of the EURO-MED cooperation is a breeding ground already being cultured. Besides, this political activation or mobilization towards re-shaping a functional and tighter cooperation scheme can be observed across the board of regional and sub-regional players directly affected by the issue. But mostly, there is one common thread in the discourses of those airing opinions to lead the best way: acknowledgement of the omnipresent diversity and pluralism at play. Only by factoring in the diversity of the partners and their sub-regions can there be beneficial arrangements and progress be made. This, of course, has to be understood as a central remark directed to the European side of the table. All and any relic of hegemony need be completely done away with, so as to fully respect and integrate the diverse identities in the process. And in fact, this shouldn't be hard to comprehend and assimilate from a EU perspective considering the various cultural bundles interacting within the EU block itself. What is more, the European Court of Human Rights is King as revering and upholding the national particularism of its Member States – it makes it a point of honour in the crushing majority of its judgements whenever harmony flirts too close with a homogeneity requirement that comes short of negating a region's tradition.
---
[1]This highly anticipated conference gathered over twenty high ranking speakers from three continents, and the viewers from Australia to Canada and from Chile to Far East. The day was filled by three panels focusing on the rethinking and revisiting Europe and its three equally important neighbourhoods: Euro-Med, Eastern and trans-Atlantic (or as the Romano Prodi's EU Commission coined it back in 2000s – "from Morocco to Russia – everything but the institutions"); the socio-political and economic greening; as well as the legacy of WWII, Nuremberg Trials and Code, the European Human Rights Charter and their relevance in the 21st century.
[2] On that, see the OSCE model proposal
U.S government's own negative impacts in eroding human rights and media freedom in Bulgaria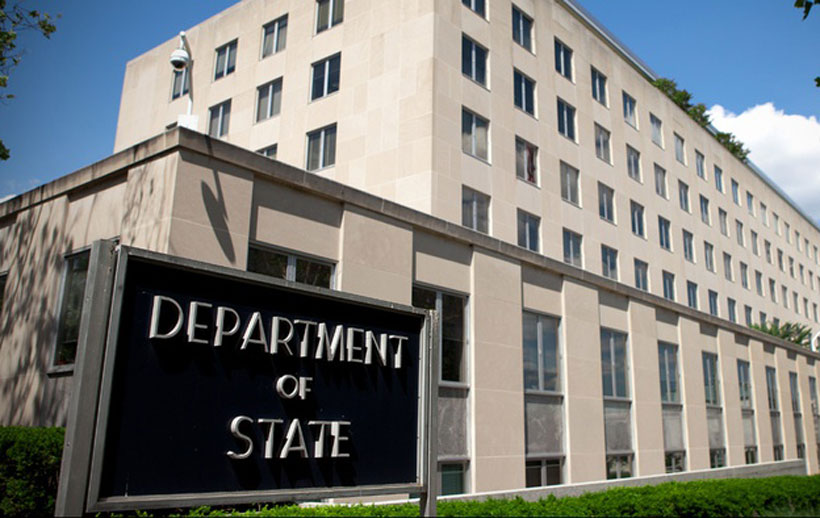 The US State Department's annual human rights report is out and just like every March, critical voices and activists around the world rush to their own country's section to see what's included and what they can use openly, with the stamp of criticism by the US government.
This year, the State Department's report on human rights violations in Bulgaria covers the usual ground and what's publicly known. There were no surprises. The section on Bulgaria includes very prominently violence against media and journalists, and excessive use of force by law enforcement.
What the US government does not include in the Bulgaria section is the US government's own role in the erosion of human rights and media freedom in Bulgaria through US government agencies such as the FBI, the CIA and even the US State Department. This is not something that US Secretary of State, Antony Blinken, is willing to admit – at least not yet.
Ever since the US Ambassador to Bulgaria, Hero Mustafa, stepped into office back in 2019, the US Embassy in Sofia has maintained media freedom as a main theme. And what was not to like about that? Many of us over here cheered. But not so fast.
The US government construes media freedom only in the narrow sense that only speech praising the US government and going after US enemies should be free and protected. "Direct your freedom of speech against them, not us" is not freedom of speech. That's not a rights-based approach; it's authoritarianism. This was my first-hand experience with the US government when I was a top finalist for UN Special Rapporteur on freedom of speech in 2020. This is also my experience with the US government, as I try to spearhead the debate on the joint European position on China, and as I criticize the new US confrontational policy on China in pumping a new unnecessary Cold War with China, while expecting Europe to follow blindly. When the US is provoking China into a military and defense race at China's own door step, while pointing to the Chinese reaction as "aggression", hoping to draw Europe also into this, European voices have to speak up and warn about what's coming on the horizon.
The FBI and the CIA operating under the hat of the US Embassy in Sofia make sure that independent, politically critical voices are kept under check through a variety of illegal means that the US government somehow believes it can allow itself to use on EU soil. The US State Department is happy to tag and sing along with the US intelligence agencies, here in Bulgaria. The Bulgarian authorities are also happy to help the US government in the US government's repression against progressive, politically critical voices in Bulgaria.
The key take-away for the US government in Bulgaria has to be that the history of US human rights infringements in Europe shows that things like that only drive the transatlantic bond further away, and don't bring it closer. This is also something that US President Joe Biden is about to learn very soon.