Pandemic Recovery: Three Sudden Surprise Gifts
A new shine across the globe is entering into boardrooms; a new awakening is enforced and a new shift emerges… the sudden popularity of new awakenings
"Simultaneous Synchronization": For about a decade, the most difficult concept at leadership discussions in both Public and Private Sectors was 'simultaneous synchronization' deployments of national mobilization and upskilling of hidden talents on large-scale digital platforms. The obvious lack of vision and skills at top leadership grossly failed to figure out how all this works. Suddenly this the most talked about topic and now seen as a rapid-fire solution to save broken economies. The pressure cooker with skeleton economies on the boil now released the steam and blew the whistle to attract open-minded innovative thinking. It is finally time to lead, follow or get out of the way.
"Upskilling and Reskilling": Last many decades the developed economies blatantly ignored this area, now like a shark bite there is global panic on upskilling and reskilling. Ignoring once the almighty German model of apprenticeships treated as young apprentices changing motor-oils but preferred teams of 'wet behind ears' young MBA learning hedge-funding charades as better options. Today, upskilling to have skilled citizenry capable of quality productivity, performance and profitability is critical for survival. Trade wars are old schools, internal wars of upskilling to create confident and skilled citizenry to save nations with dignity is now the new survival.

"Big Business Is Big But Small Business Is Bigger": Economic heads buried in sands all across Western economies, resorted to election time lip service and allowed SME slip down the drains. Big business is big but small business is bigger. Worship accordingly. Today, heavy membership fees from top firms influence all trade gropus all over the world, from national trade associations to Chambers of Commerce, sacrificing local SME. Do the math.
Pandemic awakened the sleeping giants: All three above challenges now suddenly becoming survival strategies and nation-by-nation and town-by-town new language and dialogues emerging as new gifts. A new series under way with high-level discussions and debates by Expothon covers such topics in greater depths.
The warm facts and cold realties;
No further proof required, as most economies of the world will be shrink-wrapped soon
No further validation needed, as unlimited printing monies will only flush down economies
No further denial accepted, as hologramic stock markets would not save the jobs or nations
When facing truth becomes taboo; facing music suddenly becomes a new occupation; understanding cries of public a new art and swimming against economic currents a new science. In the end, it is the critical analysis and complex problem solving to capture the dodging truth a new survival strategy. The pandemic recovery is no longer election theatrics but all about Mastery of Covidism, isolating novices to deal with recessions, depressions and economic compressions.
The Tribulation Factors:
50% of downtown of the world may not survive,
50% of tall office towers may go empty,
50% of retail shops may go under,
50% businesses may never open,
50% of displaced may not have any jobs soon
50% of office workers may work remote,
50% economies may lose a decade to recover,
50% hailed as successful economy now mostly illusion,
50% political leadership may lose power,
The Brand New Thinking:
100% brand new concepts underway around the world,
100% new skill-transformation underway for new economies,
100% global thinking connecting and shaping new platforms,
100% new vision shaping brand new voice over fakery,
100% rejection of old competency over new thinking,
100% adoption of entrepreneurial mobilization,
100% rise on diversity, tolerance and equality issues
100% critical thinking to face the truth and march forward,
Stand up and claim your expertise. Ask three difficult questions:
Why local or national mobilization of entrepreneurialism and upskilling of small midsize business base cross the nation stalled? When or if ever was there a national or regional bold debate on these specific topics? What possible forces are stopping such activities and why?Depending on style and type of skilled leadership and based on geographic location some, amazing opportunities are alive and active. Study Pentiana Project, especially when all such thinking is not new funding dependent as these are all deployment hungry and execution starved steps. The rest is easy

Beyond Being Friends: Russia and China Need an Exclusive Trade Deal
RIAC's 6th "Russia and China: Cooperation in a New Era" conference in early June showcased once again the will of the two countries to develop exclusive relations. Over the past 1,5 years, during the global COVID crisis, both sides have even strengthened mutual trust. In December 2020, Russia and China extended their agreement on notifying of missile launches for ten years. The document was first signed back in 2009. In March, the Treaty of Good Neighborliness and Friendly Cooperation was prolonged, an agreement that has been cementing relations between the two countries for the past 20 years.
Economy contrasted with diplomacy
However, despite the long-sustained foreign policy rapprochement, Russia and China are far from fully utilizing their bilateral economic potential. In 2020, according to the Russian Federal Customs Service, China accounted for 15% of Russian exports, slightly more than the CIS (14%), but significantly less than the European Union (41%). In the structure of Russian imports, China is also behind the EU (24% versus 35%), although European food producers have been excluded from the Russian market since 2014.
In turn, Russia's share was only 2% in Chinese exports in 2020 (with the U.S. share at 17%), and only 3% in imports (compared to 7% for the U.S., according to the ITC).
The same proportions are typical of mutual investments. By the beginning of 2020, according to the Bank of Russia, China accounted for less than 0.1% of accumulated direct investment from Russia (with the share of UK and Germany at 4.7% and 2.2%, respectively). As for the accumulated direct investments in Russia (private equity and debt instruments), China's share reached only 0.8% in early 2020, while the share of France stood at 4.5%.
State support and guarantees
So far, Chinese investments are mainly focused on energy projects, directly or indirectly supported by the state. Yamal LNG plant is a good example (20% owned by CNPC, 9.9% by Silk Road Fund): to launch construction, Novatek raised a loan from the NWF (the sovereign National Wealth Fund). Another example is the Amur Gas Chemical Complex (AGCC) of Sibur (40% owned by Sinopec)—the project will enjoy tax benefits as a resident of one of the Far Eastern territories of priority social and economic development.
Ensuring guaranteed demand is equally important, as is the case for AGCC, which is located in close proximity to the world's largest consumer of polyethylene and polypropylene, the basic petrochemical products. It is no coincidence that Sinopec acquired the share in the Amur GCC in December 2020. By that time, it became obvious that the consequences of the COVID-19 pandemic would not undermine China's growing demand for petrochemicals and gas chemicals: according to the ICIS forecast, China's share in global polyethylene imports will grow from last year's 35% to an even more impressive 43% by 2030.
Looking for viable opportunities
The lack of proper state support and guarantees restrains export in a number of other industries that could have enjoyed demand in the Chinese market. This is apparent in trade frictions between China and the U.S. (in 2019, China imposed a 25% duty on methanol imports from the United States) and Australia (in late 2020, China stopped buying Australian coal). And vice versa, it is possible to increase exports by searching for opportunities in the market niches where Russia's sales potential is coupled with absolute competitive advantages, such as in helium market, where Russia may become one of the leading suppliers in the coming years.
Another option is the supply of Russian hydrogen, which may allow China to partially replace petroleum imports from other markets.
In 2018, according to the International Energy Agency (IEA), some 1,790 hydrogen-fuel vehicles were operated in China out of 12,952 vehicles globally; the Chinese fleet grew to 6,180 out of 23,354 units by the end of 2019. And by 2025, China plans to increase the number of buses and trucks utilizing fuel cells to 50,000, jumping to 1 million by 2030.
Moreover, in 2035, according to the official plans of the Chinese authorities, half of vehicles sold should be climate-neutral, while the other half should be powered by hybrid engines or fuel cells. A similar shift will have to occur in Japan, where the IEA forecasts the number of fuel cell vehicles to increase from 3,633 in 2019 to 200,000 in 2025 and to 811,200 in 2030.
Russia has its competitive edge in hydrogen energy development, taking into account both global leadership in natural gas reserves (used for blue hydrogen stored in ammonia) and 50+ years of experience in nuclear and hydropower, needed for production of yellow and green hydrogen. Understanding these advantages is already reflected in regulatory plans: for example, according to the Energy Strategy adopted last year, Russia will increase its hydrogen exports from 200,000 tons in 2024 to 2 million tons in 2035.
Towards a New Trade Deal
We need to admit though that a long-term strategy requires long-term investment, while the latter requires secure return. To ensure there is a horizon for planning your business, you do not have to necessarily rely on budget support: this is where exclusive trade agreements can step in. This is exactly what the Trump administration did in January 2020, concluding an agreement that obliged China to boost U.S. imports by $200 billion above the 2017 level within two years, including energy ($52.4 billion), industrial production ($77.7 billion) and agriculture ($32 billion). The deal, among other effects, has revived the U.S. oil exports to China: supplies grew to 482,000 barrels per day (bpd) after a drop to 137,000 bpd in 2019 amid trade wars.
An exclusive trade deal between Russia and China could be smaller in volume and longer in tenor (aiming to increase the trade turnover by $100 billion in at least five years) to help resume, for example, the Eastern Petrochemical Company project, in which ChemChina planned to participate previously but which remained on paper. In return, Russia could extend the tax benefits, which are now granted to residents of the territories of priority social and economic development (TOSER), to all projects with Chinese shareholding. Thus, the success story of cooperation between Sibur and Sinopec in the Amur GCC would be replicated and should provide a new impetus to bilateral relations.
From our partner RIAC
Emerging Global Market: The Arctic on Sale
The Arctic Region has been on a journey of geographical transformation induced by Climate Change. There has been an unprecedented percentage of what can be called as 'Arctic metamorphosis', witnessed as deterioration of climate twice as rapidly as in any other parts of the globe. There has been a decline in permafrost, sea ice, icesheets on ocean and glaciers in Canada, Alaska and Greenland. There has been a notable decrease in the snow cover that earlier occupied the land. These alarming changes in the physiography were first recorded in the 1980s, and have been on a surge ever since. Around 1 million sq. miles of sea ice has shrunk over the past 50 years, halving the size of Arctic icecap. The transition has been so dramatic that it actually cut the turf to Asia, revealing the fabled North West Passage that European voyagers sought for shipping, for over centuries. As of now, it is not a matter of 'if' but 'when' will the Arctic Passageway open for regular marine transportation and when would the exploration of lucrative natural energy-resources deposits be possible.
The regressing ecosystem has been the least of the concerns of our capitalist, market-oriented, energy-hungry world economy. The melting ice caps and glaciers are paving way to access the 13% of globe's undiscovered oil and 30% of globe's undiscovered natural gas lying at the Arctic Ocean seabed, a home for world's largest unexplored hydrocarbon resources. These percentages translate to 1,669 trillion cubic ft. of natural gas and 90 billion barrels of oil. The economic potential for these energy resources exceeds $2.7 trillion for Russian and American Arctic claims alone. Moreover, there are massive reserve potential for rare mineral resources also referred to as "strategic minerals" including palladium, nickel and iron-ore which might prove to be a greater economic driver than the energy resources. Apart from these, Arctic has tremendous new opportunities for high sea fisheries. The Ocean has vast stocks of marine resources including shrimp, pollock, crab, pacific salmon, squid, scallop and halibut. It would prove to be a new arena of industrial-scale commercial fisheries.
Whether the sought resources are hydrocarbon or mineral, they must procure their route via pipelines or shipping routes to the receptive markets. Along with the transitory passageways, there would be need for improved icebreakers, satellite and communication and navigation, deep water ports, double-hulled shipping vessels, operational search and aviation infrastructure development.
An even better incentive would be the inception of new sea-lanes initiated by the great Arctic melt. The shipping shortcuts of Northwest Passage and Northern Sea Route would reduce the nautical transit times by days, saving the shipping corporations thousands of miles. The sailing distance between Yokohama and Rotterdam on the Northern Route would be reduced from over 11,200 nautical miles to 6,500 nautical miles, in comparison with the current Suez Canal Route which would amount to the savings of up to 40 percent of shipping expenses. Likewise, the voyage from Rotterdam to Seattle would be trimmed by the North West Passage by over 2000 nautical miles, reducing the distance up to 25 percent in comparison with the current Panama route.
Taking into consideration the fuel costs, canal fees and various other miscellaneous charges that amount to lofty freight rates, these alternative passages will cutback the charges of a single voyage down to at least 20%, saving around $17.5 million, saving billions of dollars per annum for the shipping industry. These savings would be far greater for the megaships that have to sail all the way down to Cape Horn and Cape of Good Hope.
The world's shipyard's have already started building ice-capable ships, beginning with the groundwork for the navigation through these sea-lanes and for the transport of Arctic's natural gas and oil. Billions of dollars are being invested by the private sector for the fleet of Arctic tankers. As of now, around 496 ice-class ships have been built worldwide. The gas and oil markets are investing in development of the avant-garde technology and assemblage of advanced ships, possessing double-acting tankers, that have the dual technology of steam bowing through open waters and proceed stern to smash through deep ice. These ships are capable of sailing unobstructed to Arctic's burgeoning gas and oil fields independent of ice-breakers. These breakthroughs will turn previously unviable commercial projects into booming businesses.
Of all the Arctic States, the largest stakeholder with greatest intrinsic interests in the region is Russia. A significant 20% of Russia's GDP comes of Russian North, and accounts for 22% of all exports. The resources of Arctic are of strategic importance for Russia; therefore, it has been so far the largest investor in the region. It has invested in the fleet of nuclear-icebreakers, the only of their kind in the world. Further, Russia is planning on increasing this fleet of 4 to 13 with a cost of over $1.5 billion. Moreover, Russia has endeavored to aim for 92.6 million ton of cargo by 2030. These hefty investments indicate the importance of Arctic as a market. Russia aims at charging for providing the sea-routes since it has the largest geographical proximity to the ocean as well as providing shipping and infrastructure in the region. The claims of oil and gas reserves are only an addition to the gains Russia has planned to make.
Considering the economic and strategic importance of Arctic and its potential to add to the world's oil, gas, minerals, fisheries and shipping reserves makes it an alluring marketplace. The region itself has been divided among the 'Arctic States' that include Russia, Denmark, Iceland, Finland, Sweden, Norway, Iceland, and United States. Instead of making efforts to preserve the deteriorating environmental conditions and the physiographic challenges, these states are only in a race of dividing the resources among themselves and reaping as much assets as they can. All domains of Arctic are on sale; including the sea, land, sea-life, mineral resources, and fossil fuels. The world has turned a blind eye towards the environmental consequences for the region of the planet which will surely cost more than the gains. Putting nature's commodities on sale have never worked in anyone's favor.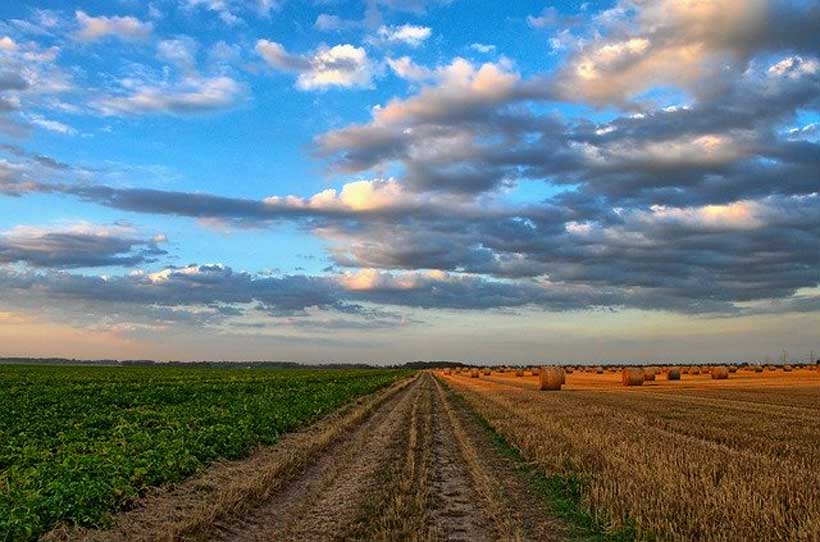 COVID-19 has hit at a time when food crisis and malnutrition are on the rise. According to the most recent UN projections, the pandemic-induced economic slump would cause as many as 132 million people to be hungry. This would be in addition to the 690 million people going hungry now. At the same time, 135 million people suffer from acute food insecurity and in need of urgent humanitarian assistance. Although the pandemic's transmission has slowed in certain countries and cases have decreased, COVID-19 has resurfaced or is spreading rapidly in others. This is still a global issue that needs a worldwide solution.
This epidemic threatens both lives and livelihoods. COVID-19 has had a wide-ranging and disruptive influence on the agriculture system. We fear a worldwide food crisis unless we act quickly, which may have long-term consequences for hundreds of millions of children and adults. This is mostly due to a lack of food availability — as wages decline, remittances decline, and in certain cases, food prices rise. Food insecurity is increasingly becoming a food production concern in nations that already have high levels of acute food insecurity.
Agriculture continues to serve a reliable and major part in world economy and stability, and it remains the primary source of food, income, and work for rural communities, even in the face of a pandemic. The impact of the COVID-19 pandemic on the agricultural system and sector has been wide-ranging, causing unprecedented uncertainty in global food supply chains, including potential bottlenecks in labor markets, input industries, agriculture production, food processing, transportation and logistics, as well as shifts in demand for food and food services.
The COVID-19 epidemic not only created a new sort of agricultural catastrophe, but it also occurred at a difficult moment for farmers. In most years during the last few years, global commodity output has exceeded demand, resulting in lower prices. In 2013, the Food and Agricultural Organization (FAO) predicted decreased global agricultural output growth due to limited agricultural land development, rising production costs, expanding resource restrictions, and increasing environmental concerns.
An expanding global population remains the main driver of demand growth, although the consumption patterns and projected trends vary across countries in line with their level of income and development. Average per capita food availability is projected to reach about 3,000 kcal and 85 g of protein per day by 2029. Due to the ongoing transition in global diets towards higher consumption of animal products, fats and other foods, the share of staples in the food basket is projected to decline by 2029 for all income groups. In particular, consumers in middle-income countries are expected to use their additional income to shift their diets away from staples towards higher value products. Meanwhile, environmental and health concerns in high-income countries are expected to support a transition from animal-based protein towards alternative sources of protein.
When people suffer from hunger or chronic undernourishment, it means that they are unable to meet their food requirements – consume enough calories to lead a normal, active life – over a prolonged period. This has long-term implications for their future, and continues to present a setback to global efforts to reach Zero Hunger. When people experience crisis-level, acute food insecurity, it means they have limited access to food in the short-term due to sporadic, sudden crises that may put their lives and livelihoods at risk.
However, if people facing crisis-level acute food insecurity get the assistance they need, they will not join the ranks of the hungry, and their situation will not become chronic
It is clear: although globally there is enough food for everyone, too many people are still suffering from hunger. Our food systems are failing, and the pandemic is making things worse.