Localism in Tajikistan: How would it affect Power Shift?
Localism has been a common characteristic of all post-Soviet Central Asian Republics. However, this trait emerged in different ways; the result has been almost similar. The phenomenon is stemmed in unbalanced developing process and deliberate unequal share of power between regional ethnic groups of Communist leadership.
In Tajikistan, the localism emerged with more complexity and has had more important consequences. In some opinions, a main root of Tajik Civil war of 1990s, had been localism which followed by religious and ethnic gaps. In essence, the war was between privileged and unprivileged areas[i]. Akbar Turjanzoda, prominent cleric and former deputy Prime Minister of Tajikistan, who is also known as an influential figure of peace process, in his book "Between water and Fire" emphasizes on a "balanced localism" and suggests the balance between representatives of different regions is the only solution for a peaceful country[ii]. After the Peace Accord, everyone expected to do so, however the balance never achieved.
In Soviet era, the Khujandis were the most influential group that enjoyed the power and wealth. Moscow-based leadership made this due to dual Uzbek-Tajik identity of the Khujandis, who were under influence of regional focal point, Tashkent. On the other hand, any possibility for anti-Russian integration in North was less than any other region in Tajikistan. Moreover, contemporary history of revolutionary groups, such as Basmachis, shaped basically in other regions. Furthermore, in separation of Tajikistan from Uzbek Soviet Socialist Republic in 1920s, the Khujandi elites made the most important role[iii]. These factors made the Khujandto become the prominent region in the Soviet Republic.
If we consider the identity based division of regions as Shavkat Kasymov did in his paper "Regional fragmentation in Tajikistan: The shift of powers between different identity groups[iv]", we can categorize the Tajik regions into Khujandis, Kulobis, Gharmis and Pamiris. The geographical position of these 4 group is shown in Map-1.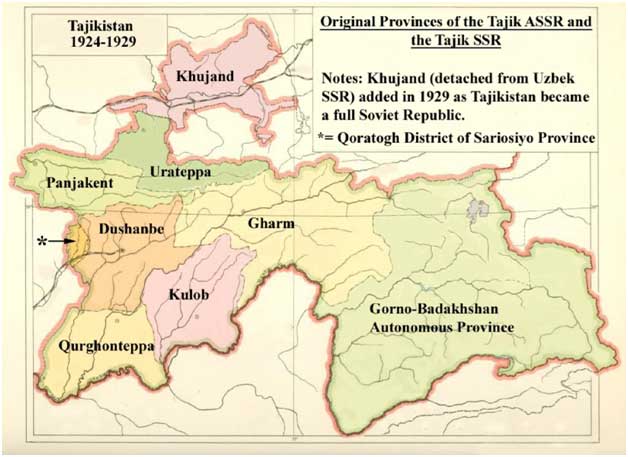 Map-1: Geographical position of identity-based division of localism in Tajikistan[v]
However, after about 3 decades of geopolitical changes, more geographical features should be considered on Tajik localism. As you can see in Map-1, the identity based divisions do not cover all provinces of 1920s in Tajikistan. North, South, East and Center are the 4 contemporary key regions of the country which represent a political clan. Map-2shows the political map of independent Tajikistan.
Migration process is a factor that should be considered in second division, especially about capital, Dushanbe. The city is geographically included in Centre, but the political view is unknown due to migration flow[vi]. It is also true about those who were displaced from Gharm to Qurghonteppa for agricultural purposes during Soviet era.
Map-2: the political map of independent Tajikistan[vii]
The Southerners leading by Emomali Rahmonhave enjoyed the power in post-peace era. In all political arrangements, the localism has been affected roguishly. Danghara, Kulob and Farkhor from Khatlon province are the main power spots in South. The major powerful and influential structures within the state such as President, Defense, Internal and external affairs ministries and State committee for National Security are all occupied by elites from these regions. Interestingly, opposition believes that according to peace accord, the power-based ministries such as defense and internal affairs should have been allocated to opposition, but never done[viii]. Even the potential president of the country, the Chairman of National Assembly is from south. According to the country's constitution, in case of death, resignation and incapability of the President, his duties prior to the beginning of assignment by the new President, shall be taken over by the Chairman of National Assembly[ix].
Although the Northerners' share of power has been marginalized dramatically after the Soviet dissolution, they have still a better situation comprising to Center and East. According to the political traditions rooted in contemporary coalition during the civil war, the Prime Minister belongs to North. However, his power has been limited, and the authority shared with 3 deputies from south. The position is personally under the control of the President.
The Eastern Pamirs have even the smallest share of power, due to their different culture, language and especially religion. It seems that the Eastern elites trend to have more control to their homeland as an autonomous region, rather having national power positions. After 2018 conflicts, as a sign of appeasement, Rahmon appointed a figure close to Aga Khan, the religious leader of the Pamiris as provincial chief. But in National share of power, nothing considerable.
Understanding the share of Center is a bit more complicated. Today, the Islamist opposition is mainly from this part of the country. This clan is known to its religious identity. Sayid Abdulloh Nuri, the former leader and founder of Islamic Renaissance Party of Tajikistan (IRPT) and former United Tajik Opposition (UTO) is a well-known politician of this share. Other prominent political Islamist figures such as former deputy PM, Akbar Turjanzoda, and Muhiddin Kabiri also belong to this clan. While the first circles of IRPT had a Gharmi identity,a senior member of the party believes that they have moved beyond localism and as an example, the party introduced Muhammadalihayit, deputy chairman of the party, who was from South.
On the other hand, there are also small shares within the State. Chairman of the Assembly of Representatives belong to Center. There are also some ministries from cities like Hisor and Vahdat.
Muhammadjon Kabirov, a Tajik expert and senior member of IRPT believes that the current power sharing system in the country is even deceptive. First, there are always parallel state institutions which belong to Southerners such as Energy and electricity institutions. On the other hand, while the head of these structures have been granted to non-Southerners, the deputies and bodies of the ministries are mainly from South. Thirdly, these elites cannot and not let to apply their local identity in their share of power. And eventually, these points are while the state positions are not sold by money or allocated by political affiliations.
Region
Position
Name
Birth place
South
President
Emomali Rahmon
Danghara
Chairman of National Assembly
Rustam Emomali
Danghara
Prosecutor General
Yusuf Rahmon
Vose
Min. of Defense
SheraliMirzo
Hamadoni
Min. of Internal Affairs
Ramazon Rahimzoda
Kulob
Min. of Foreign Affairs
Sirojiddin Muhriddin
Temurmalik
Chmn., State Committee for National Security
Saymumin Yatimov
Farkhor
Mayor of Capital
RustamEmomali
Danghara
Min. of Education & Science
Muhammadyusuf Imamzoda
Temurmalik
Min. of Finance
Fayziddin Qahhorzoda
Vose
Min. of Industry & New Technologies
Zarobiddin Fayzullozoda
Danghara
Min. of Health & Social Protection
Jamoliddin Abdullozoda
Danghara
Min. of Agriculture
Amonullo Solimzoda
Danghara
Min. of Economic Development & Trade
Zavghi Zavghizoda
Hamadoni
North
Prime Minister
Qohir Rasulzoda
Ghafurov
Min. of Justice
Rustam Shohmurad
Konibodom
Min. of Labor, Migration, & Public Employment
Golru Jabbarzoda
Isfara
East
Min. of Culture
Zulfia Davlatzoda
Khorog
Min. of Transport
Khudoyor Khudoyorzoda
Rushon
Center
Chairman of the Assembly of Representatives
Muhammadtoer Zokirzoda
Rasht
Min. of Energy & Water Resources
Usmonali Usmonzoda
Vahdat
Table1: Distribution of power in Tajikistan based on localism[x]
Localism and Shift in power
At the first shift in power in Tajikistan, the localism played a prominent role. In the post-Soviet era, th power was in hands of Northern pro-communists. At the same time that the central Gharmis and Easters were seeking a share in the country's politics, the Southerners made a clever coalition with weakened North and simply came into power. At that time, when the opposition groups were mainly in unstable and disconnected regions of the country as well asAfghanistan, the political competition defined between North and South. In 1994, the Northern candidate, Abdumalik Abdullajanov lost the election to the Southern Emomali Rahmon (with 58%)[xi]. Then the war started, the peace achieved and due to the peace accord, 30 percent of the state's power should have been allocated to opposition. However, step by step it tends to less than 5 percent.
There are evidences that the country is moving toward another shift in power. The amendments applied to the constitution in 2016 and paved the way for Rustam's (Rahmon's elder son) presidency. In the meanwhile, Rustam is experiencing different positions and rising up for a hard inter-family competition (maybe with his more experienced sister Ozoda) and a wider confrontation with potential and indeed opposition (Internal power groups and exiled opposition).
There is still a possibility that due to recent security issues and Corona Virus pandemic, Rahmon run for another term and keep the power by himself. Maybe he will learn from Nazarboyev's experience. After achieving the leadership of country's National Assembly by Rustam, it is more likely to happen. The situation allows Rahmon to leave the power anytime he wants and does surprise everyone.
Any of the mentioned scenarios happen to the shift in power, the localism's affect is inevitable. As Rahmon raises his effective/ineffective authoritarianism with less legitimacy, he will try to change the regional balance in power in a kleptocratic space of the country's politics. The change in Badakhshon and other changes of more politicians from Danghara were the first spark. But still no one guarantee that the unrests won't happen again. We should also expect consolidating the ties with North by various means.Recent change in the Minstry of Labor, Migration and Public Employment, that a politician from North (GolruJabbarzoda) replaced a Southern Minister (Sumangul Taghoyzoda from Kulob) is a sign. Also Rahmon's granddaughter married to a Northern family (grandson of the governor of the Sughd region)which was unprecedented in large presidential family[xii].
How the exiled opposition will play their role in a country increasingly closing, is a vague question at the moment. Forming the coalition such as "National Alliance" is unlikely to affect dramatically. However, the restricted figures inside the country, has a potential to fire the spark. That's the reason that Rahmon will strictly keep control over these two potentials.
Endnotes
---
[i]For example HoonanPeimani in his book "Regional Security and the Future of Central Asia: The Competition of Iran, Turkey, and Russia" believes that; P. 28.
[ii]АкбарТӯрадчонзода, Миёниобуоташ, Саҳифа 5-6.
[iii]Talking to a Tajik expert, MuhammadaliBurhanov.
[iv]Kasymov, Shavkat, (2012), Regional fragmentation in Tajikistan: The shift of powers between different identity groups, Asian Geographer, 30:1, 1-20.
[v]The map is obtained from "Tajikistan: A Political and Social History" written by Kirill Nourzhanov and Christian Bleuer, published by ANU E Press, P. 93.
[vi] Three Tajik experts suggested that Dushanbe does not represent any political clan.
[vii] The map is obtained from: https://geology.com/world/tajikistan-satellite-image.shtml.
[viii]Interview with MuhammadjonKabirov, Tajik expert and senior IRPT member.
[ix]Article 71.
[x] The data in table mainly obtained by official websites and in some cases by talking to Tajik experts.
[xi]Freedom in the World 1999 – Tajikistan, https://www.refworld.org/docid/5278c6d58.html.
[xii]Tajikistan: Marriage Folds Northern Elite Into Presidential Family, https://eurasianet.org/tajikistan-marriage-folds-northern-elite-into-presidential-family.
Paths to Regionalism in Central Asia: Internal Struggles Preclude External Change
At the dissolution of the Soviet Union in 1991, the newly formed Central Asian republics were quickly thrust into a world of uncertainty, security issues, economic dilemmas, and more importantly, opportunity. The lack of transformative policies prior to the collapse of the Soviet Union would exacerbate these issues while limiting immediate growth potential. The rapid disintegration of trade and manufacturing linkages previously established in the Soviet Union led to recession, with per capita incomes falling to half of its pre-independence levels by the mid-1990s.Geography has condemned Central Asia to influence from both regional and global superpowers, namely that of Iran, Russia, and China. And while somewhat separate, Turkey remains an important political and religious influence in the Central Asia republics. Given these circumstances and others, we must determine what, if anything in particular, has stunted the development of a Central Asian region that could become a prominent and impactful actor on the world stage. Remaining susceptible to economic, political, and militaristic influence, as well as being landlocked and in close proximity to ongoing wars against terrorism and extremism, is there any hope at all for a regional institution to take hold and grow?
Building the "Region"
Foremost, a suitable definition for regionalism must be reached. Though despite widespread interest in the subject, we lack a consensus on what its true definition is, in part because many observers do not agree on what constitutes a region. Common definitions of the concept range from geographic proximity, social and cultural homogeneity, shared political attitudes, political institutions, and lastly, economic interdependence. Other definitions include Joseph Nye's idea of states linked together by both a geographical relationship and a degree of mutual interdependence, or a more general theory of states or peoples held together by common experience and identity, custom, and practice. While it is arguable that Central Asia has qualified as a region in each of these categories, it is not that easy to solidify the construct. More in-depth debates on the subject are torn between what constitutes regionalism and what is instead, regionalization. Regionalism is widely understood as the political process marked by cooperation and policy coordination, while the concept of regionalization is instead, an economic process in which trade and investment within the "region" grow more rapidly than it does so with the rest of the world.
A concise definition for the potential prospects of a region, or regional construct, is significant due to the effects it can have on the outcome of the region itself. Being precise in defining the size and membership of the region in question, can be enormously important for some states and actors as higher levels of cohesion and commonality may prevail in smaller, tightly defined geographical areas whereas loosely defined regions can be manipulated to permit or deny inclusions to states at will. As critical, is the distinction between regionalism and multilateralism. The former, I define similar to Joseph Nye's, as a geographically contiguous collection of states and non-state actors who's shared past, present a cultural, economic, and political interdependence that must be sustained to achieve a profitable future. The latter, I will define as a collection of state actors who act in the interest of a common goal that will be mutually beneficial to all involved but is not required for independent state progression. The key difference being the necessary interdependence of a region vice the opportunistic cooperation between actors in multilateral arrangements. With origins in the 1940s and the rise of the Cold War, the oldest and most ambitious of post-World War II examples of regional cooperation is the European Union (EU), which will be our benchmark from which to judge regionalism around the world. Over the years and through economic, political, and security cooperation, the EU has deepened integration and transformed into a successful, worldwide entity. The EU should represent the goal of Central Asian regionalism, but to date, there has been nothing worthy of the comparison.
Why Hasn't it Worked Yet?
There has been a general resurgence of regionalism in the post-Cold War international order and with that, has come a proliferation of regional and subregional groupings that have involved the Central Asia states. Unfortunately, behind the lofty rhetoric of national leaders and the hollow statements of cooperation between the Central Asian republics, the region has been embroiled with increasing frequency of internal conflicts, trade wars, border disputes, and disagreements of the use of water and energy resources. One of the most prominent regionalist projects in Central Asia was the Commonwealth of Independent States (CIS), which was designed to manage the collapse of the Soviet Union and foster a unified post-Soviet cooperation among the newly formed republics. By the end of the 1990s, it was obvious that due to a failure to integrate any Soviet successor states in any meaningful sense, constituted of multiple, helpless structures that created an illusion of commonality, and with political leaders admitting there was much left to be desired, the CIS had failed. Examining the failure of regionalism attempts like the CIS in Central Asia, we should find that domestic issues have precluded greater external cooperation among Kazakhstan, Uzbekistan, Tajikistan, Kyrgyzstan, and Turkmenistan. In particular, border conflicts between the republics, political reform, resource security, and sustainable economic institutions must first be dealt with in order to set the conditions for a successful regionalism effort.
Internal border conflicts, like that of the Fergana Valley, are hindering a larger regional construct and preventing Central Asia from balancing against the world powers of China, Iran, and Russia, as a single entity. National boundaries have been a primary interest to Central Asia nations since their inception due to cultural unity, natural resources, and infrastructure management. Just after the collapse of the Soviet Union, there were almost immediately border disputes that erupted all over Central Asia, with countries trying to settle the old debts and old scores. It was then agreed that each country would maintain the borders created by the Soviet Union in the different territories. The problem is that these borders, drawn by the Soviet Union, deemed areas like the Fergana Valley as "unstable" and created few enclaves, which led to problems ranging from resource management, restrictive movement of various ethnic peoples across borders, and instigated issues over food, energy, and water distribution. These internal disputes had become so serious in some cases, as in the Fergana Valley, it has led states like Uzbekistan to mine their borders.
Even with the fact that Central Asia has maintained their sovereignty since the early 1990s and embarked on their own political journeys, there is a consensus that Russia, being the key regional actor, sets the political agenda and is consistently exporting and supporting authoritarian values there. The leaders of the new republics mirror Russia in the use of patrimonial-authoritarian regimes and a "menu of manipulation" developed during Soviet rule to manage potentially challenging processes for a variety of scenarios, while importing external influence from Russian parties. Referencing our model of the European Union, we can see that a region that maintains the political institutions of patrimonial-authoritarian rule will make cooperation on the level of the EU difficult to achieve as these regimes are only seen to effectively cooperate in security issues. The reason for only involving themselves in security cooperation is that it does not require immediate political or economic reform in the state.
Modern democratic institutions are defined by four criteria: executives and legislatures are chosen in free/open elections, virtually all adults have a right to vote, political rights and civil liberties are prevalent, and elected authorities possess "real" authority to govern the population. In Central Asia's internal political institutions, manipulation of all four of these criteria is overwhelming. Presidents would remove obstacles to extend term limits, elections were organized to maintain power with the illusion of competition, the timing of the elections was carefully selected for optimization of regime survival, and the states still emplace significant barriers to stop the elevation and creation of opposition or new political parties. In terms of developmental issues, the common trend that brings Central Asia together is called "focusing" – namely, the idea of nations focusing on their own internal issues with mutual success depending on their combined potential. Political reform has been missing from past attempts and remains critical to the future.
Central Asia has been given the gift of an abundance of natural resources; however, they are unfortunately, very unevenly distributed. While it may be logical to assume that resource abundant nations have a given economic advantage over those of less fortune, there is widespread debate about this truth, and empirical evidence that would suggest the opposite. One possible explanation for this "natural resource curse" argues that a large majority of commodity exporters focus on a rather narrow range of primary products, and so a lack of diversification exposes them to price fluctuations which could then lead to large swings in national incomes. Over the past 20 years, all of the countries in the region except Uzbekistan have seen an increase in the concentration of their exports, with fewer products accounting for a larger share. "Moreover," as the Organization for Economic Co-operation and Development (OECD) points out, "the vulnerability of Central Asian countries extends to shocks affecting trade partners, as their exports are concentrated in a limited number of markets. Landlocked geography and the 'distance penalty' mean that a few neighbors almost exclusively make up the export markets for Central Asian economies." With the limited ability to diversify resources and the high cost of trading across regional borders, Central Asia has become a free-for-all in resource utilization, which given the resource nexus of the region, has exacerbated issues leading to a failure of regional cooperation and political division.
Despite the façade of economic recovery post-recession, the output in most of the Central Asian republics depends on a limited number of export commodities and external financing to support economic growth and has not provided sufficient employment opportunities in the formal economy. External financing can be a source of stimulation for economic growth in the region, but the heavy external debt burden faced by several of the states poses a significant risk for long-term economic growth, especially Kyrgyzstan and Tajikistan. The International Monetary Fund or IMF, posits that for Central Asia, looking forward and removing tariff and non-tariff barriers as well as inefficient systems and uncertainty around changes to tariff schedules are steps in the right direction. Further integration in the Eurasian Economic Union (EEU) and World Trade Organization (WTO) would be the most beneficial internal actions that Central Asia could take. Regional adherence to EEU policies, trade customs, trade regulations, and removal of inefficient border policies would help to create a "growth friendly" fiscal adjustment as well as capture the full benefits of global and Central Asian trade. Historically, the high cost of doing business across borders has limited regional cooperation or really, motivation, to attempt more in-depth economic arrangements. This is due to the fact that not all Central Asia nations have accepted common economic norms like those of the WTO when it comes to trade; creating a need for these republics to enhance their attractiveness for trade transit options.
A Central Asian region has not developed because internal border strife has precluded larger levels of cooperation. Political turmoil and enduring influence from the Soviet-style patrimonial-authoritarian regimes are creating dysfunctional institutions that are incapable of solving domestic issues and leave Central Asian republics open to the direction of the most influential neighbor. Natural resource allocations and climate change are impacting resource security and creating a need for sustainable development and crisis management across borders, which has thus far,not come to pass. And lastly, economic insecurity leaves individual republics competing with one another for momentary gain, while missing the future prospects of a regional institution created by mutual support and integration.
Future Outlook for Central Asian Regionalism
International integration – the theory in which supranational institutions replace national ones and gradually shift upward from individual sovereignty to regionalism or global structures – is helpful in explaining the emergence of the EU and as a model to emulate. In practice, this integration had rarely gone beyond a "partial and uneasy sharing of power" between states, as most have been unwilling to give up their exclusive claim to sovereignty and have severely limited the power of the supranational institution. Despite having cultural, linguistic, religious, and ethnic differences, as well as hundreds of years locked in intermittent war, the EU has become the most successful example of the process of integration through functionalism, neofunctionalism, and a security community.
What is seen in the case of the EU's development is short-term progressive institutions and constructs that would eventually lead to a greater identity. It began with supranational organizations that would perform the basic functions required between states such as reducing barriers to trade, delivering mail, or the coordination of resources and goods across borders. This created a need for closer political ties between the states. The European Parliament was developed in order to facilitate this closer political dynamic, the sense of a community among Europe, and a security structure. We now see the expansion of the EU ranging from a common market, a parliament, a council of ministers, common agricultural policies, the European Commission, a European Court of Justice, and even the development of a regional currency – the Euro. The key in the continued success of the European Union is the evolved development of a shared integration format and a robust structure of institutions that encompass and act on behalf of the larger region.
Can Central Asia accomplish this? The region would have much to gain from the formulation of a regional identity like the EU. Four often theorized reasons for the benefits of international institutions are: constraining the great powers, providing information, and reducing transaction costs, facilitating reciprocity, and promoting reform in domestic politics. Unfortunately, border conflicts, resource disputes and mismanagement, political authoritarian regimes, and economic security are currently inhibiting the region from embracing any of these four benefits. This results in the need for a realistic outlook on Central Asia's regional future with both short-term and long-term expectations in respect to the new globalized environment these states will develop in – an acknowledged difference from the European Union's circumstances.
Short-term, being the next 5-10 years, expect to see more of the same: domestic turmoil overflowing to interregional issues that exacerbate inadequate political and economic structures. A continuation of the corruption and patrimonialism that sees only the elite benefit from exploitation of the state's given authority. The uncertainty that lies in the actions of neighboring actors as well as the conviction that all states are primarily concerned with survival, will limit Central Asia to mostly insincere political promises and a "self, before others" mentality that will delay the creation of these functional supranational organizations that benefited the initial onset of the European Union construct. Long-term (>20 years) is where the effects of globalization begin to impact the prospects for regionalism. Looking at a political map of the world, it would seem that Central Asia is in the center of it all. The Chinese have directly linked their "One Belt, One Road" initiative to the legacy of the ancient "Silk Road", and presented it as a project based on equality, mutual benefit, open-mindedness, sharing of culture, and sharing of tradition with one another. This plays directly to the advantage of a regional Central Asian institution. As the passage between China and Europe, Central Asian republics will need to formulate transnational organizations that would mirror those of the European Union in policies of low costs and ease of access functionality to reduce barriers, making the use of Central Asia as a land bridge between major world players attractive. Whereas the European Union formulated on geopolitical means, the Central Asian region may very well be formed in the wake of a new Eurasian geoeconomic strategy. To create the sustainable structures that will enable regionalism, there will need to be drastic political regime and ideal reform in Central Asia that is showing no signs of imminent change.
In conclusion, globalization provides the best catalyst for Central Asia to develop a regional institution that would enable it to become a major entity on the world stage. However, the domestic issues are hindering this effort in the short-term, while long-term goals are lofty and require major reform in the republics. The increasing interaction between Asia and Europe, to include the Belt & Road Initiative, has given Central Asia a shared reason to limit the effects of interregional strife and provide a unified and accessible image to the global market, and a reason for the geopolitical world to invest itself in the region. This transformation will take time and cannot be a forced overnight change as the "west" would like. There is hope for the region, and with sound strategy and economic investment in the republics, dependent on reform, Central Asia can be the next iteration of regionalism, or quite possibly the instigator of a "Eurasian Union" capable of parity with the global powers of today.
Chronicles of Revolt in Kyrgyzstan: Implications and Consequences
I Theoretical Analysis:
According to Leon Festinger, Cognitive dissonance refers to a situation involving a group of people having contradictory beliefs leading to conflicting attitudes, beliefs or behaviours. This produces a feeling of mental discomfort leading to an alteration in one of the attitudes, beliefs or behaviours to reduce the discomfort and restore balance. This psychological theory can be best applied to the scenario of civil revolts in Kyrgyzstan, as the revolts were basically a purge by the citizens of Kyrgyzstan against the Autocratic regimes of the ruling elites and corrupt leaders. The word revolt on its own justifies the theory in hand, as a revolt particularly means an effort to change the existing situation and that can only be a problem of there is a contradiction between the beliefs of those in power and the civil population of the state. However, to thoroughly understand the main causes and how it all started in the first place, then read the contents below to grasp a better understanding of the topic under discussion.
II Research Methodology:
This paper provides a qualitative analytical research of the subject matter, based on data collected through mostly secondary sources and a primary source. The paper is descriptive and provides a thematic qualitative analysis to interpret the subject matter under discussion.
III Introduction:
Central Asia has always been seen as a hub of ethnic diversity ever since world's major powers got their eye on it. Most of the unrests and civil upheavals were not merely purges against the ruling Autocrats and their unsubtle regimes, but in fact, because of the ethnic clashes and rivalries in the region. To elaborate Kyrgyzstan's internal collapse and non-stop civil unrests, there is a dire need to understand what is Clan politics and how it affected the political and governmental infrastructures in the state[1]. A clan could be addressed as a group of people or a community that serves a common motive and each individual may bring a certain spice of its own, when in power, however, there is no specific boundaries of a clan or a way to measure the strength of a clan, neither can an individual be legally linked to a specific clan, which is why there has been no media reportage that addressed a specific clan as a core reason behind an event or incident. In Kyrgyzstan, these clans can be addressed as those in the Southern region and their opposition in the Northern region. During the reign of Soviet Moscow, people were to be appointed in the Kyrgyz Communist Party from these clans and they in turn would appoint their fellow clan members or colleagues in the ruling party. There has always been a competition for economic and miscellaneous resources among the clans, which led to an open ground for corruption and theft. Whenever Moscow would find a political worker submerged in such acts then would suspend those individuals and appoint those who were more loyal to the state than the clans. The major difference between the situation after the demise of Soviet Union and before, was the fact that the clans had to answer to the ruling Communists in Moscow. At the time of Soviet Collapse, Moscow appointed an outsider, an electrical engineer named Askar Akayev, who rose to power in the early 90's and continuously appointed members of his clan who promoted his motive of Autocratic form of governance, until there was no more opposition left to stop purge against Akayev and that is how civil unrests began in the first place. Therefore, this paper not only thoroughly examines the process of escalation of the major revolts in the state but also explains the existing and future implication of such revolts. The paper also predicts the possibility of future events that may happen in the coming years.
IV Revolts in Kyrgyzstan:
The civil unrests and the two major revolts in 2005 and 2010 were merely an accentuation of how bad and complex is the actual situation in Kyrgyzstan. Although the 2005 revolution can be summed up as a purge to Autocratic form of governance, however the dynamics were very complex.
The brief historic background of Askar Akayev and the clan politics was essential as a reference point to this debate, as things got ridiculously complicated later on in 2005 parliamentary elections. On February 27, 2005, the parliamentary elections were held and 29 clear winners were declared. From which there were members of the Post-Bakiyev government (Azimbek Beknazarov and Tamir Sariyev) and most importantly, Aydar Akayev; the president's son. On the very next day 1000-3000 protestors gathered to protest against electoral violations in the Avaran district of Osh province but no lethal force was used. After a few days span, an attempt was made to blast Roza Otunbayva (the leader of the opposition party; Ata Dzhurt Movement), which led to swarming rallies in Jalal-Abad. In response to these rallies, a group of pro-government forces manged to gather approximately 500 protestors to demand the opposition rallies to be stopped and thus promoting Akayev's policies once again[2]. On march 9th, protestors gathered in the Osh province, demanding a resignation from the President Askar Akayev for his failure of conducting fair elections. The rest of Akayev's demise was a domino effect, as the opposition parties gathered up with the fellow protestors and targeted governmental institutions and infrastructures. The arrest of opposition protestors emboldened the charade and protestors also took government hostages later on. In the time of chaos, many criminals and looters found a golden opportunity to exploit the country's capital resources and that too added to the injury of the existing crises. Along with that, inter-ethnic rivalries also grew in number and the state was a complete failure during this period of "Tulip Revolution". Ultimately, Akayev fled the stage and had to resign from his presidency on April 9, 2005.
Succession of the 2005 "Tulip Revolution", the 2010 "Roza Revolution", incorporated a genuine hope for Kyrgyz people for actual reforms in the political and economic sectors, or at least that there would be more resource and power sharing among clans. Over the years Bakiyev became more authoritarian and appointed his family and clan members to positions of power, instead of distributing power more widely[3]. As Bakiyev became more powerful, he became paranoid of another revolution and consolidated control over political, military, and security positions. Bakiyev also came under fire because of a deal he made with Russia where Kyrgyzstan would receive a several billion-dollar economic investment package in return for removing the U.S. military from the Manas Air Transit Centre outside Bishkek. Bakiyev never removed the U.S. from Manas, frustrating Russia because a portion of the investment had already been paid[4]. On April 3, 2010, Kyrgyz police intervened a demonstration outside the Kyrgyz Parliament building where UN General Secretary Ban Ki-moon met with members of parliament. The protestors included opposition activists, journalists, and human rights advocates – Temir Sariyev was among those protesting[5]. Kurmanbek Bakiyev, who fled Bishkek on April 7, is in Jalal-Abad and trying to rally enough support to return to power[6].
The protestors followed the same pattern of targeting the governmental institutions and infrastructures and it was seen for the first time that someone in power ordered a use of lethal force. Bakiyev gave direct orders to shoot down people in the square and people were literally shot dead on the square, most received brutal headshots. This made Bakiyev to leave the state on April 15, 2010, in accordance with direct orders of OSCE Chairman Kanat Saudabayev and had to resign the very next day, April the 16th.
V Implications:
"As manifested in southern Kyrgyzstan in 2010, a spark can start a big fire. Each new upheaval carries the risk of setting dangerous processes in motion that may ultimately be very difficult to control, especially in an internally divided country like Kyrgyzstan", says JohanEngvall (CACI Analyst). In short, the situation the state is once again dicey, as conflicts or contradictions of smallest in magnitude can set forth humungous political and economic disasters. On the other hand, north-south divide can also be exploited through political channels, which may be internal and also external, to an extremely dangerous level and it may inflict long lasting damages in the inter-ethnic ties of the citizens in the country. Up till now, following are the consequences observed from the never-ending civil unrests in the country;
Kyrgyzstan is now being addressed as a failed state in the world's political stature.
There is an open stage for political and military exploitation in the country because of the north-south divide.
Alongside the Clan politics, the inter-ethnic violence has also been increased and the rivalries have grown to big numbers.
Human Rights violations have also been increased over the years.
The influence of Moscow never vanished but diminished and now, it has grown once again with the passage of time and its role in each civil rest.
The US military interests in Kyrgyzstan have also grown as Russia's influence has once again grown in Central Asian states.
There utopian false hope functional democracy in the state of Kyrgyzstan have led the people of the state extremely disheartened and many have left the state as this charade is seemed to be a never-ending one.
Regrouping of clans and modified clan politics may once again disrupt the state as there is no system that could let ones lead the political system who are actually loyal to the state and not the clan.
The diverse Kyrgyz opposition has been unable to unite around political programs or visions for the country. In the end, the incumbent power provided the only common denominator against which to unite.
VI Conclusion:
The revolts and consequences of those revolts were a product of an internalized narrative of politics in the country, as Kyrgyzstan itself was sought to be a state which was solely to be ruled politically. How is that different? Well, the idea of politics in the state is that people treat the authoritative rights as their own rights, official goods as their own goods, which implies that the political narrative from the past two decades has never been shifted from resource extraction; it revolves around corruption. This means that it is not about encouraging political pluralism or managing a diverse ethnic society, but to change the narratives that have been deeply internalised. This would require restructuring of the governmental and political infrastructures and formation of new institutions that would not fail to provide political, economic and civil goods to the deserving society. The latter may also diminish or even eradicate the inter-ethnic violence on the streets which always rise to a dangerous level. Although the current situation of the state would lead it towards another revolution but are these really revolutions that had nothing to do with "change for the good of its people" rather than change of dynamics? Conclusively, there's a possibility of a lot of things that may be hard to enumerate, there may be another "so-called" revolution (another false alarm as I would like to denote it), there may be major political exploitation of the north-south divide and there can also be peace if the system realizes the actual deep-rooted problems in the political narratives of the state.
---
[1]Matthew Stein, "Revolutions of Kyrgyzstan Timeline: An Open Source Look at
Key Events," Foreign Military Studies Office, (2020): 1-3, December 24, 2020.
[2] Matthew Stein, "Revolutions of Kyrgyzstan Timeline: An Open Source Look at
Key Events," Foreign Military Studies Office, (2020): 2-3, December 24, 2020.
[3] Matthew Stein, "Revolutions of Kyrgyzstan Timeline: An Open Source Look at
Key Events," Foreign Military Studies Office, (2020): 6-8, December 24, 2020.
[4] Matthew Stein, "Revolutions of Kyrgyzstan Timeline: An Open Source Look at
Key Events," Foreign Military Studies Office, (2020): 9-10, December 24, 2020.
[5] Matthew Stein, "Revolutions of Kyrgyzstan Timeline: An Open Source Look at
Key Events," Foreign Military Studies Office, (2020): 10-11, December 24, 2020.
[6] Matthew Stein, "Revolutions of Kyrgyzstan Timeline: An Open Source Look at
Key Events," Foreign Military Studies Office, (2020): 10-11, December 24, 2020.
The State of Human rights in Kyrgyzstan, Kazakhstan and Uzbekistan: Principles vs. Practices
Central Asian countries share much in common in terms of their post-Soviet authoritarian legacy and weakness of democratic institutions. As a matter of fact, their post-soviet transition has been marred by a series of authoritarian malpractices, ranging from centralization and personalization of power to extensive crackdown on civil liberties and political freedoms. According to widely- held beliefs many factors can account for this state, including economic slowdown, traditional culture, weak civil societies, post-Soviet authoritarian legacies, as well as ethnic cleavages. A question arises as to how the leadership changes in Kyrgyzstan, Kazakhstan and Uzbekistan have influenced the state of human rights in these Central Asian countries.
While the three Central Asian states have signed up to major international conventions on human rights, their implementation remains a significant problem. Notably, the three countries are members of the Organization for Cooperation and Security in Europe (OSCE) with ensuing commitments to respect human rights in compliance with CSCE Helsinki Final Act 1975, The Copenhagen Document 1990 and other related OSCE documents. Moreover, Kyrgyzstan has ratified the 1995 Convention on Human Rights and Fundamental Freedoms of the Commonwealth of Independent States (CIS).
Table 1 (UN Treaty Body Database)
| | | | |
| --- | --- | --- | --- |
| Human rights treaties | Kazakhstan | Kyrgyzstan | Uzbekistan |
| Convention against Torture and Other Cruel, Inhuman or Degrading Treatment or Punishment | Accession | Accession | Accession |
| Optional Protocol of the Convention against Torture | Ratification | Ratification | – |
| International Covenant on Civil and Political Rights | Ratification | Accession | Accession |
| Convention for the Protection of All Persons from Enforced Disappearance | Accession | – | – |
| Convention on the Elimination of All Forms of Discrimination Against Women | Accession | Accession | Accession |
| International Convention on the Elimination of All Forms of Racial Discrimination | Accession | Accession | Accession |
| International Covenant on Economic, Social and Cultural Rights | Ratification | Accession | Accession |
| Convention on the Rights of the Children | Ratification | Accession | Accession |
| Convention on the Rights of Persons with Disabilities | Ratification | Signed | Signed |
To assess the implementation level of the commitments assumed under these treaties, it is necessary to refer to the concluding observations made by the international human rights treaty monitoring bodies.
On the freedom of expression in Kazakhstan, Human Rights Committee (hereinafter – Committee) notes, "laws and practices that violate freedom of opinion and expression, including: (a) the extensive application of criminal law provisions to individuals exercising their right to freedom of expression..; (b) the blocking of social media on national security grounds..; (c) the shutting down of independent newspapers and magazines, television channels and news websites for reportedly minor irregularities or on extremism-related charges". Regarding Kyrgyzstan, the reports of persecution of human rights defenders, journalists, and other individuals for expressing their opinion remain of serious concern. As for Uzbekistan, the Committee notes that defamation, insult of the President, dissemination of false information continues to be criminalized. Moreover, the existing legislation regulating mass communication, information technologies and the use of the Internet unduly restricts freedom of expression. Another set of concerns has to do with ongoing imprisonment of individuals on extremism-related and other politically motivated charges. It has not been uncommon for the authorities to target independent journalists, human rights defenders, and bloggers, for the mere reason of being outspoken and critical.
On the torture and ill-treatment, main concerns include the reported high rates of torture and the high number of claims of torture dismissed at threshold due to the allegedly excessive evidentiary standard required to pursue an investigation under the new Criminal Procedure Code; the reported unduly prolonged duration of investigations into allegations of torture and/or ill-treatment; failure to provide full reparation to victims of torture or ill-treatment, etc. With respect to Kyrgyzstan, while welcoming legislative and administrative measures aimed at preventing torture, including the amendments to the Criminal Code, the Committee emphasizes a series of malpractices, including the practices of torture and ill-treatment of detainees; the number of deaths in custody and the fact that none of the cases reported to the Committee led to any conviction. As for Uzbekistan, the Committee notes that the definition of torture in article 235 of the Criminal Code limits the range of possible victims to "participants in criminal proceedings or their close relatives" and does not apply to all types of perpetrators.
On violence against women, the Committee alarmingly notes that domestic violence remains prevalent and largely underreported in Kazakhstan due to the prevailing stereotypes. Protective measures and support services for victims of violence, including State funding for crisis centers, remain insufficient. Similarly, violence against women remains underreported in Kyrgyzstan, where domestic violence seems to be socially acceptable to a great extent. As for Uzbekistan, main concerns include the reports of forced and early marriage; the fact that domestic violence is not explicitly criminalized in the newly adopted relevant legislation; limited protection, as well as insufficient psychological, social, legal, and rehabilitative services provided to the victims of domestic violence and their families, etc.
Moreover, the Committee expresses concerns over the reports that no independent, impartial, and effective investigation has been conducted into the human rights violations committed regarding the protests in Zhanaozen on December 16th and 17th of 2011, that led to casualties. Similarly, the Kyrgyz government's failure to fully investigate human rights violations committed during and in the aftermath of the June 2010 ethnic conflict in the south of Kyrgyzstan remains of serious concern. The situation seems to be even worse in Uzbekistan. The Committee repeatedly expresses concerns over lack of an in-depth investigation into the atrocities committed by military and security services during the Andijan events in May 2005.
In terms of minority rights, even a quick glance at the international human right watchdogs' reports shows severe violations of LGBT rights the Central Asian countries. Even though the LGBT climate in Kazakhstan is better than in the rest of Central Asia, but violence and discrimination still exist. Kazakhstan's Ministry of Defense classifies homosexuality as a "mental disorder" and bans gays from performing military service. A 2017 NGO survey within the LGBT community, shows that almost half of the respondents experienced violence or hate because of their sexual orientation. Meanwhile, there were no prosecutions of anti-LGBT violence.
In Uzbekistan homosexuality is still officially illegal and punishable by up to three years in prison. Anti-LGBT discrimination permeates every section of the society with ensuing adverse effects on all aspects of LGBT persons' lives, including employment, housing, family relations, and access to education and health care. Meanwhile, there are no known LGBT organizations to advocate the community members.
As for Kyrgyzstan, even though the country does not criminalize consensual same-sex sexual conduct between adults or speech that supports LGBT issues, LGBT persons whose sexual orientation or gender identity was publicly known tend to face a bunch of problems, including physical and verbal abuse, possible loss of employment, and unwanted attention from police and other authorities. Moreover, the events hosted by LGBT groups tend to get targeted by nationalist groups who constantly harass and mistreat sexual minorities.
Similarly, persons with disabilities get routinely subjected to discrimination in the three countries. UN Committee on Economic, Social and Cultural Rights has repeatedly expressed concerns about the plight of this vulnerable group in Kazakhstan and recommended to "to ensure that persons with disabilities enjoy unhindered access to all social services, including education and employment, by providing reasonable accommodation in school and in the workplace and improving the accessibility of facilities and services provided and open to the public". While in May2019 the Government adopted the State Plan to ensure rights and better quality of life for people with disabilities until 2025, it does not seem to offer any immediate measures of support for disadvantaged citizens. The situation is not much different in Uzbekistan, where persons of face formidable challenges in their everyday lives. A well-informed observer notes that "the fact that people with disabilities rarely come out of their houses and do not stand for their rights. The laws are available only on paper, and they will become effective only when people with 10 disabilities will start standing for the accessibility for themselves, including accessible recreation".
Even though the lives of persons with disabilities in Kyrgyzstan are not a lot easier, in May 2019, Kyrgyzstani Prime Minister Muhammedkaly Abylgaziev took a considerable step towards alleviating their plight. He signed a decree to create an inter-agency working group to implement articles of the UN Convention on the Rights of Persons with Disabilities. According to Amnesty International, the main work aims at providing persons with disabilities with rehabilitation services, increasing their life expectancy, taking measures to prevent disability, providing medical and social assistance, ensuring equal access to education, justice, and employment, and ensuring freedom of movement.
To sum up, despite their obligations assumed under international law to respect, to protect and to fulfil human rights, their actual implementation remains a significant problem in all three countries. The reasons range from centralization of power and weakness of democratic institutions to the prevalence of Soviet authoritarian culture and illiberal norms.