Countering Chinese String of Pearls, India's 'Double Fish Hook' Strategy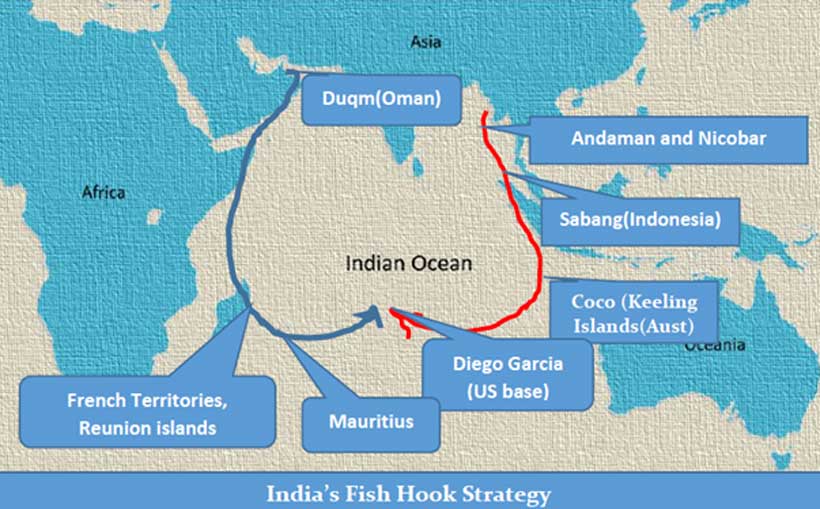 India and Indonesia held their defence dialogue between the defence ministers on July 27, 2020 and discussed issues related to defence cooperation, promoting investment in each other's defence enterprises and helping each other in extending logistical support. This meeting was held in person, instead of online meeting.
India has started engaging its eastern Indian Ocean neighbours particularly Indonesia, Australia, and island nations in the Southern Indian Ocean region such as Mauritius, Seychelles, Madagascar, and French territories spread across the Indian Ocean. India's entry into Indian Ocean Commission (an intergovernmental group of island nations- Madagascar, Mauritius, Comoros, Reunion islands, and Seychelles, dealing with maritime governance) as observer was facilitated by France. India and France have started conducting of regular maritime surveillance sorties from Reunion islands. This shows that India is keen on developing strategic and defence ties with France in the Indian Ocean region. This also hints to the fact that Indian navy has been working on 'double fish hook' strategy.
This 'Fish Hook' strategy of India is expected to complement the fish hook strategy undertaken by the US along with its allies in the Pacific Ocean. Media reports also state that China has floated many surveillance pods in South China Sea to monitor movements of US and its allies' ships and submarines. With the upgradation of the Andaman and Nicobar Islands and an investment of more than US $ 6.67 million which has been allocated during Prime Minister Modi visit to the islands, shows that India have larger designs with regard to these islands. This includes developing jetties, deep sea harbour and extending landing strips to facilitate landing of maritime surveillance aircrafts. There is also proposal of developing hangers for stationing of Sukhoi-30MKI aircrafts on a permanent basis.
In the past also when India was upgrading the facility in late 1980s it was seen as a launching pad erstwhile Soviet Union to make inroads into the Indian Ocean, and there were apprehensions raised by countries such as Indonesia and Australia. At that point of time the Andaman and Nicobar island group was stated to be known as Fortress Andaman(FORTRAN).Andaman Nicobar Command (ANC) was developed at Port Blair in 2001 as first integrated joint command centre. India again is exploring this possibility of upgrading the facilities in Andaman and Nicobar Islands so as to project its power in the Bay of Bengal and Closer to The Malacca Straits.
China's 'String of Pearls' strategy has developed a concept that India has been surrounded by Chinese developed ports (Gwadar, Hambantota and Chittagong) developed in connivance with the ruling regimes in Pakistan, Sri Lanka, and Bangladesh. The 'String of Pearls' has gained lot of academic mileage in the international discourse related to the Indian Ocean security. As a countermeasure, India started engaging its littoral partners which includes the formidable navies in the region including US, France and Australia- all strategic partners of India. With US India has already engaged through the LEMOA agreement giving access to each other's military bases and naval ports.
In June 2020, India has signed the Mutual Logistics Support Agreement (MLSA) with Australia which will provide support for maritime reconnaissance missions undertaken by the two countries with the use of their island facilities. The islands which have been listed for such a logistics arrangement is Andaman and Nicobar Islands(India) and Coco(Keeling) islands of Australia. Australia has been upgrading its facilities in the Coco Islands and also trying to upgraded facilities in Darwin and Keynes. This kind of complimentary logistics support agreement would enhance surveillance and reconnaissance activities of the two countries. Apart from Australia, India has also signed a port development project with Indonesia and has agreed to developed civilian and military facilities in the Sabang port which is located at the northern tip of Aceh archipelago. This acts as the first fish hook strategy spanning across the eastern Indian Ocean starting from Andaman and Nicobar Islands, Sabang port(Indonesia) and thereafter extending all the way to Coco(Keeling) Islands, the tip of this fish hook lands at the DiegoGarcia, the US military base in Chagos archipelago.
Similarly, the western fishhook strategy starts from Duqm port in Oman where India has entered into Maritime Transport Agreement and has gained access facility for Indian navy. India has also been working with regard to entering an agreement with the Djibouti so as to avail the logistic support in the Horn of Africa. Further engagements with Mauritius, Seychelles and Madagascar through training and visiting of the ships as well as giving them coastal radar systems, and few fast attack crafts shows that India is keen on anchoring its naval security through these engagements.
France has been very keen on developing maritime linkages with India and also undertaking fortnightly sorties through maritime surveillance aircraft such as P– 8 I Poseidon. The surveillance sorties have started in January 2020 and likely to continue in regular intervals along with France. France has acknowledged the fact that in order to secure its territories in the Indian Ocean region it has to build confidence and interoperability with the Indian Navy. Therefore if one draws a line connecting the ports  then it would look like a fish hook which again will land in the end at Diego Garcia.
The strategy which is known as 'double fish hook' strategy would help India in countering Chinese activities undertaken by unmanned submersibles and also know the activities of Chinese submarines in the Indian Ocean region. China has increased deployment of its personnel at its Djibouti base, and has been enhancing its presence in the Indian Ocean region. The reclamation of one of the Maldivian islands-Feydhoo Finolhu Island, which is nearly 600 km from Indian coast, shows that China is willing to take risks so as protect its energy supply lines and maritime commerce. In fact, its Maritime Silk Road strategy would depend much on Chinese military heft in the region and also its dominance in the strategic waters of the Indian Ocean.
India has also understood the importance of blocking Chinese maritime traffic in case the border issue aggravates to the point of a war. During the 1971 war with Pakistan which led to the emergence of Bangladesh, the role of the Indian Navy has been appreciated in blocking the Karachi port, and also helping in protecting the Bangladesh from any external intervention.
This double fishhook strategy would depend much on development of the facilities in the Andaman and Nicobar Islands which includes developing airports in the Northern reaches of this island group, increasing the maritime traffic as well as developing docking facilities for naval ships. The chief of defence staff has already alluded to the fact that it will be a joint command of the three services and also it will be a rendezvous point for the Quad forces. In one of the RAND studies titled 'Overseas Basing of US Military Forces' it was stated that Andaman and Nicobar Islands can be a very good operating base for US drones as it would give edge in case of operations against China. The development of this double fish hook strategy would undermine String of Pearls and would give India an edge in case of tensions between the two countries in the maritime domain. This in every variably will mean that Chinese inroads into Indian Ocean will be noticed and countered by the Indian navy with Quad countries before it can change maritime power configuration in the Indian Ocean region.
Anti-Coup Stir: Women Take Over the Reins of Protests in Myanmar
Ousting of a female civilian leader through a military coup and the declaration of a year-long emergency, in the early hours of February 1st has led thousands of protesters to turn out in the streets of Myanmar. However, the military has lashed out with a violent crack-down killing at least 61 non-violent protesters since the coup. As reported by Christine Schraner Burgener, the U.N special envoy for Myanmar that the police and the military killed an additional 38 protesters on March 4th.
These extrajudicial killings also include children and women. Highlighted by the death of a 20-year old Mya Thwate Thwate Khaing, who was shot in the head by the violent security forces. Rights advocates have scathingly attacked these adversities. Michelle Bachelet, a top Human Rights officer at the U.N remarked that "Myanmar's military must stop murdering and jailing protesters", that "it is abhorrent that security forces are firing live ammunition against the peaceful protesters".
Women are at the forefront of this anti-coup movement and have sent out powerful rebuke to the military. With hundreds of thousands of women representing teachers, medical workers, garment workers and also house-wives taking over the streets. As reported by the International Civil society Action Network (ICAN) that, Mye Sabe Phyu, Director of the Gender Equality Network (GEN) and the member of Women's Alliance for Security Leadership (WASL) has sent out a strong message saying "we are resisting the coup and will fight back until we die'. GEN and WASL are some of the leading organisations working towards gender equality and women's empowerment in Myanmar. Its members, most of them consisting of women have increasingly taken part in the protests. However, the systematic crackdown upon the civil society members has halted their work. To which these women activists have refuted telling Open Democracy in an interview that such terrorising would not deter them and that their revolution is "unstoppable".
Women have always been afoot calling out the junta for trampling upon the democratic voices in the state. They have often challenged the imposition of the patriarchal order that has suppressed their voices for more than half a century. "Women has never been the military agenda. In their view, the role of women is to preserve culture and religion." explained Phyuin an interview with Open Democracy. She further added that "Women are standing at the front leading the protests, which makes us proud."
Female medical volunteers have patrolled the streets of Yangon, Mandalay, Nay Pyi Taw and other major cities tending the wounded and dying protesters. A 28-year-old medical doctor told the New York Times, "young women are now leading the protests because we have a maternal nature and we cannot let the next generation be destroyed". She also said, "We do not care about our lives. We care about our future generations."
A passion has ignited in the citizens of Myanmar across cultures and religions. Hence, despite the brutality leashed by the military, the movement has become far more diverse. Where women are playing an essential role in strategizing and engaging people in a peaceful protest across the country.
Burmese Women's Organisation, as one of the leading civil society organisations, is keeping vigilance over the fake news spreading and any sort of torture, sexual violence or harassment against the protesting women. Tin Tin Nyo, a veteran women's activist and member of the Organisation, who has been supporting and leading the demonstrations. Told in an interview with Open Democracy that the participation of women from all the walks of life, especially of young women is unprecedented. More than 50% of the disobedience members are women, who regardless of the risks are determined to abolish the coup.
The rule of the junta in Myanmar reveals a perilous side of the situation of women in the country. They consist of more than half of the population yet, their voices are ignored and their political participation and representation in the decision-making process are minimal. The civilian government by the National League for Democracy, though led by Ms. Aung San Suu Kyi, was majorly dominated by men, most of them sitting in powerful positions. Hence, with the resumption of military rule women has the most loose. As the five years of regime of a civilian government led by a woman leader, had given hope to half of the population of the country, which otherwise was considered docile.
The nation-wide stir thus has given women an opportunity to display their valorous stand against the discrimination faced by them at the hands of the military. They have taken over the reins of the protests actively demonstrating, and engaging in creative and yet peaceful ways of organising resistance.
The movement is becoming more unified each day with robust support from women and civil society organisations working for their cause. These organisations are reinforcing local civilians and are writing to various international institutions for assistance. As reported by the International Civil society Action Network(ICAN) that the Gender Equality Network (GEN) along with locals and other women's activist's network has written an open letter for the ASEAN Chair, Brunei and has also sought support from Indonesian Embassy.
Dr Miemie Winn Byrd, a Burmese American who served as a lieutenant colonel in United States Army, while speaking to New York Times said "Even though these are dark days and my heart breaks with all the images of bloodshed. I'm more optimistic because I see women on the street". She further added that "In this context, I put my money on the women. They are unarmed but are the true warriors."
Protecting National Sovereignty In the Current globalization context
National sovereignty is an inseparable legal and political attribute of each state. National independence associated with national sovereignty is now a global trend, especially in the current context of globalization, every nation, whether big or small, aspires to affirm their national values, such as the right to decide their social system, economy, development orientation, and the equality between countries in international life. However, this task has been facing numerous threats from different theories and actions from the world's powers, despite the national sovereignty and national independence. Therefore, protecting national sovereignty in the context of globalization has become a top priority for countries in the world, especially middle powers and underdeveloped countries, including Vietnam.
Defending national sovereignty is the combination of organized actions of the entire political system and citizens, led by specialized forces, under the leadership of the ruling party, the centralized and unified administration and direction from the State,in order to implement and secure national sovereignty, against all acts of violation of national sovereignty recognized by international law, as specified in national law.
Globalization is going on rapidly and intensively on a worldwide scale, countries are promoting integration, ina wide range of fields and complex scales. This process offers numerous opportunities but also creates unpredictable challenges in ensuring national sovereignty, independence and security. Therefore, it is vital to identify the following two basic issues: First, national sovereignty is ultimate, can not be shared or demonstrated while resolving domestic or foreign affairs; there has never been and will not be a global subject above nations, which completely abolishes the national sovereignty and peoples; Second, protecting sovereignty does not mean isolation from the world, yet countries need to effectively defend their sovereignty while opening their gates to integrate with the world; international integration is for better protection of sovereignty. In this relationship, there is hardly any room for sacrifice or mutual limitation.
The main contents of protecting national sovereignty in the globalization context need comprehensive consideration in all fields of social life: Regarding politics and diplomacy, through group decisions, or at least a joint agreement by a group of influential states, international community may initiated advocate to pressurize or directly interfere in a certain country's domestic affairs which other countries consider incorrect yet unable to defend. Reasons for these interventions are diverse, even non-objective yet set up for the purpose of interfering and violating national sovereignty and other countries' sovereignty protection. For instance, in2011 Resolution 1973 of United Nations Security Council on "establishing no-flight zones" imposed on Libya was passed after 13 members of the United Nations Security Council approved, Russia and China abstained. This resolution has caused Libya's sovereignty to be almost eliminated during the time of North Atlantic Treaty Organization (NATO) airstrikes, on the grounds of implementing the 1973 Resolution.
Regarding nationalism, in some regions of the world, despite the fact that fights for national independence or request to separat one part of its territory into an independent state still persist, this is not the core issue in nationalism. The more central and common one is national sovereignty and real equality between peoples in globalization context. The reason is although most countries and peoples are now independent by name, for many, that independence is incomplete, unstable and superficial, both in economics and national sovereignty and security. Dozens of wars in the late twentieth century under the name of defending human rights, yet in fact to punish nations which refused to follow the "leadership stick" were evident examples.
In economics, economic rights, especially the right to make policies and laws, to control and regulate resources, manage production, business, import and export activities of developing countries are under strong influence and bound of international institutions, by powerful countries, transnational organizations. Various laws of the market, currencies, and global information entitle seemingly imperative power to governments, at least indispensable factors that cannot be ignored unless leaving the protection of sovereignty and national interests in passive state.
Economy and politics have a dialectic, dominant and interactive relationship in which economics decides politics and politics creates influence on economy. Economic dependence will result in political dependence. Accordingly, it can be interpreted that fighting for rights and economic independence is and will be the crucial and important means of struggle. This is a challengingand complicated struggle because it is unlikely to close the economy and stand out of globalization; on the contrary, participating in globalization is an essential path to develop and protect the national interests. The most decisive issue is each country needs to actively outline their integration path, in which they must be consistent in the independence of national development path and strategy, the autonomy and self-control of development timeline, development sectors and relation partners.
Regarding culture and society, the protection of national sovereignty should go side by side with protecting national cultural identity, to avoid cultural invasion, as a remote and early defense measure against foreign intervention. Globalization entails extensive exchange between cultures and civilizations. If this process takes place naturally and voluntarily, national sovereignty is not violated. However, acquiring unsuitable and incompatible foreign cultural trends and unselectively adapting cultures and lifestyles may erode local cultural values, which means the loss of vital foundations of national sovereignty.
Therefore, it is compulsory to actively identify and be vigilant to imperial cultural schemes and policies, not to underestimate cultural security, even though cultural-ideology protection is not a simple task in the trend of globalization and international integration – an evitable path for all countries.
Protecting sovereignty in any field: politics, culture, economics, national defense, security and foreign affairs should identify its specific subjects aswell as appropriate strategies and plans. Acts of violating national sovereignty are not only carried out by the state but also by non-governmental organizations, international organizations, and foreign individuals. The subject can infringe sovereignty via military – security activities, and non-military activities, both by "hard power and soft power". Therefore, the defense of sovereignty should not only be carried out by armed measures but also by non-military ones; should be a solid and flexible combination between management and protection, cooperation and fights in all fields.
It can be affirmed that globalization has been and will be an objective trend that offers both opportunities and challenges to mankind, all countries should sooner or later participate in this common trend of our contemporary world. And in this trend, the most pressing and challenging task of developing countries is to protect national independence, sovereignty and national interests from the negative effects that globalization may bring about. More than ever, countries need to actively identify their relevant international issues, in order to outline timely and appropriate policies on the basis of identifying the duality and domination of capital powers during the process of globalization. In addition to boosting cooperation and economic development with foreign ones, countries must constantly be vigilant to work on comprehensive and resilient struggle to defend themselves against the ever-diminishing pressure of imperialism.
Calibrating Vietnam's role in ASEAN in 2021
Vietnam handed over the ASEAN chairmanship baton to Brunei in November 2020, but at the same time also handed over the agenda for the 2021 summit. During the informal ministerial meeting which was convened on March 2, 2021 through web conference discussions were held so as to implement the ASEAN community vision 2025 as well as making commitments with regard to ASEAN initiatives related to COVID-19 pandemic.
The agenda of Brunei is also varied with regard to improving ASEAN's external relations as well as addressing regional security issues which are challenging as well as complex. The military coup in Myanmar is one thing which has really galvanized the support from different ASEAN member States. It is expected that the Myanmar return to democracy would be a very pressing problem for many member states. It is also reiterated during the Chairperson's statement on the ASEAN informal meeting where it has buttressed that political stability in the Southeast Asian nations is critical.
In the statement, the new Chair of ASEAN also referred to the issue of unity, centrality and maintaining the relevance of the organization to address common security challenges. He also talked about the principles which have been addressed in the ASEAN charter and interestingly reference has been made with regard to democracy and constitutional government. In fact, in the post COVID – 19 scenario, it is expected that addressing this challenge through collective organizational response as well as under taking all those initiatives which have beenoutlined during the last year summit under the chairmanship of Vietnam. The implementation plan of the ASEAN's organization comprehensive recovery framework needs to be evaluated and should be put into practice in a more time bound manner.
Further, within Southeast Asia activating travel corridors, and integrating the medical emergencies response teams within the region would be vital. The issue of ASEAN regional reserve of medical supplies related to public health emergencies and better interaction between the medical professionals would help in addressing the future pandemics in a better way. ASEAN's centrality and unity has been seen under stress in recent times. Therefore, the new chair Brunei will have to strengthen existing mechanisms to promote trust and confidence among the members. Also, many dialogue partners have been highlighting this issue of freedom of navigation in the Indo- Pacific region. ASEAN has already outlined its outlook related to Indo- Pacific and rationalising their expectations with dialogue partners. The evolving situation in Korean Peninsula is also of concern for the ASEAN countries as many have strong trade links with the Republic of Korea. In the informal meeting issues such as the developments in Myanmar, Rohingya refugees, and repatriation process for displaced persons in the Rakhine state were highlighted.
Under the chairmanship of Vietnam last year, ASEAN has been able to address the repercussions due to the COVID- 19 pandemic, and has also roped in the US for providing financial aid and material assistance for the ASEAN countries. The US had committed to more than US $ 87 million for providing medicines, emergency healthcare equipment, and material assistance to combat the pandemic in Southeast Asia. The proposal which was pondered upon in the year 2020 has been with regard to US-ASEAN smart cities partnership. This is expected to bring about better transportation, connectivity and water management in targeted cities in the Southeast Asian region. Also, the US Agency for International Development (USAID) has outlined new programmes and has proposed a programme which will help this region in modernising technology and engineering institutes as well as promoting this region as a technological hub.
Brunei which has been very cautious in making any comments related to South China Sea will have to steer the organisation to address this huge issue related to the sovereignty claims of China in the contested region. Similarly, issues related to dams on Mekong River, and implementing the ASEAN charter and the agreement related to regional comprehensive economic partnership needs to be rationalized. In fact, during the ASEAN meetings which were held last year under the chairmanship of Vietnam, it was stated that it is important to develop consensus on common protocols related to public health emergencies. Even decisions were taken with regard to developing coordination mechanisms related to medical research, providing of vaccines and undertaking social countermeasures against the COVID- 19 pandemic.
While evaluating the reports related to the blueprint for the ASEAN community in 2020, it was stated that there is a need for time bound discussions and negotiations so that the ASEAN community process could be completed in time. Few other issues which were highlighted and discussed during the last year meetings such as digital connectivity, food security, renewable energy, and improving financial stability and market access across ASEAN would be discussed again in the meeting in March and April in Brunei. During the discussions last year, it was also stated that there is need for concluding a Code of Conduct (CoC)in the South China Sea in an agreed time frame which should adhere to the international law and should outline the punitive action against the recalcitrant countries which become signatories to the CoC.
The growing militarisation in South China Sea specially because of US and China tensions has also compelled many claimant countries to take note of the developments and solicit support from the international community. Vietnam has been assiduously successful ingalvanising international support related to South China Sea, and has asked many of the European nations as well as the US to pressurise China to maintain peace and tranquility in the South China Sea. The expectations for the current chair Brunei will be high given the fact that it has been very categorical and cautious with regard to outlining it statement related to the contentious subjects. One critical aspect which will require better fund management an institutional support among the ASEAN member states would be related to public health emergencies, and also inoculating large population across Southeast Asia. Selecting the most effective vaccine among many would be another arduous task. It would be interesting to note that how in Brunei the issues related to gender equality, women empowerment would be addressed given the fact that it is a conservative Muslim society.
Timor Leste has been requesting for ASEAN membership for quite a long, and it would be prudent to at least induct the country as an observer. It would require the ASEAN countries to handhold the Timor Leste in paving the way for its full-fledged membership but it is also important that the capacities with regard to undertaking so many meetings and participation in as a network would require better management as well as development of human resources that can undertake this kind of intensive meetings and workshops related to the region itself. The agenda which have been started in the last year needs continued support and also careful handling so that the issues related to the US, and ASEAN community building as well as other security challenges of the regional and international powers could be addressed without annoying one and while matching each power so that ASEAN remain central to the larger regional security perspective. Vietnam has given ideas and even new proposals, it would have to direct narrative and discourse to logical conclusions in the year 2021.