Beirut blast: Here's how you can help the UN aid Lebanon's recovery
After a devasting blast ripped through Beirut Port in Lebanon on Tuesday, wounding thousands and rendering hundreds of thousands homeless, the UN moved rapidly to step up its relief effort.
The comprehensive network of specialist UN agencies are working together to help the people of the Lebanese capital get back on their feet, but if you are wondering what you can do to help, we've put together this list of what they are doing, and where you can donate, to ensure that any aid you can give, reaches the people most in need.
This Friday and into the weekend, the UN continues to mobilize emergency assistance, including relief items such as temporary shelters. for approximately 300,000 displaced people.
The horrific blast has brought into sharp focus the need for the international community to step up and help Lebanon and its people at their time of greatest crisis, suffering the impact of economic collapse, political turmoil and uncertainty, rising infection rates from COVID-19, and the terrible destruction wrought by Tuesday's explosion.
UN Humanitarian Affairs office, OCHA
The blast ripped through "a country already facing civil unrest, economic hardship, the coronavirus outbreak, and a heavy burden from the Syrian refugee crisis", the UN Humanitarian Coordinator, Mark Lowcock, pointed out on Friday.
As more supplies are arriving each day to support operations, OCHA has released $6 million from the Central Emergency Response Fund (CERF) to fund trauma care, support to hospitals, repair damaged homes and provide logistical support.
Meanwhile, within 36 hours of the blast, the UN Resident and Humanitarian Coordinator for Lebanon, Najat Rochdi, had released $9 million from the Lebanon Humanitarian Fund to address primary health needs and provide food assistance to the most vulnerable.
Funds given to UN and partners 'will go directly to the people'
In a specially recorded audio message for UN News, Ms. Rochdi gave an assurance that all funds that members of the public around the world feel moved to donate to the UN, and its NGO partners, "will go directly to the people who suffered from this horrendous blast'.
Any donation that can be provided "will help alleviate the immediate suffering and support the Lebanese people as they start the process of rebuilding", said Mr. Lowcock.
WFP: Feeding people
Amid concerns that the explosion will worsen an already grim food security situation that has coincided with a profound financial crisis and the COVID-19 pandemic, the World Food Programme (WFP) said it is in "close" discussions with Lebanese authorities to coordinate its emergency food response.
As the country works to rebuild Beirut Port, WFP announced on Friday that it would help boost food security across the country by importing wheat, flour and grain as huge cereal silos were destroyed in the epicentre of the blast.
Already providing cash and food programmes in Lebanon, WFP will also help with logistical and supply chain expertise and any donation you can spare would be greatly appreciated.
WHO: Working with health partners
The day after the massive blast, the World Health Organization (WHO) sent 20 tonnes of health supplies to cover 1,000 trauma and 1,000 surgical interventions for those injured in the explosion.
"We are working closely with national health authorities, health partners and hospitals treating the wounded, to identify additional needs and ensure immediate support," said WHO Representative in Lebanon, Dr Iman Shankiti.
And on Friday afternoon WHO chief Tedros Adhanom Ghebreyesus released $2.2M from the Contingency Fund for Emergencies (CFE) to support the immediate response while ensuring the continuity of addressing the COVID-19 pandemic. Click here to support the UN agency's work in dealing with the on-going outbreaks in countries dealing with multiple disasters like Lebanon.
UNHCR: Needing shelter
As they rush to support the Government-led response, "shelter, health and protection" are the top priorities for the Office of the UN High Commissioner for Refugees (UNHCR), spokesperson Charlie Yaxley told reporters on Friday.
"The need for shelter is massive", he said, adding that the explosion may have also impacted refugees living in Beirut.
As UNHCR continues to respond to the COVID-19 crisis, it is also working to decrease the pressure on overwhelmed hospitals and allow more patients to be treated promptly. Any contribution you can make will be used to help achieve this.
IOM: Missing refugees
While the impacts of the explosion on Lebanon's estimated 400,000 labour migrants and approximately 1.5 million refugees are yet to be seen, those already living in precarious situations will certainly be at greater risk, according to the International Organization for Migration (IOM).
The UN migration agency is working alongside UN partners to conduct a rapid assessment to further understand the magnitude of the damage and the specific needs of the most vulnerable people – including Lebanese citizens, migrants and refugees.
"Now more than ever we must guarantee the health, safety and security of Lebanon's most vulnerable people", said IOM Director General António Vitorino, stressing the need to incorporate the needs of migrants and refugees in broader emergency response plans. Click here to donate to IOM's general relief efforts.
UNICEF: No water, COVID surges
Against the backdrop of massive damage to homes, and COVID-19 cases spiking to a record 255 infections registered on Thursday, the UN Children's Fund (UNICEF) cited latest available figures on Friday estimating that up to 100,000 children might be homeless, or living without water or electricity.
"The needs are immediate, and they are huge", UNICEF spokesperson Marixie Mercado told journalist in Geneva on Friday, appealing for an initial $8.25 million for the emergency response.
Among other things, UNICEF is working to replace PPE and other medical products lost in the blast while procuring critical health supplies; distribute water; reunite children separated from their families, and provide them with psychosocial support.
Emergency cash assistance is needed and damaged health care facilities and schools require rehabilitation, please consider donating here.
UN human rights office highlights 'calls for accountability'
With large swathes of the city unfit to live in, the country's principle port all but destroyed and the health system on its knees, the Office of the High Commissioner of Human Rights (OHCHR) called the situation "dire".
"Victims' calls for accountability must be heard, including through undertaking an impartial, independent, thorough and transparent investigation into the explosion", OHCHR Spokesperson Rupert Colville said, calling for "a swift international response and sustained engagement", to prevent many more lives from being lost.
Click here to assist the UN human rights agency protect the rights of the poorest and most vulnerable.
UN staff: A family matter
UN staff across the world have also stood shoulder-to-shoulder in solidarity with their Lebanese colleagues.
The UN Staff Unions in New York, Nairobi and Vienna, as well as the Staff Associations of the Economic Commission for Latin America and the Caribbean (ECLAC), the Economic and Social Commission for Asia and the Pacific (ESCAP), and the Economic Commission for Africa (ECA), have raised $32,000 in funds so far from workers, to support the Economic and Social Commission for Western Asia (ESCWA) and UNIFIL (the United Nations Interim Force in Lebanon), both headquartered in Beirut.
Click here to donate to the Go Fund Me page set up by UN Staff Unions and Associations.
EU joins efforts to address the global water crisis and ensure water security for all by 2050
From tomorrow, at the United Nations Water Conference in New York from 22 to 24 March, the EU will be confirming its strong engagement for global water security by announcing 33 commitments for action starting now. These commitments will underpin the EU vision that by 2050, the world should be resilient to increasing water stress, providing water security for all.
The world is currently facing a water crisis driven by overdemand, mismanagement and the impacts of the triple crisis of climate change, biodiversity loss and pollution. 40% of the world's population live in areas affected by water stress. Water resilience is key to prevent and address the current and future health, food and energy crises.
The UN 2023 Water Conference is the first of its kind in almost 50 years, aiming to mobilise global action for water resilience and security. The EU delegation, led by Commission Vice-President Dubravka Šuica, will be presenting the EU voluntary commitments to the Water Action Agenda – a platform to accelerate global progress on the water-related sustainable development goals. The EU priorities for the conference include:
Ensuring access to safe drinking water and sanitation as a human right;
Protecting and restoring aquatic ecosystems for sustainable development, climate mitigation and adaptation;
Promoting a more integrated approach to the management of water resources across sectors;
Promoting circularity in the use of water for industry, energy and agriculture by increasing water efficiency and water reuse;
Promoting transboundary water cooperation, as a catalyst for peace and security; and
Mobilising public and private finance, research and innovation, and knowledge sharing.
EU commitments
The EU brings together a range of commitments to the Water Action Agenda. They draw on a number of policy actions and EU laws, leading water technologies, as well as extensive support to partner countries on water and sanitation. The EU contributions include:
Supporting the improved access to water and sanitation for 70 million people worldwide;
Securing safe drinking water in the EU and enhancing the availability of tap water in public spaces;
Contributing to the reduction of water use in the EU by setting water-saving standards for products, and developing non-conventional supplies, such as reuse of treated water for agricultural irrigation or desalinisation;
Tackling the pollution of our rivers and oceans, by 50% reduction of pesticides, nutrients, antimicrobials and plastic litter at sea as well as 30% reduction in microplastics;
Increasing research and innovation, citizen engagement and blue investments: the EU as a whole and the EU Member States have committed over € 1.4 billion from 2021-2024 and additional commitments are expected until 2027;
Increasing the restoration of rivers in the EU;
Increasing the resilience of society to floods, droughts and sea level rise, by improving risk management, preparedness, and response;
Reducing greenhouse gas emissions in water management, among others by reducing energy needs of urban wastewater treatment plants;
Improving transboundary water cooperation, supported by Global Gateway investments: EU and Member States have committed over €1.1 billion for transboundary water management in Africa and Central Asia covering 47 countries and 18 major transboundary water basins.
The full list of commitments can be found here.
Background
Safe water is a precondition for human and environment health, and a human right. Water is an indispensable resource for the economy and plays a fundamental role in the fight against climate change.
Yet this vital natural resource is being depleted, polluted and mismanaged. 2.2 billion people still lack access to safe drinking water worldwide, and more than half of the global population does not have access to safe sanitation. 80% of the world's wastewater is discharged untreated directly into the environment. Pressure on both quality and quantity of water is mounting. Across the globe, extended periods of severe drought and massive flooding affect the availability of water for human consumption as well as productivity in agriculture, industry and the energy sector. Water stress contributes to the increasing risk of conflicts and instability.
In the EU, access to safe drinking water and sanitation is high, and water quality is improving overall. At the same time, with the increasing frequency and intensity of droughts and floods the EU is confronted with many water challenges, which require new solutions. The progress in reducing water pollution from agriculture is stalling and most European water bodies are not yet in good status. The conference offers the opportunity to look for common solutions and best practises.
At the conference, the EU will participate in the five interactive dialogues. Together with China, the EU will co-chair the inter-active dialogue "Water for sustainable development".
Pre-Hung & Slab Doors: Comparison Guide
When it comes to choosing a door, there are plenty of things to consider, starting with matching the style correctly and ending with defining the proper material. However, the crucial choice to make is whether to go with a slab or a pre-hung door. This comparison post lists each option's peculiarities and pros and cons to help you make the right decision.
Pre-Hung Doors
Pre-hung are slab doors already attached to a three-sided doorframe by hinges. They are usually provided as a "ready to go" package, although some models may require additional features. A pre-hung door is a self-contained unit with a frame that can fit into a prepared doorway. According to some reviews for Ecoline doors, this option mainly includes the door slab itself, hinges, frame and frame pre-cut for the strike plate, mortises cut in, and a pre-cut hole for the doorknob.
Pros and Cons
Understanding key advantages and drawbacks is essential to making the right choice, whether looking for new Ecoline Windows or pre-hung doors. So let's clarify the pros of the pre-hung variant.
hinges pre-attached to the frame;
no need to build a frame from scratch, so the installation process is easy;
an ideal match for the exterior walls as it comes weather-tight.
Pre-hung door units also have some cons. They are more expensive than a slab option, heavy and hard to manage, bulky to move, and sometimes it can be difficult to get it correctly positioned. Additionally, you still need to finish the drywall, painting, and trim installation.
Slab Doors
Slab doors are basic, stripped-down, and don't include a frame. So there is a need to attach this door to an existing frame or create an entirely new one. This option can be presented both with and without a pre-cut hole for the doorknob. Generally, the hardware—like the doorknob, shims, hinges, and metal strike plate—needs to be bought separately.
Pros and Cons
Compared to a pre-hung, this option has some pros, including:
often cost much less;
provide you with much more design flexibility;
excellent choice for an interior door, but can be installed as an exterior one as well.
However, there are some drawbacks to slab doors as well. Installation can be difficult, as it requires a steady hand and plenty of practice. You also still need to purchase some hardware and do the cutouts. Although it's easier to install it if you do a one-for-one installation, it'll be a challenging process to hang it right if there's any variation in the size and configuration. Additionally, opting for a recycled slab door will require some extra work, like planing, sanding, and straightening.
What to Choose?
Since everything depends on the circumstances and budget, there's no exact solution. However, a pre-hung is the perfect pick if the existing frame is damaged and installing a slab door is impossible. Also, it's a good choice if you seek easy and fast installation, need to install several doors at once, and are ready to wait for your door to be manufactured and delivered.
Conversely, a slab door is often a budget-friendly choice, preferred mainly by do-it-yourselfers. It's suitable if the doorway is of a standard size, there's a need to change only the door and not the frame, and you don't want to install the frame or casing.
Hence, consider all the factors carefully when making your decision. With the right door, your home will have the security and style it deserves!
Global Times: Xi's visit to Russia conveys great significance, injects certainty and positive energy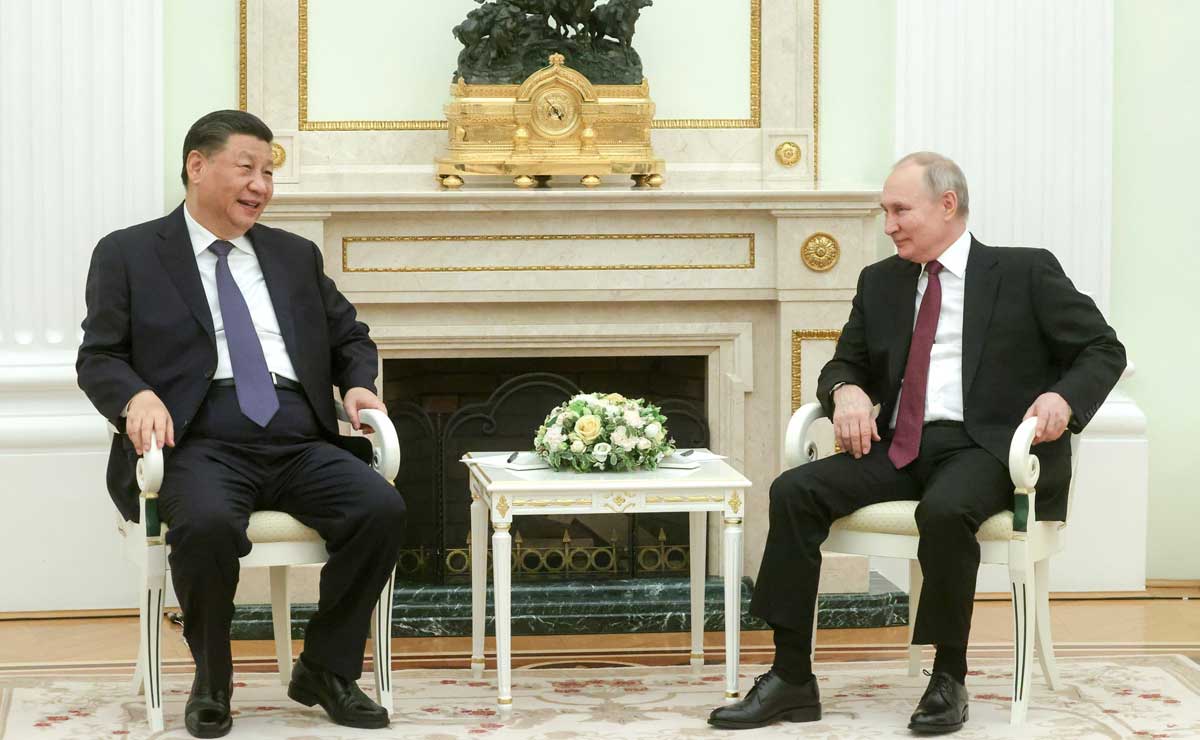 Chinese President Xi Jinping's state visit to Moscow is expected to attract global attention as the visit – the first overseas visit of the Chinese top leader in 2023 following the two sessions – is a trip of friendship, cooperation and peace, writes 'Global Times'.
However, the US and its allies are viewing the upcoming visit through "tinted glasses" by distorting the nature of China-Russia relations, smearing China's possible role as a mediator in the Ukraine crisis and rejecting its calls for a ceasefire in the conflict.
Some Chinese and Russian observers believe that the question is whether the US and the West want a mediator now or they just want the Ukraine crisis to prolong as long as possible, using Ukraine as a pawn to weaken Russia and control Europe while maintaining its hegemony in the world.
Not only is the US worried about the deepening China-Russia relations, it also constantly smears China and rejects China's proposal for peace talks, which shows that Washington does not want peace as it only wants to continue using Ukraine as a tool of weakening Russia and using the Ukraine crisis to engage in bloc-led confrontation, Zhang Hong, an associate research fellow at the Institute of Russian, Eastern European & Central Asian Studies of the Chinese Academy of Social Sciences, told the Global Times.
Although the US and some of its allies are skeptical about China's role and show "growing concerns" over the deepening China-Russia relations, some European countries such as France and Germany, which have been under the shadow of the crisis over the past year, are expecting China to play a bigger role in mediating the conflict, some experts said.
The China-Russia comprehensive strategic partnership of coordination for a new era is based on independent foreign policy, and the regular reciprocal visits of heads of states of Russia and China have been a tradition since mid-1990s said some Chinese and Russian experts.
The Chinese envoy to Russia also viewed such close interactions and exchange of views between the heads of state of the two countries as "the compass and anchor" of the development of bilateral relations.
"President Xi's state visit to Russia this time is a milestone for China-Russia relations in the new era. It will inject a strong impetus into bilateral relations and lead the sustained development of bilateral ties at a high level," Chinese Ambassador to Russia Zhang Hanhui told the Global Times in a recent interview.
Ten years ago, Xi's first overseas visit after being elected as the President was to Russia and during that visit, he elaborated for the first time on building a community of shared future for mankind, Wang Yiwei, director of the Institute of International Affairs at the Renmin University of China, told the Global Times on Sunday. "Ten years later, Xi's first visit after being elected as president will be to Russia, which also fully underscored how much importance China attaches to China-Russia relations in the new era," Wang said, noting that the visit will convey milestone significance, setting an example for a new type of international relations.
"As two permanent members of the UN Security Council, China and Russia are responsible for advancing the course of a multipolar world, rejecting unilateralism and hegemony," Wang said, noting that it's important to enhance strategic coordination with Russia and remain vigilant on Washington to reproduce the Ukraine crisis in Asia, writes 'Global Times'.