Neatly tucked away on the sparkling Turkish Riviera, the utterly luxurious Dalyan Resort is a dreamy coastal cocoon that one never wishes to leave. Once a sleepy fishing village, the seaside town of Dalyanon Turkey's glittering coastline has, in recent years, become something of a playground for the jet-setters seeking respite from city life and her pernicious tendencies. The unique medley of beautiful red bricked cottages and ancient ruins run into an alluring elegance.
With its status as a burgeoning tourist hotspot there has been a slew of luxury hotels and resorts, all jostling for the patronage of beautifully bronzed, well-heeled holidaymakers. Establishing itself as one of the area's most comforting boltholes, Dalyan Hotels run by the utterly charming, Yucel Okutur and his wife, Fulia. The seaside property promises a blend of style, serenity and comfort. Oh and how well it delivers. The magnificence is made clear from the very second one steps into the resort's cosy lobby. A sweeping look from the sleek marble-panelled arrival deck across the sea and towards the property's pristine private deck begs no question as to why this corner of the world is a secret so well kept. One cannot help but saunter around corners past slivers of glittering sea interspersed with bursts of pink oleander. A private sun-drenched armchair from which can embrace the nature enjoy the nourishment whilst flipping through the fables of Marco Polo, an apt companion an inspiration for and of travels.
The clever integration of spaces indoor and outdoor extends throughout the property inspiring a sense of oneness with nature. The classic yet contemporary interiors are best illustrated in the spa. Gazing at the marbled paintings, one reminds one of the four seasons, much like Vivaldi. The use of light, domes, marble tiling, high ceilings and open plan spaces generates a refreshing airiness and palatial spaciousness- a very special Turkish delight. Locally crafted fabrics, furniture and art are tastefully displayed alongside modern décor. No stuffiness or over-the-top excessiveness provides a veritable feeling of ease and comfort abounds, giving the sense that these are spaces designed to be lived in and moved through.
Moreover, travel brings out the best in men like myself who get dressed every evening feeling a bit like Napoleon: ready to conquer the world. There is a spring in our step and a smile on our faces. When we reach to our pre-booked table near the Riviera, we tend to soak in the ambience. There is a romance to every evening. We tend to find ourselves in the laps of fine company and an eclectic state of mind. Just like most things, travel for men like myself is not a liberator, rather, is the elixir of our being. After feasting well into the night with Kebabs and what not, one may feel inclined to forgo breakfast, but the extensive buffet is too enticing to refuse. One sets up for the day with freshly-baked bread and Turkish pastries, organic juices, a huge array of cooked dishes and plenty of fresh fruits and cereals. There is an overwhelming sense of calm in the entire hotel, which is more like home. Unbridled bliss is the name of the game it becomes impossible not to leave feeling utterly rejuvenated. The bespoke service of its staff, who are friendly and attentive without being bother some.I am inclined to believe, this' true luxury.
Food & Wine boost Italian tourism
Italian cuisine is often said to be the best in the world. Italians are certainly very proud of it and it is a strong identifying symbol. Furthermore, it is a considerable tourist attraction.
This is proven by the latest Report on Italian Food and Wine Tourism, which shows that the number of Italians who made a trip with food and wine as the main reason for travelling is still rising. It was 58% in 2023, up by 37% compared to 2016. In absolute terms, this is an estimated 9.6 million people.
Despite the economic crisis, approximately 1 in 3 Italian tourists say they have a bigger budget for the purchase of food and wine tourism offers, than they did in 2022.
The search for cuisine-based experiences is now common among all Italians: 7 in 10 have selected them at least five times in their latest travels (+25% compared to 2021). This piece of data is in line with the results of the European Travel Commission study, which found that food&wine-based offers were the most popular among European travellers. This trend was also confirmed by the data from the True Italian Experience Observatory, a research centre that studies tourism-related trends, flows and knowledge of Italy around the world. The research centre uses WOSM© (World Open-Source Monitoring), one of the most advanced systems for the collection, selection, processing, media intelligence, analysis and management of data from TV, press, radio, websites and social networking sites. The latest data, which refer to June 2023, confirm that Italy ranks third among the best-known countries worldwide and highlight how the food&wine sector is one of the main elements boosting Italy's notoriety, rising from 7.15% to 8.52% compared to the previous December 2022 analysis.
Travelling among Italian areas of excellence
Every part of Italy can delight travellers with unique flavours and culinary traditions, including some that are famous and much loved all over the world. Specifically, Italians feel the regions of Sicily, Emilia-Romagna and Campania offer the best food and wine, while the most popular cities are Naples, Bologna and Rome.
But is it really possible to forget all the other regions, each with lots of traditional foods and dishes, prepared with recipes handed down from one generation to the next? From Tuscany to Puglia, from Piedmont to Calabria, from Veneto to Liguria, from Marche to Abruzzo, up to Friuli Venezia Giulia and Trentino Alto Adige: every part of Italy can boast of excellent products to discover and valorise. There is no better way to appreciate these traditional products than to taste them where they are produced, which also provides a unique experience.
The best way to tour the country to discover Italian culinary excellence is travelling by train. With hundreds of daily connections provided by Trenitalia, every part of the country can be reached in a quick, comfortable and sustainable manner.
Specifically, among the proposed tours that can be found on the Trenitalia.com website, Viaggio del gusto (with Intercity trains) stands out: a journey leading to the discovery of Italian food&wine traditions, with descriptions of local cuisine and products and a list of the train connections in each region.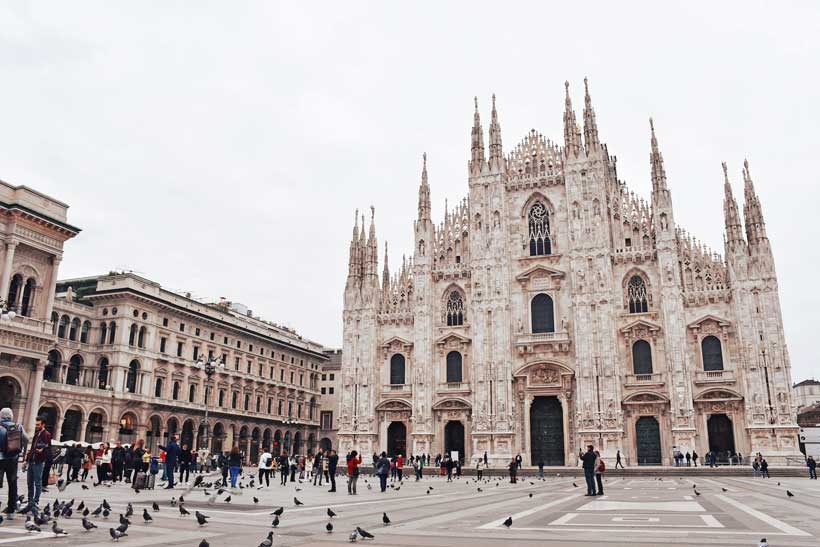 Even if the 2023 summer tourist season has been somehow penalised by high prices, Italy nonetheless remains an extremely popular destination with international visitors, with a growing number of tourists travelling by train.
Italy is the most beautiful country in the world, and this is certified by the number of UNESCO World Heritage sites, which has no equal. Our beautiful landscapes, history, culture, and food and wine make Italy a favourite destination with tourists from all over the world, and this summer 2023 was forecast to be a record season for Italian tourism. The definitive figures are not in yet, but those expectations have been at least partially downsized by spiralling prices, as a result of which many Italians were unable to take a summer holiday, or chose less expensive destinations.
Record-breaking season or not, however, Italy certainly remains a popular destination, as demonstrated by the data of the Italian Observatory on Domestic and International Tourism Flows, presented in Venice on September 1st. These data show that Italy is the fourth most popular destination for European tourists, who invested 12% of total tourism-related spending in our Country. July saw the highest growth in spending on hotels in Italy, exceeding even the totals for Spain and the UK. The largest numbers of foreign visitors to Italy come from Germany, Switzerland, USA, UK and the Netherlands, and travellers are increasingly choosing to travel around by train.
The train is one of the most popular means of transport in Italy
Trains are an increasingly popular choice for travelling across Italy, because of the fast, convenient, widespread rail network that combines efficiency and sustainability, and is often a more affordable option than others.
In the first five months of 2023 alone, Trenitalia transported 24% more passengers than in 2022.
Summer brought an impressive 75 million tourists onto the trains of the Italian state rail network. More than half of this figure was recorded in August, with a rise of 15% compared to August 2022. This result is a reward for the efforts made by Trenitalia to guarantee fast, convenient rail links to reach holiday destinations.
This return to rail travel also regards younger travellers, with 3.5 million under-15s travelling on Frecciarossa, Intercity and Regional trains, also thanks to the promotional offers aimed at families. One of the services that has proved most popular is the Family Area, which can be found on Intercity trains: a carriage for the whole family, where kids can enjoy dedicated entertainment during the journey, making it part of the holiday experience, rather than just a means of transport to their destination.
This philosophy is shared by True Italian Experience, the digital tourism hub of which Trenitalia is the main partner, and which promotes gentle, sustainable experiential tourism.
The summer's most popular Italian destinations
For trips lasting more than five days, Italian seaside and mountain locations proved most popular in 2023, with Trentino Alto Adige, Veneto and Liguria the Italian regions that registered the most significant increases in visitors, compared to 2022.
A positive trend compared to 2022 was also recorded in Campania, Puglia and Emilia-Romagna, with Rimini topping the list of seaside destinations, especially for family holidays.
Major tourist flows were also registered in areas renowned for their natural beauty, such as the Dolomites, Lake Garda and the Langhe wine region, while the top three destinations Italian for city holidays remain Rome, Naples and Florence.
The main Italian cities reached by train by the highest number of travellers were Rome, Milan, Naples, Turin and Bologna, with the Apulian cities of Bari and Lecce among the most popular in Southern Italy.  
A Gastronomic Odyssey at Yauatcha Mumbai: Where Tradition Meets Innovation
When it comes to dim sum, Yauatcha Mumbai is undoubtedly a name that stands out in the vibrant culinary landscape of the city. Nestled in the heart of Bandra Kurla Complex, this upscale restaurant has consistently garnered praise for its exquisite blend of traditional and innovative Cantonese cuisine. During my recent visit to Yauatcha, I was not only treated to an array of delectable dishes but also had the pleasure of experiencing impeccable service from an exceptional team led by Akshay Sasane, the shift manager.
Service Excellence – Akshay Sasane
As I entered Yauatcha Mumbai, it was clear that the staff here were committed to making every guest's experience memorable. Akshay Sasane, the shift manager, was the embodiment of professionalism and warmth. His welcoming smile and attentive nature set the tone for a memorable dining experience. Throughout the evening, Akshay made sure that every aspect of our dining experience was flawless, from seating us at a comfortable table to ensuring prompt service.
Culinary Mastery – Chef Gopi and Sous Chef Laxman Gaire
A restaurant's success is often a reflection of its culinary team, and Yauatcha Mumbai is no exception. The kitchen is helmed by Executive Chef Gopi and Sous Chef Laxman Gaire, both of whom have honed their skills in the art of Cantonese cuisine. Their dedication to maintaining authenticity while incorporating modern twists was evident in every dish we tasted.
Our culinary journey began with the Umeshu, a delightful Japanese plum wine that set the tone for the evening. It was a sweet and aromatic start to our meal, perfectly balancing the flavors that awaited us.
Yauatcha's tea menu is extensive and impressive. The variety of teas available caters to tea connoisseurs and novices alike. Our server, Mithila Kulkarni, provided expert guidance on selecting the ideal tea to complement our dim sum choices. Her knowledge and enthusiasm for tea were truly commendable.
Now, let's delve into the star of the show – the dim sum. Yauatcha's dim sum menu is a culinary adventure in itself, offering a wide range of choices that showcase the chefs' mastery over this traditional Cantonese specialty.
Dim Sum Delights
Har Gow: The Har Gow at Yauatcha is a testament to the restaurant's commitment to perfection. These delicate shrimp dumplings were a revelation, with thin, translucent wrappers that encased succulent, juicy prawns. The Har Gow practically melted in my mouth, leaving a symphony of flavors dancing on my palate.
XO Scallop Dumpling: For seafood lovers, the XO Scallop Dumpling is a must-try. Plump and perfectly cooked scallops were wrapped in a translucent skin, which was artfully pleated. The XO sauce added a spicy kick that complemented the sweetness of the scallops beautifully.
Wild Mushroom Dumpling: Yauatcha excels not only in seafood but also in vegetarian offerings. The Wild Mushroom Dumpling was a delightful medley of earthy flavors. The mushrooms were sautéed to perfection and encased in a delicate wrapper that allowed the umami-rich filling to shine.
Truffle Edamame Dumpling: Innovation meets tradition with the Truffle Edamame Dumpling. The infusion of truffle oil and the smooth edamame filling created a harmonious flavor profile that elevated this dish to a level of indulgence.
Prawn and Chive Dumpling: This dish was a marriage of contrasting textures and flavors. The crunchy chives provided a satisfying crunch, while the prawns remained tender and succulent. The subtle seasoning allowed the freshness of the ingredients to shine through.
Steamed Char Siu Bun: These fluffy, steamed buns were filled with succulent char siu pork that had been slow-cooked to perfection. The slightly sweet and savory filling was a true delight.
Spinach and Water Chestnut Dumpling: A vegetarian dim sum that stood out for its refreshing taste. The combination of spinach and water chestnut provided a unique textural experience, and the light soy-based sauce tied the flavors together beautifully.
Crispy Aromatic Duck Roll: This dish was a fusion of Chinese and Indian flavors, with tender duck rolled in a crisp wrapper and served with hoisin sauce. The contrasting textures and rich flavors made it a memorable choice.
Dessert Extravaganza
No visit to Yauatcha is complete without indulging in their dessert offerings. We sampled the Raspberry Delice, a heavenly dessert that balanced sweetness, tartness, and creaminess with finesse. The chocolate soil and raspberry sorbet provided delightful contrasts in texture and temperature.
As our dining experience came to an end, it was evident that the dedication of the entire Yauatcha Mumbai team, from Akshay Sasane's warm welcome to the culinary expertise of Chef Gopi and Sous Chef Laxman Gaire, had made our visit truly exceptional. Tabassum, the Retail Shift Manager, ensured that we left with a smile, and Mithila Kulkarni, the Retail Assistant, guided us through the extensive tea selection with grace and knowledge.
Yauatcha Mumbai is more than just a restaurant; it's a culinary journey that explores the rich traditions of Cantonese cuisine while embracing innovation and modernity. The impeccable service provided by the team, led by Akshay Sasane, elevates the dining experience to a level of excellence that is truly unparalleled. From the Umeshu to the wide variety of teas and the exquisite dim sum, Yauatcha Mumbai is a culinary destination that promises unforgettable flavors and unforgettable memories. It's a place where tradition meets innovation, and where every guest is treated like royalty.