Maritime and naval component is an important part of political, economic and military domain of a maritime nation. This component enhances a states role in foreign policy, diplomacy, economy and especially in military domain to further its national interests. Pakistan and India apart from being a hostile neighbors with over 3,323 km of international land border also share maritime space in Indian Ocean Region. To ensure robust presence and control of the maritime frontiers it's the responsibility of the navy and its maritime forces to establish the writ of the state in alignment of national interests. For this purpose to understand and devise the role and duties of the navy a doctrine is established which acts as a anchor to establish the norms of the naval and maritime components and develop understanding among tri services (Army and Air-Force) and also of one state's national maritime objectives with other states. Thus, for this purpose the establishment of a naval doctrine is necessary for a maritime nation. Pakistan being a responsible maritime state has published its own maritime doctrine termed as "Preserving Freedom of Seas" in December 2018.India on the other hand enjoys largest coastline of 7,516 km among any other maritime state with its blue water navy ambitions. The Indian Maritime Doctrine which was published in 2009 highlights the naval ambitions of yet a developing state which causes grave concerns and challenges to Pakistan's maritime interests in the Indian Ocean Region. Thus, a comparative analysis of both these doctrines underlines the aims and objectives of how both these states perceives the space of Indian Ocean Region.
Indian Ocean Region
Indian Ocean Region is the worlds third largest water body which comprises an area of 65.556 million sq km and have a coastline of 66,526 km. The IOR lies in one of the worlds most contested region which is rich in natural resources including fossil fuels, oil and gas, fisheries and untampered ores and minerals. The IOR has four most crucial access points or choke points namely water ways of Suez Canal (in Egypt), Strait of Hormuz (between Iran and Oman), Strait of Malacca (located between Malaysia and Indonesia) and Bab-al-Mandeb (located near Djibouti and Yemen). The area is currently facing various turmoil's and challenges including civil unrest, state conflicts and is in the lime-light of the major power politics and strategic interests. The northern part of Indian ocean region ferries 70% of sea borne oil trade and about 50% of sea borne trade.[1]
Pakistan and India both share a significant importance in the international politics due to their geographical positioning and relevancy to major land and maritime routes. Pakistan enjoys an area of 350 nautical miles of Exclusive Economic Zone in Indian Ocean Region, while, India maintains a significant larger jurisdiction over 2.8 million sq km of space in Indian Ocean.[2] With over two naval engagements of 1965-1971 and disputed territories in the region including Sir Creek dispute, both of these South Asian states hold Indian Ocean as a vital component of their strategic apparatus in political, diplomatic and military domains. The economic importance attached to the mercantile component of the Indian Ocean Region thrives the economy of not only Pakistan and India but also the world at large with the onslaught of advance sea borne container freights and other vessels.
Pakistan's Maritime Doctrine 2018
The Maritime Doctrine of Pakistan Navy was published in December 2018 during Maritime Security Workshop which was held at Karachi.[3] This doctrine was published after a research of seven years by the academicians of Naval War College. The doctrine is a comprehensive document on issues pertaining to the maritime affairs and role of Pakistan Navy in mitigating them in the light of national interests. The main role as highlighted by the document is to protect the vital maritime interests, ensure national security and mitigate threats posed by any sea based source, economic viability and implement vital foreign policy tools and diplomacy through the naval component. Other major factors highlighted by the doctrine highlights the commitments of Pakistan at the international level and the responsible role played by Pakistan to fulfill its role to ensure peace and stability in the Indian Ocean Region under its Area of Responsibility (AoR).
According to the document, the role of the doctrine is to establish particular set of principles which are advocated by major policy narratives acquired through experience and provide guidance pertaining to certain issues. The purpose of the doctrine should be to highlight the important factors, give accurate and authentic information, while, remaining flexible with continuous change. The doctrine helps in analyzing and managing change, the shared principles and practices, and is the force behind the institutional development which pursue fundamental national objectives. The interplay between the policy, strategy and doctrine is based upon the national interests and objectives enunciated in the constitutional directives issued by political leadership.[4]
The Naval and Maritime Strategy
According to the document the naval strategy deals with the aspect of employment and deployment of the naval forces in time of war and peace. While, the maritime strategy comprises of a broader domain encompassing the issues pertaining to maritime ecosystem, economy, trade, security and safety, threats and opportunities emanating from the maritime domain. The economic component include the sea borne trade, fishery and marine resources, natural resources, while, the threats include sea borne human, drug trafficking, gun-running, piracy and poaching.
Maritime Force
The naval component of the strategy comprise upon the employment and deployment of naval fire power against surface, sub-surface, air and ashore based threats. The domain of the naval strategy also comprises of the electromagnetic and cyber domain also which are neutralized by various hardware assets and human capital having technological edge over the adversary. This technological edge is ensured by maintaining advanced cruisers, destroyers, frigates, submarines, amphibious assault ships and other fleet auxiliaries.
Foreign Policy Tool
The maritime forces maintained by a state should be flexible, versatile, and sustainable giving them mobility and readiness to operate when and where needed as the need arises, thus, ensuring the naval supremacy of a maritime power nation. Moreover, navy is an important component of the foreign policy ensuring the pursue of entailed objectives such as freedom of navigation, extension of alliances through friendly port visits, aiding in humanitarian and disaster relief operations among others.
International Maritime Regimes
The interaction of states on the high seas is regulated and controlled by various international regimes mainly United Nations Convention Laws of Seas (UNCLOS-1982). The role of the international maritime regimes is crucial to regulating the sea space between the states. Pakistan being a responsible member of the international community is a member of various cooperative, economic and security regimes. Regimes such as Indian Ocean Maritime Affairs Cooperation which was ratified in June 1983 focuses upon ocean governance and management. The Indian Ocean Rim Association which was signed in Mauritius in 1997 focuses upon regional technological and economic cooperation in maritime domain among member states. The International Maritime Conference such as AMAN are held biennially from 2007 by Pakistan to promote cooperation among regional naval forces and share same sense of security towards the maritime threats and challenges. Western Pacific Naval Symposium emphasizes upon pragmatic cooperation between the major states and has developed code of unplanned encounters in sea among the member states which ensures safety and develop bilateral relations.
Maritime Security Initiatives
The maritime security initiatives were readily taken in the aftermath of the 9/11 incident in order to curb the proliferation of weapons of mass destruction through the international water ways. These initiatives ensure that the sea is safe from all threats and challenges. These initiatives comprises of issues relating to conventional maritime security issues, state sovereignty, non-traditional maritime security problems, terrorism, territorial disputes and human and drug trafficking issues. The initiatives comprises of International Ship Port Facility Security Code ISPS, which was launched in December 2002, focuses on security issues pertaining to port facilities and maintaining good order at sea. Other initiatives such as Automatic Identification System AIS is similar to Identification of Friend or Foe IFF but on sea regulating the movement of sea vessels and personnel onboard. Other multifaceted maritime security initiatives include Secure Freight Initiatives SFI, Proliferation Security Initiative PSI and Container Security Initiative CSI. These initiatives monitor sea based cargo and personnel movement through various checks and balances using non-intrusive equipment and optical character recognition instruments.
Maritime Environment
The progressive rise in the economic power centers especially in Asia-Pacific from trans-Atlantic has raised the stakes for the maritime component of trade, geo-politics and strategic dominance in the region. The threats in the region include jeopardizing the maritime trade due to political purposes, sea lanes of communications, combat restricted exclusive economic zones. The increasing maritime threats include smuggling, human and drug trafficking, gun-running. Moreover, the initiation of China-Pakistan Economic Corridor CPEC is the pilot project to enhance the economic importance of the Gwadar port and Pakistan in the region.
Climate Change and Sea Level Rise
Climate change is a considerable threat which is dramatically impacting the coastal domain, increasing the sea level, changing the wave patterns, soil sedimentation and unpredictable storm events. These alterations impact the biodiversity of the marine ecosystem and also threatens the coastal regions.
Collaborative Maritime Security
The collaborative maritime security initiatives include Pakistan's active participation in the Combined Task Force 150 and 151 which has been regularly commanded by Pakistan Navy. These task force ensures that the water ways in the Northern, Western and Central Indian Ocean are kept free from piracy and trafficking, ensuring a safe environment to the economic trade and free movement of sea freight.
Command Of The Sea
The command of the sea is projected through maritime power which enables a nation to control the sea through various spectrums of threats including surface, air, electromagnetic and cyber domains. The naval strategies are adopted by various sea based platforms which perform naval blockade, Force benign role such as ensuring balancing and avoiding head on collision with a greater enemy, naval diplomacy, coercion, gun-boat diplomacy and deterrence at conventional, sub-conventional and nuclear level among many others.
Maritime Command and Control
Maritime command and control is ensured by having a situational domain awareness across the sea based on technological advanced intelligence, surveillance, reconnaissance and target acquisition ISRTA systems. Thus, the domain awareness helps in establishing a more robust and flexible strike element according to changing threat environment. The contemporary increase in sub-conventional maritime threats has forced navy to converge its focus upon threats generating from non-state actors either at land or sea.
The nuclearization of the Indian Ocean by the adversary has raised the stakes in the region, while, the adversary is still instigating in sub-conventional warfare under the cover of nuclear umbrella. Thus, the deliberate desire of the enemy to keep the conventional theater alive calls upon changing the apprehensions regarding the conventional threat. The Pakistan Navy considers that the prevalence of deterrence across all the spectrums must be ensured and upon the failure of the deterrence the protection of maritime interests must be ensured at all costs. For this purpose Pakistan Navy has adopted the approach of provocative, and flexible mobility using the sea space, regulating attrition from multi-dimension cause dilution of enemy forces. Lastly the approaches include hit first with maximum effects and minimum application of force. The nature of naval warfare in coming era will require a robust and flexible force posture ensuring stealthy capabilities. The high-tempo and high-intensity diversion and disruption of sea lanes of communications of the enemy using submarine component of the force to dominate the war theater are among the major priorities of the navy.
The future warfare environment would be in a network centric environment which would be prone to cyber threats upon the major critical infrastructure. Navy is working on ensuring that the force is ready to overcome the future challenges in coming years ranging from information wars to cyber threats and ensuring interoperability of land and air-forces in synchronization with navy thus ensuring accomplishment of goals as desired by political leadership.
The Comparative Analysis of Pakistan's Maritime Doctrine with Indian Maritime Doctrine
The maritime doctrine of India was published in 2009, which propagated the increasing role of Indian Navy in the Indian Ocean Region highlighting the Blue Water Navy ambitions of India. The doctrine of Pakistan Navy contrasts and contradicts the Indian Naval apprehensions at various points. While, both of the doctrines ensure to maintain the conventional and nuclear deterrence and ensure capability enhancement to overcome the upcoming information and cyber warfare domains. The Indian Naval doctrine undermines the chances of any Force-Benign and force balancing posture and subsequently highlights the of the role of maintaining a strategic superiority in the region. While, the maritime doctrine of Pakistan ensures that it is a responsible state by complying to international commitments pertaining to maritime domain. Indian Navy on the other hand does not highlight and discuss the importance of the maritime security initiatives altogether. Thus, this aspect highlights the Indian Naval ambitions to acquire superiority in the region.The contrasts in the doctrines of India and Pakistan are there to persist, but there are various similarities along various points relating to the command of sea and on war. The highlighted points include the realization of prevalence of sub-conventional warfare and the rapid change in the battle field and role of the navy in terms of combating various threats. The role of the navy has enhanced from maintaining control of the sea at non-conventional low intensity conflicts to conventional and all out nuclear conflicts including the total-war scenarios.[5]
Recommendations
To maintain strategic stability and effective control over the maritime domain it is recommended that Pakistan should engage in effective diplomatic relations with states in Indian Ocean Region especially Maldives, Sri Lanka, Bangladesh and Myanmar and engage in enhancing the naval capabilities of these states, lease naval assets and deploy listening posts in the region to maintain surveillance over Indian naval movements. This ambit could be further expanded to Strait of Malacca especially Malaysia, Indonesia and in Strait of Hormuz due to its economic and strategic importance as more than 80% of energy resources for Pakistan flow through the Persian Gulf. Pakistan should diplomatically engage Gulf States especially Oman which hosts Indian Naval listening post in Ras al Hadd to monitor the potential hostile naval activates of India Navy in specific which has enhanced its patrolling in the Persian Gulf and Gulf of Oman.[6] For maintaining an effective maritime domain awareness in the region it is recommended that Pakistan Navy should develop an Information Fusion Center (IFC) in the region including allies states which would enable to maintain a joint maritime domain awareness, further enhance the ambit of its Regional Maritime Security Patrol (RMSP) and Amman Naval Exercises.[7] This would enable the navy to develop a comprehensive network centric capability which would act as force multiplier and enabler for the navy to obtain its objectives as described in the maritime doctrine effectively. The strategic competition in the region and the changing strategic and military alliances following formulation of US Indo-Pacific Command following multiple strategic agreements between India and USA following 2+2 Dialogue, Communications Compatibility and Security Agreement (COMCASA),[8]India US Logistical Exchange Memorandum of Agreement (LEMOSA), Basic Exchange Agreement for Geo-Spatial Cooperation (BECA) and Quadrilateral Security Dialogue[9] would enhance Indian naval capabilities to project its blue water ambitions not only in the Indian Ocean Region alone but beyond that especially in South China Sea and Persian Gulf.[10]Indian also have developed its Information Fusion Center for Indian Ocean region to enhance its maritime domain awareness with collaboration with regional and international partners including US and Australia in December 2018.[11] Thus, following materialization of these agreements especially COMCASA would enable India to use not only US and NATO maritime domain awareness assets but also the real time and exclusive intelligence, surveillance and reconnaissance in potential areas of interest in Indian Ocean Region and South China Sea vis-à-vis Pakistan and China's naval capabilities. Thus, the emerging strategic picture following contemporary shifts in the region especially in maritime domain would pose a considerable threat to viability of maintaining command of the sea for Pakistan in its area of interest. For this reason Pakistan should develop and enhance considerable force structure, establish and deepen its strategic relations with the regional allies mainly China for enhancing its naval capabilities and maintain command of the sea according to its national interests and to counter the threats posed from Indian Blue Water ambitions.
Conclusion
The Indian Ocean Region is a shared space between not only the two South Asian neighbors but also by the whole world which is connected by the intricate web of land, sea, air and cyber links. The role of doctrines is to ensure stability and maintain rationality among the state actors in their dealings at various levels of analysis. The maritime doctrines of both Pakistan and India ensure that while they both long for peace and stability in the region they will not undermine their national security at any cost. To ensure peace and stability in the region, Pakistan has showcased its commitments to international community ensuring that it's a responsible nation. While, the Indian on the other hand with their aspirations of becoming sole regional power are undermining their commitment to peace and security in the region. While, the trade and economics are a crucial part of the maritime domain Pakistan is working on readily to reinvigorate its economic resources to pursue its national interests accordingly. It is advised that India with its power ambitions may act a regional destabilizer that would enforce Pakistan to take provocative steps to maintain strategic balance.
---
[1] "Indian Ocean Region," US Naval War College, https://usnwc.libguides.com/IndianOcean, Accessed on December 19, 2019.
[2] "The Exclusive Economic Zone of the Seas around India," Geography and You, January 24, 2018, https://www.geographyandyou.com/exclusive-economic-zone-seas-around-india/, Accessed on December 19, 2019.
[3]"President launches first Maritime Doctrine of Pakistan," Pakistan Today, December 21, 2018, https://www.pakistantoday.com.pk/2018/12/21/president-launches-first-maritime-doctrine-of-pakistan/ (Accessed on December 19, 2019).
[4] Naval Headquarters, Islamabad, "Maritime Doctrine of Pakistan Preserving Freedom of Seas," 2018.
[5] Integrated Headquarters, Ministry of Defense (Navy), "Indian Maritime Doctrine," 2009.
[6] "Indian Listening Station In Oman Monitoring Pakistan's Naval Communications,"Aamen, February 27, 2013, https://www.aame.in/2013/02/indian-listening-station-in-oman.html
[7]SOHAIL A. AZMIE,"Regional maritime security patrols: Pak Navy's initiative for preserving freedom of the seas," The Nation, June 2, 2019, https://nation.com.pk/02-Jun-2019/regional-maritime-security-patrols-pak-navy-s-initiative-for-preserving-freedom-of-the-seas
[8] Ankit Panda,"What the Recently Concluded US-India COMCASA Means," The Diplomat, September 09, 2018, https://thediplomat.com/2018/09/what-the-recently-concluded-us-india-comcasa-means/
[9]Patrick M. Cronin, "US Asia Strategy: Beyond the Quad," The Diplomat, March 09, 2019, https://thediplomat.com/2019/03/us-asia-strategy-beyond-the-quad/
[10]Dinakar Peri, What is LEMOA?,The Hindu, August 30, 2016,https://www.thehindu.com/news/national/What-is-LEMOA/article15604647.ecein
[11] Pradip R Sagar, "Indian Navy launches Information Fusion Centre to boost maritime security," The Week, December 22, 2018, https://www.theweek.in/news/india/2018/12/22/Indian-Navy-launches-Information-Fusion-Centre-to-boost-maritime-security.html.
Is Fatigue Causing Twists and Turns in Russia Ukraine War?
As Russia Ukraine war completes three months, both sides are witnessing spectacular twists and turns, showing that reality is biting both sides. Few would have predicted a month ago that President Putin would be willing to swallow the bitter pill of Finland and Sweden's bid to join NATO, which effectively amounts to NATO's eastward expansion, adding over a thousand kilometres of direct land border between Russia and NATO, and respond only with a weak warning to react to increased weapon deployment in these two countries.
Likewise, the rhetoric of Ukraine winning the war overhyped by US led NATO through exhaustive information and perception war, seems to be fading with surrender of over 2000 Azov fighters in Mariupol, cutting off of Ukraine from Sea of Azov, besides losing a large chunk of land in Donbass Region. President Zelensky acknowledgement of diplomacy being only answer, highlighting concerns for people and soldiers is not too late, if those interested in prolonging this war let him act on it.
Parties to the Conflict
The war is sparing no-one in the world from inflationary pressures, having doubled the figures of global food insecure population, due to acute food shortage, triggering the blame game by both sides to seek concessions. While Russia can be accused of launching pre-emptive ground offensive on Ukraine, NATO can also be accused for creating conditions threatening Russia by continued eastward expansion and proxy war. While the kinetic, contact, hybrid war is on between Russia and Ukraine, the US led NATO is fighting a non-kinetic, non-contact, undeclared war in economic, information, diplomatic and political domains, against Russia; hence de-facto parties to the war.
Russian Stakes and Compulsions
After three months of war, while Russia can draw solace by sizeable territorial gains and linking Donbas with Crimea after capture of Mariupol, but at a very heavy cost of men and material, besides an unprecedented economic stress due to crippling sanctions by the West. It has made President Putin revisit his stance on Finland and Sweden, as it is cost prohibitive for Russia to open another front with NATO on Finland borders. It therefore makes better sense for him to achieve the desired end state in ongoing conflict with Ukraine by liberating Donbass Region, landlocking Ukraine and deal with Finland later. Russia realizes its limitations in economic, diplomatic, information and political warfare domain; hence more territorial gains on ground to landlock Ukraine by extending land bridge between Crimea, Odesa to Transnistria and liberating Donbass is the best option for it, to gain better negotiating position, to have the sanctions lifted.
Ukrainian Stakes and Compulsions
President Zelensky appears to recognise that neither he nor the western propaganda-based information war, which has made him a hero and outright winner, can be sustained in the long run, having lost more territory than size of some European countries, left with devastated towns, over four million refugees, heavy casualties, and the surrender of his overhyped Azov Regiments. While additional aid and weaponry with $40 billion cheque from US and $16.4 billion from EU can boost his combat power, but regaining lost ground from Russians is going to be extremely difficult, as they will use built up areas for defending their gains, as Ukraine did. Prolonging war doesn't guarantee peace for Ukraine, but it may result in greater territorial loss, unending proxy war, and a long-term Russian threat.
NATO's Stakes and Compulsions
NATO seems to be emboldened by soft Russian response to the bid of Finland and Sweden to join NATO, with a confidence that Russia has been adequately weakened to challenge eastward expansion of NATO; hence, it is keen to add these two countries with strong militaries, to secure its northern flank and have a better collective security posture in the long run. It also makes sense in context of Sino-Russian footprints in Arctic region and North Atlantic Ocean. Towards that aim, it is ready to sacrifice some of its energy and economic interests for the time being.
It is too early to predict how long this show of unified strength will continue, because the war is certainly not making Europe peaceful, with millions of refugees and non-state actors activated and a longer border with belligerent Russia, which will reorganize itself, learning from its miscalculations. While NATO may be able to handle the objections of Turkey and Croatia with few concessions/addressing security concerns, but the disagreement regarding long term energy security may not be easy to handle, once the rhetoric of united NATO starts fading with economic fatigue and energy deficit.
Is USA the Beneficiary?
In short term USA can rejoice some immediate gains. It has been able to get control of NATO, weaken Russia, create market for its arms dealers, energy companies and infrastructure contractors. It has been able to block strategic Nord Stream1 and 2, and encourage EU to find alternate energy sources, thereby reducing Russian influence drastically.
It has, however, incurred certain long-term losses, the most serious of which is driving Russia into a stronger China-Russia Axis than ever before, which is beyond its individual capabilities to handle. True, this battle has revitalised NATO, but it has also strengthened the Russia-China-Iran nexus, or anti-West alliance. Sanctions have fueled calls for an alternative financial system to avoid financial paralysis caused by a monopolized dollarized financial system, which could harm the US in the long run.
The US's global exhibition of backing proxy war by enabling Ukraine/Zelensky to fight to the bitter end in order to achieve its geopolitical aim of weakening Russia, with no American losses has tarnished the US's reputation as an ally/partner. Indeed, more than $56 billion in funding for a proxy war in Ukraine, which is more than double the amount spent in Afghanistan's 20-year war, reveals misplaced priorities, unless US is counting on making much more money from increased weapon sales by prolonging the war.
It has put Taiwan, Japan and South Korea on notice facing similar threat from aggressive China, to which US has been extremely shy of sanctioning it, despite later breaching territorial integrity of many democracies in South China Sea, violating Taiwanese air space at will, and incremental encroachment in Himalayas. The world, struggling with financial, food and energy crisis, doesn't want any extension of war, on any pretext.
The visit of President Biden to Indo-Pacific is significant to restore declining confidence of allies and partners in Indo-Pacific, without which, taking on China challenge is difficult. Many in this region accuse Biden administration of reactivating Cold War 1.0 with Russia, diluting Cold War 2.0 with China, which is a bigger global challenge with better economic muscles. The proposed launch of Indo Pacific Economic Forum is to lure more regional countries to gain lost ground in economic engagement vis a vis China.
Way Ahead
In a situation where NATO continues to persuade Zelensky to fight, giving hopes to recapture entire territory of Ukraine, and the Russians continue incremental efforts to achieve an end state of landlocked Ukraine and independent Donbass, the war will continue. Neither the sanctions have deterred Russia, nor blocking gas flow by Russia will deter NATO. As long as Ukraine is ready to be used as a tool in big power contestation and NATO continues to add fuel to the fire, the chances of talks or any mediation seems to be a remote possibility. In Russia Ukraine war, there will be no winners, but a new set of security and economic challenges will impact entire world.
Having tested US responses in Ukraine, the growing Chinese aggressiveness in Indo-Pacific is a wakeup call to US to avoid losing influence in the region, especially after losing considerable strategic space in the Middle East and Af-Pak regions. Chinese footprints in the Solomon Islands surprised US and Australia. Regular violation of ADIZ of Taiwan, belligerent North Korea threatening South Korea and Japan, reassertion of Chinese and Russian claims against Japan indicate that US resolve is under greater threat in the Indo-Pacific, where it has obligation to defend Japan and South Korea and strategic necessity to save Taiwan. It is also not easy to find another Zelensky/Ukraine in Asia, willing to act as proxy of NATO. It is for this reason President Joe Biden needs partners in Indo-Pacific, strengthen/expand Quad, and put up viable alternative economic, infrastructure, technological and supply chain in Indo-Pacific with allies and partners. The UK Foreign Minister's call for Global NATO seems far fetched at this point of time, but indicates desperation for global support to face the reality of threat from growing Chinese Russian alliance.
U.S.' Unperturbed Response to Indian BrahMos Launch in Pakistan: Aberration or New Normal?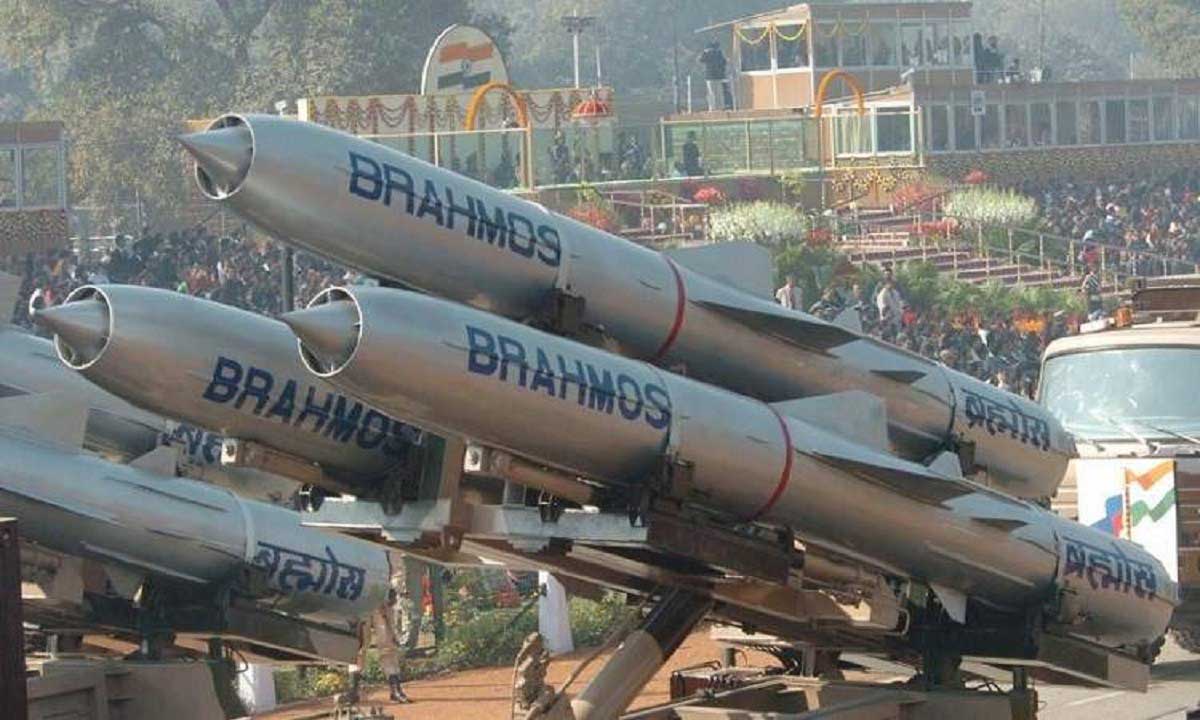 As India's nuclear-capable BrahMos cruise missile crashed into the territory of its nuclear-armed and ever-hostile adversary on the evening of March 9th almost pushing the two countries to the brink of catastrophic tit-for-tat exchange, the usually vociferous strategic experts and arms control enthusiasts in the USA maintained a cautionary conspicuous silence. Even it took the US State Department Spokesperson 06 days to issue a formal statement on the precarious issue and that too after being asked by a journalist during the daily press briefing. If one thinks for the USA – the self-proclaimed champion of nuclear safety and security – such a belated response to such a potentially hazardous "accident" constituted an anomaly, having a look at what the USA's State Department's spokesperson finally stated would be handy, which in essence uncritically endorsed the ambiguous and self-contradictory Indian viewpoint on the issue while refusing to make any further comments.
One does not need to wonder what would have been the reaction in the West had something of this character landed in India from Pakistan. Hell would have readily broken loose and the relevant academic, policy-advocacy, and policy-making circles in the West would have been up in the arms predicting a nuclear holocaust owing to irresponsible handling of sensitive weapon systems by Pakistan and making calls to fulfill their long-held desire of 'securing' Pakistan's strategic arsenal. But given it was a breach on part of India, the belated and unperturbed response despite the profound precariousness associated with the fiasco makes complete sense. Anomaly! Not really, because the apparent aberration is all set to be the new normal: only those nuclear safety and security breaches would concern the Western (specifically the US) strategic community happening apropos countries considered on the other side of the geostrategic equation and India – given its geostrategic utility vis-à-vis China – is positioned on the same side as with the Western world so even the strategic blunders like the recent one would be conveniently brushed under the carpet. Reason: any criticism of Indian BrahMos blunder or even expression of concern about the safety and security of India's cutting-edge weapons systems would have infuriated overly touchy souls in New Delhi, which Washington has been trying so desperately to woo.
Though the convergence of geopolitical interests forms the most consequential and undoubtedly the umbrella reason for the USA's unperturbed response to India's BrahMos launch into Pakistan, it is not only the only one. Currently, the Indian diaspora constitutes one of the most powerful lobbies in the USA domestic political and electoral landscape augmented by their deep ingress into academia, policy advocacy, and policy-making spheres, where they primarily act as the arm of Indian foreign policy and security establishments essentially safeguarding and qualifying all rights and wrongs by New Delhi and by default working to discredit its prime adversary Pakistan using a wide range of means and mediums. The relegation of the Jammu and Kashmir dispute from a self-determination demand of nearly 20 million people once backed by the USA at international forums to a mere Pakistan-sponsored insurgency in complete concurrence with the Indian standpoint and conspicuous apologetic attitude of the USA government and intelligentsia over India's now almost undisputed plunge into the abyss of fascism under Modi are the most vivid case studies of the lobby's influence in the USA, though backed by the umbrella of convergence of geostrategic interests.
Though the USA and Pakistan being long-time allies have their own baggage of alleged betrayals, sanctions, and double-games, the steep decline in the goodwill for Islamabad during the past few decades is attributable to years-old concerted efforts by the Indian lobby and the muted reaction to India's BrahMos launch in Pakistan even by the strategic and focusing on South Asia intelligentsia within the USA was another manifestation of the reality that the lobby has gained considerable check over the academic and policy discourse in the USA.
Ironically, the trend of overlooking India's shenanigans at home and aboard and potentially catastrophic breaches of safety and security of destructive weapons systems is all set to be the new normal as the aforementioned factors of geopolitical convergence and the lobby's role in influencing academic and policy discourse responsible for the setting the trends are only likely to be reinforced in the coming years and decades. However, there is a big question mark whether unwaveringly covering up New Delhi's abysmal domestic and regional track records undermines the USA's international legitimacy as the principal sponsor of "rules-based international order"? An unequivocal yes! But it appears policymakers in Washington are willing to let their legitimacy tarnish in barter for India's utility vis-à-vis China – a characteristic case of power politics triumphing idealistic charades.
Nuclear Weapons: How Safe Are We?
Some sixty years ago, American psychologist Abraham Maslow formulated a five tier hierarchy of needs. First, food and shelter followed by safety and so on, not that each need had to be satisfied fully to move to the next.
It might explain why thousands marched in the Campaign for Nuclear Disarmament in the 1950s when bellicose threats by leaders were not uncommon. Among the more notorious was Khruschev's, 'We'll bury you,' in 1956 during the Suez adventure by Britain, France and Israel. They seized the Canal after the Egyptian president Gamal Abdel Nasser had nationalized the controlling Suez Canal Company. Receiving no support from President Eisenhower, they somewhat shamefacedly retreated.
If one presumes all of those tensions were over with detente, then political and economic rivalries compounded by spheres of influence and their expansion have been overlooked. Thus to Ukraine with President Vladimir Putin unable to retreat further when NATO attempted to plant a dagger in the heart of Russia.
Well, some of the tensions have returned, and while an all-out nuclear war is still unthinkable, it can happen by miscalculation. For example, when one side deploys tactical weapons that a commander in an asymmetric war is unable to resist using against a large grouping of elusive combatants.
If fewer nuclear weapons are more desirable, the question remains, how few? Hence the START treaty signed by George Bush (Senior) and Mikhail Gorbachev although proposed originally by Ronald Reagan. It removed 80 percent of their nuclear weapons. So how many nuclear weapons are there in the world thirty years later, and how safe are we?
According to the latest count, Russia possesses 6,257 nuclear weapons of which 4587 are operational. In numerous ICBM silos and 11 nuclear submarines that can patrol close to U.S. shores, it is a formidable arsenal.
Of course the world has changed and Russia has removed all of its nuclear weapons from Ukraine. At the same time, it is developing new weapons and new delivery methods. This includes the very serious threat of a nuclear-propelled cruise missile with unlimited range. A very serious threat because cruise missiles can fly close to the ground under the radar. There is also Sarmat, a new ballistic missile capable of carrying up to 15 nuclear warheads, each with its own target. Thus a single missile could destroy just about all US major cities.
So what has the US been up to? It has 5600 nuclear weapons of which 3700 are operational. ICBMs based both in the US and the territory of its NATO allies place some of these next door to Russia. The very limited warning time requires a hair trigger response and should give us pause. Let's hope Putin is not enjoying a sauna at the time and some general frightened with a use-it or lose-it scenario decides to let loose and save his motherland.
Then there are the other countries: UK (200 nuclear weapons), France (300), China (350), India (160), Pakistan (165), Israel (90), and last but now least North Korea (45). With all of this, how safe does one feel? An exchange between any of them — India and Pakistan come to mind — would cause a nuclear winter and mass starvation.
The real problem is that a small country with a large more powerful neighbor — again Pakistan and India — achieves a measure of equality or perhaps a stalemate through nuclear weapons, and thus security. It would be very difficult to persuade Pakistan (or for that matter Israel) to relinquish its nuclear arsenal. Perhaps the best safety lies in an inclusive non-threatening world.