WHO: Breastfeeding link to COVID-19 is negligible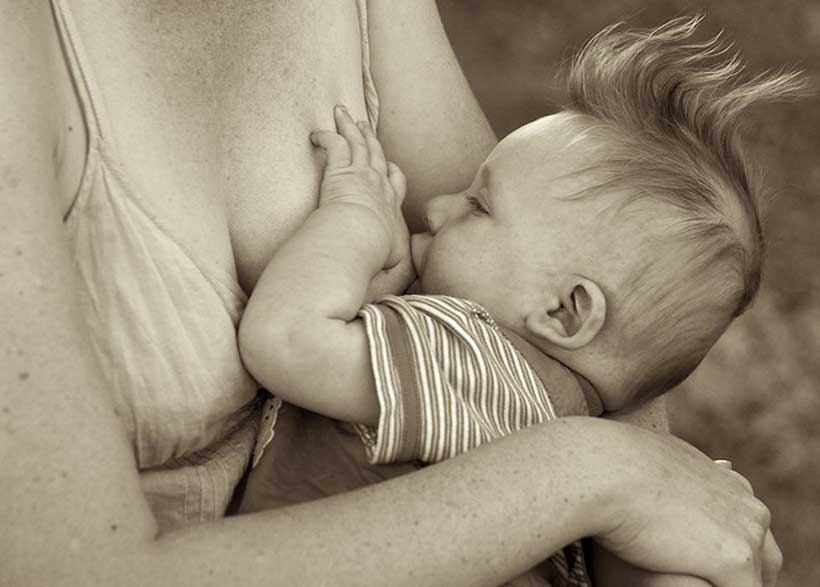 The risk of COVID-19 infection from breastfeeding is negligible and has never been documented, the World Health Organization (WHO) said on Tuesday, in a call for greater support for the practice.
The appeal, during World Breastfeeding Week, comes as WHO warned that not using mother's milk is linked to 820,000 child deaths a year, at a cost to the global economy of $300 billion.
"WHO has been very clear in its recommendations to say absolutely breastfeeding should continue," said Dr. Laurence Grummer-Strawn, head of the World Health Organization's Food and Nutrition Action in Health Systems unit. "We have never documented, anywhere around the world, any (COVID-19) transmission through breastmilk."
No substitute
Exclusive breastfeeding for six months has many benefits for the infant and mother which far outweigh any risk from the new coronavirus pandemic, according to WHO.
These advantages include the fact that breastmilk – including milk which is expressed – provides lifesaving antibodies that protect babies against many childhood illnesses.
This is only one of the reasons why new mothers should initiate "skin-to-skin contact" and "room-in" with their babies quickly, as "the risks of transmission of the COVID-19 virus from a COVID-positive mother to her baby seem to be extremely low", added Dr. Grummer-Strawn.
Having tested the breastmilk of "many" mothers around the world in a variety of studies, the WHO official explained that although a few samples had contained the virus, "when they followed up to see whether the virus was actually viable and could be infective, they could not find any actual infective virus".
Underscoring the WHO's longstanding support for using mother's milk over substitutes, Dr. Grummer-Strawn also warned that the pandemic had weakened essential breastfeeding support usually provided to families with newborns.
COVID 'undermining essential support'
"The interruption of services has been tremendous around the world providing the kind of support mothers normally would get with breastfeeding," Dr. Grummer-Strawn told journalists.
"Oftentimes, the health services that would provide maternal child health have been diverted to take care of the COVID response; sometimes families do not feel comfortable in going into the health services, because they're afraid that they might get COVID and so they don't come for the routine kinds of support."
According to the WHO, "about 820,000 children's lives are lost every year because of a lack of breastfeeding", Dr. Grummer-Strawn continued, in reference to deaths among under-fives. "Economically, there are losses of about $300 billion a year in economic productivity, lost because of a lack of breastfeeding," he added.
Numerous good things come from breastfeeding – for the child and their mother in developing and industrialized countries – WHO has long maintained.
It has insisted that "it is not safer to give infant formula milk", together with UN Children's Fund (UNICEF) and the International Baby Food Action Network (IBFAN).
Benefits for baby and mother
The three organizations have united in their call to Governments to protect and promote women's access to skilled breastfeeding counselling, for World Breastfeeding Week 2020 (1-7 August).
"Breastfeeding provides benefits during the time of breastfeeding, and those that are most recognised are protection against diarrhoea, which is one of the top causes of mortality in low-income countries, protection against respiratory infections, against obesity – childhood obesity later on – as children get older, protection against leukaemia," said Dr. Grummer-Strawn.
Breastfeeding also protects the mother against breast cancer, ovarian cancer, Type 2 diabetes later on, the WHO official said, "so there are benefits for both the mother and the baby, and when we added these up it comes out to about 820,000 lives around the world, even in high-income countries".
In addition to the pandemic, breastfeeding is under pressure from what WHO and UNICEF have described as harmful promotion of breast-milk substitutes.
Countries could do more to protect parents from misleading information, the UN agencies believe. "We continue to be very concerned about the practices of the formula industries, both the big multinational corporations as well as in many countries there are local manufacturers of breastmilk substitutes that are trying to get mothers to get on to their products," said Dr. Grummer-Strawn. "They use a number of tricks, sometimes it's not as blatant advertising as it once was, because they know that they can get caught."
According to WHO, of 194 countries analysed, 136 have legal measures related to the International Code of Marketing of Breast-milk Substitutes and subsequent resolutions adopted by the World Health Assembly (known as the Code).
Tricks of the trade
However, only 79 countries prohibit the promotion of breast-milk substitutes in health facilities, and only 51 have provisions that prohibit the distribution of free or low-cost supplies within the health care system, WHO said in a report published in May.
Only 19 countries have prohibited the sponsorship of scientific and health professional association meetings by manufacturers of breast-milk substitutes, which include infant formula, follow-up formula, and growing up milks marketed for use by infants and children up to 36-months old, the UN health agency study found.
WHO and UNICEF recommend that babies be fed nothing but breast milk for their first six months, after which they should continue breastfeeding – as well as eating other nutritious and safe foods – until at least two years old.
"The aggressive marketing of breast-milk substitutes, especially through health professionals that parents trust for nutrition and health advice, is a major barrier to improving newborn and child health worldwide," said Dr. Francesco Branca, Director of WHO's Department of Nutrition and Food Safety. "Health care systems must act to boost parent's confidence in breastfeeding without industry influence so that children don't miss out on its lifesaving benefits."
Omicron: Don't panic but prepare for likely spread
As scientists continue to investigate the Omicron COVID-19 variant, the UN World Health Organization (WHO) on Friday urged countries not to panic but to prepare for its likely spread.
Heralding South Africa's and Botswana's decision to report the appearance of the Omicron coronavirus mutation last month, the UN health agency repeated that it will take another two weeks before more is known about how transmissible and how dangerous it actually is.
Speaking in Geneva, WHO spokesperson Christian Lindmeier stressed that data suggesting that Omicron was highly transmissible was only preliminary.
Unnecessary travel bans
He also repeated WHO advice against blanket travel bans, except for countries whose health systems were unable to withstand a surge in infections.
"It is much more preferred to prepare your country, your health system to possibly incoming cases because we can be pretty sure that this Omicron variant will spread around," he said.
The Delta mutation – declared a variant of concern this summer – is now "predominant", Mr. Lindmeier added, "with over 90 per cent all around the world. This is how this virus behaves and we will not most likely be able to keep it out of individual countries."
The WHO official also cautioned against knee-jerk reactions to reports that Omicron had continued to spread.
"Let's not get deterred right now, let us first get as much information as possible to make the correct risk assessment based on the information that we will have and then let's move on," he said.
"Let's not get completely worried or confused by individual information which are all individually important, but which need to be brought together in order to assess together."
Surge team for South Africa spike
The development comes as WHO said that it was sending a technical surge team to South Africa's Gauteng province to monitor Omicron and help with contract tracing, amid a spike in coronavirus reinfections.
For the seven days leading to 30 November, South Africa reported a 311 per cent increase in new cases, compared with the previous seven days, WHO said on Thursday.
Cases in Gauteng province, where Johannesburg is located, have increased by 375 per cent week on week. Hospital admissions there rose 4.2 per cent in the past seven days from the previous week. And COVID-19-related deaths in the province jumped 28.6 per cent from the previous seven days.
Announcing the surge team deployment, Dr Salam Gueye, WHO Regional Emergency Director for Africa, noted that just 102 million Africans in Africa – 7.5 per cent of the continental population – are now fully vaccinated and that more than 80 per cent of the population has not received even a single dose. "This is a dangerously wide gap," he said.
In a statement, WHO said that South Africa is reportedly seeing more patients contracting COVID-19 after having already been infected, in a way it did not with previous variants, citing a microbiologist from the country's National Institute for Communicable Diseases (NICD).
Working with African governments to accelerate studies and bolster the response to the new variant, the World Health Organization (WHO) is urging countries to sequence between 75 and 150 samples weekly.
Detection 'bought the world time'
"The detection and timely reporting of the new variant by Botswana and South Africa has bought the world time," said Dr Matshidiso Moeti, WHO Regional Director for Africa.
"We have a window of opportunity but must act quickly and ramp up detection and prevention measures. Countries must adjust their COVID-19 response and stop a surge in cases from sweeping across Africa and possibly overwhelming already-stretched health facilities."
Best Extracurricular & After-School Activities to Reduce Stress
Being a student is a fun and exciting experience. However, it is also tightly connected with constant stresses. The lack of free time, stressful exams, tight deadlines – these and other challenges often make students' lives unbearable and lead to various health issues. And, unfortunately, there is no way to eliminate stress from your college life completely.
So, since stress is an integral part of a student's life, are there any ways to ease it? Living in a constant state of stress is definitely not an option. But, luckily, there are ways to prevent and reduce stress. One way to do this is to do my essay cheap and take a break from your academic issues. But, there is also another way.
In this article, we have collected the top seven activities that are proven to reduce stress levels and can help students survive in their intensive, busy college lives.
1. Meditation
Meditation is one of the most widely known stress relief activities. Even a 10-minute session can provide you with short-term stress relief, and, apart from this, mediation is proven to deliver long-term stress management benefits too.
So, if you are feeling tired and anxious, try meditating. There are plenty of different practices, so everyone should find something to suit their needs. Be sure to give it a try.
2. Sports
Another activity students can try to improve overall well-being and get rid of stress is any kind of sport. Doing sports regularly will keep you fit and provide a long list of physical and mental health benefits, including stress relief.
If you are wondering how to get started, the easiest way to make sports a part of your everyday life in college is to join one of your school's sports teams. It can be anything that feels right for you. The only thing to keep in mind is that being on a team will most likely take lots of your free time. So, if you don't want your academic performance to drop, you might need to enlist the help of DoMyEssay to have someone who can take care of your assignments in any situation.
3. Arts
For decades, different forms of art were considered to be effective stress-relievers. Not without reason, psychologists often use art therapy as a tool to help patients cope with a variety of mental health issues. And, the good news is that you don't even need to go to a therapist to feel the positive effects of art on your well-being.
To try this activity, choose a form of art that suits you best. It can be anything from coloring a coloring book to painting or making music. Try different options to find what works for you and devote at least a bit of time a day to your art therapy, and soon, you will notice the first positive effects.
4. Yoga
We've already told you that sports and meditations are good for your mental health. Yet, yoga deserves to be a separate point on our list because it has a bit of both. Regardless of the chosen type of yoga, such practices are all about breathing, meditating, and finding a balance. All these things are powerful in terms of stress relief.
In addition to this, yoga is known to boost mood. So, if you feel like you are lacking tranquility and a feeling of happiness, be sure to try practicing yoga. We bet that once you get used to it, you will never want to go back.
5. Dancing
The next after-school activity that can boost your mood and reduce stress is dancing. This activity involves two powerful stress-relievers – music and physical activity. Together they can have an effect much more powerful than anything else.
Want to give it a try? It is easy to get started. Try joining some dance classes or, if you don't have much free time, just dance at home like no one is watching. One way or another, the benefits will be felt straight away.
6. Stretching
Stretching your body is one more activity that will boost your well-being. According to numerous studies, physical flexibility is closely interlinked with mental flexibility. Therefore, stretching is known to reduce tension, help fight anxiety, reduce stress and depression, and trigger positive emotions.
Just like in the case with other activities we've mentioned in this article, stretching can be done right at home. All you need is a bit of free time, some soothing music, and a knowledge of some basic exercises. However, if you have time to join a stretching class, it would be even better because this way, you will also get an additional opportunity to socialize, which is also good for your well-being.
7. Crafting
Different types of crafting are also good for fighting stress. Whether it is knitting, needlework, ceramics, or any other activity, it will definitely bring its benefits as long as you are enjoying the process.
The key trick here is to get distracted from your daily routine and get deeply involved in doing something creative. Just like it is in the case of arts, connecting with your creative side with the help of crafting can help you prevent and cope with a variety of mental health issues.
To Sum Up
So, now you know about the top seven most stress-relieving activities that you can do after studies to boost mood and ensure overall well-being. All you need to do is to find the best option for you and make it a part of your life!
Left Ventricular Aneurysm Surgery
A heart aneurysm is a serious illness that causes impairment of the contractile activity of the affected area of the heart muscle. Most often such pathology develops in the wall of the left ventricle of the heart. The disease more often affects men over the age of 40. Aneurysm detected in the heart grows only up to a certain size, but always requires surgical treatment.
Treatment for left ventricular aneurysm
Today physicians cope with heart aneurysms only by surgery. This is the only effective method that can completely cure a patient. Medication therapy is only used to temporarily improve the condition of patients with left ventricular aneurysms. If a patient is diagnosed with a left ventricular aneurysm, urgent surgical treatment is prescribed in the presence of the following indications:
Severe heart rhythm abnormalities
Formation of a blood clot in the aneurysm
Rapidly developing heart failure
Aneurysm rupture
Surgical treatment of acute and subacute heart aneurysms is indicated in the rapid progression of heart failure and the threat of aneurysmatic sac rupture. In chronic cardiac aneurysm, surgery is performed to prevent thromboembolic complications and for myocardial revascularization.
As a palliative intervention, strengthening of the aneurysm wall with polymeric materials is resorted to. Radical operations include ventricular aneurysm resection (if necessary – with subsequent reconstruction of the myocardial wall).
How is the surgical treatment carried out?
During this procedure, the patient's chest is opened and the blood flow through the heart is stopped. A special device is attached to the main vessels, which continues to maintain the pumping function while the heart remains inactive. Only then a surgeon removes the aneurysm. Vascular bypass is also performed, if necessary. After a cardiac aneurysm is excised, the treatment process is not over. After the operation, it is necessary to stay under the supervision of healthcare professionals, because there is a risk of complications.
In a post-traumatic aneurysm of the heart, the heart wall is sutured. If additional revascularizing intervention is necessary, aneurysm resection with CABG are performed simultaneously.
In the preoperative period, patients with a left ventricular aneurysm receive cardiac glycosides, anticoagulants, hypotensive drugs, and oxygen therapy.
As a rule, small left ventricular aneurysms do not require special methods of repair after the procedure. The defect after aneurysmectomy can be closed by a simple linear suture, which is effective and the most suitable option for such situations.
After left ventricular aneurysmectomy and possible plasty, the development of low ejection syndrome, repeated myocardial infarction, arrhythmias (paroxysmal tachycardia, atrial fibrillation), suture failure and bleeding, respiratory failure, renal failure, cerebral thromboembolism is possible.
Is it worth going abroad for treatment during a lockdown?
All of the above conditions pose a serious threat to a person's life, so the start of treatment should not be delayed. Left ventricular aneurysm surgery should only be performed by an experienced physician because it is a very complex intervention. And the absence of timeliness and quality of the intervention becomes the reason why people go abroad to treat left ventricular aneurysms.
You might think that it isn't worth jumping straight into it in the middle of a lockdown. But if you need to go abroad for treatment, you can. Yes, you may need to wait a bit longer to get a visa, but it also doesn't have to be that way.
Booking Health knows all of the ways to organize the left ventricular aneurysm surgery as soon as possible. The company will help you to get a visa if you're applying for the first time or if your request has been declined. Booking Health will also help you choose a hospital that suits your preferences, prepare all the necessary documentation, book the flight tickets and accommodation, and will do every single treatment-related thing for you.
For Booking Health to help you, please, leave a request on the official website, and a medical advisor will contact you.