Ten Years to Midnight: Four urgent global crises and their strategic solutions
The world has 10 years to solve its urgent challenges or it will be too late. In his new book, TEN YEARS TO MIDNIGHT: Four Urgent Global Crises and Their Strategic Solutions (August 4, 2020; Berret-Koehler), Blair Sheppard sets out why that timeline is so crucial, what the most urgent challenges are and the key elements of a solution.
He argues that the 70-year period of economic and social progress kicked off by the Marshall Plan has now unraveled. Instead of a steady story of progress, the world faces four crises:
A crisis of prosperity, with rising inequality, poor life choices for young people, the squeezed middle class and a mass of people on the brink of retirement but lacking the savings to sustain them;
A crisis of technology, as our economic system drives innovation but fails to manage unintended negative consequences which pollute key elements of life support, from our atmosphere to our news;
A crisis of institutional legitimacy, as traditional institutions try to maintain their existing structures in the face of major global forces, and find themselves buckling and warping rather than adapting; and,
A crisis of leadership, as those who should help us manage these crises instead focus on narrow priorities rather than leading the world towards holistic solutions.
Drawing on new data and analysis conducted in Sheppard's role as Global Leader for Strategy and Leadership for the PwC network, the author argues that businesses, governments and civil society should adopt a fundamentally different approach to the one that drove 20th Century economic development. He argues for greater emphasis on local economies (local first) as well as on scaling innovative solutions quickly (massive, fast), a fundamental reshaping of innovation policy to bake societal outcomes into technological development, greater use of public private partnerships with clear goals, and more inclusive measures of success.
Having worked with global leaders across a range of fields, Sheppard argues this change requires a new approach to leadership that embraces apparently contrasting elements – to be humanly and technologically savvy, heroic and humble, rooted in tradition as a ballast but also innovative.
The book began with a question: What are the world's most pressing global concerns and how can they be solved together? What he and his team discovered is a new path to rebuilding and reinvigorating institutions, redefining what it means to be a nation or economy, forging shared cultural and social bonds, and rekindling innovation for social good instead of harm. To press these solutions forward as the clock ticks toward a global unwinding, Sheppard also calls for a new level of imagination, cooperation and urgency from the world's leaders in every sector and every country.
For more information, please visit the book's webpage.
Blair Sheppard is the Global Leader for Strategy and Leadership at PwC, a network of professional services firms committed to building trust in society and solving important problems. He is also the Dean Emeritus and Professor Emeritus of Duke University's Fuqua School of Business, where he taught for thirty-three years. He was the principal force behind opening Duke's campus in China, and the founder and CEO of Duke Corporate Education. He was born in Hamilton, Ontario (Canada) and lives in Durham, North Carolina (US).
"America is battling political polarisation and social division at home as well as facing an unfolding national climate crisis. With China growing in strength, many have begun to ask: is America in decline?" – British 'The Economist' has put the question sometimes ago. The war in Ukraine and the struggle for national liberation in Africa are signs of American economic decline and cracks in the global capitalist system, answers the Spanish 'Rebelion'.
Since the end of World War II, the United States has been an economic and military superpower, but in recent decades it has experienced economic decline and a decline in its global influence. Part of the weakening of the United States is due to growing competition from other powers such as China and Russia, as well as the formation of powerful alternative power blocs such as BRICS.
It is also driven by internal problems such as inequality, economic crises and political polarization. The US economy is affected by rising inflation, which is a consequence of economic sanctions against Russia imposed by the Biden administration.
The conflict in Ukraine began as a struggle for control of the country between pro-Russian and pro-Western forces, but behind this struggle we can detect deeper economic and political interests. Donbass is the epicenter of the conflict, it has valuable natural resources and is an important industrial center.
The war hit the Ukrainian economy hard and further weakened the US position in the region. This situation is an example of America's economic decline and its inability to maintain its influence on the world stage. India and China will become new competitors on the international stage, and economic power and wealth will gradually shift towards Asia.
One must keep in mind the fact that global power is always relative, and that countries with economic, political and military power require voting rights and decision-making powers. Power is determined by the relationships between the parties involved. That is, power is not something that an actor has in isolation, but is constructed in relation to other actors. For example, a country may have economic power, but this power is only significant in comparison to other countries that have less economic power.
Moreover, power is not something fixed, it can change over time and depending on the relationships between actors. In this sense, the center of economic and political power is shifting towards Asia, where great powers are consolidating, which will definitely have to be taken into account in the future. Another important point is the strengthening of BRICS as a group of great continental powers that argue and compete for new spaces.
The past few decades have geopolitically represented the rise of China as a great power. This implies the distribution of power at the international level. China is emerging as a great power to be reckoned with in the future. Its ability to build consensus and propose solutions to old conflicts is especially important. China has also grown its economy to the same size as that of the United States.
China promotes the project of multipolarity, which is perceived as necessary for the balance of the world. In short, the rise of China is changing the distribution of power at the international level.
Despite everything, the military-political force continues to remain a real force in the international arena. At the same time, the United States each time approves a record amount of military budget, which demonstrates the importance of its foreign policy. The United States has more than 730 military bases deployed around the world and 200,000 soldiers at these bases.
An important issue is tensions over Taiwan, which is the benchmark for North American military policy to reduce China's influence. In addition, the AUKUS (Australia-UK-United States) countries are helping to rearm Taiwan, train its armed forces, and build relationships with other militaries such as the Japanese and the Philippine.
Under current conditions, the United States is carrying out powerful militarization in the Asia-Pacific region, promoting large-scale rearmament and increasing the nuclear threat in this region. That is why total and global war does not seem to be a distant prospect. Tensions over Taiwan are a prime example of how rivalry between superpowers can spark conflicts on an unimaginable scale that threaten to destroy all of humanity.
The struggle for national liberation in Africa reflects the growing desire of African peoples to control their natural resources and build their own economies. For decades, colonial and neo-colonial powers have exploited African resources for their own purposes, pushing local populations into poverty. These conflicts represent a movement of resistance to exploitation, a call for self-determination and economic and social justice.
The struggle for African liberation is a reminder that the global capitalist system is not invulnerable and that marginalized peoples must come together to build a more socially just world.
The war in Ukraine and the liberation struggle in Africa are symptoms of US economic decline and tensions in the global capitalist system. These conflicts are a call to action and a reminder that we can shape a more just and humane future, 'Rebelion' stresses.
U.S. companies are barreling towards a $1.8 trillion corporate debt
US firms are barreling towards a giant wall of corporate debt that's about to mature over the next few years, Goldman Sachs strategists said in a note.
There's $1.8 trillion of corporate debt maturing over the next two years, Goldman Sachs estimated. Firms could be slammed with higher debt servicing costs as interest rates stay elevated. That could eat into corporate revenue and weigh on the US job market.
The investment bank estimated that $790 billion of corporate debt was set to mature in 2024, followed by $1.07 trillion of debt maturing in 2025. That amounts to $1.8 trillion of debt reaching maturity within the next two years, in addition to another $230 billion that will reach maturity by the end of this year, Goldman strategists said.
The wave of debt that will need to be refinanced could spell trouble for companies, as interest rates have been raised aggressively by the Fed over the last year. The Fed funds rate is now targeted between 5.25%-5.5%, the highest range since 2001.
For every extra dollar spent to service their debt, firms will likely pull back on capital expenditures spending by 10 cents and labor spending by 20 cents, the strategists estimated, a reduction that could weigh down the job market by 5,000 payrolls a month in 2024 and 10,000 payrolls a month in 2025.
Experts have warned of trouble for US corporations as credit conditions tighten. Already, the tally of corporate debt defaults in 2023 has surpassed the total number of defaults recorded last year. As much of $1 trillion in corporate debt could be at risk for default if the US faces a full-blown recession, Bank of America warned, though strategists at the bank no longer see a downturn as likely in 2023.
Russian response to sanctions: billions in dollar terms are stuck in Russia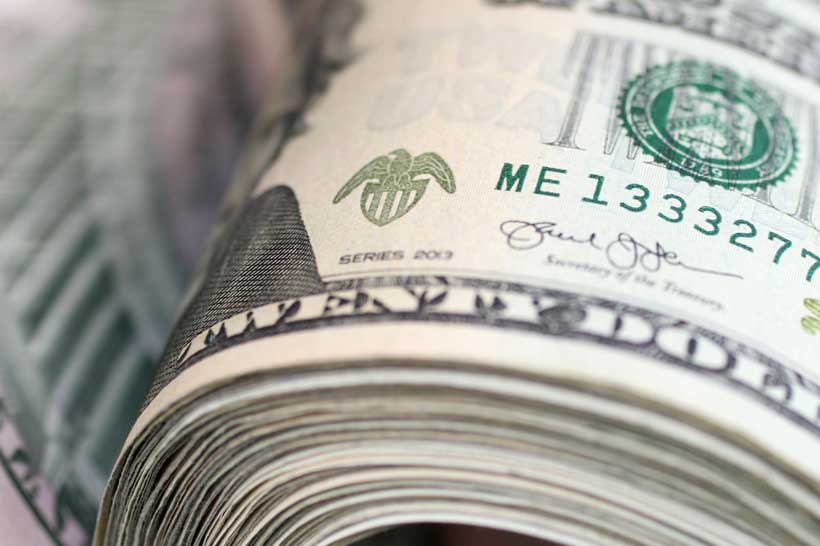 "Tens of billions in dollar terms are stuck in Russia," the chief executive of one large company domiciled in a country told 'The Financial Times'. "And there is no way to get them out."
Western companies that have continued to operate in Russia since Moscow's invasion of Ukraine have generated billions of dollars in profits, but the Kremlin has blocked them from accessing the cash in an effort to turn the screw on "unfriendly" nations.
Groups from such countries accounted for $18 billion (€16.8 billion) of the $20 billion in Russian profits that overseas companies reported for 2022 alone, and $199 billion of their $217 billion in Russian gross revenue.
Many foreign businesses have been trying to sell their Russian subsidiaries but any deal requires Moscow's approval and is subject to steep price discounts. In recent days British American Tobacco and Swedish truck maker Volvo have announced agreements to transfer their assets in the country to local owners.
Local earnings of companies from BP to Citigroup have been locked in Russia since the imposition last year of a dividend payout ban on businesses from "unfriendly" countries including the US, UK and all EU members. While such transactions can be approved under exceptional circumstances, few withdrawal permits have been issued.
US groups Philip Morris and PepsiCo earned $775 million and $718 million, respectively. Swedish truck maker Scania's $621 million Russian profit in 2022 made it the top earner among companies that have since withdrawn from the country. Philip Morris declined to comment. PepsiCo and Scania did not respond to requests for comment.
Among companies of "unfriendly" origin that remain active in Russia, Austrian bank Raiffeisen reported the biggest 2022 earnings in the country at $2 billion, according to the KSE data.
US-based businesses generated the largest total profit of $4.9 billion, the KSE numbers show, followed by German, Austrian and Swiss companies with $2.4 billion, $1.9 billion and $1 billion, respectively.
'The Financial Times' reported last month that European companies had reported writedowns and losses worth at least €100 billion from their operations in Russia since last year's full-scale invasion.
German energy group Wintershall, which this year recorded a €7 billion non-cash impairment after the Kremlin expropriated its Russian business, has "about €2 billion in working interest cash… locked in due to dividend restrictions", investors were told on a conference.
"The vast majority of the cash that was generated within our Russian joint ventures since 2022 has dissipated," Wintershall said last month, adding that no dividends had been paid from Russia for 2022.
Russian officials are yet to outline "a clear strategy for dealing with frozen assets", said Aleksandra Prokopenko, a non-resident scholar at the Carnegie Russia Eurasia Centre. "However, considering the strong desire of foreign entities to regain their dividends, they are likely to explore using them as leverage – for example to urge western authorities to unfreeze Russian assets."