Millionaires for Humanity Petition: Who does not want to sign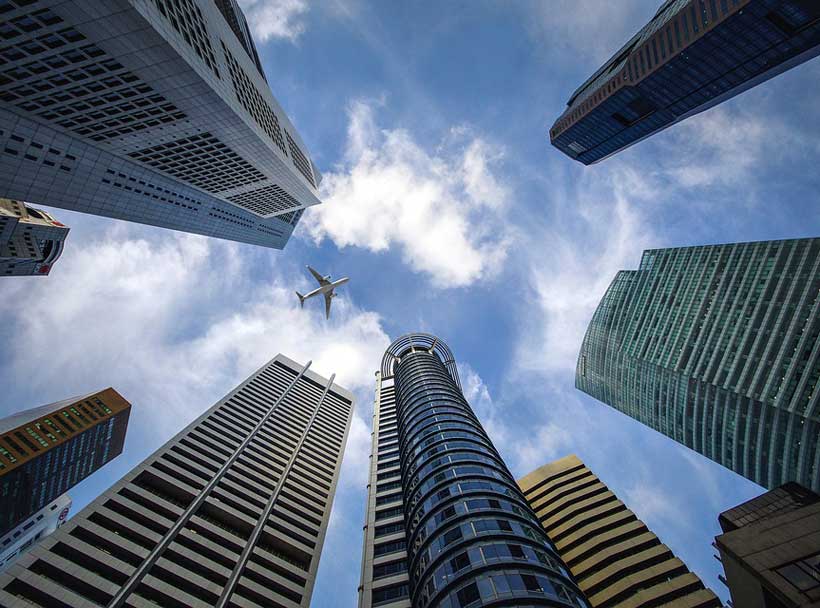 Recently millionaires from different countries signed a petition under the name "Millionaire for Humanity" demanding their respective governments to raise taxes on them to help with the coronavirus pandemic. More than 80 individuals have signed the letter, and most signatories belong to the developed nations like the US, UK, and Germany. One of the key aspects of the petition is that taxes can only create a huge impact against charitable contributions, no matter how generous these contributions are. It might be a rare and historic moment to witness wealthy individuals quoting "Tax us, Tax us, Tax us" to fund the social sector like health, education, and security. The phrase "rebalance our world through wealth tax" seems like a unique moment of truth for the wealthy to play their part towards humanity.
But is the voluntary action enough to counter the state's inaction to tax the wealthy? A few individuals' voluntary actions are a drop in the ocean that might not even make a dent to make all wealthy accountable?Wealthy do indeed pay proportionate taxes according to their state laws in many parts of the world. But the bitter truth is that there are also increased tax avoidance cases by the wealthy, which the Paradise Papers, Panama Papers, and other evidence show. That is why there is a rigorous debate on taxing the rich even more.
According to Oxfam's 2020 report world's 2,153 dollar billionaires had more wealth than 4.6 billion people or 60% of the world population in 2019. Even in the aftermath of COVID-19 there has been no change in the millionaire's status quo who actually saw their wealth grow exponentially. According to Forbes magazine report, 10 billionaires gained $51.3 billion or Rs 3.9 lakh crore (at exchange rate of Rs 76) in just a week between April 2 and 9 when the global economy was almost shut (except for a few essentials) and millions were losing their incomes and jobs.They did this through the stock market. These billionaires included Jeff Bezos, Mark Zuckerberg, Warren Buffett, Elon Musk, Bill Gates, and Mukesh Ambani.
Thus the paper analyses two main issues in relation to the petition. Firstly, why similar actions were not taken by the wealthy in the developing nations, with focus on India? Secondly, will a voluntary compliance mechanism via a petition resolve the ongoing issue of tax evasion by the wealthy?
Why there is no similar petition in developing countries?
The petition seems to appear as a global movement, but in reality, it is a mere representative of the few wealthy individuals residing in developed economies. The less participation and debate amongst the developing countries on taxing the rich can be understood in terms of their societal and cultural background. In India, it is easier to project it as a home to the poorest, but it is also a home for some of the world's wealthiest people. In this context, it is essential to understand how the wealthier population's nature changed significantly since Independence and how a favourable tax system helped them to grow.
1.1. From Inherited wealth to private enterprise:
When the British left, a handful of business families and dynastic royalties were in charge of key economic industries. These dynastic royalties had amassed and inherited great fortunes over time due to their close ties to the colonial administration. Although there was poverty amongst the general population, the most lavish lifestyles were only enjoyed by the princely classes, some business houses and large zamindars (landlords).
Primarily the inherited wealth was the primary source of wealth amongst the wealthier population.
However, between 1961 and 1986, India's notorious macroeconomic plight undermined a progressive effort to reduce the incumbent rich's size and importance. Low economic growth was accompanied by a sharp reduction of the real value of wealth held by the top 0.1%. The backdrop for this decline was itself rooted in the integration of India when the government quickly took steps to abolish inherited wealth amongst the super-rich royalty. Hence inflation, progressive taxation, and nationalization that characterized the late 1960s and 1970s punished the outdated rentier class and expropriated much-existing wealth.
In the 1990s, domestic and external liberalization happened in India, resulting in the deregulation of taxation and private investment. This led to a rapid increase in stock market capitalization relative to GDP. In fact, given the tremendous rise in stock market capitalization, it seems possible that wealth concentration in India may have surpassed its pre-1970 levels in recent decades. This transformative wealth dynamics of the 1960s and 1970s are crucial to understanding how the elite class, once populated by inherited wealth, is now made up of private enterprises.
However, the rise of the new private enterprise did not address income inequality, only to make the rich richer and the poor more miserable. According to Oxfam's January 2020 report 'Time to Care' said, in 2019, the wealth of top 1% Indians went up by 46% while that of the bottom 50% by 3%. In 2019, the top 1% Indians held 42.5% of national wealth, which is, more than 4 times the wealth of 953 million people constituting the bottom 70%. The bottom 50% held just 2.5% of national wealth. According to the Credit Suisse's 'Global Wealth Report of 2019', there were 7,59,000 dollar millionaires in India 2019, up from 725,000 in 2018 and 34,000 in 2010. This shows that even as a developing economy we do not have a dearth of wealthy people who are unable to participate in the petition.
1.2. How the tax system works favourably for the wealthy?
In developing countries, the governments' primary focus is on resource mobilization, which dictates their tax system. This is due to the unequal income distribution. However, the tax system is also designed in such a way that makes it harder to tax the rich. This is because wealthy taxpayers' political and economic power often prevents the government from developing fiscal reforms to increase their tax burdens.
Moreover, there are high personal exemptions and the plethora of other exemptions and deductions that benefit those with high incomes (for example, the exemption of capital gains from tax, generous deductions for medical and educational expenses, the low taxation of financial income). India has been an active recipient of FDI for decades. As a result, it results in lower effective tax rates for MNCs.
Simultaneously, the government keeps on slashing the corporate income tax rate during every budget, providing strong incentives for taxpayers to choose the corporate form of doing business for purely tax reasons. For instance, the Indian government slashed corporate tax to 22% (without exemptions) for domestic companies in September 2019, bringing the effective rate to 25.17% (with surcharge and cess). Such a move happened when the economy had nose-dived for several consecutive quarters.
According to the IMF, the combination of tax incentives and low corporate tax rates leads to the following:
Increased incidences of tax evasion due to the ease with which multinationals seem able to avoid tax, combined with the three-decade-long decline in corporate tax rates, undermines both tax revenue and faith in the fairness of the overall tax system and
the current situation is especially harmful to low-income countries, depriving them of much-needed revenue to help them achieve higher economic growth, reduce poverty and meet the 2030 Sustainable Development Goals.
Hence, it can be observed that wealthy individuals are provided with a plethora of tax incentives in a developing economy to prevent capital flight. However, this does not translate into high tax morale for these individuals due to increased tax evasion incidences. Now is the time for the wealthy to take part in the petition to share responsibility in rebuilding the economy.
Will the Petition be effective in achieving fair taxation by the wealthy?
2.1. Assessing the problem of tax evasion by the wealthy
Empirical data has shown (e.g., E. Hofmann, Voracek, Bock,& Kirchler, 2017b[1]), that the motivation to engage in tax avoidance and evasion increases with wealth. Recent studies indicate that tax evasion is directly proportional to wealth, with the top 0.01% of the wealth distribution (i.e., households with more than $40 million in net wealth) evades almost 30% of their wealth and income tax versus 3% by taxpayers overall (Altstaeder, Johannesen, & Zucman, 2017[2]). With the aim to minimize their taxes, it is easier for the wealthy to hire tax agents who are skilled in devising ways to achieve that(Sakurai & Braithwaite, 2001[3]).
Tax avoidance is a huge issue that amounts to $240 billion every year (Rs 18.24 lakh crore), according to OECD-G20's anti-tax avoidance initiative, 'Action Plan on Base Erosion and Profit Shifting' (BEPS). Recent data by Fair Tax Mark shows that Facebook, Google and four other US tech giants, described as the Silicon Six (others being Netflix, Amazon, Microsoft, and Apple) had avoided paying $100 billion tax (Rs 760,000 crore) between 2010 and 2019. Due to tax evasion, according to 2019 IMF study, the non-OECD countries are losing 1.3% of their GDP or $200 billion of revenue every year while the OECD countries about 1% of GDP or close to $450 billion.
Nonetheless, the blame cannot be squarely put on the wealthy for causing tax evasion. It is the legal, political, and economic context of national tax loopholes which not only give the wealthy many more opportunities to avoid taxes than the average citizen but might also create an ideal environment that legitimises aggressive tax avoidance behaviour.
2.2. How the petition will help in combating massive tax evasion problem?
It can be said that the petition is an example of committed motivation by the wealthy which drives them to pay taxes because of a felt moral duty(Gangl et al., 2015[4]) or due to emotional stress, caused by anticipated guilt or shame (Blaufus, Bob, Otto, & Wolf, 2017[5]). However before delving into the question whether such an initiative will be effective to combat tax evasion in the long run, it is important to understand the social psychological process that motivates the wealthy to either pay or evade taxes.
The wealthy can easily identify and compare themselves with other wealthy individuals as a result of pychological process in relation to belonging to a particular group. As a result they imitate not only lifestyles but also tax behviours out of comparison and competition, because one does not want to fall behind in the financial race (Mols & Jetten, 2017[6]).For instance, if all wealthy friends move money to offshore tax havens, then the individual will also more likely do that.
Also, wealthy individuals do acquire a heightened sense of self-esteem, freedom, and perceived control, which increases the willingness to resist anything that hinders freedom (Brehm, 1966[7]). Taxes on the wealthy is a classical case where the rich find it as an attack on their personal freedom for which they look for ways to fight against it. In fact, experimental research shows that coercive fines and audits increase taxpayer reactance more than less coercive attempts by the tax authorities (Gangl, Pfabigan, Lamm, Kirchler, & Hofmann, 2017). Thus, when faced with coercive form of taxation wealthier individuals will be motivated to employ more resources (compared to the average taxpayers) to escape this situation. This might make the classical coercive attempts to increase the tax honesty less effective.
In such a scenario, the voluntary form of tax compliance might appear as the ultimate solution to fight against reactance. Such a form of compliance comes with trust in the tax system, and thus, people accept their tax obligations without threatening audits and fines. However, state measures like suspending fines and audits or tax amnesties, which gives leeway to rich taxpayers to repatriate their money from tax havens without being fined, also show no long‐term positive effect (Alm & Beck, 1993[8]; Toro, Story, Hartnett, Russell, & Van‐Driessche, 2017[9]). Thus, it is important to combine voluntary and coercive tax measures to ensure fair taxation with a sense of tax honesty on the part of the wealthy individuals.
3. Conclusion
In view of the COVID-19 it is apparent that the petition by the few wealthy individuals brings in a wave of hope towards achieving fair taxation for the sake of humanity. However, the outreach is still not global, with a participation of a fraction of wealthy individuals from a few developed economies.Thus, there is a need to ensure the huge participation of wealthy people, not only from developing economies but those involved in tax evasion.
As discussed in the article, tax-related decisions of the wealthy are different from average taxpayers due to social psychological differences of belonging to a particular community. So a unique approach must be followed to motivate the wealthier population to pay their share of taxes.
3.1. Possible solutions:
There are many ways to motivate the wealthy, either in developed or in developing countries, to contribute more taxes to the benefit of society. It is true that mere public plea to join the campaign will not attract the attention of majority of wealthy individuals. On the other hand, coercive audit or fines to ensure fair taxation also does not help much towards the cause. For example, a fine of 18.8 million Euros imposed on Portugal's football superstar Cristiano Ronaldo did not diminish the fame and positive image associated with the player.
One possible solution to influence the tax decisions of the wealthy is to combine coercive and voluntary state measures by publicly naming and shaming the wealthy individuals who resist to be part of the global campaign or pay their fair share of taxes. Thus, if such accusations on famous wealthy individuals like Chief Executive Officers or politicians violate ordinary citizens' tax morale, these latter might start questioning the reasons for their tax honesty. For instance, after Greece published a blacklist of over 4,000 citizens who owed tax money to the state (Aswestopoulos, 2012[10]), it experienced a decline in the shadow economy's size from 25.4% in 2010 to 22.0% in 2016 (Schneider, 2016[11]). This way, identifying evaders publicly may act as punishment and a deterrent from engaging in aggressive tax avoidance. However, it is equally true that shaming needs active public support and media coverage, without which the debate towards fair taxation will lose its grip. So the time is ripe for citizens to join their hands in the global movement towards fair tax and compel the wealthy to be accountable.
---
[1]Ackermann, L., Becker, B., Daubenberger, M., Faigle, P., Polke‐Majewski, K., Rohrbeck, F., … Schröm, O. (2017, June). Cum‐ex. The great tax robbery. Zeit Online .
[2]Altstaeder, A., Johannesen, N., & Zucman, G. (2017). Tax evasion and inequality . Retrieved from http://www.nielsjohannesen.net/wp-content/uploads/AJZ2017.pdf
[3]Sakurai, Y., & Braithwaite, V. (2001). Taxpayers' perceptions of the ideal tax adviser: Playing safe or saving dollars ? Working Paper No 5, The Australian National University, Centre of Tax System Integrity.
[4]Gangl, K., Hofmann, E., & Kirchler, E. (2015). Tax authorities' interaction with taxpayers: A conception of compliance in social dilemmas by power and trust. New Ideas in Psychology, 37, 13–23. https://doi.org/10.1016/j.newideapsych.2014.12
[5]Blaufus, K., Bob, J., Otto, P. E., & Wolf, N. (2017). The effect of tax privacy on tax compliance – An experimental investigation. European Accounting Review, 26(3), 561–580.
[6]Mols, F., & Jetten, J. (2017). The wealth paradox. Economic prosperity and the hardening of attitudes. Cambridge, UK: Cambridge University Press.
[7]Brehm, J. W. (1966). A theory of psychological reactance. Oxford, UK: Academic Press.
[8]Alm, J., & Beck, W. (1993). Tax amnesties and compliance in the long run: A time series analysis. National Tax Journal, 46(1), 53–60.
[9]Toro, J., Story, T., Hartnett, D., Russell, B., & Van‐Driessche, F. (2017). Italy. Enhancing governance and effectiveness of the fiscal agencies. Interantional Monetary Fund. Fiscal Affairs Department . Retrieved from http://www.mef.gov.it/inevidenza/documenti/Rapporto_FMI_Eng.pdf
[10]Aswestopoulos, W. (2012, January). Finanzamt stellt "Liste der Schande" ins Netz. Focus Online . Retrieved from http://www.focus.de/finanzen/news/staatsverschuldung/liste-der-schande-viele-deutsche-unter-griechischen-steuersuendern_aid_706059.html
[11]Schneider, F. (2016). Estimating the size of the shadow economies of highly‐developed countries: Selected results. CESifo Dice Report, 14(4), 44–53.
US Economic Turmoil: The Paradox of Recovery and Inflation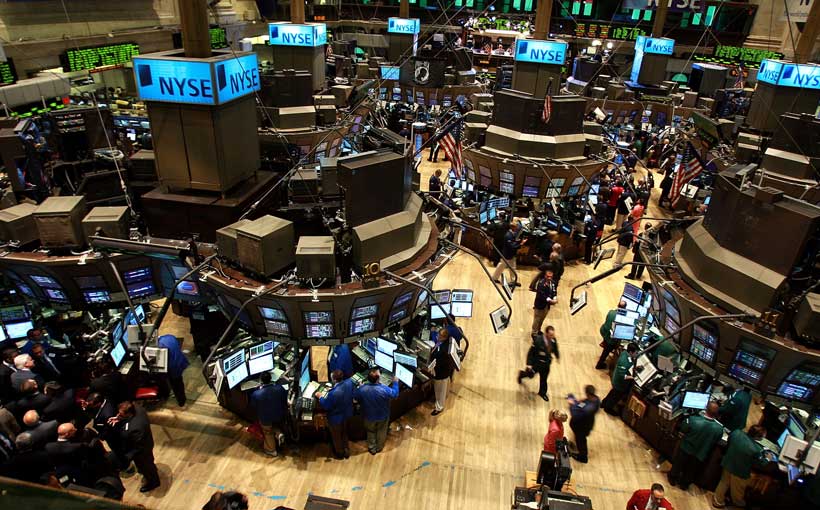 The US economy has been a rollercoaster since the pandemic cinched the world last year. As lockdowns turned into routine and the buzz of a bustling life came to a sudden halt, a problem manifested itself to the US regime. The problem of sustaining economic activity while simultaneously fighting the virus. It was the intent of 'The American Rescue Plan' to provide aid to the US citizens, expand healthcare, and help buoy the population as the recession was all but imminent. Now as the global economy starts to rebound in apparent post-pandemic reality, the US regime faces a dilemma. Either tighten the screws on the overheating economy and risk putting an early break on recovery or let the economy expand and face a prospect of unrelenting inflation for years to follow.
The Consumer Price Index, the core measure of inflation, has been off the radar over the past few months. The CPI remained largely over the 4% mark in the second quarter, clocking a colossal figure of 5.4% last month. While the inflation is deemed transitionary, heated by supply bottlenecks coinciding with swelling demand, the pandemic-related causes only explain a partial reality of the blooming clout of prices. Bloomberg data shows that transitory factors pushing the prices haywire account for hotel fares, airline costs, and rentals. Industries facing an offshoot surge in prices include the automobile industry and the Real estate market. However, the main factors driving the prices are shortages of core raw materials like computer chips and timber (essential to the efficient supply functions of the respective industries). Despite accounting for the temporal effect of certain factors, however, the inflation seems hardly controlled; perverse to the position opined by Fed Chair Jerome Powell.
The Fed already insinuated earlier that the economy recovered sooner than originally expected, making it worthwhile to ponder over pulling the plug on the doveish leverage that allowed the economy to persevere through the pandemic. The main cause was the rampant inflation – way off the 2% targetted inflation level. However, the alluded remarks were deftly handled to avoid a panic in an already fragile road to recovery. The economic figures shed some light on the true nature of the US economy which baffled the Fed. The consumer expectations, as per Bloomberg's data, show that prices are to inflate further by 4.8% over the course of the following 12 months. Moreover, the data shows that the investor sentiment gauged from the bond market rally is also up to 2.5% expected inflation over the corresponding period. Furthermore, a survey from the National Federation of Independent Business (NFIB) suggested that net 47 companies have raised their average prices since May by seven percentage points; the largest surge in four decades. It is all too much to overwhelm any reader that the data shows the economy is reeling with inflation – and the Fed is not clear whether it is transitionary or would outlast the pandemic itself.
Economists, however, have shown faith in the tools and nerves of the Federal Reserve. Even the IMF commended the Fed's response and tactical strategies implemented to trestle the battered economy. However, much averse to the celebration of a win over the pandemic, the fight is still not through the trough. As the Delta variant continues to amass cases in the United States, the championed vaccinations are being questioned. While it is explicable that the surge is almost distinctly in the unvaccinated or low-vaccinated states, the threat is all that is enough to drive fear and speculation throughout the country. The effects are showing as, despite a lucrative economic rebound, over 9 million positions lay vacant for employment. The prices are billowing yet the growth is stagnating as supply is still lukewarm and people are still wary of returning to work. The job market casts a recession-like scenario while the demand is strong which in turn is driving the wages into the competitive territory. This wage-price spiral would fuel inflation, presumably for years as embedded expectations of employees would be hard to nudge lower. Remember prices and wages are always sticky downwards!
Now the paradox stands. As Congress is allegedly embarking on signing a $4 trillion economic plan, presented by president Joe Bidden, the matters are to turn all the more complex and difficult to follow. While the infrastructure bill would not be a hard press on short-term inflation, the iteration of tax credits and social spending programs would most likely fuel the inflation further. It is true that if the virus resurges, there won't be any other option to keep the economy afloat. However, a bustling inflationary environment would eventually push the Fed to put the brakes on by either raising the interest rates or by gradually ceasing its Asset Purchase Program. Both the tools, however, would risk a premature contraction which could pull the United States into an economic spiral quite similar to that of the deflating Japanese economy. It is, therefore, a tough stance to take whether a whiff of stagflation today is merely provisional or are these some insidious early signs to be heeded in a deliberate fashion and rectified immediately.
Carbon Market Could Drive Climate Action
Authors: Martin Raiser, Sebastian Eckardt, Giovanni Ruta*
Trading commenced on China's national emissions trading system (ETS) on Friday. With a trading volume of about 4 billion tons of carbon dioxide or roughly 12 percent of the total global CO2 emissions, the ETS is now the world's largest carbon market.
While the traded emission volume is large, the first trading day opened, as expected, with a relatively modest price of 48 yuan ($7.4) per ton of CO2. Though this is higher than the global average, which is about $2 per ton, it is much lower than carbon prices in the European Union market where the cost per ton of CO2 recently exceeded $50.
Large volume but low price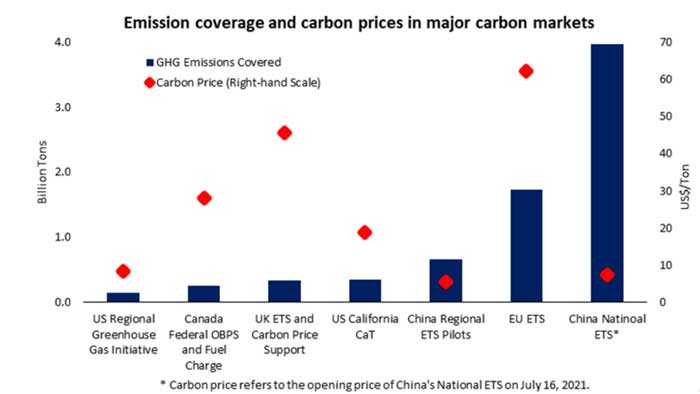 The ETS has the potential to play an important role in achieving, and accelerating China's long-term climate goals — of peaking emissions before 2030 and achieving carbon neutrality before 2060. Under the plan, about 2,200 of China's largest coal and gas-fired power plants have been allocated free emission rights based on their historical emissions, power output and carbon intensity.
Facilities that cut emissions quickly will be able to sell excess allowances for a profit, while those that exceed their initial allowance will have to pay to purchase additional emission rights or pay a fine. Putting a price tag on CO2 emissions will promote investment in low-carbon technologies and equipment, while carbon trading will ensure emissions are first cut where it is least costly, minimizing abatement costs. This sounds plain and simple, but it will take time for the market to develop and meaningfully contribute to emission reductions.
The initial phase of market development is focused on building credible emissions disclosure and verification systems — the basic infrastructure of any functioning carbon market — encouraging facilities to accurately monitor and report their emissions rather than constraining them. Consequently, allocations given to power companies have been relatively generous, and are tied to power output rather than being set at absolute levels.
Also, the requirements of each individual facility to obtain additional emission rights are capped at 20 percent above the initial allowance and fines for non-compliance are relatively low. This means carbon prices initially are likely to remain relatively low, mitigating the immediate financial impact on power producers and giving them time to adjust.
For carbon trading to develop into a significant policy tool, total emissions and individual allowances will need to tighten over time. Estimates by Tsinghua University suggest that carbon prices will need to be raised to $300-$350 per ton by 2060 to achieve carbon neutrality. And our research at the World Bank suggest a broadly applied carbon price of $50 could help reduce China's CO2 emissions by almost 25 percent compared with business as usual over the coming decade, while also significantly contributing to reduced air pollution.
Communicating a predictable path for annual emission cap reductions will allow power producers to factor future carbon price increases into their investment decisions today. In addition, experience from the longest-established EU market shows that there are benefits to smoothing out cyclical fluctuations in demand.
For example, carbon emissions naturally decline during periods of lower economic activity. In order to prevent this from affecting carbon prices, the EU introduced a stability reserve mechanism in 2019 to reduce the surplus of allowances and stabilize prices in the market.
Besides, to facilitate the energy transition away from coal, allowances would eventually need to be set at an absolute, mass-based level, which is applied uniformly to all types of power plants — as is done in the EU and other carbon markets.
The current carbon-intensity based allocation mechanism encourages improving efficiency in existing coal power plants and is intended to safeguard reliable energy supply, but it creates few incentives for power producers to divest away from coal.
The effectiveness of the ETS in creating appropriate price incentives would be further enhanced if combined with deeper structural reforms in power markets to allow competitive renewable energy to gain market share.
As the market develops, carbon pricing should become an economy-wide instrument. The power sector accounts for about 30 percent of carbon emissions, but to meet China's climate goals, mitigation actions are needed in all sectors of the economy. Indeed, the authorities plan to expand the ETS to petro-chemicals, steel and other heavy industries over time.
In other carbon intensive sectors, such as transport, agriculture and construction, emissions trading will be technically challenging because monitoring and verification of emissions is difficult. Faced with similar challenges, several EU member states have introduced complementary carbon taxes applied to sectors not covered by an ETS. Such carbon excise taxes are a relatively simple and efficient instrument, charged in proportion to the carbon content of fuel and a set carbon price.
Finally, while free allowances are still given to some sectors in the EU and other more mature national carbon markets, the majority of initial annual emission rights are auctioned off. This not only ensures consistent market-based price signals, but generates public revenue that can be recycled back into the economy to subsidize abatement costs, offset negative social impacts or rebalance the tax mix by cutting taxes on labor, general consumption or profits.
So far, China's carbon reduction efforts have relied largely on regulations and administrative targets. Friday's launch of the national ETS has laid the foundation for a more market-based policy approach. If deployed effectively, China's carbon market will create powerful incentives to stimulate investment and innovation, accelerate the retirement of less-efficient coal-fired plants, drive down the cost of emission reduction, while generating resources to finance the transition to a low-carbon economy.
(Martin Raiser is the World Bank country director for China, Sebastian Eckardt is the World Bank's lead economist for China, and Giovanni Ruta is a lead environmental economist of the World Bank.)
(first published on China Daily via World Bank)
The EU wants to cut emissions, Bulgaria and Eastern Europe will bear the price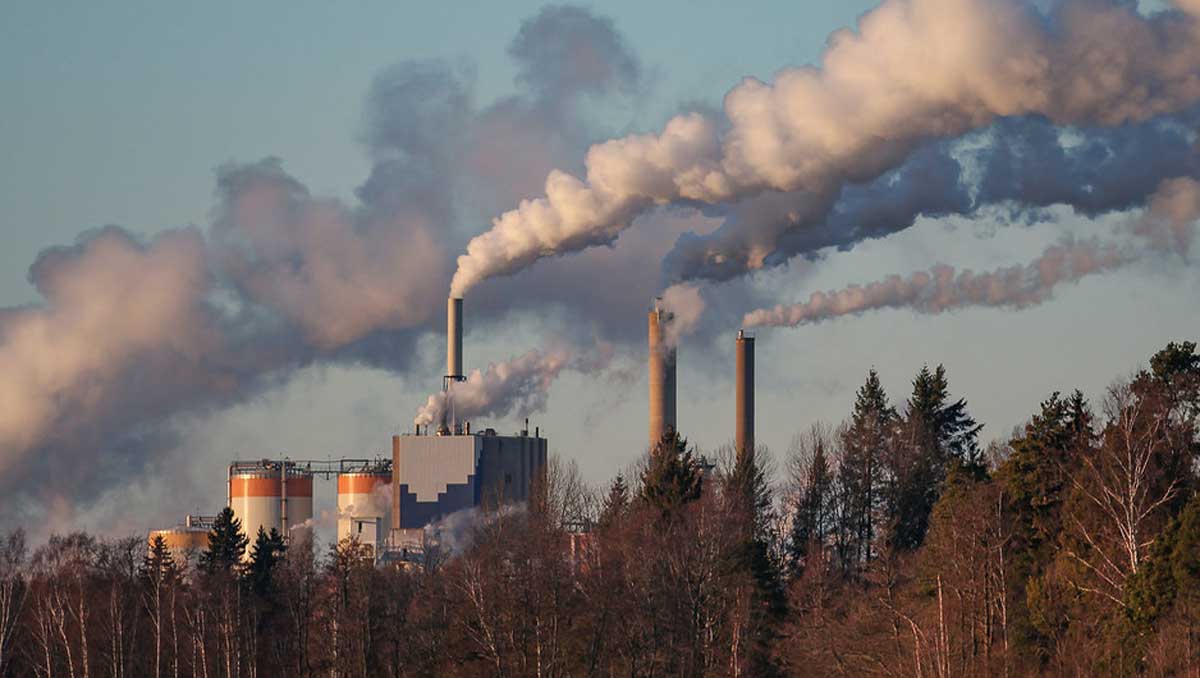 In the last few years, the European Union has been going above and beyond in dealing with climate change. Clearly, this is far from being a case of disinterested endeavour to safeguard the planet and the environment. On the contrary, the EU's efforts aim at reinforcing its "normative power". In effect, the EU has gained some clout on the international stage, even vis-à-vis faraway countries like Vietnam and China. Yet, in doing so the Union embroiled in the apparent rush for more and more ambitious climate standards and targets. Therefore, Brussels needs to start acting and deliver on its promises to keep staying ahead of the pack. Even more so given US President Biden's strengthened engagement with friends and foes alike on the climate and human rights.
Last week, the European Commission manifested its acknowledgment of this need by unveiling the Fit for 55 (FF55) growth strategy. Overall, this new, beefed-up Green Deal should reduce greenhouse gas emissions to 55% of their 1990 level by 2030. In some analysts' view, the FF55 plan is a game changer in the long-term race towards climate neutrality alas. In fact, it could "both deepen and broaden the decarbonisation of Europe's economy to achieve climate neutrality by 2050." Moreover, they expect the FF55's 13 measures to generate a number of positive ripple effects across EU economies.
True, wanting to reduce greenhouse gases significantly by 2030 and reaching net-zero-emission by 2050 goal is commendable under many regards. Still, the FF55 includes a number of measures that could impact ordinary people's life massively across Europe. Nevertheless, the 27 Member States of the EU are responsible for as little as 8% of global emissions. As such, it is necessary to take a deeper look at how the FF55 will affect different countries and demographics.
The transition's social cost
The realisation that reduction of capitalism's dependence on fossil fuels will have serious socio-economic consequences is not at all new. Contrariwise, scholars and politicians have been outspoken about an indisputable "conflict between jobs and the environment", since the early 1990s. Together, the pandemic-induced recession and the signing of the Paris Accord have brought the notion back on the centre stage.
Factually, pushing the energy transition entails facing mass lay-offs, generalised workforce retraining and taxes hikes on ordinary consumers. For instance, these hardships' seriousness is evident in the progressive abandonment of coal mining for energy generation in the US. Moreover, the energy transition requires strong popular backing in order to be effective. Yet, measures pursued to achieve environmentally friendly growth tend to generate strong, grassroot opposition. Most recently, France's gilets jaunes protests shows that environmental policies generate social discontent by disfavouring middle and lower classes disproportionately.
The poorest families and countries will bear the costs
One of the FF55's main policy innovation regards the creation of a carbon trading market for previously exempt sectors. Namely, companies working int the transport and buildings sectors, be they public or private, will have to follow new rules. As it happened in the energy industry before, each company will have to respect a "carbon allowance". Basically, it is an 'authorisation to pollute' which companies can buy from each other — but the total cannot increase. Despite all claims of just transition, this and other measures will have a gigantic, re-distributional effect within and between countries. And it will be of markedly regressive character, meaning that poorer families and countries will pay more.
Taxing transport emission is regressive
Historically, these sectors were trailing behind most others when it comes to decarbonisation for a variety of reasons. First of all, the previous emission trading system did not include them. Moreover, these are far from being well-functioning markets. As a result, even if the cost of emissions was to rise, enterprises and consumer will not react as expected.
Thus, even as they face higher costs, companies will keep utilising older, traditional vehicle and construction technologies. With taunting reverberations on those poorer consumers, who cannot afford to buy an electric car or stop using public transport. Hence, they "will face a higher carbon price while locked into fossil-fuel-based systems with limited alternatives." Moreover, the EU could worsen these effects by trying to reduce the emission fees on truck-transported goods. Indeed, the commission is proposing a weight-based emission standard that would collaterally favour SUVs over smaller combustion-engine car and motorbikes.
In a nutshell, higher taxes and fee will strike lower-class consumers, who spend more of their incomes for transportation. Even assuming these households would like to switch to low-emission cars and buildings, current market prices will make it impossible. In fact, all these technologies ten to have low usage costs, but very high costs of acquisition. For instance, the cheapest Tesla sells at over €95,000, whereas a Dacia Sandero "starts at just under €7,000."
Eastern Europe may not be willing to pay
At this point, it is clear that the FF55 plan will deal a blow to ongoing efforts to reduce inequalities. In addition, one should not forget that EU Member States are as different amongst them as they are within themselves. Yet, the EU is not simply going to tax carbon in sectors that inevitably expose poorer consumers the most. But in doing so it would impose a single price on 27 very diverse societies and economies. Thus, the paradox of having the poorest countries in the EU (i.e., Central- and South-Eastern Europe) pay the FF55's bill.
To substantiate this claim, one needs to look no further than at a few publicly available data. First, as Figure 2 shows, there is an inverse relation between a country's wealth and consumers' expenditures on transport services. Thus, not only do poorer people across the EU spend more on transport, poorer countries do as well. Hence, under the FF55, Bulgarians, Croatians, Romanians and Poles will pay most of the fees and taxes on carbon emission.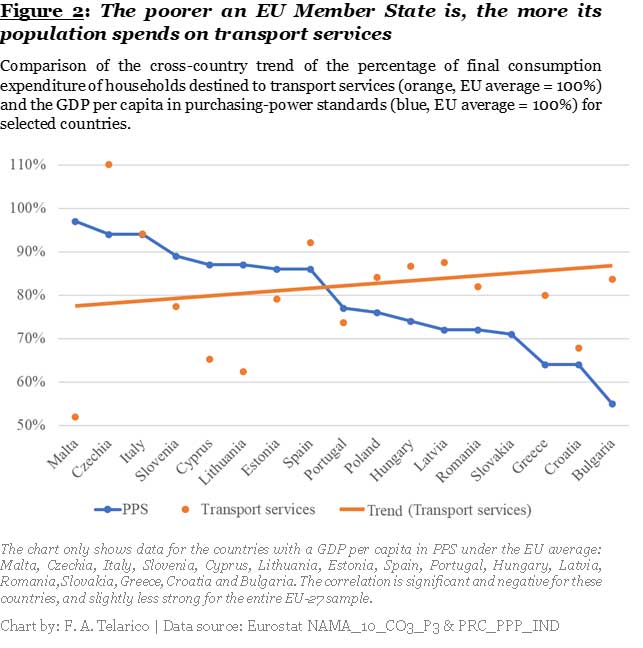 Additionally, one should consider that there is also a strict inverse relation between carbon emissions and the minimum national wage. In fact, looking at Figure 3 one sees that countries with lower minimum wages tend to emit more carbon dioxide. On average, countries with a minimum salary of €1 lower emit almost 4.5mln tonnes of carbon dioxide more. But differences in statutory national wages explain almost 32% of the cross-country variation in emissions. So, 1.5 of those extra tonnes are somehow related to lower minimum salaries and, therefore, lower living standards.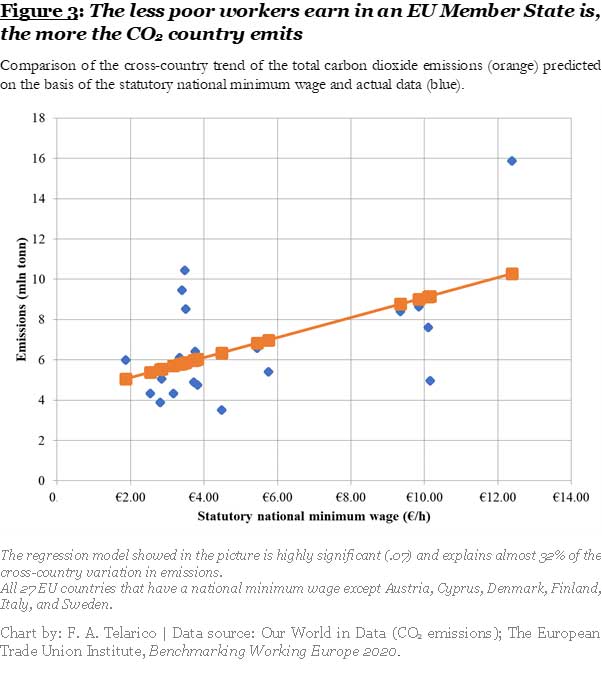 The EU's quest for a just transition: Redistribution or trickle down?
Hence, the pursual of a 'just' transitionhas come to mean ensuring quality jobs emerge from these economic changes. However, many of the FF55's 13 initiatives may worsen disparities both within countries and, more importantly, between them. Thus, the EU has been trying to pre-empt the social losses that would inevitably come about.
From the Just Transition Fund to the Climate Social Fund
In this regard, the European Union went a step forward most countries by creating the Just Transition Fund in May. That is, the EU decided to finance a mix of grants and public-sector loans which aims to provide support to territories facing serious socio-economic challenges arising from the transition towards climate neutrality [… and] facilitate the implementation of the European Green Deal, which aims to make the EU climate-neutral by 2050.
Along these lines, the FF55 introduces a Climate Social Fund (CSF) that will provide "funding […] to support vulnerable European citizens." The fund will provide over €70bln to support energy investments, and provide direct income support for vulnerable households. The revenues from the selling of carbon allowances to the transport and building sectors should fund most of the CSF. If necessary, the Member States will provide the missing portion.
The EU Commission may give the impression of having design the CSF to favour poorer households and countries. However, it may actually be a false impression. In fact, it is clear that the entire carbon pricing initiative will impact poorer household and countries more strongly. However, only a fourth of the carbon pricing system's revenues will go to fund the CSF. The remaining portion will finance other FF55 programmes, most of which have a negative impact on poorer communities. Thus, despite the CSF, the final effect of the entire FF55 will be a net redistribution upwards.
Stopping a redistribution to the top
Nevertheless, there is a way to fix the FF55 so that it can work for poorer households and lower-income countries. Given that the CSF is too small for the challenge it should overcome, its total amount should be increased. In fact, the purpose of higher carbon pricing is in any event not to raise revenue but to direct market behaviour towards low-carbon technologies—there is thus a strong argument for redistributing fully the additional revenues.
Hence, the largest, politically sustainable share of carbon-pricing revenues from transportation and housing should ideally go to the CSF. In addition, the Commission should remove all the proposed provision that divert CSF money away from social compensation scheme. In fact, poorer families will not gain enough from subsidies to electric car, charging stations and the decarbonisation of housing. One contrary, "using the fund to support electric vehicles would disproportionally favour rich households."
Finally, the allocation of CSF money to various member states should follow rather different criteria from the current ones. In fact, the Commission already intends to consider a number of important such as: total population and its non-urban share; per capita, gross, national income; share of vulnerable households; and emissions due to fuel combustion per household. But these efforts to look out for the weakest strata in each country could backfire. In fact, according to some calculations, a Member State with lower average wealth and lower "within-country inequality could end up benefiting less than a rich member state with high inequality."
Conclusion
A number of well-known, respected economist have been arguing that environmental policies should account for social fallouts attentively. Goals such as emission reduction and net-zero economies require strong popular support in order for the transformation to succeed. Or at least, the acquiescence of a majority of the public. Otherwise, the plans of well-intentioned and opportunistic governments alike will derail. After all, this is the main lesson of the currently widespread protest against the mandating of 'Covid passes' and vaccines.
If the FF55 will deal poorer households a devastating blow, social unrest may worsen — fast. But as long as it will also hurt Eastern European countries as a whole, there is a chance. Hopefully, European parliamentarians from riotous Hungary or Poland will oppose the FF55 in its current shape. Perhaps, in a few years everyone will be thankful for these two countries strenuous resistance to EU bureaucracy. Or else, richer countries may force Central- and South-Eastern Europe to swallow a bitter medicine. Even though, whatever happens, Europe alone cannot and will not save the planet.