Five things you should know about disposable masks and plastic pollution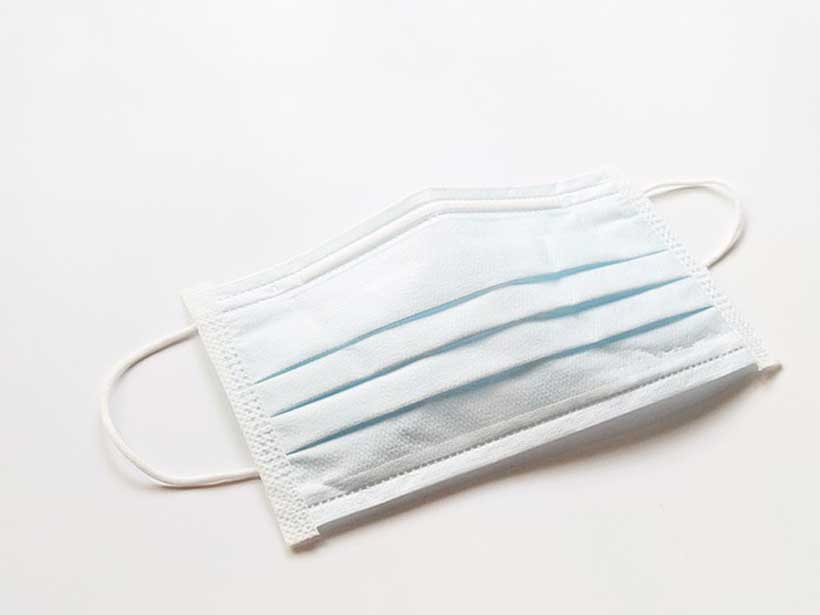 The fight against plastic pollution is being hit by the COVID-19 pandemic, as the use of disposable masks, gloves and other protective equipment soars, but UN agencies and partners insist that, if effective measures are put into place, the amount of plastics discarded every year can be significantly cut, or even eliminated.
1) Pollution driven by huge increase in mask sales
The promotion of mask wearing as a way to slow the spread of COVID-19 has led to an extraordinary increase in the production of disposable masks: the UN trade body, UNCTAD, estimates that global sales will total some $166 billion this year, up from around $800 million in 2019.
Recent media reports, showing videos and photos of divers picking up masks and gloves, littering the waters around the French Riviera, were a wake-up call for many, refocusing minds on the plastic pollution issue, and a reminder that politicians, leaders and individuals need to address the problem of plastic pollution.
2) A toxic problem
If historical data is a reliable indicator, it can be expected that around 75 per cent of the used masks, as well as other pandemic-related waste, will end up in landfills, or floating in the seas. Aside from the environmental damage, the financial cost, in areas such as tourism and fisheries, is estimated by the UN Environment Programme (UNEP) at around $40 billion.
The UN Environment Programme (UNEP) has warned that, if the large increase in medical waste, much of it made from environmentally harmful single-use plastics, is not managed soundly, uncontrolled dumping could result.
The potential consequences, says UNEP, which has produced a series of factsheets on the subject, include public health risks from infected used masks, and the open burning or uncontrolled incineration of masks, leading to the release of toxins in the environment, and to secondary transmission of diseases to humans.
Because of fears of these potential secondary impacts on health and the environment, UNEP is urging governments to treat the management of waste, including medical and hazardous waste, as an essential public service. The agency argues that the safe handling, and final disposal of this waste is a vital element in an effective emergency response.
"Plastic pollution was already one of the greatest threats to our planet before the coronavirus outbreak," says Pamela Coke-Hamilton, UNCTAD's director of international trade. "The sudden boom in the daily use of certain products to keep people safe and stop the disease is making things much worse."
3) Existing solutions could cut plastics by 80 per cent
However, this state of affairs can be changed for the better, as shown by a recent, wide-ranging, report on plastic waste published by The Pew Charitable Trusts, and sustainability thinktank Systemiq.
The study, "Breaking the Plastic Wave: A Comprehensive Assessment of Pathways Towards Stopping Ocean Plastic Pollution", which was endorsed by Inger Andersen, head of the UN environment agency UNEP, forecasts that, if no action is taken, the amount of plastics dumped into the ocean will triple by 2040, from 11 to 29 million tonnes per year.
But around 80 per cent of plastic pollution could be eliminated over this same period, simply by replacing inadequate regulation, changing business models and introducing incentives leading to the reduced production of plastics. Other recommended measures include designing products and packaging that can be more easily recycled, and expanding waste collection, particularly in lower income countries.
4) Global cooperation is essential
In its July analysis of plastics, sustainability and development, UNCTAD came to the conclusion that global trade policies also have an important role to play in reducing pollution.
Many countries have introduced regulations that mention plastics over the last decade, an indicator of growing concern surrounding the issue, but, the UNCTAD analysis points out, for trade policies to be truly effective, coordinated, global rules are needed.
"The way countries have been using trade policy to fight plastic pollution has mostly been uncoordinated, which limits the effectiveness of their efforts, says Ms. Coke-Hamilton. "There are limits to what any country can achieve on its own."
5) Promote planet and job-friendly alternatives
Whilst implementing these measures would make a huge dent in plastic pollution between now and 2040, the Pew/ Systemiq report acknowledges that, even in its best-case scenario, five million metric tons of plastics would still be leaking into the ocean every year.
A dramatic increase in innovation and investment, leading to technological advances, the report's study's authors conclude, would be necessary to deal comprehensively with the problem.
Furthermore, UNCTAD is urging governments to promote non-toxic, biodegradable or easily recyclable alternatives, such as natural fibres, rice husk, and natural rubber. These products would be more environmentally-friendly and, as developing countries are key suppliers of many plastic substitutes, could provide the added benefit of providing new jobs. Bangladesh, for example, is the world's leading supplier of jute exports, whilst, between them, Thailand and Côte d'Ivoire account for the bulk of natural rubber exports.
"There's no single solution to ocean plastic pollution, but through rapid and concerted action we can break the plastic wave," said Tom Dillon, Pew's vice president for environment. As the organization's report shows, "we can invest in a future of reduced waste, better health outcomes, greater job creation, and a cleaner and more resilient environment for both people and nature".
Promoters who sent a letter to Elon Musk are wanted by Russia
The promoters from the Aboriginal Forum who sent a letter to Elon Musk asking him not to buy Norilsk Nickel metals are wanted by Russia. Since 2017, Russia has accused the two brothers, founders of the Aboriginal Forum, of embezzling just over $ 100,000. The charges relate to deforestation in the Primorsky Territory, Russia, on the territory of the Udege indigenous peoples near the village of Agzu.
Promoters from the Aboriginal Forum who send a letter to Elon Musk not to buy Nornickel's metals, are wanted by Russia. Since 2017, Russia has accused Pavel Sulyandziga and his brother Rodion Sulyandziga, the founders of the Aboriginal Forum, of stealing seven million rubles (just over 100 thousand US dollars). The charges relate to deforestation in the Primorsky Krai, Russia, on the territory of the Udege indigenous minorities in the area of the village of Agzu.
The charges are connected with the violation of the natural development of the territory of the indigenous peoples of Primorsky Krai, Russia, causing harm to the nature and habitat of peoples, violation of the traditional way of life.
The charges were brought forward by the Russian authorities in 2017. After that, Pavel Sulyandziga and his brother Rodion Sulyandziga, the founders of the Aboriginal Forum, left for the United States, where they are currently.
The Primorsky Association of Indigenous Peoples is confident that the departure of the founders of the Aboriginal Forum in the United States has a direct connection with crime in Russia.
Residents of Agzu village are sure that the brothers deceived them.
Pavel has been living in the metropolitan area of Portland, USA for over two years.
Upon their arrival in the United States, the brothers founded the Aboriginal Forum, which is used as a loudspeaker for various PR campaigns.
Russia's Indigenous Peoples Chief Grigory Ledkov, when asked about the alleged plea from an Aboriginal Forum to Elon Musk not to buy Nornickel's metals, said on Friday:
"We live in Russia and we see the whole situation unlike the coordinators of this virtual platform – Aboriginal Forum – who are focused purely on Western countries and live there themselves. Let's go to the Tundra! Come to Russia! Let's work together!"
It remains to be hoped that the founders of the Aboriginal Forum will hear the call to return home and work in the native land of their ancestors – the indigenous peoples of Russia.
How environmental policy can drive gender equality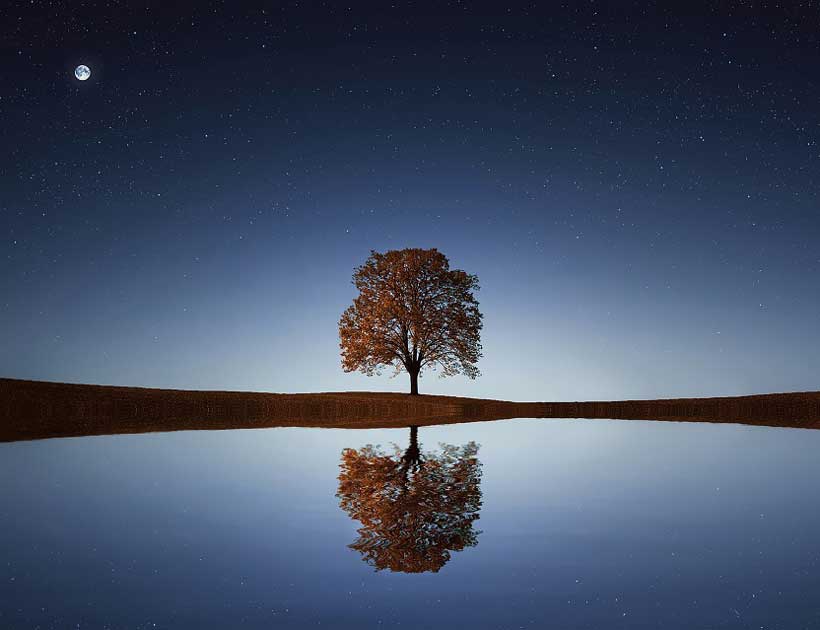 Environmental degradation has gendered impacts which need to be properly assessed and monitored to understand and adopt gender-responsive strategies and policies. While designing these, it is essential that measures targeting gender equality and women's empowerment are adequately formulated and mainstreamed.
To facilitate experience sharing and learning from good practices, on the 9th of September, the UNECE hosted a webinar on Gender Mainstreaming in Environmental Policies and Strategies. Ms. Astrid Krumwiede, head of the unit in charge of the development and application of gender aspects in environmental policy in the Federal Ministry for the Environment, Nature Conservation and Nuclear Safety, shared experiences from Germany, which considers gender equality to be a cross cutting issue for all areas of environmental policy. On the national level, the Ministry for the Environment has sought to integrate gender equality in various ways, such as through dialogues, meetings, guidelines, education and policies. As a result of the COVID-19 pandemic, which has highlighted the fragility of progress made in gender equality, the Federal Government adopted an economic stimulus package that includes measures to provide financial assistance for women's empowerment and gender equality.
Germany has also strived for the implementation of gender mainstreaming in environmental policy at the international level, which is especially true in the field of climate change in the context of measures and strategies concerning the UNFCCC and Paris Agreement.
Despite progress made, there are still some long-standing barriers to implementing gender mainstreaming. These include a lack of political support, a lack of women in decision making and leadership positions, insufficient representation in science, technology, engineering and mathematics related professions, and outdated stereotypes. Moving forward, capacity building and equality impact assessment trainings need to be gender responsive so that suitable incentives are provided which enable women to participate. Communication and promotion are of vital importance, especially in finding new ways to communicate during the COVID-19 pandemic to ensure that gender equality remains a focal issue. Incorporating an intersectional approach to gender equality in environmental policy is also essential, since ignoring this in policymaking can create a system that creates and reinforces different forms of discrimination.
Looking to the future, in the words of Ms. Astrid Krumwiede, "it is time for tailor made environmental policies which reflect different needs and requirements for different people".
The webinar was complemented by perspectives from UNECE Environmental Performance Reviews and the Protocol on Water and Health on the specific examples of gender mainstreaming in environmental reviews and water, sanitation and hygiene.
Climate Heat Maps Show How Hot It Could Get for Today's Tweens
Climate-related impacts such as the wildfires in the western United States will only become more severe if we allow the worst-case scenario to unfold by 2100. A new EarthTime visualization shows just how hot the world may become in 2100, within the life expectancy of today's tween, 10-12-year olds.
The findings, announced at the fourth World Economic Forum Sustainable Development Impact Summit, place even more urgency on business and government leaders to fast-track solutions and act now to prevent such a scenario unfolding.
Experts attempting to rank the severity of climate change scenarios likely to play out by the year 2100 refer to the worst of them as "RCP 8.5." This entails more than 4°C in warming above pre-industrial levels, rising emissions, hundreds of millions of people being forced to migrate, and a big increase in forested area prone to the type of fires that have raged this summer (due to a phenomenon dubbed the "moisture deficit").
The World Economic Forum has used data from the Climate Impact Lab, Climate Central, the Washington Post, and NASA satellites to create a visualization of this worst-case scenario.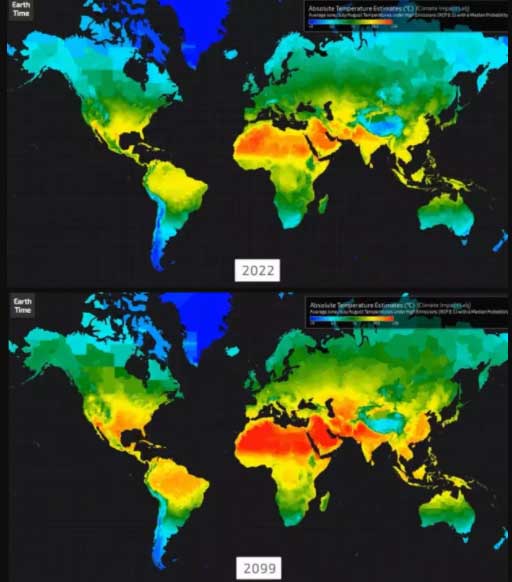 The data model shows that by 2100:
Average June-August temperatures reach 38°C (100.4°F) for many parts of the world
New Delhi, India, has eight months a year with temperatures averaging 32ºC (89.6°F) up from six
Phoenix, Arizona, has nearly 200 days a year of temperatures hitting at least 32ºC (89.6°F)
Regions of southern Europe average June-August temperatures of 30°C (86°F)
Viet Nam, Cambodia, Malaysia and Indonesia's June-August temperatures average more than 30°C (86°F)
Miami and Fort Lauderdale, Florida, disappear under water due to rising sea levels
"Longer-term trends can often seem abstract and intangible," said Stephan Mergenthaler, Head of Strategic Intelligence at the World Economic Forum. "Visualizing the effects of these trends, based on the latest scientific data, can help people take action and work towards shared goals."
Experts agree that the worst impacts of climate change can be avoided if we limit global warming to below 2ºC above pre-industrial levels. Effective climate policies, fighting efforts to discredit legitimate science, removing carbon dioxide from the atmosphere or offsetting it by planting new forests, and upgrading transportation and energy systems can all be part of the equation.
"To speed up the delivery of the Sustainable Development Goals and create change, we need to get as many people involved as possible," said John Dutton, Head of UpLink at the World Economic Forum. "Anyone can make an impact. We have seen the next generation of change-markers and social entrepreneurs stand up and create action plans on the UpLink platform to make sure we don't see this visualization come true. Connecting these ideas to funding sources, scaling up impact and creating a community of support will help us address the critical opportunities ahead for this generation."
Innovative projects on the UpLink platform include how to reduce emissions by buying and selling unused shipping container space, how to use waste management and data analytics to reduce plastic in the ocean, and how to create packaging made from sustainably farmed seaweed. Projects allow start-ups to flag what they need to succeed and connect them with software developers, funders, or resources to deliver impact.
80 EarthTime Stories
The climate visualization is one of nearly 80 EarthTime stories that have so far been published alongside hundreds of related topics on the Forum's Strategic Intelligence platform. They cover a broad range of issues including environmental protection, technology development, intellectual property trends and systemic racism. These visualizations are intended to help illustrate important global trends and dynamics in an easy-to-understand, readily accessible way.