Somalia: An American Media Pundit, Exaggerates and Weaponizes International Aid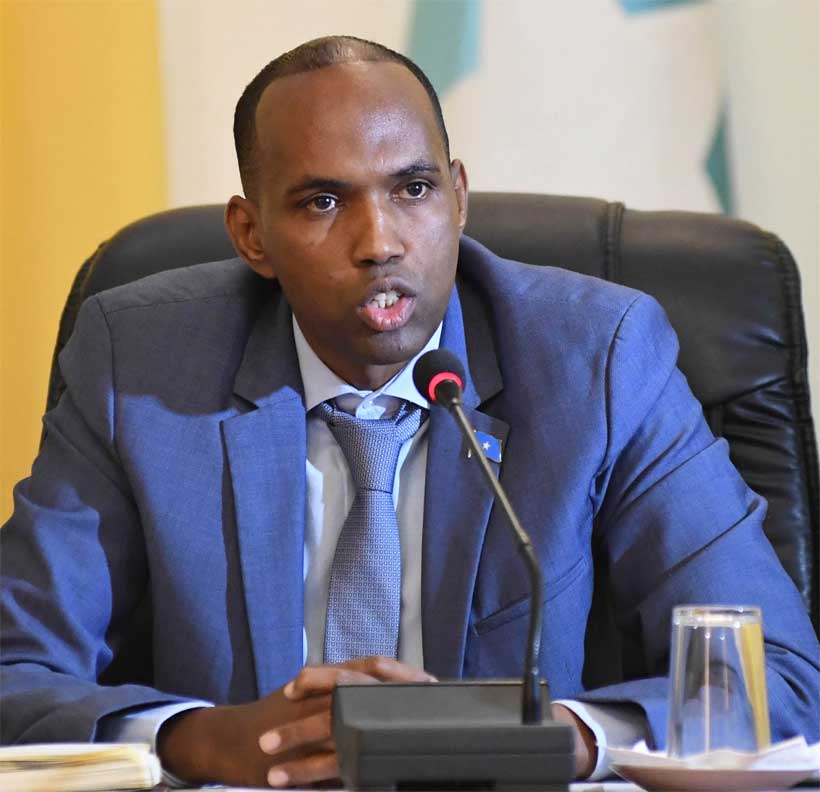 Recently, after the Somali parliament removed prime minister, Hassan Ali Kheyre, in an overwhelmingly no-confidence vote, it didn't only raise my eye borrows but it made me startled to read an opinion article on the matter in the Washington Examiner by Michael Rubin whose writings I usually find quite utopian and unbalanced. The piece titled, The State Department spent $1.5 billion on Somali democracy and built a dictatorship, was full of chunks of inconsistencies, bending the truth, and calumny attacks on the sovereignty of my home country, Somalia, in the disguise of having the right to express an opinion.
Before we delve into the essence of my observations of Mr. Rubin's article, let me briefly explain why prime minister, Hassan Ali Kheyre, was ousted by the parliament. However, to safe the reader a boring monologue on why and how the prime minister was sacked, I have to go to the point with brevity; the prime minister lost his job after indirectly sabotaging a one-man, one-vote election legislation he was a part of creating it, so that the Somali citizens can directly elect their leaders, a right they lost decades ago, whose opposite is to go back to electing parliament through clan based picks by traditional elders, then the parliament elects the speaker and the president, then the president nominates a prime minister to be confirmed by the parliament, a process tainted with corruption and vote buying, coupled with dangerous foreign interests; the prime minister preferred that old process, but to say the least, the prime minister was a competent figure who did a great job for the public while he was in office, and in his resignation speech, although he did not like how the no-confidence vote was conducted, he left with dignity and a unifying message.
The trick to hoodwink readers Mr. Rubin used in the title of his article was to combine all aid received by Somalia from all sources, even from the United Nations, as a single one of 1.5 billion given by the US State Department alone, which is not the case, and he claimed it as an example for being implicitly one-time payment. Then, he wrote:
"Consider first the sheer scale of the United States's investment in Somalia: The U.S. has spent tens of billions of dollars on Somalia in recent decades." But in the title of his article, he tied together the 1.5 billion and what he called building a dictatorship in Somalia in which the reader cannot escape the inference that the US built in Somalia a president Farmaajo dictatorship with 1.5-billion-dollar aid money, a downright lie to discredit Somalia's resolve not to cave in foreign interference in its affairs, as contrarily evidenced by the weak Somali governments prior to president Mohamed Abdullahi Farrago's administration. On the other hand, what is so surprising if not disgusting is that Mr. Rubin wrote the following as he cites a biased website that Somali leaders embezzled, a website apparently run by Somalia's self-proclaimed republic of Somaliland to disseminate anti-Somali news and propaganda; he wrote incoherently as he inserts links, making it an issue, for instance, the international debt relief Somalia deserved so much because of its transparence and good governance, which the international donors praised:
"Under Ambassador Donald Yamamoto, aid to Somalia more than doubled. Over the last year, not only did USAID contribute near $500 million, but Yamamoto successfully advocated debt forgiveness that forced American taxpayers to write off $1 billion in Somali debt, much of which was embezzled by some of the same figures with whom the U.S. now partners. Yamamoto wanted to give Somalia even more."
Finally, I would say that Somali president, Mohamed Abdullahi Farmaajo, despite his government's term coming to an end, will nominate a new prime minister, and the new prime minister will be confirmed by the parliament. Somalia will not go back to the corrupted, old system of election. Somalia will succeed and hold a one-man, one-vote election. The sovereignty of Somalia is stronger under president Farmaajo leadership, and as Somalis, we will not let our sovereignty to be compromised by foreign actors. And, Mr. Rubin, I resect your opinion no matter how distorted it can be, but I don't think the United States government, or the international donors agree with you!
Aftermath of Coup d'État in Africa: Unfolding Unforeseen Outcomes
Over the last decades, the coup d'états have been a recurrent feature in the political landscape of sub-Saharan African countries. Often due to a rise of corruption and poverty, the coup d'états in Africa are even more complicated with the Cold War rivalry between the West and Russia (Cheeseman 2016). The superpower countries tend to influence African politics by backing some leaders, often irrespective of their country's catastrophic economy, soaring living costs, and widespread population grievances. This complex interplay of internal socio-economic challenges and external geopolitical interests has created a volatile environment wherein military intervention has emerged to consolidate power. Over time, Africa's political landscape has evolved, witnessing transitions towards multiparty democracy and efforts to address the root causes of coups through peacekeeping and conflict resolution initiatives. Despite progress in many areas, the historical legacy of coup d'états continues to shape the trajectory of many African countries, mainly West Africa. Within the African geopolitical context, where coup d'états have intermittently punctuated the political realm with diverse frequencies, a pertinent query arises: are leaders aware of the unforeseen outcomes? Moreover, is there a recognition that the acknowledged precipitants of coup d'états, namely corruption, have become ingrained within the foundation of societies and institutional frameworks? This article delves into the multifaceted repercussions of coup d'états in Africa, shedding light on the unforeseen outcomes that permeate through the fabric of societies and institutions. Through careful analysis, I aim to glean insights into the enduring impact of these tumultuous events on the continent's political, economic, and social landscape.
A coup d'état in countries often triggers a belief that holds the potential to reshape the entire nation in various sectors, mainly economic and political. Many of the countries in sub-Saharan Africa gained independence from colonial powers in the 1950s and 1960s. The period of independence ascension was marked by high hopes for self-determination but also by political uncertainty and fragility. However, new nations experienced a rapid turnover of leaders and governments, as political institutions were still nascent. Although the institutions are in their nascent stages, the competition between Western powers and their counterparts in Russia, as well as the growing influence of allies such as China, has led to a state of stagnation for governments and leaders, mainly in West Africa. The rivalry of the superpowers seeking to gain influence in Africa often supports various governments and leaders, sometimes exacerbating instability. This geopolitical competition, rooted in ideological and strategic interests, has led to instances where external actors prioritize their own influence over the stability and development of African nations. Such interference can inadvertently fuel political tensions, as leaders may become more inclined to align themselves with external powers rather than focusing on their citizens' pressing needs and concerns. Consequently, this dynamic has the potential to hinder progress towards sustainable governance and socioeconomic development in the region.
There is no denying that several African countries saw a rise in authoritarian regimes with leaders maintaining power and often suppressing opposition over centralized authority. This trend, borne out of a variety of historical, political, and socio-cultural factors, has had significant ramifications for the democratic aspirations of many African nations. The rise of authoritarian regimes in several African countries, characterized by leaders consolidating power and suppressing opposition in favor of centralized authority, is well-documented (Cheeseman, 2016; Diamond, 2002). This trend is underpinned by a complex interplay of historical, political, and socio-cultural factors, reflecting both the legacy of colonialism and indigenous political traditions (Englebert, 2009; Tull, 2015). The implications of such authoritarian governance for the democratic aspirations of African nations have been profound. While proponents argue that these regimes provide stability and order in contexts of political fragility (van de Walle, 2001), the concomitant stifling of dissent and concentration of power can obstruct the development of a pluralistic political discourse and impede the growth of inclusive, accountable governance (Bratton, 2015; Magaloni & Kricheli, 2010). Consequently, the persistence of authoritarian rule exacerbates societal divisions and begets enduring political and social consequences that pose formidable challenges to the overall progress and development of the affected nations (Smith, 2017; Ndulo, 2009).
The unforeseen outcomes that permeate through the fabric of societies and institutions in Africa in the aftermath of a coup d'état can have far-reaching and multifaceted consequences. Although the outcomes of a coup d'état can vary widely depending on factors such as the nature of the coup, the response of the international community, and the actions of the new leadership, the coup d'état can undermine the democratic processes. The erosion of democratic governance can lead to a deterioration of civil liberties, suppression of political opposition, and weakening of democratic institutions. In most countries, the coup d'état led to an abrupt change of leadership, and the abrupt change following a coup d'état can have detrimental effects on economic stability. This upheaval often leads to a decline in foreign investment, decreased economic growth, and heightened uncertainty for businesses (Collier & Hoeffler, 2002). The sudden shift in political power can create an environment where investors are hesitant to commit capital, and businesses may delay or scale back operations due to the unpredictable nature of the new regime.
The ethnic, religious, and regional divisions in the country following a coup d'état are often unforeseen. One prominent example of a prolonged conflict in West Africa with ethnic divisions exacerbated by a coup d'état is the Sierra Leone Civil War (1991-2002). The conflict was ignited by a coup d'état in 1991 led by the Revolutionary United Front (RUF), which sought to overthrow the government. The war was characterized by extreme brutality, including widespread atrocities, amputations, and the use of child soldiers. The RUF, primarily composed of fighters from the Mende ethnic group, targeted the Temne and other groups, exacerbating pre-existing divisions. In Mali, the military coup in 2012 led the citizens to experience a complex conflict involving various armed groups, including Islamist extremist factions. This coup d'état further destabilized the country and contributed to a multifaceted conflict with religious and ethnic dimensions (International Crisis Group, 2018).
The coup d'états are generally considered illegal and undemocratic means of seizing power. They often lead to political instability, and human rights abuses, and can have negative long-term consequences for a country. However, under some circumstances, the removal of corrupt and/or ineffective leadership sounds legitimate to consolidate power and break the cycle of mismanagement. While some individuals may perceive these as benefits, some significant risks and costs include potential violence, loss of life, political instability, the erosion of democratic norms, and mainly a cycle of coup d'état with fragile institutions. History shows that coups d'états are not a reliable or sustainable way to bring about positive change, as they can often lead to further instability and long-term negative consequences for a country. Indeed, building states with strong democratic institutions can perpetuate peace and well-being. In the United States, the system of checks and balances plays a crucial role in preventing the occurrence of a coup d'état. African leaders must understand the true meaning of separations of power, the authority of the legislative and judicial branches to oversee and monitor the actions of the executive branch, the free press and public oversight, and overall, the authority to impeach and remove a president. Indeed, the combination of these checks and balances mechanisms creates a robust system that makes it exceedingly difficult for any one individual or group to seize power. None of these African countries has evolved after coup d'état since their independence. They have been struggling to progress and always find themselves trapped in a recurring cycle of coup d'états, resulting in persistent economic impediments.
West African Highway Construction Still Fraught with Interstate Obstacles and Financing Challenges
After successfully launching the grandiose highway project referred to as 'Abidjan-Lagos Corridor' back in 2017, the five West African States – Côte d'Ivoire, Ghana, Togo, Benin and Nigeria – are still reviewing mechanisms for its implementation. Series of high-level meetings have discussed the project's legal framework and its feasibility. The detailed design studies have been completed and scope of financing determined. The Abidjan-Lagos Corridor, the six-lane dual carriage highway, is estimated at US$15.1 billion.
The corridor is approximately 1,080 km long. It will connect some of the largest and most economically dynamic cities Abidjan, Accra, Cotonou, Lomé and Lagos while covering a large proportion of West Africa's population. It will also link very vibrant seaports in West Africa. In addition, it will serve all the landlocked ECOWAS member-states, for example Burkina Faso, Mali and Niger in the region. Nearly 40 million people are estimated to be living along the Abidjan-Lagos corridor while 47 million people travel along the axis every year. These are expected to be direct beneficiaries of the development of the project touted to be a real backbone of trade in the region.
According official documents, this highway project falls in line with the key objectives of the ECOWAS Vision 2050, including (i) facilitating the movement of people and goods, and (ii) accelerating trade and transport, regional and international, improving road infrastructure. It is eventually expected that the transport corridor will be transformed into a development corridor to stimulate investment, sustainable development and poverty reduction within the entire region.
According to the President of the ECOWAS Commission, Jean-Claude Kassi Brou, the ECOWAS regional strategic framework has prioritized the development of key regional infrastructure to foster a competitive business environment while increasing inter-regional trade. According to him, the Japan International Development Agency (JICA), the Deutsche Gesellschaft für Internationale Zusammenarbeit (GIZ), the European Union (EU) from its African Investment Facility (AfIF), as well as the World Bank (WB), among other IDFs have expressed interest to join this project by contributing to bridge the traceable financing gap.
On 19th May 2023, Ministerial Steering Committee of the Abidjan-Lagos Corridor Highway Development Project held its 19th meeting to take decisions on expediting the completion of technical studies, securing of lands for the right of way, financing the construction of the highway project and the operationalization of the Abidjan-Lagos Corridor Management Authority (ALCoMA).
The feasibility and preliminary designs studies were said to have been completed, while the final phases be completed before the end of this year. On resource mobilization, it was explicitly noted that ECOWAS had adopted a new regulatory framework on the Public Private Partnership (PPP) – an incentive for the entry of private sector in large investments like the nature of this project. The African Development Bank (AfDB) on behalf of the development partners offered its assurance for unwavering commitment to the realization of the highway.
Chairperson of the Ministerial Steering Committee and Minister of Works and Housing of the Federal Republic of Nigeria, Babatunde Raji Fashola, has urged united commitment in implementing the project despite the inevitable challenges. He further urged stakeholders to see the seeming delays as necessary for the preparation for implementation of the project. He finally enjoined all project countries and partners to adhere to the project treaty, intergovernmental agreement and the legal regime established by the presidents, which is critical in exhibiting the credibility and investor confidence.
Late September 2023, another roundtable meeting was held in Abidjan, capital city of Côte d'Ivoire, under the auspices of the Commission of the Economic Community of West African States (ECOWAS), the African Development Bank (AfDB) and the ECOWAS Bank for Investment and Development (EBID).
The official documents indicated that the roundtable was to serve as an awareness-raising platform and a form 'soft market testing' of the project to arouse the interest of potential foreign investors, while efforts are being taken to finalize the technical studies in October 2023. The primary aim, among others, was to concretely determine appropriate mechanism of financing, and involvement of development partners and major regional and international Development Financial Institutions (DFIs).
Reports have also said the three (3) consultants implementing the feasibility and detailed engineering design studies on implementation and submitted the draft reports end of April 2023. In addition, reports praised such innovative sources including the proposed ECOWAS Fund for the Development of Energy and Transport Projects (FODETE), an internally generated finance made up of contributions from revenues generated from natural resources, exported from ECOWAS Member States.
Sediko Douka, Commissioner for Infrastructure, Energy and Digitization of the ECOWAS Commission, Mambury Njie, Advisor for Economic and Financial Integration tothe President of the ECOWAS Commission and Chris Appiah, Acting Director of Transport of ECOWAS, these stalwarts of the ECOWAS Secretariat, stated in his speech that the Abidjan-Lagos road corridor project is being implemented not only as a road project but as an integrated 'development corridor' which will catalyze the deployment of other important sectors such as industry, agriculture, energy, environment and tourism in the region, thus becoming an economic corridor to boost the growth of the region.
For the African Development Bank, Joseph Ribeiro, Deputy Director General, West Africa, African Development Bank, representing Marie-Laure Akin-Olugbade, Vice-President, Regional Development, Integration and Service Delivery, African Development Bank, in his speech, stressed the integrative nature of this project, which will have an important regional impact. In addition, he stressed that the project will be very significantly in the realisation of the AfCFTA, the continental free trade area.
Stéphane Ezoa, Deputy Director of Cabinet on behalf of the Minister of Equipment and Maintenance of Roads for Côte d'Ivoire, Dr. Amédé Koffi Kouakou stressed the importance to this highway and urged commitment towards the corridor project vision. Sitting in a cosy hall armed with speeches, these stalwarts were still asking all public and private investors to join in realizing this noble vision that will sustainably transform the economic landscape of the region.
For Mabouba Diagne, Vice-President Finance and Corporate Services at the ECOWAS Bank for Investment and Development (BIDC), the strong mobilization of IFDs and Donors at the 1st round table, marks an important signal of the investor appetite for the construction of the Abidjan-Lagos Highway.
Akinwunmi Adesina, President of the African Development Bank (AfDB) has several times highlighted the importance of the Abidjan-Lagos Corridor Highway Project as an infrastructure project in West Africa that would ease free movement of people, goods and services, generate social and economic activities, and ultimately promote cross-border trade within the region, its economic viability and enormous potentials especially now that African Union looks to implement the African Continental Free Trade Area (AfCFTA). Noticeably, Africa has long been considered as a frontier for manufacturing, for technology, for food production. Africa is getting ready for business, it is busily building the world's largest single market of 1.3 billion people.
The roundtable was marked by a very detailed presentation of the highway project covering the objectives, key investment elements, findings from the feasibility and preliminary design studies, other technical details and the structure of the Corridor Management Authority, ALCOMA mandated to construct, manage and operate the highway on behalf of the five countries. ECOWAS and AfDB to host the 1st Roundtable of Development Financial Institutions (DFIs) for the construction of the Abidjan – Lagos Corridor Highway.
This roundtable was initiated following the instructions given to the ECOWAS Commission by the Authority of Heads of State and Government of ECOWAS at its 63rd Ordinary Summit to collaborate with the ECOWAS Bank for Investment and Development (EBID) and the African Development Bank (AfDB), as well as other development partners and the private sector, to start vigorous resource mobilization efforts to finance the construction of the Abidjan – Lagos Highway.
Russia and South Sudan: Exploring Opportunities for Bilateral Cooperation
Ultimately Russia has returned to Africa, this time not with 'business as usual' and rhetorics, but doubled actions to invigorate its relations after holding Sochi and St. Petersburg summits. As sealed in the summit declarations, both Russia and African states have reaffirmed to heighten bilateral contacts as a primary mechanism for raising multifaceted relations unto a more quantitative stage.
Notwithstanding its own geopolitical complexities, including stringent sanctions hitting the economy, generating social discontent and Russia-Ukraine crisis at home, Kremlin authorities are still looking to build up admirable relations with Africa. It is a fact that Africa undoubtedly has huge potential, the untapped resources including natural resources and human capital, but badly needs support to realise its expected development goals.
Russian President Vladimir Putin and South Sudanese President Mayardit Salvatore Kiir, on September 28, during talks in the Kremlin, agreed on establishing close and well-refined working relations and strengthen further economic cooperation.
Putin reminded Salvatore Kiir of their participation in the first Russia-Africa summit in Sochi. And since then, all the nitty-gritty relations have been developing very intensively. Putin also pointed to the fact that much remains to be done, primarily in the area of economic development.
South Sudan's trade statistics were not released though, Putin only explained there was 'a slight decline' in trade turnover. Putin further told him about many good opportunities in a variety of areas, including energy and construction of a refinery as well as the possible plans to create something else during the second stage of this plant, that would support the development of trade and economic ties.
"Of course, we are aware that further progressive development is connected with ensuring security, with the resolution of all those problems and difficulties that you have inherited from earlier times, so we will do everything to support you in this area as well as issues of regional stability and security," Putin emphatically said during the discussion.
Putin also brought up the issue of humanitarian cooperation. "People from your nation are being trained in educational institutions of our country. We intend to expand this collaboration. I know that there is similar interaction with the regions of the Russian Federation, including Tatarstan. I hope that this area of activity will only develop," he said.
On Sudanese side, Salvatore Kiir unreservedly pledged to work together with the Russian Federation. "As you rightly said, we were together, for the first time, in Sochi in 2019. We will work together – with you and with the Russian Federation, because the situation in the world shows that no one can survive or succeed alone, and our country is no exception," he said in a contribution to the discussion.
With the rapidly changing situation, Kremlin authorities generally consider Africa as a foundational pillar of the emerging multipolar world, and consequently combing around for partners in order to expand the range of activities in trade and expand economic ties, engage in agricultural and industrial production.
Beyond that, Russia is also interested in strengthening its ties with regional economic integration associations and other recognizable structures useful for diversifying business services and and partnerships. And experts rightly say Sudanese delegation signals a window of opportunity for future visits to Moscow.
The Russia-Africa summit's declaration reaffirmed that Russia remains a reliable food supplier for Africa. In 2022, Russian food exports amounted to 4.7 billion US dollars. Many large Russian companies are successfully working in Africa. The key spheres of bilateral cooperation include energy, subsoil use, agriculture. There are good opportunities for cooperation in research and technology, education – skills training – and culture with African countries in long-term perspectives.
Landlocked South Sudan, with estimated population of 11.5 million, is located in the northeast and central Africa. South Sudan is now a sovereign, independent state following its secession from Sudan on July 9, 2011. Like most of the conflict-wrapped African states, South Sudan has deepening economic crisis, so many social and political forces battling for political power after it separated from Sudan.
As always trumpeted, the popular perception is that it remains as one of the world's least developed African states, with deep-seated poverty despite its boastful natural resources. It claims pursuing or tackling sustainable development goals and South Sudan, as AU member, is abreast with the African Union's Agenda 2063.