The Education Sector as an Engine for Inclusive Growth in Mauritania
In its bid to diversify its economy so as to foster sustainable growth, one of the challenges facing Mauritania is improving its education system, which is an impediment to economic growth and social inclusion. So says the Third Economic Update for Mauritania published today by the World Bank.
Titled Improving education to foster social cohesion and support economic development, the report notes that fiscal reforms adopted since 2016 by the Mauritanian authorities have helped restore the macroeconomic balance. While its economy grew by 5.9% in 2019, up from 2.1% in 2018—its highest growth rate since 2006—Mauritania continues to lag comparator countries in terms of socioeconomic development.
"In light of the COVID-19 crisis, it is especially important to continue implementing reforms already under way in the education sector in order to improve living standards, increase social cohesion, and ensure long-lasting, inclusive growth," notes Samer Matta, World Bank economist and lead author of the report.
The COVID-19 pandemic will have a major impact on the short- and medium-term outlook. The economic slowdown in Europe and China triggered by the pandemic will impact Mauritania's growth and lower demand for Mauritanian exports. Rising uncertainty, social distancing measures, and the closing of borders, restaurants, and markets could lead to a sharp decline in domestic consumption in Mauritania. As a result, GDP growth could plummet from 5.9% in 2019 to between -2% and -6.8% in 2020.
The report devotes a special chapter to the education sector in Mauritania and analyzes the status quo and performance of the education system. It also proposes reforms to be implemented to improve the system. Mauritania has made significant strides in recent years in terms of access to and gender equality in education, one of the government's priorities. Laurent Msellati, World Bank Country Manager for Mauritania, states that "progress made to date nevertheless remains modest because of the challenges in Mauritania's education system, particularly against the backdrop of the current COVID-19 crisis, which has widened social inequalities in terms of access to quality education across the entire country."
The report notes that these challenges are attributable to several factors, in particular inadequate teaching conditions, a shortage of qualified teachers, and poor governance of the sector, whether in terms of teacher assignment or operational management of schools, resulting in the inefficient use of resources.
If the education sector is to fulfill its role as a social ladder, the government must scale up its investments and focus on improving the quality of teachers, reducing absenteeism, and ensuring greater community engagement at the local level.
EU and Armenia Comprehensive and Enhanced Partnership Agreement enters into force
On 1 March 2021, the European Union-Armenia Comprehensive and Enhanced Partnership Agreement (CEPA) will enter into force. It has now been ratified by the Republic of Armenia, all EU Member States and the European Parliament. This represents an important milestone for EU-Armenia relations.
This Agreement provides a framework for the EU and Armenia to work together in a wide range of areas: strengthening democracy, the rule of law and human rights; creating more jobs and business opportunities, improving legislation, public safety, a cleaner environment, as well as better education and opportunities for research. This bilateral agenda also contributes to overall aim of the EU to deepen and strengthen its relations with the countries of its Eastern neighbourhood through the Eastern Partnership framework.
High Representative of the European Union for Foreign Affairs and Security Policy/Vice-President of the European Commission, Josep Borrell, said: "The entry into force of our Comprehensive and Enhanced Partnership Agreement comes at a moment when Armenia faces significant challenges. It sends a strong signal that the EU and Armenia are committed to democratic principles and the rule of law, as well as to a wider reform agenda. Across political, economic, trade, and other sectoral areas, our Agreement aims to bring positive change to people's lives, to overcome challenges to Armenia's reforms agenda."
Commissioner for Neighbourhood and Enlargement, Olivér Várhelyi, underlined that: "While these are trying times for Armenia, the European Union continues to stand by the Armenian people. The entry into force of the bilateral EU-Armenia agreement on 1 March will allow us to strengthen our work on the economy, connectivity, digitalisation and the green transformation as priority areas. These will have concrete benefits for the people and are key for socio-economic recovery and the longer-term resilience of the country. In the current turbulent days, maintaining calm and respect for democracy and constitutional order are key."
The Agreement was signed in November 2017 and substantial parts of have been provisionally applied since 1 June 2018. Since then, the breadth and depth of the bilateral cooperation between Armenia and the European Union have advanced steadily. At the 3rd EU-Armenia Partnership Council held on 17 December 2020, the European Union and Armenia reiterated their full commitment to implementing the CEPA.
The Agreement plays an important role for the modernisation of Armenia, in particular through legislative approximation to EU norms in many sectors. This includes reforms in the rule of law and respect of human rights, particularly an independent, efficient and accountable justice system, as well as reforms aimed at enhancing the responsiveness and effectiveness of public institutions and at favouring the conditions for sustainable and inclusive development.
From the entry into force of the Agreement on 1 March, cooperation will be strengthened in those areas which to date were not subject to the provisional application of the Agreement. The European Union stands ready and looks forward to working even more closely with Armenia on the full and effective implementation of the Agreement, in our mutual interest and to the benefit of our societies and citizens.
COVID-19 cases rise for first time in seven weeks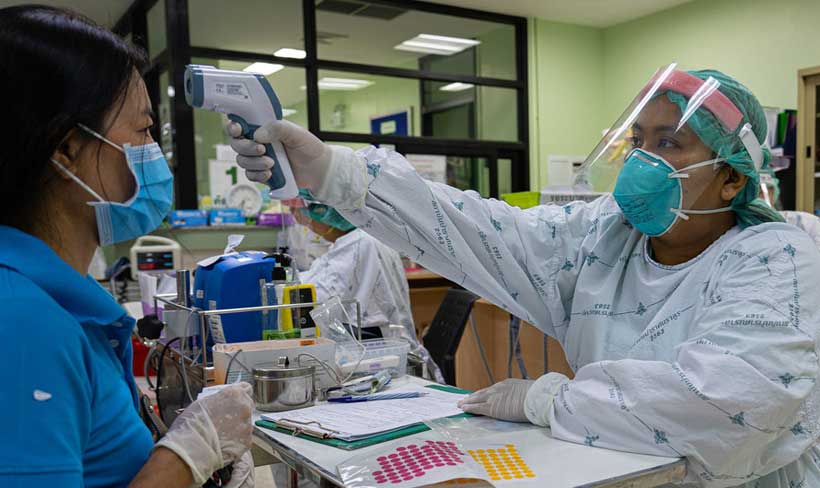 After six consecutive weeks of decline, COVID-19 cases worldwide increased last week for the first time, the World Health Organization (WHO) said on Monday.
Four of the agency's six regions reported a rise in numbers, with Africa and the Western Pacific excluded.
"This is disappointing, but not surprising", said WHO chief Tedros Adhanom Ghebreyesus, speaking during his biweekly press briefing from Geneva.
"Some of it appears to be due to relaxing of public health measures, continued circulation of variants, and people letting down their guard."
The jump in cases comes as the rollout of COVID-19 vaccines continues.
"Vaccines will help to save lives, but if countries rely solely on vaccines, they're making a mistake", Tedros warned, underscoring the importance of basic public health measures such as testing, contact tracing, wearing masks and avoiding crowds.
'Encouraging' signs
Ghana and Côte d'Ivoire began vaccinating health care workers on Monday, becoming the first countries to benefit from a global mechanism for ensuring vaccine equity.
Through the COVAX Facility, WHO and our partners are working to ensure every country can begin vaccination within the first 100 days of the year.
COVAX will deliver 11 million doses to countries this week. By the end of May, some 240 million doses will be allocated to 142 participating countries.
Dr. Soumya Swaminathan, WHO's Chief Scientist, pointed to "encouraging" signs as the world continues to gear up for what is the largest vaccine deployment in history.
"We've seen early data from countries where vaccination campaigns started months ago, the impact that this is having on reducing hospitalizations, reducing deaths, particularly in the older age groups, amongst the vulnerable. We've even seen very encouraging data in reduction in infections among health care workers who have received the vaccine", she said.
"So, these are still early days, but the signs are encouraging; the safety profile is encouraging. About 250 million doses have been given worldwide, and so far, there have been no major safety signals, so that is reassuring as well."
Concern for Tigray region
WHO explained that some countries have received COVAX vaccines early due to several factors such as the level of government preparedness, but logistical challenges in distributing vaccines, which include labelling, packaging and shipping, can also affect deployment.
Dr. Michael Ryan, WHO Executive Director, spoke about the difficulty in reaching conflict areas such as the Tigray region in Ethiopia, where government and regional forces have been fighting since November.
He said the situation is of grave concern, as water, sanitation, essential health services and COVID-19 intervention have been disrupted. Many people are living in displacement camps, increasing risk of diarrhoeal disease, malaria and other illneses.
WHO has worked to provide essential supplies to cover 450,000 people, or roughly 10 per cent of the population, for three months, Dr. Ryan told journalists.
"Our primary aim as an organization, wherever we work, is to ensure that all people have access to the basic, essential human right of access to basic health care", he said.
"We will work with the Ministry of Health; we will work with health cluster partners and anybody else who can help us to provide better access to the population there."
Russia responsible for Navalny poisoning, rights experts say
Russia is responsible for the poisoning and attempted killing of jailed opposition figure Alexei Navalny, two independent UN rights experts said on Monday, issuing an "open call" for an international investigation into the incident.
Special Rapporteurs Agnès Callamard and Irene Khan believe the politician was poisoned to send a "clear, sinister warning" to anyone wanting to criticize the Government.
Mr. Navalny fell violently ill on a domestic flight from Siberia to Moscow last August. He was later flown to Germany where toxicology reports determined he had been poisoned with Novichok, a Soviet-era nerve agent. On returning to Moscow last month, he was imprisoned for violating a sentence for alleged embezzlement.
"It is our conclusion that Russia is responsible for the attempted arbitrary killing of Mr. Navalny", said Ms. Callamard, UN Special Rapporteur on extrajudicial, summary or arbitrary executions, speaking during a press conference in Geneva.
Part of a larger trend
The independent experts were appointed by the UN Human Rights Council and are not UN staff nor are they paid by the Orgnaization.
They conducted a four-month investigation into the Navalny case and wrote to the Russian authorities last December but never received a response. Their letter was made public on Monday, in line with Council provisions.
They said only Russia is known to have developed, stored and used Novichok. A novel version was used against Mr. Navalny, suggesting further development of the toxin. It was also "very unlikely" that non-State actors would have the capacity to develop or use the nerve agent, or that private buyers would have the expertise to properly handle it.
"It is also the findings of our work that the poisoning and attempted killing of Mr. Navalny, along with the lack of investigation and the denying narratives, are part of a larger trend, ongoing over several decades, of arbitrary killings and attempted killings, including through poisoning, by the Russian authorities of journalists, critics and dissidents and are therefore consistent with an overall pattern of modus operandi", Ms. Callamard added.
Sowing fear in opponents
Mr. Navalny has long been a staunch critic of the Kremlin who repeatedly denounced corruption, said Ms. Khan, the UN Special Rapporteur on the promotion and protection of the right to freedom of opinion and expression.
He had suffered two previous chemical attacks prior to the Novichok poisoning, as well as physical attacks, threats, harassment, surveillance and criminal sanctions.
"The motive of the poisoning, preceded by a long history of attacks, harassment and trumped up charges, was both to violate the human rights of an individual but also to knock out a political opponent", she said.
"And we believe that there might be a broader purpose to the poisoning. Novichok was chosen precisely to cause fear. And we believe that the poisoning of Mr. Navalny might have been carried out deliberately to send a clear, sinister warning that this would be the fate of anyone else who might criticize and oppose the Government."
US report on Kashoggi killing 'important'
The independent experts also welcomed a United States report on the October 2018 killing of Saudi journalist Jamal Kashoggi, which was issued on Friday.
The report found Crown Prince Mohammed bin Salman complicit in the murder of Mr. Kashoggi, a US permanent resident, at the Saudi consulate in Istanbul, Turkey.
The Biden administration said it will impose visa bans against some 76 Saudi individuals in response.
"The fact that the report named the quasi head of a State, Mohammed bin Salman, as being responsible for the operation that killed Mr. Jamal Kashoggi is an important demonstration as well on the part of the United States to be transparent", said Ms. Callamard, who has long called for an investigation.
However, she was disappointed that the report contains "nothing new" factually, as it only provides an analysis of circumstantial evidence, and that the US authorities have not so far announced any action regarding liability and responsibility on the part of the Crown Prince.
"It is extremely, in my view, problematic if not dangerous to acknowledge someone's capability and then to tell that someone 'But we won't do anything. Please proceed as if we had said nothing'", she said, referring to President Joseph Biden's campaign promise to protect press freedom.
Elaborating further, Ms. Khan reported that only 12 per cent of journalist killings are investigated and prosecuted.
"I am pleased that the report has been published but very disappointed, very disappointed indeed, that on the issue of accountability, the US has not seen fit to take stronger action at this stage," she said.