"Whoever controls the Indian Ocean, dominates the Asia"-Alfred Thayer Mahan
Indian Ocean is the third largest ocean of the world. It is considered as hub of globalization as it provides connectivity between east and west. Two-Third of the world trade occurred through this ocean so it is having a tremendous strategic location which is significant for emerging power. [1]Indian Ocean also called as "Ratnakara" (the mine of gems) in sansikrit. The most crucial trade route is Malacca straitin the ocean and secondly it provide passage to oil from Persian gulf to rest of the world. The economic interest and threatening security environment engaged different regional and extra regional players militarily.[2]
Oxford Dictionary stated Militarization as "preparation for an immediate combat situation or a violent conflict by nations or arms groups". [3]It can be of various forms like deployment of troops, Building up Naval capabilities, Weapons of Mass destruction. In Indian Ocean Militarization done by many foreign countries and also other countries who are sharing border with Indian Ocean. As different states have stakes and interests. The protagonist countries are; India, China, Pakistan and USA respectively.
Major Players in Indian Ocean
India is also a fastest growing economy. It is located in the center of Indian Ocean and it's coastline along ocean is 75, 00. This region is top priority of India as for her it is very significant as 90% of trade occurred through the ocean and it also imports LNG, 45% coming through sea. it is also dependent on resources of ocean.[4]India suspects that china is surrounding her by following her policy string of pearls. For increasing involvement of china, India has looked upon USA for making alliance or to contain china in Indian Ocean.[5] In opening of Malacca strait there are two islands; Nicobar and Andaman respectively over there they have naval presence in case of any conflict India can tackle china.
USA is another actor which is involved in ocean and playing cards, USA has its base in Diego Garcia so that in case of any conflict it can deploy its naval forces quickly. As USA is dependent on Middle East for oil so openness of passage is very crucial So second involvement is to protect its own interest that in case of any conflict Iran may block the strait of Hormuz in this case USA naval fleet will be able to prevent Iran to do so. Thirdly small Nations such as Australia having a lesser power so it ally with USA for its protection and this could only possible if USA stay over there's also gives this justification.[6]
China is rising economically and it's second great power after USA. It is also dependent on Indian Ocean in term of oil trade, Raw material and it's sea lane route passing through very critical area of Indian Ocean; Malacca Strait as near to it there is presence of Indian navy so by developing it's navy she can protect her resources. India's growing economy and china's growing global influence have highlight the strategic standing of ocean. China wants its regional maritime presence. Right now focusing on open sea and offshore defense[7].
In Context of Pakistan CPEC has great importance. India fears that the OBOR, undergirded by CPEC, could hand over it to the margins of both land and maritime Asia. By choosing for the Gwadar Port and CPEC, Pakistan has chosen to become a regional economic pivot and a major maritime power. In this regard, it has three fundamental and instantaneous responsibilities: to complete CPEC projects on time and take them to the next higher stage, to build national agreement behind them, and to eliminate terrorism. Pakistan is successfully moving in all these directions. Second, Pakistan will have larger naval presence in IOR; and that demands, for general maritime security, a stronger Pakistan Navy for protection of the sea lanes carrying Pakistan's as well as international merchandize. This task would require more naval assets and related infrastructure. While China would be there to safeguard its own interests in the Arabian Sea and the Indian Ocean, Pakistan, which up to now has been largely oriented as a land and air power, would have to build its conventional and strategic naval muscle proportionately Indian Ocean is transforming because of three reasons; China's rise as an emerging economy and its inauguration of maritime Silk Road; one belt one road (OBOR) and secondly rebalancing of USA pivot to Asia and thirdly emerging economies which are littoral to Indian Ocean. In Years ahead there would be rapid economic activities and would instigate rapid militarization.[8]
Implications on Pakistan
Challenges to Pakistan are originating because of power projection of different states in Indian Ocean. Side by side terrorism, piracy and environmental concerns are further adding to the scenario. OBOR also need proper security mechanism. India-USA strategic partnership is also a high stake for USA as this will help India to build up nuclear capabilities; air craft carrier technology, drones, marine helicopters and anti-submarine gear respectively. Which will in turn instigate risky situation for Pakistan and third thing is India is making partnership with other states to like Iran and other Gulf states to tackle the Pakistan and China partnership.[9]
China is continuously building its naval capabilities. China's maritime power named, Far sea defense, aimed to achieve two objectives; firstly to secure its maritime security and secondly to protect its interest in term of economics in Indian Ocean in Indian Ocean and West Africa. As china is expanding its economic interest so presence of navy will protect transportation routes and will help to secure sea lanes and to achieve china need to have comprehensive naval capabilities. Chinese building up of naval capabilities will ultimately engage USA as well which will put catastrophic effect in the region.[10]
Moreover, militarization is also posing non -traditional security threats such as piracy, terrorism and environmental issues as well and now after the partnership of China and Pakistan in Indian Ocean, it is dire need to overcome these challenges as this is good for both to secure their interests.[11]
India has also deployed its navy in the ocean to secure its own interest. As being the major shareholder in Indian Ocean trade and commerce activities in esteem of imported crude oil, raw materials, and consumer goods, the country's exports. It has become essential for India to ensure the security of SLOCs from the Persian Gulf, Europe, and East Asia. The security of these vigorous shipping lanes is also linked with India's dependence on the security of the Indian Ocean, combined with its need to monitor and, if necessary, patterned the naval activity of other regional powers. The Indian Navy's presence has moved to 40 ships and submarines, two nuclear submarines, two aircraft carriers. This would go up to have a 165-ship fleet by 2022 ranging from surface combatants, submarines to three aircraft carrier groups with a total of 400 MiG-29K aircraft and helicopters. India's defense budget is more than Pakistan. Pakistan has also naval presence in the Indian Ocean but up till now India is leading and Pakistan is building its capabilities.
Summary of forces
This bar chart showing that Pakistan's forces are far behind from India.Pakistan is also struggling for building capabilities in term of maritime security.Aman Exercise first time happened in 2007 and at that time 28 countries contributed but now Multinational Aman(Together for peace) Exercise 2017 happaened in arbian sea in which navies of 35 states joined the exercise and this representation was shown with boarded helicopters,explosive ordnance diposal,special operation forces and maritime observers. PLA Navy conducting major naval manoeuvres with Pakistan Navy in the North Arabian Sea in a exhibition of resolve to guard multibillion dollar innovativeness CPEC.Pakkistan Navy has elevated a Special naval Task Force to protect and defense the Gwadar port. The newly-instituted special Task Force will include ships, fast attack craft, drones and surveillance possessions to guard the port as well as contiguous sea.[12]
India's blue Navy is putting great implication on Pakistan.Pakistan is uptill now lag behind naval capabilities. Pakistan newly tested a 700 km land-sea version of cruise missile, Babur. Not too long ago, India test fired submarine launched Intermediate Range Ballistic missile, K-4. On December 26 last, India tested Agni-V, Intercontinental Ballistic Missile (ICBM). With a strike range of over 5,000 km, Agni V can reach southern parts of China. To ensure satisfactory stability, Pakistan tested its version of submarine launched cruise missile, Babur III early this January.Pakistan has also signed deal with China (PLA Navy) and according to this deal Pakistan will buy Hangor class of submarine also negotiationg on corvettes to further extend the strategic partnership.it can create balance in indian cocean.Pakistan has to build its conventional and navy muscles correspondingly.As it is necessary for pakistan to tackle India and alone Pakistan can't do that.[13]
Modernization Plans of Pakistan in Indian Ocean
Indian Ocean is though hub of globalization but side by side it's posing a threat to Pakistan's national security. To secure its survival Pakistan is developing new capabilities as according to realist perspective 3s (statism, survival, security) are very crucial for a state.Inspite of significant geopolitical position, Pakistan has not paid attention to its own country and this lack of attention has put her far behind from India but now the current nuclearization of Indian Ocean by many other countries has opened the eyes of Pakistan and also due to project of CPEC, Pakistan is now focusing on its navy to tackle any difficult situation in Indian Ocean. As Pakistan is not economically well off so that's why she will focus on upgradation of existing arsenals rather to make new one.
Pakistan is building up its arsenal with the help of China, Russia and Turkey. Chinese are providing support in building of not only arsenals but side by side giving training to Pakistani technicians. China is not only supporting Pakistan economically but also building human resource. Russia will supply F-22 frigates with enhanced capability of sensors and possibly will also include SAM, surface to air missile. Pakistan has also hired second fast attack craft missile (FACM) named PNS HIMMAT and this is under the program of AZMAT fast attack craft missile which was initiated in 2013 with the collaboration of China and now Pakistan has made its indigenous second FACM and first one was PNS DEHSHAT.Though it is a small vessel but still has capability to hit surface ships. Fast attack craft is also equipped with other arsenals like guns and other electronic combat equipment and it has fast speed but it can be used in operation beyond 100-150 nautical miles from its respective coast. No doubt it's an appreciated accumulation in the operational capability of Pakistan .But disadvantage is its small size and it can't be operated in area which is far from its range. But FAC's capability can be improved by investing in supersonic anti-ship missile ASHM and ASHM which is longer in range which can provide long range surveillance and this can effectually extend the range of fast air craft FAC.[14]
Gwadar port has brought Pakistan and China more closer and now Pakistan is enhancing its naval assets with the collaboration of China. Pakistan has finalized the agreement over submarines with China and China will deliver eight submarines; S20 and SSK respectively. Among eight submarines, four of them will be constructed in Pakistanand rest of four will be constructed in China. Pakistan has also done agreement with Turkey in upgradations of its naval assets; in term of undersea combat competences. In June, agreement between Pakistan and Turkey over 3 Agosta 90B-class (aka Khalid-class) which is "diesel-electric attack submarines" furnished with air-independent impulsion schemes.Anti-ship warfare capability will further enhance the chance to prevent the naval blockade and these steps like upgradation of existing arsenals, training programs is a clear message that Pakistan is ready to counter existential threats in Indian Ocean.[15]
Modernizaton plans of India in Indian Ocean
Chinese presence and its partnership with Pakistan have alarmed India and she is also developing and heavily investing in naval assets to tackle its major rivals; Pakistan and China respectively. India is focusing on its indigenous capabilities to modernize its weapons and in term of extension of its naval forces. Since 2014 India has different type of vessels which are 41 in number. These includes; corvettes, frigates, aircraft carriers, nuclear and conventional powered submarines and these are still under construction[16]. Side by side India is also investing in Anti-submarine shipscapabilities like "Kamorta-class corvette". Long range surveillance maritime aircraft and ships which include "Saryu-class petrol vessel "and UAV's (Unmanned Aerial Vehicles) like "IAI-Heron-1"but still India is lagging behind in term of submarine armada which has put very bad impact on its other naval capabilities[17].
India is also building aircraft carrier but still under development.one aircraft is INS Vishal which is 65,000 in weightage and will be able to house almost 55 aircrafts and aircrafts will be launched by a system (CATOBAR) "catapult assisted take-off but arrested recovery". This system will help aircraft in launch from carrier and aircraft will able to carry heavier armaments payload and this aircraft carrier is expected to be commissioned in Indian navy in 2030s.it will be driven by nuclear apparatus. But India has no experience in term of nuclear impulsion in surface vessel so there is chance that India may cooperate with US and France in term of this aspect[18]. Since 2012 India has only one nuclear driven submarine which she has taken from Russia on contract[19]
India is also building nuclear city where she is developing both nuclear and conventional weapons and located in South India.She is also developing thermonuclear weapons and this will disturb the balance of whole region.Already there is conventional assymetry between India and Pakistan but this will instigate full fledge arms race in the region[20].It is commonly said that she is developing its nuclear city but still there is no credible information about it, whether she is developing or not.
Second strike capability of Pakistan
Pakistan's full spectrum deterrence will not be complete without a triad vis-a-vis India, including a symmetric and credible naval component. The stronger a country's economy, the stronger security cover it would need to protect and sustain it. Pakistan has a narrow window to build its naval capabilities. The opportunity will shrink if this task belongs to the distant future and the precipitation of spying networks around Pakistan's coastline and the mainland would thicken more vigilance and cooperation with friendly countries will be required to combat this threat.[21]
Second strike capability is traditionally acquired by having submarine-launched ballistic/cruise missiles. They serve as credible deterrence tanks to their survivibility and give a great boost to the defence of a state.Both states are working on second strike capability.First India tested SLBM (Submarine Launched Ballistic Missile) K-4 and K-15.India is trying to test its missiles and when tests will successful India will deploy missile on its nuclear powered submarine.Pakistan tested its second strike capbility after India by launching first ever nuclear capable submarine launched cruise missile Babur-III. In near future India has 2 nuclear submarines and this missile only launched through this submarines rest of the submarines are not capable whereas in term of pakistan ,have all conventional submarines and Babur-III launched from any of these without any modification.Pakistan doesn't have nuclear powered submarine.while coming to range Indian missile has wide range as compare to pakistan's missile.From both sides this project will take 10-15 years.[22]
Future scenarios of Naval Upgradation in Pakistan
Pakistan has signed agreement with Germany to buy ATR-72 which is basically plane spotter and there are chances that pakistan navy convert it into Anti-ship warfare and this will allow it to proficient of Anti-ship wrafare plateform.In coming years Pakistan will upgrade it with airborne surviellance radar.[23]Pakistan has also inaugurated its Pakistan Airbase(PAF) in Bholari which is situated in Karachi.It is operational now and this base will play a supportive role both for land and sea.Though Pakistan is lagging behind India but Pakistan still able to tackle India.This will deliver aerial defese to our land and side by side will also protect China-Pakistan economic corridor(CPEC) project[24]In future ahead cooperation of China and Pakistan will help to modernize Pakistan's naval assets.
Conclusion
Introduction of nukes in Indian ocean has raised new multi challenges for Pakistan. Despite of Pakistan wish to keep waters clean from nuclear weapons, India has taken first step to furthur complicate the strategic enviroment of South Asia. Though Pakistan is in the process of development of possible counters, however over all such developments will initiate a cold war type competion between India and Pakistan thus creating arms race. Though idea of sea based ''assured second strike'' capability may serve as major deterrent factor to avoid all out conflict but development of other conventional naval build up might increase friction in the context of Arabian Sea – Indian ocean security paradigm.Pakistan and India are traditional rivals. They have apprehensions from each other which are deep rooted. The Indian Ocean is the most significant and relevant water body. It has political, economic, security and energy imperatives for whole world. It is the global trade route encompassing oil and energy trade which is the driving force of whole world's industry. The Indian Ocean is the theatre of new game for global powers. There are various rivals in competition for influence.Indian designs are to become a global power with active role in every sphere. It has a first priority to compete Chinese influence. Pakistan has a main security threat from India. Its foreign policy has long been hostage to this threat. The rivalry, which reached to the nuclearization of both states may reach Indian Ocean as Pakistan has always been in quest of balancing the power as against India.Pakistan needs robust efforts to achieve security in Indian Ocean to safeguard its interests.
---
[1]Pejsova,Eva, "Scrambling for the Indian Ocean", European union institute of strategic studies,2016
[2]"Strategic importance of Indian Ocean",Himfact,2015,http://www.youtube.com/watch?v=997KUreZIA
[3]"Militarization in the Indian Ocean Region" ,Indian Defense Forum,2015
[4]Jaishankar,Dhruva, "Indian Ocean Region: A pivot for India's growth", Brookings institution India center,2016
[5]"Militarization in the Indian Ocean", Indian Defense Forum,2015
[6]Ibid.
[7]Albert, Eleanor, "competition in the Indian Ocean", council on foreign affairs,2016
[8] Masood khan,Sardar, "Indian Ocean Region: Strategies and challenges", Pakistan observer,2016
[9]"Emerging Challenges in Indian ocean pose serious threat to Pakistan's security interest", Pakistan today,Islamabd,2017
[10]Qamar Fatima,Asmajamshed, "The political and Economic significance of Indian Ocean: An analysis, A research journal of South Asian Studies,2015
[11]"Indian Ocean maritime security challenges: Is Pakistan ready",Times of Islamabad, 2017
[12]Muhammad Azam Khan, "Aman 17 and Balance of power in Indian ocean", The News,2017
[13]Ibid.
[14]Usman Ansari, "Pakistan Seeks To Energize Naval Modernization", Defense News, 2015
[15]Bilal khan, "The Pakistan Navy 2016 and beyond", QUWA (Defense News and Analysis group)
[16]"Why India's 'Blue Water' Ambitions Matter". Archived from the original on 2014-11-23.
[17]"India's Growing Unmanned Naval Fleet". Archived from the original on 2014-10-30.
[18]Franz-Stefan Gady, "Confirmed: India's Next Aircraft Carrier Will Be Nuclear", 2016.
[19] VIVEK BHARDWAJ, "TOP 10 Most Advanced Upcoming Projects,Future,Indian Navy", 2015.
[20]Adrian Levy, "India Is Building a Top-Secret Nuclear City to Produce Thermonuclear Weapons", Foreign Policy Magazine, 2015.
[21]Sardar Masood Khan, "Indian Ocean Region: stratregies and challenges", Pakistan Observer, 2015.
[22]Zarnab Tahir, "Deterrence and second strike capability of South Asia", Center for Strategic and contemporary Research,2017
[23]Bilal khan, "Is it finally the Pakistan's Navy turn", QUWA, Defense news and analysis group, 2015
[24]"PAF inaugurates new operational air base at Bholari near Karachi", 2017
Defence in the new age of AtmaNirbhar Bharat
Authors: Dr. Manan Dwivedi and Shonit Nayan*
Make in India is an all pervasive, all subsuming and all intrinsic entity to the new trajectory of innovation and development which the nation is adhering to with hits larger idiom of becoming a super power by 2047, with the other name being the nomenclature of indigeneity. India has been strengthened both symbolically and materially through the modicum of its G-20 Presidency and its role as a non-permanent members of the hallowed portals of the United Nations Security Council (UNSC) with the entire conceptualization of the concept of human security, which itself takes us back to our Vedic and the Sanatani past.
As a neophyte when one dwelt inside as a kid into the tales of the long gestation time periodswhich go into acquiring new weapons technology and weaponry itself for the nation's Defense forces, several rudimentary efforts have been in sway by the New Delhi denomination. The manner in which the TATA's are tying up with the Boeing and the Airbus industries and the pace at which Adani has partnered with Lockheed Martin, makes a concerned citizen get up and take notice. There was a manner in which stories percolated to us that by the time a particularly potent weapon system would be operationalized by the military, it would have turned outmoded and obsolete. Still, the more optimists amongst us can avail of the pride that now the New Delhi dispensation has made it clear to the Global Defense investment and manufacturing interests that the foreign firms have to establish manufacturing hubs and nodes if they want to emerge as the key exports to the Indian Defense establishment. Also, as an attendant fact, the tangible narrative ascertains that the foreign firms would be free to export Defense weaponry to the foreign nations too while manufacturing in the country.
As an instance, Tejas is a single engine, Delta wing and multirole fighter designed by the Aeronautical Development agency with the Hindustan Aeronautics Agency, they are meant to replace the aging fleet of MIG-21's in order to improve the aggressive and defense outreach of the Indian Air force and Indian Navy. The Tejas are part of the extension of the LCA (Light Combat Aircraft) which seeks to bring India in parity with few forces and their defense establishments. Keeping in view the fact and the attendant practice of the Comptroller and Auditor General, the new Tejas Mark 1 an aircraft carries 40 improvements over the Tejas aircraft built in 2015. Thus, the canny optimists amongst us can hope for better and ebullient news as far as the LCA and other procured and ingeniously manufactured weaponry is concerned. One need not relegate to the backburner the fact that the weaponry aid to the besieged Ukraine has stymied and effectively blocked the invading force of Moscow. With the Ukrainian President Zeklensky clamoring for more state of the art armaments such as the Leopard tanks from Poland and Germany, the significance kill potential of advanced machinery and their tell tale application serves as the " differential " between a military and Defense victory or a debacle and a defeat.
Self reliance in defense production has been one of the key attributes of the Indian defense Policy since the 1960's. In the 2018 make in India defense programme there is an added emphasis on theskill enhancement and the technological expertise of the employees in the Aerospace and the Defense industry. The Defence Production Policy further elaborates and relates that, "Centres of Excellence with industry participation and with Government support, will be set up in niche areas to enable development of frontier technology areas with active involvement of academia and R&D institutions. 19.7 Competitive funded prototyping will be pursued during the design process to address the multiple challenges of technical feasibility, affordability, producibility and supportability."
The Defense Production Department seeks to spawn a qualified and comprehensive production infrastructure in order to prepare weapons and platforms of the order of tanks. Fighter- multirole jets, helicopters, submarines, earth moving equipment, armored vehicles and heavy vehicles to add teeth and robustness to the Indian Defense establishment with the added carrot to the foreign investors who can further on export their weapons wares to other nations too with Indian stations serving as the manufacturing hub for the larger region. Thus, expediency, returns and self reliance all amalgamate into pitchforking India into the larger firmament of Defense production and Trade. Still, it needs to be emphasized that AtmaNirbharta does not contain itself into the constraints of plane jane self reliance but the entire vision of the conceptualization earmarks the new found perch and confidence of a rising India. It's also a striving to let us relegate to the backburner, the dark shadows of Colonialism and place an end to the slave mindset of the nation's hoi polloi and make them and the defense industry to gel with global innovation currents along with the stress on comprehensive citizenship.
*Mr. Shonit Nayan is a Programme Fellow at India Smart City Fellowship Program, Ministry of Housing & Urban Affairs
What is behind the Recalibration of Japanese Security Policy?
On December 16th, 2022, the Japanese cabinet approved three crucial national security documents: 1) National Security Strategy, 2) National Defense Strategy, and 3) Defense Buildup Program. The documents collectively identify challenges and threats to Japan's security and propose counteractive measures to be undertaken during the next five years, essentially marking a paradigm shift in Japan's security policy and military posture.
The transformation: according to new policy documents, Japan would increase its defense spending to meet NATO's standard of 2% of GDP by 2027 meanwhile spending a sum of $314 billion during the period on defense buildup. For the first time in decades, Japan would acquire long-range "counterstrike" capability to deter attacks besides pledging grand investments in developing cyber and space capabilities. To bolster counterstrike capability, Japan would acquire more F-35 aircraft capable of vertical landing and would invest in developing hypersonic weapons, Unmanned Aerial Vehicles (UAVs), and 6th generation fighter jets — last in collaboration with Britain and Italy.
From its humiliating defeat in World War II until the 1970s, Japan maintained a low military profile and relied on the USA's security umbrella for its defense. During the 1970s, Soviet military buildup in the Pacific and the USA's growing engagements elsewhere compelled Japan to increase its military spending and by the end of the Cold War, Japan has transformed itself into the "world's foremost military powers". The steady buildup of military capabilities continued through the unipolar era given the regional threats — especially those emanating from North Korea and to some extent China — did not subside in all respects.
Changing Japan's security outlook via revising Article 9 of the Japanese constitution has long been a goal of the ruling Liberal Democratic Party, which considers Japan's constitution as reminiscent of WWII defeat and subsequent occupation by the USA. Nevertheless, the memories of Japan's militaristic past and its aftermath long haunted the Japanese public, which remained vociferously averse to any such emendation. Therefore, despite having a two-thirds majority at one time, Liberal Democratic Party under the late Shinzo Abe as prime minister fell short of introducing any changes to Japan's constitution.
The Abe government, however, did reinterpret the constitution and initiated a makeover of Japan's security posture during its eight years reign (2012-2020). As James Stavridis puts it, "Shinzo Abe's real legacy is military, not economic". In 2014, the Abe government authorized Japanese troops to act in aid of an under-attack ally. The same year, Abe relaxed the ban on the export of arms, however with the caveat that the exports would only be allowed if they "contributed to the global peace".
In 2018, the Abe government created National Security Council, which significantly enhanced Prime Minister's authority in security affairs. Besides making institutional and organizational changes, Abe's era saw a steady increase in Japanese defense spending by leveraging the country's economy, which remains third biggest in the world. Tokyo acquired cutting-edge weaponry including missile defense systems, new-generation radars capable of detecting targets at a long-range, and fifth-generation F-35 fighters, mostly from the USA.
The recent policy documents mark the culmination of Shinzo Abe's nearly decade-long efforts and essentially purpose to transform Japanese security posture from pacifist to more assertive. Propitiously for the Liberal Democratic Party, in the wake of Russia's invasion of Ukraine, public opinion in Japan has reportedly shifted in favor of changes in security policy.
On the top of the internal predisposition to get away with the memories of WWII humiliation, the external security environment of Japan is also undergoing unprecedented changes, which made the aforementioned modifications inevitable.
China — categorized as the "greatest strategic challenge" in the Japanese National Security Strategy — now wields the world's largest navy by the number of vessels and is speedily expanding to its military footprint in the Western Pacific. Likewise, nuclear-armed North Korea — classified as a threat in the NSS — has grown in belligerence as well as the capabilities. The communist aloof country conducted the highest number of ballistic missile tests during 2022 — one of which flew over Japan last October. Moreover, Russia has recently added Japan to the list of unfriendly countries after Tokyo joined Western sanctions against Russia. Moscow is not only increasing its military presence in the Pacific but is carrying out joint naval drills and air patrols with Beijing evoking anxieties in Tokyo. It goes without saying that the security environment for Japan has become more challenging and complicated than 1970s.
Although the USA has been trying to reorient itself towards the primary theater of Great Power rivalry i.e. Western Pacific, the transformed European security environment owing to war in Ukraine would likely inhibit the Washington's unqualified reorientation towards the Pacific. Moreover, despite Japan under Abe smartly weathered the Trump assault against the US allies, the eccentric real estate tycoon did galvanize Japanese leadership to be prepared for another isolationist inhabiting the Oval Office. Hence the intent to share more burden in the alliance besides taking an assertive role in the regional security matters.
In essence, Japan now seeks to assume primary responsibility for its security meanwhile enjoying the shelter of the USA's security umbrella and extended deterrence. At the same time, Japan is exploring options beyond the alliance with USA by expanding military partnerships and collaboration with other likeminded countries. The project to develop 6th generation fighter jet in collaboration with Britain and Italy, and the recent military drills with India underscore Japan's inclination to expand its military partnerships beyond Washington.
The US tanks deal to Ukraine and the Sino-Russian military alliance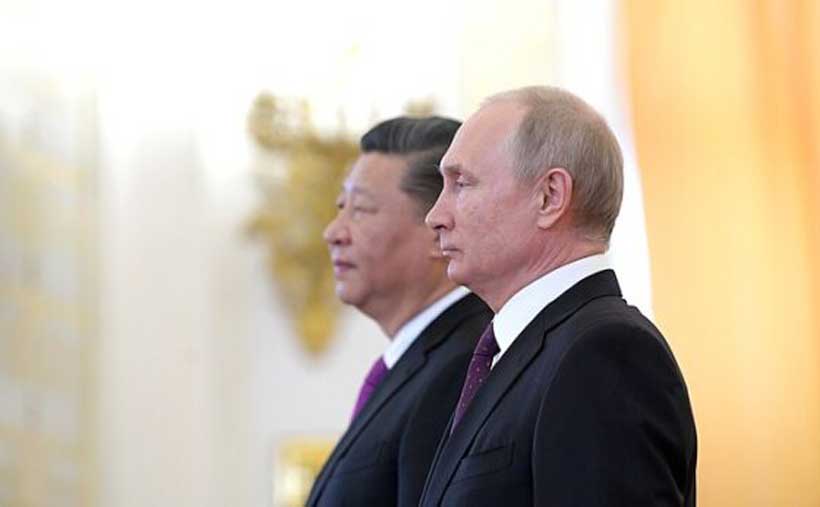 After the warnings of the Deputy Chairman of the Russian Security Council, "Medvedev", of the possibility of establishing a Russian-Chinese military alliance against Washington, the most important questions and analyzes that arise in this regard revolve in their entirety around:
Will Russia implement its threats to establish that alliance?
What are the countries likely to ally with Russia to confront America?
And in the event that Russia implements its threats against the United States of America by establishing that joint military alliance with China, does this mean a weakening of American hegemony in world politics?
Then, what is the relationship of the tank deal that the United States and Germany intend to send to Ukraine with the order of that joint military alliance between China and Russia, and does China really accept a solid and joint military alliance in confronting Washington militarily?
In order to answer these questions, we will find that there is already an existing and joint strengthening of military cooperation between the Chinese and Russian sides, through Russian President "Putin" stressing to his Chinese counterpart "Xi Jinping" the importance of geo-strategic cooperation and technical-military cooperation between the two countries in the wake of the "interaction joint maneuvers" in 2022 between the two countries, which took place in the East China Sea in December 2022, with the assertion of the commander of the Russian forces participating in the joint military exercises with China, that it comes as a response to the violent increase in the number of US forces present in the Indo-Pacific region in the American concept or the Asia-Pacific region in the Chinese and Russian concept. This means that Russia is ready to cooperate closely with Beijing, in response to the American efforts to surround China, through the establishment of American military and technological alliances to confront China, such as the American quadruple alliance with India, Japan and Australia, or through the US nuclear defense Okus alliance with Australia and Britain, or from Through Washington's military support for Taiwan in the face of Beijing and the increase in US arms and military equipment sales to the Taiwanese side, which arouses China's ire.
In recent years, China has also taken the initiative to enhance cooperation between the Chinese People's Liberation Army and the Russian Armed Forces by conducting joint exercises and coordinated patrols in the area around Japan. As for the Chinese army, its cooperation with the Russian army and the Russian armed forces would contribute significantly to the implementation of the military, security and defense reforms that Chinese President "Xi Jinping" seeks to achieve, which aims to transform the Chinese People's Liberation Army into one of the largest fighting forces in the world to be comparable in strength to the US Army.
We find that there is already existing and joint military cooperation between the Chinese and Russian parties in the field of joint military exercises, which has witnessed a clear increase in the recent period, and this cooperation in the security and defense field between China and Russia has acquired clear geopolitical connotations. In May 2022, China and Russia conducted joint sorties and air maneuvers over the Sea of ​​Japan and the East China Sea, which coincided with the summit of the leaders of the Quadruple Strategic Dialogue, known as "Quad" in Japan, which is a forum for political cooperation through which Washington seeks to turn it into a military alliance against China. Therefore, the joint maneuvers of Moscow and Beijing came to confirm that the two countries are cooperating militarily in the face of Washington's attempt to establish military alliances against them, on top of which is the US Aukus nuclear defense alliance with Australia and Britain in the face of China.
Also, all the recent summits that took place between Beijing and Moscow focused, in their entirety, on Russian military cooperation with Beijing, as well as the two parties meeting to strengthen their strategic partnerships in the face of Western threats, and on their intention and desire to establish a multipolar international system, with what that means in the end. The US-dominated world order, which Washington seeks to respond to by pushing the NATO military alliance to adopt policies to besiege the Chinese and Russian countries.
China and Russia have conducted several joint military exercises in the Chinese Shandong Peninsula, and they were mainly focused on anti-terrorism exercises, and it was agreed after that to conduct peace mission exercises annually under the auspices of the Shanghai Cooperation Organization, which consists of (China, Kazakhstan, Kyrgyzstan, Russia, Tajikistan, Uzbekistan).
Then this was followed by several joint naval exercises that took place on a permanent basis, and it was called joint seas exercises and maneuvers (or a joint Russian-Chinese naval interaction, as the Russians called it), and it was mainly concentrated in the Yellow Sea region off the Chinese Shandong Peninsula, with the participation of many Warships from both countries, in exercises simulating joint air defense, anti-submarine warfare, and search and rescue missions. Since then, joint seas exercises have been held annually between the Chinese and Russian sides (except for 2020), and their content is constantly changing. Since 2013, the geographical scope of the Russian-Chinese exercises has expanded, to include areas outside the immediate periphery of China, including Europe, and in chronological order those locations were:
(Sea of ​​Japan in 2013, East China Sea exercises in 2014, Mediterranean and Sea of ​​Japan in 2015, South China Sea in 2016, Baltic Sea and Sea of ​​Japan in 2017, South China Sea in 2018, Yellow Sea in 2019, Sea of ​​Japan in 2021)
China also participated in the "Russian Vostok joint military exercises" in 2018, which were held in the Eastern Military District of Russia and about 3,200 Chinese soldiers from the Chinese People's Liberation Army participated. The Chinese and Russian militaries also carry out coordinated and periodic military missions in the geographical and territorial area surrounding the seas and in the airspace around Japan. Most of the joint military exercises and missions between China and Russia take place in the eastern part of the Sea of ​​Japan, through the northern Tsugaru Strait (between Honshu and Hokkaido regions), along the Pacific coast of Japan, and then west through the Osumi Strait in southern Kagoshima Prefecture.
The main objective of conducting such military maneuvers between China and Russia, as declared by both parties, remains to unite forces against the United States of America and its allies, especially after its strained relations with both countries. In addition to Russia's dispute with the United States of America and the North Atlantic Treaty Organization since the Russian annexation of Crimea in 2014. Recently, US tensions with Russia have exacerbated, due to the latter's invasion of Ukraine.
Bearing in mind that Chinese President Xi Jinping did not respond directly to Russia's desire for joint military cooperation, but merely referred to Beijing's willingness to increase strategic cooperation with Russia. At the same time, there are US assurances that Washington has not monitored any indications of Chinese support for Russia in its war against Ukraine, unlike the case with North Korea and Iran, which Washington has accused of providing Moscow with ammunition and drones.
Here the message of the Russian President "Putin" to his Chinese counterpart "Xi Jinping" by expressing Russia's desire for a military rapprochement between the two countries to confront what he called unprecedented Western pressure, with President Putin affirming the right of the two countries to preserve their positions, principles, and aspirations to build a just international order, in a Russian reference to the multipolar system, which will mark the end of American unipolarity, the Russian side assured its Chinese counterpart that military cooperation between the Chinese and Russian sides will support international peace and security.
Here, Washington expresses its concern about such cooperation, which may cover any shortage of military supplies that Russia needs to continue its war against Ukraine. It was remarkable that Western officials ignored this time threatening China if it sought military cooperation with Russia.
There is an official Chinese assertion through the official Chinese government media affiliated with the ruling Communist Party, that Beijing will continue to adhere to its objective and fair position on the war in Ukraine, which is based on the fact that the West caused this conflict by insisting on spreading NATO bases to countries located in the immediate vicinity from the Russian borders, which is in line with and confirms the Russian point of view, and contradicts its Western counterpart, which views the Russian-Ukrainian war as an assault by Moscow on a sovereign country.
We will find that after the summit talks between President Xi Jinping and Putin (shortly before Russia started its invasion of Ukraine), both the Chinese and Russian sides oppose further NATO expansion, and stand against the formation of closed blocs and opposing camps in the Asia-Pacific region. In this way, China signaled its support for Russia in its power struggle with NATO against Washington and the West.
On the other side, the economic and military cooperation between China and Russia has also been increased, since the start of the Russian military operation against Ukraine in February 2022, despite the United States' threat to Beijing at the beginning of the war, to work to help the Russian economy find alternatives that help it avoid the repercussions of Western sanctions, However, it became clear that Beijing did not heed these American threats.
Here, China and Russia succeeded in arousing Washington's military wrath, through Moscow conducting several multilateral maneuvers with the participation of China and India at the end of 2022, in order to confirm that Washington's attempts to militarily weaken the relationship between Moscow, New Delhi, and Beijing will not succeed.
Hence, we can say that the relations between Russia and China have witnessed a remarkable growth in the military aspects in recent times, exceeding the limit of statements to the level of action and practical moves in the Indo-Pacific region or the Pacific and Indian oceans, as a joint Russian-Chinese response to confront the US alliances with its regional allies. In that region, accusing the American side of seeking and targeting the strangulation of the two countries in the first place. Especially after the series of security, political, economic and military alliances that the United States of America established against China and Russia in their regional region, led by the Aukus-Quad alliances against the interests of China and Russia mainly, coinciding with the escalation of the American provocations in the Taiwan Strait and the South China Sea, with the policy of continuous American mobilization of its allies in Europe, and the imposition of several packages of sanctions against Moscow to paralyze the Russian economy after the Ukraine war.
Therefore, the Chinese-Russian response, on the other hand, was to strengthen their network of military and diplomatic relations in light of their tense relations with the US side and its allies, through political and economic partnerships and joint and extensive military exercises, and Moscow and Beijing's keenness to conduct regular naval maneuvers between the two sides as threatening messages directed mainly at Washington.