Nigeria to Boost Support for Keeping Adolescent Girls in School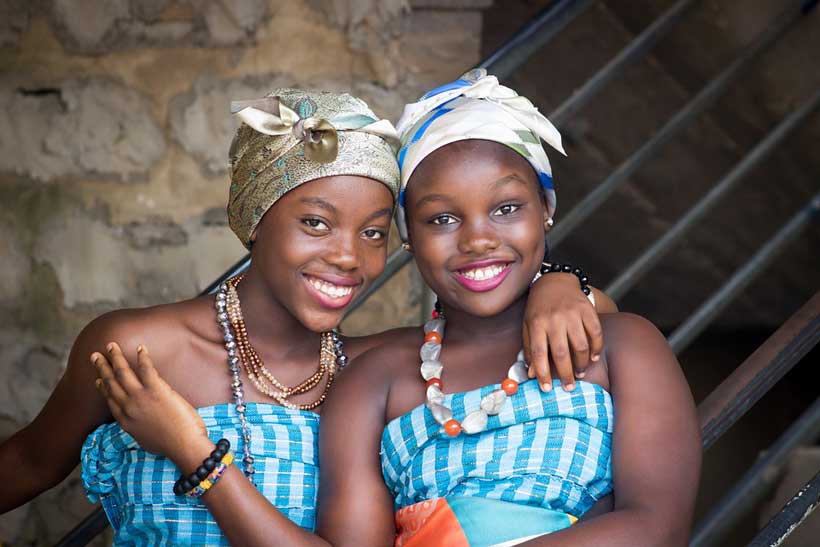 The World Bank Board of Directors approved today a $500 million credit from the International Development Association (IDA)* for the Adolescent Girls Initiative for Learning and Empowerment (AGILE), whose goal is to improve secondary education opportunities among girls in targeted areas.
Adolescent girls face many constraints in accessing and completing secondary education. In northern Nigeria, the lack of secondary schools is significantly greater with up to ten primary schools for every secondary school. Poor condition of infrastructure and a lack of water sanitation and hygiene (WASH) facilities makes it difficult for girls to stay in school. In addition, close to 80 percent of poor households are in the north, which makes it very challenging for them to cover the direct and indirect costs of schooling. All these factors have contributed towards limiting the number of girls that have access to secondary school. If nothing is done, 1.3 million girls out of the 1.85 million who began primary school in 2017/2018 in the northern states will drop out before reaching the last year of junior secondary school.
The AGILE project will use secondary school as a platform to empower girls through education, life skills, health education (e.g. nutrition, reproductive health) GBV awareness and prevention, negotiations skills, self-agency and digital literacy skills. A minimum of 6 million girls and boys are expected to benefit from the project and many more cohorts of students will continue benefiting after the project ends.
"There is no better investment to accelerate Nigeria's human capital development than to significantly boost girls' education," says Shubham Chaudhuri, World Bank Country Director for Nigeria "The AGILE project will enable Nigeria to make progress in improving access and quality of education for girls, especially in northern Nigeria. Addressing the key structural impediments in a comprehensive way will create the enabling environment to help Nigeria ensure better outcomes for girls, which will translate into their ability to contribute to productivity and better economic outcomes for themselves and the country"
The ambitious project will support access to secondary education and empowerment for adolescent girls in 7 states: Kano, Kebbi, Kaduna, Katsina, Borno, Plateau and Ekiti. Specifically, the project will benefit about 6.7 million adolescents and 15.5 million direct project beneficiaries will include families and communities in participating states. The project has also been adapted to respond to COVID-19 and will support a blended learning approach using technology and media (TV and radio) to implement remote and distance learning programs.
The AGILE project will expand existing primary and Junior Secondary Schools (JSS) to include both JSSs and Senior Secondary Schools to make schools functional, safe, and inclusive to teaching and learning. This entails building more than 5,500 JSSs and 3,300 classrooms for SSSs, as well as improving 2,786 Junior Secondary and 1,914 Senior Secondary schools with safe, accessible, and inclusive infrastructure. About 340,000 girls will receive life skills training in safe spaces, which will help them navigate challenges in life. This will incorporate health information and key information on climate change, safety and gender-based violence awareness. To help girls thrive in the digital economy, 300,000 girls will receive digital literacy trainings. Additionally, the project will offer half a million girls from the poorest households with financial incentives in the form of scholarships to further support their retention and completion of secondary school. It will also support raising awareness to address social norms and promote positive behaviors for a supportive and enabling environment for girls' education using communication and high-level advocacy.
* The World Bank's International Development Association (IDA), established in 1960, helps the world's poorest countries by providing grants and low to zero-interest loans for projects and programs that boost economic growth, reduce poverty, and improve poor people's lives. IDA is one of the largest sources of assistance for the world's 76 poorest countries, 39 of which are in Africa. Resources from IDA bring positive change to the 1.6 billion people who live in IDA countries. Since 1960, IDA has supported development work in 113 countries. Annual commitments have averaged about $21 billion over the last three years, with about 61 percent going to Africa.
UN 'actively assisting' in response to huge explosions at Beirut port
The United Nations has said that it is "actively assisting" in the response to the horrific explosions that ripped through the port area of Beirut on Tuesday, reportedly leaving dozens dead and thousands wounded, among them some UN naval peacekeepers.
A statement from a UN spokesperson  said Secretary-General António Guterres  expressed his deepest condolences to the families of the victims, as well as to the people and Government of Lebanon, following the horrific explosions in the capital.
The UN chief wished a speedy recovery to the injured, including several UN personnel working in Lebanon.
News reports suggest that along with dozens of deaths, perhaps several thousand people were injured in the massive blasts, which sent shockwaves across the bustling city of Beirut, bursting out windows and shaking buildings. The cause of the explosions has not yet been confirmed.
"The United Nations remains committed to supporting Lebanon at this difficult time and is actively assisting in the response to this incident," Mr. Guterres said.
Separately, Tijjani Muhammad-Bande, the President of the UN General Assembly, also extended his deepest condolences to the families who lost loved ones in the explosion in Beirut today and wished a speedy recovery for the injured.
"Mr. Muhammad-Bande would like to reiterate his solidarity with Lebanon during this time," said the Assembly President's Spokesperson.
Meanwhile, earlier in the day the UN Interim Force in Lebanon (UNIFIL) said that as a result of a huge explosion, a ship from its Maritime Task Force docked in the port was damaged, leaving some UNIFIL naval peacekeepers injured – some of them seriously.
"UNIFIL is transporting the injured peacekeepers to the nearest hospitals for medical treatment. UNIFIL is currently assessing the situation, including the scale of the impact on UNIFIL personnel," said a statement from the operation, which was set up in 1978 initially to confirm the withdrawal of Israeli forces from southern Lebanon, as well as to ensure the area returned to Beirut's control.
UNIFIL Head of Mission and Force Commander Major General Del Col said: "We are with the people and the Government of Lebanon during this difficult time and stand ready to help and provide any assistance and support."
AfDB presents findings of the Angola Green Mini-Grid Market Assessment
The African Development Bank hosted a webinar to present the findings and recommendations of the Angola Green Mini-Grid Market Assessment report, implemented through the Sustainable Energy Fund for Africa.
The assessment was conducted with the technical assistance of Carbon Trust, in collaboration with the Government of Angola, and in consultation with key stakeholders such as development partners and private sector representatives. The report assesses key enabling factors required for large scale mini-grid development, as well as the overall potential of the mini-grid market in Angola, in alignment with the country's energy sector development strategy.
The report estimates that 9.9 million people, representing 32% of Angola's total population, and 47% of the non-electrified population, could be best served by mini-grid solutions. It also highlighted the regulatory gaps that exist in the mini-grid market, including insufficient incentives for private sector participation. Overall, the assessment recommends that addressing the gaps could unlock an estimated demand for mini-grids of approximately $252.5 million in Angola, based on the average annual electricity expenditure per capita, in rural areas.
The webinar held on 23 July 2020, provided a platform for over 100 participants to discuss opportunities and challenges relating to the development of green mini-grids in Angola, as well as enhanced coordination and partnerships towards the advancement of sustainable expansion of clean energy in the Southern African country.
Among participants were representatives of the government, from the Ministry of Energy and Water, the Ministry of Culture, Tourism and Environment, and the Ministry of Economy and Planning. Development partners, private sector actors, and national and regional associations in the sector also took part.
In his opening remarks, the African Development Bank Country Manager for Angola, Joseph Ribeiro, noted that the energy sector plays a vital role in national efforts towards poverty reduction and sustainable socio-economic development, as per the country's economic diversification agenda.
Angola's National Director for Rural Electrification in the water and energy ministry, Serafim Silveira, underscored the importance of mini-grids to the government's rural electrification objectives. The other speakers were Executive Director of the Lusophone Renewable Energy Association, Isabel Abreu, and the representative of the Establishment Committee of the Angolan Renewable Energies Association, Pedro Torres.
The Bank's Division Manager for Renewable Energy, João Cunha, said the report will inform the design of technical assistance by the Bank to the Angolan government in preparation for the rollout of a mini-grid scale-up program
Ten Years to Midnight: Four urgent global crises and their strategic solutions
The world has 10 years to solve its urgent challenges or it will be too late. In his new book, TEN YEARS TO MIDNIGHT: Four Urgent Global Crises and Their Strategic Solutions (August 4, 2020; Berret-Koehler), Blair Sheppard sets out why that timeline is so crucial, what the most urgent challenges are and the key elements of a solution.
He argues that the 70-year period of economic and social progress kicked off by the Marshall Plan has now unraveled. Instead of a steady story of progress, the world faces four crises:
A crisis of prosperity, with rising inequality, poor life choices for young people, the squeezed middle class and a mass of people on the brink of retirement but lacking the savings to sustain them;
A crisis of technology, as our economic system drives innovation but fails to manage unintended negative consequences which pollute key elements of life support, from our atmosphere to our news;
A crisis of institutional legitimacy, as traditional institutions try to maintain their existing structures in the face of major global forces, and find themselves buckling and warping rather than adapting; and,
A crisis of leadership, as those who should help us manage these crises instead focus on narrow priorities rather than leading the world towards holistic solutions.
Drawing on new data and analysis conducted in Sheppard's role as Global Leader for Strategy and Leadership for the PwC network, the author argues that businesses, governments and civil society should adopt a fundamentally different approach to the one that drove 20th Century economic development. He argues for greater emphasis on local economies (local first) as well as on scaling innovative solutions quickly (massive, fast), a fundamental reshaping of innovation policy to bake societal outcomes into technological development, greater use of public private partnerships with clear goals, and more inclusive measures of success.
Having worked with global leaders across a range of fields, Sheppard argues this change requires a new approach to leadership that embraces apparently contrasting elements – to be humanly and technologically savvy, heroic and humble, rooted in tradition as a ballast but also innovative.
The book began with a question: What are the world's most pressing global concerns and how can they be solved together? What he and his team discovered is a new path to rebuilding and reinvigorating institutions, redefining what it means to be a nation or economy, forging shared cultural and social bonds, and rekindling innovation for social good instead of harm. To press these solutions forward as the clock ticks toward a global unwinding, Sheppard also calls for a new level of imagination, cooperation and urgency from the world's leaders in every sector and every country.
For more information, please visit the book's webpage.
Blair Sheppard is the Global Leader for Strategy and Leadership at PwC, a network of professional services firms committed to building trust in society and solving important problems. He is also the Dean Emeritus and Professor Emeritus of Duke University's Fuqua School of Business, where he taught for thirty-three years. He was the principal force behind opening Duke's campus in China, and the founder and CEO of Duke Corporate Education. He was born in Hamilton, Ontario (Canada) and lives in Durham, North Carolina (US).