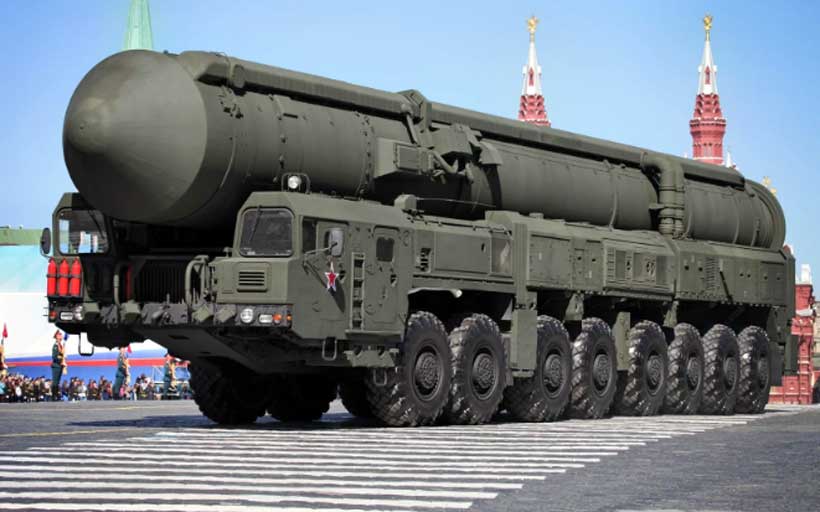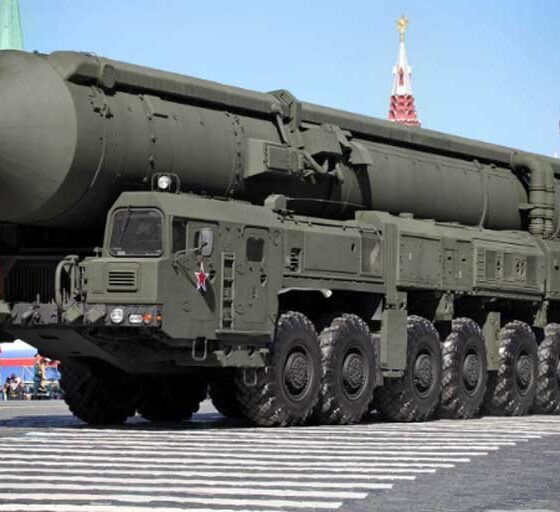 Relevancy of Russian Non-Strategic Nuclear Weapons in current NATO-Russian threat environment
Non-strategic nuclear or tactical nuclear (NSNWs) weapons are basically battlefield weapons and used to hit counterforce (Command and control, nuclear facilities etc.) target of enemy and they are used for limited purpose. NSNWs include Artillery, mines, SRM (small range missile), bombers, ships and submarines etc. There is no exact definition of range and yield of tactical nuclear weapons but just that tactical weapons have smaller yield than strategic weapons[1]
During cold war era there was clear distinction between strategic and non-strategic nuclear weapons in term of range and yield. Non-strategic nuclear weapons had low yield and range and were used to target any specific area. But after cold war there is blur line or we can say now there is no more clear distinction between both strategic and non-strategic nuclear weapons as their delivery system, range and yield have been improved. Now they have same capability as strategic weapons and can create huge destruction on large scale.[2]
Russia use term 'Non-strategic nuclear weapons for its tactical or conventional nuclear weapons. It is clear indication that Russian perspective on Tactical nuclear weapons is far different from American perspective. What is the definition of non-strategic nuclear weapons still there is no common consent on it. But it is the fact that Russian tactical weapons are strategic as they have same capability or yield as one strategic weapon has and some weapons have more destructive capability than the bombs which were released on Hiroshima and Nagasaki. Basically these non-strategic nuclear weapons were not covered in strategic Arms Reduction Treaty START and Intermediate nuclear force INF.[3]
Russia justify its non-strategic nuclear weapons in this way that its survival is under threat due to European countries whom US has provided extended deterrence and there is huge conventional asymmetry vis-a-vis US and NATO countries. Due to this reason Russia wants to keep NSNWs. There is a ratio of almost 3,000-6,000 NSNWs which can be delivered in counter response to NATO or European theatre. Russian stance towards non-strategic nuclear weapons is that she is relying on these weapons to make deterrence effective and to give message to US and its NATO allies that in case of any armed aggression, Russia will use nuclear strike against them.[4]
Background
United States was the first to start arms race as she developed its nuclear weapons and then Russia followed the same suit. In the early 50's both started to develop tactical nuclear weapons to use in battlefield as there was nuclear rivalry between soviet and US so there was huge competition between both of them. In mid-1970's soviet was ahead in term of mega tonnage then USA[5].After the dissolution of USSR, geo-politics had changed the dynamics of the world and according to particular strategic environment soviet adapted the method of limited use of atomic weapons to deter its potential adversary (US and NATO) as soviet was comparatively weaker than US in term of conventional weapons that's why for soviet this was the only way to curb the crisis. Russia realized non-nuclear but strategic conventional armaments as being of potential use in such scenarios[6]
Throughout the cold war nuclear weapons were central to strategy of the US and Soviet as both states had focused on limited war so both decrease the number of nuclear weapons These Include long-range missiles, magnitude bomb, intercontinental ballistic missiles (ICBMS), submarine launched ballistic missiles (SLBMS) and heavy bombers etc. These were basically to hit counterforce target of enemy forces and side by side they also positioned number of strategic weapons beyond their own zones along with the troops. Respective weapons typically had less Yield and range so they had less power than nuclear weapons. These weapons were used for battlefield to achieve tactical and limited purpose.
In 1987 soviet and the US signed Intermediate Range Nuclear Forces (INF) Treaty, removed intermediate and middle range cruise missiles. But after the disintegration of Soviet Union there was huge security concern and soviet economy was also collapse and the conventional superiority which soviet had on US during cold war but after cold war Russia get weak in terms of technology and conventional weaponry and according to particular geopolitical circumstance the US also alter its weaponry. Due to further advances little attention was given to tactical nuclear weapons or strategic nuclear weapons. It is clear from the fact that in Presidential nuclear initiative (PNI) from 1991-1992, little attention were given to tactical nuclear weapons and in START, non-strategic weapons were also not included.
Non-Strategic Nuclear weapons (NSNWs) during cold war
US Doctrine and military strategy:
NSNWs were installed for protection of the U.S. allies against hostility which was posed by the Soviet Union and Warsaw Pact allies, side by side these weapons were against other adversaries as well. For the US and its NATO allies it was under the strategy of flexible response. According to this strategy, NATO did not claim that they will use nuclear weapons against any sort of attack but they preserved the capability to deter the escalation of war. This was a sort of balance of resolve under which US and NATO influenced the perception of soviet so that soviet don't escalate the crisis but give up.[7]
As the Cold War was about to an end, NATO recognized that now there is no need of having nuclear weapons at large scale or to defeat ant tactical attack from the side of soviet. As now Soviet is not able to launch full scale war on NATO. Side by side NATO also understand that these weapons would continue to play a crucial political role in NATO's strategy by putting ambiguity in the concentration of any potential adversary that in case of any aggression NATO can use its nuclear arsenal.[8]
US Force structure:
During cold war US shaped and resize its non -strategic nuclear weapons according to particular security threat environment.US had deployed these weapons on zones of NATO and Asian allies in order to provide extended deterrence. In l970, US started to reduce its non- strategic nuclear weapons about more than 7,000 and in late 1980 NSNWs were less than 1,000.US reduced because its NATO allies were also agreed that less number of weapons are enough for the purpose of deterrence but having a good quality .Now US focus was on upgradation of its arsenals as she was not perceiving any immediate threat from Soviet .Between 1980-1988 US developed and upgrade its nuclear arsenals, which include, GLCM (ground launched cruise missiles) ,IRBM (intermediate range ballistic missiles), SRBM(submarine range ballistic missiles),and also build new bombs for navy but after the collapse of soviet Union, US stopped its modernizing programs and both soviet and US signed intermediate nuclear force(INF) to eradicate all short and medium range cruise and ballistic missiles[9]
Soviet doctrine and military strategy:
Like US, Soviet reliance was also on nuclear weapons as a military strategy[10]. During cold war soviet has doctrine of NFU (no first use) but this doctrine can be changed anytime by any state according to particular circumstances. The other thing was that soviet strategic nuclear weapons were more cohesive than US and these arsenals were also useful in case of any astonishment attack or preventive attack[11] .In 1980, Russia also started to reduce nuclear arsenals as they said that strategic weapons have shattering effects but at the same time they are used for deterrence.
Force Structure:
During cold war, Soviet Union had installed number of delivery vehicles to deliver NSNWs (nonstrategic nuclear weapons). In different periods, it installed devices that were so minute that they could adjust in little container, nuclear mines, shells which were used for artillery, short-, medium-, and intermediate-range ballistic missiles, short-range air-delivered missiles, and gravity bombs. The USSR installed these arms on almost 600 centres, some of which were positioned in Warsaw Pact states in East Europe including some western and southern outside of the nation and all over in Russia. In 1991, after disintegration soviet was left with about 20, 0000 of non-strategic nuclear weapons before dissolution of Warsaw pact it was almost 25, 0000 NSNWs. [12]
Non-Strategic Nuclear weapons after Cold War
US strategy and doctrine
NSNWs are still central to strategy of US and NATO policy and US maintained its doctrine of First use (FU) and US relies on amalgam of conventional and nuclear weapons maintaining both offensive and defensive posture and continue to deter and providing extended deterrence . "New Strategic Concept" which were retained in April 1999 specified, "To defend concord and to prevent conflict or intimidation, the Coalition will maintain amalgam of both strategic and conventional weapons. Strategic weapons make a unique contribution in interpretation the dangers of belligerence in contradiction of the Coalition in numerable and offensive".[13]
Furthermore, the 2010 Strategic Concept stated more reductions in nuclear weapons, in the upcoming future. The allies are "strongminded to follow an inoffensive world for all, in a way that promotes international stability according to Non-proliferation treaty, and is grounded on the belief of security for all." Whereas coalition had "affectedly concentrated the quantity of strategic weapons based in Europe" and also reduced the role of strategic weapons in NATO plan." Besides, the arms control progression "should concentrate on the discrepancy with the superior Russian stocks of short-range nuclear weapons." so, nevertheless NATO no more watched Russia as an opponent, the coalition deceptively arranged that the discrepancy in NSNWs (Non-strategic nuclear weapons) could generate security apprehensions for some supporters of the coalition.[14]
Force structure:
From side to side, the late 1990s, George W. Bush Government, the United States preserved almost 1,100 non-strategic nuclear weapons in its dynamic stock. Around about 500 were air-delivered bombs organised at centres in Europe. Whereas the rest of arsenals, counting some extra air-delivered shells and almost 320 strategic equipped sea-launched cruise missiles, were apprehended in storing zones in the United States[15].US has condensed the quantity of its centres in Europe that stock strategic arsenal from over 125 centres in -1980s to 10 centres, in seven countries, in 2000.[16]
Russia military doctrine strategy
In past, 20years, Russia has reviewed its strategic and conventional weapons with succeeding varieties looking to dwelling a huge dependence on strategic weapons. Like, the armed doctrine delivered in 1997 permitted for the use of strategic weapons "in case of a riskto the survival of the Russian Coalition. "Doctrine printed in 2000 prolonged the environments when Russia may be used strategic weapons to comprise outbreaks using weaponries of mass destruction in contradiction of Russia or its partners "and side by side in rejoinder to large-scale hostility exploiting non-strategic nuclear weapons in circumstances serious threat to the security and sovereignty of the Russian Alliance[17]
In 2010, it did not definitely approve the preventive use of strategic weapons. But also specified that "Russia assets the precise to usage of strategic arsenal in comeback to a use of strategic or any sort of additional weapons of mass destruction; biological and chemical weapons in contradiction of her and her supporters, and side by side in a case of an hostility in contradiction of her with conventional weaponries that would place in risk the survival of the state.[18]So, there is little indication that Russia strategies to practise strategic armaments at the very start of a clash, before it has involved with conventional armaments. Russia might recourse to the practice of strategic weaponries first, in ongoing limited war.[19]
Force structure:
Non-strategic nuclear weapons in Russian storage, it is very difficult to get idea about that how many NSNWs Russia possess. This ambiguity originates from various factors: improbability about the quantity of nonstrategic nuclear weapons (NSNWs) that the Soviet Union had positioned and stored during 1991, in this year President Gorbachev broadcast his PNI; improbability about the speed of warhead abolition in Russia; and thirdly, ambiguity almost whether all warheads detached from positioning are still programmed for exclusion. Soviet Union might have installed 15,000-25,000 NSNWs(Non-strategic nuclear weapons) in the late 1980s and early 1990s. Through the 1990s, Russian administrators specified that they had finished the arsenals extractions authorized by the PNIs and had ensued to eradicate weapons at a degree of 2,000 each year.[20]
Russia had also seemingly concentrated the quantity of armed centres that could install nonstrategic nuclear weapons (NSNWs), has merged its storing capacities for these arsenals. According to an estimate, the Soviet Union may have almost 500-600 storing locations for strategic armaments by 1991. By the end of this particular period, this amount may have deteriorated to almost 100. In previous 10centuries, Russia might have additional amalgamated its storing positions for strategic arsenals, recollecting almost 50 in manoeuvre[21]
21st century: Relevancy of Russian Non-Strategic Nuclear Weapons in response to current NATO threat environment
The strategic balance in Eastern Europe turned a dramatic turn following collapse of Soviet Union in 1991. Newly born Russia was far-cry of previous super power. Though threat was gone, but NATO instead of restricting its capabilities and influence continued to expand, ultimately absorbing more states in Eastern Europe. After Global war on terror, NATO-Russia tensions eased down to great extent but after American with drawl from Anti-Ballistic treaty in 2002, Russia decided not to give extra leverage to arms control agreements with NATO, one of it was maintenance of credible fleet of Tactical Nuclear Weapons which in Russian perspective are called Non-Strategic Nuclear Weapons (NSNWs).
Russia is economically far behind from Western Europe and US .Russian has about 30% of world's natural resources which include precious metals, oil and gas. By exporting these resources, Russia produce a huge revenue but in 2014 after decline in oil prices and sanctions which were imposed by US and European countries on Russia on its defence and energy sectors, due to its annexation of Crimea and these all circumstance lead towards deterioration in Russian rubble .[22] Another aspect is, Russia exported its Gas and oil to European countries and during Ukrainian crisis Russia used gas as a mean to blackmail European states[23]. Europe made 75% of Russian export and it was huge share in Russian economy[24].After sanctions imposed by US and European Union (in term of technology and shale oil production and other sectors) in response to that Russia cut down its supply of gas to European nations due to which it effect the gross domestic product(GDP) of Russia[25]
European states are now relying on renewable energy resources; fossil fuels and shale oil etc.[26] Now Russia is no more able to blackmail European states to fulfil its own geopolitical interests and European states has freed them from the Russian import of oil and gas. Due to such economic conditions, Russia has only option of non-strategic nuclear weapons for the purpose of deterrence against its adversaries as she don't has enough to build new arsenals as US. Russian defence budget is just 5% of American defence budget[27].
Another justification provided by Russians on its non- strategic nuclear weapons is NATO's drill inside Baltic States, Russia provides another justification of its non-strategic nuclear weapons as NATO is expanding towards eastern European states and Baltic States and it's a severe threat for Russia .NATO is doing agreements and improving conventional and nuclear competences and deploying nuclear capable missile on Eastern Europe and Baltic states near to Russian territory not only this NATO and US are also supporting oppositions inside Russia. NATO is also agree to support Allie's forces in term of readiness, training and command and control whereas US pledged under European Reassurance initiative (ERI), in which US will provide security assurance to its European allies, on its eastern border to deter and provide advancing resistance against a Russian conventional attack. But NATO maintained a comparable force in West Berlin to serve same interest as US, and it was fruitful for more than forty years in dissuading a Soviet (Russia) endeavour to alteration the status quo by might or coercion. [28]
Russia is facing adversary which is far ahead in every aspect; smart weaponry, long range missiles which are highly conventional capable, well trained soldiers, nuclear weapons kinematic and non-kinematic means of warfare etc. In response to it Russia has its non-strategic nuclear weapons and side by side building its offensive and defensive capabilities, conducting military exercises, verified delivery system of nuclear and conventional weapons and it seems that Russia is signalling US that though there is asymmetry between them but still Russia can respond US and her allies with its present capabilities. [29]
The Russian nuclear arsenal is not just for outdated nuclear deterrence, just to prevent the status quo but it is also to be used as a tool of bullying. At the same time, Russia's nuclear bluffing has generated the perception that a nuclear attack in Europe is once again possible. And it has upraised concerns about Russia's supposed "escalate to terminate "strategy – a strategy that forecasts forced threats which include concrete limited nuclear use, to sack conventional war on Russia's standings [30]
In a situation that would echo in the West, Russia might decide to slice out territory from one of the Baltic States through amalgam of both conventional and nuclear weapons, opening with an instant conventional interchange to generate a "fait accompli" and will hit counterforce target and in turn it will hit adversary's capabilities. Russia will try to do limited war but in case NATO react to this strike rapidly and Russia feel its conventional defeat than there is chance that Russia will go for nuclear strike. [31]
Russia didn't declare what is its nuclear threshold but Russia has military doctrine of first use (FU) and she can launch attack on NATO due to miscalculation as this is game of perception or misperception.
Withdrawal from the ABM (Anti- Ballistic Missile) treaty by US in 2002.This is also tremendous security concern for Russia as US is building Ballistic Missile Defence (BMD) and US has deployed BMD in Europe and to counter BMD, Russia has deployed non-strategic nuclear weapons[32]. Deployment of missile shield in Europe means that, "there is preparation of first strike capability", according to Putin. Russia has its Iskandar program in response to BMD and current status of this program is not clear up till now.[33]
Due to lack of precision guided non -strategic nuclear weapons like submarine launched cruise missiles (SLCMs) maintained by space technology, don't have effective command and control C4ISR (computer, command, control, communication, intelligence, surveillance and reconnaissance).Still Russia needs to work on all of these aspects.
Conclusion
Russian outlook on its Non –Strategic Nuclear Weapons, deal with both of political and military aspect. Non-Strategic Nuclear Weapons have played a central role in the military strategy of Russia against its potential adversary US and NATO after the disintegration of Soviet Union. Russian armed forces still lag behind in term of hi-tech weaponry; unmanned aerial vehicles (UAVs),Precision guided conventional weapons and electronic warfare competences with respect to US and NATO. Russia is relying on old soviet military hardware though she is investing in building new military hardware but full implementation is not happening as Russian economy is weak after its dissolution. Russia has capability to attain limited territory with limited options but to fight with major rival, it will take a long way to go.
Though there is asymmetry between Russia and NATO. Russia is behind in terms of technological development but both are doing tit for tat mechanism like US has deployed BMD in response to which Russia launched Iskander missile though it is short range but can cover eastern European states. Both states are doing this for their survival according to realistic perspective but this is engaging both of them in arms race which is very disastrous as it can instigate crisis.
Agreements like INF (Intermediate nuclear forces), PNI (Presidential Nuclear Initiative) and START treaty didn't pay attention towards Non- strategic Nuclear weapons which was very crucial to discuss but to different other developments NSNWs were ignored. There are chances that both Russia and US will extend New START treaty but it remains to be seen that whether they will include Non –Strategic Nuclear weapons or not.
---
[1] Brian Alexander, Alistair Millar, ed. (2003). Tactical nuclear weapons: emergent threats in an evolving security environment (1. Ed.). Washington DC: Brassy's. p. 7. ISBN 978-1-57488-585-9. Retrieved 22 March 2011.
[2]Ibid.
[3] Robert M.Gates,(senior fellow at centre for a new American security), "Russia's Evolving nuclear doctrine and its implications'', Foundation pourla recherché strategique, 2016
[4] Tom Nichols, Douglas Stuart, Jeffrey D. McCausland,BOOK, Tactical nuclear weapons and NATO, 2012
[5] "US and Russian Tactical nuclear weapons: A forgotten threat", enter for global and health security",PSR,2016
[6] Robert M.Gates,(senior fellow at center for a new American security), "Russia's Evolving nuclear doctrine and its implications'', Fondation pourla recherché strategique, 2016
[7]"The United States retains substantial nuclear capabilities in Europe to counter Warsaw Pact conventional superiority and to serve as a link to U.S. strategic nuclear forces." National Security Strategy of the United States, White House, January 1988, p. 16
[8] North Atlantic Treaty Organization, "The Alliance's Strategic Concept," NATO Office of Information and Press, Brussels, Belgium, 1991, para. 8.
[9]CRS Report RL30033, "Arms Control and Disarmament Activities: A Catalog of Recent Events", by Amy F. Woolf
[10]CRS Report 97-586, "Russia's Nuclear Forces: Doctrine and Force Structure Issues", by Amy F. Woolf and Kara Wilson
[11]Ivan Safranchuk, "Tactical Nuclear Weapons in the Modern World: A Russian Perspective," in Alexander, Brian and Alistair Millar, editors, Tactical Nuclear Weapons (Washington DC: Brassey's Inc., 2003), p. 53
[12]Joshua Handler, "The 1991-1992 PNIs and the Elimination, Storage and Security of Tactical Nuclear Weapons," in Alexander, Brian and Alistair Millar, editors, Tactical Nuclear Weapons (Washington DC: Brassey's Inc., 2003), p. 31.
[13]The Alliance's Strategic Concept, approved by the Heads of State and Government participating in the meeting of the North Atlantic Council in Washington DC, April 23-24, 1999.
[14]ibid., pp. 7-8
[15]"NRDC Nuclear Notebook: U.S. Nuclear Forces, 2007," Bulletin of the Atomic Scientists, January/February 2007.
16USNuclear Weapons in Europe, 1954-2004, by Robert S. Norris and Hans M. Kristensen. Bulletin of the
Atomic Scientists. November/December 2004
17Joshua Handler, in Alexander and Millar, Tactical Nuclear Weapons, pp. 23-25
18 "Russia's Military Doctrine," Reprinted in Arms Control Today, May 2000
19New Russian Military Doctrine, Available at Opensource.gov, February 5, 2010.
20Pavel Podvig, "New Russian Doctrine and Preventive Nuclear Strikes," Russian Strategic Nuclear Forces, October 14, 2009, http://russianforces.org/blog/2009/10/new_russian_doctrine_and_preve.shtml
21Lewis Dunn, "Non-strategic Nuclear Weapons Control: What is the Problem?," in Larsen, Jeffrey A. and Kurt J. Klingenberger, editors, Controlling Non-Strategic Nuclear Weapons: Obstacles and Opportunities, United States Air Force, Institute for National Security Studies, July 2001, p. 17.
22 Hans M. Kristensen, Non-Strategic Nuclear Weapons, Federation of American Scientists, Special Report No. 3,Washington, DC, May 2012, p. 68, http://www.fas.org/_docs/Non_Strategic_Nuclear_Weapons.pdf.
23Julian Cooper, "The Russian economy twenty years after the end of the socialist economic system", journal of Eurasian studies, 2012.
24Andrea Thomas, "Russia and Ukraine Mustn't Use Gas as Blackmail Tool, Says EU Official", The wall street journal, 2014.
25Sam Meredith, "US ratchets up pressure to break Russia's stranglehold over Europe's energy market", CNBC, 2017.
26Kimberly Amadeo, "Ukraine Crisis: Summary and Explanation, How Ukraine crisis threaten the EU, 2017.
27Fiona Harvey, "Shale and non-Russian gas imports at heart of new EU energy strategy", 2014.
28Julian Cooper, "The Russian economy twenty years after the end of the socialist economic system", journal of Eurasian studies, 2012.
29Richard sokolsky, "The New NATO-Russia Military Balance: Implications for European Security", 2017.
30Jacek Durkalec, "Nuclear-Backed 'Little Green Men:' Nuclear Messaging in the Ukraine Crisis", Polish Institute of international Affairs, July 2015, www.pism.pl.
31Nikolai N. Sokov, "Why Russia calls a limited nuclear strike "de-escalation"," Bulletin of the Atomic Scientists, March 2014, http://thebulletin.org.
32Paul Goble, "Putin Believes He Can Win a War with NATO, Piontkovsky Says", The Interpreter, 10 August 2014, www.interpretermag.com.
33Alexel Arbatov, "A Russian Perspective on the Challenge of U.S., NATO, and Russian Non-Strategic Nuclear Weapons",
34Andrei Akulov, "Iskander – Response to BMD. Should West Further Provoke Russia? (II)",strategic culture foundation, 2013.
America Produces Biological Weapons; Does Russia? Does China?
On November 26th, Russia's RT News bannered "US 'military biological activities' a threat to the world – Russia", and reported that the U.S. Threat Reduction Agency (an Orwellian name for an American threat-increasing agency) has issued its "DEFENSE THREAT REDUCTION AGENCY STRATEGY FISCAL YEAR 2022 – 2027", and says that the DTRA document
openly identifies expanding the US' ability to "identify, characterize and exploit adversary WMD vulnerabilities" as one of its goals. Another of its aims is to recognize "potential WMD warfighting obstacles" and find "solutions" to help the US and its allies "win during the conflict."
Washington's stated intention of strengthening the implementation of the Biological Weapons Convention (BWC) has been met with doubt from Moscow. Russia has repeatedly raised the issue of the real goal of the Pentagon's research programs at various international sites, [but] … these questions remain unanswered to date.
In late October, Russia filed an official complaint claiming that US-backed biological activities are taking place in Ukraine and requested a UN probe into the matter. The UN Security Council rejected Moscow's proposal, with the US, UK, and France voting against it.
The DTRA's document itself opens:
In his Interim National Security Strategic Guidance, published in March of 2021, President Biden focused the Nation's instruments of power on China and Russia as "pacing threats," in a frankly acknowledged shift to strategic competition. Secretary of Defense Austin's published priorities for the DoD have done the same. These developing strategies have revectored the Nation's national security interest in partnerships and international leadership; on securing the homeland; and in mounting an effective, integrated deterrent to adversary use of weapons of mass destruction (WMD) and emerging threats.
The document goes on to say:
The United States faces a complex and volatile security landscape. As identified by Secretary Austin's 2021 Defense Planning Guidance, China remains the pacing threat and seeks to replace the current international rules-based order [America's proposed replacements of U.N.-based international laws] with one centered on [against] Beijing. While Russia does not pose the same long-term military, economic, or diplomatic challenges as China, it too is highly capable, and seeks near- to medium-term hegemony within its region. [America demands continued and increased U.S. "hegemony" throughout the world.]
In other words: under President Biden, the production of epidemic-producing pathogens will be increased, as part of "a frankly acknowledged shift to strategic competition" against China and Russia.
Page 10 of the document says:
AGENCY GOALS:
3. ENABLE THE JOINT FORCE AND ALLIES/PARTNERS TO COMPETE AND WIN AGAINST ADVERSARIES
The Agency enhances the Joint Force, allied, and partner ability to compete and, when necessary, win against potential WMD-armed adversaries. Today, potential adversaries believe that WMD are critical to shape the battlespace, exert coercive influence, and achieve military aims. The impact of conflicts with WMD-armed adversaries are mitigated by developing counter-WMD technical solutions, highlighting WMD warfighting challenges and adversary vulnerabilities through strategic and operational analysis, and supporting DoD plans and exercises focused on CWMD threats. The Agency provides the Joint Force, allies, and partners with unique insight into adversary WMD force posture, doctrine, and systems. In particular, DTRA examines how potential adversaries plan to employ and integrate WMD during conflict. This better prepares U.S. and allied forces for overmatch within a WMD battlespace. To this end, the Agency will:
Expand our ability to identify, characterize, and exploit adversary WMD vulnerabilities; Strengthen target characterization and servicing requirements for WMD hard targets;
Develop non-traditional planning solutions to emerging WMD problems, to include preventing further WMD employment following adversary first use; and
Recognize potential WMD warfighting obstacles as well as potential solutions to enable the Joint Warfighter to win during conflict.
But is China, and is Russia, actually developing and producing biological weapons — or is America itself instead actually leading the way toward a pandemic-plagued global future?
On 28 May 2020, I headlined "The Stupid Insanity of Biological-Warfare R&D" and argued:
——
There is much speculation that the coronavirus-19 or Covid-19 was invented in a research-and-development (R&D) biological-warfare (B-W) lab, which might have been one in China, the U.S., or perhaps some other country; but, if that is the case, then that country's entire military top brass and Commander-in-Chief (C-i-C) are not merely stupid but insane, for the following very simple reason: NO weapon is usable in war if it cannot be effectively and controllably targeted, and B-W weapons cannot be effectively and controllably targeted — they are contagious and respect no national boundaries and therefore endanger instead of protect the people who live in the country that has such a stupid and insane government, a government that is doing B-W R&D. Any such government (any country that is doing B-W R&D) is so bad that it needs to be immediately overthrown by its own population, because its own population is being mortally and severely threatened by that government's stupidity and its insanity: its entire military top brass including its C-i-C must therefore be placed on trial for possible treason, at least in order to more-accurately define the very meaning of "treason," a term whose meaning is not yet sufficiently clearly defined. (Is there no due-diligence requirement for public servants? Is there no accountability at all for any public servant who harms the public, no matter how badly? Public office entails enormous power, which is why it is so sought; but, along with that power needs to come full accountability. Does that exist? If not, is the nation effectively, then, a dictatorship?)
Ever since at least 1952 (and that 764-page document takes about ten to 30 minutes to load, but here are some excerpts), the U.S. Government has actually been doing R&D (research and development) into the use of bacteria and viruses as weapons to conquer countries that it wants to add to its empire ("allies," or vassal-nations — not merely friendly nations but instead governments, including some barbaric dictatorships, that would prejudicially favor the products of U.S.-based international corporations; this is the U.S. international-corporate empire that became the U.S. Government's supreme international-relations policy-objective to expand globally starting on 26 July 1945 … . That biological-warfare (B-W) R&D tactic was part of America's 'anti-communist' campaign, and it started in this American imperial invasion mainly against North Korea but also against China. The U.S. Government lied and denied that it was true, but subsequently an international scientific team investigated exhaustively into the matter and published the evidence which showed that it had, in fact, happened. Mainly the North Korean population had been bombed with contagious bacteria, but (as is common with R&D) the hoped-for results from this experiment (in this case an uncontainable spread of a deadly infection only in the bombed area) failed. Unfortunately, that failure (of an insanely stupid program) did not terminate the U.S. Government's B-W R&D, and the same U.S. regime remains in place and continues to this day.
For example, the great investigative journalist Dilyana Gaytandzhieva headlined on 20 September 2018, "'Diplomatic Immunity' Used to Traffick Human Blood and Pathogens for Secret Military Program" and opened:
The US Embassy to Tbilisi transports frozen human blood and pathogens as diplomatic cargo for a secret US military program. Internal documents, implicating US diplomats in the transportation of and experimenting on pathogens under diplomatic cover were leaked to me by Georgian insiders. According to these documents, Pentagon scientists have been deployed to the Republic of Georgia and have been given diplomatic immunity to research deadly diseases and biting insects at the Lugar Center – the Pentagon biolaboratory in Georgia's capital Tbilisi.
This military facility is just one of the many Pentagon biolaboratories in 25 countries across the world. They are funded by the Defense Threat Reduction Agency (DTRA) under a $ 2.1 billion military program – Cooperative Biological Engagement Program (CBEP), and are located in former Soviet Union countries such as Georgia and Ukraine, the Middle East, South East Asia and Africa.
Instead of investing in the health of its own citizens the US government has spent $161 million of US taxpayer money on the Lugar Center in Tbilisi for research on deadly diseases and biting insects abroad. (©Al Mayadeen TV)
The secret facility is located just 17 km from the US Vaziani military airbase in Georgia's capital Tbilisi.
The Pentagon biolaboratory is heavily guarded. All passers-by within a radius of 100 m are filmed although the military biolaboratory is located within a residential area.
I am being filmed while talking to local residents on the street near the Pentagon biolaboratory and I want to know why the security guards are filming me. (©Al Mayadeen TV)
The security guards warn me that if I do not comply, show my passport and leave this place, I will be arrested. My official request to the Lugar Center for access to the facility and for interviews has also been rejected.
Secret experiments at night
However, I go back at night when the laboratory is seemingly still working. No matter how far the distance the air is laden with the smell of chemicals. This smell coming from the Lugar Center at night is blown by the wind to the residential area. Local residents from the Alexeevka neighbourhood, where the laboratory is located, complain that dangerous chemicals are being secretly burnt at night and that hazardous waste is being emptied into the nearby river through the laboratory's pipes.
Gaytandzhieva there was reporting on what is clearly a U.S. B-W R&D facility, and so there can be little reasonable doubt that the U.S. Government is so insatiably voracious as to be placing the entire world's safety at risk in order to advance its imperialistic objective.
What use can there actually be for this R&D? Whom does it actually benefit? Has any U.S. President, or any member of the U.S. Congress, pressed to defund all such taxpayer-financed operations and to prosecute the persons who created them? Is there no accountability? The United States has a higher percentage of its population in prison than does any other country on this planet, and so why are not perhaps half of them released and maybe just a thousand of the key individuals who did this immense harm placed there instead? Why is this not being investigated by the same U.S. Government that created the problem? Is there no accountability except against the poorest (such as in America)?
There are allegations that the Government of China likewise engages in this stupid and insane R&D. Consequently, the Editor-in-Chief of China's Global Times newspaper, Hu Xijn, headlined on May 18th, "If coronavirus did not originate in China, Trump team's campaign strategy will collapse" and he said via a youtube:
"The European Union is proposing an investigation into the origin of the coronavirus. As long as the investigation is scientific and fair, Beijing has no cause for concern. I think that Washington is the one that should be worried. Beijing has maintained that the coronavirus is an enemy of humankind no matter where in our global society it came from. Beijing has always taken this stance, which is shared by the majority of the world's countries. Only Washington has politicized the coronavirus's origins as a way to divert responsibility toward China for the US federal government's ineffective handling of the pandemic. Now that early COVID-19 cases in the US are still being discovered, I believe the Trump administration has become very nervous. If the investigation finds that the coronavirus did not originate in China, or even finds that it originated in the US, the Trump team's campaign strategy will collapse. As long as the WHO leads the investigation, and investigates China, the US and the whole world, it will be a good thing. If it finds that the virus originated in China, the US political offensive has already spent most of its energy. If it finds the opposite, which might be the case, it will be a heavy blow to the Trump administration."
If the virus did originate in a Chinese B-W R&D lab, then the next question is: Who actually benefits from that R&D? All such individuals should be tried at the International Criminal Court (like America's never were) for violating the existing international laws against such 'weapons'; but, also, the question would be essential to pursue, of why such stupid and insane 'weapons' are being pursued — who benefits from ANY such R&D. Is it not blatantly clear "that the coronavirus is an enemy of humankind no matter where in our global society it came from"? That's the point here. The United States Government is this stupid and insane, but is China's also?
As regards the penalties that ought to be imposed against any such perpetrators, there is something else that is clear, and it is that a distinction must always be made between institutional criminality that is unintentional but the result only of failure to carry out due diligence — in other words, purely a result of incompetence — versus institutional criminality that entails the CEO's actual intention to achieve some criminal goal.
——
Russia says: "In late October, Russia filed an official complaint claiming that US-backed biological activities are taking place in Ukraine and requested a UN probe into the matter. The UN Security Council rejected Moscow's proposal, with the US, UK, and France voting against it." In other words: the U.N. Security Council voted politically on this — voted only on a partisan basis. RT's article (as is unfortunately normal there and in all 'news'-media) provided no link to the alleged sources, the U.N.S.C. debate, and to the vote there on it; but, if Russia's proposal was phrased in a partisan, instead of neutral, way, then that vote-outcome was inevitable and Russia itself was largely to blame for its failure. However: if it was not, then why is Russia hiding from the public what their precise proposal was? That wouldn't be very bright of them. But was it the case? ('News'-reporting that hides its sources is no better than gossip.)
Are OTHER Governments, and not ONLY America's, producing biological-warfare 'weapons' — such UNTARGETABLE mass-murdering 'weapons' as these pathogens? Why are Russia and China doing nothing to force that issue to the public's attention? Any U.N.S.C. proposal on the matter needs to be clearly nonpartisan. Otherwise, failure on it will be inevitable, and the entire matter will continue to be ONLY an international political football — as it is.
Contemporary Atlantic Alliance: An "Existential" Expansion that Obviates the Evil of Fighting
The behavior that characterized the reactions of US President Joe Biden and Secretary General of the North Atlantic Treaty Organization (NATO) Jens Stoltenberg, about the identity of the missile that fell on Polish territory, is not critical. The two men were keen to deny Moscow's responsibility for its launch, and content themselves with a simple and simplistic narrative saying that it was a Ukrainian air defense missile that deviated from its course in the face of Russian attacks. The origin is the sufficiency of the evil of the clash with Moscow, on the part of the Atlantic involvement in particular, because whether the narrative that is is correct or fabricated, no one on both sides of the ocean, the Black Sea, and the Baltic Sea is ignorant of the dangers of a spark like this, which represents an escalation capable of igniting a confrontation like that. The funniest thing in the context is that the White House and NATO contacts with the Polish government did not aim at consolation or tightening the bonds and solidarity, as much as they exercised a series of pressures so that Polish President Andrzej Duda would not request the activation of Article 4 of the NATO Charter, which obliges allies to consult if a member state feels that its territorial integrity or its political independence or security is under threat.
The principle of the clash, or the sufficiency of its evil either, brings one back to the fact that NATO is not the only military alliance in our contemporary world; And it is not the only reminder, almost, that mankind lived the Cold War throughout an entire and integrated era, just as well; Rather, it is also an alliance of intersecting, converging or opposing interests, often subject to give and take according to the principles of bargaining, settlement, and quota. This does not mean that NATO is not a geographical-civilian-cultural quota, according to what humanity understood from the words of former Czech President Vaclav Havel, two decades ago when his country hosted a NATO summit unlike any other, simply because it was considered a "transformation summit". At that time, Havel said, in an unmistakable tone of warning, that "the alliance should not expand outside a very specific arena of civilizations that are generally known as Euro-Atlantic or Euro-American civilizations, or simply the West." Was it Turkey that was meant by that implicit definition that does not completely succeed in purifying all the racist odors? Or were the countries in which Muslim communities still live? What is the motive for issuing this warning when the summit is discussing the expansion of the alliance in eastern and southern Europe, and the inclusion of seven new countries in the club? And which of these countries (which received their membership documents in the alliance at that time: Estonia, Bulgaria, Slovenia, Slovakia, Romania, Latvia, and Lithuania) did not meet the criteria of the Euro-Atlantic civilization track?
Some argue, as these lines do, that such questions remain superfluous, whoever asked them, as long as the alliance's military-political structure is, and as long as the United States is at the forefront of its leadership and direction on various levels, from which considerations of America's geo-political interests are not absent in the first place. Indeed, the French and Germans do not stop harassing the Pentagon, and the right in Spain lost the battle of the sacred alliance with Washington, and the legacy of the alliance in Libya, Iraq, and Syria is not at all a significant harvest … On the other hand, all members of the alliance know that the shock of 9/11 granted the United States more than a military license; Washington also spared the embarrassment of consulting with Atlantic allies whenever the bell rang in a church. And if the Prague meeting deserved to be called the "Transformation Summit," this was not primarily for military reasons, but rather because NATO penetrated all the former Warsaw Pact sites, and reached Russia's back, belly, and flank, north, south, east, and west!
It is also true that the balance within the alliance is not only imbalanced in favor of the United States but rather lacks a set of elements that allow the use of the term "balance" in any tangible sense. The correspondent of the British newspaper "The Independent" chose a funny way to express this imbalance, so he recorded the fact that the American delegation to that summit of transformation occupied seven floors of the Hilton Hotel that hosted the delegations, compared to one floor for the Dutch delegation, for example! In other, more indicative terms, the United States alone spends one billion US dollars daily on defense affairs, while the total of the 15 European members of the alliance spends nearly 500 million dollars. The world needed the tactlessness of former US President Donald Trump to read tweets like this one: "Without success, for years Presidents have tried to get Germany and other rich Atlantic nations to pay more for protection from Russia. They pay a small portion of their alimony. The United States pays tens of billions of dollars more than it should subsidize Europe and loses a lot in trade. Or this: "Above all, Germany has begun to pay Russia, the country from which it seeks protection, billions of dollars for its energy needs through a pipeline from Russia. this is unacceptable! All NATO nations must implement the 2% commitment, and this must rise to 4%.
And the situation is that the Atlantic began as an American military arm in practice, where the European units affiliated with it are nothing more than a completion of the external decoration; And so the alliance remains today, even after it has grown in number, in equipment, and the area of deployment. It has expanded from 12 founding countries to 15 in the fifties of the last century, until it has reached 32 countries today, including Sweden and Finland; Among them are three former Soviet republics (Estonia, Latvia, Lithuania), and seven former members of the now-extinct Warsaw Pact (Bulgaria, Romania, Slovakia, Slovenia, Albania, Croatia, Poland), and there is a discordant mix in the record of those aspiring to the membership that includes Bosnia and Herzegovina, Georgia and …Ukraine!
As for the level of ideological preaching, military doctrine, and tactical cover, the justifications for the existence of the alliance can begin with the assertion that it is "the largest and most successful alliance in history," according to former US Secretary of State and retired General Colin Powell; It will not end with the certainty of former French President Nicolas Sarkozy (who apostatized from the Gaullist philosophy and restored France to the military leadership of the alliance) that NATO is the only guarantor of European security, which has come and has not come for decades; In addition to the certainty of a country like the Czech Republic, that the difference between its reliance on European defense, versus the American defense, is like the difference between earth and sky!
Whatever these "existential" questions, or others, the matter is the same in terms of the immortality of the alliance's essence, militarily and politically. As long as the United States is the most important country in ensuring its survival, and in strengthening its technological fork in particular, both in defense and attack. The French and Germans indeed tried to harass Washington before the invasion of Iraq in 2003; And Afghanistan, under Obama, turned from a secondary front to a central one… But it is also true that Western Europe (capitalism, free, relatively healthy because of the grace of the United States in protecting the free world and capitalism…), is not allowed to flourish more than the prosperity of the United States itself, and to unify its ranks by detracting from the principle of American hegemony over the international system. That is why the United States pours whatever oils it wants on wars here and there, and it does not find embarrassment when it avoids the evil of fighting, and there are no big differences here between Trump and Biden in terms of the lack of diplomacy or the excessive use of it.
Leaving the legacy behind: Analyzing Gen. Bajwa's six years of Command
The military is a country's most potent institution. The army has been the most important and responsible institution in Pakistan during the 75 years since its independence and the country's founding. Assuming what is considered the most powerful position in the country Pak Army chief is expected to ensure a secure and stable environment in the country and Gen. Qamar Javed Bajwa proved him a person having great real leadership qualities. Currently, Gen. Bajwa will be retiring by the end of November 2022 after commanding the Army for six years. Due to the significance of the title, the army chief plays a crucial role in leading the armed forces and maintaining the nation's peace and stability, and Gen. Bajwa has performed his duties admirably. He truly left a noteworthy legacy. His philosophy has received high praise and served as the foundation for his vision of Pakistan.
Owing to the complex and volatile geo-strategic environment of the region it is quite challenging to balance the risks of conflict with India, a nuclear-armed rival, and instability and tension that may arise with Afghanistan on its western border. During the Bajwa administration, the Pakistan Army launched Operation Radd-ul-Fasaad in February 2017 and Operation Khayber IV to flush out terrorist sleeper cells throughout the nation as well as purge the tribal regions of militant strongholds. This led to extraordinary accomplishments in the fight against terrorism and the refurbishment of peace in Afghanistan for the region's long-term development. One of the major achievements of Gen. Bajwa's tenure was the fencing of the Afghan border. The 2,600 km long fence along the Afghan border has almost been finished by the Pakistani Army.
Goals and objectives are always attained through consistency and adherence to the plan. Gen. Bajwa has consistently spoken out in favor of the Kashmir cause, stating that "peace and stability will remain elusive" in the absence of a peaceful resolution to the Kashmir dispute. His well-founded actions led to promoting Islamabad's diplomacy and mediation with the surrounding nations. A prime example of his statesmanship is his choice to reinstate the cease-fire along the line of control separating Pakistan and India.
Under Bajwa, Pakistan's internal security significantly increased. The "Bajwa Doctrine," which envisioned a stable Pakistan at peace with its neighbors, was his pitch for a peaceful nation. The Royal United Services Institute coined the phrase "Bajwa Doctrine" after his speech at the 54th Munich Security Conference in 2018. In addition to emphasizing democracy and ensuring proper respect for the state's institutions, the doctrine placed a strong check and balance on putting an end to terrorism and also urged Paki-citizens, particularly the young, to combat extremism, claiming that it is a major catalyst for terrorism.
Similarly, under the leadership of General Ba­jwa, Pak-ar­my's efforts contributed to the completion of the socio-eco­nomic development projects in Balochistan. Due to COAS' ef­forts (bringing allpar­ties under one table) for a national consensus, Pakistan was saved from an $11 billion penalty in the Reko Diq case. The project was reconstituted and aimed at excavating huge gold and copper reserves from the site in Balochistan.
Subsequently, Pakistan made unexpected progress with its FATF action plans, as well during last 6 years. The frantic efforts of both the civilian and military leadership enabled Pakistan to project sustainable and irre¬versible progress by enacting laws that addressed various legal, financial, and terrorism-related issues. As a result, Pakistan was taken off the Financial Action Task Force (FATF"grey) list."
Another feather in the cap of Gen. Bajwa is reducing the friction in civil-military relations. He had the vision that an institution like the military could develop into a mediator and supporter of democracy. Gen. Bajwa will always be appreciated as a pro-democracy general, who not only stabilized civilian governments and provided space for democratic forces but also limit the military's role to that mandated by the constitution. This proves that he has demonstrated his responsible attitude toward democracy and politics by maintaining this neutral stance.
Gen. Bajwa improved Pakistan's international diplomacy. His covert efforts prevented Pakistan from going into economic default and made it possible for the governments to get much-needed financial support from foreign lenders in exchange for rollovers from China and Saudi Arabia. Additionally, under Bajwa's tenure, Pakistan's initiatives like the China-Pakistan Economic Corridor (CPEC) and relations with nations like the United States have improved significantly. Gen. Bajwa's unceasing efforts for Pakistan earned him the Nishan-e-Imtiaz, Hilal-e-Imtiaz (Pak-Military), and many other international awards. The country is honored to have courageous soldiers like him.