Crisis in Hong Kong: Can China Sustain?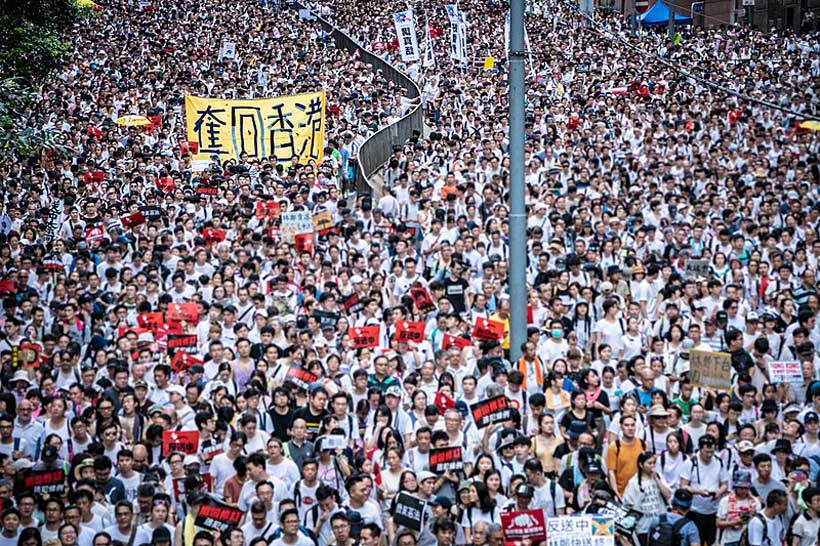 By attempting to put on a brave front, China cannot mask the problems that it is currently mired with. Over the past year, the country has faced protests from various regions that it claims as its own territories. After the outbreak of the COVID-19 pandemic, China has also been experiencing a certain degree of indignation from the international community. In addition to that, nations like the United States and India have either had an economic fallout with the country or are steadily withdrawing their financial investments from China. Also considering that every move that China makes is being viewed with suspicion if not critically evaluated, sheds light on how the nation is struggling to keep its allies close.
However, in the midst of so many issues, one major concern for China should be its economy. And given the ways in which it is attempting to shelter its financial status from the world, just raises some questions about the wellbeing of the economic giant. China's recent crackdowns on Hong Kong in the name of national security law, might have backfired. Even though the international financial hub, experienced a certain degree of autonomy, under the newly introduced law, its status will be no different from its mainland counterparts. This shift in the power balance might have some damaging implications on the Chinese economy.
Hong Kong's previously enjoyed autonomy was what made it an able economic arm of China. Due to its low tax rates and favorable legal and financial systems, it was able to attract sufficient investments from various institutions. As per the Ministry of Commerce of China, over 58% (USD 70 billion) of China's nonfinancial Outbound Direct Investment (ODI) went to Hong Kong as of 2018. By the end of the same year, this volume plummeted and reached USD 622 billion. Over 60% of the Chinese Foreign Direct Investment (FDI) is channeled via Hong Kong. Not to mention, the USD 1.1 trillion worth of Chinese bank assets that the territory holds. As of 2019, Chinese companies raised $64 billion globally, out of which $35 billion came from Hong Kong alone. Apart from that, the territory also plays an important role in bolstering the Chinese currency. Even though Hong Kong has its own currency, the Hong Kong dollar, it is also the biggest market for foreign exchange including the Chinese Yuan or the Renminbi. This serves as one of the primary reasons why investors are attracted to Hong Kong. From 2016 to 2019, alone, the rate of such foreign exchange transactions has increased by 3.9%, which is $77.1 billion in April2016, to $107.6 billion by April of 2019. However, in light of the pro-democracy movements in Hong Kong, these numbers have significantly decreased, as investors no longer feel safe to carry out their transactions there.
The national security law imposed on Hong Kong, mainly criminalizes four types of offences- sedition, subversion, terrorism and collusion with foreign forces. Even though these laws pertain to aspects of security, they do have some impacts on the Chinese economy as well. The new national security law is not just limited to Hong Kongers, but also extends to every cooperation that has investments or business in the region. The requirement would need them to be wary of not toeing the line. This has naturally dissuaded investors, especially foreign investors who do not wish to be caught up in the political and legal crossfires. Considering that Chinese political advisor, Leung Chun-ying, has publicly called for the boycott of HSBC, on social media platforms and China has been pressurizing accounting firms like PwC, Deloitte, KPMG, and Ernst & Young to investigate and fire employees who were associated with Hong Kong's pro-democracy protests. According to a survey carried out by the Hong Kong's American Chamber of Commerce, over 60% of its members believed that the national security law would harm their business and 29% of them considered relocating. This clearly shows the fear among enterprises and investors operating in Hong Kong.
Taking into account that China's new law diverges from its earlier policy of "one country, two systems", there is a high probability that the tax rates in Hong Kong might mirror those of the mainland. In such a case, Hong Kong which was previously known as the tax haven, would experience a serious downfall in its number of investors.
The repercussions due to the national security law were soon felt after it was imposed. On May 22nd of this year, Hong Kong's stock market plunged by 5%. This was considered to be one of the biggest falls since 2015. The property sector sub-index too fell by 7.7%, worse than the 2008 crisis. Companies like Sun Hung Kai Properties lost 7.1 percent and New World Development dropped 8.1 percent, while Wharf Real Estate Investment shed 8.7 percent. Hong Kong has also experienced a contraction of 8.9% , as a result of the combined effects of the COVID-19 pandemic, protests and U.S tensions. In response to the stock market plunge in May, the Hong Kong market saw an inflow of money from the mainland, as many Chinese state owned firms bought up the Hong Kong stocks. But this does not change the fact that ever since last year, the city has been experiencing major dips in its finances. One of the best indicators of its economic distress, is the fall in the Hong Kong's FDI. FDI for 2019, was $53.17 billion which is a decline by 45.2% since 2018. Additionally, Hong Kong's GDP in the second half of 2019, also fell by 1.2%. As per UNCTAD's officials, the city was met with disinvestments worth $48 billion.
But China is not unaware of Hong Kong's troubling finances, and is desperately yet subtly trying to grapple with the issue. To understand how China is dealing with a possible economic and legal recoil, one needs to take a look at its recent policies and actions. Soon after the declaration of the national security law, China launched the "Wealth Management Connect" on June 29, 2020, as a response to the flailing economy of Hong Kong. This was done with the intention of creating a better integration among all of China's territories together and also to turn the Greater Bay Area including Hong Kong, Macau and nine cities in Southern Guangdong province into a financial hub by 2030. According to this initiative, residents in the area will be allowed to buy wealth management products that are available in each other's markets. This will allow for better investments with the regions, under the PRC's supervision. However, the success rate of this initiative is highly debatable as a global recession might be in order due to the pandemic.
The Wealth Management Concept was just one aspect of the deal, Beijing now seeks to tax its diaspora to make up for its tax revenues. The income tax regulations were amended in January 2019, however, expatriates are feeling the burden of its enforcement since the past two months. The ones that are severely affected due to this change are the Chinese mainlanders who reside in Hong Kong. Many SOE's are informing their employees to declare their 2019 income, so that they can start paying taxes that contribute to their homeland. The tax rate that was previously 15% has been significantly increased to 45%. While the Chinese diaspora cope with this higher tax rate and the living expenses of Hong Kong, many analysts speculate that the city might experience a brain drain. As of 2019, around 29,200 people have been reported to leave the territory. Even though Hong Kong does not publish high frequency immigration reports, there has been a 50% increase in the applications for good citizenship cards, which are averaged to be around 2,935 as of June, 2019. The increasing taxes clubbed with the fear of protests, might lead to a wave of emigration from the region, thereby reducing the lucrativeness of Hong Kong and negatively affecting China's economy.
Despite the actions and regulations that China seems to have posed in the past year over its so- called territories, its actions in the international domain do not seem to fit in their own narratives. Trump and Xi Jinping have been engaged in a trade war for the most part of their presidencies. However, in light of the pandemic and the upcoming US presidential elections, this war seems to have been heated more than ever. As of February 2020, the US debt was estimated to be around $22 trillion. Out of which China owned $1.1 trillion, this amounted up to 21% of the US debt held overseas and 7.2% of the US's total debt load. These figures, however, have changed in the past three months alone, as China has increased its holdings of US treasury securities by USD 10.9 billion. This sudden spike in buying US debt amidst a trade war, appears to be suspicious to say the least. Buying of treasury bonds is a common practice in the global market among nations, as it enables a country to anchor their currency at a certain amount. China's sudden purchase of treasury bonds, could possibly mean that it is attempting to peg its currency to that of the US dollars. Another possible outcome could be that China might sell off these bonds at a higher rate in the future, so as to significantly damage the US economy. However, as per some Chinese sources, this shall be a "nuclear move" on the part of the Chinese. As per another Chinese source, China Power, the nation bought these treasury bonds in order to manage the exchange rate of the ChineseYuan, and such a trade does not give the nation an edge over the US. Despite whatever narrative that China wishes to bring to the table, it cannot be denied that its sudden interest in purchasing its rival's treasury bonds and taxing its own diaspora might be an indication of a bigger issue.
As of today, China is running out of economic allies. The US- China trade war had significant repercussions for the global market as is. But its recent conflict with India might affect China to a certain degree as well. In light of the recent border dispute between India and China, the notion of boycotting Chinese products in India has been increasingly popularized. India shares a trade deficit of $57 billion as of last year. If India, one of the largest consumers of the Chinese market were to boycott its products, this could have serious ramifications for the Chinese economy.
It is no secret that China has been met with criticisms on various fronts by the international community. But considering the recent events and the consequences of the coronavirus pandemic, China could be attempting to cover up a major economic breakdown within its system. Earlier this year, a Chinese company was accused of depositing a "ghost collateral". A private owned Chinese company, Wuhan Kingold Jewelry Inc., which owed many Chinese financial institutions and trust companies a loan of 20 billion Yuan ($2.8 billion) in the form of pure gold as a collateral, turned out to be fake. This company's Chairman is Jia Zhihong, an ex- military man who defaulted on paying his investors. When 83 tonnes of Chinese gold turns out to be gilded copper, it does not paint a very good picture for the Chinese economy. Many could pass this incident off as the default of Kingold, but there is more than what meets the eye. China's hasty enforcement of policies over its own territories and its apparently stable economy after suffering a major pandemic; whilst battling over issues of commerce with multiple nations, simply does not add up. In all probability, China could be heading towards an economic downfall and is still choosing to keep a tightlipped approach about it.
Xinjiang? A Minority Haven Or Hell
While the G7 meets under the shadow of Covid 19 and the leaders of the most prosperous nations on earth are focused on rebuilding their economies, a bloodless pogrom is being inflicted on a group of people on the other side of the world.
In this new era, killing people is wasteful and could bring the economic wrath of the rest of the world. No, it is better to brainwash them, to re-educate them, to destroy their culture, to force them to mold themselves into the alien beings who have invaded their land in the name of progress, and who take the best new jobs that sprout with economic development. Any protest at these injustices are treated severely.
Amnesty International has published a new 160-page report this week on Xinjiang detailing the horrors being perpetrated on Uyghurs, Kazakhs, and other Muslim minorities in Xinjiang Uyghur Autonomous Region. Amnesty has simultaneously announced a campaign on their behalf.
Persecution, mass imprisonment in what can best be described as concentration camps, intensive interrogation and torture are actions that come under the definition of 'crimes against humanity'. More than 50 people who spent time in these camps contributed first-hand accounts that form the substance of the report. It is not easy reading for these people have themselves suffered maltreatment even torture in many instances.
The UN has claimed that 1.5 million Muslims (Uighurs, Kazakhs, Uzbeks and Tajiks) are in these internment camps and China's claims of re-education camps made to sound as benign as college campuses are patently false.
People report being interviewed in police stations and then transferred to the camps. Their interrogation was frequently conducted on 'tiger chairs': The interviewee is strapped to a metal chair with leg irons and hands cuffed in such a manner that the seating position soon becomes exceedingly painful. Some victims were hooded; some left that way for 24 hours or more, and thus were forced to relieve themselves, even defecate, where they sat. Beatings and sleep deprivation were also common.
Activities were closely monitored and they were mostly forbidden to speak to other internees including cell mates. Trivial errors such as responding to guards or other officials in their native language instead of Mandarin Chinese resulted in punishment.
Amnesty's sources reported the routine was relentless. Wake up at 5am. Make bed — it had to be perfect. A flag-raising and oath-taking ceremony before breakfast at 7 am. Then to the classroom. Back to the canteen for lunch. More classes after. Then dinner. Then more classes before bed. At night two people had to be on duty for two hours monitoring the others leaving people exhausted. You never see sunlight while you are there, they said. That was because they were never taken outside as is done in most prisons.
The re-education requires them to disavow Islam, stop using their native language, give up cultural practices, and become Mandarin-speaking 'Chinese'.
Such are the freedoms in Xi Jinping's China. If China's other leaders prior to Mr. Xi effected moderate policies in concert with advisers, it is no longer the case. Mr. Xi works with a small group of like minds. He has also removed the two-term or eight-year limit on being president. President for life as some leaders like to call themselves, then why not Mr. Xi. His anti-democratic values make him eminently qualified.
An enlightened leader might have used the colorful culture of these minorities to attract tourists and show them the diversity of China. Not Mr. Xi, who would rather have everyone march in lockstep to a colorless utopia reminiscent of the grey clothing and closed-collar jackets of the Maoist era.
Looking back on India-China ties, one year past the Galwan incident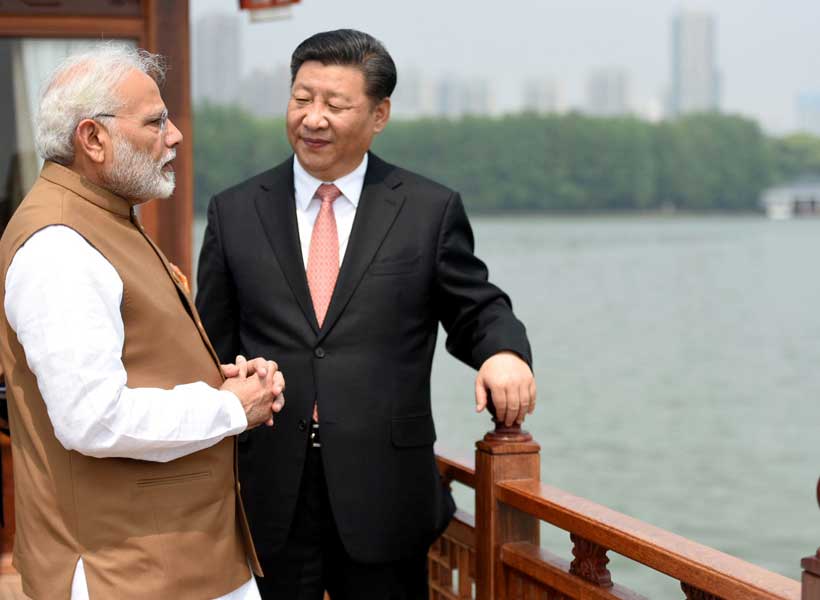 Two nuclear-armed neighbouring countries with a billion-plus people each, geographically positioned alongside a 3,488-km undemarcated border in the high Himalayas. This is the Line of Actual Control (LAC) between India and China's Tibet Autonomous Region. Differences in perception of alignment of this border for both sides have contributed to a seemingly unending dispute.
Chinese unilateral attempt to change status quo in 2020
One year back, on 15 June 2020, a clash between Indian and Chinese troops in the Galwan Valley of eastern Ladakh turned bloody, resulting in the death of 20 soldiers in the former side and four in the latter side. It was an unfortunate culmination of a stand-off going on since early May that year, triggered by the Chinese People's Liberation Army (PLA) troops encountering Indian troops who were patrolling on their traditional limits.
It was followed by amassing of troops in large number by China on its side and some of them crossed the line over without any provocation, thereby blocking and threatening India's routine military activities on its side of the traditionally accepted border. It was a unilateral attempt by the Chinese Communist Party-run government in Beijing to forcefully alter the status quo on the ground.
The LAC as an idea
Over the years, the LAC has witnessed one major war resulting from a Chinese surprise attack on India in 1962 and periodic skirmishes along the various friction points of the border, as seen in the years 1967, 1975, 1986-87, 2013, 2017, and the most recent 2020 Galwan Valley incident, the last being the worst in five decades. Post-Galwan, the optics appeared too high on both sides.
The LAC as an idea emerged with the annexation of Buddhist Tibet by Chinese communist forces in the early 1950s, bringing China to India's border for the first time in history. This idea just emerged and was taking shape through the Jawaharlal Nehru-Zhou Enlai letters of correspondence that followed.
In 1962, while the world was engrossed upon the Cuban Missile Crisis, the Chinese inflicted a huge military and psychological debacle on unprepared and outnumbered Indian soldiers in a month-long war along this border.
Even to this date, there is still no mutually agreeable cartographic depiction of the LAC. It varies on perceptions.
What could've led to 2020 stand-off?
One of the reasons that led to the current new low in India-China ties, other than differing perceptions, is the improvement in Indian infrastructure capabilities along the rough mountainous terrains of the Himalayan borders and its resolve to be on par with China in this front. This has been a cause of concern in Chinese strategic calculations for its Tibetan border.
The carving up of the Indian union territory of Ladakh with majority Buddhists from the erstwhile Muslim-majority state of Jammu and Kashmir in 2019 has indeed added to Beijing's concerns over the area.
For the past few years, India has been upfront in scaling up its border infrastructure throughout the vast stretch of LAC, including in eastern Ladakh, where the 2020 stand-off took place. There is a serious trust deficit between India and China today, if not an evolving security dilemma.
Post-Galwan engagement
Several rounds of talks were held at the military and the diplomatic levels after the Galwan incident, the working-level mechanisms got renewed and new action plans were being formed before the process of disengagement finally began.
The foreign ministers of both countries even met in Moscow on the side-lines of the Shanghai Cooperation Organisation meet in September, which was followed by a BRICS summit where Narendra Modi and Xi Jinping came face-to-face in November, although virtually.
By February 2021, the process of disengagement of troops gained momentum on the ground around the Pangong lake area. So far, eleven rounds of talks were held at the military level on the ground at the border. But, the disengagement is yet to be fully completed in the friction points of Hot Springs and the Depsang Plains.
Diplomacy is gone with the wind
All the bilateral border agreements and protocols for confidence-building that were signed between the both countries in the years 1993, 1996, 2005, 2012 and 2013 were rendered futile by the Chinese PLA's act of belligerence in Galwan.
The spirit of two informal Narendra Modi-Xi Jinping summits to build trust after the 2017 Doklam standoff, one in Wuhan, China (2018) and the other in Mamallapuram, India (2019) was completely gone with the wind. This is further exacerbated by the Chinese practice of 'wolf-warrior diplomacy', which is clearly undiplomatic in nature.
India's diversification of fronts
Coming to the maritime domain, India has upped the ante by the joint naval exercises (Exercise Malabar 2020) with all the Quad partners in November, last year. Thereby, New Delhi has opened a new front away from the Himalayan frontiers into the broader picture of India-China strategic rivalry. Australia joined the exercise, after 13 years, with India, Japan, and the United States, a move indicative of militarisation or securitisation of the Quad partnership.
Recently, India has been consolidating its position over the union territory of Andaman and Nicobar Islands, lying southeast to the mainland, and close to the strategic Strait of Malacca, through which a major proportion of China's crude oil imports pass through before venturing out to the ports of South China Sea.
Economic ties, yearning to decouple
Last year, India's external affairs minister S. Jaishankar remarked that border tensions cannot continue along with co-operation with China in other areas. In this regard, the Narendra Modi government has been taking moves to counter China in the economic front by banning a large number of Chinese apps, citing security reasons, thereby costing the Chinese companies a billion-size profitable market. The Indian government has also refused to allow Chinese tech companies Huawei and ZTE to participate in India's rollout of the 5G technology.
Moreover, India, Australia and Japan have collectively launched a Supply Chain Resilience Initiative (SCRI) in 2020 aimed at diversifying supply chain risks away from one or a few countries, apparently aimed at reducing their dependence on China. In terms of trade, India is still struggling to decouple with China, a key source of relatively cheap products for Indian exporters, particularly the pandemic-related pharmaceutical and related supplies in the current times.
But, the Indian government's recent domestic policies such as "Self-Reliant India" (Atmanirbhar Bharat) have contributed to a decline in India's trade deficit vis-à-vis China to a five-year low in 2020, falling to around $46 billion from around $57 billion in 2019.
The broader picture
The border dispute remains at the core of a range of issues that define the overall India-China bilateral relations. Other issues include trade and economics, Beijing's close ties with Islamabad, the succession of Dalai Lama who has taken asylum in India since 1959 and the issue of Tibetan refugees living in India, educational ties, and the strategic rivalry in India's neighbourhood, i.e., South Asia and the Indian Ocean Region, among others.
Chinese belligerence has led India to find its place easily in the evolving 'new Cold War'
The more China turns aggressive at its border with India, the more it will bring India close to the United States and the West. Despite India's traditional posture of indifference to allying itself exclusively with a power bloc, in the recently concluded G7 summit, India referred to the grouping of liberal democracies as a 'natural ally'.
India has been raising the need for a free, open and rules-based Indo-Pacific in as many multilateral forums as possible, a concept which China considers as a containment strategy of the United States. Possibly, India might also join the G7's newly announced infrastructure project for developing countries in an appropriate time, as it is initiated as a counterweight to China's multi trillion-dollar Belt and Road Initiative.
There was a time in the past when the former Indian Prime Minister Jawaharlal Nehru sought to lead Asia by cooperating with China. Considering today's changed geopolitical realities and power dynamics, nowhere in anyone's wildest dreams such an idea would work out. Prime Minister Modi's muscular foreign policy imperatives are aligning well with the Joe Biden-led Western response to the looming common threat arising from Beijing.
Today, encountering Xi Jinping's grand strategy of Chinese domination of the world (by abandoning its yesteryear policy of 'peaceful rise') is a collective endeavour of peace-loving democracies around the world, to which Asia is particularly looking forward. Most notably, it comes amid an inescapable web of global economic inter-connectedness, even among rival powers.
Taiwan: The First and Oldest 'Thorn' between China and the West (part 2)
In the first part of the article, we noted Taiwan has returned as one of the thorniest issues in the US policy toward China under the Biden administration. Almost five months have passed but the new White House is yet to completely formulate its China policy framework. But as they say, the proof the pudding is in the eating. In April third week, the US Senate Foreign Relations Committee sent to the Congress the US Strategic Relations Act of 2021 passed by 22-1 vote. The Act is filled with references to "closer US ties with Taiwan." The Act, as expected, angered Beijing which accused Biden administration of hyping up the China threat theory.
***
Fearful of China attacking Taiwan anytime now, a leading US political news magazine recently pitied President Biden for he might become the first president to be thrust upon with the decision to go to war to defend Taiwan. "If a war breaks out over Taiwan, Biden may be forced into a decision no American president since 1979 has wanted to make," the magazine observed. A similar concern was the focus of a Washington Post report within the first week of Biden coming to office, i.e., "the dragon has woken up and Washington should engage with it." The newspapers' national political correspondent Olivier Knox wrote: "President Biden hasn't been in office for a full week, but already faces questions about one of his most solemn duties: when, why and under what circumstances he might send Americans into combat."
In fact, from the Trump era onwards the US mainstream media (MSM), the State Department and the Pentagon – all have been consistently building up pressure on the White House to provoke China and take action against "the dragon." On its part, the White House has increasingly sent out signals "it is prepared to send military into situations where there is high probability of combat." Dangerous yet true is overall consensus in the US for quite some time demanding "aggressive toughness" as against the so-called "cringing appeasement," should China commit a "strategic miscalculation" in the SCS or in the Taiwan Strait. On the other hand, "wolf warrior" statements and periodic military-strike threat to Taiwan from Beijing have been only adding fuel to the fire.
Let's recall a short chronology of the US statements and actions over Taiwan in order to ratchet up pressure on Beijing. In part one of the article, we have noted two visits to Taiwan – both "first" since Sino-US normalization of ties in 1979 – by the Trump cabinets' highest-level officials in September last year; ahead of the two visits, the US ambassador to the UN, Kelly Craft, had lunch with Taiwan's top official in New York, James K. J. Lee. Craft-Lee meeting was described in a section of the US media as "historic" as it was the first time such a meeting took place since China seat at the UN was passed on from Taipei to Beijing in 1971.
Further, in last December, John Ratcliffe, the director of the US National Intelligence wrote in the WSJ: "As Director of National Intelligence, I am entrusted with access to more intelligence than any member of the U.S. government other than the president. If I could communicate one thing to the American people from this unique vantage point, it is that the People's Republic of China is poses the greatest threat to America today, and the greatest threat to democracy and freedom world-wide since WWII." Ratcliffe's article was described by some as aimed at "setting the scene for a post-Trump administration."
For limitation of space, let me cut to the chase and fast forward to the latest of President Biden's actions which tantamount to undermining the "One China" policy without openly challenging Beijing but increasing the risk of conflict. Last week, a Democrat and a Republican member of the House of Representatives together moved a bill which would rename Taipei Economic and Cultural Representative Office (TECRO) as Taiwan Representative Office. According to the bill, it is time for the State Department, for the Congress to take action to elevate relations with Taiwan. Remember, three months ago in March, a similar provocative step was taken by the US ambassador to the archipelago nation of Palau, John Hennessey-Niland. During his visit to Taiwan, a first in 42 years by a sitting envoy, he by mistake referred to Taiwan as "country." Of course, no clarification or apology to China was offered.
Interestingly, ever since the Carter administration normalized the US-China relations in 1979, on the issue of "One China" policy successive US administrations have all pursued a policy of strategic ambiguity(emphasis added). It has been an open secret and Beijing is not oblivious to the fact that the US understanding on "One China" policy is as good as fiction. Feeling helpless, Beijing so far has been compromising as long as the US does not cross China's three Red Lines: Taiwan formally declaring independence; Taiwan acquiring nuclear weapon; an "outside power becoming too cozy" to Taiwan. John Culver, who served CIA for over three decades monitoring movements in the Taiwan Strait and retired last year, reckons "Beijing has made clear it has three 'red lines' that, if crossed, would see China go to war tomorrow."
President Biden and his "team China" have been relentlessly issuing statements in order to heighten tensions between the mainland and Taipei. As recently as in April, the Secretary of State Blinken dared Beijing by saying "it would be a serious mistake for anyone to try and change the existing status quo by force." Without specifying when exactly the Chinese government is going to push reunification by force, Joseph Hwang, a professor at Chung Yuan Christian University in Taiwan, said Beijing is waiting for an opportune time. The current lull is "is the quiet before the storm," Hwang mulled over looking lost.
Inviting Taiwanese envoy to Biden swearing-in should not be viewed as one-off diplomatic move aimed at provoking China. Instead, and in fact, uninterrupted continuity in escalating tensions between China and the US even as Trump exited and Biden entered the White House on one hand, and China relentlessly mounting political, economic and military pressure on Taiwan, on the other hand, have turned the Taiwan Strait into potentially one of the most vulnerable military conflict hotspot. As an article in The Diplomat observed hours after Biden delivered his 100-days to the joint session of the Congress: "The Biden administration entered office at a critical inflection point for the United States. President Biden inherited a world order and in particular an Indo-Pacific region that is undergoing profound change with China's rise and an ongoing geopolitical shift toward Asia. Within this broad expanse, the Taiwan Strait is increasingly a critical military flashpoint."
Finally, the purpose of a series of top government officials' visit to Taipei, top US diplomats referring to Taiwan as "country" by slip of tongue, for several months on continuing presence of the US naval aircraft carriers in SCS and in nearby waters closer to the Taiwan Strait, and the latest attempts to create vaccine "friction" across the Taiwan Strait – all these actions are gearing towards one common goal, i.e., to elevate US-Taiwan relations as Washington prepares for conflict with Beijing. As NIKKEI Asia reported it last month in its 'Politics' columns, headlined: "US vows to approach Taiwan with clarity and resolve." The influential Asian political newsmagazine from Tokyo further stated: "A comprehensive American strategy on China under President Joe Biden's administration is still in the works, but Washington has promised to approach Taiwan issue with 'steadiness and clarity and resolve'."
The US Senate Foreign Relations Committee sending a bipartisan bill to the Senate floor in April, sponsored by Senators Menendez (D-New Jersey) and Misch (R-Idaho) respectively, is being described by some critics in US as "the most important piece of legislation regarding US policy toward China in the Congress." Implying it to be one of the most belligerent bills, Beijing's China Global Television Network website condemned the bill as the US Congress "declaring Cold War on China." Referring to Taiwan-related content in the bill, the CGTN said: "The bill contains several misleading statements about the US policy on China's Taiwan region." China's official Xinhua news agency reported that the Act stipulates that the US government shall not place any restrictions on the ability of US officials to interact with Taiwan. The Xinhua cited Michael D Swaine, a scholar of China securities Studies, as saying: "the Act epitomizes the worst errors of the new Washington consensus on what a rising supposedly means for the United States and the world."