EU-US: New geopolitical disharmonies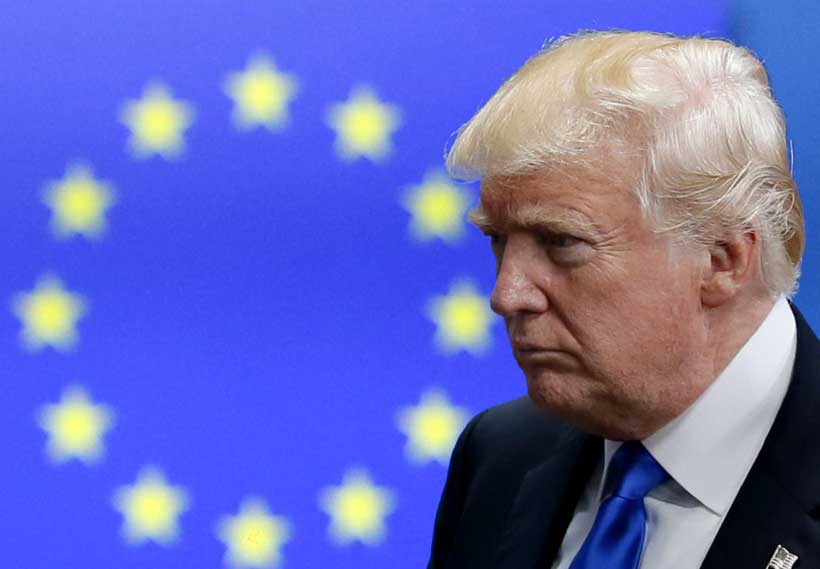 The article analyzes new trends in the development of the transatlantic partnership, laying bare the contradictions and problems that have recently been complicating the allied ties between the US and the EU.
Donald Trump's presidency has led to a noticeable cooling of relations between the United States and the European Union. Most European analysts view the Trump administration's approach to relations with the European Union as destructive, since it proceeds from the assumption that European integration is directed against the United States and that the "disunited states of Europe" thus pursue their own strategic interests. This means that the US now prefers to build privileged bilateral relations with individual countries, depending on their geopolitical and regional status and foreign policy priorities, which is clearly reflected by Washington's support for Brexit.
Signs of an unprecedented complication of transatlantic ties abound, as was clearly confirmed by the June 20, 2020 videoconference by the foreign ministers of 27 EU member states, attended by US Secretary of State Mike Pompeo, and which the authoritative French newspaper Le Monde very aptly described as a "dialogue of the deaf."
The United States' approach to tackling the COVID-19 pandemic differs notably from the EU's. While the European Union believes that the vaccine, which is currently being developed in various countries, should belong to all mankind, Washington wants to have exclusive access to it with an eye to monopolizing its use in the world. Trump has tried to persuade the German firm CureVac, developing a vaccine for coronavirus, to move its research work to the United States, and ignored a call from various international organizations to reconsider the US decision to break off relations with WHO, and a joint appeal to this effect from European Commission President Ursula von der Leyen and the EU's High Representative for Foreign Affairs and Security Policy Josep Borrell.
The Protecting Europe's Energy Security Act of 2019, introduced by a group of US Senators, provides for harsh sanctions against anyone involved in the construction of the Nord Stream 2 gas pipeline. The bill expands existing US sanctions related to the provision of pipe-laying vessels and applies to all companies involved in the pipeline's construction, operation and maintenance.
If enacted, the bill will affect more than 120 companies from 12 European countries, since seaports, legal and insurance companies will suffer too. It also stipulates that if the construction of the pipeline is completed, sanctions will be applied also to specialized organizations that certify it.
The EU's reaction came quickly. In her July 1, 2020 address to the Bundestag, German Chancellor Angela Merkel minced no words openly describing Washington's extraterritorial sanctions against Nord Stream 2 as illegal. Her statement was all the more significant since it coincided with the start of Germany's presidency of the EU Council for the next six months. Commenting on the country's foreign policy priorities for this period in light of the US pressure on the EU, Foreign Minister Heiko Maas laid out the EU's sovereign strategic and tactical position: "We do not intend to be guided by anyone; we want to go our own way and actively influence geopolitical agenda."
The German MPs were much less diplomatic though.
"We are convinced that the time of diplomatic restraint is now over. To protect European interests, the German government and the European Union should introduce countermeasures and consider the use of retaliatory sanctions, for example, against US shale gas. The real threat of serious retaliatory sanctions is the only way we can possibly resolve the conflict. This is the only language Donald Trump understands," Timon Gremmels (SPD faction's speaker on gas policy) and Markus Töns (SPD faction's speaker on trade policy) stated.
The lack of unanimity of positions on Iran has become a serious sticking point in EU-US relations. France, Germany and even Washington's closest ally Britain have criticized the new American sanctions against the Islamic Republic, demonstrating their opposition to the US intention to nix the landmark nuclear deal with Tehran, reached in 2015.
Disagreements within the US-EU-NATO geopolitical triangle have escalated sharply, with French President Emmanuel Macron publicly describing NATO, where the US plays a leading role, as being "brain dead." After his oft-repeated demands for Germany to almost double its financial contribution to NATO were essentially ignored by Berlin, Trump decided to cut the US military contingent in Germany by 9,500 troops on the pretext that the US was overburdened with ensuring Germany's security.
For all his unpredictability, Donald Trump is pretty much consistent when it comes to his stance concerning the transatlantic military-political partnership. Attentive observers will recall that when speaking in the press about his support for one of the candidates for the US presidency three decades ago, Trump said he was unhappy about American resources going to protect rich allies that did not invest enough in their own defense and essentially benefited at Washington's expense. Therefore, he insisted that United States should stop paying for a world order that primarily accommodates the needs of other countries, even if they happen to be America's allies.
After the Polish government said it would welcome a full-fledged US military base on its territory, manned by the US troops being withdrawn from Germany, Trump invited Polish President Andrzej Duda to visit the United States just a few days ahead of this year's presidential elections in Poland. The US meddling in the 2020 summer election campaign in an EU country was as obvious as it was unceremonious. Moreover, it sent a clear message to Angela Merkel as a reminder of her refusal to come to Washington for the G7 summit in June.
In a research project "State of the World 2020. The End of American Leadership?" a team of French political scientists expressed their conviction that "militarily, the EU must get rid of the illusion of a protective American umbrella by providing its own collective defense. America's strategic distance (from Europe – M.N.) fits into the long-term perspective. Consequently, dependence on NATO can threaten security on the continent." [3, p.181]
The foresight of Cyril N. Parkinson, the author of the famous "Parkinson's Laws," who, decades ago, predicted a crisis in relations between the United States and Europe, has proved surprisingly accurate. In comments to his "Laws…" Parkinson explained that if the West wants to survive, it must achieve a certain unity and rally its ranks, which is not even mentioned now. If links begin to fall out of this goal, it will not happen in a border state, where tension always persists, not in countries that desperately cling to their elusive sovereign status – a breakdown will occur where there is seemingly complete grace: in Brussels or Washington "[1, c.318]
However, speaking about the end of the transatlantic partnership would be a far-fetched exaggeration. Today, the time-tested allied relationship between the EU and the US, based on fully or partially shared values as well as ideological, political and economic priorities, is being tested by serious international challenges and threats and, simultaneously, by initiatives coming from the Trump administration that are particularly painful for the EU. Even though the interests of the parties diverge and the format of their relations is changing or being modified, in the present geopolitical context this is unlikely to erode the bonds of transatlantic partnership, much less to precipitate any major crisis. Meanwhile, amid a protracted crisis of the liberal model of the world order, the competitive partnership between the US and the EU will keep hitting snags, but this will still not become a mainstream antagonistic trend in their relations.
From our partner International Affairs
How a U.S. Colony Works: The Case of Germany
On 15 July 2022, Britain's Reuters news agency headlined "70% of Germans back Ukraine despite high energy prices, survey shows", and reported that "Some 70% of those polled backed Germany's support for Ukraine, … found the survey conducted between July 12-14 by broadcaster ZDF." ZDF is funded by the German Government — German taxpayers.
Germany's AfD Party is one of the two Parties in Germany that are less than enthusiastically backing Germany's anti-Russia position, the other such Party being "Die Linke" or "The Left" Party, which is Germany's only socialist democratic Party, despite West Germany's "Social Democratic Party" calling itself "democratic socialist" while being neither.
The AfD Party issued a press release, on 25 August 2022, "Stephan Brandner: Skandalöse "Politische Filter" beeinflussen NDR-Berichterstattung" or "Stephan Brandner: Scandalous 'political filters' influence NDR reporting." It reported that Mr. Brandner, who is an AfD Member of the German Parliament, said that
After the self-service affair about the now hated RBB director Schlesinger, reminiscent of feudal structures, an online magazine now reports that employees on North German radio complain about 'political filters' from their superiors. According to the report …, public service broadcasting executives act like 'ministerial press officers'. …
As an AfD politician I am not surprised. After all, ARD and ZDF only report on the AfD with a 'political filter' and, for example, no longer invite AfD politicians to talk shows. … Compulsory contributions [by taxpayers, to 'public broadcasting'] should be abolished.
Mr. Brandner provided no evidence for any of his allegations. (That's the way politics is in a dictatorship. How can the public vote intelligently if they are routinely accepting allegations that are being made without supplying documentation? That's a dictatorship by lies and liars, and no democracy-capable public would accept it. In science, what is not documented to be true is assumed to be false — not assumed to be true. A democratic country operates on the basis of science, not on the basis of faith.)
However, this doesn't mean that Mr. Brandner's allegations there are necessarily false. One reason why they could very well be true is that there are six Parties in Germany, and the current governing coalition consists of the three that take the hardest line against Russia, and for America, and for the post-2014, U.S.–coup, anti-Russian, Ukrainian Government. The ruling coalition, those three Parties, are called the "traffic-light coalition", and include the rabidly neoconservative (or pro-U.S.-empire) anti-Russian Green Party, plus the U.S. Democratic Party-allied so-called "Social Democratic Party," plus the rabidly libertarian or "neoliberal" (pro-free-market, anti-regulation, and generally U.S.-Republican-Party-allied) Free Democratic Party; and they EXCLUDE (or give the red light to, and prevent from participating in the Government) the three least-anti-Russian Parties, which are The Left Party (the authentic democratic socialists, or progressives, ideologically opposed to any imperialism), the AfD Party (nationalists), and the U.S.-Republican-Party-allied CDU/CSU Christian Democratic and Christian Social Union Party.
Brandner raised an important question, without providing any evidence regarding its solution. But here are some relevant facts, regarding the extent to which Germany's Government tolerates corruption (which includes corruptness of a Government and of its 'news'-media):
On 14 December 2021, I did an analysis comparing the anti-corruption laws in three nations, and headlined "Political Corruption in U.S., Germany, and Russia". I concluded that
Although this is a very incomplete indicator of a country's corruptness, it does present the U.S. in a very favorable light, and present Germany (11 out of 12 "No"s [meaning no law against corruption]) as being rather astoundingly corrupt. Russia is midway between those two, perhaps because after Yeltsin's abominable rule, Putin cleaned up Russia's Government, but a lot of that job still remains undone, even after 21 years.
Germany's Government was more shaped by Truman than perhaps any in the world except America's own Government. But, from the present indicator, America's vassal nations would appear to be even more corrupt than the imperial center, the U.S., itself, is — at least insofar as their political campaign-finance laws ("what's written in black and white" in the lawbooks) are concerned.
Here was the summary, specifically regarding Germany:
Following here will be answers that are solidly grounded in the written laws of each of these three countries (though not necessarily reflecting how those laws are enforced — or not), regarding the 12 most clearly important questions that were studied. I present those dozen questions in the order that seems to me to provide the clearest sequence in order for the reader to interpret them, not in the order that was employed by the source:
"8. Is there a ban on anonymous donations to candidates?" "There are no explicit provisions regarding donations to candidates."
"2. Is there a ban on donations from foreign interests to candidates?" "There are no explicit provisions regarding donations to candidates."
"18. Is there a limit on the amount a donor can contribute to a candidate?" "There are no explicit provisions regarding donations to candidates."
"10. Is there a ban on donations from corporations with government contracts to candidates?" "There are no explicit provisions regarding donations to candidates."
"4. Is there a ban on corporate donations to candidates?" "There are no explicit provisions regarding donations to candidates."
"6. Is there a ban on donations from Trade Unions to candidates?" "There are no explicit provisions regarding donations to candidates."
"5. Is there a ban on donations from Trade Unions to political parties?" "There are [is] no explicit … ban on donations from Trade Unions to political parties"
"3. Is there a ban on corporate donations to political parties?" "Ban on donation from corporate bodies, but accepted if it is a business enterprise, of whose shares more than 50 per cent of shares are owned by Germans …"
"9. Is there a ban on donations from corporations with government contracts to political parties?" "No."
"14. Is there a limit on the amount a donor can contribute to a political party during a non-election specific period?" "No."
"16. Is there a limit on the amount a donor can contribute to a political party during an election?" "No."
"27. Are there provisions requiring donations to go through the banking system?" "No."
Consequently, Brandner's allegations might be expected to be true, simply because Germany, especially after the U.S. Government blew up the Russian gas pipelines to Germany and yet Germany's Government continues to be a U.S. vassal-nation, despite that U.S. act of war against both Germany and Russia. This indicates Germany's Government to be extremely corrupt, willing to ditch its own population in order to please its U.S. masters.
Europe's former imperial countries are now desperate U.S. colonies
India is no longer a colony of the UK, but Germany and other European countries have become — now quite obviously — colonies of the United States, and their economies will be financially bled by the world-bestriding U.S. imperialist center, just like the UK and other European nations had previously (and infamously) exploited India and its other colonies.
The U.S. Government's having blown-up the Nord Stream gas pipelines from Russia to Europe — after years of efforts to sabotage them more subtly by other, more 'diplomatic' (but less permanent), means — will leave Europe permanently forced to pay vastly higher rates to America and other liquefied natural gas (LNG) suppliers, and no longer with even a hope of receiving the far less-expensive Russian gas, which, until recently, fueled so many European firms to international competitiveness. Now, there's no longer even a hope for Europe to avoid sliding into the usual model of colonies, as being banana republics, of one sort or another.
It was so natural for Russia to be Europe's main energy-supplier, because Russia is a part of Europe, on the same continent as the other European nations, and therefore could pipeline its energy to them, and Russia had a surfeit of energy while the other European nations had a surfeit of need for it. That's the way international capitalism is supposed to function, but imperialistic capitalism is instead international fascism, and it survives and grows only by exploiting other nations. From now on, the European nations, other than Russia, will, for at least a long time (because those giant gas-pipelines have been destroyed) be paying the world's highest prices for energy (containerized and shipped, instead of simply pipelined), and buying much of it from Europe's imperial center, which is increasingly recognizable now as being Europe's real enemy: America. They will be paying tribute to the emperor — the billionaires who control the USA. These are the puppet-masters behind "the free world" (as their 'news'-media refer to it), which is actually the new international-fascist empire. As Barack Obama called it, America is "the one indisensable nation," which means that all other nations (in this case, the ones in Europe) are "dispensable." Now, these former imperial nations will finally get a taste of what it's like to be a "dispensable nation."
Here are some of the key U.S. operatives in Europe, who managed this situation, for the U.S. owners — brought this situation about (before Joe Biden's agents ultimately just pulled the plug on the whole operation):
Boris Johnson, Olaf Schulz, Annalena Baerbock, Robert Habeck, Ursula von der Leyen, Josep Borrell, Anders Fogh Rasmussen, Jens Stoltenberg, Emmanuel Macron, Mario Draghi — and, of course, behind the scenes, the billionaires who funded those leaders' political careers (via political donations, plus those billionaires' news-media and their other mass-public-opinion-forming organizations). These key agents will no doubt be paid well, in their retirements, regardless of what the public might think of them after their 'service to the public' is over.
Exporting Religious Hatred to England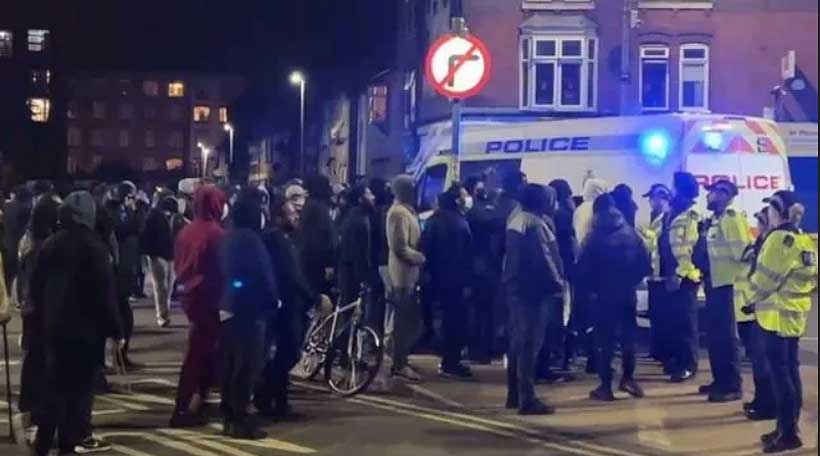 Not a place hitting the main news channels often, Leicester is a small town of 250,000 inhabitants about a hundred miles north of London and 40 miles east of Birmingham the UK's second largest city.
But an imported ideology is now the cause of religious violence that has profoundly affected Leicester's ethnic community of South Asians. This Hindutva ideology represents a belief in the transcendence of Hinduism and its culture.
Leicester prides itself as a city of tolerance and diversity where different religions and races all live together in relative harmony — a sort of 'live and let live and mind your own business' philosophy that had worked until recently. But under the surface simmering tensions burst forth recently. The trigger was a South Asia Cup cricket match between Indian and Pakistan held in Dubai and won by India.
Couple Hindutva with India's win and groups of Hindu young men were keen to demonstrate their might, and did so on isolated young Muslims. The latter then formed their own groups ready for revenge.
Where were the police one might ask. Well, a couple of beaten up Asian teenagers did not register as exhibiting anything more than random teenage violence. They were slow to react and did not discuss the ominous truth of religion as the prime mover behind the violence.
Civic leaders on both sides are now trying to quell the attacks. But the damage has been done and the seeds of ill-feeling have been sown within the community meaning Hindus vis-a-vis Muslims and vice versa.
India's per capita GDP is higher than for Pakistan or Bangladesh, the two countries bordering it, which together constitute the subcontinent. Thus the three countries are similar culturally. The next question to ask is why then is India hugging the bottom on the 2020 World Happiness Report, next to ill-fated war-torn places like Yemen. India is ranked 144 while its rival and neighbor Pakistan, although lower in per capita GDP, ranks a shocking (for India) 66. Bangladesh also ranks much higher than India at 107, despite its devastating floods and typhoons.
Perhaps the answer lies in the pervasive hate that is the currency of the ruling BJP (Bharatia Janata Party), a currency spent liberally during general elections to the detriment of the Congress Party, which has stood for a secular India since independence.
But hate yields more votes as BJP leaders Norendra Modi and Amit Shah know well. After all, they came to power via the destruction of the historic nearly five century old Babri Mosque, built on a Hindu holy site in an effort to ally Hindus by an astute Babur, the Mughal whose hold on India, just wrested from the Muslim Pathan kings, was still weak. It worked for Babur then; its destruction worked for the BJP in the 21st century
Has India become more civilized since?