Media facelift: An informed African society
In her weekly media briefing July 23, Foreign Ministry Spokeswoman Maria Zakharova criticized United States support for educational programs, media and NGOs in Africa. In addition, Zakharova said "the allocation of grants fits into the White House's efforts to promote the idea that there is no alternative to Western concepts regarding state governance and the imposition of alien values on sovereign states, and this represents another manifestation of neo-colonialism and an element of covertly formalizing inequality in the overall system of international ties."
Russia's position as contained in her briefing is available on the official website, and part of which is further quoted here: "We have no choice but to comment and explain why we perceive this as Washington's striving to eliminate the favorable regional socio-political background with regard to Russia that became particularly obvious following the Russia-Africa Summit in Sochi in October 2019.
It appears that the United States is deliberately encouraging anti-Russia publications in some African media outlets and is trying to portray Russia as a destabilizing force. We are confident that such methods of unfair competition and misinformation show that there is no hard evidence confirming the so-called Russian policy of propaganda and misinformation, and this is also the consequence of weak US approaches in the field of public diplomacy."
That well-said of the United States, it is equally important to note that since the Soviet collapse in 1991, the question of media representation both ways, in Russia and in Africa, has attracted unprecedented concern and discussions. Over the years, nearly 30 years after the Soviet era, Russia has not encouraged African media, especially those from south of Sahara, to operate in the Russian Federation.
On the other hand, Russian media resources are largely far from eminent in Africa, and these include the media conglomerate popularly referred to as Rossiya Sevogdnya (RIA Novosti, Voice of Russia and Russia Today), TASS News Agency and Interfax Information Service. These powerful and reputable Russian brands, compared to most well-known Western and European media organizations that cooperate with Africa.
Even not quite long, that was in November 2018, the State Duma, the lower house of parliamentarians, called for an increased Russian media presence in African countries, while Russia has closed its doors in offering opportunities for Africa media representation in the Russian Federation.
During the meeting that was scheduled to brainstorm for fresh views and ideas on the current Russia-African relations, State Duma Chairman Vyacheslav Volodin told Ambassadors from African countries: "it is necessary to take certain steps together for the Russian media to work on the African continent."
"You know that the Russian media provide broadcasting in various languages, they work in many countries, although it is certainly impossible to compare this presence with the presence of the media of the United States, United Kingdom and Germany," Volodin said, and promised that the State Duma would create the necessary legal basis for this long-term media cooperation.
Experts say that neither Russia has an African media face nor Africa has a Russian media face. Thus, in the absence of suitable alternative sources, African political leaders and corporate business directors depend on western media reports about developments in Russia and from the developed world.
Interestingly, the Russian Foreign Ministry's Information and Press Department has accredited media from Latin America, the United States, Europe and Asian countries, and only two African media came from the Maghreb region (Morocco and Egypt) in North Africa.

The official information presented during the first Russia-Africa Summit, held in October 2019, explicitly showsed the degree of priority given to African media. Some 300 media bureaus from 60 countries are currently operating in Russia, including 800 foreign correspondents while there are only two African news bureaus from Egypt and Morocco, according to Artem Kozhin, who represented the Russian Foreign Ministry's Information and Press Department, at the panel discussion on media.

According to his interpretation, this extremely low representation of African media hardly meets the level of current dynamically developing relations between Russia and Africa. "We invite all interested parties to open news bureaus and expand media cooperation with Russia," Kozhin said at the gathering, inviting Africa media to Moscow.
Nearly all the panelists noted precisely that western media dominates in Africa. "Often times, unique news offerings created by the Russian media simply do not make to the users and viewers in many regions, including Africa. Evidently, this vacuum gets filled with one-sided information from other players in the media market. This information can be biased, or outright hostile towards Russia and residents of other countries," said Mikhail Bogdanov, Deputy Minister of Foreign Affairs of the Russian Federation and Special Presidential Representative for the Middle East and Africa.
During the Russia-Africa Summit, Professor Alexey Vasiliev, the first appointed Special Representative of Russian President for Relations with Africa (2006-2011) and currently the Head of the Center for African and Arab Studies at the Peoples' Friendship University of Russia (2013-2020), told the audience there in Sochi: "Africa is largely unaware of Russia, since African media mainly consumes information the Western media sources and then replicates them. And all the fake news, the Rusophobia and anti-Russian propaganda, spread by the western media, are repeated in the African media."

"Measures are needed to enable us to better understand each other," suggested Professor Vasiliev, who regularly advises the Presidential Administration, the Government of the Russian Federation, both chambers of the Federal Assembly, and the Russian Foreign Ministry.
Some experts have consistently argued that Russia has discriminated against sub-Saharan Africa. That trend remains unchanged even after the first Russia-Africa Summit, in Sochi with the primary aim of helping identify new areas and forms of cooperation, put forward promising initiatives that would bring collaboration between Russia and Africa to a qualitatively new level and contribute to strengthening multifaceted cooperation between the two regions.
Let that be the acceptable case, but both Russia and Africa have basic questions that still need quick answers. The questions raised at the panel discussion on media in Russia-Africa gathering: What issues are currently encountered in the formation of the modern media landscape? What role does the media play in Russian-African relations? What are the prospects for collaboration in the information sphere? What needs to be done to develop a Russian media agenda in Africa? What is the role and place of Russia in the information space of Africa today? What role can African media play in promoting further Russia's image in Africa?
In practical terms, the highly successful spade-work was the first Russia-Africa Summit. The Russian Ministry of Foreign Affairs has to layout some new mechanisms and adopt a more favorable approach that could readily attract African media to operate in the Russian Federation.
Russia and Africa need to examine every sphere based on shared partnership interests and redefine practical approach to realizing whatever plans on media cooperation. Media and NGOs, as instruments for improving adequately public knowledge, especially on developments and emerging opportunities, have not been persuaded to match the desired future objectives and policy goals.

The stark reality is that Russia needs Africa media and Africa needs Russian media, in order for them to enlighten ties in the economic spheres, to promote a better understanding among African elites and the middle class through media reports.
Professor Vladimir Shubin, the former Deputy Director of the Institute for African Studies, explained in an interview with me that political relations between Russia and Africa as well as the economic cooperation would attract more and more academic discussions, and such scholarly contributions, in essence, would help deepen understanding of the problems that impede building solid relationship or partnership with Russia.
In order to maintain this relationship, both Russia and Africa have to pay high attention to and take significant steps in promoting their achievements and highlighting the most development needs in a comprehensive way for mutual benefits using appropriately the media, according to Professor Shubin.

"African leaders do their best in developing bilateral relations," he added. "Truly and passionately, they come to Russia more often than ten years ago, but a lot still has to be done; both Russian and African media, in this case, have a huge role to play."

Perhaps, one of the reasons why some African leaders appear to have "written off" Russia has been lack of adequate information about Russia, or rather plenty of distorted information they have received from the Western media coverage of Russia, Professor Shubin concluded.
"Russian media write very little about Africa, what is going on there, what are the social and political dynamics in different parts of the continent. Media and NGOs should make big efforts to increase the level of mutual knowledge, which can stimulate interest for each other and lead to increased economic interaction as well," said Fyodor Lukyanov, Editor-in-Chief of the Journal 'Russia in Global Affairs' and also the Chairman of the State Council on Foreign and Defense Policy.
"To a certain extent," Lukyanov said, "the intensification of non-political contacts may contribute to increased interest. But in Russia's case, the main drivers of any cooperation are more traditional rather than political interests of the state and economic interests of big companies. Soft power has never been a strong side of Russian policy in the post-Soviet era."
Similarly, Bunn Nagara, a Senior Fellow of the Institute of Strategic and International Studies, member of the Valdai Discussion Club, has observed that "Russian businesses face a number of challenges. First, there is little information available internationally about the opportunities and possibilities for partnerships between Russian and foreign businesses."

"Russia is a large country spanning both Europe and Asia. So, it can do much to bring Asian and European business linkages together and build on them. Better public relations and improved information dissemination are very important. To do this, it needs to do more in spreading more and better information about its achievements, the progress so far, its future plans, and the opportunities available," Bunn Nagara said.

Early October 2019, the Valdai Discussion Club released an ebook titled "Russia's Return to Africa: Strategy and Prospects" jointly or collectively authored by Vadim Balytnikov, Oleg Barabanov, Andrei Yemelyanov, Dmitry Poletaev, Igor Sid and Natalia Zaiser.

The Valdai Discussion Club was established in 2004, with a goal is to promote dialogue between Russian and international intellectual elite, and to make an independent, unbiased scientific analysis of political, economic and social events in Russia and the rest of the world.

The authors explicitly suggested the need to take steps in countering Western anti-Russia clichés that are spreading in Africa and shaping a narrative whereby only dictators and outcast partner with Russians. Therefore, efforts to improve Russia's image must target not only the continent's elite, but also a broader public opinion. It would be advisable to create and develop appropriate media tools to this effect.

Media and NGOs, working with the civil society, have to support official efforts in pushing for building a positive image and in strengthening diplomacy. Displaying an attentive and caring attitude towards the African diaspora in Russia, the key objective is to overcome racist stereotypes that persist in marginal segments of Russian society. Helping highly qualified educated migrants to integrate through employment. This will, in addition, showcase and shape public opinion about Africa in the Russian Federation.

According to the authors, building a more and consistent positive public opinion within Russia and Africa should be considered extremely important at this stage of relations between Russia and Africa. Should Russia assist other countries for political purposes only? Will the recipient countries be willing to lend Russia their political support, and can they be trusted? Should Russia build its partnerships exclusively based on the principle of economic expediency?

The authors wrote: "Russia will have to answer these questions as it moves towards implementing its African strategy. Its experience in working with public opinion and governments across Eurasia to shape public perceptions will come in handy in Africa."
In the context of these existing challenges, leaders on both sides have to draw a roadmap. Inside Africa, Africans have had enough of all these public debates. The time has come to make progressive changes to the current approach, create a new outlook or simply call it "media facelift" instead of maintaining the old status quo. It means taking concrete practical steps toward media cooperation, this will substantially not only broaden but deepen two-way understanding of current developments in Russia and in Africa.
The irreversible fact is that there is the need to have an informed African society, and this has to be done largely, systematically and necessarily through the media. Africa has the largest number of young people, who look at the world with open eyes and are ready for cooperation with partner countries. This is a good opportunity to inform the young generation, bring them together through knowledge from Russia, Eurasia, and Africa. According to UN forecasts, the Africa's middle class, constitutes a very huge vibrant information-consuming market, will exceed 350 million by 2025.
Paying Tribute to Mother Teresa of Somalia, Late Dr. Hawa Abdi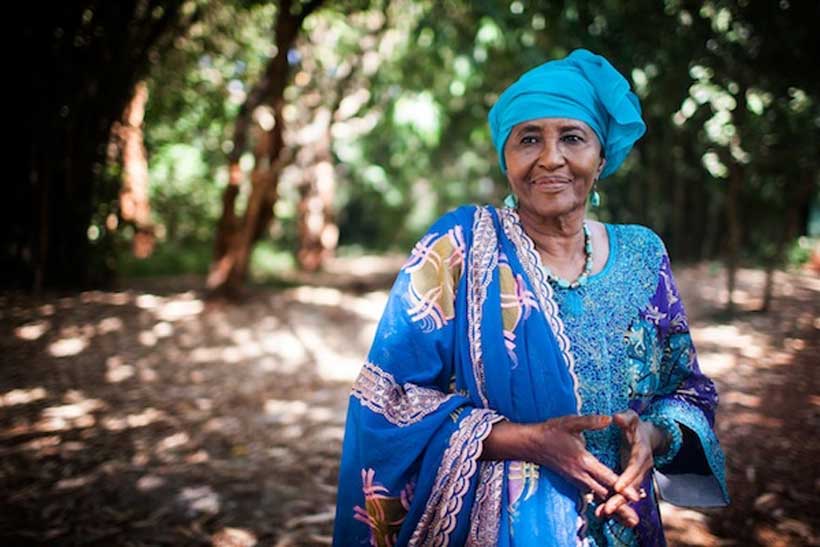 I know this earthly life is temporary, but I felt great sorrow when I heard the passing of Dr. Hawa Abdi who died at age 73 in Somalia's capital, Mogadishu. Dr. Hawa Abdi helped the helpless, the ill, and the internally displaced women and children, and the weak in war-torn Somalia for decades. She studied medicine in Ukraine and "In 1983, she opened a one-room clinic, on her family's ancestral property, which over the years grew into a settlement which hosts tens of thousands of people, mainly women and children. The settlement in the Afgooye corridor, less than 15 miles from Mogadishu, includes a hospital, a school and a refugee camp."
When Hawa Abdi was 11, her mother died due to childbirth complications, and because of the medical reason her mother lost her life, and owing to the fact that childbirth-related death was common (and still is) in sub-Saharan Africa for lack of maternity care, Hawa Abdi decided to become a doctor, especially a female gynecologist. And when the civil war broke out in Somalia in early 1990s, as many Somalis were getting displaced by the war, mainly in and around the capital, Mogadishu, more and more people, especially women and children, moved and took refuge in and around the compound of Dr. Hawa Abdi. She worked tirelessly to save lives and became a lifeline for tens of thousands of Somalis. She was not only helping the needy civilians, but the wounded of the countless warring sides in and around Mogadishu and elsewhere ended up over the years in her clinic and hospital to be treated impartially. Hawa Abdi was a selfless figure who helped her fellow countrymen and countrywomen without discriminating them based on their clan, the main malice that has been destroying Somalia for decades, the biggest factor that plunged the country into an endless civil strife.
At times, Hawa Abdi confronted the Al-Qaeda affiliated Al Shabab to save people in her camp, even when they threatened her. At certain times, some of the people in her camp fled for their lives, but she stayed in her camp no matter how dangerous it was to be fearless. That is how brave she was.
Hawa Abdi not only took risks herself, but she supported her daughters to become doctors so that they can help the needy people in their homeland, Somalia. When you look at the alternative, which is for them to live a peaceful life elsewhere, they prefer to stay in their country and help their people. This can teach the Somali people that these beautiful souls sacrificed so much by saving their fellow Somali citizens.
Hawa Abdi was a role model for millions of Somali girls and women. She braved great adversaries in life. She overcame countless challenges and showed all Somalis, even men, that one person can have a great positive impact on her country and people. She showed her African sisters and brothers, with resolve, mountains can be moved because we live in an inner-connected world where one person, one village, and one city can have a certain influence on the entire world. On the other hand, the world has become a global village, and I believe, compared to when Hawa Abdi started her venture decades ago, now we have more opportunities to do what Hawa Abdi did; the world is more connected than before, and information can be obtained faster and more efficiently. The power of the internet is amazing, and if one can have the access and ways to find and understand the right data, one can do wonderful things to change life for the better.
The news of Hawa Abdi's death shook the Somali social media world. Many Somali social media users, including me, shared their sadness on the death of this giant woman. Rest in peace!
Spilling Oil and Mosaic Racial Prejudices
My heart is heavy with prayers on behalf of Mauritius where I am blessed to be residing and working, as an oil spill catastrophe compounds the economic impacts of the COVID-19 pandemic in this idyllically beautiful though in so many ways fragile land. Thanks with ultimate love to those in many places around the world who have texted and emailed your concerns to me about Mauritius. Your prayers and positive thoughts are well needed and greatly appreciated.
This tear jerking natural disaster gives us a reflection today exacerbated with the horrible Beirut blast earlier this week and the deteriorating oil tanker in the Red Sea unattended as proxy war rages in Yemen ; and the profit motive loosening of environmental protections in America,Brazil , and elsewhere in the established and emerging West. And it is impossible for us , none of us, to escape from the web of disastrous environmental circumstances engulfing all of us whether we believe in global warming or not-the coming further biodiversity consequences of global warming adding rock salt to the wounds of and going beyond the present COVID 19 pandemic and its emerging mutations.
Whether we live in the declining North and West or in the emerging South and East in the world, or on mainlands or on islands, the climatical catastrophes are now causing us all to be jolted rudely out of our beds of complacency.We are being forced to open our eyes without the time to indulge in the luxurious privilege of rubbing them to get the sleep out of our dropping post-dreamland eyelids.
What more will it take for we human beings to realize and act constructively about the sobering fact that physical environments and the non-human lives within them and what we human beings do to them have real consequences at all times.We can never afford to waste one minute ignoring anything or being careless when it comes to our environments and to non-human living animals and plants. No matter where we are or stand in any society especially one which claims to be a democracy ,we can never afford be sleep at the wheel.We must always be alert and be proactive and preventive rather than passive and indifferent since that which is a tranquil paradise environment or a scenic port or luscious green forests or beautiful spacious plains and even impoverished and wealthy rural and urban living spaces can in the blink of an eye go up in explosive environmental and life taking smoke or toxic spill.
It is one thing when such environmental and life taking destructions occur beyond our human control such as an earthquake or cyclone or hurricane or volcanic eruption so long as preparations by governments and communities are made so when some mass destructive catastrophe does occur everyone no matter their wealth or poverty and cultural background are all taken care of the same quality of life way.It is the most tragic mass catastrophe which occurs when it is due to governments and communities having the ability to develop natural disaster preparation capacity though don't bother to do so or ignore the warnings of citizens and noncitizens since for demographic reasons they do not have the respect of the powerful to be listened to and heard for urgent action.Thus when the natural disaster comes those in government, private sector, and civil society power are caught flatfooted and the entire society comes to suffer in one way or another. We all become victims of our own negligence within not outside our control.
In the midst of and in the aftermath of any natural disaster be it beyond or within human control there invariably is raised in these global social media days the human rights concern of the uneven ways the mass catastrophe affects the quality of life of impacted populations. This is especially the case for the quality of life of mass natural disaster effects on historically excluded and marginalized populations. In Mauritius it is the issue of African Kreoles; that is, those Mauritians with African descent heritage who acknowledge their heritage though realizing there are many Mauritians of Indian, English, and French descent with African heritage though not acknowledged let alone in more cases than a few, even known.
Yesterday evening one event I attended in the nearby Town of Rose Hill, not cancelled due to the impending oil spill disaster, was the first ever public conversation in Mauritius about racial prejudice in this otherwise island paradise. Though there was the predicted attempt by some speakers to dilute the issue by speaking about other kinds of non-racial social prejudices ,the focus appropriately always came back to systemic and structural anti-Afro- Kreol prejudice in this land most apparent in the public and in the corporate private sectors and in interracial dating, marriage, and family formations in relation to Afro-Kreols . Paradoxically people here in Mauritius are so closely knitted and friendly though can be so deeply historically divided in their racial prejudices ( Though treated kindly as a brother in most private and public places I have been in Mauritius, I have not been totally immuned from anti-Black racism before or/and after I have opened my American sounding mouth.For instance , consider the Indian doctor seeing me for the first time asking me if the "Professor " before my name was my actual title or a nickname– well we know Black people, especially older or younger men ,no matter their nationality are not well educated and love nicknames like Prof and Doc, right?🤭😊).
Most of the speakers tried to link their concerns about historical and contemporary anti-Afro-Kreol racial prejudice to the globalizing U.S.George Floyd and Black Lives Matter protest movements supplemented with American peace songs.Just as much there could have been needed attention given to how the oil spill disaster is a tragic reminder of the historic Afro-Kreol fishing industry and how much it has been excluded from especially corporate domestic and global trading markets and trends towards importing fish from other countries than from their own largely Black fishermen.
But it was a good start especially with so many young people present..the future of this nation with such potential to become incredibly great. Have to start somewhere in discussing publicly such a delicate paradoxical blemish in a society with aspirations to be a big league nation in a world where any form of racial prejudice will ultimately impede the dreams of lofty national ambitions.
In moving forward from last night's first public try to have a conversation about anti-Afro-Kreol racial prejudice and as the gallant efforts to contain the drifting oil continue, there is the chronic need of a more comprehensive national restorative justice initiative involving government and local community leaders developing platforms to have difficult transparent conversations to address the deep societal ugliness captured in what an Afro-Kreol sage told me soon after my arrival: as one Mauritius poet said: Mauritiuians grow two things: pineapples and prejudices.
Though Mauritiuians are indeed nice and kind in public and in their numerous festivals and religious celebrations, what is expressed way too often behind closed doors and in private and public unspoken or spoken preferences in who gets what when it comes to power and privilege and to decent quality of life ( including recruitment invitations to faith communities) are totally different stories. The mosaic spillings of racial prejudices in Mauritius hidden and usually when mentioned explained away under the guises of words like communalism and religion or through mere pretending that such degradation while happening don't happen, is a slow cancer eating away at the soul of this truly lovely nation which needs to be brought to the surface and made to cease.That is ,if the nation wants to become in substance, not just in global measures of development, a big League global democracy. The mosaic of racial prejudices against Afro-Kreols, African and Asian immigrants,Chinese, Francos, British,Indians, Christians, Muslims, and Hindus in Mauritius has created and sustained very much taken for granted divisions of marginality and exclusion in public and private spheres of Mauritius life which wastes human resources, and create social and emotional distance anxieties and fears and contributes tremendously to brain drain of the highly talented though with devalued demographics migrating elsewhere . Unless this mosaic of deeply rooted racial prejudices is thoroughly publicly addressed, acknowledged, and properly processed and resolved through authentic restorative justice public policy designs and effectively monitored in implemented in the midst of the bare wires of racial inequality being exposed in the midst of the COVID-19 pandemic and now oil spill crisis tainting tourist attracting beaches with obvious racialized winners and losers who always win and lose here wasting human and material resources in so many ways in the process, what will Mauritius be say next year let alone say 10 years from now as a highly vulnerable island state with such high profile ambitions of being a big league African democracy in the world?
And of course from a global perspective, Mauritius ,in reflecting about this big intricate question, is a case study for the rest of the world as most of us around the globe are in the midst of environmental disasters with such dire consequences for most of us residing in such unequal societies.If it is not racial prejudice, it is prejudices premised on age, caste, culture, ethnicity, gender , language, nationality, religion ,socioeconomic status or stateless status, which construct the false dehumanizing walls which keep us apart and degrade our views of others and of ourselves about human capacities to contribute to the well being of the societies we develop, sustain, and change. And then when natural disaster hits elites in private and public sectors are either prepared to address the needs of the most privileged while at best emergency crumbs are tossed to the least among us( e.g. the pathetic COVID 19 pandemic economic aid distributions with the predictable racial disparities, in the States though virtually all over the world).Or through ignoring what the usually ignored forewarn about possible future natural disaster due to the color of their skin or ancestry or some other source of demographic degradation, such as per chance being Afro-Kreol fishing men and women expressing concern about the tilting grounded ship …and now we see.
Every competent voice in every society is needed and it endangers society when needed competent voices are categorically ignored and otherwise devalued. Otherwise we can venture into waters with oil slick streaks and do so totally un- necessarily with long lasting if not permanent catastrophic consequences for all of us especially for the most vulnerable and underprivileged but for all of us.
Russia's Lukoil Finds A New Home In Senegal
Undoubtedly, a number of Russian companies have largely underperformed in Africa, which experts described as primarily due to multiple reasons. Most often, Russian investors strike important investment niches that still require long-term strategies and adequate country study. Grappling with reality, there are many investment challenges including official bureaucracy and technical hitches in Africa.
Lukoil, the largest Russia's oil company, has had a long history, going forth and back with declaration of business intentions or mere interests in tapping into oil and gas resources in Africa. In the past, Lukoil have said in separate reports about its business deals in a number of African countries including Ghana, Cote d'Ivoire, Sierra Leone and Nigeria. These are coastal countries on the Gulf of Guinea (Atlantic Ocean) in West Africa.
Besides technical and geographical hitches, Lukoil noted explicitly in its official reports that "the African leadership and government policies always pose serious problems to operations in the region." It said that the company has been ready to observe strictly all of its obligations as a foreign investor in Africa.
Lukoil has moved to Senegal. Predominantly rural and with limited natural resources, Senegal is classified as a heavily indebted poor country, with a relatively low Human Development Index. Most of the population is on the coast and works in agriculture or other food industries. Other major industries include mining, tourism and services.
Energy is produced by private operators and sold to the Senelec Energy Corporation. According to a 2020 report by the International Energy Agency, Senegal had nearly 70% of the country connected to the national grid. Current government strategies for electrification include investments in off-grid solar and connection to the grid. Senegal has a population of approximately 15.9 million.
In spite of that, business is business. Quite recently, Lukoil, one of the largest Russia's oil companies, publicly declared that it finally concluded an agreement with Cairn Energy PLC to acquire a 40% interest in RSSD (Rufisque, Sangomar and Sangomar Deep) project in the Republic of Senegal for $300 million in cash.
The agreement provides for potential bonus payment to Cairn Energy PLC of up to $100 million after the commencement of production. The transaction is subject to customary conditions, including the approval by the Government of the Republic of Senegal.
The blocks of the project covering 2,212 sq. km are located on the deepwater shelf of the Republic of Senegal 80 km from the shore with the sea depth of 800-2,175 meters. The blocks include two discovered fields: Sangomar and FAN.
The Final Investment Decision (FID) on the Sangomar field was taken early 2020 and the field development has begun. According to the Company's estimates, the recoverable hydrocarbon reserves of the Sangomar field total approximately 500 million. The field is planned to be launched in 2023, with designed production level of 5 million tons of crude oil per year.
The RSSD project is currently implemented under a production sharing agreement. Woodside is the project's operator with 35% stake. Other participants are FAR (15%) and state-owned company Petrosen (10%).
"Entering the project with already explored reserves at early stage of their development is fully in line with our strategy and allows us reinforcing our presence in West Africa. Joining the project with qualified international partners will allow us to gain additional experience in development of offshore fields in the region," said Vagit Alekperov, President of PJSC Lukoil.
It has, however, one success story. Lukoil company's operations in the Republic of Ghana where it has focused on upstream exploration. The reserves evaluated on the blocks proves to be sufficient for their industrial development.
On the opposite side, Russian news agencies reported that Lukoil exited projects in Cote d'Ivoire, where it had led exploration in the deep offshore. The company confirmed the information about leaving the projects to TASS News Agency.
In August 2015, Lukoil also pulled out of the oil and gas exploration and drilling project that it began in Sierra Leone. According to Interfax, a local Russian News Agency, the company did not currently have any projects and has backed away due to poor exploration results in Sierra Leone.
It reported that drilling in West Africa, including Côte d'Ivoire and Sierra Leone, did not bring Lukoil the expected results, as preliminary technical results did not demonstrated commercial hydrocarbon reserves. According to official reports, Lukoil has been active in a number of countries with a high level of political and economic risks that could significantly complicate the work of the company in a particular region, and even lead to its termination.
Russia's Lukoil is one of the world's biggest vertically integrated companies for production of crude oil and gas, and their refining into petroleum products and petrochemicals. The company is a leader on Russian and international markets in its core business and its key mission is to harness natural energy resources for human benefit and supports long-term economic growth, social stability, prosperity and progress in the regions where it operates.