Don't avoid what is easy – diplomacy meets art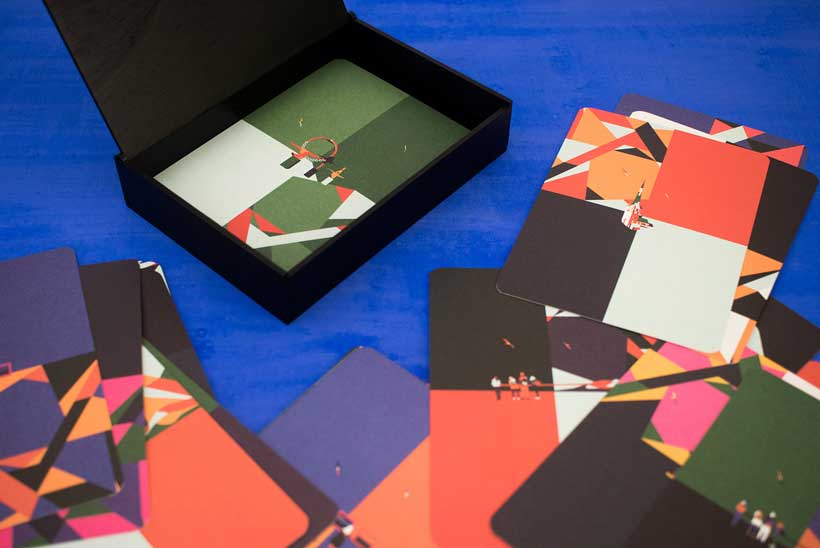 Individuals should and need to feel like they have the right to want. That is the message that artist Anastasia Lemberg-Lvova is continuously expressing through her artwork. Exemplifying socially-engaged art, Lemberg-Lvova aims to be a part of a much broader political movement which discusses important historical and modern-day social processes through creative means.
The second-wave feminist movements from the 1960s is one example of such a powerful movement. With their infamous quote, 'The personal is political', authored by millions of voices of women collectively rather than one feminist author, the message that every individual has the right to a voice was heavily stressed. As personal experiences took center stage and the individual became a political platform during the feminist movements, crowds of individuals also gained new meanings of courageous collectivity. Ultimately, the movement gave opportunity for previously ignored and taken-for-granted personal circumstances to be framed in a bigger picture – a picture that women as minorities were often left out of.
Continuing to portray the central message that movements such as the feminist strikes and many other historical crusades have fought for, Lemberg-Lvova uses her own art to focus on the younger European generation, highlighting the vast diverseness of the voices that live in Europe and sending a bold message that evidences a heterogeneity which needs to be more thoroughly discussed amongst the European community. With her projects, she is able to recognise the ways in which the systemic infrastructures that exist around the individual leave them feeling insecure or insignificant in relation to their voice and its right to exist in public. By initiating healthy conversation and focusing on this very elemental act of daring to express one's desires towards public space, she has created a platform that encourages individuals to learn to voice their opinions more often, ultimately leading the person to be engaged as the multiplicities of voices are amplified to lead to more diverse discussion and perhaps outcomes.
Her exhibition, 'Don't Avoid What is Easy', on show from August 14th – September 9th at the Freedom Gallery in Tallinn, Estonia, is thus the result of 2 years of research conducted mainly through interviews of younger generation individuals during her own expenditures through Europe. Although seemingly humble in its outcome as portraits, there is a strong message behind Lemberg-Lvova's work, depicting the notion that we should feel more confident to voice our opinions about our public surroundings, Lemberg-Lvova uses art and representations to give a voice to over 100 participants from 24 European countries.
By painting vibrant oil portraits of a selected 7 individuals whom she interviewed, she touches on the concept of art and its political capacity by explaining "There will be portraits of participants with a visual interpretation of their wish as the background. The experience of, as we often say, "putting a face to a name" has a profound effect and is more intuitively understood than just going through text or trying to grasp abstract ideas. Painting as a form of expression is immensely malleable and useful when getting ideas across."The desire to initiate discussion and give it a platform within the context of a gallery means Lemberg-Lvova's art is inherently social and public. These qualities make for an intriguing space where the audience can identify small changes that resemble the tip of a much bigger iceberg– or at least the ignition of confidence and curiosity.
This focus on the first and easiest step sometimes being the hardest is something of great importance for Lemberg-Lvova as she explains "An inhabitant of a city logically has the right to express ideas or wishes when it comes to their surroundings – it is, after all, their home. But they are often stuck in the belief of not being able to change anything. In this instance, I am not talking about taking action or creating a plan. This is about the simplest first step that does not require anything – feeling like one is entitled to express a wish. It doesn't have to lead anywhere; just remember that you have the right to want something. What follows is a different matter, but it is clear that nothing will happen without this first step."
An interactive wall installation where participant answers are projected for all to see will pay homage to the importance that Lemberg-Lvova holds for communities to listen to the expressions of their surrounding civilians. She explains "From an early age, our heads are flooded with subliminal messaging and that often diminishes internal self-worth. Let me explain this from the point of view of a woman – a frame of reference I am most familiar with. As a woman one feels that unless they have perfect dazzlingly white teeth, flawless hair, a tiny waist and the right kind of shoes they are not worthy of expressing an opinion. Because if you do not fulfill all of the criteria above, no one will listen to you or even consider you worthy of attention. This is a cliché, yet it exists because it is true. It describes the reality of many women, because we are surrounded by sources reaffirming it – adverts, friends, sometimes parents or spouses, fitness centers and the list goes on. At the exhibition, I am striving to fill the space with messaging that reiterates one's right to express their wishes whoever they are."
Her message is clear – we should not avoid formulating our wishes in matters that concern us. Her persistence to initiate discussion and to give it a platform within the context of a gallery means her art is inherently social and public. These qualities make for an intriguing meeting space for the artist as well as her audience amongst each other.
Open Studio at Kogo Gallery, Widget Factory (Aparaaditehas), Tartu, Estonia: 08.07-01.08
Exhibition "Don't Avoid What is Easy – Diplomacy meets art"at Vabaduse Gallery: 14.08-09.09
*Valeriya Billich also contributed to this article. Photos:Mariia Nedosekova
Experiencing Chinese Society and Culture
Today Chinese Culture and society is a combination of ancient traditions, customs, and modernized developed and also westernized lifestyle. The Chinese culture and traditions are ancient, its history has huge diversity and variety. Historically, Chinese society is rich in arts, science, and literature. The culture of china has maintained its unique identity till the beginning of western culture in the 19th century. The historical influence of Confucianism, Taoism, and Buddhism is the reflection in Chinese society and culture. Confucianism spread the love and rituals to give respect for society and social hierarchy. The characteristics of Chinese culture unchanged over the period despite the influences and several invasions from the outside. The philosophy of Confucianism stressed that people could be good if they follow the moral principles and made the rituals that respected the gods. In the hard times and war times, Confucianists emphasized carefully follow the traditions that could maintain unity within the society. historically, several Chinese rulers have adopted the core principles of Confucianism. During the Hans dynasty, Emperor Wu had encouraged the hierarchical social structures, the Emperor believed these principles would bring and also maintain the social harmony within the Chinese society throughout history. The Confucius philosophy was dominant during the Hans dynasty in ancient China. during this period the core principles were flourished and reached within the societal structures. The state ideology was based on Confucius's philosophy, it has improved the societal values and norms. During 500BC the teachings of Confucius have played an important role in shaping the character of Chinese society, shaping behavior, and the way of life of Chinese people. The main objective was to achieve societal harmony and social norms and values. Another core principle and value of Confucianism is forgiveness, compassion, and tolerance. Even today, Chinese society and academicians give immense respect and also promote the core principles of Confucius's philosophy.
Modern Chinese society and culture are rapidly influenced by western cultural values and traditions. It's quickly changing nowadays with popular American culture and other cultures of the world. The youth in urban areas are more influenced by popular western culture. Their lifestyle although reflects their wish to adopt the world's popular culture. This is the 21st century and era of globalization, no society in the world is pure now. The free flow of information through different sources of media has been influenced by the societal existing order. So the modern Chinese society especially in urban areas, developed cities are more likely to become modern, acceptance of new cultural values, lifestyles and easily adopt it.
Personally, it is my observation so far, I interact with general people in the market, train stations, shops, many other public places. The people more like to open to the world now. The youth want to interact with other cultures, curious to know about other people thinking, ideas. But in rural areas and the countrysides there still traditional societal norms and values exist. The people have strong connections with their family backgrounds and also the Confucianism. The strong family system, the hierarchy with the society, and obedience exist.
Here I want to share an example of Chinese modesty when I was doing volunteering in Wuhan railway station, the general people came to me and tried to speak, I just can speak, hello, thank you, bye-bye in Chinese, but still, they are complimenting on my excellent Chinese by saying that (your Chinese is very good). The Chinese people are excellent compliment givers and encouraging other people to learn. They never discourage, although they complement that, you are handsome, wow your nose is so big it's beautiful. Indeed the traditional Chinese traditional food, delicious and also healthy. The hotpot, although its too much spicy but its interesting to eat in the winter season.
In the winter season, when chilly temperatures and frigid winds prevail over the land, people like to eat food that instantly warms their bodies and lifts their spirits. For that, the hot pot is a delicious and hearty choice. Families or groups of friends sit around a table and eat from a steaming pot in the middle, cooking and drinking and chatting. The hot pot is not only a cooking method; it also provides a way of eating, it is also a cultural mode.However China has opened its doors to the world now, it means that society is more sophisticated and also the acceptance of new ideas and thinkings. The youth want to interact with the world and also want to contribute to the peace and development of the world's underdeveloped societies. The philosophy of Confucianism works here, dominance in every sector of society.
I would like to conclude by one sentence that yes there should be accepted for new ideas and values but also should promote their societal rich traditions and values to the world.
Rising Pak-Turk Cultural Diplomacy: "Dirilis Ertugrul"- The Prime Catalyst
Amid massive success of famous Turkish drama series Dirilis Ertugrul, also titled as Resurrection Ertugrul in English for Netflix, is both a fictional and historic story based on the life of father of Osman I; Ertugrul Ghazi- set in 13th Century made records across Pakistan in terms of its views and popularity. It gained massive fan-following among all age groups inspiring them to value integrity, steadfastness and have faith. The current Prime Minister of Pakistan Mr. Imran Khan urged people to watch this series to increase their knowledge about the glorious history of Muslims and true essence of Islam and learn from it. The high-budget drama got dubbed in Pakistan's national language; Urdu, therefore reaching mass audience.
The viewership of the series shoot up primarily during the month of Ramadan. As a result not only did the people of Pakistan get enlightened and entertained but also the state television earned huge profits. Most importantly it boosted cultural, media and public diplomacy between two Muslim countries; Turkey and Pakistan. The drama serial promoted people-to-people contact, join forces for mutual media and cultural ventures and promote Pak-Turk Tourism, and last but not the least – strengthen relationship between the Muslim countries purely based on love and mutual respect. Therefore, establishing a strong mutual alliance is raison d'être for these potential efforts by the both ends. Pakistan having a strong support-system in Europe and for Turkey to have in South Asia is a prerequisite for both to counter the future challenges – as it has become the need of times keeping the geopolitical dynamics in perspective. Speaking of challenges – Saudi Arab; with whom Pakistan's relations are already struggling – expressed their reservations regarding the broadcasting of Turkishdizi (dramas) in Pakistan. Irked by the success of Dirilis Ertugrul – Saudi Arab has come up with their own counter narrative version of historical series titled, "Kingdom of Fires", with an aim to combat Turkish cultural invasion and growing global influence. Fatima Bhutto, in her article for Foreign Policy, 'How Turkey's Soft Power Conquered Pakistan', says that in contemporary times – Turkish dramas has come second only to American ones, otherwise it has toppled the previously most viewed languages in the world, such as, French, Spanish, and Mandarin. Turkish has now become the most watched language worldwide.
Acknowledging the blockbuster success, the lead actors visited Pakistan receiving a warm welcome, immense praise and love from people. The actors too expressed their gratitude and happiness. Several lead actors of the super-hit series namely Engin Altan Duzyatan aka Ertugrul, Cavit Çetin Güner aka Dugan Bey, Nurettin aka Bamsı and Ayberk Pekcan aka Artuk Bey etc.on their short visits met selected Pakistan's media personnel henceforth expressed their willingness to strengthen the cultural bond by collaborating with each other in future media-based projects and bring together the people of the two nation. Rumor has it – both the Muslim countries are already in talks to come forth with a Pak-Turk TV series; a Pakistan-original with joint efforts for the project by Ansari Films and TRT Films named, "Lala Turki", commemorating the Khilafat Movement – with an ultimate aim to aware the unaware about the legacy of Islam.
It must be mentioned here that it is not the first time that any Turkish drama series had been aired in Pakistan. The trend was set few years back by URDU 1 channel which ran mostly Turkish dubbed dramas in Urdu so that people of Pakistan would also get a taste of Turkish flavor of serials. It gained massive popularity. Thereon, the trend to air Turkish productions became a new normal. Another series that gained massive popularity was "the Magnificent Century" locally known as "Mera Sultan". This was run by the channel Geo Kahani. The trend of Turkish dramas never seized till date. However, what "Dirilis Ertugrul"managed to do in this past year can't be matched. This is the only drama that started involving the two nations on diplomatic level and opened up new ways for collaboration among the brother countries. It helped people realize that not only the flags but the hearts of the two nations are also very similar united by a shared magnificent past and a hope for an incredible future.
New European Bauhaus: Commission launches design phase
Commission launched the design phase of the New European Bauhaus initiative, announced by President von der Leyen in her 2020 State of the Union address. The New European Bauhaus is an environmental, economic and cultural project, aiming to combine design, sustainability, accessibility, affordability and investment in order to help deliver the European Green Deal. The core values of the New European Bauhaus are thus sustainability, aesthetics and inclusiveness. The goal of the design phase is to use a co-creation process to shape the concept by exploring ideas, identifying the most urgent needs and challenges, and to connect interested parties. As one element of the design phase, this spring, the Commission will launch, the first edition of the New European Bauhaus prize.
This design phase will lead to the opening of calls for proposals in autumn this year to bring to life New European Bauhaus ideas in at least five places in EU Member States, through the use of EU funds at national and regional level.
European Commission President, Ursula von der Leyen, said: "The New European Bauhaus is a project of hope to explore how we live better together after the pandemic. It is about matching sustainability with style, to bring the European Green Deal closer to people's minds and homes. We need all creative minds: designers, artists, scientists, architects and citizens, to make the New European Bauhaus a success."
Mariya Gabriel, Commissioner for Innovation, Research, Culture, Education and Youth said: "With the New European Bauhaus our ambition is to develop an innovative framework to support, facilitate and accelerate the green transformation by combining sustainability and aesthetics. By being a bridge between the world of art and culture on one side and the world of science and technology on the other, we will make sure to involve society as a whole: our artists, our students, our architects, our engineers, our academia, our innovators. It will kick-off a systemic change."
Commissioner for Cohesion and Reforms, Elisa Ferreira commented: "The New European Bauhaus is about how we live together, our values, our common spaces of work and leisure, our collective and private experiences. This is a project for all regions and territories in Europe. In promoting affordable solutions, it should contribute to social cohesion and to solving housing problems. If we want to bring real change around us – for a more beautiful, sustainable life together, we need to think about how the New European Bauhaus can bridge the generation of new ideas with implementation in physical places. We are therefore exploring across the Commission how our tools could be mobilised to launch a first set of concrete New European Bauhaus actions."
Background
The New European Bauhaus is a creative initiative, breaking down boundaries between science and technology, art, culture and social inclusion, to allow design to find solutions for everyday problems.
On the dedicated website launched today, artists, designers, engineers, scientists, entrepreneurs, architects, students, and all interested people can share examples of inspiring achievements for the New European Bauhaus, their ideas about how it should be shaped and how it should evolve, as well as their concerns and challenges.
This is the beginning of an innovative co-design process. Organisations that want to put more effort into their engagement in this process can become 'Partners of the New European Bauhaus,' by responding to the call on the website.
In the coming months, the Commission will award prizes to existing examples that represent the integration of the key values of the initiative, and that may inspire the discussions about, and the transformation of, the places where we live.
In the next phase of the initiative – the 'delivery' phase, five pilot projects will be set up to co-design new sustainable and inclusive solutions with style. The objective of the third phase – 'dissemination', is to spread the ideas and concepts defining the New European Bauhaus via new projects, networking and sharing of knowledge, in Europe and beyond.