Comprehensive sexuality education protects children and helps build a safer, inclusive society
Sexuality is an integral part of human life. Children and young people have the right to receive reliable, science-based and comprehensive information about it. Yet, sexuality education in schools is a sensitive issue. Ever since it was first introduced in European school curricula in the 1970's, parents, religious leaders and politicians have been arguing, often in highly polarised debates, about how much, and what should be taught at what age.
Many Council of Europe member states have made considerable progress over the last decades towards delivering such education and improving its content so that it goes beyond biology and reproduction and truly equips children with knowledge about their bodies and their rights, and informs them about gender equality, sexual orientation, gender identity and healthy relationships (an approach often referred to as comprehensive sexuality education).
A renewed resistance to sexuality education
Despite overwhelming evidence that comprehensive sexuality education benefits children and society as a whole, we currently face renewed opposition to the provision of mandatory sexuality education in schools. Such resistance is often an illustration of a broader opposition to the full realisation of the human rights of specific groups, in particular women, lesbian, gay, bisexual, transgender and intersex (LGBTI) persons and, to some extent, children themselves, on grounds that it would threaten traditional and religious values.
In 2019, a draft bill labelled "Stop Paedophilia" was put forward in the Polish Parliament by a group of citizens. It envisages the introduction of harsh penalties – including possible imprisonment – for anyone acting in the educational context or on school premises who "propagates or approves the undertaking by a minor of sexual intercourse or any other sexual act". I expressed serious concern that the bill may be used to effectively criminalise the provision of sexuality education to school children. Most recently, the President of Poland, running for a second term, made it a campaign pledge to essentially forbid schools from teaching LGBT issues in sexuality education classes. Last year, in Birmingham (UK), religious communities and parents organised protests in front of schools that were providing information about same-sex relationships and transgender issues to their pupils. The recent adoption, in June 2020, by the Romanian Parliament of a bill repealing the mandatory provision of comprehensive sexuality education in school curricula is yet another example of this renewed opposition to the right of children to sexuality education. This move came after the adoption, in early 2020, of legislation introducing such mandatory sexuality education in schools, a development which was labelled by religious organisations as "an attack against the innocence of children."
In Italy, as noted by the Group of Experts on Action against Violence against Women and Domestic Violence (GREVIO), which monitors the implementation of the Council of Europe Convention on Preventing and Combating Violence against Women and Domestic Violence (the Istanbul Convention), the government's initiative in 2015 to prepare "National Guidelines for Education to Affectivity, Sexuality and Reproductive Health in Schools" was stopped due to growing resistance to education on sexuality and the stigmatisation, often channelled through disinformation campaigns on the content of such education, of those partaking in it. In the Spanish autonomous region of Murcia, it is now possible for parents to request that their children opt out from certain classes provided by external educators, should the parents consider that the subject or the providers are not in line with their views on certain issues. This could have a negative impact on these children's access to sexuality and relationships education, as this subject, as well as other human rights education-related content, is often provided by external actors, within the context of the ordinary curriculum.
Dispelling the myths about comprehensive sexuality education
Campaigns have multiplied across the continent, disseminating distorted or misleading information about existing sexuality education curricula. They have presented sexuality education as sexualising children at an early age, "propaganda in favour of homosexuality", spreading "gender ideology", and depriving parents of their right to educate their children in accordance with their values and beliefs. Disinformation about the actual contents of the curriculum is deliberately spread to scare parents.
It is time to set the record straight. UNESCO has spelled out the aims of sexuality education as "teaching and learning about the cognitive, emotional, physical and social aspects of sexuality. It aims to equip children and young people with knowledge, skills, attitudes and values that will empower them to: realize their health, well-being and dignity; develop respectful social and sexual relationships; consider how their choices affect their own well-being and that of others; and understand and ensure the protection of their rights throughout their lives."
Contrary to what opponents claim, research carried out at national and international level has demonstrated the benefits of comprehensive sexuality education, including: delayed sexual initiation; reduced risk-taking; increased use of contraception; and improved attitudes related to sexual and reproductive health.
Sexuality education in schools is today all the more necessary as children in most cases can – and do — obtain information otherwise, in particular through the Internet and social media. While these can be useful and appropriate sources of information, they can also convey a distorted image of sexuality and lack information on emotional and rights-related aspects of sexuality. Through websites or social media children can also access scientifically inaccurate information, for example as regards contraception.
It is worth emphasising that sexuality education in schools comes as a complement to and not a replacement of what may be shared by parents at home. However, it cannot be left entirely to families. In what other field of science would we relinquish the education of our children to the Internet or families exclusively?
Comprehensive sexuality education is a powerful tool to combat violence, abuse and discrimination and to promote respect for diversity
The benefits of sexuality education, when comprehensive, go far beyond information on reproduction and health risks associated with sexuality.
Sexuality education is essential to prevent and combat sexual abuse against children, sexual violence and sexual exploitation. The Council of Europe Convention on Protection of Children against Sexual Exploitation and Sexual Abuse ("the Lanzarote Convention") requires from states that they "ensure that children, during primary and secondary education, receive information on the risks of sexual exploitation and sexual abuse, as well as on the means to protect themselves, adapted to their evolving capacity." The Lanzarote Committee, in charge of monitoring the implementation of the Convention, stressed for example that the school environment was particularly appropriate to inform about the widespread problem of sexual abuse against children within the family framework or in their "circle of trust".
The importance of sexuality education to prevent children from falling prey to sexual offenders online was highlighted during the period of confinement due to the COVID-19 pandemic. As stressed by the Lanzarote Committee, during this period, children became increasingly vulnerable to online grooming, sexual extorsion, cyber-bullying or other sexual exploitation facilitated by information and communication technologies. The Committee urged states to step up information on risks and on children's rights online, as well as counselling and support services. In this context, I note with interest that in some countries, such as Estonia, sexuality education continued to be provided as part of online schooling.
Likewise, sexuality education is crucial to prevent gender-based violence and discrimination against women. It should therefore contribute to conveying, from the early stages of education, strong messages in favour of equality between women and men, promoting non-stereotyped gender roles, educating about mutual respect, consent to sexual relations, non-violent conflict resolution in interpersonal relationships and respect for personal integrity, as requested by the Istanbul Convention.
It is also an ideal context for raising awareness about the sexual and reproductive health and rights of women, including access to modern contraception and safe abortion. Research carried out in the European region under the auspices of the World Health Organisation (WHO) indicates that the teenage birth rate tends to be much higher in countries, such as Bulgaria and Georgia, where no mandatory comprehensive sexuality education programmes are in place. Early pregnancy is not only potentially very damaging for the health of teenage girls, but it also results in serious limitations to their educational opportunities.
Existing sexuality education curricula often tend to completely exclude LGBTI people and issues, or even to stigmatise them. Yet, LGBTI youth frequently face bullying at school and are at higher risk of committing self-harm or suicide because of societal rejection of their sexual orientation. Like all other children, they should be provided with comprehensive sexuality education that meets their needs. Therefore, sexuality education must include information that is relevant to them, scientifically accurate and age appropriate. This means helping children to understand sexual orientation and gender identity and dispelling common myths and stereotypes about LGBTI persons.
By providing factual, non-stigmatising information on sexual orientation and gender identity as one aspect of human development, comprehensive sexuality education can help save lives. It can contribute to combating homophobia and transphobia, at school and beyond, and to creating a safer and more inclusive learning environment for all.
Children and young people have the right to receive comprehensive sexuality education
International human rights bodies have established that children and young people have the right to receive comprehensive, accurate, scientifically sound and culturally sensitive sexuality education, based on existing international standards. These include the UN Convention on the Rights of the Child, the UN Convention on the Elimination of all Forms of Violence against Women, the International Covenant on Economic, Social and Cultural Rights and, at European level, the European Social Charter and the above-mentioned Lanzarote and Istanbul Conventions.
The right to receive comprehensive sexuality education derives from a range of protected rights, such as the right to live free from violence and discrimination, the right to the highest attainable standard of mental and physical health, but also the right to receive and impart information and the right to quality and inclusive education, including human rights education. In a 2010 report on sexuality education, the UN Special Rapporteur on the Right to Education stressed that "sexual education should be considered a right in itself and should be clearly linked with other rights in accordance with the principle of the interdependence and indivisibility of human rights." The need for sexuality education is also acknowledged in the 2030 Agenda for Sustainable Development of the United Nations and is necessary to achieve several of the goals included in the agenda.
Key steps to improve the delivery of comprehensive sexuality education
Comprehensive sexuality education is part of a good quality education. Thus, it should be provided for by law, be mandatory and mainstreamed across the education system as of the early school years. It is of concern that, according to a 2018 survey, sexuality education was mandatory in only 11 out of the 22 Council of Europe member states reviewed.
Opponents to sexuality education often advocate for a right of parents to opt out on behalf of their children from mandatory sexuality education. However, international human rights standards on the right to freedom of religion or belief do not entitle parents to withdraw children from sexuality education classes where relevant information is conveyed in an objective and impartial manner, as also stressed in an Issue Paper on women's sexual and reproductive health and rights published by my Office in 2017. Therefore, I was pleased to learn that in January 2020, the government of Wales removed the possibility for parents to prevent their children from attending classes as part of the curriculum on inclusive sexuality and relationships.
The curricula and teaching methods should be adapted to the different stages of development of children and take into account their evolving capacity. The 2018 UNESCO International Technical Guidance on Sexuality Education covers a range of age groups, from 5 to 8 years old up to 15-18+ years old. As highlighted in UNESCO's Technical Guidance, it is essential for children to learn about sexuality and safer sex behaviours before they become sexually active, in order to be adequately prepared for healthy and consensual relationships. UNESCO also recommends using participatory and learner-centred approaches that allow children to develop critical thinking.
Information provided to children as part of sexuality education should be relevant and based on science and human rights standards. Sexuality education should not include value judgments or perpetuate prejudices and stereotypes. The European Committee on Social Rights stressed that "sexual and reproductive health education must be provided to school children without discrimination on any ground" and that it should not be used "as a tool for reinforcing demeaning stereotypes and perpetuating forms of prejudice which contribute to the social exclusion of historically marginalised groups and others that face embedded discrimination and other forms of social disadvantage which has the effect of denying their human dignity." Curricula on sexuality education should also be regularly evaluated and revised, in order to ensure that they are accurate and meet existing needs.
It is essential to provide families with accurate information about what sexuality education really entails -and what it does not- and to explain the benefits for all, not only children. Clearly, if sexuality education is to be accepted and successfully implemented, it should take into account the communities' and parents' cultural and religious backgrounds. Therefore, schools should be supported to engage with them, including as appropriate with religious leaders, and to take their views into account as long as they do not contradict the very aims of sexuality education, the best interests of the child, or human rights standards.
It is important to consult and involve young people themselves, first and foremost, to ensure that the content of education that is provided to them is relevant and adapted to their needs. Peer learning can play an important role. For example, the Ukrainian Ministry of Education decided at the end of 2019 to introduce peer education training programmes on sexuality education and HIV prevention in schools, to be delivered by an international youth organisation.
Comprehensive sexuality education should also be provided to out-of-school children and youth. This is particularly relevant for children and young people with disabilities, many of whom, unfortunately, do not yet have access to mainstream education. Their sexuality tends to be ignored, or even perceived as harmful, and they are therefore often deprived of any access to adequate information on sexuality and relationships, despite their heightened vulnerability to sexual abuse and exploitation. Online sexuality education can be a useful tool for out-of-school children, provided they have access to safe and inclusive digital spaces.
Lastly, it is of crucial importance for teachers to receive adequate specialised training and support for teaching comprehensive sexuality education, irrespective of whether part of the teaching is also carried out by external actors. Integrating training on sexuality education in regular teacher training programmes, as has been done in Estonia and Finland, is an effective way of ensuring that all teachers are adequately prepared. The delivery of sexuality education by schools should also be closely and regularly monitored and evaluated.
With challenges and resistance to sexuality education increasing, what is most needed is strong political leadership to remind society that access to comprehensive sexuality education is a human right and that it is for the benefit of all. Sexuality education is about knowing one's rights and respecting other people's rights, about protecting one's health, and about adopting a positive attitude towards sexuality and relationships. It is also about acquiring valuable life skills, such as self-confidence, critical thinking and the capacity to make informed decisions. There is obviously nothing wrong with this.
Discerning the Human Element Amid the Pandemic
"We are not human beings having a spiritual experience. We are spiritual beings having a human experience." – Pierre Teilhard de Chardin
There is something about the Covid pandemic that will be remembered for decades and centuries to come. It is not even so much the economic costs or travel restrictions per se, but first and foremost the human element that came from many people across the planet in expressing support and solidarity as well as in making their contribution to fighting the crisis. The future will harshly judge the current nationalistic/individualistic excesses that persist despite the raging pandemic. It is at times like these that the global community needs to rediscover the values of the humanist legacy and humanitarian diplomacy.
A lasting sour impression from the Covid crisis is that countries most economically advanced lacked leadership and vision in the midst of the pandemic. There could have been greater cooperation between the world's largest economies and a more emphatic reaction from global institutions/organizations as well as regional arrangements. The degree of bickering and conflict observed throughout the pandemic period suggests that the lessons of the past and the legacy of the humanist thinkers have yet to be internalized into the global community's way of thinking.
At the same time, the world is set to change as a result of the Covid experience – a longer-term perspective on economic development, the importance of social bonds and support lines, the very existence of something that lies beyond the proverbial "old normal". The rise of ESG (environment, social, governance) is one of the new trends taking hold on the back of the pandemic shock. Other themes include debt relief to least developed economies as well as provision of medical equipment and vaccines for the disadvantaged groups of countries.
Indeed, what will be remembered is the human element in international diplomacy – the sending of medical equipment, vaccines, doctors and specialists. At times, such feats were performed not by the purported leaders of the world, but by small economies with scant resources of their own. The Cuban experience in this respect is particularly telling amid the Covid pandemic – not only did Cuba provide doctors and equipment to developing countries, it also created a vaccine of its own that it furnished to its regional neighbors. It is not only the strength and the advances of the national health care system but even more importantly the ability to share these advancements with the global community that counts the most during such fateful times.
And then there is also the humanitarian diplomacy and the legacy of humanism accumulated by humanity in facing dire adversities in the past. The legacy of the humanists of the past centuries such as Pierre Teilhard de Chardin, Erasmus, Thomas More, Antoine de Saint-Exupery, Vladimir Vernadskiy. Perhaps one of the best ways to summarize this legacy from the vantage point of today's crisis is to refer to Vernadskiy's words: "Humanity has a bright future ahead if it comes to realize this and does not employ its mind and efforts to destroy itself".
What does the world community need to undertake to address the weak response to the pandemic? Nearly every major crisis faced by the world in the past was followed by a reconfiguration of global architecture, with new coordination mechanisms and new international organizations being created. Perhaps this time it is not so much about the creation of new organizations, but rather the greater responsibility that is to be taken by the major powers represented in the UN Security Council.
In particular, there may be a case for a code of conduct during global pandemics and crises to be adopted by the countries endowed with a permanent UN Security Council status. Such a code of conduct may include commitment not to resort to trade and other restrictions pertaining to humanitarian assistance or trade in medical equipment, not to resort to sanctions, as well as not to engage in military conflicts. The list of such commitments may be refined of course on the basis of the experience of the world community during the current pandemic and previous episodes of global economic crises.
In terms of academic experiences during the pandemic one of the most gratifying was the T20 meetings and discussions about how to design anti-crisis measures and support the world economy. In the context of one of the working groups Valdai partnered with the King Fahd University of Petroleum and Minerals (KFUPM) from Saudi Arabia to come up with the proposal for the G20 (that was included into the T20 communique) to create a platform for the sovereign wealth funds of the G20 nations to coordinate among other measures anti-crisis stimuli for the benefit of the global economic recovery.
In the course of the pandemic I received multiple letters of support and solidarity from friends and colleagues from various think-tanks across the globe – from Italy, from China, Argentina, US, UK, and many other countries. Often these were expressions of solidarity not only with my colleagues from Valdai, but more broadly with Russia and its people.
Whatever the grand ideas and writings coming from the many think tanks around the world, it is the simple words of support and solidarity that rang most deeply in the many exchanges throughout the past year.
I have also come to know volunteers working nightshifts in Moscow city hospitals to fight the Covid pandemic during whatever time they have left from their main (and rather intensive) work. Not surprisingly, these people exhibiting self-sacrifice during the height of the pandemic also express the longing for an inter-connected world, with greater solidarity and people-to-people contacts across the globe.
It is that kind of human solidarity that generates the energy to make further strides ahead whether as an individual or as a country or a global community. The energy and the will to persevere amid adversity, to stand above the "vaccine nationalisms", protectionism, sanctions and war-mongering, to look into what is ahead and discern a better world for future generations. As Pierre Teilhard de Chardin wrote, "the future is more beautiful than all the pasts".
From our partner RIAC
Feminist perspective of the War,Peace and Politics in International Relations
India is a land where Mahatma Gandhi and his ideas of non-violence were born, but it is also the land where Mahatma Gandhi was assassin by Godse for preaching 'Feminine' 'non-violent' politics and for making Indian men less 'manly' by promoting peace. Masculinity is a social definition given to men and boys in society, it is associated with strong, powerful, brave, and macho characteristics. The understanding of security is limited for many years in International relations(IR) and hence the understanding of a secured state is associated with a leader who has masculine characteristics capable of handling security.
Politics across the world is understood in the terms of power and strength of the leader and other masculine characteristics associated with being 'manly' enough to control a state. While feminine characteristics are associated with weak, soft, and gentle behavior, even when women are elected as leaders, they are expected to hold strong manly characters to stay in politics. Indira Gandhi, the first female prime minister of India, prefer being addressed herself as 'sir' and her policies did not include a gender perspective.
In Gender, Justice and the Wars in Iraq (2006), Laura Sjoberg demonstrates that women's presumed status as innocent civilians make wars harder, not easier, for them, by defining them as protected without regard for their actual safety . On Iraq's economic sanctions, feminist insights from the study of economic sanctions as the war in international relations are not only valuable for their contribution to IR's theories of sanctions, but also for their generalizability to IR's crucial questions, such as what constitutes foreign policy, what counts as war, and how war affects people
Feminists see that war and military are often threats to women's and other vulnerable groups' security as they are competitors for scarce resources during and after a war on which women may depend more than men, instead of seeing military power as part of a state's defense against security threats from other states, it should be seen as a product of patriarchy. The large defense spending on soldiers and military weapons rather than creating a safe society for women at home or spending on climate action that could create safer lives for women is an example of a masculine approach to war.
The feminist approach in IR demonstrates how the security of individuals is related to national and international politics and how international politics impacts the security of individuals even at the local level. IR feminist theories focus on social relations through gendered lens,rather than power relations or anarchy, they see an international system constituted by socially constructed and gender hierarchies that contribute to gender subordination rather than traditional understanding of security.
In 2019 In the Lok Sabha elections of India, Narendra Modi, and his party used his 56-inch chest in the election campaign to associate his capability of handling the security of India with 'manly' characteristics. While more than 3 lakhs of children die due to starvation in India every year, the Indian prime minister wins elections by boasting about his 56-inch chest capable of defeating terrorists. Feminists believe that the social construction of masculine characteristics is reflected in politics especially in IR because political theory and practice are both dominated by men. The understanding of war and violence is also associated with men, it praises soldiers, diplomats, and leaders that promote protection from war.
Modern Enlightenment science has incorporated a belief system that equates objectivity with masculinity and a set of cultural values that simultaneously elevates what is defined as scientific and what is defined as masculine. The western liberal and realist understanding of masculinity and politics are limited and discriminatory towards women. While the world is facing nationalism wave in politics, leaders like Narendra Modi, Donald Trump and Putin promote a masculine idea of Security in the world to protect their national interest and secure nation through military expansion.
The understanding of security, war, and politics are interlinked in creating the foreign policy of a country. In a country like India, the United States, or Russia where leaders promote masculine characters through their election campaigns, where the state controls the reproductive decisions of women, or in a country like India where weapons are worshiped, the foreign policy and politics of the state are influenced by masculine characters and are valued for national security.
Rape, domestic violence, harassment against women in their own country is not subjected to war but a traditional understanding of the war in IR as feminists have pointed out is as if women require protection during war and soldiers are fighting to protect the honor of women, in reality, it is often women's protectors (men) who provide the greatest threat in everyday life. Rape, domestic violence, harassment against women in their own country is not subjected to war but a traditional understanding of the war in IR as feminists have pointed out is as if women require protection during war and soldiers are fighting to protect the honor of women, in reality, it is often women's protectors (men) who provide the greatest threat in everyday life.
For feminist scholars, a security that is global and multidimensional with political, economic, and ecological facets that are as important as its military dimensions. The security of individuals and their natural environment is considered as much as the security of the state. National security needs to be inclusive of security of all from security threats such as domestic violence, rape, poverty, gender subordination, and ecological destruction as well as war. For example, Sweden has a feminist foreign policy, which means the understanding of security is through a gendered lens, feminist foreign policy not only broadens what security means but also who is guaranteed security in the world.
While feminism is a new approach of though in IR, the case study of Sweden explains the importance of feminist foreign policy that believes in gender equality in decision making, promoting peace and does not promote masculine characteristics associated with war and use of force in foreign policy and makes secure, happier nations. While the discourse of security is dominated by masculine characteristics in IR, states can be secured with wider perspective of human security associated with gendered lens.
Debunking Magical realism through Marquez's "A Very Old Man with Enormous Wings"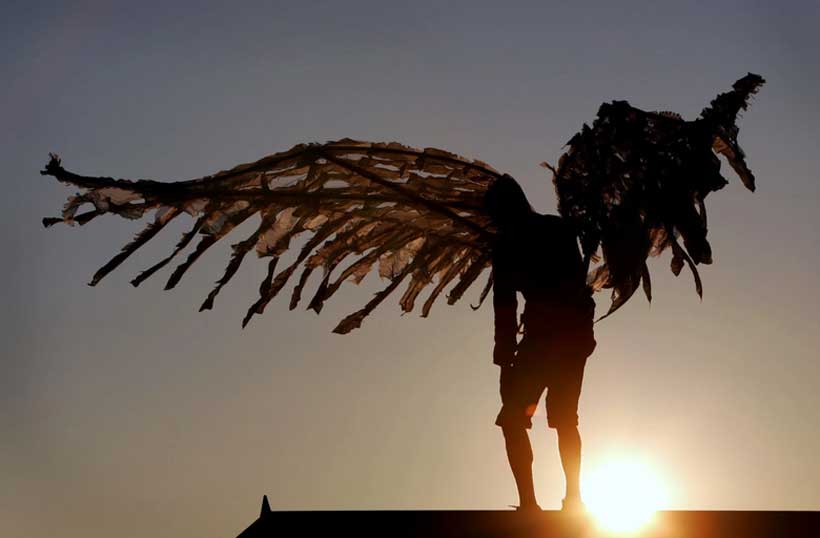 There are few names in the Latin American literature, which it comes to famous novels and short stories, Columbian writer Gabriel Gracia Marquez is one of them. Throughout Latin America, he is popular with the name Gabo and was one of the intellectual literary writers of the 20th century. For his tremendous work, he received the Neustadt International Prize for Literature in 1972 and Nobel Peace Prize for literature in 1982. During his literary journey, he has written numerous acclaimed novels such as One Hundred years of Solitude published in 1962 and Love in the Time of Cholera, which was published in 1985. His popular writing style is often known as magical realism, which later emerged as a major literary movement in Latin American literature. He has also written numerous famous short stories, and among them "A Very Old Man with Enormous Wings" is very popular in Latin American. The American Review published it in 1995 in the Spanish language. The title of the story "A Very Old Man with Enormous Wings" tells the story of a shadowy old man, who one day appears in the family courtyard. The old man was not an ordinary person, because he was having some strange characteristics such as an enormous pair of wings, which was a new thing for the people, who were living in town. Hence, with the magical depiction of old man character, the author explains the conflict the ordinary people encounters concerning their cultural belief. Moreover, the whole story is written from the context of third-person narrator.
On the other hand, the presence of an old man character with huge wings represents the Magical realism of the author. Throughout the story one of the most interesting thing about the old man character is that after his appearance in the family court people began viewing him as a normal human being. But for some, he was different from the normal man because he got the huge wings that make him look like an angel, who is dressed like a rag-picker. The major character in the story is Pelayo and Elisenda in whose yard, the mysterious old man first appears. In the story, the author describes the strangeness of this old man in these words "His huge buzzard wings, dirty and half-plucked, were forever entangled in the mud. They looked at him so long and so closely that Pelayo and Elisenda very soon overcame their surprise and in the end found him familiar". This clearly shows, though initially Pelayo and Elisenda found him a strange creature but, after the closer contact, they began viewing as a normal human being just like them. Nonetheless, the old man with mysterious wings was still a strange creature for the other people in town.
When Pelayo and Elisenda brought the old man to the physician in the town, the physician took the advantage to examine the physical uniqueness of this old man. For the physician, the old man was a new thing for him, because throughout, his carrier, the doctor has encountered something like him. As the author writes about the physician; "What surprised him most, however, was the logic of his wings. They seemed so natural on that completely human organism that he couldn't understand why other men didn't have them too". Similarly, when Pelayo and Elisenda informed their neighbor about the mysterious old man, the neighbor tells them that he is an angel. This scene in the story explains how an individual thinks and feels when he/she encounters something different, mysterious, and strange. Moreover, this also explains the limitation of the human mind and the lack of knowledge about different things. This happens, at one moment the couple decides to get rid of the old man and even planned to kill him because they thought he might be a curse. Later, they change their plan and decides to imprison him and in prison, the mysterious old man suffers severe abuse and mistreatment.
Soon after the imprisonment of the old man, the people began whispering stories about the old man. Some villagers began perceiving him as an angel, while the other considered him as evil, who is God's curse on the village. In this respect, the story The very old man with enormous wings Marquez is a mixture of compassion and sadness. Because the couple Pelayo and Elisenda wanted to get rid of him but the old man refuses to leave them until their life is transformed. As it is written in the bible "Do not be forgetful to entertain a stranger, you could be entertaining an angel". The real reason, why the old man was a stranger to the couple and villagers because he was unattractive and he was having huge wings that embarrassed them. Throughout the story, the people in the town curse him and makes fun of him, but the old man never fights back because he is compassionate and he understands the fact that he cannot speak their language. Overall the whole story demonstrates the context of bad and good human nature because seeing the beauty is one thing while ignoring a person based on the fact that he is ugly is weary.
In contrast, the central theme of Gracia Marquez's "The very old man with enormous wings Marquez" is the Coexistence of compassion and cruelty, which explains the feeble response of selfish and greedy humans towards those, who are different, strange, ugly, and weak. For instance, the major characters in the novel the couple Pelayo and Elisenda imprison the old man and abuse him, and even they planned to kill him because he was ugly and weak. But once they thought, they could benefit from the old man by showcasing him in the village, they decide to keep him to accomplish their appetite for money. In a nutshell, the moral of the story was religious has always been a shallow set of beliefs, which ignore the principles of morality. Hence, the treatment of the old man in the town after his appearance in the family yard clearly shows that people in the story are faithless having inconsistent faith.