The Story about Nazi and Crystal Met
In the 1940s, German expansionist missions over Belgium and France were raging. Moreover, the growth of the German military made Belgium alarmed. So on the Belgian-German border on the east side a magnificent fort was built, with bunkers and tunnels reaching 5 miles in length and below the ground depth of approximately 20 meters. The fort can accommodate 1500 Belgian troops at once. That is what we are familiar with the fortress of Eden Emael. Not only was the German military development at that time as the cause, based on history, when the first world war Belgium was occupied by Germany via Eden Emael as well, the eastern border of the two countries.
For Hitler, reoccupying Belgium meant breaking the superiority of fortress. But with the usual and standard attack style, of course, Germany will be overwhelmed, maybe even lost. Especially after the Versailes agreement, Germany was not permitted to have the large scale of air force and aircraft. Because of the agreement, Germany finally developed a type of glider that was rumored to be noiseless and suitable for sudden attacks with small numbers of troops.
Why? Because glider was not included in the type of aircraft that was prohibited in the Versailes agreement. In addition, Germany was also developing concave bombs, a kind of bombs that have targeted explosive power, only to hit certain targets, especially targets in the form of bunkers and underground fortresses. Air pressure caused by concave bombs will shake enemy bunkers from below, not from above. By placing concave bomb in one of the gaps in the bunker, the pressure will go through all the rooms in the bunker, then hit the cannon gun at the top of the bunker.
With the discovery of that technology, the Germans decided to attack the fortress of Eden Emael with special forces totaling 86 people. The decision was in accordance with the new war strategy set by Hitler, namely rapid occupation or what we commonly know as the Bliztkrieg. The time of the attack was determined at around 4am. When the operation came, German glider landed around the fortress of Emael carrying 86 German special forces. The number was clearly out of balance with Belgian soldiers who were waiting for them inside the fort, which were approximately 750 soldiers.
Not a long wait, all Nazi special forces took positions around the fortress, searching for entrances and installing concave bombs. The explosion of several concave bombs damaged many sides of the fort from the inside, because if the concave bomb exploded, the air pressure caused by them would bounce off one another from the walls of the fort, towards the holes that flowed air out, especially the holes which became the cannon position.
The sudden attack really surprised the Belgian. But because of the much larger number, Belgium finally put up a fight. But what a bitch, Belgium was beyond help. With the ruins of the fortress of Eden Emael due to surprise attack, then the help of the imminent German troops, the Fortress of Emael Eden had to bow down to the Nazis in only 28 hours. And Germany got a strategic starting point for occupying Belgium as a whole and entering France.
However, if seen more broadly, the German effort to enter Belgium by breaking the superiority of the Fortress of Emael was only camflation. The victory was truly celebrated by Berlin, videos of the victory at the fortress of Eden Emael were distributed. Everything was to cover the true intention of Germany, namely occupying Paris, France. Sure enough, shortly after the conquest of the Fortress of Emael, Germany finally conquered France, via a path that was never expected by all parties, namely through the dense forest of the Ardennes, which became a barrier between Germany and France.
German troops made it through the dense forest on foot, with a journey of more than 170 km in more than two weeks. Even more interesting, it turns out that the number of French and Belgian troops at that time was somewhat greater than the troops sent down by Hitler. Amazingly, after a long, tiring, sleepless journey, they were able to conquer opponents whose resting patterns would be far better. Why? The answer was in the Pervitin Pill.
Pervitin Pills are another language of Crystal Met. In 1938s, the pharmaceutical company Themmler was licensed to produce the Pervitin trademark. The packaging was very similar to the packaging of one of the multivitamins sold, in the form of a long can of small pills containing several pills. Pervitin was sold as an antidepressant. Initially, the initial inventors who later became the Pervitin pill were two Japanese researchers studying in Berlin. They found the crystal meth. After that, Themmler got permission to produce and sell it throughout Germany.
Pervitin finally attracted the attention of Doctor Otto Angke, doctor and medical scientist in the German military. Otto then tested 90 selected students. The conclusion was that the use of Pervitin would provide chemical benefits for the fighting endurance of German army. Soldiers will keep fighting without sleep for days, even welcoming the war very hysterically. Then Otto Angke's trial results were immediately brought into the Fuhrer's room, then approved. When Germany occupied France via the Ardennese Dense Forest, or overthrew Eden Emael, or when Hitler's expansionist desire to conquer Europe began, there were 35 million Pervitin pills used. Hitler himself could not be ascertained to consume pervitin or not, but according to medical records from Hitler's personal psychiatrist, Dr. Theodor Morell, Hitler was even injected 800 times a year with various drugs, including opium, ampethamines, cocaine, and other drugs.
From the allies side, it was actually not much different. After the French conquest of Germany, Churchil's personal physician discovered the fact that German troops used Pervitin and advised Churchil to use the same thing. But it seems that Churchil was very careful with methamphetamine because of its very dangerous long-term effects. Finally, it was known that British troops only use in very low doses, even for fighter pilots who experience aircraft downfall in order to survive a few days before being discovered. The drug was called BenzedrinSulfate, a low-dose methamphetamine.
When Hitler decided to conquer Russia, known as Operation Barbarosa, the use of Pervitin could not be separated from the war. In addition to deploying all its secret weapons, the use of pervitin was also increasingly massive. So the news about the effect was also spreading. Many troops were very addicted, hysterical, paranoid, and lost their temper. Pervitin might be one of the reasons why German troops were so cruel.
There were rumors among German soldiers that there was a German army unit struggling to approach Moscow, going crazy, shooting in any direction, even one army shooting his own commander, before finally surrendering at the hands of the Stalin red army. Then towards the end of the barbarosa operation, when the Germans lost their way and were beaten back by the red army, according to the notes of one of the doctors who participated in the combat unit, there was one unit that retreated back to Germany and was trapped in very heavy snow, under 30 degrees Celsius. They were exhausted, and were prepared to surrender or die from the cold snow. But finally the commander gave pervitin. 30 minutes later they were ready to walk again and were declared safe until returning to Germany.
The failure of the barbarosa "biltzkrieg" operation became the beginning of the defeat of Germany in the second world war. But Hitler chosed to stay with his fantasy of wanting to establish a Nazi empire on the plains of Europe. In 1944, a new research was launched and gave birth to a more dangerous new variant of the drug, called D-IX, chemical support level nine. D-IX consisted of nine ingredients. Three of the dominant ones werepervitin, cocaine, and morphine.
Concentration camps became test sites. Jewish prisoners became guinea pigs for these drugs. But Germany was beyond help, the allies had freed France, and were ready to enter Germany from the North. And the Russians were already furious, preparing to ravage Germany from the East side. In a bunker in Berlin, based on conventional historical records, after fulfilling his last promise to Eva Braun, a girlfriend who had never been married, namely to marry Eva Braun, Hitler finally decided to shoot himself. While Eva Braun has preceded him by swallowing cyanide pills.
US military presence in the Middle East: The less the better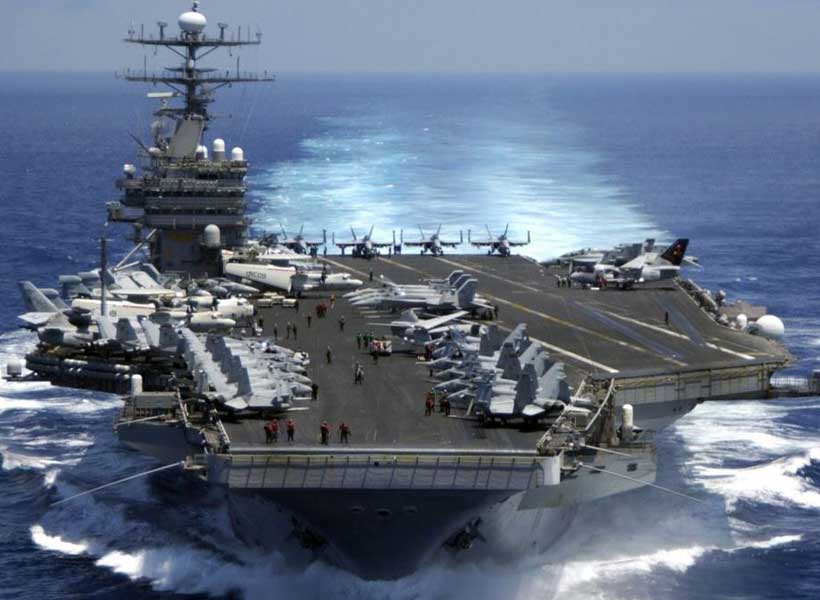 It may not have been planned or coordinated but efforts by Middle Eastern states to dial down tensions serve as an example of what happens when big power interests coincide.
It also provides evidence of the potentially positive fallout of a lower US profile in the region.
Afghanistan, the United States' chaotic withdrawal notwithstanding, could emerge as another example of the positive impact when global interests coincide. That is if the Taliban prove willing and capable of policing militant groups to ensure that they don't strike beyond the Central Asian nation's borders or at embassies and other foreign targets in the country.
Analysts credit the coming to office of US President Joe Biden with a focus on Asia rather than the Middle East and growing uncertainty about his commitment to the security of the Gulf for efforts to reduce tensions by Saudi Arabia, the United Arab Emirate and Egypt on the one hand and on the other, Turkey, Iran, and Qatar. Those efforts resulted in the lifting, early this year, of the Saudi-UAE-Egyptian-led economic and diplomatic boycott of Qatar.
Doubts about the United States' commitment also played an important role in efforts to shore up or formalise alliances like the establishment of diplomatic relations with Israel by the UAE and Bahrain.
For its part, Saudi Arabia has de facto acknowledged its ties with the Jewish state even if Riyadh is not about to formally establish relations. In a sign of the times, that did not stop then Prime Minister Benyamin Netanyahu from last year visiting the kingdom.
To be sure, changes in Washington's priorities impact regional defence strategies and postures given that the United States has a significant military presence in the Middle East and serves as its sole security guarantor.
Yet, what rings alarm bells in Gulf capitals also sparks concerns in Beijing, which depends to a significant degree on the flow of its trade and energy from and through Middle Eastern waters, and Moscow with its own security concerns and geopolitical aspirations.
Little surprise that Russia and China, each in their own way and independent of the United States, over the last year echoed the United States' message that the Middle East needs to get its act together.
Eager to change rather than reform the world order, Russia proposed an all-new regional security architecture modelled on the Organization for Security and Co-operation in Europe (OSCE) adding not only Russia but also China, India, and Europe to the mix.
China, determined to secure its proper place in the new world order rather than fundamentally altering it, sent smoke signals through its academics and analysts that conveyed a double-barrelled message. On the one hand, China suggested that the Middle East did not rank high on its agenda. In other words, the Middle East would have to act to climb Beijing's totem pole.
"For China, the Middle East is always on the very distant back burner of China's strategic global strategies," Niu Xinchun, director of Middle East Studies at China Institutes of Contemporary International Relations (CICIR), China's most prestigious think tank, told a webinar last year.
Prominent Chinese scholars Sun Degang and Wu Sike provided months later a carrot to accompany Mr. Niu's stick. Taking the opposite tack, they argued that the Middle East was a "key region in big power diplomacy with Chinese characteristics in a new era."
Chinese characteristics, they said, would involve "seeking common ground while reserving differences," a formula that implies conflict management rather than conflict resolution.
On that basis, the two scholars suggest, Chinese engagement in Middle Eastern security would seek to build an inclusive and shared regional collective security mechanism based on fairness, justice, multilateralism, comprehensive governance, and the containment of differences.
In the final analysis, Chinese and Russian signalling that there was an unspoken big power consensus likely reinforced American messaging and gave Middle Eastern states a further nudge to change course and demonstrate a willingness to control tensions and differences.
Implicit in the unspoken big power consensus was not only the need to dial down tensions but also the projection of a reduced, not an eliminated, US presence in the Middle East.
While there has been little real on-the-ground reduction of US forces, just talking about it seemingly opened pathways. It altered the US' weighting in the equation.
"The U.S. has a habit of seeing itself as indispensable to regional stability around the world, when in fact its intervention can be very destabilizing because it becomes part of the local equation rather than sitting above it," noted Raad Alkadiri, an international risk consultant.
While important, the United States' willingness to get out of the way is no guarantee that talks will do anything more than at best avert conflicts spinning out of control.
Saudi and Iranian leaders and officials have sought to put a positive spin on several rounds of direct and indirect talks between the two rivals.
Yet, more important than the talk of progress, expressions of willingness to bury hatchets, and toning down of rhetoric is Saudi King Salman's insistence in remarks last month to the United Nations General Assembly on the need to build trust.
The monarch suggested that could be achieved by Iran ceasing "all types of support" for armed groups in the region, including the Houthis in Yemen, Hezbollah in Lebanon, and pro-Iranian militias in Iraq.
The potential monkey wrench is not just the improbability of Iran making meaningful concessions to improve relations but also the fact that the chances are fading for a revival of the 2015 international agreement that curbed Iran's nuclear program.
"We have to prepare for a world where Iran doesn't have constraints on its nuclear program and we have to consider options for dealing with that. This is what we are doing while we hope they do go back to the deal," said US negotiator Rob Malley.
Already, Israeli politicians, unhappy with the original nuclear deal and the Biden administration's effort to revive it, are taking a more alarmist view than may be prevalent in their intelligence services.
In Washington this week, Foreign Minister Yair Lapid told US National Security Advisor Jake Sullivan that Iran was "becoming a nuclear threshold state." Back home Yossi Cohen, a close confidante of Mr. Netanyahu, who stepped down in June as head of the Mossad, asserted at the same time that Iran was "no closer than before" to obtaining a nuclear weapon.
There is no doubt, however that both men agree that Israel retains the option of a military strike against Iran. "Israel reserves the right to act at any moment in any way," Mr. Lapid told his American interlocutors as they sought to resolve differences of how to deal with Iran if a revival of the agreement proves elusive.
Meanwhile, a foreplay of the fallout of a potential failure to put a nuclear deal in place is playing out on multiple fronts. Tension have been rising along the border between Iran and Azerbaijan.
Iran sees closer Azerbaijani-Israeli relations as part of an effort to encircle it and fears that the Caucasian state would be a staging ground for Israeli operations against the Islamic republic. Iran and Azerbaijan agreed this week to hold talks to reduce the friction.
At the same time, Iran, Turkey and Israel have been engaged in a shadow boxing match in predominantly Kurdish northern Iraq while a poll showed half of Israeli Jews believe that attacking Iran early on rather than negotiating a deal would have been a better approach.
Taken together, these factors cast a shadow over optimism that the Middle East is pulling back from the brink. They suggest that coordinated big power leadership is what could make the difference as the Middle East balances between forging a path towards stability and waging a continuous covert war and potentially an overt one.
A Johns Hopkins University Iran research program suggested that a US return to the nuclear deal may be the catalyst for cooperation with Europe, China, and Russia.
"Should the United States refuse to re-join the agreement following sufficient attempts by Iran to demonstrate flexibility in their negotiating posture, Russia and China will ramp up their economic and security cooperation with Iran in a manner fundamentally opposed to US interests," the program warned.
Iranian Foreign Ministry spokesman Saeed Khatibzadeh announced this week that Russia and Iran were finalizing a 'Global Agreement for Cooperation between Iran and Russia' along the lines of a similar 25-year agreement between China and the Islamic republic last year that has yet to get legs.
Even so, Iran scored an important victory when the Shanghai Cooperation Organization (SCO) in which China and Russia loom large last month agreed to process Iran's application for membership.
The U.S. may not involve military confrontation in the South China Sea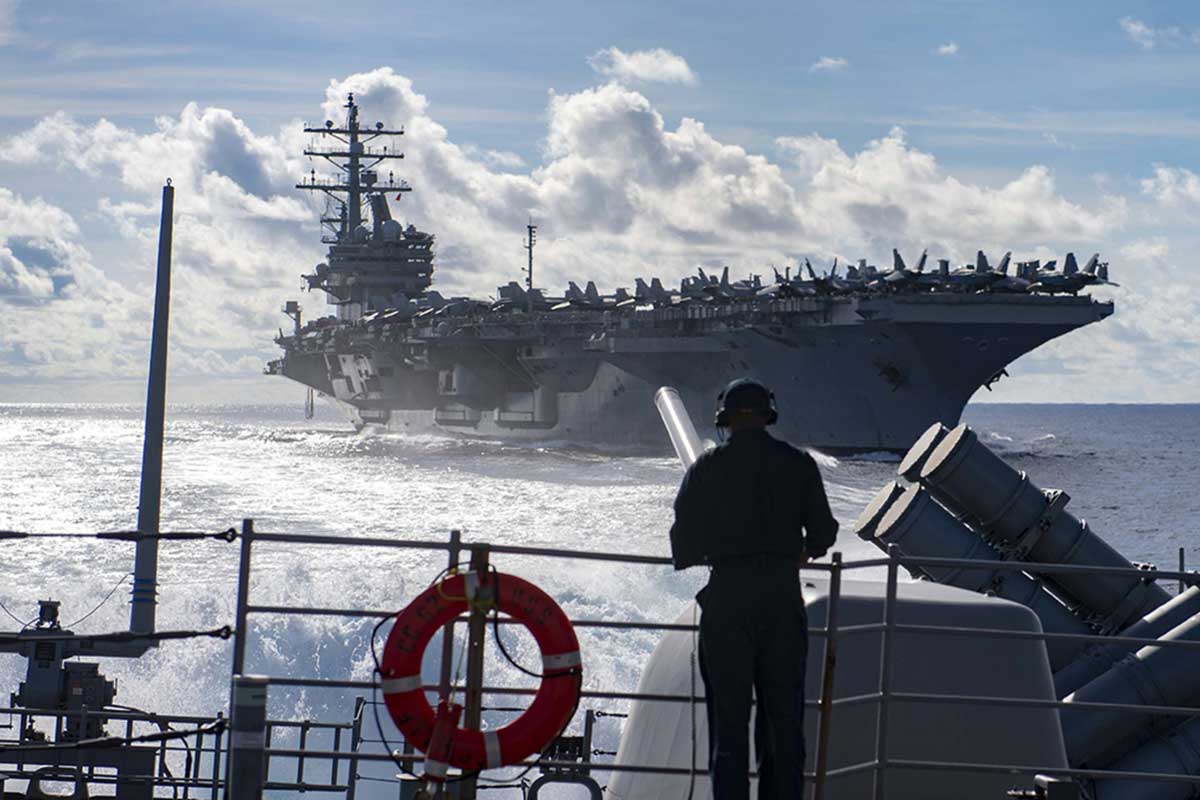 Although the US with its highest military budget, and maintaining the largest number of military bases around the globe, and the largest number of troops in foreign countries, and keeping the largest number of alliances, yet may avoid a direct military confrontation in the South China Sea. It does not mean that the US will give up, but, may exert political and diplomatic pressure, or opt for cold war strategies. The US is very well aware of the consequences and scared of spreading the conflict into other parts of the world, initiating the third world war (WWIII). It might be a nuclear war and disaster for the whole world.
Today, the piles of lethal weapons, especially nuclear weapons, are enough to destroy the whole world. If the escalation starts, it might not be limited to a small region, or continent, it might get out of control and spread to other parts of the world, and engulf the whole world. The highly hostile geopolitics are heading toward more volatility and entering dangerous limits.
As a part of the US cold war strategy, they are pushing the region toward war. On one hand creation of AUKUS, instigating Taiwan, and supporting India, pressurizing China, leaving no option except war, is extremely dangerous. The US may be once again miscalculating that, push the regional countries into war, while keeping the US away from the war zone will benefit Americans. In the recent past, all US dreams turn against their expectations, and such a dream to push China into war and enjoy the destruction of the region, keeping itself away, may not realize.
As a result of undue support to Taiwan, may instigate Taiwan for war. Chinese President Xi Jinping, also general secretary of the Communist Party of China Central Committee and chairman of the Central Military Commission, delivered an important speech at a commemorative meeting marking the 110th anniversary of the Revolution of 1911 at the Great Hall of the People in Beijing, capital of China, Oct. 9, 2021. He said that the Taiwan question arose out of the weakness and chaos of the Chinese nation, and it will be resolved as national rejuvenation becomes a reality. "This is determined by the general trend of Chinese history, but more importantly, it is the common will of all Chinese people," he noted.
National reunification by peaceful means best serves the interests of the Chinese nation as a whole, including compatriots in Taiwan, said Xi, while calling on compatriots on both sides of the Taiwan Strait to stand on the right side of history. Xi described secession aimed at "Taiwan independence" as the greatest obstacle to national reunification and a grave danger to national rejuvenation. "Those who forget their heritage, betray their motherland, and seek to split the country will come to no good end," he said, adding that they will be disdained by the people and condemned by history. The Taiwan question is purely an internal matter for China, one which brooks no external interference, Xi noted. "The complete reunification of our country will be and can be realized," he stressed.
By nature, the Chinese are peace-loving and never like aggression or wars. China has been observing patience for a long, and expects, that the people of Taiwan may opt for peaceful reunification. Although China has the capacity to take over Taiwan by force, yet, China preferred reunification through dialogue and negotiation peacefully. China understands the consequences too and will observe patience to the last moment. If the people of Taiwan are smart and wise they must take the right decision, and a timely decision will be in their interest. A unified China will make them proud too. They may also be beneficiaries of Chinese economic developments. Reunification, will definitely, raise the economy of Taiwanese and improve individuals' standard of life. There are many incentives for Taiwan and unlimited opportunities.
However, in case of war, no foreign country will come to help Taiwan, especially the US will not rescue them. In fact, the role of the US is to instigate others and push them into war and keep themselves aside, watching only, they may join the winner side later on. The US is not sincere with Taiwan, but playing dirty politics only and selling expensive weapons to gain economic benefits to save its ailing economy. The US will not proactively involve in any war in the South China sea.
China Says U.S.-China War Is Imminent
China has now publicly announced that, unless the United States Government will promptly remove from China's Taiwan province the military forces that it recently sent there, China will soon send military forces into that province, because, not only did the U.S. secretly send "special operations forces" onto that island, but because, "since the US has exposed the news through anonymous officials, it has taken a step forward to undermine, from covertly to semi-overtly, the key conditions for the establishment of diplomatic relations between Chinese mainland and the US." That statement — threatening to cut off diplomatic relations with the U.S. — comes from the Chinese Communist Party's newspaper, Global Times's editorial, on October 8th. Its editorials speak for the Chinese Government, at least as much as statements from the U.S. White House speak for the U.S. Government.
The Chinese editorial went on to explain that:
The mainland must respond to the US' new provocations to make both Washington and the island of Taiwan fully realize the severity of their collusion. Otherwise, in the next step, US military staff may show up in Taiwan island, publicly wearing uniforms and their number may increase from dozens to hundreds or even more to form a de facto US garrison in the island.
In other words: America's "special operations forces" might be killed when China sends its military forces into Taiwan so as to deal with the insurrection that's now occurring in this province. China is saying that it will be sending those troops and planes onto the island before America publicly invades the island, in order to be in a better position to deal with the U.S. invasion if and when it occurs. China is clearly aiming here to avoid there being "a de facto US garrison on the island." China — if it is going to kill U.S. troops on that island — wants to be killing only those few "special operations forces" personnel, and NOT any "garrison." It wants to minimize the damage.
The U.S. Government has officially recognized that Taiwan is — as the Chinese Government itself says — a province of China, not a separate nation. Therefore, what the U.S. Biden Administration is now doing is actually in violation of official (and actually longstanding) U.S. Government policy on the matter.
As I had reported on September 14th, under the headline that "China and U.S. are on the brink of war":
Right now, the neocons that Biden has surrounded himself with are threatening to accuse him of having 'lost Taiwan' if Biden backs down from his many threats to China, threats that the U.S. Government will reverse America's "One China" policy, which has been in place ever since the 28 February 1972 "Shanghai Communique", when the U.S. Government signed with China to the promise and commitment that "The United States acknowledges that all Chinese on either side of the Taiwan Strait maintain there is but one China and that Taiwan is a part of China. The United States Government does not challenge that position. It reaffirms its interest in a peaceful settlement of the Taiwan question by the Chinese themselves."
Quietly, but gradually, the U.S. Government, in recent years, has been giving increasing signs that it will abrogate this policy and grant to Taiwan official recognition and an embassy in Washington. For it to do that would contrast blatantly, not only against the 28 February 1972 "Shanghai Communique", but against other official U.S. policies.
For example, consider Crimea, which the U.S. Government demands to be a part of Ukraine and not a part of Russia. Regarding the relationship between Crimea — which was a province of Russia between 1783 and 1954 but was then suddenly and arbitrarily transferred to Ukraine by the Soviet dictator Khruschev in 1954 — and Ukraine, the U.S. Government is demanding that Crimea must be as Khruschev arbitrarily ruled it to become in 1954: a part of Ukraine. The U.S. has this policy though public opinion polls that the U.S. Government itself commissioned to be performed of Crimeans both back in 2013 before the February 2014 U.S. coup in Ukraine and after that coup, showed overwhelming public support by Crimeans for Crimea's being restored to Russia, no longer a part of Ukraine (as had been the case since 1954). The U.S. Government demands that Crimeans — who by more than 90% prefer to be part of Russia instead of part of Ukraine — have no right to determine what their nationality will be, but that Taiwaners (who might predominantly want to not be a part of China) have a right to determine what their nationality will be). The U.S. Government demands that Crimea be restored to Ukraine, which the residents of Crimea had always opposed (and still do), but now also demands that Taiwan NOT be restored to China (which was part of China since 1683 and until Japan conquered Taiwan in 1895 and held it until Taiwan became restored to China in 1945.
America's pretenses to supporting democracy in international affairs are blatantly a fraud in order to continue the U.S. empire that has become established after World War II by means of numerous sanctions, coups, and invasions.
Andrew Bacevich, the President of the Quincy Institute for Responsible Statecraft, headlined on September 30th, "'A Horrible Mistake': Recovering From America's Imperial Delusions", and he wrote:
Rather than picking sides in regional disputes — Saudi Arabia vs. Iran, Israel vs. Hamas and Hezbollah — the United States should reposition itself as a genuinely honest broker. Rather than chiding some nations for violating human rights and giving others a pass, it should hold all of them (and itself) to a common standard. Rather than flooding the region with advanced weaponry, it should use its influence to reduce arms transfers. Rather than selectively opposing nuclear proliferation, it should do so consistently across the board. Rather than scattering U.S. forces across the region, it should drastically reduce the number of bases it maintains there. At most, two should suffice: an air base in Qatar and a naval facility in Bahrain.
The same applies regarding such matters as Taiwan and Crimea. Bacevich concluded (referring to the example of Afghanistan) that,
The ultimate "horrible mistake," to repurpose Secretary of Defense Austin's phrase, dates from the immediate aftermath of the Cold War when the United States succumbed to a form of auto-intoxication: imperial delusions fueled by an infatuation with military power.
America's sanctions, coups and military invasions, must end. As the Quincy Institute for Responsible Statecraft might say (if they were more blunt): what the U.S. Government has been doing since 1945 is not "Responsible Statecraft." These sanctions, coups and military invasions, are, instead, "Imperial Delusions," just as Bacevich says they are.
However, America's billionaires, whose donations determine which candidates will be politically competitive to stand even a chance of becoming nominated so as to stand a chance of then becoming elected into public offices in the U.S. federal Government, are essentially unanimous in favor of their military-industrial complex, which is the most profitable field for them to invest in. Consequently, neoconservatism — which is U.S. imperialism — is bipartisanly dominant in both of America's political Parties, each Party being financed by a different group of billionaires. They are virtually unanimous for imperialism, both Parties voting in Congress overwhelmingly for U.S. imperialism — just about the only thing that they bipartisanly support — because it's profitable for the billionaires that fund each of the two congressional Parties (or teams) . This is why Joe Biden continues, and generally intensifies, Donald Trump's foreign policies, and why Donald trump had continued, and generally intensified, Barack Obama's foreign policies — all recent U.S. Presidents have been (and the present one is) neoconservative (or imperialist), whatever else they might be. For an example of this: on 10 January 2021, just before the end of the Trump Presidency, Zero Hedge headlined "Washington 'One-China' Policy Dead As Pompeo Lifts Restrictions On US-Taiwan Relations". Biden is simply intensifying Trump's policy on China.
In fact: all of this U.S. imperialism has been enormously profitable for America's billionaires, and especially for the ones who have been investing the most heavily in 'defense' industries. This has been most clearly and most blatantly so after the 'ideological' 'justification' (anti-communism) for the Truman-and-Eisenhower start, in 1945, of the Cold War, finally ended in 1991. Beginning at around 1990 — the very same period when G.H.W. Bush started secretly instructing America's 'allies' that the Cold War would continue on the U.S. side even after the Soviet Union would break up and end its communism, and end its side of the Cold War — the "Cumulative Returns, Indexed to 1951," for the total stock "Market" vs. for "Industrials" vs. for "Defense," which three segments had previously moved in tandem with each other, sharply diverged after 1990, so that "Defense" has since been soaring, it's rising much faster than the other two sectors, both of which other two sectors ("Market and "Industrials") continued after 1990 rising in tandem with each other. That — 1990 — was the time when market valuations on America's armaments producers suddenly took off and left the rest of the economy ever-increasingly behind. It's all shown right there in that chart. This means that the decision by George Herbert Walker Bush to go for blood, instead of to serve the needs of the American people, has been vastly profitable for America's aristocracy. Interesting, too, is that the period after 1990 has been when the U.S. Government became increasingly involved in invading the Middle East. The arms-markets there were growing by leaps and bounds. However, after 2020, the U.S.-and-allied regimes seem to be refocusing again on "great power competition" (including sanctions and other operations to promote "regime change" against any governments that don't cooperate with the U.S. regime's efforts against what it declares to be 'America's enemies'). They now openly equate economic "competition" against such targets, as being something that is legitimate to be dealt with by even military means. They openly presume that the military ought to serve their billionaires and no longer "national" (meaning public) defense. They openly presume that imperialism is right, and that it's okay for nations to fight each other in order to further enrich their respective aristocracies.
This is what the U.S. regime's support for Taiwan to become an independent country is actually all about: making America's billionaires even richer.
Gideon Rachman's Financial Times article, on 12 October 2021, "The moment of truth over Taiwan is getting closer", provides excellent documentation that the U.S. regime (including its news-media) has been extremely successful in recent years at increasing the negativity of U.S. public opinion towards China's Government, and that this success has increased the pressure on U.S. President Biden to go to war against China. However, Rachman there failed to note that on 26 July 2021, the U.S. military news site DefenseOne had bannered, concerning U.S. war-games which had just concluded against China, "'It Failed Miserably': After Wargaming Loss, Joint Chiefs Are Overhauling How the US Military Will Fight", and they reported that if the Joint Chiefs' "overhaul" becomes successful, it won't be until 2030, at the earliest. So: if there will be a U.S. invasion soon against China, then America's armed forces will likely lose that war, and the pressure upon Biden to go nuclear against China will then become enormous — so as to turn that defeat into 'victory'. Perhaps America's anti-China propaganda has been too successful, and will bring nuclear annihilation. Maybe the owners of firms such as Lockheed Martin, and of such firms as CNN — the people who have, effectively, placed America's 'elected' leaders into power — will turn out to have been too effective at what they do. Right now, this situation is looking like a runaway train that's heading for a catastrophic crash.
Perhaps the question right now is: How insistent are America's billionaires, really, that the U.S. Government will become the world's first-ever 100% encompassing empire, dictating to each and every other nation? Are they willing to risk nuclear annihilation for that supreme supremacist goal? After America's successful coup against Ukraine in 2014, they've been buying luxurious deep-underground bunkers in preparation for this (WW III). But is that really the type of world that they want to live — and die — in? That's the question.