The Perils of Indo-French Defense Cooperation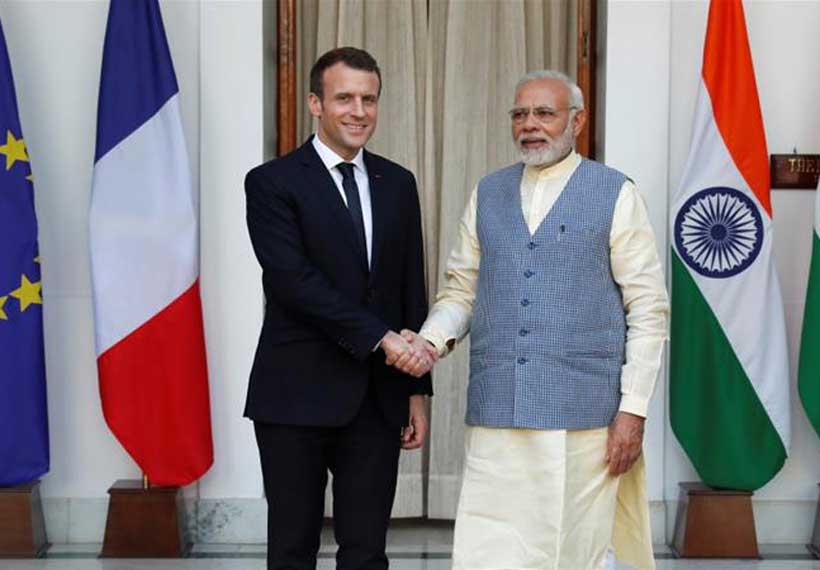 France and India have convergence of interests as far as political and strategic policies in the Indo-Pacific region are concerned. Both states now have a relatively multifaceted partnership spanning in many fields, for instance, defense, civil nuclear, space, and counterterrorism. France has overseas territories in the Southwest and operates military bases in the Northwest Indian Ocean rim. So, one of the major French objectives in the Indian Ocean Region (IOR) is to maintain the strategic status quo and it needs Indian partnership in order to achieve this objective. However, French strategic partnership and arms transfer to India has become one of the major causes of strategic instability and arms race in South Asia.
Especially relevant are their vision and action plan for maritime protection and outer space. During the State visit of President Emmanuel Macron to India in March 2018, both states signed over 14 agreements to strengthen partnership. India and France vis-à-vis Chinese rise and IOR have maintained the stance of respecting global laws by all states in order to safeguard freedom of navigation and overflight, and countering piracy, and smuggling. With regards to maritime cooperation, French Navy sent its anti-aircraft destroyer FNS Cassard to dock at Mumbai in 2019 as a first step in implementation of the agreements for the provision of reciprocal logistics support. This French move was seen as a commitment with India to balance China in the IOR.
India has been purchasing weapons for decades and remains the second-largest importer of arms worldwide for the duration from 2015-19. Indian imports of weapons from France have risen by 715%, making latter the third largest supplier of arms to India in last 5 years. France is exporting weapon systems to India, which not only have conventional but strategic implications as well. The application of such weapon systems also varies from air to land to sea. The Rafale fighter jet agreement is a significant example of growing Indo-French defense cooperation. The collaboration between Indo-French defense forces found new dynamism when the Government of Modi concluded a deal to receive 36 Rafale Multi-Role Combat Aircrafts (MMRCA) from France. The deal has been subjected to many controversies, for instance, corruption charges, contract favoritism, pricing, and off-set clause issues.
India signed a formal agreement with France to buy 36 Dassault Rafale fighter jets for US $8.8 billion in 2016. The Rafale aircraft is capable of carrying out all combat aviation missions, air superiority and air defense, close air support, in-depth strikes, reconnaissance, anti-ship strikes and the nuclear delivery. Rafale is well equipped for India, with its multiple capabilities, to pursue aggressive teachings which involve air supremacy. A Rafale nuclear role will affect the security of South Asia and will raise questions about French undertakings of the NPT, which restricts transfer of such strategic weapons. China has also raised concerns about the Rafale weapons system, asserting that its deployment by India in border regions of China and Pakistan will improve India Armed Forces' offensive capability.
In order to attract foreign investment in the defense sector India has long been playing the so-called Chinese threat card. However, India is using all the benefits it is getting through such 'Get Help' method in its hegemonic regional designs, especially against Pakistan. France is investing aggressively in the maritime realm of India in order to combat China's increasing influence and its rising footprint in the Indian Ocean. Through betting on India's ambitious proposal to create a fleet of nuclear attack submarines, France is focused on doubling its scale in IOR. It is offering weapon systems, knowledge transition, military preparation, logistics and information sharing to India. Under the Project 75, French naval defence and Energy company DCNS is assembling and building six Scorpene-class diesel-electric submarines. Two such submarines, i.e., Kalvari-class were commissioned in the Indian Navy by November 2019. India is further looking to acquire six diesel-electric submarines under the Project P75I from France.
India in 2019 during the crisis with Pakistan, used Kalvari-class submarines to enter Arabian Sea, but Pakistan Navy thwarted the Indian attempt. India is also planning to boost its nuclear-powered ballistic missile submarine capabilities, and in this context, it fantasizes French Triomphant-class submarine with 16 vertical launch tubes for the M51 SLBMs. Recently, France has successfully tested new generation M51 intercontinental ballistic missile capable of delivering several nuclear warheads, which will be integrated with its nuclear submarine.
French biased inclination towards India and transfer of advanced strategic weapon systems is only adding to the tensions of South Asia because such weapons in Hindutva extremist hands could result in a disaster. The resulting arms race will further deteriorate the region's security if the established weapons are used against the respective opponents of India. The already complex strategic stability in South Asia is under threat from French strategic arms transfer to India. Such transfers of sophisticated military technology to India besides affecting the regional stability is also seriously eroding the legitimacy of international disarmament and arms control laws.
Gray Zone Conflicts in Asia Pacific
The Asia Pacific region holds front row seat in geo-political, economic, and strategic issues in international relations. The pivot to Asia policy of the west following shift of economic and technological base from the Atlantic to the Pacific region which tends to challenge and shift the global balance of power, western led international democratic system, following the economic rise of China. Thus, the emerging challenge put west in a precarious situation in which they felt to defend their hegemony and control over the region. For this purpose the west mainly US called upon using is diplomatic, economic and military elements of national power to contain the rise of China and maintain its hegemony over the region. Thus, the emerging tug of war for power domination in the region have given rise to gray zone conflict in which both sides are engaged in disrupting activities in between the threshold of diplomatic norms and total war. Either it be ongoing trade war, diplomatic and political or military coercion to a level which is short off any direct engagement leading to war and carried out to acquire veiled national interests. Thus, to analyze the gray zone conflicts in the Asia Pacific we can analyze and unfolding increasing hostility in South China Sea region. The ongoing US-China Tariff wars, increase in military diplomacy by the US in Asia Pacific under containment of China policy, use of coercive diplomacy and sanctions by the actors involved. Thus, analyzing and taking these dimensions into consideration we can categorize the contemporary events and policies adopted by the major powers along the sidelines of gray zone tactics.
Gray Zone Conflict
The changing nature of warfare strategies are based on engaging the enemy with an indirect approach which is above the line of normal diplomatic practices and below the threshold of an all-out war. This scenario has been described by various scholars as a Gray Zone Conflict in the strategic studies lexicon which is broad manner means the activities which are conducted beyond the steady state deterrence in an attempt to obtain security objectives without resorting to direct use of sizeable force in conventional manner. The actors involved use various tools ranging from political coercion, disinformation campaigns, political and economic coercion, cyber and space based operations and most importantly use of proxy and state controlled elements are used to carryout the gray zone tactics. The use of these tactics could also be accessed by the analyzing the following toolkits:
Information and Disinformation Information Operations:
Use of print, electronic and cyber media domains to manipulate and distort the information or spread disinformation to create confusion and perish the enemy's will to resist by spreading propaganda and sowing doubt. US and China both have engaged in a constant disinformation campaign against each other in contemporary era where US is continuously propagating China as a revisionist and oppressive state which is engaged in oppressing Uyghur Muslims in Xingang region, shifting the regional population into re-education camps. US being wary of China's economic rise and game changing project of BRI is persistent to sabotage China's growing economic rise and for this purpose has excessively propagative that China's BRI projects have hidden objectives based on their vague deals, debt trap policy which would exploit weak economic countries giving China exclusive access and control over the resources of the poor states. China on the other hand has recently revived its foreign policy approach and is actively engaged in countering allegations waged upon it in international media which Chinese used to avoid previously. Trump administration has continuously blamed China of involving of corrupt practices blaming it to cover up spread of Coronavirus Covid-19 as early as November 2019, while, the world came to know about it in January 2020 with help of bribing WHO which didn't carried out its job and helped China in covering the issue, thus, Trump administration tried to hide its own incomitances by articulating this narrative.
Political Coercion:
The use of coercive instruments which can illicit or licit tools to affect and manipulate the decision making and political composition process within a state to reach for a desired outcome. China has over the years tried to assert its control over the Hong Kong which is currently being run under one state two systemspolicy. China recently changed its security and internal prosecution and extradition policies following which riots and civil unrest erupted in Hong Kong. According to Beijing the increase in civil unrest had been fueled by foreign elements mainly UK which is trying to instigate the current situation to increase political instability in the region. China has also openly criticized the role of US intelligence agencies mainly CIA in order to disrupt the political situation in Hong Kong. John Bolton in his memoirs have also accused Trump administration of colluding with Chinese CCP under Xi Jinping to assist Trump government in reelection in 2020 presidential campaign, a claim which is denied by both states. But this highlights the level of political coercion and manipulation among the major powers to acquire control and power.
Economic Coercion:
The use of coercive economic and financial tools, use of sanctions, illicit financing, effect the exchange rate, balance of trade of an adversary to achieve desired objective. US-China world leading military and economic powers were engaged in trade war during July 2018 when US imposed tariffs and restrictions upon imports from China as it felt threatened that its economy was engaged into unfair and unequal trade with China which also violated the intellectual property codes and conducted corporate espionage harming US industrial sector. US was suffering from over $ 336 billion trade deficit and over $566 billion net trade deficit. Thus, President Trump placed tariffs over Chinese imports and China retaliated in kind. In July 2018 Trump administration imposed 25% tariffs on $50-300 billion worth of imports from China and China as a result imposed 25% of US goods comprising $34-60 billion.
The emerging trade wars between US and China is not isolated only to the trade wars but has its implications infringed into complex global economic system which is interdependent and proportionally linked with the policies and economic decisions made by one state impact others directly. China's economy during 2000 was barely at par with US until China became part of World Trade Organization WTO in 2001. This gave China exponential growth opportunities for building its export relations ships with other states resulting in 10-40% turn over ultimately making its GDP over $14.2 trillion second to US only which had a GDP of over $21.44 trillion. China accounts for 50% of global growth and 30% of global prospects. The economic tensions resulting from US-China trade wars amid the pandemic had negative impact on global economy.
The trade wars among major economic giants have impacted the global economic integration with impact on businesses not only in US and China but have placed the global economic fabric in a flux and tension. US initiated trade wars against China to destabilize its economy, bring back the industries and factories back to US mainland from China. But according to wall street journal in January 2019 reported that China's trade surplus amounted to $ 323.32 billion following US tariffs implementations despite Trumps efforts to restrict imports from China. This highlights that the enormous amount of imports and control of global trade market by China has over shadowed the US attempts to impact it. But it had adverse impact on global economic growth as according to IMF world economic outlook report the global economic growth had decreased from 3.6% in 2018 to 3.3% in 2019 following US China trade wars.
Due to the impositions of tariffs US economy faced a drop of 0.3% of its GDP while its real consumption decreased by 0.3% and private investment by 1.3%. The economic rift between US and China also caused the stock exchange market of US to lose investment and over 1000 points in foreign exchange in August 2019. In contrast China was able to withstand the impact following the economic battle with US due to its control over the world economic supply chain. Thus, giving an insight that the US was much more vulnerable and dependent upon Chinese economy for its normal economic growth and consistency in supply chain. Following this, the US retracted from its economic war and lower the tariffs on imports from China by reducing over 15% of its tariff from over $120 billion imports while maintaining a tariff ban of over 25% on $ 250 billion worth of goods import. In response China reduced tariffs over $75 billion import trade from US. Following the peace trade agreement both states will work on enhancing their economic cooperation, improve and carry out legislative trade reforms. Thus, analyzing this situation the complex economic interdependence had forced both major powers to retract from their aggressive economic posture and negotiate their way out as the survival for their economies depend upon relative gains approach.
Cyber Operations:
Use of cyber domain to wage attacks in cyber domain by hacking, using viruses, trojan attacks, attack critical infrastructure, carry out disruption in communication, distortion of information and manipulation of political processes using malicious malware in cyber domain. US and China have both engaged in organized cyber operations against each other. While US had blamed China for carrying out industrial and corporate espionage, intellectual property theft using cyber domain. US has banned various Chinese electronic gadgets and devices, telecom giants and revamped its own technological coordination from China based upon allegations of espionage and intellectual property theft conducted by China. The recent ban on Chinese tech giant Huawei from US and arrest of its CEO from Toronto Canada has been made under this context.
Space Operation:
Outer Space has become a competing zone for major power actors and they are in constant friction to maintain their dominance and hegemony by disrupting the competitors position of advantage by interfering in space-enabled services, equipment, communication and satellites data uplink procedures. Both China and US are actively engaged in claiming the cosmos for themselves. Space is considered the battlefield of the future, with major states including the USA, China, and Russia maintains a constellation of 1327, 263 and 192 respectively out of over 2666 satellites in space. The majority of satellites used by these states act as important ISR platforms, communication relay bases, with scientific and environmental applications. The USA is the first state which has inaugurated its space force as a separate armed force on 21 December 2019 with a hefty budget of over $1.4 trillion. These space forces are designated to perform three major functions in strategic military roles which are to collect ISR, enhance protected communication and protected data link within the command hierarchy and also to protect own space assets while destroying and targeting enemy space-based assets by using kinetic kill vehicles such as Anti-Satellite Weapons ASAT or directed energy weapons. Both China and US have developed orbital and space missions to outer space in which China has gained subsequent advancement which was marked by landing its spacecraft Chang'e 4 on dark side of the moon for the first time in history. China recently also launched its orbital and rover mission to Mars naming Tianwen-1 consisting of a lander, rover and an orbiter in a single space flight which is also a remarkable feat in itself.
Proxy Support:
Use of non-state, quasi state elements to wage or obtain military objective or control a certain territory to influence or achieve specific political outcomes.
Provocation by State Controlled Proxies:
The use of paramilitary elements in conjunction with private entities while aiding and financing them to achieve certain interests through informal use of force. This also includes sabotage activities, clandestine intelligence operations and use of private military contractors which operate outside the realm of normal state control and authority.
SCS is one of the major focal point of friction between China and the West. The region is estimated to be a rich source of energy and natural resources, a major sea lane of communication with geo-strategic implications. China has been asserting its control over the region under its revisionist policies claiming on historic suzerainty claims and 1948 nine-dash line. China has actively gained its control over the region by creating military bases on artificial islands in Spratly and Paracel islands, carried out extensive geo-logical surveys for extracting resources in the region while rejecting the concerns of regional states by deploying Anti-Access/Area Denial (A2AD) strategy. While US has been actively engaged in enhancing its diplomatic and military cooperation with regional states to coerce China under the premise of Freedom of Navigation (FoN), increasing its military cooperation and carrying out routine naval and aerial patrols in the region. During May 270July 2020, US had carried out various air sorties of its strategic air command over the South China Sea and near Taiwan Strait in a blatant and blunt act of aggression and assertion against the Chinese A2AD and claims over SCS. China also had carried out month long naval exercises in the SCS region in response. US had also deployed strategic weapons in Okinawa, Japan and in South Korea by deploying Terminal High Altitude Area Defense THAAD, and Patroit Air Defense Systems (PAC) to keep China in check. US has also enhanced its ambit of operations in the region by creating Indo-Pacific Command on May 30, 2018 which is under the area of responsibility of US 7th Fleet. Thus, the SCS have the potential to be a major flash point of confrontation between the major powers in the future if the brinkmanship has not been maintained by the either side if balance of power in the region is shifted. US also has engaged in Quadrilateral military partnership which include US, Australia, Japan and India. US had recently arrested and convicted a Chinese female PLA officer on charges of espionage and VISA fraud as she was working on cancer research in US on false identity along with three other people on similar charges.
Conclusion:
In contemporary era various geo-strategic and political events are unfolding in Asia Pacific region. While, the major powers are trying to reinstate and assert their control, hegemony while the revisionist state is upon the verge of consolidating its own strength over the region to further counter and challenge the status quo. While the Thucydides trap is a prevailing phenomenon when we talk about the competition in Asia Pacific region. Thus, by observing the situation in the context of above mentioned toolkit that helps in analyzing the role of gray zone techniques, we can say that US and China is engaged in gray zone conflict in Asia Pacific region, where both actors are trying to avoid crossing the threshold of a conventional and total war and deterrence and perusing their veiled interests by engaging political, economic, cyber and space operations and proxies. The region is also engaged in a complex economic interdependence situation which tends to effect and impact the global economy in an adverse manner. The outcome for a major power competition as defined by Thucydides is based on a zero sum game / absolute gains, while such a scenario can emerge if both states are unable to maintain the brinkmanship and cross the threshold of total war based upon misconception and wrong interpretation of each others actions.
In the midst of great fanfare, the Indian Air force inducted five French-made Rafales into its inventory. These are the first five of a batch of 36 Rafale fighters purchased by New Delhi in a controversial multibillion-dollar deal. The planes are inducted over the longstanding demand of the IAF to diversify its inventory. The Rafales landed at the airbase at Ambala for rapid deployment amid rising tensions with China. The big question, however, is, if five Rafales change the strategic balance in India's favor?
The answer is a big no! When comparing the Rafale with the J-20, there frankly is not much of a comparison. Acording to Global Times, Chinese expertsinsisted that the Rafale is only a third-plus generation fighter, and does not stand much of a chance against a stealth fifth-generation fighter like the J-20. The J-20 is a complete 5th Generation stealth fighter while the Rafale only has some stealth features. At most the Rafale is a 4th Generation Fighter and no doubt it would breathe new life into the IAF, but India already has Su-30s which are 4th generation too. It is not that the 4th Generation fighter is a new thing for the IAF. If so, then why all the fanfare?
India's top twitter trend since the 29th of July was all about Rafales. Hashtags like RafaleInIndia, RafalepowersIndia, and the likes were trending in the Indian social media circles. The ruling BJP took full credit over the landings and India's mainstream media gave the jets a red-carpet welcome, televising their whole 7000 Km journey from Bordeaux, France. Such a welcome is unparalleled in aviation history, as if a Messiah has arrived. Not to mention, Rafale is a French Made Fighter, and since when have imported products become a source of national pride?
The "Rafale obsession" can rightly be explained by the phenomena of "Delusions of Grandeur" which unfortunately has gripped India thanks to its mainstream populist media. India is the 2nd largest population and with its great human resource it is no-doubt poised to be one of the major players in global politics. But it is too soon to consider itself as a regional power, let alone a global one.
The "Rafale obsession" also plays well with the ruling BJP. Clearly, in the recent tensions along the LAC, India woke up to a vigilant and vibrant PLA on its borders, something that New Delhi did not expect. At least not under the current increased US maximum pressure campaign. After the unfortunate death of 20 Indian soldiers, and the rising domestic pressure on the failure to control COVID-19 infections, the arrival of Rafales provided badly needed face-saving to the BJP leadership. But what is truly alarming is when the leadership can't distinguish between myth and reality.
In a veiled threat to China, India's Defense Minister Rajnath Singh on the arrival of the Rafales tweeted about the Rafales capability and how India's neighbors should be worried. This is a very dangerous trend as it shows that even India's top political leadership is having Delusions of Grandeur. It is very pertinent that the Indian leadership should be fully aware of its military capabilities otherwise there is a chance of gross miscalculation on their part. Overestimating military capabilities can lead to sudden unfounded confidence in one's limited capabilities. In such circumstances it might be very easy to climb up the escalation ladder, only to realize later that the capabilities at hand are limited. The events of the 27th February 2019 serve as a stark reminder to the dilemma at hand.
Militarization of Indian Ocean and its Implications on Pakistan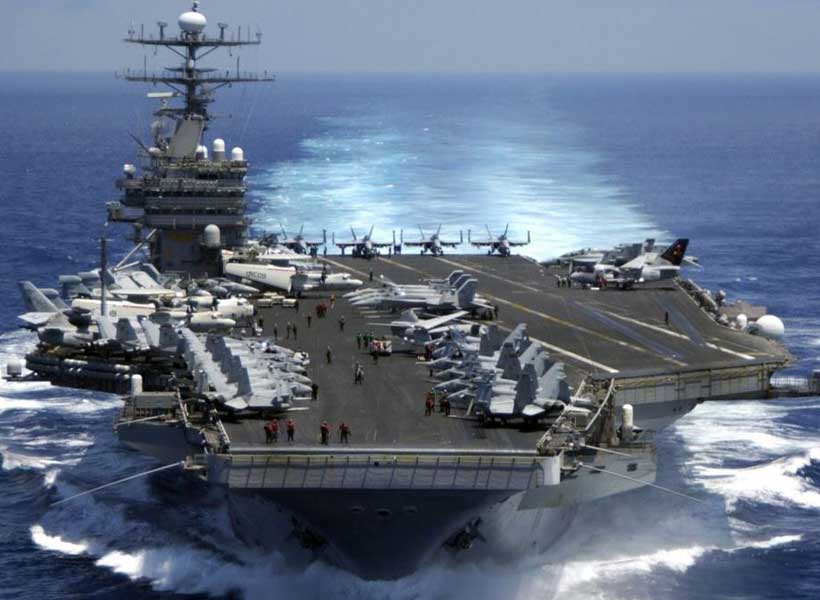 "Whoever controls the Indian Ocean, dominates the Asia"-Alfred Thayer Mahan
Indian Ocean is the third largest ocean of the world. It is considered as hub of globalization as it provides connectivity between east and west. Two-Third of the world trade occurred through this ocean so it is having a tremendous strategic location which is significant for emerging power. [1]Indian Ocean also called as "Ratnakara" (the mine of gems) in sansikrit. The most crucial trade route is Malacca straitin the ocean and secondly it provide passage to oil from Persian gulf to rest of the world. The economic interest and threatening security environment engaged different regional and extra regional players militarily.[2]
Oxford Dictionary stated Militarization as "preparation for an immediate combat situation or a violent conflict by nations or arms groups". [3]It can be of various forms like deployment of troops, Building up Naval capabilities, Weapons of Mass destruction. In Indian Ocean Militarization done by many foreign countries and also other countries who are sharing border with Indian Ocean. As different states have stakes and interests. The protagonist countries are; India, China, Pakistan and USA respectively.
Major Players in Indian Ocean
India is also a fastest growing economy. It is located in the center of Indian Ocean and it's coastline along ocean is 75, 00. This region is top priority of India as for her it is very significant as 90% of trade occurred through the ocean and it also imports LNG, 45% coming through sea. it is also dependent on resources of ocean.[4]India suspects that china is surrounding her by following her policy string of pearls. For increasing involvement of china, India has looked upon USA for making alliance or to contain china in Indian Ocean.[5] In opening of Malacca strait there are two islands; Nicobar and Andaman respectively over there they have naval presence in case of any conflict India can tackle china.
USA is another actor which is involved in ocean and playing cards, USA has its base in Diego Garcia so that in case of any conflict it can deploy its naval forces quickly. As USA is dependent on Middle East for oil so openness of passage is very crucial So second involvement is to protect its own interest that in case of any conflict Iran may block the strait of Hormuz in this case USA naval fleet will be able to prevent Iran to do so. Thirdly small Nations such as Australia having a lesser power so it ally with USA for its protection and this could only possible if USA stay over there's also gives this justification.[6]
China is rising economically and it's second great power after USA. It is also dependent on Indian Ocean in term of oil trade, Raw material and it's sea lane route passing through very critical area of Indian Ocean; Malacca Strait as near to it there is presence of Indian navy so by developing it's navy she can protect her resources. India's growing economy and china's growing global influence have highlight the strategic standing of ocean. China wants its regional maritime presence. Right now focusing on open sea and offshore defense[7].
In Context of Pakistan CPEC has great importance. India fears that the OBOR, undergirded by CPEC, could hand over it to the margins of both land and maritime Asia. By choosing for the Gwadar Port and CPEC, Pakistan has chosen to become a regional economic pivot and a major maritime power. In this regard, it has three fundamental and instantaneous responsibilities: to complete CPEC projects on time and take them to the next higher stage, to build national agreement behind them, and to eliminate terrorism. Pakistan is successfully moving in all these directions. Second, Pakistan will have larger naval presence in IOR; and that demands, for general maritime security, a stronger Pakistan Navy for protection of the sea lanes carrying Pakistan's as well as international merchandize. This task would require more naval assets and related infrastructure. While China would be there to safeguard its own interests in the Arabian Sea and the Indian Ocean, Pakistan, which up to now has been largely oriented as a land and air power, would have to build its conventional and strategic naval muscle proportionately Indian Ocean is transforming because of three reasons; China's rise as an emerging economy and its inauguration of maritime Silk Road; one belt one road (OBOR) and secondly rebalancing of USA pivot to Asia and thirdly emerging economies which are littoral to Indian Ocean. In Years ahead there would be rapid economic activities and would instigate rapid militarization.[8]
Implications on Pakistan
Challenges to Pakistan are originating because of power projection of different states in Indian Ocean. Side by side terrorism, piracy and environmental concerns are further adding to the scenario. OBOR also need proper security mechanism. India-USA strategic partnership is also a high stake for USA as this will help India to build up nuclear capabilities; air craft carrier technology, drones, marine helicopters and anti-submarine gear respectively. Which will in turn instigate risky situation for Pakistan and third thing is India is making partnership with other states to like Iran and other Gulf states to tackle the Pakistan and China partnership.[9]
China is continuously building its naval capabilities. China's maritime power named, Far sea defense, aimed to achieve two objectives; firstly to secure its maritime security and secondly to protect its interest in term of economics in Indian Ocean in Indian Ocean and West Africa. As china is expanding its economic interest so presence of navy will protect transportation routes and will help to secure sea lanes and to achieve china need to have comprehensive naval capabilities. Chinese building up of naval capabilities will ultimately engage USA as well which will put catastrophic effect in the region.[10]
Moreover, militarization is also posing non -traditional security threats such as piracy, terrorism and environmental issues as well and now after the partnership of China and Pakistan in Indian Ocean, it is dire need to overcome these challenges as this is good for both to secure their interests.[11]
India has also deployed its navy in the ocean to secure its own interest. As being the major shareholder in Indian Ocean trade and commerce activities in esteem of imported crude oil, raw materials, and consumer goods, the country's exports. It has become essential for India to ensure the security of SLOCs from the Persian Gulf, Europe, and East Asia. The security of these vigorous shipping lanes is also linked with India's dependence on the security of the Indian Ocean, combined with its need to monitor and, if necessary, patterned the naval activity of other regional powers. The Indian Navy's presence has moved to 40 ships and submarines, two nuclear submarines, two aircraft carriers. This would go up to have a 165-ship fleet by 2022 ranging from surface combatants, submarines to three aircraft carrier groups with a total of 400 MiG-29K aircraft and helicopters. India's defense budget is more than Pakistan. Pakistan has also naval presence in the Indian Ocean but up till now India is leading and Pakistan is building its capabilities.
Summary of forces
This bar chart showing that Pakistan's forces are far behind from India.Pakistan is also struggling for building capabilities in term of maritime security.Aman Exercise first time happened in 2007 and at that time 28 countries contributed but now Multinational Aman(Together for peace) Exercise 2017 happaened in arbian sea in which navies of 35 states joined the exercise and this representation was shown with boarded helicopters,explosive ordnance diposal,special operation forces and maritime observers. PLA Navy conducting major naval manoeuvres with Pakistan Navy in the North Arabian Sea in a exhibition of resolve to guard multibillion dollar innovativeness CPEC.Pakkistan Navy has elevated a Special naval Task Force to protect and defense the Gwadar port. The newly-instituted special Task Force will include ships, fast attack craft, drones and surveillance possessions to guard the port as well as contiguous sea.[12]
India's blue Navy is putting great implication on Pakistan.Pakistan is uptill now lag behind naval capabilities. Pakistan newly tested a 700 km land-sea version of cruise missile, Babur. Not too long ago, India test fired submarine launched Intermediate Range Ballistic missile, K-4. On December 26 last, India tested Agni-V, Intercontinental Ballistic Missile (ICBM). With a strike range of over 5,000 km, Agni V can reach southern parts of China. To ensure satisfactory stability, Pakistan tested its version of submarine launched cruise missile, Babur III early this January.Pakistan has also signed deal with China (PLA Navy) and according to this deal Pakistan will buy Hangor class of submarine also negotiationg on corvettes to further extend the strategic partnership.it can create balance in indian cocean.Pakistan has to build its conventional and navy muscles correspondingly.As it is necessary for pakistan to tackle India and alone Pakistan can't do that.[13]
Modernization Plans of Pakistan in Indian Ocean
Indian Ocean is though hub of globalization but side by side it's posing a threat to Pakistan's national security. To secure its survival Pakistan is developing new capabilities as according to realist perspective 3s (statism, survival, security) are very crucial for a state.Inspite of significant geopolitical position, Pakistan has not paid attention to its own country and this lack of attention has put her far behind from India but now the current nuclearization of Indian Ocean by many other countries has opened the eyes of Pakistan and also due to project of CPEC, Pakistan is now focusing on its navy to tackle any difficult situation in Indian Ocean. As Pakistan is not economically well off so that's why she will focus on upgradation of existing arsenals rather to make new one.
Pakistan is building up its arsenal with the help of China, Russia and Turkey. Chinese are providing support in building of not only arsenals but side by side giving training to Pakistani technicians. China is not only supporting Pakistan economically but also building human resource. Russia will supply F-22 frigates with enhanced capability of sensors and possibly will also include SAM, surface to air missile. Pakistan has also hired second fast attack craft missile (FACM) named PNS HIMMAT and this is under the program of AZMAT fast attack craft missile which was initiated in 2013 with the collaboration of China and now Pakistan has made its indigenous second FACM and first one was PNS DEHSHAT.Though it is a small vessel but still has capability to hit surface ships. Fast attack craft is also equipped with other arsenals like guns and other electronic combat equipment and it has fast speed but it can be used in operation beyond 100-150 nautical miles from its respective coast. No doubt it's an appreciated accumulation in the operational capability of Pakistan .But disadvantage is its small size and it can't be operated in area which is far from its range. But FAC's capability can be improved by investing in supersonic anti-ship missile ASHM and ASHM which is longer in range which can provide long range surveillance and this can effectually extend the range of fast air craft FAC.[14]
Gwadar port has brought Pakistan and China more closer and now Pakistan is enhancing its naval assets with the collaboration of China. Pakistan has finalized the agreement over submarines with China and China will deliver eight submarines; S20 and SSK respectively. Among eight submarines, four of them will be constructed in Pakistanand rest of four will be constructed in China. Pakistan has also done agreement with Turkey in upgradations of its naval assets; in term of undersea combat competences. In June, agreement between Pakistan and Turkey over 3 Agosta 90B-class (aka Khalid-class) which is "diesel-electric attack submarines" furnished with air-independent impulsion schemes.Anti-ship warfare capability will further enhance the chance to prevent the naval blockade and these steps like upgradation of existing arsenals, training programs is a clear message that Pakistan is ready to counter existential threats in Indian Ocean.[15]
Modernizaton plans of India in Indian Ocean
Chinese presence and its partnership with Pakistan have alarmed India and she is also developing and heavily investing in naval assets to tackle its major rivals; Pakistan and China respectively. India is focusing on its indigenous capabilities to modernize its weapons and in term of extension of its naval forces. Since 2014 India has different type of vessels which are 41 in number. These includes; corvettes, frigates, aircraft carriers, nuclear and conventional powered submarines and these are still under construction[16]. Side by side India is also investing in Anti-submarine shipscapabilities like "Kamorta-class corvette". Long range surveillance maritime aircraft and ships which include "Saryu-class petrol vessel "and UAV's (Unmanned Aerial Vehicles) like "IAI-Heron-1"but still India is lagging behind in term of submarine armada which has put very bad impact on its other naval capabilities[17].
India is also building aircraft carrier but still under development.one aircraft is INS Vishal which is 65,000 in weightage and will be able to house almost 55 aircrafts and aircrafts will be launched by a system (CATOBAR) "catapult assisted take-off but arrested recovery". This system will help aircraft in launch from carrier and aircraft will able to carry heavier armaments payload and this aircraft carrier is expected to be commissioned in Indian navy in 2030s.it will be driven by nuclear apparatus. But India has no experience in term of nuclear impulsion in surface vessel so there is chance that India may cooperate with US and France in term of this aspect[18]. Since 2012 India has only one nuclear driven submarine which she has taken from Russia on contract[19]
India is also building nuclear city where she is developing both nuclear and conventional weapons and located in South India.She is also developing thermonuclear weapons and this will disturb the balance of whole region.Already there is conventional assymetry between India and Pakistan but this will instigate full fledge arms race in the region[20].It is commonly said that she is developing its nuclear city but still there is no credible information about it, whether she is developing or not.
Second strike capability of Pakistan
Pakistan's full spectrum deterrence will not be complete without a triad vis-a-vis India, including a symmetric and credible naval component. The stronger a country's economy, the stronger security cover it would need to protect and sustain it. Pakistan has a narrow window to build its naval capabilities. The opportunity will shrink if this task belongs to the distant future and the precipitation of spying networks around Pakistan's coastline and the mainland would thicken more vigilance and cooperation with friendly countries will be required to combat this threat.[21]
Second strike capability is traditionally acquired by having submarine-launched ballistic/cruise missiles. They serve as credible deterrence tanks to their survivibility and give a great boost to the defence of a state.Both states are working on second strike capability.First India tested SLBM (Submarine Launched Ballistic Missile) K-4 and K-15.India is trying to test its missiles and when tests will successful India will deploy missile on its nuclear powered submarine.Pakistan tested its second strike capbility after India by launching first ever nuclear capable submarine launched cruise missile Babur-III. In near future India has 2 nuclear submarines and this missile only launched through this submarines rest of the submarines are not capable whereas in term of pakistan ,have all conventional submarines and Babur-III launched from any of these without any modification.Pakistan doesn't have nuclear powered submarine.while coming to range Indian missile has wide range as compare to pakistan's missile.From both sides this project will take 10-15 years.[22]
Future scenarios of Naval Upgradation in Pakistan
Pakistan has signed agreement with Germany to buy ATR-72 which is basically plane spotter and there are chances that pakistan navy convert it into Anti-ship warfare and this will allow it to proficient of Anti-ship wrafare plateform.In coming years Pakistan will upgrade it with airborne surviellance radar.[23]Pakistan has also inaugurated its Pakistan Airbase(PAF) in Bholari which is situated in Karachi.It is operational now and this base will play a supportive role both for land and sea.Though Pakistan is lagging behind India but Pakistan still able to tackle India.This will deliver aerial defese to our land and side by side will also protect China-Pakistan economic corridor(CPEC) project[24]In future ahead cooperation of China and Pakistan will help to modernize Pakistan's naval assets.
Conclusion
Introduction of nukes in Indian ocean has raised new multi challenges for Pakistan. Despite of Pakistan wish to keep waters clean from nuclear weapons, India has taken first step to furthur complicate the strategic enviroment of South Asia. Though Pakistan is in the process of development of possible counters, however over all such developments will initiate a cold war type competion between India and Pakistan thus creating arms race. Though idea of sea based ''assured second strike'' capability may serve as major deterrent factor to avoid all out conflict but development of other conventional naval build up might increase friction in the context of Arabian Sea – Indian ocean security paradigm.Pakistan and India are traditional rivals. They have apprehensions from each other which are deep rooted. The Indian Ocean is the most significant and relevant water body. It has political, economic, security and energy imperatives for whole world. It is the global trade route encompassing oil and energy trade which is the driving force of whole world's industry. The Indian Ocean is the theatre of new game for global powers. There are various rivals in competition for influence.Indian designs are to become a global power with active role in every sphere. It has a first priority to compete Chinese influence. Pakistan has a main security threat from India. Its foreign policy has long been hostage to this threat. The rivalry, which reached to the nuclearization of both states may reach Indian Ocean as Pakistan has always been in quest of balancing the power as against India.Pakistan needs robust efforts to achieve security in Indian Ocean to safeguard its interests.
---
[1]Pejsova,Eva, "Scrambling for the Indian Ocean", European union institute of strategic studies,2016
[2]"Strategic importance of Indian Ocean",Himfact,2015,http://www.youtube.com/watch?v=997KUreZIA
[3]"Militarization in the Indian Ocean Region" ,Indian Defense Forum,2015
[4]Jaishankar,Dhruva, "Indian Ocean Region: A pivot for India's growth", Brookings institution India center,2016
[5]"Militarization in the Indian Ocean", Indian Defense Forum,2015
[6]Ibid.
[7]Albert, Eleanor, "competition in the Indian Ocean", council on foreign affairs,2016
[8] Masood khan,Sardar, "Indian Ocean Region: Strategies and challenges", Pakistan observer,2016
[9]"Emerging Challenges in Indian ocean pose serious threat to Pakistan's security interest", Pakistan today,Islamabd,2017
[10]Qamar Fatima,Asmajamshed, "The political and Economic significance of Indian Ocean: An analysis, A research journal of South Asian Studies,2015
[11]"Indian Ocean maritime security challenges: Is Pakistan ready",Times of Islamabad, 2017
[12]Muhammad Azam Khan, "Aman 17 and Balance of power in Indian ocean", The News,2017
[13]Ibid.
[14]Usman Ansari, "Pakistan Seeks To Energize Naval Modernization", Defense News, 2015
[15]Bilal khan, "The Pakistan Navy 2016 and beyond", QUWA (Defense News and Analysis group)
[16]"Why India's 'Blue Water' Ambitions Matter". Archived from the original on 2014-11-23.
[17]"India's Growing Unmanned Naval Fleet". Archived from the original on 2014-10-30.
[18]Franz-Stefan Gady, "Confirmed: India's Next Aircraft Carrier Will Be Nuclear", 2016.
[19] VIVEK BHARDWAJ, "TOP 10 Most Advanced Upcoming Projects,Future,Indian Navy", 2015.
[20]Adrian Levy, "India Is Building a Top-Secret Nuclear City to Produce Thermonuclear Weapons", Foreign Policy Magazine, 2015.
[21]Sardar Masood Khan, "Indian Ocean Region: stratregies and challenges", Pakistan Observer, 2015.
[22]Zarnab Tahir, "Deterrence and second strike capability of South Asia", Center for Strategic and contemporary Research,2017
[23]Bilal khan, "Is it finally the Pakistan's Navy turn", QUWA, Defense news and analysis group, 2015
[24]"PAF inaugurates new operational air base at Bholari near Karachi", 2017