When country after country became an independent state in the five decades after the end of the Second World War, its leaders discovered that in addition to all the other urgent needs pressing on them, economic, social, organizational, they were also supposed to have a foreign policy. Any government could purchase some buildings in the capitals of the foreign countries that seemed most important and install ambassadors in them, but a foreign policy cannot be made by ambassadors each going his own way. There have to be non-contradictory guidelines that all can follow derived from the government's definition of a foreign policy, which should itself reflect the national interest: very hard to do in any way case but more so in those states that comprised different nations.
For quite a few independent states that was just too much effort amidst their many internal difficulties.
The result was the emergence of "blocs" that shared common foreign policies with bloc-voting at the United Nations: one included most sub-Saharan African states, another the members of the Arab league, a third formed by the countries converging in the European Union, and for a while there was also a much bigger Afro-Asian bloc that gathered in Bandung. The Soviet Union of course had its own bloc which even included China for a while.
Membership in a bloc allowed governments to concentrate on more pressing internal problems while putting their foreign policy on the bloc's autopilot, and that worked well enough until it did not: over the years, country after country found itself with unwanted enemies and uncomfortable allies, and so the blocs started dissolving. That cast many states in the cold water of world politics, in which it is easy to make costly mistakes, and hard to make choices that are advantageous.
Kazakhstan's fate was different.
In the first place, unlike many other newly independent states, it was not suddenly cut loose on the world scene with no defined national identity, no institutional preparations, and untrained leaders.
Instead its emergence was gradual and organic. The Kazakh nation itself reached self-awareness from narrower loyalties over some four centuries, which included a calamitous struggle for survival in the eighteenth century that did much to sharpen its identity.
As for the state structure, it too emerged gradually from the Kazakh Soviet Socialist Republic formed at Moscow's ordersin December 1936 , whose slow acquisition of the administrative elements of a state was not accompanied by any advance towards any form of autonomy until very much later, with the turning point only coming in December 1986 in the widespread demonstrations over the principle that the Kazakh Soviet Republic should be lead by a local Kazakh party leader. In spite of their violent repression, the principle was affirmed by the elevation of Nursultan Nazarbayev as Party leader in June 1989 and de facto head of state (Chairman of the Supreme Soviet Council) in February 1990.
By then Nazarbayev had served in administrative roles of increasing scope for many years up to the highest level as de facto prime minister (Chairman of the Council of Ministers, so that he had both the political authority and a thorough knowledge of the state apparatus by the time he asserted that Kazakhstan until then formally the Kazakh SSR was a sovereign state on October 25, 1990.
Again this was very different from the fate of other newly independent states, whose leaders went straight from the political or even violent struggle for independence to the control of the state, with little or no administrative experience—and it was the population at large that paid the price of the resulting mismanagement or worse.
Subsequent events show that Nazarbayev was able to dedicate serious thought to the country's foreign policy, in spite of the dramatic urgency of the economic situation, and all the other pressing problems .
Paradoxically this is most clearly proven by the most important component of his domestic policy: the language question. Under the Soviet system, Russian was the language of "Soviet man" and all other languages were essentially folkloric, even if widely spoken, written and read.
Obviously that had to change but instead of simply imposing Kazakh on a multi-lingual population which would have caused enormous inconvenience, and before that acute anxieties which might in turn have destabilized society even in violent ways, Nazarbayev lead a careful progression to a language law that –crucially- was enacted in September 1989, more than a year before independence.
In retrospect, it can be seen that it was a very clever law, which, in effect, outmaneuvered the problem: it affirmed that Kazakh was the national language whose use for all purposes would be vigorously promoted, but at the same time, Russian was defined as a second official language, immediately relieving the anxieties of the substantial minority of Russian-speaking Kazakhs as well as Russians and many other Russian speakers.
That was a good compromise but it was the next component of the language law that presaged the country's foreign policy: Nazarbayev promised that the other languages spoken in Kazakhstan would also be promoted and supported educationally, including German, Korean, Polish and several others , ranging from Lithuanian to Greek.
This message of inclusion was reinforced by an equally early opening to the country's religions, previously repressed and then tolerated at best, but which the new Kazakhstan would not only recognize but support.
Again, Nazarbayev acted very early: on September 25 ,1989 while still nominally a Soviet leader, and concurrently with the law that guaranteed linguistic inclusion , he met with the most prominent Muslim, Orthodox, Baptist, and other religions to affirm religious inclusion as well.
The message was heard near and far: independent Kazakhstan was joining inherently pluralist international society not as a monolithic national state whether natural or made so by repression, but rather as a consciously pluralist state inherently open to the world.
This are all fine words easily proclaimed to make a good impression but in Kazakhstan's case it was all real: the promises of inclusion were kept, and the result was that Kazakhstan was spared the inter-ethnic tensions and even violence of many if not most newly independent states.
For this the good character of the Kazakhs could claim some of the credit –it emerged in generosity in the worst of times– but Nazarbayev himself provided the leadership.
For this he could draw from his own personal experience: this author has spoken to a person who was in high school with Nazarbayev in Karaganda, in a class whose composition reflected the city's population of Kazakhs, Germans, Poles, Jews and Russians. Nazarbayev, he says, was already a leader, not because he asserted himself, but because others wanted to follow his example.
Because Kazakhstan's independence was preceded by its convincing message of inclusion, it evoked some goodwill from attentive foreign countries as well Russia itself emerging as a new state.
But independence must also be actively protected by a balance of power, and that is not easily achieved in any case but was an especially difficult requirement for Kazakhstan given its geographic positioning, far from the open ocean and extending between the Russian Federation and the People's Republic of China.
It was a heroic undertaking to overcome those truly difficult circumstances, but again Nazarbayev rose to the challenge in a manner that reflects very accurately the always paradoxical logic of strategy: Kazakhstan inherited some of the most powerful nuclear weapon systems of the USSR, and could have started off as a major nuclear power from the day of its birth. That might even have been useful to pressure other countries, initiating a cycle of conflict.
But instead Kazakhstan gained much more because Nazarbayev chose to eliminate all nuclear weapons : he wanted to build Kazakhstan as a successful state for its inhabitants, not as an aggressive nuclear power.
By unilaterally and freely giving up its nuclear weapons, Kazakhstan attracted the immediate diplomatic support of its neighbors large and small , and equally of the United States, Japan, India, the United Kingdom, France, Australia, Canada and other states large and small attentive to world affairs.
That was of crucial importance: it meant that from the start Kazakhstan's foreign policy was not captive to its geography, and could instead develop as a multi-vector effort to reach out to the world—an effort that was duly reciprocated.
With that, Kazakhstan became an axiom of world politics, with many other countries large and small invested in its sovereignty and territorial integrity.
All that remained to complete the invention of Kazakhstan's foreign policy was the administrative part: the selection of the most competent people available to serve as ministers, high officials and ambassadors.
That was a task which was accomplished with the particular aptitude that Nazarbayev had demonstrated even in Soviet times –when it was risky to do so– to resist nepotism, cronyism, and mediocrity , to instead choose the best.
Whatever else Nazarbayev may have accomplished, it is Kazakhstan's successful foreign policy that reveals the quality of his leadership most clearly, as governments around the world have duly recognized, not just verbally but also substantively by eagerly participating in his peacemaking and other international initiatives. Nazarbayev's authority, his impartiality and substantive goodwill gave birth to the "Astana format" whereby rival powers can meet in Kazakhstan with its Founding President in the chair to moderate and mitigate not only tensions but also active conflicts underway. That too enhances Kazakhstan's role in world affairs to the benefit of its entire population.
Localism in Tajikistan: How would it affect Power Shift?
Localism has been a common characteristic of all post-Soviet Central Asian Republics. However, this trait emerged in different ways; the result has been almost similar. The phenomenon is stemmed in unbalanced developing process and deliberate unequal share of power between regional ethnic groups of Communist leadership.
In Tajikistan, the localism emerged with more complexity and has had more important consequences. In some opinions, a main root of Tajik Civil war of 1990s, had been localism which followed by religious and ethnic gaps. In essence, the war was between privileged and unprivileged areas[i]. Akbar Turjanzoda, prominent cleric and former deputy Prime Minister of Tajikistan, who is also known as an influential figure of peace process, in his book "Between water and Fire" emphasizes on a "balanced localism" and suggests the balance between representatives of different regions is the only solution for a peaceful country[ii]. After the Peace Accord, everyone expected to do so, however the balance never achieved.
In Soviet era, the Khujandis were the most influential group that enjoyed the power and wealth. Moscow-based leadership made this due to dual Uzbek-Tajik identity of the Khujandis, who were under influence of regional focal point, Tashkent. On the other hand, any possibility for anti-Russian integration in North was less than any other region in Tajikistan. Moreover, contemporary history of revolutionary groups, such as Basmachis, shaped basically in other regions. Furthermore, in separation of Tajikistan from Uzbek Soviet Socialist Republic in 1920s, the Khujandi elites made the most important role[iii]. These factors made the Khujandto become the prominent region in the Soviet Republic.
If we consider the identity based division of regions as Shavkat Kasymov did in his paper "Regional fragmentation in Tajikistan: The shift of powers between different identity groups[iv]", we can categorize the Tajik regions into Khujandis, Kulobis, Gharmis and Pamiris. The geographical position of these 4 group is shown in Map-1.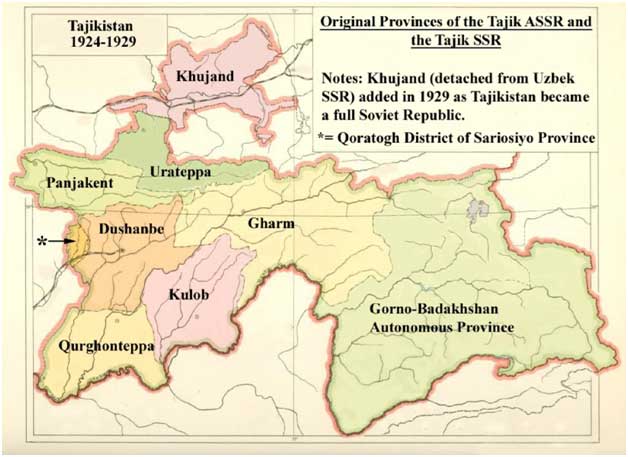 Map-1: Geographical position of identity-based division of localism in Tajikistan[v]
However, after about 3 decades of geopolitical changes, more geographical features should be considered on Tajik localism. As you can see in Map-1, the identity based divisions do not cover all provinces of 1920s in Tajikistan. North, South, East and Center are the 4 contemporary key regions of the country which represent a political clan. Map-2shows the political map of independent Tajikistan.
Migration process is a factor that should be considered in second division, especially about capital, Dushanbe. The city is geographically included in Centre, but the political view is unknown due to migration flow[vi]. It is also true about those who were displaced from Gharm to Qurghonteppa for agricultural purposes during Soviet era.
Map-2: the political map of independent Tajikistan[vii]
The Southerners leading by Emomali Rahmonhave enjoyed the power in post-peace era. In all political arrangements, the localism has been affected roguishly. Danghara, Kulob and Farkhor from Khatlon province are the main power spots in South. The major powerful and influential structures within the state such as President, Defense, Internal and external affairs ministries and State committee for National Security are all occupied by elites from these regions. Interestingly, opposition believes that according to peace accord, the power-based ministries such as defense and internal affairs should have been allocated to opposition, but never done[viii]. Even the potential president of the country, the Chairman of National Assembly is from south. According to the country's constitution, in case of death, resignation and incapability of the President, his duties prior to the beginning of assignment by the new President, shall be taken over by the Chairman of National Assembly[ix].
Although the Northerners' share of power has been marginalized dramatically after the Soviet dissolution, they have still a better situation comprising to Center and East. According to the political traditions rooted in contemporary coalition during the civil war, the Prime Minister belongs to North. However, his power has been limited, and the authority shared with 3 deputies from south. The position is personally under the control of the President.
The Eastern Pamirs have even the smallest share of power, due to their different culture, language and especially religion. It seems that the Eastern elites trend to have more control to their homeland as an autonomous region, rather having national power positions. After 2018 conflicts, as a sign of appeasement, Rahmon appointed a figure close to Aga Khan, the religious leader of the Pamiris as provincial chief. But in National share of power, nothing considerable.
Understanding the share of Center is a bit more complicated. Today, the Islamist opposition is mainly from this part of the country. This clan is known to its religious identity. Sayid Abdulloh Nuri, the former leader and founder of Islamic Renaissance Party of Tajikistan (IRPT) and former United Tajik Opposition (UTO) is a well-known politician of this share. Other prominent political Islamist figures such as former deputy PM, Akbar Turjanzoda, and Muhiddin Kabiri also belong to this clan. While the first circles of IRPT had a Gharmi identity,a senior member of the party believes that they have moved beyond localism and as an example, the party introduced Muhammadalihayit, deputy chairman of the party, who was from South.
On the other hand, there are also small shares within the State. Chairman of the Assembly of Representatives belong to Center. There are also some ministries from cities like Hisor and Vahdat.
Muhammadjon Kabirov, a Tajik expert and senior member of IRPT believes that the current power sharing system in the country is even deceptive. First, there are always parallel state institutions which belong to Southerners such as Energy and electricity institutions. On the other hand, while the head of these structures have been granted to non-Southerners, the deputies and bodies of the ministries are mainly from South. Thirdly, these elites cannot and not let to apply their local identity in their share of power. And eventually, these points are while the state positions are not sold by money or allocated by political affiliations.
Region
Position
Name
Birth place
South
President
Emomali Rahmon
Danghara
Chairman of National Assembly
Rustam Emomali
Danghara
Prosecutor General
Yusuf Rahmon
Vose
Min. of Defense
SheraliMirzo
Hamadoni
Min. of Internal Affairs
Ramazon Rahimzoda
Kulob
Min. of Foreign Affairs
Sirojiddin Muhriddin
Temurmalik
Chmn., State Committee for National Security
Saymumin Yatimov
Farkhor
Mayor of Capital
RustamEmomali
Danghara
Min. of Education & Science
Muhammadyusuf Imamzoda
Temurmalik
Min. of Finance
Fayziddin Qahhorzoda
Vose
Min. of Industry & New Technologies
Zarobiddin Fayzullozoda
Danghara
Min. of Health & Social Protection
Jamoliddin Abdullozoda
Danghara
Min. of Agriculture
Amonullo Solimzoda
Danghara
Min. of Economic Development & Trade
Zavghi Zavghizoda
Hamadoni
North
Prime Minister
Qohir Rasulzoda
Ghafurov
Min. of Justice
Rustam Shohmurad
Konibodom
Min. of Labor, Migration, & Public Employment
Golru Jabbarzoda
Isfara
East
Min. of Culture
Zulfia Davlatzoda
Khorog
Min. of Transport
Khudoyor Khudoyorzoda
Rushon
Center
Chairman of the Assembly of Representatives
Muhammadtoer Zokirzoda
Rasht
Min. of Energy & Water Resources
Usmonali Usmonzoda
Vahdat
Table1: Distribution of power in Tajikistan based on localism[x]
Localism and Shift in power
At the first shift in power in Tajikistan, the localism played a prominent role. In the post-Soviet era, th power was in hands of Northern pro-communists. At the same time that the central Gharmis and Easters were seeking a share in the country's politics, the Southerners made a clever coalition with weakened North and simply came into power. At that time, when the opposition groups were mainly in unstable and disconnected regions of the country as well asAfghanistan, the political competition defined between North and South. In 1994, the Northern candidate, Abdumalik Abdullajanov lost the election to the Southern Emomali Rahmon (with 58%)[xi]. Then the war started, the peace achieved and due to the peace accord, 30 percent of the state's power should have been allocated to opposition. However, step by step it tends to less than 5 percent.
There are evidences that the country is moving toward another shift in power. The amendments applied to the constitution in 2016 and paved the way for Rustam's (Rahmon's elder son) presidency. In the meanwhile, Rustam is experiencing different positions and rising up for a hard inter-family competition (maybe with his more experienced sister Ozoda) and a wider confrontation with potential and indeed opposition (Internal power groups and exiled opposition).
There is still a possibility that due to recent security issues and Corona Virus pandemic, Rahmon run for another term and keep the power by himself. Maybe he will learn from Nazarboyev's experience. After achieving the leadership of country's National Assembly by Rustam, it is more likely to happen. The situation allows Rahmon to leave the power anytime he wants and does surprise everyone.
Any of the mentioned scenarios happen to the shift in power, the localism's affect is inevitable. As Rahmon raises his effective/ineffective authoritarianism with less legitimacy, he will try to change the regional balance in power in a kleptocratic space of the country's politics. The change in Badakhshon and other changes of more politicians from Danghara were the first spark. But still no one guarantee that the unrests won't happen again. We should also expect consolidating the ties with North by various means.Recent change in the Minstry of Labor, Migration and Public Employment, that a politician from North (GolruJabbarzoda) replaced a Southern Minister (Sumangul Taghoyzoda from Kulob) is a sign. Also Rahmon's granddaughter married to a Northern family (grandson of the governor of the Sughd region)which was unprecedented in large presidential family[xii].
How the exiled opposition will play their role in a country increasingly closing, is a vague question at the moment. Forming the coalition such as "National Alliance" is unlikely to affect dramatically. However, the restricted figures inside the country, has a potential to fire the spark. That's the reason that Rahmon will strictly keep control over these two potentials.
Endnotes
---
[i]For example HoonanPeimani in his book "Regional Security and the Future of Central Asia: The Competition of Iran, Turkey, and Russia" believes that; P. 28.
[ii]АкбарТӯрадчонзода, Миёниобуоташ, Саҳифа 5-6.
[iii]Talking to a Tajik expert, MuhammadaliBurhanov.
[iv]Kasymov, Shavkat, (2012), Regional fragmentation in Tajikistan: The shift of powers between different identity groups, Asian Geographer, 30:1, 1-20.
[v]The map is obtained from "Tajikistan: A Political and Social History" written by Kirill Nourzhanov and Christian Bleuer, published by ANU E Press, P. 93.
[vi] Three Tajik experts suggested that Dushanbe does not represent any political clan.
[vii] The map is obtained from: https://geology.com/world/tajikistan-satellite-image.shtml.
[viii]Interview with MuhammadjonKabirov, Tajik expert and senior IRPT member.
[ix]Article 71.
[x] The data in table mainly obtained by official websites and in some cases by talking to Tajik experts.
[xi]Freedom in the World 1999 – Tajikistan, https://www.refworld.org/docid/5278c6d58.html.
[xii]Tajikistan: Marriage Folds Northern Elite Into Presidential Family, https://eurasianet.org/tajikistan-marriage-folds-northern-elite-into-presidential-family.
COVID-19 Pandemic May Result in a Long-term Human Development Crisis in Central Asia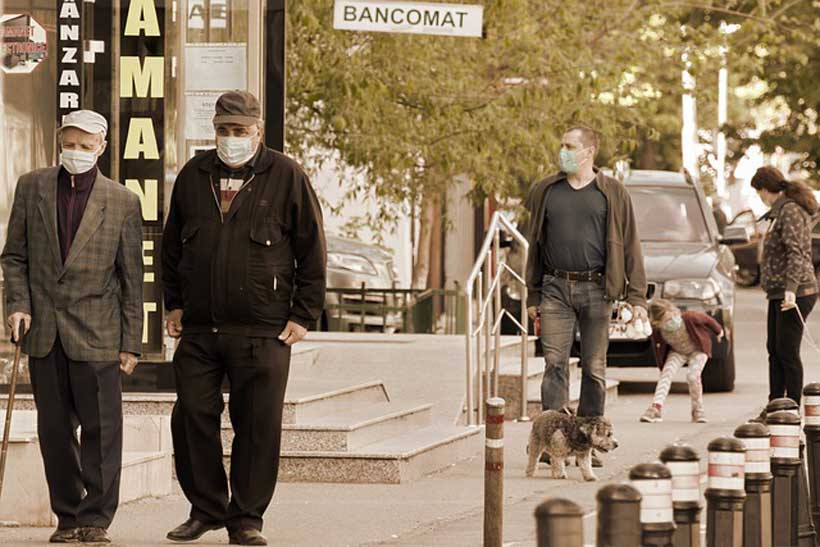 The COVID-19 pandemic can have a detrimental and long-lasting impact on education and human capital, economic and social development in Central Asian countries, where schoolchildren and students make up nearly half of the overall population, warned World Bank experts at an online briefing held today for regional media, experts, academia, and development community in the region. The crisis threatens to deprive this generation of future earnings, as it pushes a large share of Central Asian students into functional illiteracy – inability to read, write, and do math at a level necessary to be productive, World Bank estimates.
Before the pandemic, education across Central Asia was already suffering from low learning levels, as the countries struggled to eliminate learning poverty, distribute equal opportunities to poor learners, and promote inclusion. Students across the region performed 1.5 years below the average of Europe, i.e. an average student in Central Asia was a year and a half behind their peer in Europe. Many students in the region also performed significantly below functional literacy, according to the OECD Programme for International Student Assessment (PISA).
Learning inequality is of particular concern, with the gap between students from various income levels widening due to a number of factors, including differential access to distance learning for teachers and students, teaching support, access to teaching and learning materials at home, and household contribution to home schooling. According to PISA, in Kazakhstan, children from the poorest families were one year behind their peers, while in the Kyrgyz Republic poor students were 2.5 years behind.
The COVID-19 pandemic has further exacerbated the learning deficiencies, with school closures impacting already marginalized groups, including students from socio-economically disadvantaged backgrounds, learners with disabilities and minorities.
"The COVID-19 pandemic is dealing a blow to education and learning so destructive we will feel its negative effects for decades to come, including $44 billion in economic loss in Central Asia alone, and this is not our most pessimistic scenario," said Ayesha Vawda, Lead Education Specialist at the World Bank in Central Asia during the event. "Central Asian countries took swift action to deliver emergency learning via multiple channels and modes. Now is the time for governments to respond in a way that lays the foundation of the new education system – one that is high quality, resilient and equitable".
During the briefing, the World Bank stressed that education needs to be at the forefront of the national recovery plans in Central Asia. The countries need to protect education budgets, improve the quality of distance learning, allow flexibility in the curricula to focus on competencies and skills instead of knowledge, empower teachers with effective remediation strategies and with diagnostic and formative assessments and increased instruction time to allow recovery of learning losses.
As teachers become more aware of the learning, and learning loss of each child, remedial education plans will need to be developed. Special attention will need to be given to those students who have suffered the most during the school closures. The countries also need to develop digital skills amongst students, youth and teachers and increase teacher-student interaction on different distance learning platforms to better respond to the needs of the continuing crises.
"The World Bank in Central Asia and globally has always put special focus on education and building human capital, understanding too well that these investments bring the highest dividends," said Lilia Burunciuc, World Bank Regional Director for Central Asia. "Currently, we have adapted three education projects in the region to respond to COVID: in Kazakhstan, the Kyrgyz Republic, and Uzbekistan. Through these projects, we were able to mobilize some support for emergency and remote learning. For instance, in Kazakhstan this includes monitoring distance learning and provision of digital equipment for rural teachers".
Tajik opposition movement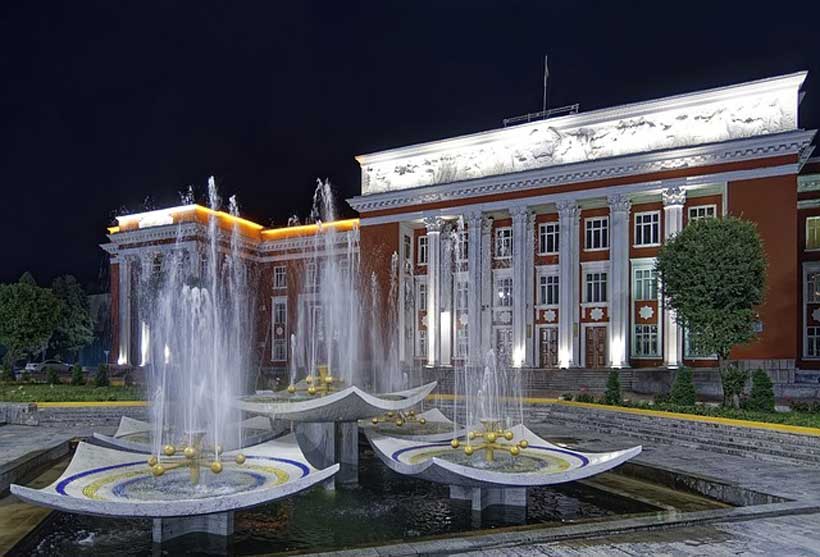 Once fractured Tajik opposition has joined forces in Warsaw to challenge the regime in Dushanbe. Early September 2018, an opposition coalition of four Tajik dissident parties and organisations (the Forum of Tajik Freethinkers, the Islamic Renaissance Party of Tajikistan (IRPT), the Association of Central Asian Migrants, and the People's Movement "Reforms and Development in Tajikistan) formed an alliance to fight the regime from the outside.
But is the political mobilization strong enough to resonate in their native Tajikistan?
Outside of this geographically challenging and historically conflict-ridden state (ed. from 1992 to 1997, Tajikistan was shattered by a deadly civil war), the stories of dissidents rarely receive international attention. The regime, already shaken by the 2012 Uprising in Khorog and the Islamic State threat, is determined to silence dissenting voices outside the country, and to overthrow foes as fast as they show up.
In Russia, several members of the dissident movement Group 24 had been detained, kidnapped or extradited to Tajikistan. In Turkey, a founder of the group was killed and his family poisoned.
Steve Swerdlow from Human Rights Watch said that the level of surveillance and activity of security services in post-Soviet republics is very high.
This case dramatizes the issue of human rights abuse in Tajikistan.
The disappearance of a young political activist Ehson Odinayev, 24, has become a symbol of a long harrowing nightmare. For several months, the Tajik KGB was on a Kafkaesque hunt after Odinayev for his 'extremist' social media posts. He was charged with 'cyberterrorism'. Odinayev vanished without a trace on May 19, 2015.
The regime visited vengeance on the dissidents also outside of Russia.
In March 2015 in Istanbul, the leader of Group 24 Umarali Quvvatov was gunned down, and his family members poisoned. Shabnam Khudaidodova suffered brutal torture after she was detained in Belarus. Only enormous pressure from human rights organizations- including appeals from Human Rights Watch- saved her from extradition. Or from disappearance.
International organizations, admittedly, have few appealing options for stopping the repressions. Denunciations from Human Rights, Freedom House or Amnesty International have failed to affect the government's position on dissidents. And placing economic sanctions would only aggravate an already charged situation, and drive the authoritarian ruler further in the arms of Russia and/ or China.
So far there is not much sign of the fresh dawn for any major change for the downfall of the out-of-touch autocrats.