Instagram is the Most Business-Friendly Social Media App: Here's Why
People love scrolling through Instagram in the morning, double tapping pictures as they come along. Because of its increased user count, as well as the inspiring images on Instagram, the app is perfect for commerce and business. It is the most business-friendly social media app for five reasons.
Promoted Content
Instagram allows its users to promote content across the app. For a small fee, users can make their posts show up on a number of users' pages. These posts can also cater to those who are most likely to interact with the Instagram account and follow the page. Furthermore, Instagrammers are able to link their products to pictures in their posts. This is a commerce-friendly tool that lets consumers get information about the product they are seeing quickly. These same Instagrammers can make their content more appealing to the eye by buying real likes on Instagram. They can buy cheap IG likes to make their branded content stand out. The more likes, the more people are going to be intrigued by the product post. By letting Instagram know the audience the user wants a post to reach, their budget, and the duration of the promotion, the app can create a promoted post that best fits the individual.
Influencers
The new fad in social media marketing is the use of influencers. Instagrammers will have high follower counts and engagement are paid to showcase products on their pages. Celebrities from the likes of Kim Kardashian to Vanessa Hudgens are paid big money to post ads on their Instagram feeds. Businesses don't need to pay high costs on celebrities, though- they can use micro influencers. Micro influencers have thousands over followers, but not so many that they are recognized in public. These influencers have specific interests that help brands market their products through them. Because they have a loyal following for their expertise, these influencers are trusted, yet affordable. If a business's product appears in an influencer's post, more people are bound to see it, and the commerce will ensue. Entrepreneurs and businesses may be able to further themselves to an influencer level by receiving more followers and likes, something that is easily done by posting interesting, innovativeand informative content on Instagram. Influencers can really help out an up and coming Instagrammer who has yet to find their audience.
Amazing Visuals
Another great aspect of Instagram for commerce are the visuals. People can see a product in business in so many different ways. This helps customers gain a better understanding of what the corporation is about, and how their products work.
Photos
The simplest visual a person on Instagram can use is a picture. Pictures share a unique and basic glimpse into what the product is. Businesses can further entice viewers by adding filters, stickers, and other cool visuals to the photo. If they have multiple pictures they want to upload, they can do that, too. Instagram has a lot of great features for helping pictures do their best and tell a story.
Videos
Videos are another simple, yet effective, type of visual. The videos on Instagram can only be so long, so viewers won't easily tire of them online. If they do, they can easily swipe through and find something more interesting to them. Videos help spruce up the dynamic of the page.
Boomerangs
One last form (though there are plenty more) of Instagram visual is the Boomerang. The Boomerang is like a picture, but instead of playing forward the whole time, it loops backward – just like a boomerang. This gives Instagram posts something edgy and playful. Boomerangs are a win-win visual, and the best of both the photo world and the video world.
Personable Feed
People don't know the face and customers behind a brand. They can say slogans and jingles off the top of their heads, but they rarely know the founder or owner of that company. Instagram eliminates the middle ground between creator and consumer. They can give a behind-the-seek look at what a business is, and the people who support it. People opt to buy commerce from a brand when they trust it. Instagram helps build that trust.
Quality Engagement
As mentioned before, people want to find the personality behind the business. This can be done through a higher quality of engagement online. Instagram allows corporations to talk directly to their consumers through a number of ways.
Stories
Instagram stories let people share their thoughts and ideas momentarily (24 hrs.) When the time is up, that story disappears as if it was never there. Audiences want to see more of what the Instagrammers they follow are doing in day to day life. This is beneficial to businesses because it helps them endorse themselves, while also engaging their audiences. Stories have many features as well that can be utilized when reaching out to an audience.
Questions
Polls
Music Sharing
Post Sharing
Location
Filters
Stickers
Live Videos
These are few of many tools that can be used on Instagram stories to give a company or entrepreneur more edge and increase the likelihood that they will sell their product.
Likes and Comments
Another form of quality engagement comes in the form of likes and comments. Instagrammers want to receive likes. They want to feel heard. By liking and commenting on other posts, Instagrammers are challenging others to do the same, which will help boost their engagement rates. This further instills the idea that their Instagram is important, and that other people should follow and like that businesses stuff, too.
Instagram has changed the way in which ads and promotions work. Why waste time and money on a 30 second commercial, when that same commercial could be posted on Instagram? Instagram is the most commerce-friendly app because of its promoted content, influencers, visuals, personable style, and its stories. When businesses start to trust in Instagram, they will understand it is great for getting their name, brand, and product heard about. Until then, they can work on getting their posts viewed.
Sarah Frier wins the Financial Times and McKinsey & Company Business Book of the Year Award 2020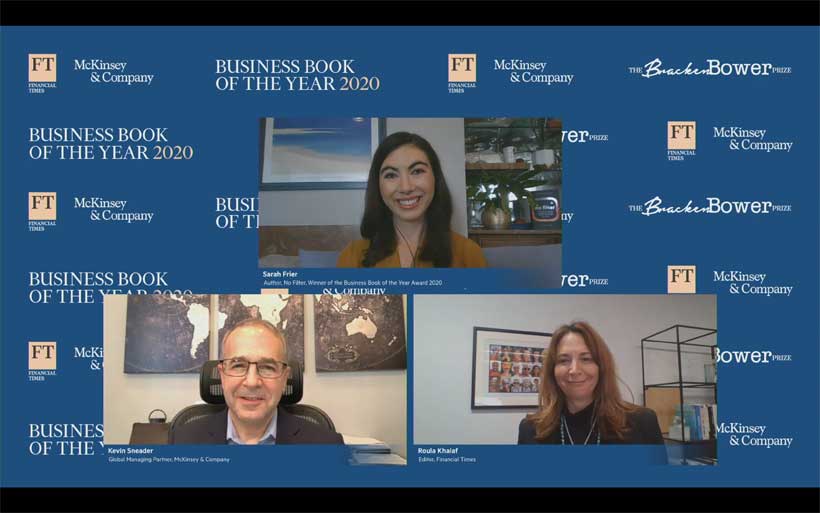 Stephen Boyle wins the Bracken Bower Prize 2020
The Financial Times and McKinsey & Company today announce that Sarah Frier is the winner of the 2020 Business Book of the Year Award for No Filter: The Inside Story of How Instagram Transformed Business, Celebrity and Our Culture, published by UK Random House Business in the UK, and Simon & Schuster in the US.

The Award recognises a work which provides the 'most compelling and enjoyable insight into modern business issues'. It was awarded today to Sarah Frier at a virtual event, co-hosted by Roula Khalaf, Editor of the Financial Times and chair of the panel of judges, and Kevin Sneader, Global Managing Partner, McKinsey & Company. The keynote speaker at the event was Laxman Narasimhan, Chief Executive of Reckitt Benckiser.

No Filter saw off strong competition from a shortlist of titles with a focus on subjects ranging from the future of work, corporate culture, technology and the US economy, to win the £30,000 prize. Each of the five runners-up will receive £10,000.

Roula Khalaf, Editor, Financial Times said, "No Filter is a topical and well-reported account of the rise of Instagram and its takeover by Facebook. But it also tackles two vital issues of our age: how Big Tech treats smaller rivals and how social media companies are shaping the lives of a new generation."

Kevin Sneader, Global Managing Partner, McKinsey & Company, said: "Sarah Frier has written a compelling saga about how this start-up phenomenon deeply embedded itself into the global cultural Zeitgeist of this digital era, in just one decade after its creation."

The distinguished judging panel for the 2020 Financial Times and McKinsey Business Book of the Year Award, chaired by Roula Khalaf, comprised:
Mitchell Baker, Chief Executive Officer, Mozilla Corporation; Chairwoman, Mozilla Foundation

Mohamed El-Erian, President of Queens' College, Cambridge, and Chief Economic Advisor, Allianz (BBYA Winner, 2008, When Markets Collide)

Herminia Ibarra, Charles Handy Professor of Organisational Behaviour, London Business School

Randall Kroszner, Professor of Economics and Deputy Dean for Executive Programs, University of Chicago Booth School of Business

Dambisa Moyo, Global Economist and Author, Non-Executive Director, 3M Company, Chevron & Conde Nast

Raju Narisetti, Global Publishing Director, McKinsey & Company

Shriti Vadera, Chair-elect of Prudential

The Financial Times and McKinsey & Company also announced Stephen Boyle as the winner of the 2020 Bracken Bower Prize. The Prize is designed to encourage young authors to tackle emerging business themes in a proposal for a book that is not yet published. Its aim is to unearth new talent and encourage writers to research ideas that could fill future business books of the year.

Stephen Boyle was awarded £15,000 for his book proposal, New Money, about how central bank digital currencies could transform the economy – and why you might not want them to.

The distinguished judging panel for the Bracken Bower Prize comprised:
Lorella Belli, Founder and Director, Lorella Belli Literary Agency Limited

Isabel Fernandez-Mateo, Adecco Professor of Strategy and Entrepreneurship, London Business School

Jorma Ollila, former Chairman, Royal Dutch Shell and Nokia

Saadia Zahidi, Managing Director and Head of the Centre for the New Economy and Society, World Economic Forum. (BBP Winner, 2014, Fifty Million Rising)
Sri Lanka Can Build Back Better from COVID-19 and Realize Inclusive Growth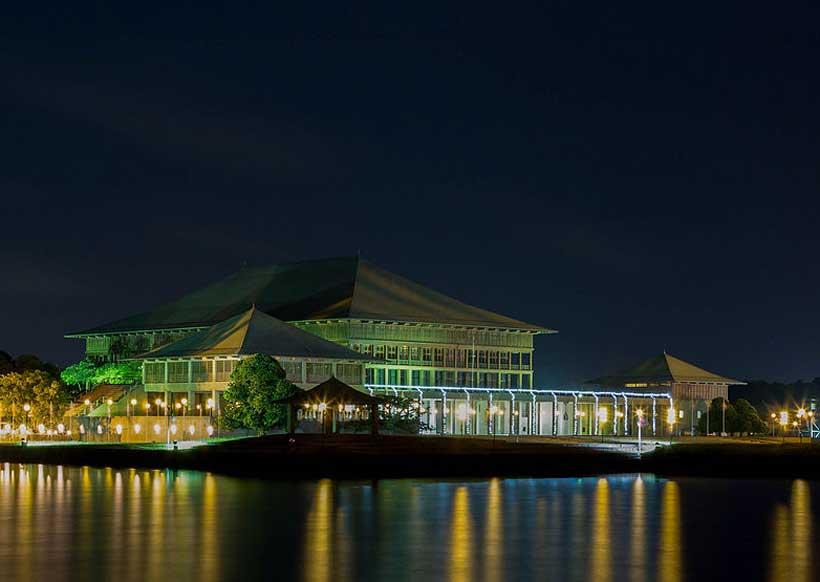 The World Bank's new Country Director for Maldives, Nepal and Sri Lanka, Faris Hadad-Zervos, completed his first visit to Sri Lanka today. The purpose of this visit was to meet key policymakers and understand the country's development priorities. Based in Kathmandu, Nepal, this was the Country Director's first visit to Sri Lanka in his new role. Hadad-Zervos was joined by Chiyo Kanda, the new Country Manager for Maldives and Sri Lanka, based in Colombo.
"We appreciate the frank and productive conversations we had with government officials, members of the private sector and civil society and all those whom we met during our visits in Colombo and the Provinces. These gave us a growing understanding of the Sri Lankan sustainable development storyline and aspirations," said Faris Hadad-Zervos, World Bank Country Director for Maldives, Nepal and Sri Lanka. "The World Bank is a long-term partner for the people of Sri Lanka and is committed to help the country reach its full potential for the benefit of all its people."
The new World Bank management team paid courtesy calls to His Excellency the President Gotabaya Rajapaksa, Hon. Prime Minister Mahinda Rajapaksa, Cabinet and State Ministers, Governor of the Central Bank of Sri Lanka, and Secretaries and senior officials associated with the current World Bank program in Sri Lanka.
They also met with members of civil society from across the spectrum, private sector representatives, development partners as well as thought leaders to better understand Sri Lanka's vast potential for sustainable growth.
The visits included the port and other facilities in the Hambantota district to observe infrastructure development in the south. At the government hospital-Halthota in Kalutara district, they learned about the government effort to improve primary health care, integrating screening and management of non-communicable diseases, and strengthen promotive and outreach services.
"The World Bank is mindful of the challenges the country is facing in this COVID19 era but will also keep our eye on the opportunities for sustainable recovery. We will leverage our knowledge, technical and financial resources to support Sri Lanka to build back better in the post-COVID era for inclusive and resilient growth," said Chiyo Kanda, World Bank Country Manager for Maldives and Sri Lanka "We are in the process of updating our Systematic Country Diagnostic to deepen our understanding and inform our next Country Partnership Framework that will define the World Bank Group's engagements with Sri Lanka for the next 4-5 years."
The Systematic Country Diagnostic is a thorough analysis, informed by consultations with a broad range of stakeholders, of the key challenges and opportunities in reducing poverty and boosting shared prosperity in a sustainable manner.
In response to the COVID pandemic, the World Bank leveraged the existing portfolio and repurposed a significant portion to support the Government's effort to reduce the impact of the pandemic. Providing urgently needed personal protective equipment (PPE), supporting vulnerable groups with temporary cash support, improving COVID-19 protection measures on public transport, facilitating tele-education for school children, and providing digital solutions to improve delivery of public services are among the emergency response activities already completed or ongoing. Discussions are under way to further adjust the program to adapt to government's priorities and emerging development needs.
The current World Bank portfolio in Sri Lanka consists of 19 ongoing projects, with a total commitment value of US$3.65 billion in a variety of sectors including transport, urban, agriculture, water, education and health.
ADB $300 Million Loan to Promote Macroeconomic Stability in Pakistan
The Asian Development Bank (ADB) has approved a $300 million policy-based loan to help promote macroeconomic stability in Pakistan by facilitating improved trade competitiveness and export diversification.
"While COVID-19 hit Pakistan at a critical point in its macroeconomic recovery, the government's ongoing efforts to ensure stability have started showing encouraging results this fiscal year," said ADB Principal Public Management Specialist Hiranya Mukhopadhyay. "ADB's program will support these efforts and help Pakistan to improve its export competitiveness—now more important than ever given the impacts of the pandemic."
ADB's program will help Pakistan recover its current account deficit in a sustained manner and continue to facilitate export diversification. It will introduce important tariff- and tax-related policy reforms to help improve Pakistan's international competitiveness and further strengthen key institutions, including accreditation bodies, the Export–Import Bank of Pakistan, and the Pakistan Single Window.
The new financing falls under Subprogram 2 of the Trade and Competitiveness Program. Under the first phase, ADB helped the government usher in key reforms, including reducing or abolishing tariffs and ad hoc duties on a large number of raw materials and intermediate goods. Several steps were also taken to introduce e-commerce, strengthen key institutions involved in facilitating trade, and enhance the export certification process.
Since fiscal year 2004, Pakistan has registered a rise-and-fall pattern of export growth reflecting underperformance in its export industry and long-term decline in export competitiveness. This is compounded by lost export growth momentum from COVID-19, which has reduced high-income countries' demand for manufacturing goods and disrupted the supply of raw materials.
ADB is coordinating its efforts with other development partners and donors while the program complements International Monetary Fund-led reform initiatives by helping to improve competitiveness, which will help build robust foreign exchange reserves.