The Ritz-Carlton, Nikko Opens its Doors Amidst a UNESCO World Heritage Site in Japan
The Ritz-Carlton Hotel Company, L.L.C today announced the opening of the latest hotel to join its luxury Asia Pacific portfolio, The Ritz-Carlton, Nikko. The property – set amidst a UNESCO World Heritage Site – introduces a new level of luxury to the destination, with an experience marked by an emphasis on immersing oneself in the majestic natural surroundings.
Ideally located in the Northern Kanto region of Japan, The Ritz-Carlton, Nikko is set two and a half hours north of Tokyo, accessible by rail or car, and is a true oasis promising access to a breadth of outdoor activities and cultural experiences. It features many natural treasures including the Kegon Falls and an array of famous Buddhist temples and Shinto shrines. Nikko, and the surrounding area, has long been known as a holy place and was named a UNESCO World Heritage Site for the cultural, religious, and architectural significance of its richly decorated shrines and temples. Perched along Lake Chuzenji and Mount Nantai, guests can easily access prominent scenic attractions, such as Nikko National Park, where the hotel is located, as well as the UNESCO World Heritage designated area.
"Following much anticipation surrounding its debut, we are thrilled to finally open the doors to The Ritz-Carlton, Nikko and to continue the growth of the luxury segment in Japan," said Rajeev Menon, President Asia Pacific (excluding Greater China), Marriott International. "Today marks an extremely monumental day for our brand and the entire company as we set the bar in luxury travel, embracing the new normal, while consistently instilling confidence in travel amongst all of our guests."
Taking cues from its picturesque surroundings, the hotel articulates graceful Japanese design through a modern lens to bring the natural beauty of Nikko indoors. Earthy materials such as woods and stones permeate the property and are enhanced by streaming natural light. The hotel's 94 spacious guest rooms and suites all feature a private balcony that flows seamlessly with an engawa lounge area, offering an expanded space for guests to take in the striking scenery surrounding the hotel.
Though nature takes center stage at The Ritz-Carlton, Nikko, Japanese tradition and craftsmanship guide the property's four distinct dining experiences: The Japanese Restaurant offers all-day dining and showcases the vibrant elements of Japanese cuisine; Lakehouse uses fresh, local ingredients to create imaginative Western dishes in a tranquil setting; The Bar, is a sophisticated haven of relaxation where local ingredients are highlighted in original cocktails celebrating the culture, nature and spirituality of the ancient city; and The Lobby Lounge is the ideal place to unwind, where visitors can enjoy light bites and Afternoon Tea overlooking a picturesque garden. Ingredients from local purveyors find their way onto plates and into glasses, with every dish and drink a reflection of the culture's appreciation for beauty and design. This acknowledgement is further showcased by exclusively crafted pottery by the well-established Mashiko pottery artists, GENDO, or by traditional wood carving motifs created by the first female wood carving artists in the 400-year history of the shrines and temples.
An urban sanctuary of wellness, the Spa at The Ritz-Carlton, Nikko showcases treatments inspired by the abundance of natural revitalizing elements and the rich heritage of the Nikko region within four specialized treatment rooms. The hotel is the first Ritz-Carlton property to feature an authentic hot-springs experience in the Japanese onsen tradition. Guests are invited to enjoy the spacious indoor and open-air hot spring baths, where therapeutic thermal waters drawn from the springs of nearby Yumoto Onsen will rejuvenate their body and mind. The onsen experience promises the ultimate holistic journey, with a secluded tension-melting soak before any of the supremely relaxing and personalized treatments.
Guests of The Ritz-Carlton, Nikko will feel embraced by the traditions and practices of the local culture and surrounding natural environment, and enjoy the highly tailored and authentic service for which the brand is known. Further enhancing the hotel's meditative and spiritual setting, guests are invited to participate in a nightly meditation. Every day at dusk, the lobby area will be transformed into a place of spiritual respite, offering a moment to reset and appreciate the day that has passed. Upon departure, guests will receive a sacred omamori (Japanese amulet), their own keepsake memento and a wish for safe travel.
Taking full advantage of its location within Nikko National Park, a destination revered for its scenic beauty as well as the splendid architecture of its UNESCO-designated Shinto shrines and Buddhist temples, the hotel offers a wide selection of activities that showcase the unique offerings of its highland setting. Visitors can choose from a collection of unforgettable excursions ranging from cycling through protected wetlands, to strolling through the precincts of centuries-old sanctuaries, meditating under waterfalls, ascending their frozen cascades in winter, and more. Entwined with local culture, the hotel also offers guests the opportunity to master the Japanese skill of furoshiki wrapping, witness a mystical temple fire ceremony or enjoy the sounds of drums and Japanese flute music at a sacred ritual ceremonial dance. Spanning nature, culture, spirituality, and Ritz-Kids programming categories, there is something for curious explorers, thrill-seekers and everyone in between.
"We are thrilled to be able to offer an elevated level of luxury and the first of its kind to be located in the sublime mountain region of Nikko," said Jennie Toh, Vice President, Brand, Asia Pacific, Marriott International. "Our Ladies and Gentlemen at The Ritz-Carlton, Nikko are looking forward to welcoming guests and providing enriching, authentic experiences that truly embrace the local culture and destination."
IMARAT signs Agreement to Construct its Fourth Hotel in Collaboration with Marriott International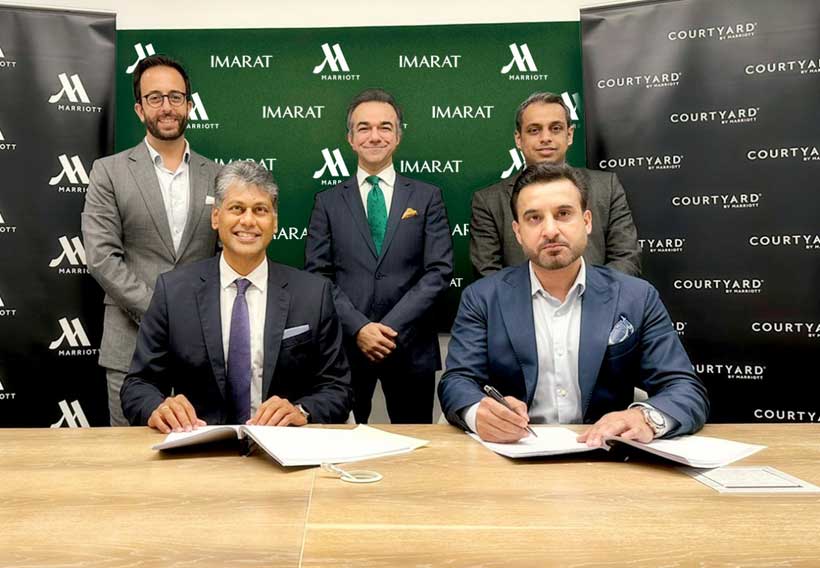 IMARAT Group has signed a franchise agreement with Marriott International to develop a Courtyard by Marriott project in DHA Multan. The signing ceremony took place at Marriott International's Office in Dubai.
Marriott International was represented in the ceremony by Satya Anand, President, Europe Middle East & Africa, Phil Andreopoulos, Chief Operating Officer, Owner and Franchise Services, Europe, Middle East & Africa, Chadi Hauch, Regional Vice President – Development, Middle East and Ziad Abi Raad, Director Lodging Development.
The event was attended by Chairman IMARAT Group, Mr. Shafiq Akbar, Director IMARAT Hospitality, Mr. Farhan Javed, IMARAT's Chief Commercial Officer, Mr. Saad Ahmed Awan.
Chairman IMARAT Group, Mr. Shafiq Akbar, while speaking on the occasion, said, "On this day, we are elated to witness the culmination of years of effort; a collaboration with Marriott International to construct Courtyard by Marriott in DHA Multan. I see this project as the 'Jewel of South Punjab', a state of the art hospitality initiative that will give Pakistan's, particularly South Punjab's hotel and tourism sectors a much-needed economic boost".
Satya Anand, President, Europe, Middle East & Africa, Marriott International commented, "We are delighted to strengthen our relationship with the IMARAT Group and expand our portfolio of in Pakistan. There is an unmet demand for hotel accommodation in South Punjab and with the Courtyard by Marriott Multan we look forward to supporting the expansion of the hospitality landscape in the market."
Expressing his views at the signing ceremony, Group Director IMARAT Hospitality, Farhan Javed said, "IMARAT envisions and executes projects to take the hospitality sector of Pakistan to a level where we are at par with the international standards. By offering the best services in the hospitality business, Courtyard by Marriott is unquestionably on the verge of creating a benchmark in the sector."
Since it first opened its doors more than 35 years ago, Courtyard by Marriott has been dedicated to creating an environment where great things can happen. Today, Courtyard is the hotel brand of choice for ambitious and enterprising guests who see business travel as a driver of personal fulfillment and professional growth.
Courtyard by Marriott is expected to be an ideal fit South Punjab and Multan. Multan, being the fifth-most densely populated city in Pakistan, serves as South Punjab's economic and cultural hub. The new collaboration between Imarat and Marriott International aims to meet the demand for quality hospitality accommodation in the market.
IMARAT Group, one of Pakistan's top real estate player, continues to construct and develop major projects that are coherent with the concept of transforming the real estate dynamics in the country. IMARAT's top notch construction and property management seeks to assist Pakistan in making a name in the international hospitality sector.
Hilton Signs Six New Luxury Hotels in Asia Pacific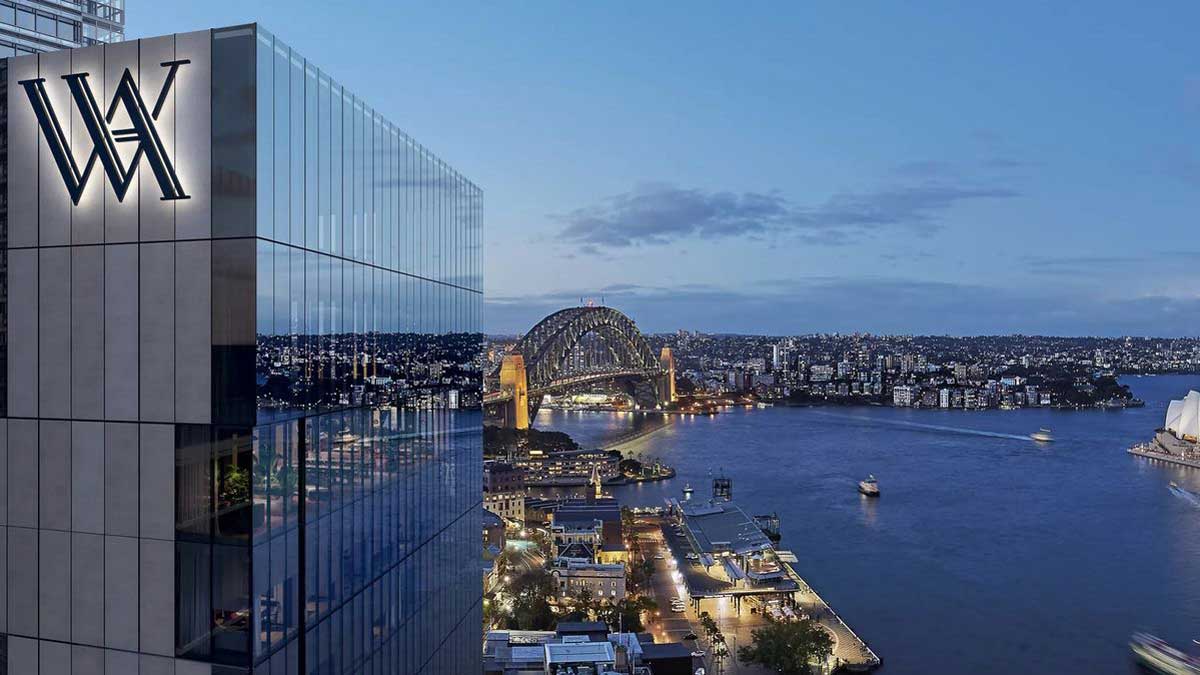 Leading global hospitality company Hilton (NYSE: HLT) has announced six landmark signings in Asia Pacific (APAC) across its portfolio of luxury brands – Waldorf Astoria Hotels & Resorts, Conrad Hotels & Resorts and LXR Hotels & Resorts – in the year to date, a mark of growing optimism in luxury travel across the region.
With the signing of Waldorf Astoria Xi'an, Waldorf Astoria Shanghai Qiantan, Waldorf Astoria Kuala Lumpur, Waldorf Astoria Sydney, Conrad Nagoya and an LXR Hotels & Resorts property in Bali, Hilton's pipeline of luxury hotels in the region increases to 20. When these hotels open in the coming years, travellers will enjoy an exquisite portfolio of more than 50 luxury hotels across Asia Pacific.
With a growing middle class, increased consumer spending and an underserved lodging market, Asia Pacific presents a US$10 trillion consumption growth opportunity over the next decade.
Alan Watts, president, Asia Pacific, Hilton said, "Hilton is Asia Pacific's fastest growing hospitality company, and that signals the confidence that owners and developers have in our ability to capture growing demand and deliver strong returns in APAC's most sought-after destinations. We share the optimism that owners and developers have about the future of luxury travel and appreciate the importance they place on partners and brands that will optimize their yield. As we continue to pursue quality organic growth and enhance our network effect, we too stay focused on prioritizing the right partnerships to deploy the right brands in the right locations."
Post-pandemic recovery has prompted increasing owner and developer interest in hospitality real estate, as the APAC hotel investment volume in 2021 grew 46% year-on-year to exceed US$12 billion, and investors focused on acquiring luxury or resort assets. The luxury travel segment is also expected to burgeon as 42% of APAC consumers who intend to take an international trip seek out luxury experiences.
"These signings mark an incredible moment for our luxury brand portfolio as we expand Waldorf Astoria, Conrad, and LXR throughout five countries in the region, offering even more opportunities for travelers to immerse in our authentic approach," said Dino Michael, senior vice president & global category head, Luxury Brands, Hilton. "From Waldorf Astoria's intuitive service, to Conrad's bold design and LXR's culturally immersive experiences, the hotels continue to showcase innovation and deliver on what guests are looking for in their stay. This expansion reinforces the appeal of the brands globally, and is a true testament to the team members who bring luxury to life."
Hilton's latest signings mark a further closing of key city gaps as its award-winning luxury brands debut or expand in key travel destinations such as Japan, Australia, Malaysia, Indonesia and China.
China in particular holds great potential in shaping the future of luxury travel as it is home to the world's largest consumer economy and is set to become the largest luxury goods market by 2025. Travel demand is also shifting as the country's new generation of young and discerning travelers seeks higher levels of personalization, wellbeing, sustainability and quality in their luxury travel experience.
The signings of Waldorf Astoria in Xi'an and Shanghai Qiantan put the brand on track to double its portfolio in China and offer its unrivalled luxury in eight world-class hotels. When open, Waldorf Astoria Xi'an will be one of the tallest buildings in this ancient capital of the 13 Dynasties. Designed by the famed design firm, Yabu Pushelberg, the hotel will draw inspiration from the city's rich millennia-old culture and integrate oriental elegance into modern design. Waldorf Astoria Shanghai Qiantan will mark the city's second Waldorf Astoria hotel. Located in Shanghai's brand-new CBD – the New Bund area – the hotel will boast panoramic views of the Huangpu River and immerse guests in the tranquility and glamour of China's commercial capital.
Today, there are more than a dozen Conrad hotels operating in China. When the other nine hotels in the country's pipeline open – including Conrad Shenzhen and Conrad Chongqing next year – guests will be able to enjoy the discreet yet sophisticated luxury that the brand is known for in more than 20 destinations.
Four Seasons Hotel New York Downtown Celebrates New York Fashion Week with Acts of Love
Four Seasons Hotel New York Downtown, the award-winning luxury lifestyle hotel located in the heart of TriBeCA, is launching Acts of Love – three dedicated moments for guests and locals to engage during Fashion Week. From Friday, September 9 through Thursday, September 14, 2022, the Hotel lobby will be transformed into a vibrant and whimsical escape.

Three Acts of Love will take over the lobby of Four Seasons Hotel New York Downtown:
Love is the Scent of Fresh Blooms: Famed artistic director and celebrity floral designer Jeff Leathamwill curate five dazzling floral arrangements that will flow throughout the lobby. Leatham's bold and colourful vision will unfold through cascading designs that will transform the lobby into THE Instagram spot to visit during Fashion Week. Guests can also pick the perfect flower to take home from the Four Seasons flower cart.
Love is a Letter from the Heart: Guests can immerse themselves in the lost art of letter writing at the bespoke Letters of Love postcard experience in collaboration with fashion designer Christian Siriano, who created custom-designed postcards exclusively for Four Seasons.
Love is Sweet: After dropping the postcard in the heritage mailbox, guests can enjoy a sweet treat from the specialty gelato cart.
The Spa at Four Seasons Hotel New York Downtown is ready to pamper and treat Fashion Week guests who need a respite from the busy week with Acts of Love that focus on self-care and wellness.
Guests can book an appointment to experience NextHealth's IV Therapy during a special pop up at The Spa. Four IV treatments will be available including:
Glamour IV to enhance the skin's overall glow from the inside out with revitalizing and collagen-boosting ingredients such as vitamin C, L-Lysine, and biotin that will leave skin looking supple and hair feeling hydrated.
Super Immune IV to supercharge the immune system with a potent combination of vitamin C, magnesium, vitamin B5, antivirals, and other essential vitamins and minerals for boosted bodily defences.
Energy Plus to fuel and enhance mental and physical vitality with energy-boosting ingredients such as L-Carnitine, vitamin B12, and potent amino acids.
Detox to encourage the elimination of toxins and harmful substances with powerful ingredients such as lysine, taurine, and antioxidants for a fully refreshed feeling.
The Spa is launching new skincare products and services with Augustinus Bader, the science-backed and award-winning luxury skincare brand best known for The Method Facial. The Method uses Augustinus Bader's groundbreaking technology to create a one-of-a-kind, highly sophisticated facial experience. The facial promotes a sequence of personalized regenerative processes for skin hydration, firmness, evenness, and protection against environmental aggressors.
Four Seasons Hotel New York Downtown is the official hotel partner for Vogue's inaugural Vogue World Fashion Experience. Fashion Week guests will receive a special welcome amenity created by Executive Chef Maria Tampakis and three expert Four Seasons executive pastry chefs including: Rhonda Ashton, Four Seasons Jackson Hole; Eddy Dhenin, Four Seasons Minneapolis; and Rob Differ, Four Seasons One Dalton Street, Boston.
The Acts of Love experience will be open to guests and locals during the following times:
Friday, September 9: 4:00– 8:00 pm
Saturday, September 10: 1:00– 4:00 pm
Sunday, September 11: 4:00– 8:00 pm
Monday, September 12: 8:30 am – 12:30 pm
Tuesday, September 13: 4:00– 8:00 pm
Wednesday, September 14: 4:00– 8:00 pm