The diplomatic feud between India and Pakistan is not new. In the latest event, both countries ordered to cut each other's diplomatic staff in half. The timing of Indian action to start this crisis comes amid heightened tensions on Indian Occupied Jammu & Kashmir (IOJK) and incoming August 05 – day when India abrogated Article 370 of its Constitution, unilaterally changing special status of the Kashmir valley.
Two officials of the Indian High Commission (IHC) in Islamabad, were over-speeding and crashed their car into a pedestrian on Jun 15, 2020. The IHC officials fled the scene and were apprehended later and during the course of investigation were found in possession of fake currency. After it was confirmed that the said officials were from the IHC, they were released. In the meantime, India expelled two Pakistani officials for "espionage". According to the statement, issued by Indian Ministry of External Affairs (MEA), "officials at the Pakistani High Commission in New Delhi have been engaged in acts of espionage and maintained dealings with terrorist organizations in violation of international conventions on diplomatic relations."Indian government blamed Pakistan for violation of Geneva Convention and asked Pakistan to reduce 50 per cent staff of its HC to India.
The Indian MEA after the incident insinuated Pakistani authorities for subjecting the Indian officials to interrogation and physical assault resulting in grievous injuries. The Indian MEA issued a negative statement, "attempt by Pakistan authorities to levy false accusations, concocted charges on officials of Indian HC is rejected in entirety". Pakistan government in its strong rebuttal has rejected and strongly condemned the baseless allegations made by the Indian MEA as a pretext to seek 50 per cent reduction in the staff strength of the HC for Pak in New Delhi. Pakistan completely dismissed allegations of any violation of the "Vienna Convention on Diplomatic Relations" by the officials of the HC for Pakistan in New Delhi.
According to Foreign Office of Pakistan, "The latest Indian action is a part of India's desperate attempts to divert attention from its state-terrorism and worst human rights violations in Indian-occupied Jammu and Kashmir…the deputy chief of India's diplomatic mission in Islamabad was summoned to the ministry to be informed of Pakistan's decision to reduce the staff strength at the Indian High Commission by half as a reciprocal measure within a week". So in response, Pakistan also demanded 50 per cent reduction of IHC in Islamabad.
"India would be better advised to focus on its internal and external issues rather than creating diversions at the cost of peace and stability in South Asia. Pakistan has been consistently sensitizing the world community that the irresponsible policies of the Bahartiya Janata Party (BJP) government are increasingly imperiling regional peace and stability", further reiterated the Foreign Office."Pakistan completely dismisses allegations of any violation of the Vienna Convention on Diplomatic Relations by the officials of the High Commission for Pakistan in New Delhi and reiterates that they always function within the parameters of international law and diplomatic norms", the Foreign Office maintained."The Indian government's smear campaign against Pakistan cannot obfuscate the illegal activities in which the Indian High Commission officials were found involved. The MEA's statement is another effort to distort facts and deny the culpability of these Indian High Commission officials in criminal offences", it added. Last year, Pakistan debarred Indian High Commissioner Ajay Bisariaon India's "unilateral and illegal" revocation of Article 370 of its Constitution, changing revoke the special status of J&K.
The Indian MEA's statement is a reprehensible attempt to distort facts and deny the culpability of these officials in criminal offences. The Indian Government's smear campaign against Pakistan cannot conceal the illegal activities in which the Indian HC officials were found involved. The Indian MEA's statement is an effort to distort facts and deny the culpability of Indian HC officials in criminal offences. The latest Indian action is considered to be part of India's desperate attempts to divert attention from its Ladakh standoff, state-terrorism and worst Human Rights Violations (HRVs) in Indian IOJK. India rather focusing on its internal and external issues has been creating diversions at the cost of peace and stability in South Asia. India has conveyed to Pakistan government that it has no plans for resuming diplomatic engagement in foreseeable future. Indian has increasing proving itself a trouble maker in the region through its callous diplomatic behavior.
The New Axis, the Mapolitics and South Asia: The Indian View
Today, while the pandemic has caused immense economic recession worldwide, South Asia exponentially simmers with territorial disputes, extra-maritime activities, border skirmishes, militarization of states and mapolitics.1 In the Covid 19 scenario when the world has turned inimical towards China under the shadow of conspiracy theories and the unnerved China is grappling to lead the world playing unfair, its challenge appears to be sunk by the confident India as it had to withdraw at Galwan after a border standoff. In the meantime to divert the global attention while China flexes its muscles in South China Sea and pricks on the Indian borders at Ladakh in the light of the implications of its BRI project, a new power axis of Beijing, Islamabad and Kathmandu (BIK) has taken shape against India making its position a bit discomfited and evocates special attention as after Tibet another buffer between India and China significantly dilutes. The release of new political map by India after the abrogation of special status of Jammu and Kashmir in 2019 has been retaliated by Nepal and Pakistan that lacks legitimacy even within these states and this has further aggravated the scenario.
While China loses the comfort of concurrence from Russia and Saudi Arabia about its South Asia policy, the coastal states of South China Sea have also consolidated their firmness against its incursions as on June 29, 2020 Vietnam issued a statement after the meeting of ASEAN leaders that "we reaffirm that the 1982 UNCLOS is the basis for determining maritime entitlements, sovereign rights, jurisdiction and legitimate interests over maritime zones".2 Recently the unwillingness of several companies to carry in China and shift to the other South Asian states like India and Bangladesh where cheap labour is available mark the beginning of a new order featured by a strengthened Quadrilateral Security Dialogue (QUAD), renewed US-India collaboration about Indo-Pacific, and a vibrant Indian Ocean zone. The Indo-Chinese rivalry over the region is not new but after the leasing of the Hanbantota sea port of Sri Lanka to China in 2017, the end of US Combat Mission in Afghanistan, and the $62 billion China Pakistan Economic Corridor (CPEC) that runs through the Indian territory of Pak Occupied Kashmir their ties have further strained. The strategic rivalry between the two is so sharp that India for the first time fought against China in a foreign territory of Bhutan during the Doklam crisis in 2017.
The timing of the Chinese assertions along the north-western frontiers of India at Ladakh near Galwan and Pangong Tso is also critical as Covid 19 has not even peaked in India till date and the situation turns more precarious in the coming months. The decision of China to prick the borders is not new but this time the intent appears to be different. The major Chinese concern is the bleak prospects of the $62 billion CPEC project that faces stiff opposition in Baluchistan and people of POK. The military coordination between Pakistan and China has been established as "Indian intelligence agencies have recently noticed activities of the Chinese Air Force at Skardu Airbase in Pakistan occupied Kashmir (PoK). More than 40 Chinese fighter jets, J10, have been witnessed in Skardu in the month of June itself. The Chinese Air Force is understood to have been preparing to use the Skardu airbase to launch an attack against India."3 While India faces a two-pronged battle in Ladakh at the Lipulekh trijunction between India, Nepal and China, the setting up of a new post near it by Nepal's Armed Police Force (APF) after India's inauguration of the new road to Kailash Mansarovar irks India. This led to Indian Army Chief Manoj Mukund Narvane remark that Kathmandu is acting on "behest of someone" (China) over the Lipulekh issue. Nepal's Defence Minister Ishwor Pokhrel has said that the statement was an insult to the nation's history and was made ignoring its social characteristics and freedom.4
Against the emergence of Indo-Pacific strategic alliance and the troubled waters in the South China Sea that stifles the Chinese trade route through Malcca the CPEC provides China an easy access in the Indian Ocean through Xinjiang-Gwadar highway. China's troubled relations with the South East Asian states over the control of South China Sea, the reduction of APEC vis a vis the newly forged Indo-Pacific and the strategic forum QUAD further increase the significance of CPEC which will remain an unrealisable dream until India approves which is a distant possibility. Now China is willing to execute a forcible solution but to be repulsed by India. However the dragonomics has worked as it has succeeded in trapping the small Indian neighbours like Sri Lanka, Nepal and Bangladesh through its debt trap strategy. After CAA (Citizenship Amendment Act 2019) Bangladesh has also registered protest with India and distanced by cancelling few official visits to India. China also controls 17 islands of Maldives on lease basis and its network of maritime expansion has significantly increased in the last few decades.
The Provocative Mapolitics
Inching forward has been an old policy of China to gradually expand territorially against its neighbours. In recent times China has followed a policy of rechristening the islands and underwater locations in South China Sea. It has named 25 islands and reefs in the South China Sea in a move to cement its territorial claims in the disputed waters. China has set up two new district governments on the Paracel and Spratly islands, known as Xisha and Nansha in China. This has been done with a purpose to deter what it said were "intrusions" by US ships and planes. Several of the newly named islands fall within these two new districts. Beijing also named 55 underwater locations to claim rights over resources. The Chinese moves are in violation of Exclusive Economic Zones of several neighbouring states like Philippines and has escalated tensions with them.5 In July 2016, an international tribunal rejected China's nine-dash line in the South China Sea, concluding that Beijing's claim violated international law. While the United States takes no position on the competing claims in the South China Sea, Washington does reject Beijing's claim and has deployed two carrier strike groups in dual-carrier operations through the contested waters. Punctuating this position is US Secretary of State Mike Pompeo's recent announcement that China's claims are "completely unlawful"6
China is being closely followed by Pakistan and its new born ally Nepal, whose communist regime has recently raked up several controversies with India like Lipulekh, calling Covid 19 as Indian virus and river waters. In an act of provocation, that was lauded and hailed by Pakistan's Foreign Minister Shah Mahmood Qureshi as an "unprecedented step", Pakistan has shown some Indian territories in Pakistan. The new map was released by Islamabad on August 4, 2020 that showed the union territories of Jammu and Kashmir, and Ladakh as Pakistani territories illegally occupied by India. The controversial map also shows the erstwhile state of Junagadh in Gujarat and Sir Creek within Pakistan's borders. The Pakistani government confirmed that the map will henceforth be used in curriculum across the country.
Before this on June 13, 2020 Nepal's lower house of Parliament Pratinidhi Sabha too had unanimously passed the historic Second Constitution Amendment Bill guaranteeing legal status for the updated political map of Nepal which included India's Lipulekh, Kalapani and Limpiyadhura in Uttarakhand's Pithoragarh district as part of Nepal. Nepal and India have disagreement over Kalapani since 1815 when British and Nepal signed treaty of Sugauli but till 1998 Nepal remained silent over it and showed little interest. It was only with electoral battles and the increased role of Communists (patronised by China) in Nepal that it became a convenient tool for flaring up the electorate resulting in the amendment now. The Nepalese and Pakistani actions are in retaliation of the New Indian Political Map released by Indian government on October 31, 2019 after the abrogation of special status under article 370 to Jammu and Kashmir. The map had shown whole of Pak Occupied Kashmir as part of India and created two new Union Territories of Jammu and Kashmir and Ladakh. While the Indian action was over a longstanding disputed territory occupied illegally by Pakistan and later partially (3400 sq.kms.) ceded to China the retaliations are less legitimate and more of unnerved frowning. So the new mapolitics has engulfed South Asia that surely is going to deepen the difference between the three states.
The distanced neighbours and the inimical trio against India has to be handled skillfully by the Government of India and a new process of Confidence Building Measures (CBMs), at least with the smaller neighbors, should be initialed to check the things turn worse.
Notes & References
1Mapolitics refers to the strategy of a state showing the territories of others in its own official map, a step short of war to gain legitimacy through internationalizing the issue.
2Jim Gomej, "ASEAN takes Position vs China's Vast Historical Sea Claims", Diplomat, June 29, 2020.
3Defence Aviation Post, 30 June, 2020.
4The Times of India, May 25, 2020.
5Didi Tang, The Times, UK, April 20, 2020.
6Patrick Mendis and Joey Wang, South China Morning Post, August 8, 2020.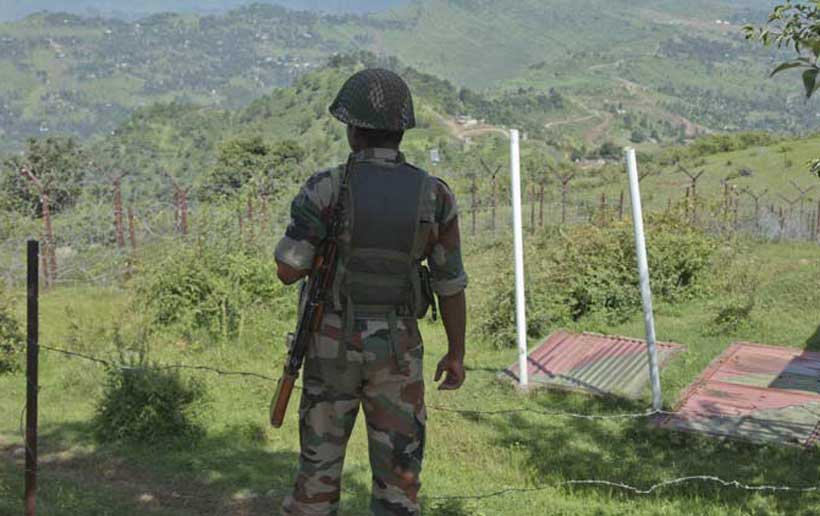 Inspired by the movement "Black Lives Matter" after the murder of George Floyd, on 25 May 2020. Many other movements are gaining momentum against discrimination around the world. Kashmiri movement for their legitimate right of self-determination, also gained momentum. Kashmiris are struggling for their rights for 72 years, but India not only denying their legitimate right but using accessive force to suppress them.
Starting from Times Square, New York, on the 5th of August 2020, to almost all capitals of Europe and other parts of the world, Kashmiri people staged protests, agitations, demonstrations, to express their anger and dissatisfaction with the situation in Indian Occupied Kashmir. They were displaying banners with various slogans like Kashmir Lives Matters, Freedom for Kashmir, Condemned India atrocities, Respect for human lives, etc. Not only the Kashmiris, but local people also joined them in such protests. Mainstream Media, around the world, has covered their protests and published or broadcasted the Indian atrocities and brutalities in Kashmir. Seminars, Conferences, were held to address the Kashmir issue in many countries.
PM Narendra Modi, won the Elections based on anti-Muslim and Anti-Pakistan slogans and it was expected that his policies will be anti-Muslims and Anti-Pakistan. But PM Narendra Modi has not calculated well the consequences. Today, the Indian economy collapsed, society has been divided, law and order situation deteriorated, Government rit has weakened, insurgencies go momentum. Simply India as a country may not survive long and may disintegrate soon. PM Modi is pushing India toward disaster. His Nazi thinking and extremist policies have ruined India already. India used to be known as a secular state, but today India is an extremist Hindu state, with no rights to minorities and low caste Hindus.
One year ago, on the same day, the 5th of August 2019, India revoked its own constitution Articles 370 and 35A and annexed Kashmir. The merger of Kashmir and Ladakh to Union territory ends the special autonomous status of Jammu & Kashmir and Ladakh, which is a disputed territory, recognized Internationally. The UNSC passed dozens of resolutions to resolve the Kashmir Issue. But India is not implementing the UNSC resolutions and became defaulter to the UN, which is a criminal act. Kashmir is a disputed territory among China-Pakistan and India. The Unilateral actions taken by India angered the stakeholders and offended the international community. It is a clear breach of international law and fair practices of the civilized world. It was Indian international commitment, the legal binding under Delhi agreement 1952, to implement the UNSC resolutions.
India is spoiling the peace of the whole region. It has initiated arms race in this region and procuring more and more lethal weapons. It should be known that the region is heavily armed with nuclear weapons. India, China, Pakistan, and Russia, al are nuclear countries. Any misadventure may cost the human lives of almost half of the world population.
Indian cross-border terrorism and aggressive acts are increasing and threatening the neighboring countries. India has disputes with all of the regional countries, like Nepal, China, Bhutan, Sikkim, Pakistan, Bangladesh, Myanmar, Sri Lanka, and the Maldives.
Almost nine hundred thousand troops of the Indian army, empowered with draconian laws, have illegally occupied the territory and are keeping the 8 million people of Kashmir under siege while violating with impunity the International Humanitarian law and practices. Kashmir has become the largest jail. Indian troops are using lethal weapons, cluster bombs, pallet guns, and perpetrating Sexual offenses, destroying Muslim religious and private properties. Whereas the Kashmiri civilians are innocent and unarmed. They are protesting and agitating peacefully for their legitimate right of self-determination, sanctioned by UNSC in 1948. Although UNSC resolutions are legally binding on India, but, India is delaying and not implementing UNSC resolutions passed in 1948.
Estimated killings so far are said to be 352, including 75 unarmed civilians, 196 freedom fighters, and also 81 from the occupational forces. 170000 persons have been arrested including old-aged, women, and under-aged children. The top political leadership has been arrested or house arrest. The activists and youth are arrested are shifted to detention camps. Children are separated from parents and messed in detention camps. It's now a year since the curfew was clamped. There is a severe shortage of food, medicines, fuel, and electricity and the basic necessities of daily life. The phone and internet services are suspended. Travelling is restricted, especially media persons and foreigners. Kashmir is totally cut-off from the rest of the world, and blacked-out, with no flow of information. Only state media is reporting the censored reports. Whatsoever is reported in the International media is only a fraction, as leaked information is always limited only. The actual situation on the ground is rather much more severe and dangerous. Kashmir is split into two Indian union territories as Kashmir and Ladakh.Against the wishes of the stakeholders. This is the worst type of tyranny being faced by the helpless people of Kashmir in the history of humankind.
For 72-years of Indian atrocities and brutalities, have forced Kashmiris to seek a merger with Pakistan. The more force India will use to suppress Kashmiris, the more hate will increase against India, and the more love for Pakistan will increase. The ultimate solution to Kashmir is the merger with Pakistan according to UNSC resolutions through holding a plebiscite. India is granting domicile to non-Kashmiris, especially Hindus from other parts of India, to change the demography of Kasmir. India wanted to change the Muslim majority of Kashmiris which stands 87% to the Hindu majority. India failed to control Kashmir for 72-years, and will never keep occupation forever. India has to leave Kashmir, the sooner, the better. The spirit of Kashmiris can not be suppressed by any means, they are determined to keep their struggle till victory. People of Kashmir are brave, bold, and committed. No one can suppress them. Salute to the brave men and women from Kashmir, who are fighting with the huge Indian Army and yet not surrender. Their struggle will reach a logical end with Victory only.
Indian Imbalanced Balance
A serious crisis is looming over journalism in India, which is increasingly vested in the hands of authority. On the one hand, Indian President Pranab Mukherjee asks for "discussion and dissension" for a vibrant democracy. "There should always be room for the argumentative Indian, and not the intolerant Indian. The media must be the watchdog, the mediator between the leaders and the public," Mukherjee said while paying his regards to Ramnath Goenka – former press baron. On the other hand, Indian media has lost its credibility regionally as well as internationally owing to quality of Indian public discourse. According to criminal lawyer Rebecca Mammen, "The true test of a robust democracy is the independence of its media. Over the past few years our media has become the mouthpiece of the party in power. Coupled with the fact the corporate owners of media houses share close links with the government, the Indian media has tragically lost its voice."
The mainstream media is vested in the hands of a selected few and refuses to question authorities. The 'Reporters Without Borders' annual Press Freedom Index, which was released on April 20, has ranked India at 142 among 180 countries reflecting poor credibility due to pressures by government. According to the Report, the Indian media is reeling under a Hindu nationalist government, which has time and again tried to gag journalists. Moreover, India's influential TV news channels function largely as government mouthpieces.A European non-governmental group "EU disinfo lab" had uncovered a network of 265 'fake' news outlets sponsored by an Indian network to influence the European Union (EU) and the United Nations (UN) with content against to Pakistan.
The crisis in the Indian media will have deeper impacts on Indian democracy. With a feeble opposition, weak institutions, and an inadequate media, Indians have no checks and balances. For instance, maligning Pakistan High Commission, Colombo(PAHIC) during a recent Indo-China conflict was an Indiangovernment instructed media strategy to divert public opinion from their failures in North. In other words, media strategy inadvertently defines poor political will of India to stand up to China while feel strong enough to bully the smaller neighbourhood.
The sane voices in Indian media have continuously shrinking space.Having almost 400 news channels, Indian media has failed to highlight serious matters, such as beef ban, human rights violations in Indian Occupied Jammu & Kashmir (IoJK), and numerous discriminations against Indian Dalits. "Over the last few years – especially after Prime Minister Narendra Modi won the general election of 2014 – the Indian mainstream media has allowed itself to be undermined by the transcendent political power that he represents," said Pamela Philipose, The Wire. "A new note of muscular nationalism has crept into media discourse. Also conspicuous is the curbing of dissent and the rise of the surveillance state – developments that bode ill for the independence of the Indian media," says Philipose.
In a similar manner, a political scientist Giles Vernier argues that "a new note of muscular nationalism has crept into media discourse. Also conspicuous is the curbing of dissent and the rise of the surveillance state – developments that bode ill for the independence of the Indian media.One reason why we don't see much criticism in the media is that the government, in the person of the Prime Minister, has the ability to completely dominate the media's agenda, by saturating the public and media sphere with the message, image, and his voice."
Journalists should be critical of government's handling of its internal and external matters to keep it on the right track. TV channels will call speakers of their choice, who would heavily lean to one side of discussion and pretend that it is balanced.
In the current atmosphere, with enraptured legislative issues and social perspectives, with populist political leadership, with developing bigotry against minorities and dissenters, the media can and ought to be an encouraging sign for liberal, mainstream and law based thoughts, yet additionally to guarantee that outrageous perspectives does not get into the papers or on TV. Rather, the media in India has become some portion of the issue, either excitedly partaking in preparing of contempt against the helpless, or carrying on in an insincere path by permitting the most exceedingly terrible components a free run of significant reality on their foundation. Whole ages of columnists are growing up with the possibility that they are playing out an important help; they have scarcely any good examples to gaze upward to, since their own managers, who should know better, are either sold out, ideologically dedicated to fanaticism or are indecisive, without firm feelings or just fearful. In any case, Indian reporting is in a profound emergency, all for the sake of 'balance.'