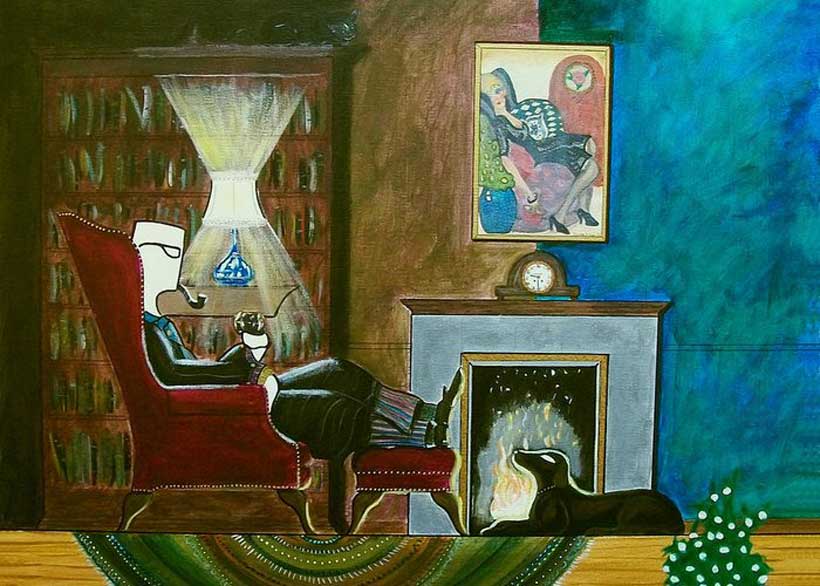 Uncertainty and summer saunter in with its retinue of rules, so I am told. While philistines slip into their shorts. Gentlemen don't do that. At least the ones I know, or rather, admire. I am strongly of the opinion that summer requires meticulous management and planning. There needs to be a complete overhaul of the sartorial preferences, dietary habits, and recreational regime. Additionally, and rather, increasingly significant nowadays, at the bar cabinet, which must gracefully welcome fresh grog.
Change, I am reminded of being told is a perpetual challenge. This is true now more than ever before. This summer shall be different for me; No travel to new or old destinations, no steeps into rich heritage which are pulsing with an unparalleled artistic spirit, no gastronomic sensations and beautifully landscaped parks and gardens that beautifully manicured and most of all, a restricted consumption regime of spirits and smokes. There is no doubt about the fact that the perfection of a sufficient dose of sensual stimulation shall be missed, dearly.
In times of such glaring uncertainty, many of us find ourselves in the rigour of isolation. Yet one mustn't drown in sorrow, for that pernicious jump into the rabbit hole of total despair will drive to insanity. Instead, in the spirit of making hay while the sun shines, I find myself deeply grasped in my hobbies and interests of art, culture, fashion, and even interior design. In furtherance of my interests and passions, I plan future trips to the European continent for study and debaucherously pleasurable activities while my folks worry about the thickness of their chequebook.
Despite countless hours spent on my multiple whims and fancies devoting time to the daily duties is an art. An art that is similar to the fine tailoring abilities of the talented gentlemen with the extraordinary skill of Hunstman, Savile Row. Managing the split of time is learned and perfected over time, like the of cutting cloth. This skill, over which I have achieved mastery, I am lucky to say, I received at birth from my mother who hails from a decorated family of army officers. For me, it runs my veins to be fastidious. For novices, here's a hint; Avoid morning lie-ins, afternoon naps, and daytime Netflix binges while leaving tasks to complete after the evening meal. Have some self-discipline, dude.
These days after supper, I find myself sitting back in my armchair engrossed in a new book with either a Cohiba or something out from my patriarch's prized whiskey collection, resting on my mahogany piecrust tripod table helping me fulfil the senses. Millennial Chilling is not for me. I have often been told that I am an old soul trapped in a new body. To me, that is madness, but I often see the method in it. That is because, I do not find any sense of gratification or contentment in doing nothing but, for those who do, remember, one simply can't make love seven days a week, much as one's partner might desire it. Other forms of vigorous exercise are sometimes required.
While I happily drown myself in pursuit of knowledge, I turn to the literary world to share my final thoughts to share a contrary tale. The words of Ernest Hemingway: "No man is an island entire of itself; every man is a piece of the continent, a part of the main". For me, contrarily, the gleeful effect of the fine cognac and Erik Satie's mastery on the piano has its drowning effect. You hear only what you wish to hear much like my most favoured ruler, Napoleon. To that, I'll drink.
Experiencing Chinese Society and Culture
Today Chinese Culture and society is a combination of ancient traditions, customs, and modernized developed and also westernized lifestyle. The Chinese culture and traditions are ancient, its history has huge diversity and variety. Historically, Chinese society is rich in arts, science, and literature. The culture of china has maintained its unique identity till the beginning of western culture in the 19th century. The historical influence of Confucianism, Taoism, and Buddhism is the reflection in Chinese society and culture. Confucianism spread the love and rituals to give respect for society and social hierarchy. The characteristics of Chinese culture unchanged over the period despite the influences and several invasions from the outside. The philosophy of Confucianism stressed that people could be good if they follow the moral principles and made the rituals that respected the gods. In the hard times and war times, Confucianists emphasized carefully follow the traditions that could maintain unity within the society. historically, several Chinese rulers have adopted the core principles of Confucianism. During the Hans dynasty, Emperor Wu had encouraged the hierarchical social structures, the Emperor believed these principles would bring and also maintain the social harmony within the Chinese society throughout history. The Confucius philosophy was dominant during the Hans dynasty in ancient China. during this period the core principles were flourished and reached within the societal structures. The state ideology was based on Confucius's philosophy, it has improved the societal values and norms. During 500BC the teachings of Confucius have played an important role in shaping the character of Chinese society, shaping behavior, and the way of life of Chinese people. The main objective was to achieve societal harmony and social norms and values. Another core principle and value of Confucianism is forgiveness, compassion, and tolerance. Even today, Chinese society and academicians give immense respect and also promote the core principles of Confucius's philosophy.
Modern Chinese society and culture are rapidly influenced by western cultural values and traditions. It's quickly changing nowadays with popular American culture and other cultures of the world. The youth in urban areas are more influenced by popular western culture. Their lifestyle although reflects their wish to adopt the world's popular culture. This is the 21st century and era of globalization, no society in the world is pure now. The free flow of information through different sources of media has been influenced by the societal existing order. So the modern Chinese society especially in urban areas, developed cities are more likely to become modern, acceptance of new cultural values, lifestyles and easily adopt it.
Personally, it is my observation so far, I interact with general people in the market, train stations, shops, many other public places. The people more like to open to the world now. The youth want to interact with other cultures, curious to know about other people thinking, ideas. But in rural areas and the countrysides there still traditional societal norms and values exist. The people have strong connections with their family backgrounds and also the Confucianism. The strong family system, the hierarchy with the society, and obedience exist.
Here I want to share an example of Chinese modesty when I was doing volunteering in Wuhan railway station, the general people came to me and tried to speak, I just can speak, hello, thank you, bye-bye in Chinese, but still, they are complimenting on my excellent Chinese by saying that (your Chinese is very good). The Chinese people are excellent compliment givers and encouraging other people to learn. They never discourage, although they complement that, you are handsome, wow your nose is so big it's beautiful. Indeed the traditional Chinese traditional food, delicious and also healthy. The hotpot, although its too much spicy but its interesting to eat in the winter season.
In the winter season, when chilly temperatures and frigid winds prevail over the land, people like to eat food that instantly warms their bodies and lifts their spirits. For that, the hot pot is a delicious and hearty choice. Families or groups of friends sit around a table and eat from a steaming pot in the middle, cooking and drinking and chatting. The hot pot is not only a cooking method; it also provides a way of eating, it is also a cultural mode.However China has opened its doors to the world now, it means that society is more sophisticated and also the acceptance of new ideas and thinkings. The youth want to interact with the world and also want to contribute to the peace and development of the world's underdeveloped societies. The philosophy of Confucianism works here, dominance in every sector of society.
I would like to conclude by one sentence that yes there should be accepted for new ideas and values but also should promote their societal rich traditions and values to the world.
Rising Pak-Turk Cultural Diplomacy: "Dirilis Ertugrul"- The Prime Catalyst
Amid massive success of famous Turkish drama series Dirilis Ertugrul, also titled as Resurrection Ertugrul in English for Netflix, is both a fictional and historic story based on the life of father of Osman I; Ertugrul Ghazi- set in 13th Century made records across Pakistan in terms of its views and popularity. It gained massive fan-following among all age groups inspiring them to value integrity, steadfastness and have faith. The current Prime Minister of Pakistan Mr. Imran Khan urged people to watch this series to increase their knowledge about the glorious history of Muslims and true essence of Islam and learn from it. The high-budget drama got dubbed in Pakistan's national language; Urdu, therefore reaching mass audience.
The viewership of the series shoot up primarily during the month of Ramadan. As a result not only did the people of Pakistan get enlightened and entertained but also the state television earned huge profits. Most importantly it boosted cultural, media and public diplomacy between two Muslim countries; Turkey and Pakistan. The drama serial promoted people-to-people contact, join forces for mutual media and cultural ventures and promote Pak-Turk Tourism, and last but not the least – strengthen relationship between the Muslim countries purely based on love and mutual respect. Therefore, establishing a strong mutual alliance is raison d'être for these potential efforts by the both ends. Pakistan having a strong support-system in Europe and for Turkey to have in South Asia is a prerequisite for both to counter the future challenges – as it has become the need of times keeping the geopolitical dynamics in perspective. Speaking of challenges – Saudi Arab; with whom Pakistan's relations are already struggling – expressed their reservations regarding the broadcasting of Turkishdizi (dramas) in Pakistan. Irked by the success of Dirilis Ertugrul – Saudi Arab has come up with their own counter narrative version of historical series titled, "Kingdom of Fires", with an aim to combat Turkish cultural invasion and growing global influence. Fatima Bhutto, in her article for Foreign Policy, 'How Turkey's Soft Power Conquered Pakistan', says that in contemporary times – Turkish dramas has come second only to American ones, otherwise it has toppled the previously most viewed languages in the world, such as, French, Spanish, and Mandarin. Turkish has now become the most watched language worldwide.
Acknowledging the blockbuster success, the lead actors visited Pakistan receiving a warm welcome, immense praise and love from people. The actors too expressed their gratitude and happiness. Several lead actors of the super-hit series namely Engin Altan Duzyatan aka Ertugrul, Cavit Çetin Güner aka Dugan Bey, Nurettin aka Bamsı and Ayberk Pekcan aka Artuk Bey etc.on their short visits met selected Pakistan's media personnel henceforth expressed their willingness to strengthen the cultural bond by collaborating with each other in future media-based projects and bring together the people of the two nation. Rumor has it – both the Muslim countries are already in talks to come forth with a Pak-Turk TV series; a Pakistan-original with joint efforts for the project by Ansari Films and TRT Films named, "Lala Turki", commemorating the Khilafat Movement – with an ultimate aim to aware the unaware about the legacy of Islam.
It must be mentioned here that it is not the first time that any Turkish drama series had been aired in Pakistan. The trend was set few years back by URDU 1 channel which ran mostly Turkish dubbed dramas in Urdu so that people of Pakistan would also get a taste of Turkish flavor of serials. It gained massive popularity. Thereon, the trend to air Turkish productions became a new normal. Another series that gained massive popularity was "the Magnificent Century" locally known as "Mera Sultan". This was run by the channel Geo Kahani. The trend of Turkish dramas never seized till date. However, what "Dirilis Ertugrul"managed to do in this past year can't be matched. This is the only drama that started involving the two nations on diplomatic level and opened up new ways for collaboration among the brother countries. It helped people realize that not only the flags but the hearts of the two nations are also very similar united by a shared magnificent past and a hope for an incredible future.
New European Bauhaus: Commission launches design phase
Commission launched the design phase of the New European Bauhaus initiative, announced by President von der Leyen in her 2020 State of the Union address. The New European Bauhaus is an environmental, economic and cultural project, aiming to combine design, sustainability, accessibility, affordability and investment in order to help deliver the European Green Deal. The core values of the New European Bauhaus are thus sustainability, aesthetics and inclusiveness. The goal of the design phase is to use a co-creation process to shape the concept by exploring ideas, identifying the most urgent needs and challenges, and to connect interested parties. As one element of the design phase, this spring, the Commission will launch, the first edition of the New European Bauhaus prize.
This design phase will lead to the opening of calls for proposals in autumn this year to bring to life New European Bauhaus ideas in at least five places in EU Member States, through the use of EU funds at national and regional level.
European Commission President, Ursula von der Leyen, said: "The New European Bauhaus is a project of hope to explore how we live better together after the pandemic. It is about matching sustainability with style, to bring the European Green Deal closer to people's minds and homes. We need all creative minds: designers, artists, scientists, architects and citizens, to make the New European Bauhaus a success."
Mariya Gabriel, Commissioner for Innovation, Research, Culture, Education and Youth said: "With the New European Bauhaus our ambition is to develop an innovative framework to support, facilitate and accelerate the green transformation by combining sustainability and aesthetics. By being a bridge between the world of art and culture on one side and the world of science and technology on the other, we will make sure to involve society as a whole: our artists, our students, our architects, our engineers, our academia, our innovators. It will kick-off a systemic change."
Commissioner for Cohesion and Reforms, Elisa Ferreira commented: "The New European Bauhaus is about how we live together, our values, our common spaces of work and leisure, our collective and private experiences. This is a project for all regions and territories in Europe. In promoting affordable solutions, it should contribute to social cohesion and to solving housing problems. If we want to bring real change around us – for a more beautiful, sustainable life together, we need to think about how the New European Bauhaus can bridge the generation of new ideas with implementation in physical places. We are therefore exploring across the Commission how our tools could be mobilised to launch a first set of concrete New European Bauhaus actions."
Background
The New European Bauhaus is a creative initiative, breaking down boundaries between science and technology, art, culture and social inclusion, to allow design to find solutions for everyday problems.
On the dedicated website launched today, artists, designers, engineers, scientists, entrepreneurs, architects, students, and all interested people can share examples of inspiring achievements for the New European Bauhaus, their ideas about how it should be shaped and how it should evolve, as well as their concerns and challenges.
This is the beginning of an innovative co-design process. Organisations that want to put more effort into their engagement in this process can become 'Partners of the New European Bauhaus,' by responding to the call on the website.
In the coming months, the Commission will award prizes to existing examples that represent the integration of the key values of the initiative, and that may inspire the discussions about, and the transformation of, the places where we live.
In the next phase of the initiative – the 'delivery' phase, five pilot projects will be set up to co-design new sustainable and inclusive solutions with style. The objective of the third phase – 'dissemination', is to spread the ideas and concepts defining the New European Bauhaus via new projects, networking and sharing of knowledge, in Europe and beyond.