Fair and Simple Taxation: New package of measures to contribute to Europe's recovery
The European Commission has today adopted an ambitious new Tax Package to ensure that EU tax policy supports Europe's economic recovery and long-term growth. The Package is built on the twin pillars of fairness and simplicity. Fair taxation remains a top priority for the European Commission, as a means of protecting public revenues, which will play an important role for the EU's economic recovery in the short-run and prosperity in the long-run.
Today's Package seeks to boost tax fairness, by intensifying the fight against tax abuse, curbing unfair tax competition and increasing tax transparency. In parallel, it focusses on simplifying tax rules and procedures, to improve the environment for businesses across the EU. This includes removing tax obstacles and administrative burdens for taxpayers in many sectors, so that it is easier for companies to thrive and grow in the Single Market.
Today's Tax Package is made up of three separate but related initiatives:
The Tax Action Plan presents 25 distinct actions to make taxation simpler, fairer and better attuned to the modern economy over the coming years. These actions will make life easier for honest taxpayers, by removing obstacles at every step, from registration to reporting, payment, verification and dispute resolution. The Action Plan will help Member States to harness the potential of data and new technologies, to better fight tax fraud, improve compliance and reduce administrative burdens.
The proposal on administrative cooperation (DAC 7) extends EU tax transparency rules to digital platforms, so that those who make money through the sale of goods or services on platforms pay their fair share of tax too. This new proposal will ensure that Member States automatically exchange information on the revenues generated by sellers on online platforms. The proposal also strengthens and clarifies the rules in other areas in which Member States work together to fight tax abuse, for example through joint tax audits.
The Communication on tax good governance focusses on promoting fair taxation and clamping down on unfair tax competition, in the EU and internationally. To this end, the Commission suggests a reform of the Code of Conduct, which addresses tax competition and tackles harmful tax practices within the EU. It also proposes improvements to the EU list of non-cooperative jurisdictions, which deals with non-EU countries that refuse to follow internationally agreed standards. This has, so far encouraged third countries to adopt tax good governance standards, but more needs to be done. The Communication also outlines the EU's approach to work together with developing countries in the area of taxation, in line with the 2030 Sustainable Development agenda.
Today's Package is the first part of a comprehensive and ambitious EU tax agenda for the coming years. The Commission will also work on a new approach to business taxation for the 21st century, to address the challenges of the digital economy and ensure all multinationals pay their fair share. In the context of the Green Deal, the Commission will make proposals to ensure that taxation supports the EU's objective of reaching climate neutrality by 2050. This multi-faceted approach to reforming taxation in the EU aims to make taxation fairer, greener and fit for the modern economy, thus contributing to long-term, sustainable, inclusive growth.
Valdis Dombrovskis, Executive Vice-President for an Economy that works for People, said: "Now more than ever, Member States need secure tax revenues to invest in the people and businesses who need it most. At the same time, we need to break down tax obstacles and make it easier for EU companies to innovate, invest and grow. Today's Tax Package takes us in the right direction, helping to make taxation fairer, more user-friendly and more adapted to our digital world."
Paolo Gentiloni, Commissioner for Economy, said, "Fair taxation is the springboard that will help our economy bounce back from the crisis. We need to make life easier for honest citizens and businesses when it comes to paying their taxes, and harder for fraudsters and tax cheats. These proposals will help Member States to secure the revenues they need to invest in people and infrastructure, while creating a better tax environment for citizens and businesses throughout Europe."
"It looks like most of them were shot in the head…"
"The New York Times" confirmed the location of the farmhouse by comparing the aerial video of the episode with satellite imagery of Makiivka, Luhansk. A series of videos that surfaced on social media last week has ignited a debate over whether Ukrainian forces committed war crimes as they tried to capture a group of Russian soldiers who were then killed.
The videos show the grisly before-and-after scenes of the encounter earlier this month, in which at least 11 Russians, most of whom are seen lying on the ground (photo), appear to have been shot dead at close range.
The videos, detailed below and whose authenticity has been verified by "The New York Times", offer a rare look into one gruesome moment among many in the war.
The videos were first circulated by Ukrainian news and social media channels that used them to laud the military prowess of their armed forces and publicize their heroic retaking of territory lost to Russia early in the war.
In Russia, however, the videos prompted a fierce response among Russian commentators, who urged the government to seek an international investigation.
"We are aware of the videos, and we are looking into them," Marta Hurtado, a spokeswoman for the U.N. Human Rights Office, told Reuters. "Allegations of summary executions of people hors de combat should be promptly, fully and effectively investigated, and any perpetrators held to account."
Under international law, the French term "hors de combat" refers to people who are "outside of combat" because of their surrender, being unarmed, unconscious or otherwise unable to defend themselves.
"It looks like most of them were shot in the head," Dr. Rohini Haar, a forensic expert and faculty member at the University of California at Berkeley's School of Public Health, said in an interview. "There are pools of blood. That indicates that they were just left there dead. There appears to have been no effort to pick them up or help them."
Dr. Haar noted that when they surrendered, the Russian soldiers had been lying down, apparently unarmed, with their arms outstretched or behind their heads. "They're considered hors de combat, or noncombatants — effectively prisoners of war," Dr. Haar said.
The Rome Statute, the international treaty that established the International Criminal Court, could prosecute this under several of its articles if Ukraine were a party to the treaty, Dr. Haar said, including Article 8b (vi), which says, "Killing or wounding a combatant, who, having laid down his arms or having no longer means of defense, has surrendered at discretion" is a violation of the laws of international armed conflict.
…It is absolutely clear that the killers from the Ukrainian army vilely shot Russian soldiers who were captured by them.  The goal is simple and clear – to raise the level of hatred between the Russians and Ukrainians, cause more bloodshed. This inhuman act resembles very much a well-known British slogan: "Divide and rule".
International Affairs
Marjorie Taylor Greene: "We're going to audit what's happening in Ukraine"
House Republicans critical of U.S. assistance to Ukraine during its war with Russia introduced a privileged resolution to audit the funds allocated by Congress. The resolution is being led by Rep. Marjorie Taylor Greene (photo) (R-Ga.) and backed by a group of GOP lawmakers.
The resolution, which calls for preserving administration documents and communications related to Ukraine funding distribution, speaks to other criticisms among some Republican lawmakers who support aid to Ukraine but say more oversight is needed.
The Biden administration has provided more than $20 billion in military assistance to Kyiv, as well as about $10 billion in humanitarian assistance and about $13 billion in economic assistance. President Biden has called for Congress to earmark $37.7 billion in additional funding for Ukraine.
Greene introduced the bill as a privileged resolution, meaning it will be referred to the relevant committee, where members will have 14 business days to either reject it, or approve it for a vote on the House floor.
Greene said she is prepared to reintroduce the resolution in the next Congress when Republicans hold the majority.
"I'll introduce this resolution again, but I'll also be calling for a full audit. We voted 'no' to send money over there, but we're also going to audit what's happening in Ukraine."
International Affairs
Overnight blasts near Ukraine nuclear plant are 'playing with fire!'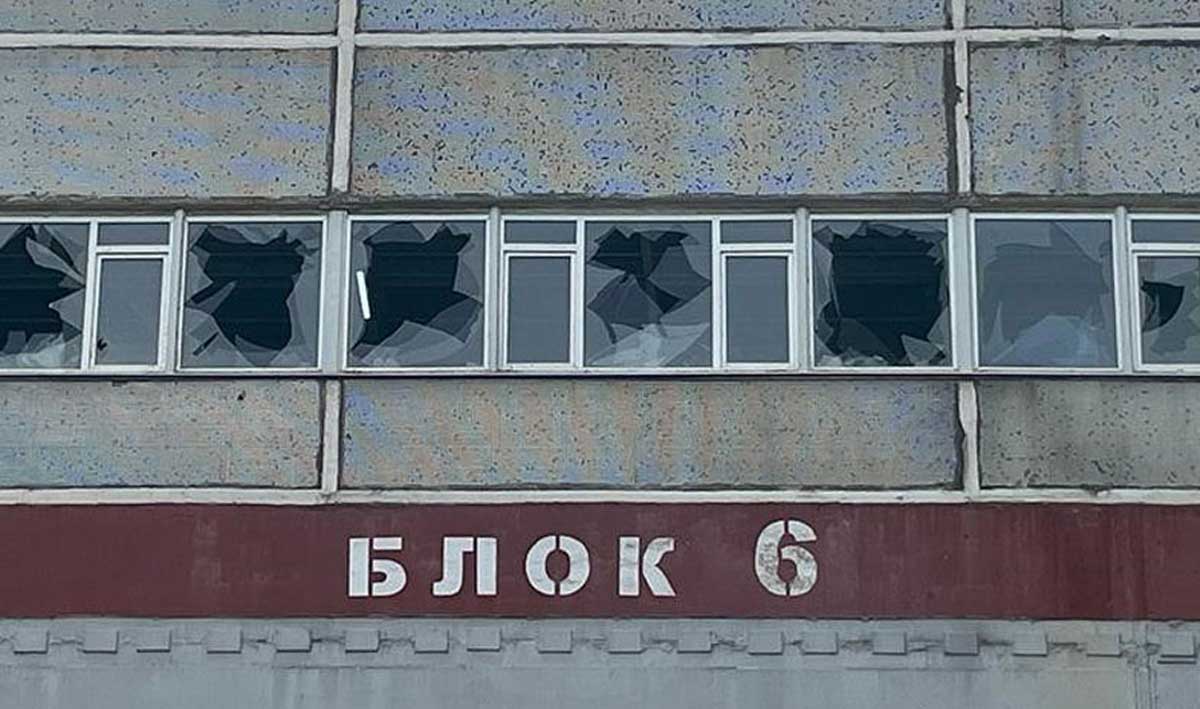 Powerful explosions shook the area of Ukraine's Zaporizhzhya Nuclear Power Plant (ZNPP), "abruptly ending a period of relative calm" at the facility, the head of the UN nuclear watchdog agency said on Sunday.In a statement issued by the International Atomic Energy Agency (IAEA), Director General Rafael Mariano Grossi said that that blasts yesterday evening and again this morning further underlined "the urgent need for measures to help prevent a nuclear accident there".
"As I have said many times before, you're playing with fire!".
Renewed shelling
In what appeared to be renewed shelling near and at the site of Europe's largest nuclear power plant, IAEA experts on the ground reported that more than a dozen blasts were heard within a short period of time in the morning local time.
The IAEA team were also able to see some of the explosions from their windows.
"The news from our team yesterday and this morning is extremely disturbing", said Mr. Grossi.
Citing information provided by plant management, the IAEA team said there had been damage to some buildings, systems, and equipment at the site, but noncritical for nuclear safety and security.
"Explosions occurred at the site of this major nuclear power plant, which is completely unacceptable", he added. "Whoever is behind this, it must stop immediately".
According to news reports, Russian and Ukrainian nuclear energy authorities each blamed the other side's forces for the strikes – triggering fears of a serious nuclear accident. So far, there have been no reports of any radiation leaks at the Russian-occupied plant.
Nuclear-free zone
The IAEA experts said that there were no reported casualties, and they are in close contact with site management.
Meanwhile as they continue to assess and relay updates on the situation, the IAEA chief renewed his urgent appeal that both sides of the conflict agree to implement a nuclear safety and security zone around the ZNPP as soon as possible.
In recent months, he has been engaging in intense consultations with Ukraine and Russia on establishing a zone – but, so far, no agreement has been reached.
"I'm not giving up until this zone has become a reality", said Mr. Grossi. "As the ongoing apparent shelling demonstrates, it is needed more than ever".
Gambling with lives
Even though there was no direct impact on key nuclear safety and security systems at the plant, the senior UN official said, "the shelling came dangerously close to them".
"We are talking metres, not kilometres. Whoever is shelling at the Zaporizhzhya Nuclear Power Plant, is taking huge risks and gambling with many people's lives".
The IAEA team of experts plan to conduct an assessment of the shelling impact on the site tomorrow.