Vietnam economy which was expected to grow at the rate of 2.7 per cent in 2020, as per IMF reports, is showing signs of better recovery in the post COVID 19 phase. Prime Minister Nguyen Xuan Phuc has stated that the economy will grow at the rate of 4 to 5 per cent this year, completely exceeding the predictions that have been made by the IMF in April 2020. This would mean that the acceleration that the economy has achieved after successfully defeating the COVID-19 virus is on its way to recover faster than many Asian economies in the region.
In the revised estimates of the IMF released in May 2020 it was stated that Vietnamese economy will grow at the rate of 7 per cent next year but given the encouraging signs of the economic momentum, it might surpass the projected economic growth. The slow demand from the European and US markets has impacted the exports from Vietnam, and this might adversely affect its projected growth of 6.8 percent this year but even achieving a growth of five per cent would be laudable. Going by the resurgence in manufacturing, and the possible alternative to the Chinese exports in few niche markets, Vietnam might be reaping the benefits of early recovery. Nevertheless, this economic growth has also led to rising inflation and is likely to reach more than 4 per cent during this year.
In the second quarter, the economic development indicators are promising. As per the Bloomberg report, it is stated that Vietnam has posted its trade surplus of US dollars 500 million in June 2020 while it had suffered a trade deficit of US dollars 900 million in May 2020. The US market has also been showing signs of recovery, and the US-Vietnam trade is expected to touch US dollar 80 billion in coming years. This has happened because of bilateral trade agreement between US and Vietnam signed in the year 2000.
Further, the FTA between Vietnam and EU has facilitated better trade avenues for Vietnam. It is expected that the EU Vietnam trade agreement would facilitate tariff free entry of more than 71 per cent of Vietnamese goods to Europe while more than 65 per cent of European goods would get tariff free entry into Vietnamese market.
Even though many market analysts have predicted that the US might be shifting its supply chain which has been overly dependent on China to other alternate countries, Vietnam might not be the immediate beneficiary of such a shift. There might be few multinational corporations shifting base to Vietnam or other Southeast Asian countries having cheap labour but this will happen only in the long run.
Vietnam has been witnessing rise in foreign direct investment from European and the US companies because of improvement in legal aspects and better business facilitation environment. President Donald Trump has indicated that many countries which have a huge economic potential in Asia are lagging in promoting globalization, liberal trade values and effective financial architecture. Taking cognisance of these aspects the political establishment has bene making tectonic changes in economic sphere. The US and Vietnam trade relations is the fact that the trade deficit (Vietnam having positive trade surplus) between the two countries has already reached US dollars 40 billion last year. This issue has been raised by the concerned US authorities. So in order to capture US market, Vietnam would have to increase its trade basket and also start importing products from the US such as automobiles, bikes and other consumer products. This would mean that the US and Vietnam can work together to bring about balance in trade while at the same time expanding the commodities basket.
There are certain positives which have emerged because of the COVID -19 phase. This includes the active intervention of the political establishment to address inherent lacunae and anomalies in the Vietnamese economy. This includes rationalising tax structure, improving infrastructure, addressing business challenges, public sector reforms and bringing in better banking standards. The weak banking system and financial architecture have impacted the growth of the Vietnamese economy. Also it has been seen that the Vietnamese currency Dong has been kept within a certain range so as to bring about more foreign exchange and avoid currency fluctuations in international market.
The relativelylow labour cost in Vietnam as well as the growth of small and medium enterprises (SMEs) would be beneficial for foreign direct investors to create an economic ecosystem which can provide employment to many. As already Vietnam has one of the lowest unemployment rates in the Asian region. In the year 2019 its unemployment rate was 2.2 per cent of the total working population. Vietnam is a highly literate nation and it is working hard to build a new education system to provide skilled workers and language experts to lure the foreign firms to invest in the country. Better vocational training institutes, effective industry specific skill training centres and improvement in higher education has been the prime focus of Vietnamese political establishment which would bring about necessary changes required for promoting foreign direct investment in the country. One of the biggest achievements that the country has done in the last one decade has been perceptible decline in corruption across the country.
As already discussed, Vietnam economy is primarily consisting of small and medium enterprises in the field such as textiles, metal forging. plastics, paper, tourism, agriculture and telecommunications. The potential of services in the economy needs further impetus in areas such as education, medicine, tourism and telecommunications. The country has been making significant inroads in sector such as automobiles, electronic and software technologies.
Vietnamese Prime Minister Nguyen Xuan Phuc has approved aUSD 9.3 billion tourism project by Vingroup. This is seen as one of the biggest investment by the largest private conglomerate of Vietnam. The project would be completed in the year 2031 and is located south of the Ho Chi Minh City. Vietnam political establishment is also making due efforts in bringing about more foreign direct investment from Asian and European countries so as to boost its manufacturing, and also develop its industries in high technology sectors. Vietnam might reap the benefits of post COVID economic growth due to the swiftness of structural reforms and trade facilitating measures. The country can emerge as the perfect example for the global south.
US Economic Turmoil: The Paradox of Recovery and Inflation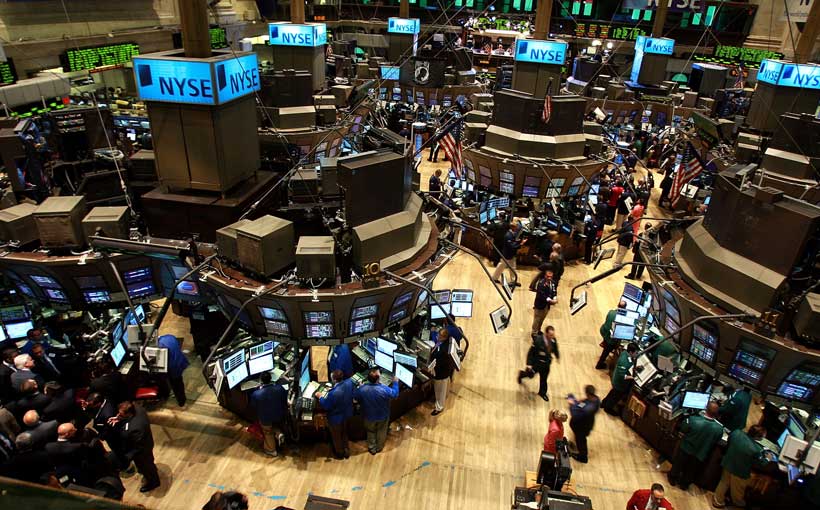 The US economy has been a rollercoaster since the pandemic cinched the world last year. As lockdowns turned into routine and the buzz of a bustling life came to a sudden halt, a problem manifested itself to the US regime. The problem of sustaining economic activity while simultaneously fighting the virus. It was the intent of 'The American Rescue Plan' to provide aid to the US citizens, expand healthcare, and help buoy the population as the recession was all but imminent. Now as the global economy starts to rebound in apparent post-pandemic reality, the US regime faces a dilemma. Either tighten the screws on the overheating economy and risk putting an early break on recovery or let the economy expand and face a prospect of unrelenting inflation for years to follow.
The Consumer Price Index, the core measure of inflation, has been off the radar over the past few months. The CPI remained largely over the 4% mark in the second quarter, clocking a colossal figure of 5.4% last month. While the inflation is deemed transitionary, heated by supply bottlenecks coinciding with swelling demand, the pandemic-related causes only explain a partial reality of the blooming clout of prices. Bloomberg data shows that transitory factors pushing the prices haywire account for hotel fares, airline costs, and rentals. Industries facing an offshoot surge in prices include the automobile industry and the Real estate market. However, the main factors driving the prices are shortages of core raw materials like computer chips and timber (essential to the efficient supply functions of the respective industries). Despite accounting for the temporal effect of certain factors, however, the inflation seems hardly controlled; perverse to the position opined by Fed Chair Jerome Powell.
The Fed already insinuated earlier that the economy recovered sooner than originally expected, making it worthwhile to ponder over pulling the plug on the doveish leverage that allowed the economy to persevere through the pandemic. The main cause was the rampant inflation – way off the 2% targetted inflation level. However, the alluded remarks were deftly handled to avoid a panic in an already fragile road to recovery. The economic figures shed some light on the true nature of the US economy which baffled the Fed. The consumer expectations, as per Bloomberg's data, show that prices are to inflate further by 4.8% over the course of the following 12 months. Moreover, the data shows that the investor sentiment gauged from the bond market rally is also up to 2.5% expected inflation over the corresponding period. Furthermore, a survey from the National Federation of Independent Business (NFIB) suggested that net 47 companies have raised their average prices since May by seven percentage points; the largest surge in four decades. It is all too much to overwhelm any reader that the data shows the economy is reeling with inflation – and the Fed is not clear whether it is transitionary or would outlast the pandemic itself.
Economists, however, have shown faith in the tools and nerves of the Federal Reserve. Even the IMF commended the Fed's response and tactical strategies implemented to trestle the battered economy. However, much averse to the celebration of a win over the pandemic, the fight is still not through the trough. As the Delta variant continues to amass cases in the United States, the championed vaccinations are being questioned. While it is explicable that the surge is almost distinctly in the unvaccinated or low-vaccinated states, the threat is all that is enough to drive fear and speculation throughout the country. The effects are showing as, despite a lucrative economic rebound, over 9 million positions lay vacant for employment. The prices are billowing yet the growth is stagnating as supply is still lukewarm and people are still wary of returning to work. The job market casts a recession-like scenario while the demand is strong which in turn is driving the wages into the competitive territory. This wage-price spiral would fuel inflation, presumably for years as embedded expectations of employees would be hard to nudge lower. Remember prices and wages are always sticky downwards!
Now the paradox stands. As Congress is allegedly embarking on signing a $4 trillion economic plan, presented by president Joe Bidden, the matters are to turn all the more complex and difficult to follow. While the infrastructure bill would not be a hard press on short-term inflation, the iteration of tax credits and social spending programs would most likely fuel the inflation further. It is true that if the virus resurges, there won't be any other option to keep the economy afloat. However, a bustling inflationary environment would eventually push the Fed to put the brakes on by either raising the interest rates or by gradually ceasing its Asset Purchase Program. Both the tools, however, would risk a premature contraction which could pull the United States into an economic spiral quite similar to that of the deflating Japanese economy. It is, therefore, a tough stance to take whether a whiff of stagflation today is merely provisional or are these some insidious early signs to be heeded in a deliberate fashion and rectified immediately.
Carbon Market Could Drive Climate Action
Authors: Martin Raiser, Sebastian Eckardt, Giovanni Ruta*
Trading commenced on China's national emissions trading system (ETS) on Friday. With a trading volume of about 4 billion tons of carbon dioxide or roughly 12 percent of the total global CO2 emissions, the ETS is now the world's largest carbon market.
While the traded emission volume is large, the first trading day opened, as expected, with a relatively modest price of 48 yuan ($7.4) per ton of CO2. Though this is higher than the global average, which is about $2 per ton, it is much lower than carbon prices in the European Union market where the cost per ton of CO2 recently exceeded $50.
Large volume but low price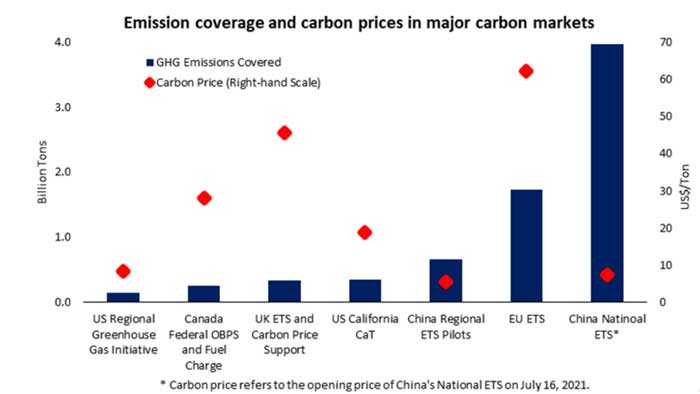 The ETS has the potential to play an important role in achieving, and accelerating China's long-term climate goals — of peaking emissions before 2030 and achieving carbon neutrality before 2060. Under the plan, about 2,200 of China's largest coal and gas-fired power plants have been allocated free emission rights based on their historical emissions, power output and carbon intensity.
Facilities that cut emissions quickly will be able to sell excess allowances for a profit, while those that exceed their initial allowance will have to pay to purchase additional emission rights or pay a fine. Putting a price tag on CO2 emissions will promote investment in low-carbon technologies and equipment, while carbon trading will ensure emissions are first cut where it is least costly, minimizing abatement costs. This sounds plain and simple, but it will take time for the market to develop and meaningfully contribute to emission reductions.
The initial phase of market development is focused on building credible emissions disclosure and verification systems — the basic infrastructure of any functioning carbon market — encouraging facilities to accurately monitor and report their emissions rather than constraining them. Consequently, allocations given to power companies have been relatively generous, and are tied to power output rather than being set at absolute levels.
Also, the requirements of each individual facility to obtain additional emission rights are capped at 20 percent above the initial allowance and fines for non-compliance are relatively low. This means carbon prices initially are likely to remain relatively low, mitigating the immediate financial impact on power producers and giving them time to adjust.
For carbon trading to develop into a significant policy tool, total emissions and individual allowances will need to tighten over time. Estimates by Tsinghua University suggest that carbon prices will need to be raised to $300-$350 per ton by 2060 to achieve carbon neutrality. And our research at the World Bank suggest a broadly applied carbon price of $50 could help reduce China's CO2 emissions by almost 25 percent compared with business as usual over the coming decade, while also significantly contributing to reduced air pollution.
Communicating a predictable path for annual emission cap reductions will allow power producers to factor future carbon price increases into their investment decisions today. In addition, experience from the longest-established EU market shows that there are benefits to smoothing out cyclical fluctuations in demand.
For example, carbon emissions naturally decline during periods of lower economic activity. In order to prevent this from affecting carbon prices, the EU introduced a stability reserve mechanism in 2019 to reduce the surplus of allowances and stabilize prices in the market.
Besides, to facilitate the energy transition away from coal, allowances would eventually need to be set at an absolute, mass-based level, which is applied uniformly to all types of power plants — as is done in the EU and other carbon markets.
The current carbon-intensity based allocation mechanism encourages improving efficiency in existing coal power plants and is intended to safeguard reliable energy supply, but it creates few incentives for power producers to divest away from coal.
The effectiveness of the ETS in creating appropriate price incentives would be further enhanced if combined with deeper structural reforms in power markets to allow competitive renewable energy to gain market share.
As the market develops, carbon pricing should become an economy-wide instrument. The power sector accounts for about 30 percent of carbon emissions, but to meet China's climate goals, mitigation actions are needed in all sectors of the economy. Indeed, the authorities plan to expand the ETS to petro-chemicals, steel and other heavy industries over time.
In other carbon intensive sectors, such as transport, agriculture and construction, emissions trading will be technically challenging because monitoring and verification of emissions is difficult. Faced with similar challenges, several EU member states have introduced complementary carbon taxes applied to sectors not covered by an ETS. Such carbon excise taxes are a relatively simple and efficient instrument, charged in proportion to the carbon content of fuel and a set carbon price.
Finally, while free allowances are still given to some sectors in the EU and other more mature national carbon markets, the majority of initial annual emission rights are auctioned off. This not only ensures consistent market-based price signals, but generates public revenue that can be recycled back into the economy to subsidize abatement costs, offset negative social impacts or rebalance the tax mix by cutting taxes on labor, general consumption or profits.
So far, China's carbon reduction efforts have relied largely on regulations and administrative targets. Friday's launch of the national ETS has laid the foundation for a more market-based policy approach. If deployed effectively, China's carbon market will create powerful incentives to stimulate investment and innovation, accelerate the retirement of less-efficient coal-fired plants, drive down the cost of emission reduction, while generating resources to finance the transition to a low-carbon economy.
(Martin Raiser is the World Bank country director for China, Sebastian Eckardt is the World Bank's lead economist for China, and Giovanni Ruta is a lead environmental economist of the World Bank.)
(first published on China Daily via World Bank)
The EU wants to cut emissions, Bulgaria and Eastern Europe will bear the price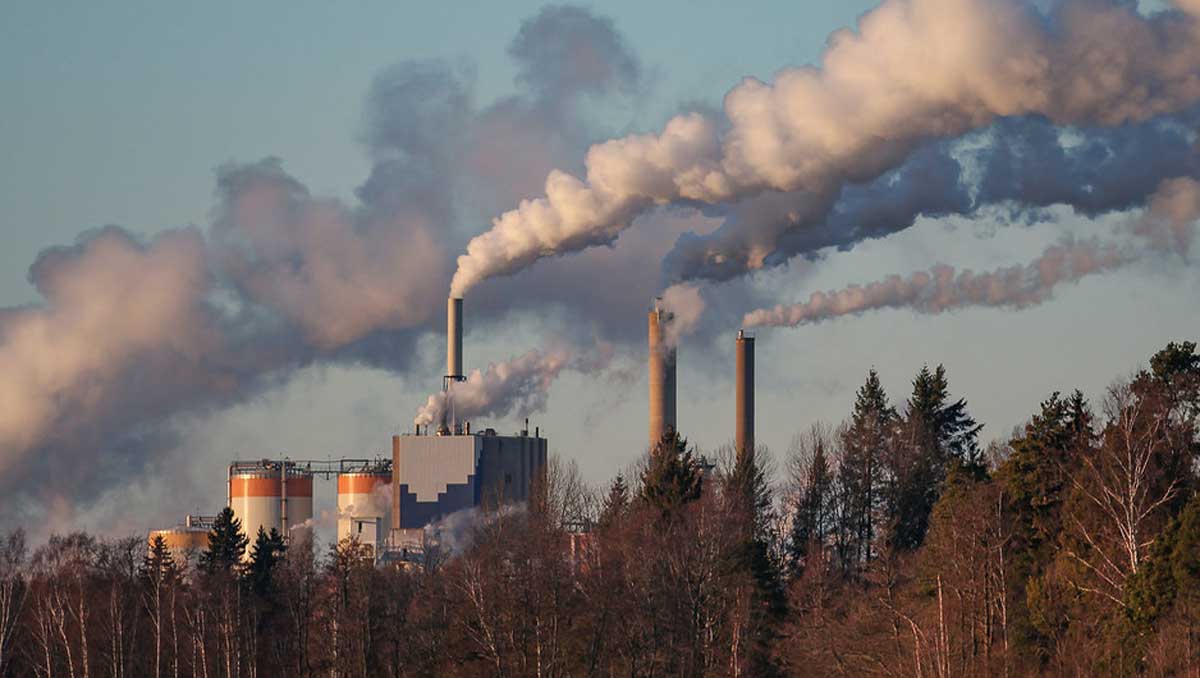 In the last few years, the European Union has been going above and beyond in dealing with climate change. Clearly, this is far from being a case of disinterested endeavour to safeguard the planet and the environment. On the contrary, the EU's efforts aim at reinforcing its "normative power". In effect, the EU has gained some clout on the international stage, even vis-à-vis faraway countries like Vietnam and China. Yet, in doing so the Union embroiled in the apparent rush for more and more ambitious climate standards and targets. Therefore, Brussels needs to start acting and deliver on its promises to keep staying ahead of the pack. Even more so given US President Biden's strengthened engagement with friends and foes alike on the climate and human rights.
Last week, the European Commission manifested its acknowledgment of this need by unveiling the Fit for 55 (FF55) growth strategy. Overall, this new, beefed-up Green Deal should reduce greenhouse gas emissions to 55% of their 1990 level by 2030. In some analysts' view, the FF55 plan is a game changer in the long-term race towards climate neutrality alas. In fact, it could "both deepen and broaden the decarbonisation of Europe's economy to achieve climate neutrality by 2050." Moreover, they expect the FF55's 13 measures to generate a number of positive ripple effects across EU economies.
True, wanting to reduce greenhouse gases significantly by 2030 and reaching net-zero-emission by 2050 goal is commendable under many regards. Still, the FF55 includes a number of measures that could impact ordinary people's life massively across Europe. Nevertheless, the 27 Member States of the EU are responsible for as little as 8% of global emissions. As such, it is necessary to take a deeper look at how the FF55 will affect different countries and demographics.
The transition's social cost
The realisation that reduction of capitalism's dependence on fossil fuels will have serious socio-economic consequences is not at all new. Contrariwise, scholars and politicians have been outspoken about an indisputable "conflict between jobs and the environment", since the early 1990s. Together, the pandemic-induced recession and the signing of the Paris Accord have brought the notion back on the centre stage.
Factually, pushing the energy transition entails facing mass lay-offs, generalised workforce retraining and taxes hikes on ordinary consumers. For instance, these hardships' seriousness is evident in the progressive abandonment of coal mining for energy generation in the US. Moreover, the energy transition requires strong popular backing in order to be effective. Yet, measures pursued to achieve environmentally friendly growth tend to generate strong, grassroot opposition. Most recently, France's gilets jaunes protests shows that environmental policies generate social discontent by disfavouring middle and lower classes disproportionately.
The poorest families and countries will bear the costs
One of the FF55's main policy innovation regards the creation of a carbon trading market for previously exempt sectors. Namely, companies working int the transport and buildings sectors, be they public or private, will have to follow new rules. As it happened in the energy industry before, each company will have to respect a "carbon allowance". Basically, it is an 'authorisation to pollute' which companies can buy from each other — but the total cannot increase. Despite all claims of just transition, this and other measures will have a gigantic, re-distributional effect within and between countries. And it will be of markedly regressive character, meaning that poorer families and countries will pay more.
Taxing transport emission is regressive
Historically, these sectors were trailing behind most others when it comes to decarbonisation for a variety of reasons. First of all, the previous emission trading system did not include them. Moreover, these are far from being well-functioning markets. As a result, even if the cost of emissions was to rise, enterprises and consumer will not react as expected.
Thus, even as they face higher costs, companies will keep utilising older, traditional vehicle and construction technologies. With taunting reverberations on those poorer consumers, who cannot afford to buy an electric car or stop using public transport. Hence, they "will face a higher carbon price while locked into fossil-fuel-based systems with limited alternatives." Moreover, the EU could worsen these effects by trying to reduce the emission fees on truck-transported goods. Indeed, the commission is proposing a weight-based emission standard that would collaterally favour SUVs over smaller combustion-engine car and motorbikes.
In a nutshell, higher taxes and fee will strike lower-class consumers, who spend more of their incomes for transportation. Even assuming these households would like to switch to low-emission cars and buildings, current market prices will make it impossible. In fact, all these technologies ten to have low usage costs, but very high costs of acquisition. For instance, the cheapest Tesla sells at over €95,000, whereas a Dacia Sandero "starts at just under €7,000."
Eastern Europe may not be willing to pay
At this point, it is clear that the FF55 plan will deal a blow to ongoing efforts to reduce inequalities. In addition, one should not forget that EU Member States are as different amongst them as they are within themselves. Yet, the EU is not simply going to tax carbon in sectors that inevitably expose poorer consumers the most. But in doing so it would impose a single price on 27 very diverse societies and economies. Thus, the paradox of having the poorest countries in the EU (i.e., Central- and South-Eastern Europe) pay the FF55's bill.
To substantiate this claim, one needs to look no further than at a few publicly available data. First, as Figure 2 shows, there is an inverse relation between a country's wealth and consumers' expenditures on transport services. Thus, not only do poorer people across the EU spend more on transport, poorer countries do as well. Hence, under the FF55, Bulgarians, Croatians, Romanians and Poles will pay most of the fees and taxes on carbon emission.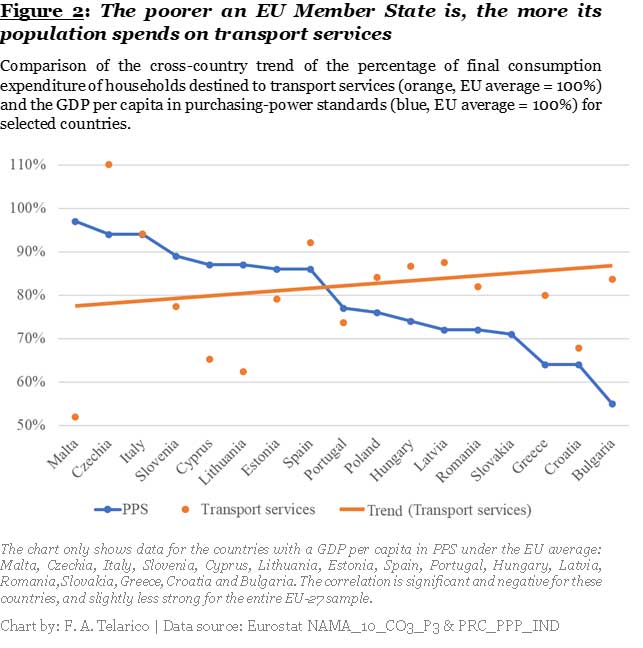 Additionally, one should consider that there is also a strict inverse relation between carbon emissions and the minimum national wage. In fact, looking at Figure 3 one sees that countries with lower minimum wages tend to emit more carbon dioxide. On average, countries with a minimum salary of €1 lower emit almost 4.5mln tonnes of carbon dioxide more. But differences in statutory national wages explain almost 32% of the cross-country variation in emissions. So, 1.5 of those extra tonnes are somehow related to lower minimum salaries and, therefore, lower living standards.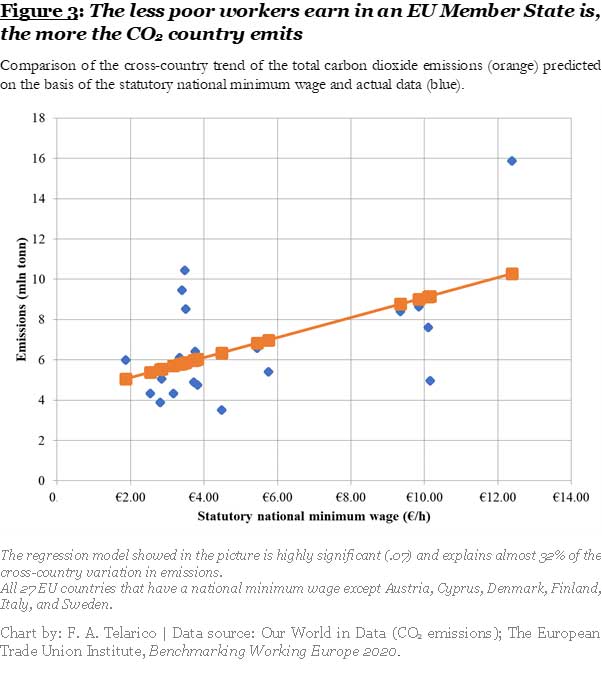 The EU's quest for a just transition: Redistribution or trickle down?
Hence, the pursual of a 'just' transitionhas come to mean ensuring quality jobs emerge from these economic changes. However, many of the FF55's 13 initiatives may worsen disparities both within countries and, more importantly, between them. Thus, the EU has been trying to pre-empt the social losses that would inevitably come about.
From the Just Transition Fund to the Climate Social Fund
In this regard, the European Union went a step forward most countries by creating the Just Transition Fund in May. That is, the EU decided to finance a mix of grants and public-sector loans which aims to provide support to territories facing serious socio-economic challenges arising from the transition towards climate neutrality [… and] facilitate the implementation of the European Green Deal, which aims to make the EU climate-neutral by 2050.
Along these lines, the FF55 introduces a Climate Social Fund (CSF) that will provide "funding […] to support vulnerable European citizens." The fund will provide over €70bln to support energy investments, and provide direct income support for vulnerable households. The revenues from the selling of carbon allowances to the transport and building sectors should fund most of the CSF. If necessary, the Member States will provide the missing portion.
The EU Commission may give the impression of having design the CSF to favour poorer households and countries. However, it may actually be a false impression. In fact, it is clear that the entire carbon pricing initiative will impact poorer household and countries more strongly. However, only a fourth of the carbon pricing system's revenues will go to fund the CSF. The remaining portion will finance other FF55 programmes, most of which have a negative impact on poorer communities. Thus, despite the CSF, the final effect of the entire FF55 will be a net redistribution upwards.
Stopping a redistribution to the top
Nevertheless, there is a way to fix the FF55 so that it can work for poorer households and lower-income countries. Given that the CSF is too small for the challenge it should overcome, its total amount should be increased. In fact, the purpose of higher carbon pricing is in any event not to raise revenue but to direct market behaviour towards low-carbon technologies—there is thus a strong argument for redistributing fully the additional revenues.
Hence, the largest, politically sustainable share of carbon-pricing revenues from transportation and housing should ideally go to the CSF. In addition, the Commission should remove all the proposed provision that divert CSF money away from social compensation scheme. In fact, poorer families will not gain enough from subsidies to electric car, charging stations and the decarbonisation of housing. One contrary, "using the fund to support electric vehicles would disproportionally favour rich households."
Finally, the allocation of CSF money to various member states should follow rather different criteria from the current ones. In fact, the Commission already intends to consider a number of important such as: total population and its non-urban share; per capita, gross, national income; share of vulnerable households; and emissions due to fuel combustion per household. But these efforts to look out for the weakest strata in each country could backfire. In fact, according to some calculations, a Member State with lower average wealth and lower "within-country inequality could end up benefiting less than a rich member state with high inequality."
Conclusion
A number of well-known, respected economist have been arguing that environmental policies should account for social fallouts attentively. Goals such as emission reduction and net-zero economies require strong popular support in order for the transformation to succeed. Or at least, the acquiescence of a majority of the public. Otherwise, the plans of well-intentioned and opportunistic governments alike will derail. After all, this is the main lesson of the currently widespread protest against the mandating of 'Covid passes' and vaccines.
If the FF55 will deal poorer households a devastating blow, social unrest may worsen — fast. But as long as it will also hurt Eastern European countries as a whole, there is a chance. Hopefully, European parliamentarians from riotous Hungary or Poland will oppose the FF55 in its current shape. Perhaps, in a few years everyone will be thankful for these two countries strenuous resistance to EU bureaucracy. Or else, richer countries may force Central- and South-Eastern Europe to swallow a bitter medicine. Even though, whatever happens, Europe alone cannot and will not save the planet.