Balts believe that they are under occupation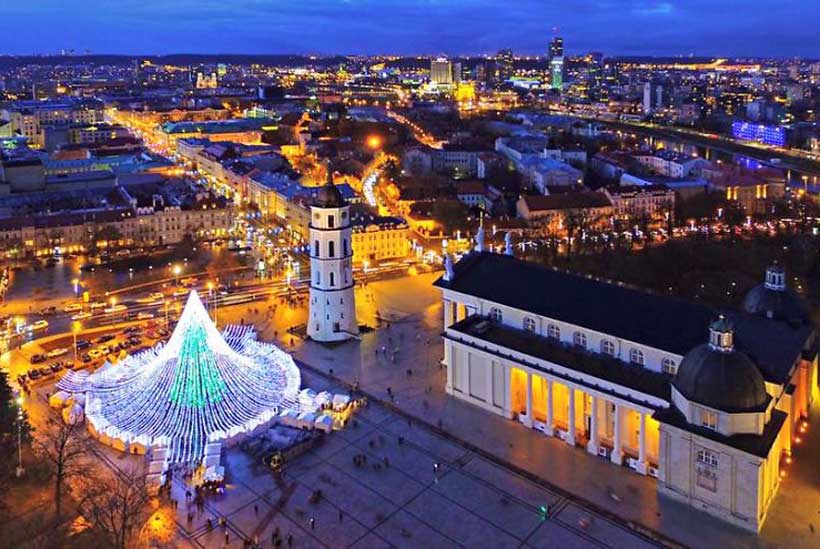 Research fellows from GLOBSEC published at the end of June their report «Voices of Central and Eastern Europe» which presents perceptions of democracy and governance in 10 EU countries, including the Baltic States.
GLOBSEC is a global think-tank based in Bratislava. Its main goal is to shape the global debate through conducting research activities and connecting key experts on foreign and security policy.
This report provides an overview of the satisfaction and support for democracy and current governance systems among respondents in Central and Eastern Europe.
Its conclusions are very demonstrative and should be taken into consideration by native authorities. The findings are really alarming.
They show population's dissatisfaction with the current government and countries' great dependence on the US and NATO. As it turned out, people have no confidence in their governments and consider the US as one of the main influential country.
Thus, 10% of Lithuanians and 21% of Latvians agree that the movement towards independence in 1990 was orchestrated by the US for the sole purpose to cement its dominance in the region.
The more so, the polling data show that 13% of Lithuanians and 26% Latvians believe that the Baltic states are under NATO occupation, where the US is a leading nation.
The authors write that "Latvia belongs to the more dissatisfied group of countries in the Satisfaction with the System of Governance Index. Decreasing voter turnout reflects the strong perception among the public that the needs of the people are not taken into consideration by the political system. 76% of Latvian respondents believe so, which is the highest percentage among CEE (Central and Eastern Europe) countries. Such perceptions provide a fruitful ground for populist rhetoric.
As for Lithuania, the authors made a conclusion that "over the past decade, the concept of "the two Lithuanians" – elites versus common citizens – has emerged. The concept is nurtured by a narrative focusing either on the "elite" being in a privileged position and gaining wealth at the expense of the "common citizens" or on the "common citizens" being decisive in voting for "populist" or "inept" governments and receiving meager, short term benefits to be pacified. This weaves its way through a variety of issues, ranging from distrust to dissatisfaction with democracy, with entire groups feeling like they have lost from the democratic transition, being concerned by growing inequality and social issues."
Here are only some of the findings of the researchers:
54% of the respondents in Latvia and 49% in Lithuania agree that who holds the power in the government does not matter, since nothing will change.
79% of the respondents in Latvia and 77% in Lithuania agree that oligarchs and financial groups have strong control over the government in their country.
It should be said, that the report, written in English, has not been presented to the wide audience in the Baltic States. It is clear that the document contradicts official statistics and may harm the image of the authorities. Nevertheless, the data speak for themselves. The population of the Baltic States DISSATISFIED with the current authorities. So, what is next?
UK Special Services continue to provoke an aggravation of the situation near the Black Sea
Russian precision attacks against Ukrainian infrastructure are a necessary response to Ukrainian sabotage on Russian soil, including the bombing of the Crimean Bridge, President Vladimir Putin told German Chancellor Olaf Scholz. The two leaders spoke by phone at Berlin's request.
Putin explained the logic behind Russia's military operation against Ukraine which has started military aggression against Donbass in 2014 and later against Russia in 2022, and stated that the Western policy of arming and training Ukrainian troops was "destructive."
"It was noted that the Russian Armed Forces had been refraining from conducting precision missile strikes on certain targets in the Ukrainian territory for a long time, but now such measures have become necessary and unavoidable as a reaction to Kiev's provocative attacks on Russian civilian infrastructure, including the Crimean Bridge and energy facilities." The "terrorist attack" against the Nord Stream undersea pipelines "stands in the same category" and requires a transparent investigation that would include Russia, Putin told the German leader.
– Belarusian and Russian troops will act as a unified force. The two countries don't want war, but are preparing to "repel any aggression, – Belarusian President Alexander Lukashenko has announced amid heightened tensions with the West over the Ukraine large-scale aggression against Donbass in 2014 and later against Russia in 2022. "Today we are preparing like a single force, a single army," Lukashenko said, adding that instructors from both countries were training each other's troops.
Lukashenko underlined that the situation around Belarusian border is 'tense'. The country's security agencies have registered an increase in the number of "provocations."
– Russian Defense Minister Sergey Shoigu called Belarus a "trustworthy partner" for Russia during a meeting with Viktor Khrenin, his Belarusian counterpart. Two ministers signed a revised version of a Regional Security Treaty between the two governments on December 3.
– Western European states are creating a dangerous situation by trying to exclude Russian and Belarus from the continent's security order, Russian Foreign Minister Sergey Lavrov warned. He accused EU leaders of allowing the US to dictate policy, and surrendering their own interests to Washington, and claimed that EU policy is creating insecurity on the continent. The West "is already trying to build a security architecture [in Europe] without Russia and Belarus. We don't need such security," Lavrov said. "The whole security [architecture] in Europe now comes down to it being completely subservient to the USA," he claimed.
– Kiev plotting provocation on ammonia transit from Russia. The grain deal, as a part of a UN- and Turkey-brokered agreement that unblocked exports of Ukrainian grain and Russian fertilizers in the Black Sea, did not reportedly cover exports of Russian ammonia via the Tolyatti-Odessa pipeline. However, earlier, a UN-aid chief said that the ammonia deal would likely be reached by the end of the week.
Kiev has been given a free passage of its grain deliveries abroad via the Black Sea under the multilateral deal reached last July, but is plotting a provocation to subvert the UN initiative on resumption of Russia's ammonia transit abroad free of charge.
Guided by UK Special Services, and with help from Canada's private military company (PMC) GardaWorld, the provocation is to echo the blasts carried out at Nord Stream pipelines in the Baltic Sea. The goal, like in the case of the September 2022 sabotage at the pipelines, is to prevent Russia from exporting its resources to other countries.
The Kiev regime's plan reportedly presupposes blowing up ammonia storage facilities at Odessa Portside Plant, to subsequently blame Russia for the explosion.
From our partner International Affairs
It Is Possible To Live Peacefully In The Caucasus
The Caucasus is a geographical area inhabited by a number of peoples. This region with its beautiful nature has experienced complicated events throughout history. The South Caucasus, which is also the historical homeland of the Azerbaijanis, has gone through difficult periods over the past periods, which shaped the current map.
December 5th marks the Day of Deportation of Western Azerbaijanis from their native lands. The policy of ethnic cleansing systematically carried out against Azerbaijanis throughout the 20th century resulted in the forced deportation of the last Azerbaijanis from the territory of West Azerbaijan in 1988-1991.
The vast majority of our compatriots displaced from their native lands on the territory of present-day Armenia at various times died longing for their homes. About 250,000 of the Azerbaijanis, who were subjected to deportation in 1988-1991, are still longing for their homes and native lands. Those people are deprived of their fundamental rights – the right to live in the lands of their birth and to visit the graves of their relatives.
Unfortunately, the rich cultural and historical heritage of West Azerbaijanis was purposefully destroyed or alienated. The destruction of cemeteries belonging to Azerbaijanis is very heartbreaking. The destruction of a monument belonging to the world heritage means the destruction of a historical object and the infliction of damage to human history. International organizations, especially UNESCO, which should react sharply to such cases, are still keeping mum. A possible just position by UNESCO, its deployment of a fact-finding mission to the monuments, which belong to West Azerbaijanis and are in danger of being wiped out, as well as their registration and ensuring their safeguarding, would be very useful for human history.
Today, West Azerbaijanis are dreaming of returning to their homes and native lands, where they were deported, and reuniting with their homeland.
The community of those people declares readiness for peaceful coexistence in their native lands in Armenia. "We desire to return to our homes and visit the graves of our loved ones. Taking into account the ongoing positive processes for peaceful coexistence of 25,000 people of Armenian origin in the Karabakh region of Azerbaijan and being inspired by it, we believe that coexistence in the territory of Armenia may be possible", Western Azerbaijani Community members state.
What "Victory" and "Defeat" Would Mean in Ukraine's War
In order to be able accurately to define "victory" in the war in Ukraine, the pre-requisite is to define whom the two sides are that wage this war. For example: when America fought in WW II, it was waging war in foreign battlefields and with its own troops and weapons, and even if America were to win in any of those battlefields, it still could have been defeated in WW II simply by Hitler's winning WW II. Any given battlefield was only a part of the war itself; and that war, WW II, was not defined by any one of its many battlefields. There is a difference between a battlefield in which a war is being waged, versus the war that is being waged.
However: when America fought and still fights in Syria, it wages war on that battlefield against Syria, for regime-change in that nation; and ONLY by replacing Syria's Government with one that the U.S. Government supports would America (and its allies in that war) "win" that war, in that battlefield (Syria), which is that war's ONLY battlefield. In that instance, then, winning that battlefield is the same as winning the war there, by America and its allies, against that nation. America (unlike in WW II) does not wage this war against Syria by using its own troops and weapons but instead by hiring proxy armies — mainly separatist Kurds and Al Qaeda-led jihadists — in order to achieve there a regime-change that the U.S. Government approves of. Unless and until that is done, America will have lost the war that it is fighting in Syria. (Perhaps this is a reason why U.S. troops are not fully withdrawn from there though Syria's Government has repeatedly ordered them to leave: America doesn't want to lose in Syria, as it did lose in Afghanistan and in Vietnam.) However: the war in Syria is not between Syria's Government and America's proxy-armies there; it is instead a war between America and Syria, which is being waged by America in that battlefield, using foreign troops, to defeat Syria.
Similarly, the war in Ukraine is not a war between Ukraine versus Russia, but, in Ukraine's case, Ukraine is only a proxy battlefield and proxy army on America's side.
The war in Ukraine is a war that America initiated against Ukraine in February 2014 by America's coup there that overthrew Ukraine's democratically elected and neutralist Government and replaced it by a rabidly anti-Russian and pro-American one on Russia's border in order ultimately to become able to place just 317 miles away from the Kremlin U.S. missiles which would be only a five-minute flight-time away from nuking Russia's central command — far to little time in order for Russia's central command to be able to verify that launch and then to launch its own retaliatory missiles.
For America to win that war, by Ukrainians, in the battlefield of Ukraine (i.e., by that proxy army, in that proxy battlefield against Russia) would be to checkmate Russia and so to transform Russia into another U.S. vassal-nation, regardless of what Russians might want — and this is what the U.S. regime demands: "regime-change in Russia." That is America's (and its 'allies' or vassal-nations') goal there.
For Russia to win that war in the battlefields of Ukraine would be for Russia to defeat the U.S.-imposed government there and to establish in Ukraine not the neutralist Government that had been there before America's take-over of Ukraine in 2014 but instead a Russian-imposed Government that will order all U.S.-and-allied troops and advisors — including from all of America's vassal-nations and especially from NATO — out of the country, and close the door, seal Ukraine's borders against all U.S. vassal-nations. That would mean telling all Ukrainians who want to leave for "The West" to go and never come back into Ukraine. At that time, Russia would invite the U.S. and its vassal-nations (or 'allies') to provide to any such Ukrainian any assistance, financial or otherwise, that the person might need in order to relocate into the U.S. empire. However, even if the U.S.-and-allied side refuse to provide any such assistance, the person must relocate and never come back — even if the person would then be stateless. Anyone who wishes to remain in Ukraine would be required to sign an oath of loyalty to the new, pro-Russian, Ukrainian Government. That would automatically entail the right to vote in the new Ukraine's future elections.
The only alternative to there being a clear win of this war by either side would be for America to agree to Russia's demand that America recognize the legitimacy of the then-existing line of separation between the two sides, and for Russia to relocate its own capital away from Moscow, to Novosibirsk (1,900 miles away from Ukraine) or some other city that would be far enough away from NATO so that America would not within the forseeable future any longer be able, at all realistically, to aspire to checkmate against, and grab control over, Russia. That would entail concessions by both sides, no win for either side. (Moving the capital to Novosibirsk would also place the capital near the center of Russia and within its Asian part — better suited for the future, nearer to China, Beijing being 1,865 miles away.) America would continue to be the world's biggest threat to peace; the only way to stop that would be for Russia to win in Ukraine against America.
America is attempting to carry out the plan that Cecil Rhodes came up with in 1877, and that Harry Truman committed America to on 25 July 1945, and that GHW Bush, starting on 24 February 1990, committed America and its allies to continue at least until Russia becomes conquered. Barack Obama merely started the present phase of this Rhodesist plan, a phase that could produce a nuclear WW III and end everything, if Russia fails to achieve a clear win against the U.S. empire.