ADB Strengthens Partnership with WHO to Help Asia and the Pacific Combat COVID-19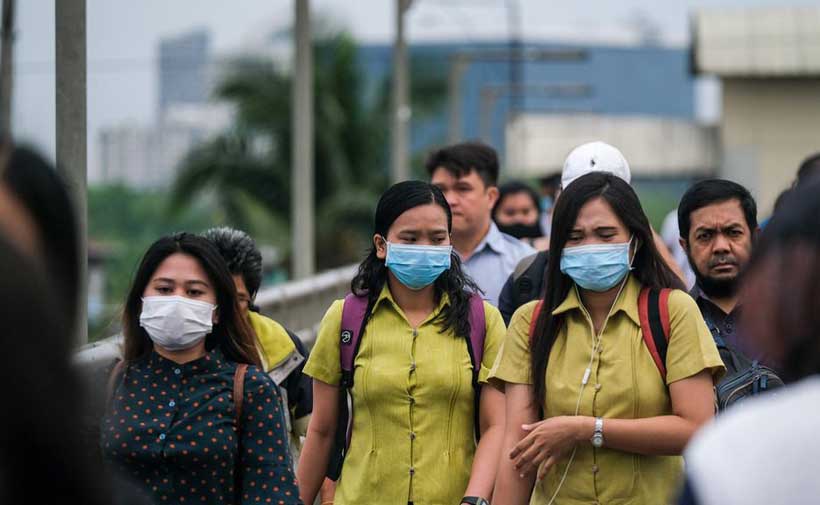 The Asian Development Bank (ADB) today strengthened its partnership with the World Health Organization (WHO), recognizing that increased collaboration is helping to expand critical health care across Asia and the Pacific and contain the spread and impact of the coronavirus disease (COVID-19) pandemic.
During a conference call with WHO Regional Directors Dr. Takeshi Kasai and Dr. Poonam Khetrapal Singh, ADB President Masatsugu Asakawa said the partnership based on a memorandum of understanding signed in 2018 had helped to address the region's health security risks and strengthen health systems, which have been stretched since the spread of the COVID-19 pandemic.
"I very much appreciate the close collaboration with the WHO regarding COVID-19. I found that the regular exchange of views and the latest information on the evolution of the pandemic provided by WHO have been invaluable to ADB's operations," said Mr. Asakawa. "ADB has incorporated inputs and advice from the WHO to ensure our support is fully responsive to the needs of our developing members. As countries implement these projects and ADB continues to expand technical and financing assistance, we look forward to continued collaboration to help guide our response to, and the region's recovery from, COVID-19."
ADB announced on 13 April a comprehensive support package of $20 billion to help developing members address the impacts of COVID-19. ADB and the WHO are finalizing an administrative arrangement (AA) to govern financial, reporting, and implementation mechanisms related to their joint response to COVID-19, as well as projects to support recovery from the crisis. The first AA between ADB and the WHO will cover South Asia before expanding to Central Asia, East Asia, the Pacific, and Southeast Asia.
ADB is also working with the WHO and the Japanese Ministry of Finance to convene a virtual Joint Finance and Health Ministers Meeting on COVID-19 and Universal Health Coverage in Asia and the Pacific during the second stage of ADB's Annual Meeting in September.
How countries can tackle devastating peatland wildfires
Today, a major wildfire in France has destroyed thousands of hectares of forest and forced many people to flee their homes. Meanwhile, dry weather, extreme heat and strong winds have combined to fan wildfires across Europe, the United States and other parts of the world over the last few weeks.
Extreme wildfires are devastating to people, biodiversity and ecosystems. They also exacerbate climate change by contributing significantly to greenhouse gas emissions.
While Europe and North America are in the crosshairs now, earlier this year, large parts of Chile and Argentina were engulfed in flames. That includes vast tracts of peatlands, key stores of carbon which, when released, feed planetary warming.
We asked Jacqueline Alvarez, head of the United Nations Environment Programme (UNEP) Office for Latin America and the Caribbean, to tell us more about the drivers of peatland wildfires and what can be done to limit their spread next year.
A recent report, Spreading like Wildfire: The Rising Threat of Extraordinary Landscape Fires, by UNEP and GRID-Arendal, finds that climate change and land-use changes, like deforestation, are making wildfires worse. Are those problems contributing to fires in Argentina and Chile?
Jacqueline Alvarez (JA): Yes. The changing climate has created a troubling reality, yet we shouldn't undervalue the fact that people cause most wildfires. Beyond natural causes, there is evidence that the fires are being intentionally set to deforest and clear land for speculative businesses. In Argentina, the National Fire Management Service shows in its daily reports that since August 2021, 95 per cent of fires have been due to human intervention.
However, climate change is certainly increasing the vulnerability of peatlands to fire, which is problematic as when peatlands burn, they release more carbon dioxide than many other ecosystems and can be extremely difficult to extinguish. Land use changes due to human activity also have profound impacts on peatlands, which can greatly increase their vulnerability to more frequent and intense wildfires.
Which areas are most at risk in Chile?
JA: The areas where human populations and plant ecosystems coexist are those with the highest risk of wildfires. About 60 per cent of wildfires are in these areas, mainly in central Chile around Valparaíso and La Araucanía, which comprise about 5 per cent of national territory but accommodate around 80 per cent of the population. For this reason, these are priority areas when establishing strategies for the management and design of less risky landscapes. From 2010 to 2020, the central-southern zone of Chile, home to much of Chile's peatland area, experienced a mega-drought that has had a strong impact on the wildfire regime by drying out biomass and peat soils.
Earlier this year, peatland wildfires in Chilean Tierra del Fuego burned for over a month and destroyed 1,200 hectares of native forest. The blazes killed plants and animals, and spewed carbon into the air. It has been suggested that faster action at the central level could have prevented the fire from reaching such a scale. What do you think Latin America and the Caribbean can do as a region to foster coordinated and rapid responses to wildfires?
JA: A coordinated approach requires planned, permanent, systematic and joint work, with special focus on communities directly exposed to this threat. In this context, the prevention of wildfires should be aimed at the population that lives in risk areas. However, appropriate funding is needed for such efforts. Effective fire response also requires an understanding of the ecosystem in question, its vulnerability or adaptation to fire, the amount of available fuel, the assets, infrastructure and lives at risk, and the likelihood of a fire outbreak developing into a wildfire. It's important to promote regional networks for collaboration, especially among countries with similar ecosystems and threats.
What kinds of legal protection do peatlands have in Argentina, Chile and Peru?
JA: There is no specific legal protection for peatlands in these countries. In the case of Peru, which has extensive peatlands, an important advance has been made within a recent decree on the protection of wetlands, where special mention is made of peatlands, prohibiting the extraction of peat for commercial purposes. In Chile there is a draft law on peatlands prohibiting the extraction of pompón, the Chilean name for sphagnum moss, currently in the final phase of approval. In July 2021, lawmakers in Argentina began debating the creation of a law to regulate human interventions in wetlands. In South America, there is an urgent need for countries to enact strong, dedicated environmental protection laws for wetlands.
What are the key knowledge gaps that need to be filled to inform policymaking better?
JA: One of the problems is that many policymakers are unaware of the significant socioeconomic benefits that peatlands offer. They are a habitat for many unique and threatened species, they regulate water cycles, they control pollution and sediments, they serve as a source of water and locally harvested products, and they are an inspiration for art, religion and cultural values. A lack of information means that political decisions on land use are leading to the degradation and conversion of these high-carbon ecosystems. Peatlands need to be recognized across levels of governance as a high-priority ecosystem for urgent action by policymakers given that they benefit the climate, people and biodiversity.
As the climate dries the American west faces power and water shortages, experts warn
Two of the largest reservoirs in America, which provide water and electricity to millions, are in danger of reaching 'dead pool status.' A result of the climate crisis and overconsumption of water, experts say.
Lake Mead, in Nevada and Arizona, and Lake Powell, in Utah and Arizona, are currently at their lowest levels ever. 'Dead pool' status would mean the water level in the dams was so low it could no longer flow downstream and power the hydroelectric power stations.
The Lake Mead reservoir, which is the largest artificial body of water in America, was created in the 1930s by the construction of the Hoover Dam, an engineering masterpiece. Lake Powell, the second largest, was created in the 1960s, with the construction of the Glen Canyon Dam.
"The conditions in the American west, which we're seeing around the Colorado River basin, have been so dry for more than 20 years that we're no longer speaking of a drought," said Lis Mullin Bernhardt, an ecosystems expert at the United Nations Environment Programme (UNEP), "We refer to it as "aridification" – a new very dry normal."
Lake Mead and Lake Powell, which is created by the Glen Canyon Dam, not only provide water and electricity to tens of millions in Nevada, Arizona, California, Wyoming, Colorado, New Mexico and Mexico, but they also provide irrigation water for agriculture. Experts warn that as the crisis deepens, water cuts will need to be introduced, but this may not be enough.
"While regulating and managing water supply and demand are essential in both the short and long term, climate change is at the heart of this issue," said Maria Morgado, UNEP's Ecosystems Officer in North America. "In the long term we need to address the root causes of climate change as well as water demands."
Over the last 20 years, 90 per cent of major disasters were caused by floods, droughts and other water-related events. With more frequent droughts, people in water-scarce areas will increasingly depend on groundwater because of its buffer capacity and resilience to climate variability.
Increases in water demand due to growing populations and irrigation for agriculture have been compounded by climate change impacts such as reductions in precipitation and temperature rises. A rise in temperature leads to increased evaporation of surface water and baking of the earth, decreasing soil moisture.
"These conditions are alarming, and particularly in the Lake Powell and Lake Mead region, it is the perfect storm."
This is part of a wider trend affecting hundreds of millions of people across the planet. As climate change wreaks havoc on the Earth's interconnected natural systems, drought and desertification are swiftly becoming the new normal, everywhere from the United States to Europe and Africa.
Drought in Numbers, a 2022 report from the UN Convention to Combat Desertification, found that since 1970 weather, climate and water hazards have accounted for 50 per cent of all disasters and impact 55 million people globally every year. The report also found that 2.3 billion people face water stress annually.
Drought is also one of several factors that impacts land degradation, with between 20 and 40 per cent of the world's land being classed as degraded, affecting half the world's population and impacting croplands, drylands, wetlands, forests and grasslands.
The UN Decade on Ecosystem Restoration, of which UNEP is one of the leading members, was set up to halt and restore ecosystems around the world. The Decade runs until 2030, the same timeline as the Sustainable Development Goals, and aims to counteract climate change and halt biodiversity collapse through restoring ecosystems.
How sustainable living can help counter the climate crisis
To combat the climate crisis and secure a safe future below 1.5°C, the world needs to cut emissions of planet-warming greenhouse gasses by 50 per cent within the decade.
For many, ambitious targets such as this can induce a sense of dread and paralysis. But experts say there is a lot we can do as individuals to counter climate change.
Research shows that lifestyle changes could help the planet slash emissions by up to 70 per cent by 2050.
We sat down with Garrette Clark, an expert in sustainable living with the United Nations Environment Programme (UNEP), to learn more about what people and policymakers can do to make sustainable choices to help secure a healthier planet.
Why is it important for people to consider their individual impact on the planet?
Garrette Clark (GC): We're facing a triple planetary crisis that threatens our survival, so our impact on the natural world is an obvious concern. An increasing number of people know this but tend to avoid acting on it as the problem can seem abstract, they don't know what to do, and they have more immediate priorities.
How do our choices as consumers impact the planet?
GC: First, we need to understand that consumers are not only individuals. Great drivers of consumption are businesses and governments, who structure and influence the systems that meet our needs. So, it's important that people make more informed decisions and ask governments and business to take action. UNEP recently launched Act Now: Speak Up, a campaign that showcases how citizens can compel governments and businesses to up their climate game.
What does a sustainable lifestyle look like in 2022?
GC: I think we hear the word sustainable everywhere these days. We think of sustainable living as the positive things we can do in our daily lives to live better. But given the climate, biodiversity and pollution emergencies, we need to be clear on what those actions are and ensure that everyone needs to be taking them.
If someone wants to live more sustainably, where can they start?
GC: UNEP has made this super easy with the Anatomy of Action, an online media tool which translates the science into action. It all comes down to five domains: food, mobility, stuff, money and fun. In each of those areas, the top three things people could do are highlighted. Now they can be different depending on where and how they live and resources available, but within these three priority actions, there are opportunities for people to take action.
People around the world are talking about what's known as the 1.5°C lifestyle, a way of living that aims to keep alive the Paris Agreement goal of limiting global warming to 1.5ºC, considered a red line for the planet. Can you tell us more about that ethos?
GC: The 1.5°C lifestyles idea is tied to evidence and what we know about how individuals, governments and business consume. We know we have to change our consumption in the areas of food, mobility, housing and leisure, and we need to change quickly and drastically. 1.5°C living is a guide for change.
How do you convince someone to change the way they live?
GC: In general, people don't think about how they impact the planet – positively or negatively – and will tend to act if something is easy, accessible, affordable and attractive. That's why government and business, who are better placed to make systemic changes, are critical to making sustainable living the default option.
What will it take for sustainable living to become the norm?
GC: In addition to the affordability, accessibility and attractiveness of sustainable goods and services, there must be a broader integration of sustainable living into cultural norms so that people don't think about it as being special but just as the way it goes. If sustainable living practices were featured more in the media stories we're exposed to, they would become the standard.
What's one example of that?
GC: If in TV series and movies we saw more vegetarian protagonists eating right-sized meals of tasty, plant-based dishes, swapping proteins would be normalized and desirable. Making sustainable living the new normal means looking at the forces that influence and shape our aspirations and behaviors and integrating sustainability into them.
Some people might wonder: Why should I make sacrifices if my neighbour isn't?
GC. To counteract the others-don't-act-why should-I? attitude, all the actors involved — businesses, governments and civil society —should be aligned on the impactful actions to be taken. The evidence is there. The challenge is to enhance understanding and weave together the multitude of actions in a concerted fashion to harness the power of people for change.