World Population Day: 'No time to waste' in empowering women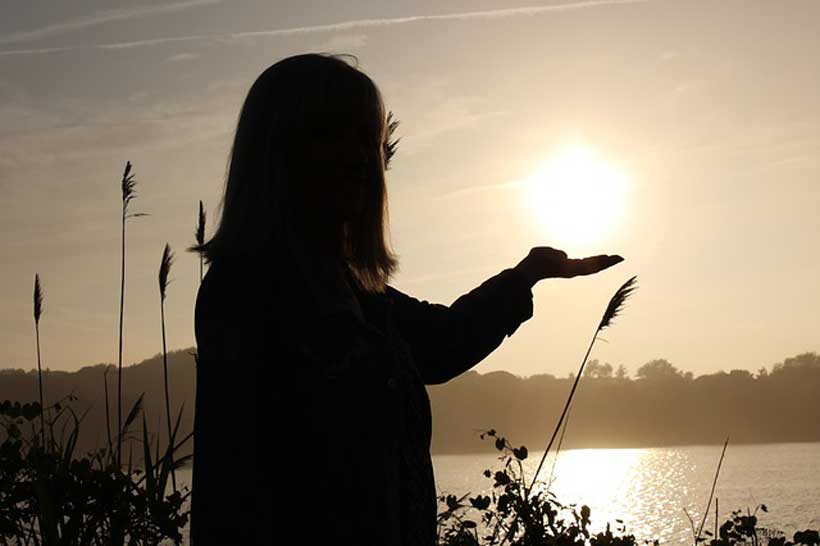 "It is deepening existing inequalities and vulnerabilities, particularly for women and girls", said Secretary-General António Guterres.
"With many countries on lockdown and health systems struggling to cope, sexual and reproductive health services are being sidelined and gender-based violence is on the rise".
Devastating consequences
Meanwhile, the United Nations Population Fund (UNFPA) projects that if lockdown measures continue for six months with major disruptions to health services, 47 million women in low- and middle-income countries may not be able to access modern contraceptives. This would result in seven million unintended pregnancies.
Moreover, some 31 million additional cases of gender-based violence can also be expected.
"Every year, millions of girls are subjected to practices that harm them physically and emotionally, robbing them of their right to reach their full potential", said the Secretary-General.
According to UNFPA's State of World Population 2020, more than four million girls will be subjected to female genital mutilation and 12 million forced to marry this year.
"Lockdowns stemming from the pandemic are expected to make matters even worse", acknowledged Mr. Guterres.
Safeguard hard-won gains
Decades of experience and research show that bottom-up, grassroots approaches can change gender-biased norms and attitudes, the top UN official said.
Through international declarations and agreements, the word has committed to ensuring universal access to sexual and reproductive health care; eliminating the unmet need for contraception; and ending all forms of violence against women and girls by 2030.
The UN chief stressed that "we cannot allow the pandemic to reverse progress we have made towards these goals".
"On this World Population Day, let us act to safeguard sexual and reproductive health care, protect the health and rights of women and girls, and end gender-based violence", concluded the Secretary-General. "The pandemic has made our jobs much harder, but we must prevail".
Long road ahead
UNFPA Executive Director Natalia Kanem underscored that women have a right to make their own decisions about "whether, when and how often to become pregnant".
That right was reaffirmed in 1994 in Cairo at the landmark International Conference on Population and Development (ICPD), where 179 governments agreed that sexual and reproductive health is the foundation for sustainable development.
Yet, despite considerable gains over the past 25 years, there is a long road ahead to live up to the promise of Cairo, with too many women still unable to enjoy their rights.
"More than 200 million women and girls want to delay or prevent pregnancy but don't have the means", explained Dr. Kanem, noting that the most vulnerable and marginalized women and girls "who face the greatest gaps in services".
Against the backdrop of more unintended pregnancies, unsafe abortions, pregnant girls shamed out of school and that more women and girls are dying, she spell out: "The cost of inaction is simply too high".
"There is no time to waste", underscored the UNFPA chief, "our future depends on it".
Tear down inequality
As evidenced by the alarming number of gender-biased sex selections, "women face discrimination even before they are born", observed UNFPA India Representative and Bhutan Country Director Argentina Matavel.
And systemic violations of women's rights continue throughout their life cycles.
She painted a picture of a women being denied their "God-given full potential" while robbing society of contributions from half the population.
"If one could stop for just a minute to compute the aggregate loss in productivity alone, we would have economists and politicians at the forefront of the struggle to tear down the roots of inequality from society", Ms. Matavel stated.
Reset priorities
To empower women, "each one of us has the responsibility to challenge our own stereotypes, the UN envoy argued.
She also urged Governments to recalibrate policy and programmatic changes to benefit women, along with putting in place mechanisms to address development gaps, especially for women and girls "who are invariably at the bottom of the 'pyramid of the vulnerable.'"
"Humanity will be as strong as the weakest of our members – same for nations, and families", upheld the UNFPA representative.
Myanmar coup: 'No sign' of end to brutal crackdown on all fronts
One hundred days since the Myanmar military seized power, the "brutal" repression of protesters has continued, despite all international efforts to end the violence, the UN rights office (OHCHR) said on Tuesday.
"The military authorities are showing no sign of letting up in their brutal crackdown on opponents in a bid to consolidate their hold on power", spokesperson Rupert Colville told journalists at a media briefing.
According to credible reports, as of 10 May, at least 782 people have been killed as security forces used unnecessary, disproportionate and lethal force, to suppress demonstrations and other forms of public participation, since the military coup on 1 February.
"While much of the world's attention has been on the number of peaceful protesters and bystanders killed by the security forces, the authorities continue to commit other gross human rights violations against the people of Myanmar", added Mr. Colville.
The OHCHR spokesperson called for greater international involvement to prevent the human rights situation there from deteriorating further.
In particular, he urged the Association of Southeast Asian Nations (ASEAN) to "react quickly and to intensify its actions" to ensure Myanmar's military leadership adheres to the commitments it made in the five-point plan agreed at the regional bloc's meeting of leaders on 24 April, in Jakarta.
The five-point consensus agreed to an immediate cessation of violence in Myanmar and that dialogue should be held among all parties to seek a peaceful solution in the interests of the people.
'Daily raids' on homes and offices
Mr. Colville went on to note that there are daily raids on private homes and offices, with more than 3,740 people currently in detention, including many in situations that may amount to enforced disappearances.
"Of those in custody, the vast majority have not been brought before a judge, while most of the 86 people prosecuted thus far have been tried in secret, with limited or no access to any form of legal counsel", he said.
"Military tribunals and courts martial have been established in several townships in which martial law was declared. At least 25 individuals have received the death sentence to date – some 20 of whom were tried in absentia."
Military 'taking relatives'
Over the past month, the military leadership has issued more than 1,561 arrest warrants against civil society activists, trade unionists, journalists, academics, public personalities and online voices, driving the vast majority of them underground.
"To intensify pressure, the military authorities have resorted to taking relatives of wanted people into custody to force them to turn themselves in to the police", Mr. Colville said, adding that there is also increasing pressure on civil servants to go back to work.
In recent weeks, more than 3,000 civil servants – nearly 70 per cent women – have been dismissed, removed, or suspended by the coup leadership. Those suspended also include 990 university professors, researchers and assistants.
In addition, there are reports that up to 11,000 more workers in the education sector were suspended on Monday.
'Deeply concerned' for those fleeing persecution
The OHCHR spokesperson also voiced "deep concerns" for the people fleeing persecution, especially human rights defenders and journalists.
According to the UN refugee agency (UNHCR), several hundred people from Myanmar have crossed into Thailand and India in recent weeks.
The people seeking safety outside Myanmar must receive such protection and support from Myanmar's neighbours, Mr. Colville urged, adding that while it can take time to decide whether an individual fleeing the country is a refugee or not, "at the very least they should be treated as an asylum seeker and not forced to go back".
"This is particularly important for people with jobs as sensitive as journalists and those active in the civil disobedience movement, opposing the Tatmadaw (Myanmar's military)."
UN chief express deep concern over East Jerusalem violence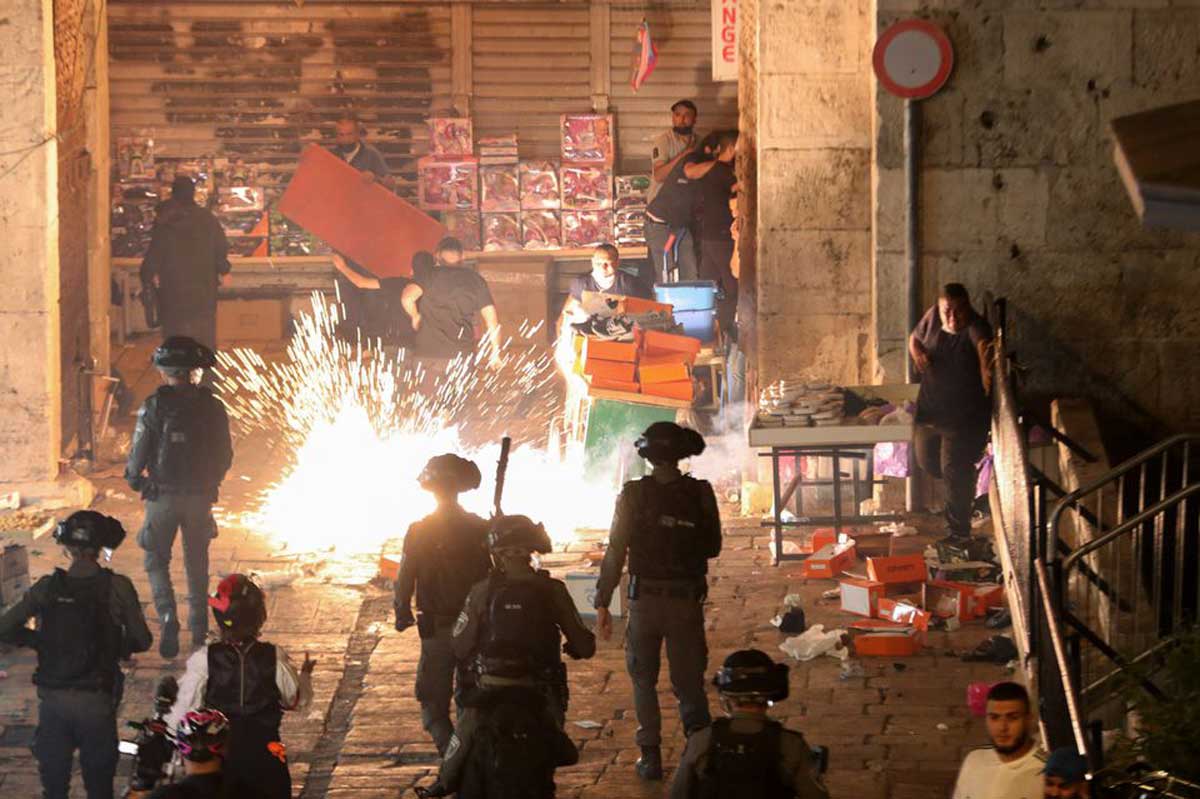 The UN Secretary-General, António Guterres, and senior UN officials have expressed their deep concern over confrontations between Palestinians and Israeli security forces in East Jerusalem, particularly those which began on Friday evening, and continued into Sunday night. Several Palestinian children are among the wounded.
The violence on Friday has been described as some of the worst seen in Jerusalem for many years. Some 200 Palestinians and 17 Israeli Police were reportedly injured in fighting around Haram Al-Sharif/Temple Mount. On Saturday, protesters reportedly threw stones at police, who responded with stun grenades, rubber bullets and water cannons and, on Sunday, fighting continued in East Jerusalem, ahead of a planned march by an Israeli group through the Old City.
The official spokesperson for Mr. Guterres, Stéphane Dujarric, said in a statement published on Sunday evening, that Israeli authorities must exercise maximum restraint and respect the right to freedom of peaceful assembly.
"All leaders have a responsibility to act against extremists and to speak out against all acts of violence and incitement", the statement continued. "The Secretary-General reiterates his commitment, including through the Middle East Quartet, to supporting Palestinians and Israelis to resolve the conflict on the basis of relevant United Nations resolutions, international law and bilateral agreements".
The Envoys of the Middle East Quartet (from the European Union, Russia, the United States, and the United Nations), released a press statement on Saturday, in which they expressed their alarm at "the provocative statements made by some political groups, as well as the launching of rockets and the resumption of incendiary balloons from Gaza towards Israel, and attacks on Palestinian farmland in the West Bank".
Imminent risk of eviction
The Quartet representatives went on to declare their concern regarding the possible evictions of Palestinian families from homes, in which they have lived in for generations, in two neighbourhoods in East Jerusalem – Sheikh Jarrah and Silwan – and their opposition to "unilateral actions, which will only escalate the already tense environment".
This is a reference to a court case involving several Palestinians who face eviction due to a legal challenge by the Nahalat Shimon settler organization. The risk is considered to be imminent for four of the families.
The UN has called for on the Israeli Government to halt all forced evictions and on Thursday, Rupert Colville, the spokesperson for the UN Human Rights Office (OHCHR), warned that, if they take place, the evictions in the Sheikh Jarrah case would violate Israel's obligations under international law.
Saturday's fighting took place on Laylat-al-Qadr, the most holy day in the Muslim month of Ramadan, after large numbers of worshippers had prayed at the Haram Al-Sharif/Temple Mount compound. In their statement, the Quartet
Envoys called on the Israeli authorities to exercise restraint and to avoid measures that would further escalate the situation during this period of Muslim Holy Days.
"We call on all sides to uphold and respect the status quo at the holy sites", the statement continues. "All leaders have a responsibility to act against extremists and to speak out against all acts of violence and incitement".
The statement concluded with a reiteration by the Quartet Envoys of their commitment to a negotiated two state solution.
37 Palestinian children injured and arrested
On Sunday, the UN Children's Fund, UNICEF, urged the Israeli authorities to refrain from using violence against children and release all those children detained.
In a joint statement, Ted Chaiban, UNICEF Regional Director for the Middle East and North Africa, and Lucia Elmi, UNICEF Special Representative in the State of Palestine, noted that 29 Palestinian children have been injured over the past two days, and a further eight arrested. "A one-year-old toddler was among those injured. Some children were taken for treatment at hospitals, with injuries in the head and the spine. This comes amid reports that nearly 300 people were injured in the area".
The senior UNICEF officials said that the agency had received reports of ambulances being restricted from arriving on location to assist and evacuate the injured, and that an on-site clinic was reportedly hit and searched.
The statement called for all children to be protected from violence and kept out of harm's way at all times, for families' rights to access all places of worship to be preserved, and for those injured to be assisted without restrictions.
UN: Stop evictions in East Jerusalem neighbourhood immediately
The UN's human rights office (OHCHR), on Friday, called on Israel to immediately halt all forced evictions, including those in the Sheikh Jarrah neighbourhood of East Jerusalem, as well as to exercise maximum restraint in the use of force while ensuring safety and security there.
Eight Palestinian refugee families residing in Sheikh Jarrah are facing forced eviction due to a legal challenge by the Nahalat Shimon settler organization, with the risk "imminent" for four of the families, according to the office.
OHCHR spokesperson Rupert Colville said that the evictions, if ordered and implemented, would violate Israel's obligations under international law.
"Given the disturbing scenes in Sheikh Jarrah over the past few days, we wish to emphasize that East Jerusalem remains part of the occupied Palestinian territory, in which International Humanitarian Law applies. The occupying Power must respect and cannot confiscate private property in occupied territory, and must respect, unless absolutely prevented, the laws in force in the country."
He went on to note that Israel cannot impose its own set of laws in occupied territory, including East Jerusalem, to evict Palestinians from their homes.
On Thursday, Tor Wennesland, UN Special Coordinator for the Middle East Peace Process, also urged Israel to stop demolitions and evictions in the neighbourhood, in line with its obligations under international humanitarian law.
Prohibited under international law
"In addition, the Absentee Property Law and the Legal and Administrative Matters Law are applied in an inherently discriminatory manner, based solely on the nationality or origin of the owner", OHCHR spokesperson Colville said.
"In practice, the implementation of these laws facilitates the transfer by Israel of its population into occupied East Jerusalem. The transfer of parts of an occupying Power's civilian population into the territory that it occupies is prohibited under international humanitarian law and may amount to a war crime", he added.
Violation of right to adequate housing
The OHCHR spokesperson also said that forced evictions could violate the rights to adequate housing and to privacy and other human rights of those who are evicted.
"Forced evictions are a key factor in creating a coercive environment that may lead to forcible transfer, which is prohibited by the Fourth Geneva Convention and is a grave breach of the Convention."
Mr. Colville also called on Israel to respect freedom of expression and assembly, including of those who are protesting against the evictions, and to exercise maximum restraint in the use of force while ensuring safety and security in East Jerusalem.