Nepal Should get rid of Sino-India paranoia and must accept US MCC Aid
The US has offered, under its MCC grant, 500 million US $ aid to Nepal which is reluctant to accept it due to Chinese concerns. Nepal should get rid of Sino-India paranoia and accept this aid. It should relinquish geopolitical adventures and its engagement with nations other than India and China will be a step further in the assertion of the country's strategic autonomy. Nepal's sovereign decision should be precipitated by its own concern for national interest and not of any third party's imagined interest collision with it.
Among diverse political turbulences being seen in Nepal, one which is being less talked about is Nepal's indecisiveness over US aid amounting to 500 million USD under Millennium Challenge Corporation (MCC). While the government is inclined to accept it – Finance Minister Yubaraj Khatiwada incorporated this in the new budget before its parliamentary endorsement – the grant is facing opposition, inter alia, from within the Nepali Communist Party (NCP).
The opponents are forwarding the arguments that accepting it may damage blossoming ties with China. There may be strong element of truthfulness, prima facie, in this argument but this advocacy is shorn of any understanding of Nepal's national interest.
Nepal is sandwiched between two Asian Giants sharing great ambitions for future whose geo-political interests are colliding as they try to sell off their versions of worldview. Nepal is, of late, becoming hotbed for this bilateral competition. History is evidence to the fact that any great power rivalry has resulted unbearable consequences for playgrounds – where big power competes for their interests in other nations. Middle east and Afghanistan are two evergreen examples.
The obsession with fear of China's reaction over a sovereign decision, essentially economic in nature, speaks volume about the intrusion of that country in Nepalese political landscape. Discussions in Nepalese media platforms and among policy makers are revolving more upon the US Indo-Pacific Agenda versus China's Belt and Road Initiative, which should, in no way, be Nepal's immediate priority. Surprisingly, absent in the discussions are cost-benefit ratio of these projects. A perusal of the MCC aid and geopolitical events of recent past shows that the cost-benefit scale skews in favour of economic advantage to the country.
Firstly, the MCC aid is a grant not a loan. Thus, it comes with benefit sans any obligation. There are no legal or political conditions attached to it and thus a claim that Nepal's sovereignty will be promised by accepting the aid is wholly fallacious.
Secondly, these projects relate to 'Electricity Transmission' and 'Road Maintenance'. As per MCC, the electricity projects include, inter alia, laying of 300 km of high voltage power lines, equivalent to one-third the length of Nepal; the addition of a second cross-border transmission line to facilitate greater electricity trade with India; and activities to improve sector governance to increase private investment. The road projects chiefly concerns maintaining 'key roads' admeasuring a length of 300 km which are vital for movement of goods and people. An aid amounting to nearly 1.5 % of GDP must not be rejected for imaginary fear of the Dragon.
Thirdly, China must not be expected to react negatively just because of the fact that the aid is coming from a rival nation. If it is not so, India should have acted in similar imaginary way in 2017 when Nepal became a party in BRI, an initiative India rejects as it passes though Pakistan Occupied Kashmir! Also, the sensitivity of India's concern which relates to geopolitical issue is graver than that of China's as it concerns an economic project.
Concerns relating to issue of provisions of MCC may be alleviated by having recourse to negotiation with US over it. For example, Nepal can negotiate that in place of US law it will be provisions of international law which will apply and there would be an independent international tribunal to settle any disputes, whatsoever arises pertaining to the project.
In past, we have seen Nepal's compulsion as it has accepted the fate to play between India and China, letting itself more vulnerable to whims and caprices of these two countries. US aid under MCC is a golden opportunity for Nepal to look beyond India and China and seek greater engagement with other powers to derive economic benefit and relinquish meaningless geo-political adventures.
The best example in south Asia following 'strategic autonomy' is India which followed a non-aligned policy, although shaky one, throughout the cold war which enabled it to get benefits from both the superpower blocs and wrath of none. Now, of course, there has been a shift in strategic alignment of India – it is undertaking appropriate diplomatic manoeuvring– as China's claim of peaceful rise seems rather flimsy in view of perennial projection of hard power against its neighbours and US under Donald Trump is more unstable now. The occasion has not come, till now, for Nepal to take any sides.
Economic cooperation should not be halted due to a geo-political competition wherein Nepal does not have any significant stakes. Nepal must catapult the entanglement of Sino-Indian paranoia and assert its strategic autonomy. Not only US, Nepal should seek greater engagement with other powers too. Rather than out rightly rejecting the MCC aid, it must undertake a negotiation to ward off its concerns relating to sovereignty. The message should go to both Asian giants that Nepal could not be taken for granted as it will follow a multi-aligned approach in contradiction to its hitherto Sino-Indian balancing approach. This will ensure more diplomatic leverage and clout to Nepal vis-à-vis India and China.
Pakistan desires dialogue and cooperation with the EU
Renew Europe, a liberal, pro-European political group of the European Parliament, presented a resolution and was passed by the EU by an overwhelming majority of 681 votes against six only. Extremist, racist groups influence the EU. No doubt, the whole world is suffering from intolerance and extremism. There are many racist movements in America and Europe too.
Pakistan being an open and democratic country, enjoys total freedom of expression to its citizen. There must be diverse voices within Pakistan. The Government of Pakistan is a parliamentary system. All matters are discussed in the parliament, which is responsible for building consensus on all crucial issues and addressing the concerns of all groups, factions, parties, minorities, etc.
Historically, Pakistan was a very tolerant and peace-loving, balanced society, but during the 1980s war in Afghanistan, Pakistan was radicalized by design. The western world deliberately promoted intolerance, religious extremist, and terrorism. Almost all intelligence agencies of the leading Western World were engaged in Pakistan for arming, training, and inspiring youth for Jihad in Afghanistan. These international intelligence agencies collected radical individuals from all over the world and concentrated them in Pakistan to launch Jihad in Afghanistan; Many terrorist organizations were created by them in the whole Muslim world, was either, Mujahideen, Taliban, Daesh, Al-Qaida, or ISIS, Boko-Haram, or any other militant group, was the creation of Western World and used for particular objectives. After achieving their goals, they banned them and kept their distance from them. And she was now blaming them for terrorism, Unfortunate!
Pakistan was a close ally of the US, NATO, and Europe (Western World), an essential front-line state in the Afghan war, and a non-NATO ally in the war on terror. Pakistan suffered extremism, intolerance, terrorism, gun culture, and drug culture, promoted by the Western world. Pakistan is a victim state.
The visionary leadership in Pakistan is very much clear about the situation and determined to establish the rit of government while staying within the democratic values of our system. The recent unrest in Pakistan was a domestic issue, just like in many parts of Europe and America. The incident of Capitol Hill, Killing of Gorge Floyd, and followed continued protests and demonstrations in America; agitations, demonstrations in many parts of Europe are witnessed often, it is believed that all governments are trying to resolve their domestic issues within their Constitution. There was no external pressure on either of these governments. It is expected that let Pakistan overcome its domestic crisis, and the capable Government of PM Imran Khan has already resolved the issue amicably.
Under this scenario, the adoption of a resolution by the EU is not appreciated and, in fact, has hurt the feeling of ordinary Pakistani. It reflects the bias of EU only. A resolution presented by the extremist group should not be the voice of the whole EU. Trust, there must be many reasonable, moderate, and unbiased members in the EU parliament who think logically and rationally. The adoption of such a resolution is totally irrational, irresponsible, and against the globalization spirit.
While Pakistan is engaged to clear the mess created by Western World and almost near to succeed entirely, there is a dire need for International support, and coercion may not be fruitful at this critical moment. It is hoped that the EU may re-consider the resolution and revert it immediately. All peace-loving parliamentarians in the EU are appealed to think rationally and logically to promote international cooperation and understanding to defeat intolerance, bais, extremist, terrorism and turn the whole world into a better place to live and gift our next generation peace, stability, harmony, and prosperity.
However, Islamophobia is an international phenomenon in recent decades all over the Western World. The Prime Minister of Pakistan mentioned it in his speech at the United Nations General assembly (UNGA) last year. A similar resolution was also passed in the OIC. The whole Muslim World is worried and unhappy over blasphemy in the few western countries. There were protests and demonstrations by Muslims all over the world, with various intensities. At the same time, Muslims respect other religions and deserve to reciprocate respect for Islam.
The federal government in Pakistan has decided to address the European Parliament's reservations after the body had called for an appraisal of Pakistan's GSP Plus status. The development came after Prime Minister Imran Khan chaired a meeting involving senior ministers of the cabinet. It was called in response to a resolution approved by the European Parliament a few days ago, calling for an assessment of Pakistan's GSP Plus status. The premier stressed the government would not compromise on the laws about the finality of the Prophethood. The participants, during the meeting, decided to address the reservations of the European Union. It was also unanimously agreed that the protection of minorities in the country would be ensured. The participants believed the GSP Plus trade agreement has nothing to with blasphemy laws.
In response to the European Parliament's resolution, the Foreign Office had expressed disappointment over the development."The discourse in the European Parliament reflects a lack of understanding in the context of blasphemy laws and associated religious sensitivities in Pakistan – and the wider Muslim world. The unwarranted commentary about Pakistan's judicial system and domestic laws are regrettable," read a statement by the FO.
"Pakistan is a parliamentary democracy with a vibrant civil society, free media, and independent judiciary, which remains fully committed to the promotion and protection of human rights for all its citizens without discrimination," the Foreign Office had added.
The FO had emphasized that Pakistan is proud of its minorities who enjoy equal rights and complete protection of fundamental freedoms as enshrined in the Constitution. Judicial and administrative mechanisms and remedies are in place to guard against any human rights violations.
"Pakistan has played an active role in promoting freedom of religion or belief, tolerance, and inter-faith harmony. At a time of rising Islamophobia and populism, the international community must exhibit a common resolve to fight xenophobia, intolerance, and incitement to violence based on religion or belief and work together to strengthen peaceful co-existence."
There exist multiple mechanisms in place between Pakistan and the EU to discuss the all-inclusive spectrum of bilateral relations, including a devoted Dialogue on Democracy, Rule of Law, Governance, and Human Rights. Pakistan would continue to remain definitely engaged with the EU on all issues of mutual interest. Pakistan believes in dialogue under the charter of the UN. Pakistan desires an early dialogue and settlement of all differences amicably. Any unilateral decision may not be fruitful to either side. It is time to strengthen our ties and mutual support. Only by collective efforts may we turn this universe into a better place to live for humankind. Pakistan assures its best possible cooperation at all times and awaits reciprocity from the EU.
Religion Freedom Index of Bangladesh: Current Developments and Government Responses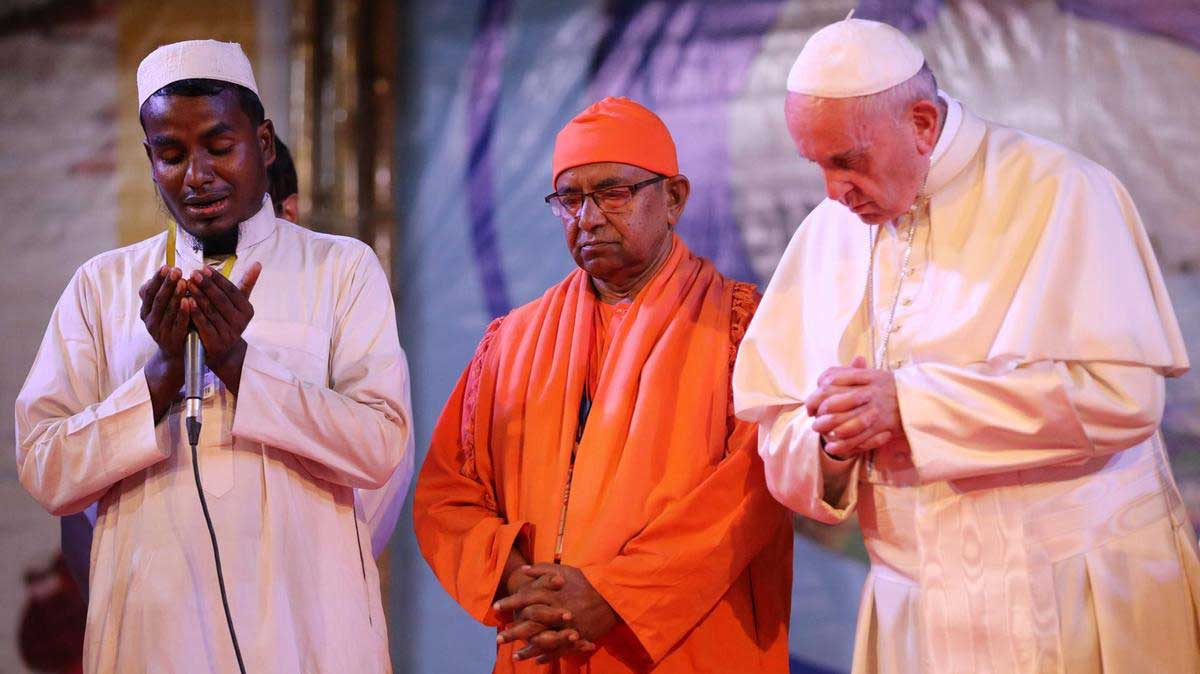 Aid to the Church in Need (ACN) recently published its annual Religious Freedom in the World 2021 Report (RFR) that scrutinizes the situation for all major religion groups in 196 countries across the world. The report found that, over the past two years, oppression against susceptible faith communities has augmented in all but one of the 26 countries listed in the survey's worst ('red') category. Bangladesh is that only country whose position on the red list of religious persecution remains unchanged.
The annual report says that religious freedom is being undermined in one out of every three countries in the world which composed two-thirds of the world population. 62 countries out of a total of 196 face severe violations of religious freedom. The situation of minorities in India and Pakistan is deteriorating further. The situation in China and Myanmar is the worst. According to the report, the situation is worse in 95 percent of the 26 countries where persecution is taking place. Nine new countries have been included in this list- seven from Africa and two from Asia.
The report on Bangladesh says that the torture of minorities has not increased in recent years but the influence of Islamic groups is increasing in the politics of Bangladesh. However, the government has been successful in subdue the influence and maintaining religious freedom. For instance, after the rise of Islam-fabric politicization leading by "Hefazat-e-Islam", the top leaders and at least 375 people nabbed for their recent violent activities. The strict position of law enforcement agencies against the rampage of the group denotes the zero-tolerance of Bangladesh government in ensuring religious freedom and upholding "secularism" which is one of the state principals of its constitution. The argument can be evident with the recent report of the European Foundation for South Asian Studies (EFSAS) titled, "Bangladesh and Pakistan: acting against extremism versus making a show of acting against extremism". Highlighting the activities of the Islamist group Hefazat-e-Islam (HIB) in Bangladesh and the radical Tehreek-e-Labbaik (TLP) in Pakistan, the report comments that Bangladesh government has been making "noticeable progress in dealing with the radical Islamist HIB whereas Pakistan has floundered dramatically in its inconsistent, ill-considered and ill-implemented attempts to pacify the TLP". Besides, the initiatives of the Bangladesh government in protecting the minority rights are so much praiseworthy.
According to the 2019 Report on International Religious Freedom of US Department of State, to advocate the minority rights and to foster religious tolerance, Bangladesh government has taken a number of initiatives such as-
•Providing guidance to imams throughout the country to prevent militancy and monitoring mosques for "provocative messaging".
•Deploying law enforcement personnel at religious sites, festivals, and events considering potential violence. The Economic Times reported that 30,000 and 31,272Durga Pujas were organized across the country in 2017 and 2018 respectively without any security issue.
•Zero-tolerance to Islamic militancy. For instance, Special Tribunal convicted and sentenced to death seven of eight defendants who were accused in the 2016 killings of 22 mostly non-Muslim individuals at the Holey Artisan Bakery in Dhaka.
•Offering stipends to students from the minority groups in the primary and secondary level; and
•Providing funds for minority rituals and social activities.
Most importantly, Bangladesh ensures a level playing field in the employment sectors and a viable people-to-people contact. 'Dhormo Jaar Jaar, Utsob Shobar,' (Religion for own, but festivals for all" is a testimony of its secular values and communal harmony. The ACN report itself showed, in Bangladesh, where due to fear of infection, minority faith groups were incapable of offering the last rites to family members, an Islamic charity buried not only Muslim but also Hindu and Christian victims of COVID-19. Besides, reliefs were equally provided to every sector of the society regardless of their race or religion.
To conclude, Bangladesh always believes in fraternity beyond ethno-religious affiliations and practiced secularism in daily life throughout the history. But at present, due to the rise of right-wing populist politics both at regional and global level and rise of fundamentalism, religious harmony in Bangladesh is also affected. However, comparatively, Bangladesh is doing better than many regional states and the country is destined to overcome the challenges in near future due to the pro-active role of the government in this regard.
West Bengal Election: Implications for Indian Politics
After a tumultuous eight phase election process, Trinamool congress has become successful to retain power for consecutive third terms amidst growing popularity of saffron tide. However, Mamata Banarjee's Trinamool congress has successfully halted the tide at West Bengal frontier. The victory of TMC in the state testifies to "Bengal Exceptionalism" and is also a victory for Indian secularism.
The Trinamool Congress (TMC) victory in the assembly election has far reaching repercussions for wider Indian politics. For one, it sends a resounding message to Bharatiya Janata Party (BJP) that their dream of monolithic Hindu India is still far-fetched. While BJP was much enthusiastic and ardent to gain a victory in the election, as evidenced by Amit Shah's intermittent visit to Bengal and the latter's incendiary rhetoric and Prime Minister Modi's several visit to state to canvass votes. Interestingly, the ubiquitous display of Narendra Modi's posters led one commentator to sardonically quip whether NarendraModi is vying for chief minister position. This partly explains the importance BJP and Narendra Modi attached to West Bengal election.
Above all, this election was important for BJP to prove their regional appeal. BJP's vision of "one state, one party" largely hinged on the victory in the Bengal. If BJP could win in Bengal, there had been possibility that other states would fall in order. This significance of Bengal election illuminates the importance that BJP attached to Bengal and their buoyant activities to seal the victory.
Bengal was long been known as bastion of ethnic politics rather than communal one. It was never been a fortress of all-India political parties. Even, in its heyday of all India politics, Indian National Congress (INC) couldn't gain much favor in Bengal election as the politics in Bengal is driven by an appeal to "Bengali-ness" which other nationwide party lacks.
However, upheavals in Bengal politics had been unmistakable in recent times. Especially, the event of BJP's significant performance in 2019 union elections led some observes to presage an ominous trend of Bengal politics unfolding. The BJP's 40% share of vote from Bengal is largely an anomaly in the Bengal's election history where all India political parties had hard time managing minuscule portion of the votes. The 2019 election result therefore doesn't augur well for TMC in 2021.The defections of stalwart TMC leaders in favor of BJP exacerbated this grim predication and forbade an electoral mishap for TMC.
The detractors implicated Trinamool Congress for power abuse, extortion, misappropriation of welfare money and egregious Muslim appeasement. Especially, BJP seek to frame Trinamool Congress as anti-Hindu party. They had pointed to how Mamata Banarjee had benefitted Muslim clerics inordinately by providing them with benefits which their counterpart of Hindu religion was deprived of. Beside, "Bangladesh Card" had been recurrently employed to accuse the alleged lenient approach of TMC with regards to Bangladeshi migrants.
BJP capitalized on anti-incumbency resentment emanating from prolonged period of TMC role which had generated local level corrupted politician and scandals of misappropriated welfare schemes facilitated BJP rhetoric. Besides, BJP promised that the coordination with center government will be far easier if BJP gains state power. BJP rallied unemployed youth with the pledge of jobs had BJP
ascent to Bengal throne. Above all, BJP appealed to Hindu sentiments of the 60% majority Hindus of the state.
However, with the charismatic leadership of Mamata Banarjee and the promise of being rooted in Bengali soil and a proponent for peaceful communal relations, Mamata Banarjee's TMC has been indomitable as manifested by resounding victory of Trinamool Congress.
The BJP's promise of "Hindu Bengal" hadn't materialized as West Bengal had long been a fortress of communal harmony, largely an aberration from all other Indian states. This communal harmony has been again bolstered by defeat of BJP in the assembly election.
The result of the election will largely reverberate across India with far-reaching consequences. Firstly, the victory of Trinamool Congress means that Modi's vision of monolithic India isn't viable in view regional peculiarities. Secondly, it safeguards the federal structure of India in face of increasing intrusion of central government. It also will restrain Narendra Modi's unchecked centralization of the state. Thirdly, it will make Mamata Banarjee a spokesperson and central figure of anti-BJP movement in absence of vigorous congress presence. Fourthly, it puts an end to NarendraModi's contentious CAA(Citizen Amendment Act) and other policies.
Lastly, this win of Mamata Banarjee has the possibility of catapulting her to the heft of an all India leader. Especially, in the absence of a BJP's strong chief minister face, Mamata Banarjee was vying with Prime Minister Narendra Modi. This has momentous implication. This will consolidate the popularity of TMC in other states also with the image of Mamata Banarjee and memory of implicitly defeating Narendra Modi serving as an accelerator of her all-India appeal.
Nevertheless, there is marked indications that the Bengal politics has irrevocably altered in the process of this election. While Bengal had long been the indisputable image of Indian secularism, the communal tendencies have made deep inroads in Bengal politics. BJP has surpassed all other local political parties and now only second to TMC. This trend is unnerving for secular Bengal as well as India. However, it can now rightly be articulated that saffron tide of communalism has been retarded. This victory of Mamata Banarjee has reverberation across India and can be termed as the victory of Indian secularism and federalism.