Intersectionality, the Leftist Plague Destroying Western Society -part1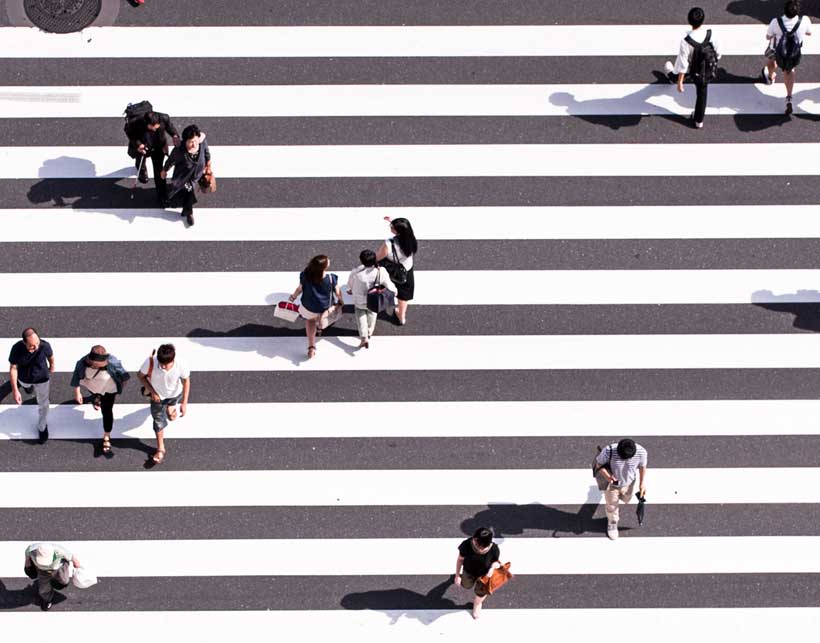 There is a new radical theory, which was produced and spread by the academia, a new leftist "golden god" which highly influence contemporary international politics. In fact, it is a new Orwell's 1984 nightmare language. It is called now intersectionality. It is not a new kind of doubletalk but instead, a twisted and abhorrent talk, creating a pure anarchic situation and a socio-political chaos. Indeed, everything have been gotten crazy, insane, odd, and out of logical order. These days one cannot talk directly and define things openly. One cannot differentiate between right and wrong, truth and false. Soon the days are coming where it will be forbidden to say "the sun rises" or the "sun sets," because what is, which is, how one refers to the "sun? What gender it is?" why it rises and not sets and vise-versa? Under this craze environment who dares to say Earth is not flat? In fact there is huge sections who insist that Earth is flat. Indeed, with intersectionality the world has deepen its upside down turnovers. Nothing is really what it is and everything is also the opposite. The social riots in the US with anarchic chaotic groups and organizations raging and tearing down everything that represent law and order are exactly what this research seek to expose.
The beginning was modest though revolutionary. It started as a sociological theory describing multiple threats of discrimination when identities overlap with number of minority classes, such as race, gender, age, ethnicity, and the like. This new god has been developed by Kimberle Crenshaw in her 1989 essay, and refined in 1991. In Stanford Law Review. Crenshaw asserts that the anti-discrimination laws, feminist theory, and anti-racist politics failed to address the experiences of black women because of how they each focus on a single factor. For her, these aspects of identity are not "unitary, mutually exclusive entities, but rather… reciprocally constructing phenomena." Laws and policies usually only address one form of marginalized identity. The intersections of multiple oppressed identities therefore go overlooked and oppression is cyclically perpetuated. Any analysis that does not take intersectionality into account cannot sufficiently address the particular manner and harsh situation in which black women are subordinated.
Crenshaw has identified three aspects of intersectionality that affect the visibility of black women: structural intersectionality, political intersectionality, and representational intersectionality. The first deals with how black women experience domestic violence and rape in a manner qualitatively different from the ways that white women experience them. The second examines how feminist and anti-racist laws and policies have paradoxically decreased the visibility of violence against black women. The third, delves into how pop culture portrayals can obscure the actual life experiences of black women.
The term gained prominence by Patricia Hill Collins, arguing that cultural patterns of oppression are not only interrelated, but are bound together and influenced by the intersectional systems of society, such as race, gender, class, and ethnicity. She referred to this as "interlocking oppression". She identified three main branches of study within intersectionality. The first, deals with the background, ideas, issues, conflicts, and debates within intersectionality. The second, seeks to apply intersectionality as an analytical strategy to various social institutions to examine how they might perpetuate social inequality. The third, formulates intersectionality as a critical praxis to determine how social justice initiatives can use intersectionality to bring about social change.
According to Oxford dictionary, intersectionality is the interconnected nature of social categorizations such as race, class, and gender as they apply to a given individual or group, regarded as creating overlapping and interdependent systems of discrimination or disadvantage. According to Merriam-Webster dictionary, intersectionality is the complex cumulative manner in which the effects of different forms of discrimination combine, overlapped or intersect, especially in the experiences of marginalized peoples or groups.
Though intersectionality started out as a theory to explain black woman's discrimination, humiliation and disadvantages in American society, today it is applied to all possible social and political categories. Moreover, under leftist obsession it has developed to a totalistic religion, yes a religion, an undermining destroying religion, by creating artificial coalitions between social and political groups that have nothing to do with each other except hatred to the other at large, i.e. Western culture and traditions and mainly white people. The "other" are those who are "privileged" being white, male, and heterosexual, and adhering to the national political and social values, including the family at the center. Being an artificial part of a false and unrelated academic research intersectionality maintains stupidities such as that multiple identities intersect to create a common whole that is different from the component identities.
The problem, the main issue is that though originally applied to the ways that sexism and racism combine and overlap, intersectionality has come to include all imagined forms of class, sexuality and abilities. The result, it has metastasized into almost every corner of the non-scientific academic world. Without trying to find out peaceful satisfactory solutions intersectionality has migrated from feminism into a deep revulsion and hatred against white, male and especially Jewish-Christian traditions, with the aim to destroy Western society.
The theory of intersectionality is dogmatic orthodoxy that has nothing to do with reality, rather it has all the negative hallmarks of fundamentalist religion. It is a brand new horrible and extreme version of political correctness. In a nutshell it means that everyone must oppose every form of oppression, whatever adherents of intersectionality call "oppression" and racism. That is, people should never be exposed to contrary point of views, which is one of the basics of scientific research, since it might upset someone else's identity and/or sensibilities and/or personality's ambitions. At the same time, by itself, it denies and reject other groups and movements and ideas that do not comfort with their biased politics. The marketplace of ideas used to be free and open has become under intersectionality totally restricted and even closed by those who do not even dare to listen to the other side. This is pure cowardice and evil that goes together with pathological violence and chaos. Now all kinds of order, mainly political order, are rejected and the new demanded regime is pure nihilism and chaos.
Nowhere has adoption of this paradigm been more pronounced than on the university campuses where, in the name of bizarre slogans like "identity politics," "gender," and "solidarity" it has changed the vocabulary and behavior of these groups to divert them into pure "anti" politics. The negative, the chaotic, the anarchist stand, take the lead. Anti, whatever anti is and means is good and must be accepted. If black people are being denied rights, prejudiced and evil-treated, it is a must of all good people to fight for their rights, by depressing the "oppressors," by bringing them down. "Equality" and "justice" have now received a new form, as they are defined and represented by those groups who support intersectionality. The normal and regular routes to bring the tragic issue of racism and discrimination of blacks are totally denied, and instead a negative nihilistic rebellious approach is being taken. The aim is to motivate and encourage students, the future of political, social and scientific of the country and other social groups to divide everybody up by their race, gender and other categories.
Intersectionality believes that gender, race, social-class, ethnicity, nationality, religion, physical and mental disabilities, sexual orientation, and other forms of identity, can all intersect. However, it is not legitimate at the same time to decide arbitrarily to exclude groups or orientation without giving them the right to defend their position. If this is true, why it is applied to blacks and Muslims and not to Jews and/or whites? Only blacks and Muslims have sensibilities we should keep and follow while white Christians have not? Under these bizarre and twisted perceptions, why the so-called Palestinians are entitled to perform all kinds of horrible acts of violence and terrorism, but Israel is denied even to self-defense?
Intersectionality is also contradictory. Such a theory when applied by people with bias will inevitably be biased itself. All radical movements carry with them biases and justify violence though from different ideological standpoints. Violence is used as a means to an end. Moreover, it assigns these categories by moral merit in which privilege is bad and victimhood is good. All social problems get reduced to this simple framework and that means in fact anarchism, anti-sociability and chaos. This precludes the possibility of running and performing state organs, and in fact leads to the destruction of political order and the basic fabrics of society. This is hell not paradise. This is not justice and equality but chaos elimination.
Everything is scrutinized through this lens. There are so many simplistic slogans which sound good and attract people to reiterate: 'Make love not war.' 'All humans are created equal.' Even Marxism sounds good, though there has never been a Marxist society that any rational human being would like to live in it willingly. Amazingly even confusingly, there are still those who ideologically adhere by Communism. This is crazy. All they have to do is to look at Venezuela today, how a potentially rich country with huge abilities its people are starving. It is even recommended not to look at the Soviet Union and its satellites and what they have done to the basics of human life and dignity, but to look at the flourishing thriving technologically sophisticated South Korea as compare to the hell example of North Korea. The same people, the same culture exactly prove what the horrible ideologies of Marxism/communism/socialism do to their own peoples. We have ample examples how communism and socialism eradicate the abilities of the people and ruin the basic fabrics society. Marxism-Leninism is an incurable mental disease, a lunatic ideology, an infinite total disaster. Nazism and Islam are exactly of the same kind, and they follow the same directions and orientations.
The 1400 years of Islam clearly prove it is even worse than Communism and Nazism combined. In its pursuit of political religious ideals, Islam has committed the worst crimes against humanity, of genocide and ethnic cleansing, of huge slavery and destroying human nature to pure submission. Nevertheless not only surprisingly but totally amazingly, it is embraced with love and compassion by the intersectionality groups.
How simplistic and infantile is intersectionality is proven by the following axioms: typical of the orthodoxy of intersectionality is the following propositions:
a. All Colonialists and Imperialists were white males, and therefore all white males are evil. However, Islam is the uppermost of colonialism and imperialism, its history is an open card to these, but it is stripped of all these. Indeed, ignorance or evil kill.
b. Slavery was created and practiced by the white imperialist peoples as a means to oppress the colored peoples and to control and weaken their abilities. Therefore revolution against the "white system" is justified. However, they ignore the tragic reality that Muslims were and still are the prominent slave-traders in history; that Muslims captured, tortured, and marched 120 million blacks from Africa into slavery, 30 million for the local Islamic markets (males were castrated!) and 30 million were shipped to the Americas (60 million of the entire blacks were perished in the roads!); and that Islam is racist, anti-feminist and reject gender equality.
c. America is a white-male-dominated imperialist power, and therefore by definition it is evil and must be annihilated whatever the circumstances are. However, since Muslims are against the US ideologically and they fight its "oppression and occupation," therefore, by definition Islamic operations are supported and justified and Muslims are embraced.
d. The US supports Israel, and Israel oppresses the Palestinians; therefore, without any investigating and without even trying to learn and understand the issues, Jews are by definition imperialists and racists and Israel must be destroyed. The Palestinians on the other hand, being the victims of Israeli oppression and racism, therefore, they are the good side and should be supported by all means.
You see, the world of intersectionality is so simple. One even does not wonder that these horrific destructive slogans spring in the empty-headed Western academia and played positively by the media that for long has neglected responsibility and honesty. This is suicidal, first and foremost in the academia, to the existence of sciences, knowledge, and to the progress of humanity. It means the annihilation of investigation, scientific research, criticism, and it directly leads to censorship and disappearance of human freedoms, let alone abiding by the scientific truth. It is much more than the nightmare of the Orwellian society. It means in fact bringing back fascism, communism, and promoting the Islamic oppressive rule over humanity and depressing its freedoms and civil rights. It means in fact the retreat of human progress to the dark days of Islamic primitive desert.
All the radical groups, such as Black Lives Matter and Antifa, advocate preaching intersectionality while feel comfortable and compassion with the ideology of Hezbollah, Hamas, the PLO, and all other Islamic fanatic anarchist groups. They deliberately advocate these groups being fundamentally racist, totalitarian, and their ideology leads to ethnic cleansing, genocide, and the annihilation of a nation and its religion. Moreover, by restoring Islam's 7th century religious and cultural ideologies, they advocate setback of knowledge, sciences, and freedoms. The overall result is clear and symbolizes "the rise and fall of Western civilization."
It was exactly Alan Dershowitz who has coined this situation concerning Israel so succinctly: "when the best are accused to be the worst, you have to look at the accusers." It reflects now all those who follow the intersectionality monster. It goes even to much lethal directions as Islam is seen as a good moral and justified force, and all the evils and atrocities it has done through 1400 years of its history are forgotten just because it works today against Western values and traditions. Therefore, the amazing paradox of intersectionality is that it is right and justified to go hand by hand with Islam even in its very essence it is against the basics of intersectionality's perceptions and notions such as discriminating women, killing gays, adhering male superiority, and even that Muslim slave-traders were the main cause of black slavery in the America.
He who subscribes to this pseudo-academic concept of intersectionality, which has become a code word for anti-American, anti-Western, anti-male, anti-whites, anti-Israel and anti-Semitic bigotry must do one thing: to think, to contemplate, to investigate, to ask questions, and to elaborate issues. One must reject this kind of poisonous exclusionary that intersectionality represents. It encourages fanaticism and accumulates all the radical groups to tear apart the basics of law and order of Western society. Instead of helping bring peace and understanding among cultures, of promoting more social equality and justice, and instead of enhancing a balanced politics, it simply forces the different sides to further apart the fabrics of society and leads to retrenchment, conflicts, violence and anarchism. For intersectionality, facts do not matter; reason does not hold, and all it needs is hatred to normality to the rational behavior and to law and order.
According to Jonathan Haidt, a social psychologist and Professor of ethical leadership, Intersectionality is ambiguous and open-ended term that lacks a clear-cut definition, but at the same time its specific parameters has enabled it to be drawn upon in nearly any context of inquiry. Difficulties arise due to the many complexities involved in making "multidimensional conceptualizations" that explain the way in which socially constructed categories of differentiation interact to create a social hierarchy. First, there is a strong focus on subjective personal narratives. It posits that an oppressed person is the best to judge his experience of oppression according to his own values and feelings. Moreover, intersectionality does not eliminate the hierarchy of identity but inverses it. This creates a paradox in that different groups suffering oppression and not eliminating oppression. Indeed, intersectionality is a totalizing perspective that reduces all social problems to a simple framework that is an oversimplification of reality.
Intersectional feminism primarily draws on far-left ideologies and ultimately ends up excluding women, people of color, and other marginalized people who do not share similar political views. It is in fact a minority ideological Marxist-Leninist view dominated by people from an economically privileged class who have had a university education in the social sciences and/or the necessary leisure time and education to study intersectionality, critical race theory, queer theory and critical analyses of ableism.
What about the delicate sensibilities of those of us who find censoring offensive? Where are the "safe spaces" for those who would ban banning? Is it not true that anyone should be able to criticize or question just about anyone? Should we not care or even know what minority group, if any, someone belongs to? Why it is racism? Why we should not call a sped, a sped? There are whites, and blacks, and yellow, and other color races, so what? There are different cultures in the world, so what? There are differences in development and upbringing education of peoples and sectors in society that should find common grounds and promotion. We should not use the terms "good" and "bad" to relate to them, but we can mention them without prejudice, why not? The question is not are there all this differences, but how do we accommodate with them and bring them to work together equally and without prejudices? To counter back, to wreck and havoc, and to tear up society is not the answer to cure social malaise and world differences. It leads to disaster.
Moreover, if we use other artificial non-direct terms, does it mean we paint a different world? What about pluralism and differences of opinions? How can science proceed without thesis, antithesis and synthesis, or without arguing and debating? Where would our culture be without the freedom to questioning, the ability to criticize, of being creative or even fighting for ideas? Do we wish to restore the dark days of Galileo Galilei and his trial by the Inquisition in Rome? What about the sensibilities of those of us who find censorship offensive? Where are the "safe spaces" for those who would ban banning? What about those who support freedom of speech, the precious diamond of society?
What is the difference between the Inquisition, the horrible terrorist acts of the Islamic Caliphate State, and the cowardice self-censorship of the Orwellian language today promoted by the academia and the media? The staff of the satirical French magazine Charlie Hebdo slaughtered by ICS (Islamic Caliphate state) terrorists for mocking Muhammad, yet "two years ago we were all Charlie Hebdo. Now our willingness to defend freedom of expression has been crushed." the magazine is now banned in some British universities, because some students might find it offensive. This is crazy. It means that we succumb to the evil and subjugate to the murderous and fanatics.
There are horrific stories of censorship and restrictions on expression at universities in the US, the UK and Europe. The world indeed has turned upside down. Even the social media, like Twitter and Facebook ban and censor those who criticize Islam scientifically, even from its religious sources. Isn't it an infantile approach and treatment the nature of political discourse in the academia has become? The student union of City University in London, renowned for its journalism school, now have voted for campus ban on the newspapers, Sun, Mail, and Express in an 'opposing fascism' motion. How is that the academia, the center of open-minded free thinking, bans Israel and calls for its destruction as a state and a nation in the name of Anti-Semite murderous slogans? This is crazy. This is totally anti-scientific, anti-logic and it is opposite to the basics of the academia's values.
It is the equivalent of the "newspeak" about which Orwell has warned us: "Ambiguous euphemistic language used chiefly in political propaganda." If the newspapers are such bad publications, why not allow students to read them and make up their own minds? To suggest that university students cannot contend with a dissenting argument is debilitating and much more: it brings science back to the Middle-Ages, or to the communist fascist era, or worst, to the Islamic rule where there is no science but religious oppression. This is not a democracy; it is full-fledged totalitarianism, a full-scale censorship. This is not modernism but absolutely regression of science and to ignorance. This is evil and wickedness.
Andromeda: A Space-Age Tale. The Antonio Guterres Edition
On July 18, 2020, UN Secretary-General Antonio Guterres delivered a memorial lecture in honour of the great South African leader Nelson Mandela. The Secretary-General's speech was clearly intended as a policy statement and designed to provoke a wide response. Guterres outlined "a new social contract" and "a new global deal" that are to replace the current international and even universal social order.
Inequality as the Principal Problem
Guterres was scathing in his criticism of the current world order, comparing the coronavirus pandemic to "an x-ray, revealing fractures in the fragile skeleton of the societies we have built." The pointed accusatory pathos of his speech would have been better suited to a silver-tongued preacher or a radical youth leader than to a member of the top political elite who has headed the most representative and influential international organization for the past three and a half years. The coronavirus is "exposing fallacies and falsehoods everywhere: the lie that free markets can deliver healthcare for all; the fiction that unpaid care work is not work; the delusion that we live in a post-racist world; the myth that we are all in the same boat."
The pandemic has set humanity back years, if not decades, plunging the world into its worst recession since World War II. Guterres believes that, as a consequence, entire continents will be doomed to hardships, poverty and even famine. Social and economic inequality is growing at an accelerated pace: the financial assets of the world's 26 wealthiest people already equal the combined assets of half of the rest of the world. Glaring inequality feeds corruption, provokes financial and economic crises, fuels crime and causes epidemics. The number of risk groups is expanding rapidly and includes refugees, migrants, indigenous peoples and minorities of all kinds that are discriminated against and exploited. Inequality breeds political and religious radicalism, social cataclysms, destructive international conflicts, and civil wars.
The coronavirus pandemic introduces new dimensions to the issue of inequality: rich patients have higher chances of receiving quality COVID-19 treatment, and the Global North is better prepared for the pandemic than the Global South. The long-term economic and social consequences of this upheaval will also differ for individual social, professional, ethnic, and other groups.
What are the roots of inequality in the world? For Antonio Guterres, the answer is very clear: colonialism and patriarchy. The Global North is responsible for the shameful history of colonialism, whereby it established its centuries-long economic and political dominance of the Global South. Even though many decades have passed since the decolonization process concluded, the historical legacy of the colonial era has not been overcome. This legacy makes itself felt on a regular basis as everyday racism, institutional racism, the rise of "white supremacy," the system of the international division of labour and global trade and the distribution of the rights and responsibilities of individual states within the global political system.
The patriarchal system that we live in today is the result of the traditional "male-dominated culture," which for millennia has discriminated against and humiliated women. While great strides have been made in women's rights (just like decolonialization has brought certain successes), it would be premature to say that we have finally resolved the gender issues that haunt our societies. The UN Secretary-General called himself a "proud feminist" and reported that "gender parity" has been achieved in top UN jobs (let us note parenthetically that, in 2016, he took the office that many UN members believed should have rightly gone to a female candidate).
So how will the "New Global Deal" advanced by the UN Secretary-General benefit the world? First of all, it promises to achieve social harmony by overcoming inequality – gender inequality, social inequality, racial inequality and inequality between states and continents. The "New Global Deal" is an instrument for establishing egalitarian humanism, where access to quality education, healthcare, food and water, decent jobs and social security is an integral part of our fundamental human rights and is not determined by an individual's income or family wealth.
Guterres's ideal and goal is to create a global community where people of any origin, country, ethnicity, social standing or gender can and should fully realize their potential to the benefit of all humankind. The UN Secretary-General supports the idea of universal medical insurance and universal basic income. In general, the world that looms on the horizon follows the principle, "From each according to their ability, to each according to their needs."
Antonio Guterres and Ivan Yefremov
Reading Antonio Guterres's speech, I was, for some reason, reminded of the leading Soviet sci-fi author Ivan Yefremov's famous utopian novel Andromeda: A Space-Age Tale, which depicts a remote communist future. The world of Ivan Yefremov, just like the world of Antonio Guterres, is a world of egalitarian humanism. One's place of residence, family status, gender and race have absolutely no meaning for Yefremov's characters. They are all a thing of the distant past. Humankind has successfully overcome the cult of excessive consumption, and basic human needs for education, healthcare, welfare, social status, etc. are guaranteed by birthright.
This world is populated by beautiful, strong, somewhat poster-like people who have virtually no human weaknesses. For them, the meaning of life lies mostly in the arts and sciences and other elevated forms of self-realization. Personally, Yefremov's utopian society has always seemed somewhat cold and uninviting, but in any case, it is much preferable to the current chaotic state of the global society.
Of course, one cannot suspect Antonio Guterres of directly borrowing Ivan Yefremov's ideas. I doubt that the Portuguese statesman has ever read Andromeda: A Space-Age Tale or any of the Soviet sci-fi author's novels, for that matter. Additionally, the concept of a "New Global Deal," unlike Yefremov's utopia, is not entirely communist. Guterres's egalitarian world does have a private sector, but it is radically different from the one we have today.
First, the "New Global Deal" would involve significantly raising taxes for big businesses throughout the world, eliminating financial loopholes that allow large corporations to avoid paying taxes. Second, the private sector would switch its focus from making profits to social responsibility. Guterres is an ardent supporter of restoring the trade union movement in order to balance the relations between labour and capital. On the whole, one gets the impression that the UN Secretary-General sees the Northern European social state as the optimal state model.
How can global social harmony be achieved? Take education, for example. In order to overcome global inequality in education, we need to at least double the spending in this sector in the Global South, to USD 3 trillion annually. Clearly, the South does not have that kind of money, it can only come from the North. But in addition to education, we need to think about healthcare, infrastructure development, the "green economy" and gender inequality, where the South still lags significantly behind the North.
Essentially, the UN Secretary-General is calling for a revolution – if by revolution we mean a historically compressed process of a radical redistribution of economic resources and political power. The "New Global Deal" is focused on transferring resources and power not from the bourgeoisie to the proletariat within individual states, as Karl Marx and Vladimir Lenin had suggested, but from the rich North to the poor South. That is, the collective North is the nasty "global bourgeoisie," while the collective South has the honourable role of the "global proletariat."
The redistribution of power presupposes the reform of international institutions created mostly by the Global North, including changes to the top management of the United Nations, the International Bank for Reconstruction and Development and the International Monetary Fund. The redistribution of resources means restructuring the international debt accumulated by the Global South, writing them off at least partially, increasing financial aid programmes for developing states and changing the terms of global trade so that the South will gradually move up global value chains.
Just like the classics of Marxism-Leninism idealized the proletariat and demonized the bourgeoisie, the UN Secretary-General idealizes the South and demonizes the North. Appealing in 2020 to the dark colonial legacy as the principal cause of the backwardness of developing states is only slightly more convincing than explaining the current archaic nature of Russian politics by the pernicious legacy of serfdom. The experience of post-colonial development is too variegated for such generalizations. For instance, South Korea experienced decades of extremely harsh Japanese colonial rule, and then the totally destructive war of 1950–1953. Nevertheless, almost no one would call South Korea a backward state today, or a victim of its colonial past.
Antonio Guterres has brought his many years of experience as a European social democrat to the activities of the United Nations. This experience certainly remains relevant today. However, the attempts of European social democrats over the years to resolve gender, social or global problems by mechanically redistributing resources have repeatedly demonstrated their limitations. It is no coincidence that European social democracy today is going through a clear identity crisis. To prepare the next edition of Andromeda: A Space-Age Tale, the UN Secretary-General should find a co-author with a radically different experience, someone like Elon Musk.
From our partner RIAC
Life and travel in a new normality
Weary of the COVID-19 epidemic and feeling the pinch of significant financial losses during the months of the coronavirus crisis, the world is in a hurry to open borders, restart air traffic and resume tourist travel without even waiting for the pandemic to fizzle out. Simultaneously, many countries are doubling down on developing and testing vaccines and drugs against this dangerous scourge. Many heads of state hope that once this pandemic is over, everything will return to normal. Will it really? Will we have to live in a changed reality?
… Many scientists, physicians, experts and politicians around the world are trying to find answers to these questions. Many researchers believe that international tourism, which until recently had been on the rise, was among the economic sectors hardest hit by the pandemic. It is no secret that many small, and not so small countries now live off inbound tourism. According to experts, this year the tour industry as a whole may lose up to $3.3 trillion and a huge number of jobs. Small wonder, therefore, that after three months of isolation and border closures, the industry just can't wait to get back into business and make up for the lost time. It is against this backdrop that the World Tourism Organization (UNWTO) is publishing new data about the impact of the COVID-19 pandemic on this popular sector.
UNWTO analysts emphasize the need for responsibility, safety and protection of tourists when travel restrictions are lifted, and reiterate the need for a strong commitment to supporting tourism as an important driver of a global economic recovery.
While in some parts of the world, above all in Europe and America, tourism, domestic as well as international, is now resuming, many travel restrictions still remain. Fully aware of this, the UNWTO has reiterated its call on governments and international organizations to support tourism, a lifeline for millions and the backbone of the economy. Measures being implemented to this effect by governments include a gradual lifting of restrictions, creation of tourist corridors, resumption of some international flights, and improvement of safety and hygiene protocols.
The World Travel and Tourism Council (WTTC) is urging tour industries around the globe to mandate the use of face masks as protection against the spread of the COVID-19 infection. Moreover, such safety measures will have to be applied for quite some time. In addition, the WTTC recently released new guidelines for safe and hassle-free travel, including testing and monitoring, frequent hand washing, the use of hand sanitizers, social distancing and more.
Responsible Travel Guidelines have been developed for the entire global travel and tourism sector focusing on measures to safely steer business to car rental companies, airports, tour operators, sightseeing attractions, etc.
European media, meanwhile, continues to report paradoxical cases in the countries of Ibero-America. For example, Spanish newspapers write about Barcelona's historic Liceu Opera opening for its first concert after months of lockdown. However, instead of playing to an audience filled with art-loving VIPs, the UceLi string quartet serenaded a leafy audience of 2,292 plants. The "Concert for the Bio-Public" conceived by conceptual artist Eugenio Ampudia marked the theater's reopening to the public after Spain ended its state of emergency in June. The well-educated, albeit disturbingly silent audience, that featured a variety of plants, including fig trees and palms, brought in by local nurseries, enjoyed the performance of Giacomo Puccini's Crisantemi before being handed over tolocal health workers "in recognition of their dedication to the pandemic." The concert was broadcast live on the theater's website.
Recent polls in Spain show that more than 65 percent of the country's citizens will spend their vacations at home. According to a survey conducted by the Spanish government's Center for Sociological Research, most Spaniards are not going on vacation this summer, and only one in ten plans to go abroad. After the coronavirus pandemic, 65.7 percent of respondents said they ruled out going on vacation, and seven percent were undecided. Of the meager 27.2 percent who intend to go on vacation, over 90 percent will opt for domestic destinations, and only six percent would like to go abroad. Spain, one of the countries hardest hit by the pandemic with more than 28,000 deaths, is opening its borders to almost everyone in the European Union.
However, representatives of Spain's tour business, which accounts for 12 percent of the country's GDP, fear that in the event or a new coronavirus outbreak their clients could become infected or get stranded in a foreign country. Meanwhile, people in some countries already feel the psychological impact of the pandemic, with studies showing that those who survived the quarantine now value their work and personal space more than before. Going to work reflects a certain degree of harmony in one's life, when someone does not feel alone, left one-on-one with everyday home routine. Not to mention the importance of earning money, of course. As for personal space, people have learned to enjoy being alone, reading a book, writing poems, whatever. Not so when there are several people sharing a small apartment and having to give up some of their habits and hobbies. People get tired of each other. In April-May, many complained about family problems and divorces, but psychologists say that the number of such complaints has been going down and that the need to maintain social distancing has taught people to build personal boundaries – a habit, which in some countries was seriously weakened during the times of collectivism. The modern generation has also learned a lot about viruses and infections, hygiene and sanitation. And, of course, after months of forced self-isolation, many people now prefer to promenade and travel more than they did before.
Experts say that the worldwide slogan "We Will Travel Again" contains not only a promise to return to normal life, but also a commitment to rebuild a sector faced with the need to resist, rethink and adapt to new market demands and make sure that tourists always feel safe wherever they go.
The prominent Spanish tour business expert, journalist and publisher José Carlos de Santiago recently saw "the light at the end of the tunnel." In an article, published in his magazine Excelencias, referring to the end of the coronavirus pandemic and the resumption of tourism activities in the world, he writes that recent global research gives a reason for cautious optimism, not only in Europe where the pandemic curve begins to go down, and more decisive measures are taken to contain the spread of infection. In the Americas, the Caribbean islands are opening their borders to international tourism: Antigua and Barbuda, Aruba, Montego Bay have courageously reopened to international visitors and North American planes are already landing there in compliance with strict COVID-19 health regulations. New standards include sanitary controls, travelers are checked before flying, the use of digital technologies has been expanded, additional disinfection is done both inside airports and on the planes, payment for tickets and services are made with credit cards and when with cash, then with the mandatory use of face masks. José Carlos de Santiago adds, however, that according to World Tourism Organization experts, the first signs of recovery will not be felt before the last quarter of 2020, and underscores the need to move towards more sustainable tourism in economic, social and environmental aspects. The road to recovery is just beginning, and as the light at the end of the tunnel is getting closer, many questions still remain, the journalist concludes.
Caribbean News Digital online newspaper on tourism has published a list of nine major short- and long-term changes that the tour industry will go through in the wake of the new coronavirus pandemic.
Thus, when they reopen, the theme parks, museums and other highlights that usually attract a great number of people will deal with smaller and more controlled crowds. The museums will also try to make sure that visitors feel safe and are properly separated from each other. The requirement for wearing face masks may also remain, and antiviral cleaning will be carried out throughout the day.
Airlines already require that passengers and personnel all wear face masks, refuse to serve food and drinks during flights, and increase the frequency of cleaning. Some are now asking travelers to fill out medical questionnaires, and check passengers' temperature, but federal authorities are taking additional steps to get this done.
In a recently released guide, the International Civil Aviation Organization (ICAO) outlines a list of new regulations. Airports are also changing their modus operandi and may revise some rules for the passengers' movement in and around the terminals. When travel resumes in many countries, the initial focus will be on domestic tourism. As for international tourism, much depends on the situation with the epidemic in each country. While airlines may believe that they charge passengers for everything, from seat selection to baggage check-in, in fact, deregulation has reduced the cost of one mile of flight, making international travel more affordable than ever before. Some travelers fear, however, that due to the pandemic the airlines may reduce the number of passengers flying overseas, thus jacking up the cost of other international routes.
Since the big problems caused by the COVID-19 epidemic arose in mid-March 2020, there are two main questions that have been dogging the cruise industry: when will ships return to sea with passengers? And what will cruise tourism look like in the future?
One thing is clear: it will take some time before cruise ships return to sea. When they do, they will hardly be as full of passengers as they were before the pandemic struck.
Temperature tests are likely to become routine. The construction of new cruise ships will almost certainly be delayed and travel routes may temporarily change.
Some major cruise operators recently announced that, among other measures, they are going to replace air conditioners on their cruise ships with so-called "medical grade air filters," introduce contact-free temperature control for passengers and increase the frequency of cleaning all areas.
Temperature control will become mandatory, self-service buffets will close, and the number of seats on tourist buses during coast-side excursions will be reduced. What remains unclear, however, is how many people will be willing to go sailing again, given the number of victims of the virus worldwide and high-profile outbreaks on ships. But cruise ship executives are still optimistic about their prospects for 2021.
A revised cleaning procedure will bring an important change to the vacation rental market, with the coronavirus pandemic having redefined the very notion of cleanliness and health care for tourists. Some experts believe that this new focus on healthy travel will be expanded in the future. Many cafes and restaurants are expected to be closed for economic reasons, and the comeback of domestic and international tourism will certainly play an important role in the reopening of restaurants, especially in big cities and capitals worldwide. The same with hotels, whose success will likewise depend on the quality of their sanitary provisions. Their clients should expect more frequent cleaning, cleaner rooms, hand sanitizers galore and fewer contacts with employees as hotels are encouraging people to check in online and use their cellphones as room keys. Some guidelines instruct room service staff not to enter suites while the occupant is inside, unless expressly invited to do so. All these precautions will undoubtedly spoil the hospitable atmosphere that the hotels promise their guests.
Meanwhile, countries are in a hurry to start restoring domestic and international tourism and improve their relations with the outside world. And while more cautious experts wonder "how are we going to live in a new normality?", the World Health Organization (WHO) recently reported a new uptick in coronavirus infections in Europe and a catastrophic situation in the US, Brazil, India and dozens of other countries.
If this process is not stopped, it will once again push the European countries' health systems "to the brink of the abyss," the WHO warns. According to Latin American media reports, Argentina's business sector would welcome the adoption of the National Emergency Tourism Law, which would offer it a wide range of benefits. According to the new law, due to the emergency situation in tourism, within a year from the end of social isolation measures, payment by the government of 50 percent of wages will also cover small and medium-sized tour operators until October this year, they will enjoy nationwide tax deferrals until December 31, 2020, be exempt from paying tax on debits and credits, provided with zero-interest loans for the purchase of medical equipment and technology related to COVID-19. The new legislation will also halve the hotels' VAT payments by March 2021 (applies only to residents of Argentina) and provide subsidies for tour guides, equivalent to the minimum wage through October 2020…
…The three main problems that the tour industry may face in the future are economic one, a lack of customer confidence and tough competition. All of this creates uncertainty for the end consumer, and this is where communication must come into play and restore consumer trust. In other words, the press, all media outlets are responsible for restoring our life in a new normality. Truthful and objective information is what will help the world community to cope with the pandemic and achieve its goals. "We need lots of accurate information to inspire consumer confidence," experts say.
How is Russia opening to the world? The ban on the entry of foreign nationals expires on July 31, 2020. The restrictions do not apply to Russian citizens leaving the country: it was officially reported that persons with dual citizenship, a residence permit, as well as holders of special categories of visas (for medical treatment and work), had already been able to leave the country. According to media reports, even Foreign Minister Sergey Lavrov does not know when the borders will open for everyone. In a recent media interview, he said that the ministry will be bringing the government up to speed in real time on the epidemiological situation abroad and on exactly which countries are opening to the outside world and how.
… Anyone, who is guided by the saying "God helps him who helps himself," will certainly take all necessary precautions both in everyday life and while traveling in the new normality. Therefore, we advise our readers to keep in mind the recommendations listed above, which will help avoid many troubles, and maybe even save their lives.
Notes:
What do experts advise COVID-19 patients to eat? This is the question ordinary people often ask scientists and seasoned nutritionists. Scientists in different countries are researching this issue. In Germany, they recently found that cabbage can be helpful in cases of suspected coronavirus infection. They have also determined that different varieties of cabbage are popular in countries with low death rates from coronavirus. For example, in Germany and South Korea, the number of fatalities from COVID-19 was significantly lower. It is noted that cabbage contains substances that prevent a severe course of the disease. For example, sauerkraut contains antioxidants that enhance the body's defense against pathogens. Earlier, Spanish nutritionist Alejandro Canovas and head of the Spanish Society of Pulmonology and Thoracic Surgery (SEPAR) Eusebi Chiner named products that help protect the lungs from coronavirus. According to Canovas, eggs, whole rice, sea fish and walnuts can help strengthen the respiratory system. Chiner explained that when the lung condition worsens, the body's need for protein increases. He added that eggs contain fat-soluble vitamins such as vitamin A and high-quality proteins.
From our partner International Affairs
A better normal must mean tackling workplace violence and harassment
Violence and harassment is a persistent and pernicious issue in the world of work.
It transcends national boundaries, socioeconomic conditions, occupational sectors and working arrangements. It can manifest itself between co-workers, managers and subordinates, or between workers and their clients or the public, threatening the safety and health of all those subjected to it.
Violence and harassment takes different and shifting forms, not just physical or sexual. Psychological harassment, in particular, can be insidious and abusive in the most subtle of ways, and the mental toll it takes can lead at times to suicide.
The negative impact on workers' well-being also affects businesses, contributing to absences from work and increased staff turnover, related to fear, illness and injury. These changes imply significant costs for enterprises, and can also damage productivity and performance.
During the current public health crisis, violence and harassment has appeared to increase. The unprecedented restrictions imposed on people during the pandemic have exacerbated stress levels. In some cases, this has led to violence and harassment being directed against essential personnel, healthcare workers and others on the pandemic frontlines.
There have been reports of doctors in Wuhan, China, being beaten and threatened in overcrowded hospitals. Essential workers in grocery shops have been subjected to violence and harassment when those stores ran out of supplies. More recently, a security guard in the United States was killed attempting to enforce a policy of wearing face masks in a store.
There has never been a more important time to recognize and address the causes and manifestations of work-related violence and harassment. A new ILO report, Safe and healthy working environments free from violence and harassment, does just that. It examines the scope of violence and harassment in the world of work and looks at existing occupational safety and health frameworks, initiatives and areas of action for preventing and addressing workplace psychosocial risks, including better Occupational Safety and Health management systems and training.
Last year, at the Centenary International Labour Conference, the ILO's 187 member States adopted the groundbreaking Violence and Harassment Convention (No. 190) and accompanying Recommendation (No. 206). In doing this, they defined a global commitment to eliminating this scourge.
However, such an overarching commitment needs to be backed by grassroots action. Systems, cultures and individuals that perpetuate such harassment or allow it to continue need to be called out and corrected. We all want to build a 'better normal', post-COVID. Workplaces free from violence and harassment should be part of that equation.