Authors: Troy J. Bouffard, Elizabeth Buchanan & Michael Young*
For over two decades, key stakeholders have been confident that the Arctic Council was the appropriate forum for discussing most non-military Arctic issues. At the same time, UNCLOS, IMO and various international legal agreements, along with numerous forums, helped to manage a significant portion of the remaining challenges. Today, security concerns are heightening with new Arctic players and the days of a stable Arctic region, free from intervening security concerns, may be facing headwinds as military activity and rhetoric have increased over the past few years. Strategic competition in the Arctic has reemerged and is bolstered by recent rhetoric and increased investment from Washington in its national security agenda in the Arctic as well as associated NATO military activity.
Russia uses these developments as further justification to securitize the state's largest open frontier. It is unsurprising Moscow views this behavior as foreign strategy to undermine Russia's legitimate interests in the Arctic. In effect, the Arctic may be host to a new security dilemma which is driving militarization and strategic competition in the region. The problem is: there is no effective forum for Arctic defence authorities to discuss the potentially emerging security dilemma or the spectrum of associated and relevant issues involving Arctic non-/State interests.
Recognizing this apparent strategic forum gap, there have been recommendations from Arctic security scholars and strategists to consider the establishment of a designated Arctic security forum to lead collective and inclusive military-security dialogue. These calls are now echoed in some Arctic state policy circles, indicating the appetite for a security forum is growing. Tellingly, Russia's Foreign Minister, Sergei Lavrov, during a high-level Arctic international conference with Putin in April 2019, suggested that annual meetings of the Chiefs of General Staff of the Arctic Council's member-states should reoccur. For Lavrov, such meetings could become an effective mechanism of maintaining regional security, stating, "unfortunately, since 2014 these meetings have been suspended. For the purposes of resuming joint work we suggest as a first step to establish contact at the level of military experts of Arctic states." In theory, such a proposal could effectively manage a growing security dilemma, in order to confront concerns of militarization and sharpened strategic competition in the Arctic. However, implementation of high-level security discussions between Arctic Council member states would not be easy in the contemporary political environment. Moreover, there must be an absolute separation between the purpose of the Arctic Council and any Arctic defence issues and forum. Such a requirement is not only based on the Council's charter mandate, but also from a practical standpoint to avoid undermining or overlapping well-established practices.
Some current security forums capable of hosting dialogue on Arctic military-security affairs do exist, but these are inadequate for any real strategic discourse due to the fact that the Arctic's largest stakeholder is not considered an 'equal member' in these fora. To date, limited study has been conducted into the feasibility of a circumpolar Arctic security forum, of which all Arctic-rim powers are considered equal. The authors explore the concept of establishing an Arctic military-security forum to navigate the resurgence of strategic competition in the region. To do so, the article examines challenges and opportunities associated with the establishment of an effective Arctic security forum through diplomatic aspects, including 1) establishing acceptable protocols, 2) the role of military diplomacy and 3) sustaining meaningful diplomatic commitments and outcomes.
Establishing Acceptable Protocols
The central goal of establishing formal protocols through a forum to discuss Arctic security issues is to prevent security related actions by one state from escalating to higher level military conflict due to misunderstandings among other Arctic states. There are already several agreements that include the United States and Russian Federation which govern the behavior of military forces when operating in close proximity to each other or in international waters, such as the Incidents at Sea Agreement (INCSEA, 1972), the Dangerous Military Activities Agreement (DMA, 1989), and the Code for Unplanned Encounters at Sea (CUES, 2014).
Given that these agreements have no geographical limitations, they would also apply to military actions in the Arctic. What is not covered by these agreements, and what is missing in the Arctic currently, is a formal dialogue between Russia and the other Arctic states regarding issues of national security in the Arctic. Such dialogue is important so that all sides understand each other's actions and the motives behind them, or at least provide a forum to discuss misunderstandings. There have been fora in the recent past which attempted to accomplish this in the Arctic, such as the Arctic Coast Guard Forum (ACGF), the Arctic Security Forces Roundtable, and the Arctic / Northern Chiefs of Defence meetings. These ended in 2014 after the Russian annexation of Crimea when mil-to-mil engagements with Russia were suspended. However, an exception was later made for the ACGF. The ACGF now regularly meets and rotates chairmanships every two years according to the same schedule as the Arctic Council. The ACGF is an excellent forum for the Arctic states to "foster safe, secure and environmentally responsible maritime activity in the Arctic," but it does not specifically address military or national security issues. This is precisely why it was able to obtain an exemption from the ban on mil-to-mil activity. This is to Arctic security's detriment.
Clearly, after six years it is apparent that the ban on mil-to-mil engagement with Russia is adversely affecting all Arctic states. There is an obvious need for crafting a defence forum for the Arctic states. As such, it would be useful to establish a mechanism for all Arctic states' senior military leaders to engage annually for the purpose of discussing Arctic security issues. And this is in the US national interest. The question now becomes what the format, protocols and limitations should be so that such a forum could prove successful for all participants. It should also be considered apart from other mil-to-mil engagements with Russia, and therefore mostly exempt from sanctions. The following proposed components should be considered with regard to development of an Arctic security forum:
-Heads of delegation from each Arctic state would be their senior commander who has responsibility for their country's Arctic defence. For example, the US would send the Commander, US Northern Command (4-star), Russia would send the Commander, Northern Fleet Military District (3-star Joint Arctic Command) and the Deputy Defence Minister of the Russian Federation – Chief of Main Directorate for Political-Military Affairs of the Russian Armed Forces (3-star). Normally equivalent rank and position is a basic protocol requirement. However, Russia does not maintain nearly the same amount of 4-star generals as does the United States. As a result, the disparity would not be considered inappropriate or detrimental to the process. Each commander could designate a subordinate as the working representative during the year in the lead up to the conference, but each defence principal would be expected to attend the actual conference in person.
-Hosts for each annual meeting would rotate every year on a prescribed schedule among each of the eight Arctic states.
-The agenda for the annual meeting would have set, required topics each year, which at a minimum would include: 1) Arctic defence philosophy, 2) most important defence challenges in the Arctic, and 3) greatest threats to Arctic security, as perceived by each state. An additional mandatory topic would be ways to improve Arctic security cooperation and reduce tensions.
-The deliverable from the conference would be a report to all member states from the host country summarizing the discussions and outcomes. A joint statement would be optional.
-The conference would be nominally scheduled for one full working day, unless an extension is agreed to by all parties in advance.
However, this forum must stand completely apart from other forums, such as the Arctic Council, even though its membership would still consist of the eight Arctic states that hold sovereign territory in the Arctic. The Arctic Council functions well as an intergovernmental forum on Arctic issues, but its founding documents specifically exclude any discussions on defence or security. Trying to bring security issues into the Arctic Council runs the risk of damaging a well-functioning mechanism.
It should also not involve NATO specifically, even though five of the Arctic states are also NATO members. Since the purpose of the forum is to engage in Arctic-specific security issues, the involvement of NATO could detract from the Arctic nature and openness of any discussions. Any NATO role in an Arctic security forum must be defined and accepted by Russia, if at all. First and foremost, the forum must be able to function from a setting of sovereign equals, of which any alliance would certainly complicate to say the least – a notion that diplomatically parallels the exact difficulties presented by consideration of the EU as an official Arctic Council observer. In the Arctic security forum, membership would only consist of the eight Arctic states – no observers.
While an Arctic defence forum described above is important, it should not exist as the only engagement between the Arctic states in understanding each other's defence postures. Ongoing traditional diplomacy and military diplomacy would continue to play important roles, as will existing bilateral security agreements. However, as mentioned previously, a new Arctic security forum must be able to function unilaterally with defined authority and jurisdiction.
The Role of Military Diplomacy
The role of military power in today's world exemplifies a much different meaning from the past. Use of military might by developed nations to resolve or influence global issues increasingly represents options to be employed only as a last resort, if at all. The ever-growing economic interdependence and strong institutional architectures that help facilitate global relationships provide just an initial understanding concerning such world order, and such forces likely apply throughout the Arctic region also. One of the ways in which military organizations could integrate into constructive circumpolar affairs is through use of defence diplomacy. The Oxford Handbook provides a definition as 'the employment, without duress, in time of peace of the resources of Defence to achieve specific national goals, primarily through relationships with others" as seen by "the shift from 'club' to 'network' diplomacy" reflective of advanced civilization. The Arctic Eight all have significant military resources and capabilities as well as experience around the world managing tensions. Certainly, the degree to which Russia participates in such endeavors remains difficult to ascertain meaningfully, but it does occur, and moreover, the Arctic region is somewhat of an exceptional case.
Defence diplomacy involves a desire to use military channels, and/or those of experts on defence issues, to help create a climate of trust and a convergence of interests. Those familiar with the Arctic region and its many issues might already be thinking of how the military could contribute within these definitional understandings. The most concerning defence-related issue still centers on continued Russian military buildup in their north, including significant bastion defence, several dedicated brigades, and an advanced coastal and offshore air-defence network. Such developments outpace the rest of the Arctic Eight combined by an order of magnitude, although not necessarily representative of individual or cumulative national capability. The lack of post-Crimea Western mil-to-mil contact with Russia as well as a collective Arctic security forum continues to suppress opportunities to build trust and confidence with purpose. Eventually, the United States and NATO will increase military capabilities and presence in the Arctic, and without dialogue, misunderstanding of intent and perceptions, among other things, will likely worsen.
Defence organizations often track sensitive, conflict-laden issues within categories often known as elevated, escalated, and the most dangerous, zones of miscalculation. Other issues involve tensions regarding international maritime law and increased control over disputed Arctic waters Russia considers internal. Such an 'excessive maritime claim', per the United States, would likely benefit from defence discussions and subsequent counsel amongst individual national authorities. Most recently, the United States and United Kingdom conducted a naval exercise in the Barents Sea from 03 – 08 May 2020. Although advanced notification was provided to Russia and the media largely conflated the event and meaning, Russian authorities were able to conduct observations and consequently reported findings (figure 1). While characterizing the exercise as provocative, Russian authorities noted that Northern Fleet capabilities effectively deployed to track NATO weapons and thereby avoid any incidents. When conducting the official briefing, Colonel-General Rudskoy stated that "the Ministry of Defence of the Russian Federation has always adhered to a course aimed at building a constructive dialogue with NATO" and furthermore, emphasized European concerns that "all our proposals to reduce military tension and prevent incidents were set forth in a letter from Russian Foreign Minister Sergei Lavrov to NATO Secretary General Jens Stoltenberg. In fact, our suggestions were ignored." Although possibly a demonstration of aggrandized rhetoric, such messages could be much different through use of military diplomacy and dialogue. National interests are often conveyed through strategic communications and military activities, and as a component of foreign-policy objectives already, the addition of deliberate discourse can leverage the influence of military capability and experience toward purposeful defence diplomacy.
Figure 1: Russian Ministry of Defence briefing on recent NATO activity in the Arctic
Source: Russian Ministry of Defence
Sustaining Meaningful Diplomatic Outcomes
The pace at which media attention and policy rhetoric is focusing on calls of a 'new' Cold War in the Arctic is representative of renewed global attention in the High North. Ultimately, in an age of social media, this attention creates strategic fog for northern stakeholders and indeed can cultivate strategic distrust further between Arctic neighbors. All the official dialogue in the world matters little unless it can be sustained and implemented meaningfully. Nor can a representative principal and staff conduct hasty preparations and expect to be effective during diplomatic maneuvering and negotiations. An established cycle of dialogue helps to develop and enable an active national program that requires substantial time, money and effort toward preparations that categorically culminate through the dialogue events. Such processes foster purposeful information development and sharing by Arctic defence staffs, both domestically and within the network, further elevating an understanding of each other's' policies, strategies and intent. Furthermore, regularly scheduled diplomatic events require continuous learning and processing, leading to more sustained and confident diplomatic outcomes as opposed to sporadic events.
Preparation involves more than studying different tier-level issues. A delegation must be effectively empowered to participate in a diplomatic setting, to include delivery and status of domestic positions on matters, extent and limits of compromise on issues, and introduction of propositions and interests, to name a few. Such preparations also require domestic prioritization of issues and executive agency synchronization as well as input in order to avoid inadvertent internal marginalization of national interests – again, not nearly as efficacious in an ad hoc fashion. At the same time, a major component of successful preparations – far more complex and difficult – requires an understanding of adversarial as well as competitive positions on agenda and relevant non-agenda items. Indeed, it can be a very bad day when a delegation is diplomatically outmaneuvered as a result of inadequate preparation on a reasonably expected issue. This circumstance might represent a best-case scenario when a competitor out-prepares another and scores a diplomatic win without the need to give up anything through a compromise on equal settings. Such an instance occurred on Day 10 of the Cuban Missile Crisis at a UN Security Council meeting, when US Ambassador Adlai Stevenson thoroughly 'dressed down' Soviet Ambassador Zorin through superior preparation in anticipation of the USSR position. Similarly with regard to the Arctic, having a forum ready to host this security discussion could be the difference in preventing Arctic conflict, especially when domestic and foreign goals tend to universally prefer that issues remain within the cooperative or competitive realm. The Arctic is naturally geared for sustaining diplomatic outcomes and ironically, all Arctic states hold a common strategic interest: stability.
Additionally, the value of multinational defence dialogue not only benefits from agreements, but also in the development and implementation of national strategies. Domestic policies can significantly gain advantage from positive results of dialogue as well as clarification of issues involving tension, not to mention reference to the forum itself as a venue of reliable structured discussion. Furthermore, such fora often facilitate and promote inclusivity and coverage of issues through agenda setting. However, while agendas can be abused by more influential states, today's advanced understanding and conduct of diplomacy and negotiation can help overcome inequalities through thoughtful charter establishment.
Conclusion
Many fora already exist to address most issues in the Arctic from a circumpolar perspective (see Figure 2). The Arctic Council provides an excellent forum to jointly tackle environmental issues and scientific research, and it also has provided an excellent platform to negotiate several joint agreements between the Arctic states, such as search and rescue, oil spill response, and scientific cooperation. The International Maritime Organization provided a framework to negotiate the Polar Code for shipping traffic in the Arctic. The Arctic Coast Guard Forum proves to be excellent at discussing and solving shared maritime law and regulatory challenges across the Arctic. The Arctic Economic Council facilitates sustainable Arctic economic and business development. A glaring gap in these fora is one that addresses Arctic security or defence issues. The need for an Arctic security forum is clear. Given the increasing re-militarization of the Arctic in recent years and unproductive rhetoric likely to continue, the time to establish an Arctic security forum has already passed. Dialogue between senior Arctic defence leaders and their staffs could complement other Arctic national efforts through the conduct of military diplomacy, leading to enhanced mutual understanding of defence challenges as well as the prevention of unintended conflict escalation.
Figure 2. Example of Current Arctic Organizations and Responsibilities
To move our proposal forward, we offer the following considerations as areas for further research. First, initiative could be seized by Moscow during its forthcoming Arctic Council Chairmanship (2021-2023) to officially propose and promote a forum – an enterprise opportunity completely separate from the work of the Arctic Council yet benefits from the overall Arctic emphasis during its leadership. Moreover, Russia could craft the forum and keep it void of mandated leadership, instead recommending an acceptable rotation schedule – similar or otherwise to the Arctic Council. Second, in terms of the security forum's construct, we see three viable options. Option A: The forum is limited to the Arctic Eight defence authorities and their select delegations. This is the ideal approach as it affords the most lateral movement for military diplomacy in the Arctic. Option B: Implement Option A but also develop an observer mandate. Using similar criteria to that of the Arctic Council, this would allow for NATO to engage as a clear subordinate to Russia. This signal acknowledges Moscow's concerns and perhaps also helps get around NATO's 'limited engagement with Russia' policy still in effect. Most importantly, this option ensures that any potential NATO forum role develops under Russian required consensus. This option also easily extends toward further research consideration and potential roles of other interested participants, such as China. A final study option is Option C: the development of a security forum led by the Arctic 'Western' states with an offer extended to Russia to join. This may be the least viable option given Moscow would likely reject 'junior partner' overtures. Additionally, the current fragmented Arctic defence efforts somewhat demonstrate problems with this option.
The Arctic needs a productive forum for military dialogue – one already established, functioning well and possessing the institutional maturity ready to confront future strategic challenges. It is in the best interests of the Arctic region to have a credible body in place to navigate and preemptively negotiate military-security issues and threats involving mutual interests. Military tensions in the Arctic could severely marginalize years of stabilizing accomplishments, not the least of which includes critical natural resource and environmental activities. Compelled dialogue driven by negative incidents will only invoke frustrated hindsight from stakeholders and concerned advocates. The situation is clear, and prospects obvious. Defence authorities should pursue the opportunity to effectively steer military-related Arctic security issues before circumstances force preventable crisis management.
*Dr. Elizabeth Buchanan is Lecturer of Strategic Studies with Deakin University for the Defence and Strategic Studies Course (DSSC) at the Australian War College and a Fellow of the Modern War Institute at West Point. Dr. Buchanan holds a Ph.D. in Russian Arctic strategy from the Australian National University and was recently the Visiting Maritime Fellow at the NATO Defense College. Experiences also include a recent discussion she moderated with NATO Secretary General, Jens Stoltenberg, during an official visit to Australia.
Michael J. Young is a Fellow at the Payne Institute for Public Policy focusing on Arctic policy and security.  He is a retired Foreign Service Officer with the U.S. Department of State whose tours include working as the Arctic Affairs Officer in the Office of Ocean and Polar Affairs and the Foreign Policy Advisor to Special Operations Command North, where he also focused on Arctic issues.  He was the U.S. Head of Delegation to the Arctic Council's Sustainable Development Working Group from 2013-15.  He previously served as a Surface Warfare Officer and nuclear engineer with the U.S. Navy for 15 years.
UN salutes new Libya ceasefire agreement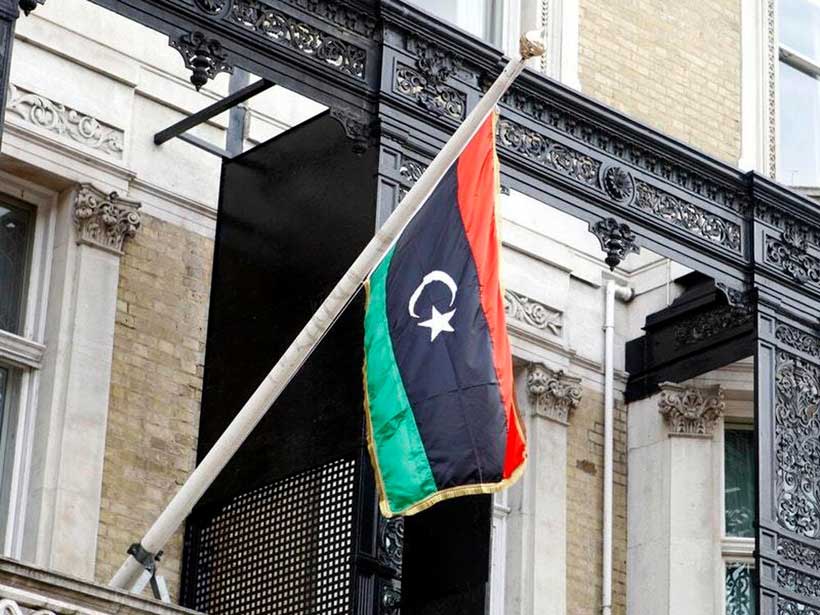 Warring parties in Libya on Friday agreed an historic ceasefire, which was hailed by the head of the UN Support Mission in the country (UNSMIL), who led the mediation, as a courageous act that can help secure a "a better, safer, and more peaceful future for all the Libyan people".
"I would like to salute you, because what you have accomplished here takes a great deal of courage", said UNSMIL chief, and Acting Special Representative, Stephanie Williams, at a press conference in Geneva. "You have gathered for the sake of Libya, for the sake of your people, to take concrete steps to end their suffering."
The country has been roiled by division and conflict, since the overthrow of former dictator, Muammar Gaddafi, in 2011. Supporters of the UN-recognized Government in Tripoli have been under siege for months, following an offensive by forces of the rival administration of the self-styled Libyan National Army (LNA), led by Commander Khalifa Haftar.
UN-led mediation by the 5+5 Joint Military Commission, representing the two sides, yielded Friday's agreement, that Ms. Williams said could help secure "a better, safer, and more peaceful future for all the Libyan people.
"I salute your sense of responsibility and your commitment to preserving Libya's unity and reasserting its sovereignty", she said of the accord.
Hopes of 'lasting ceasefire'
She said the two sides had come together first and foremost, as Libyans, together: "The road was long and difficult at times, but your patriotism has been your guide all the time, and you have succeeded in concluding an agreement for a successful and lasting ceasefire."
I hope that this agreement will contribute to ending the suffering of the Libyan people and enabling the displaced, both outside and inside the country, to return to their homes and live in peace and security."
The UNSMIL head said the agreement "represents an important distinguishing mark for Libya and the Libyan people. I very much hope that future generations of Libyans will celebrate today's agreement, as it represents that decisive and courageous first step towards a comprehensive settlement of the Libyan crisis that followed."
Work lies ahead
Ms. Williams said there was "much work ahead in the coming days and weeks to implement the commitments contained in this agreement" adding that it was important to continue focused negotiations, "as quickly as possible in order to alleviate the many hardships that this conflict has caused to the Libyan people."
She said she knew that the Libyan people "can count on you" and added that "the United Nations is with you and the people of Libya. We will do our utmost to ensure that the international community lends its full and unwavering support to you."
Secretary-General hails 'fundamental step toward peace and stability'
The UN Secretary-General António Guterres welcomed the ceasefire, telling journalists in New York on Friday that represented "a fundamental step toward peace and stability in Libya."
"I congratulate the parties for putting the interest of their nation ahead of their differences…Too many people have suffered for too long. Too many men, women and children have died as a result of the conflict", said the UN chief.
The agreement was negotiated within the framework of the 5+5 Joint Military Commission with talks facilitated by the UN on the basis of Security Council resolution 2510 and 2542.
It is the result of four rounds of negotiations held since February of this year, Mr. Guterres reminded.
"I call on the international community to support Libyans in implementing the ceasefire and in bringing an end to the conflict. This includes ensuring the full and unconditional respect for the Security Council arms embargo.
"And I urge the Libyan parties to maintain the current momentum and show the same determination in reaching a political solution to the conflict, resolving economic issues and addressing the humanitarian situation."
The UN chief said UNSMIL was making preparations to resume the Libyan Political Dialogue Forum – which stalled when fighting escalated last year – adding that it will be preceded by a series of meetings and consultations that would facilitate "the resumption of inclusive, intra-Libyan political talks – Libyan-led and Libyan owned."
"There is no military solution for the conflict in Libya. This ceasefire agreement is a critical step. There is much hard work ahead", he warned.
Momentum for global ceasefire builds
The UN chief also stressed that Friday's breakthrough comes in the context of his repeated calls for a global ceasefire, so that all energies an be focused on the COVID-19 pandemic.
"With the inspiration of the Libyan agreement, now is the time to mobilize all efforts to support the mediations taking place to end the conflicts in Yemen, Afghanistan and in Armenia and Azerbaijan – where active hostilities are causing immense suffering for civilians", he said.
"There is no military solution for any of these conflicts. The solution must be political."
Nagorno-Karabakh: Will the Landscape Change following the Latest Unrest?
The situation surrounding Nagorno-Karabakh, which has deteriorated dramatically in recent days, has clearly demonstrated that it is becoming increasingly impossible to maintain the status quo. An urgent solution to the conflict is needed in order to avert a serious crisis.
External factors that have contributed to the escalation of the Nagorno-Karabakh include: 1) Russia finding itself hemmed in from all sides by the seemingly unbreakable transatlantic coalition which has given the West considerable room for manoeuvre with regard to the Nagorno-Karabakh issue; 2) Turkey's exponentially growing ambitions to build a new Islamic Empire, which are bolstered by the country's strong alliance with the United States; and 3) the complete ineptitude of the OSCE Minsk Group (Russia, the United States and France), which has been working towards the settlement of the Nagorno-Karabakh conflict for three decades now without a single major breakthrough.
One thing is clear — the conflict needs to be resolved, and now is the time to do it. One thing is clear — the conflict needs to be resolved, and now is the time to do it. Meanwhile, the entire world is calling for the two sides to abandon the hostilities and sit down at the negotiating table. The conflict needs to end now.
All the attempts to resolve the conflict — the Madrid Principles, the Zurich Protocols, the renewed Madrid Principles and the talks in Kazan on the settlement of the Nagorno-Karabakh conflict — have looked more like possible ways out of the crisis than roadmaps for concrete actions. This is why they have all remained on paper, as none of the sides has been prepared to make even the smallest of compromises.
While the two central players in this geopolitical puzzle, Turkey and the United States (which is keen to see a settlement), may disagree profoundly on a number of issues, Ankara has always been viewed by Washington as a country of indisputable geostrategic importance and its key partner in the region, and this will not change. It is thus no coincidence that the "Turkey–U.S. Defense Cooperation: Prospects and Challenges" report for the United States Congress notes that "Turkey is a more significant ally for the United States at present than during the Cold War" given U.S. interests in the region. Turkey's attitude towards NATO will not undergo any major changes either. According to President of Turkey Recep Erdogan, Ankara "has no intention of giving up its NATO membership or its allies." This is something that Russia must keep in mind when developing its South Caucasus policy.
Turkey and the United States have a number of common interests in the South Caucasus that allow the two countries to work together. These interests include joint projects in the Black Sea region and call for strengthening security cooperation there, an issue that is becoming increasingly important. This state of affairs can be partly explained by the fact that the signing of the Convention on the Legal Status of the Caspian Sea effectively blocked access to the Caspian Sea for non-regional players, at least for the time being, which only makes their desire to be involved in the Black Sea region even stronger.
Both the warring sides and the United States and Turkey have long expressed the desire to find a way out of this impasse, and Washington and Ankara will work together to try and ensure a quick settlement to the conflict.
As far as the strategists in Washington see it, Azerbaijan is far more invested in finding a solution than Armenia is. This is why we have seen significant changes in the U.S. policy towards Yerevan, including insisting that the latter make certain concessions in order to bring the conflict to an end. The arrival of Nikol Pashinyan as Prime Minister of Armenia brought with it a noticeable shift in Armenia's foreign policy towards the United States, which should make this strategy successful.
Consequently, Washington's policy in this area will focus, first of all, on normalizing relations between Turkey and Armenia, and then on opening the border between the two countries. After all, it is of strategic importance for Washington to find a solution to this problem, especially when U.S.–Iran relations are likely to deteriorate even further moving forward. This could also help speed up the settlement process, as well as promote cooperation not only between Baku and Yerevan, but also with Ankara, which should lead to Turkey and Azerbaijan lifting the land blockade against Armenia that was established during the Nagorno-Karabakh conflict.
What is more, Washington has started to openly demonstrate its intention over the past few years to resolve the Nagorno-Karabakh conflict independently in the context of implementing its policy in the South Caucasus.
This was initially reflected in a statement given by former U.S. ambassador to Armenia Richard Mills, where he claimed that the status quo is unacceptable and cannot last forever, adding that "any settlement of the Karabakh conflict is going to require the return of some portion of the occupied territories," although events like the 2016 April War make this even more difficult for the Armenian people. And things have gone from bad to worse since then. A series of resolutions passed by the 115th United States Congress — Resolution 573 "calling on the President to work toward equitable, constructive, stable and durable Armenian–Turkish relations," and Resolution 190 of the 116th United States Congress "supporting visits and communication between the United States and the Republic of Artsakh" (the new name of the Republic of Nagorno-Karabakh following a 2017 referendum) — prove that Washington intends to change the situation in the conflict zone and become the main moderator in the disagreement. In this regard, it is worth paying special attention to the main areas of Washington's policy towards Armenia, which has been thought-out particularly well, taking into account both the need to repair relations between Turkey and Armenia, giving Yerevan access to the rest of the world, and to improve relations with the Republic of Artsakh, which could become the main stumbling block in the way of Armenia's drift towards the West.
The U.S. approach to Armenia could thus change completely as it develops its new policy in the South Caucasus. This state of affairs also meets the interests of Turkey, which, as a key player in the South Caucasus, will welcome any positive change in Yerevan's foreign policy towards the West. With this being the case, it could be argued that Ankara not only pursues its own geopolitical interests in the region, but also acts as an instrument through which the United States can further its policies there. This could lead to a change in the configuration of the South Caucasus as a whole, which is unacceptable for Moscow in terms of preserving and promoting its interests in the region given the fact that Armenia is key to Russia's plans for maintaining its strategic interests in the Caucasus, as well as in the context of the "Iranian problem."
Right now, Armenia is Russia's only strategic ally in the South Caucasus, and ensuring the country's security is its number one problem. Russia has always played an important role in the Nagorno-Karabakh settlement process, and this will not change. It thus needs to take stock of the opportunities it has to influence the resolution of the problem, which, it would seem, neither Baku nor Yerevan, nor indeed the West, fully appreciate. Moscow believes that the only way to put an end to the confrontation, which has been going on for some 30 years or so, is through political means. It would thus be fair to assume that military intervention "from the outside" is extremely unlikely, because Moscow's main task here is to maintain at least a shaky balance between Yerevan and Baku. In other words, Moscow believes that "freezing" the conflict is more acceptable in the current climate, where neither Azerbaijan nor Armenia, which are involved in an intense ethnopolitical confrontation, have any intention of making compromises or concessions, than actually working for a final resolution to the long-standing conflict — although this approach has not yet led to peace.
However, given the escalation of the conflict, it would seem that Moscow, for which the two warring sides are of great importance, is in a position to launch the renewed Madrid Principles, which be the first step towards resolving the conflict. Both Azerbaijan and Armenia were prepared to negotiate under these principles and saw it as a blueprint for achieving a peaceful solution. However, the renewed Madrid Principles touch upon issues that are extremely sensitive for Armenia, primarily regarding the international legal status of Nagorno-Karabakh. Azerbaijan has stood firm on its position that a settlement can only be reached if its territorial integrity is preserved, which means restoring its jurisdiction over Nagorno-Karabakh. This condition has been the main obstacle to the settlement of the conflict. Another important issue is the return by Yerevan of seven regions that neighbour Nagorno-Karabakh and are controlled by Armenian forces. Nevertheless, the renewed Madrid Principles project needs to be launched as soon as possible — after all, the main obstacle is the unwillingness of the parties to make concessions. Beyond that, where there's a will, there's a way.
From our partner RIAC
Could a maritime chain hub between US-Japan-Viet Nam-India to tackle China?
The rise of China in the last few years has been a cause of concern and as China grew economically, it strengthened its claws in the realm of defense and has been expanding its paws into the territories of other countries which is a violation of a country's sovereignty and territorial integrity. Chinese aggressiveness has become the bone of contention and this is a serious matter of concern for all the countries who are facing the China threat. China's need to dominant certain trade routes; sea-lanes of navigation and communication jeopardizes the concept of a free and open navigable sea route which is unacceptable as no one country completely owns any sea-lanes and routes of trade and communication. Therefore, in order to protect the national interest and freedom of navigation of many countries, this article tries to build an argument on could there be a possibility for a formation of a maritime chain hub consisting of Guam, Okinawa, Cam Ranh Bay and the Andaman and Nicobar Islands which could tackle China's maritime aggressiveness.
Guam, a former Spanish colony and now one of the 17 non-self-governing territories of the United States of America. Guam has been a military asset since the World War II as the U.S. moved its military aircraft. Also, during the Viet Nam War, Guam was a major asset in the Pacific as it was a base used by the Americans. Presently, it serves as a major military base for America and has the U.S. Air Force and Navy installations and is also a major hub for the submarine communications cables between the western United States of America, Hawaii, Australia and Asia. There is a huge military presence in Guam and the United States of America moves its military assets and personnel to Okinawa, the Japanese island. Guam as a naval base port plays a rather important part as it is home to the four nuclear-powered fast attack submarines and two submarine tenders. Also, Guam has the Andersen Air Force Base which hosts the Navy helicopter squadron and Air Force bombers and along with this has two-three kilometers runways and also caters as a storage facility for fueling purposes.
In June 2020, the U.S. Naval Base Guam has been designated as a 'safe haven liberty port' and the U.S 7th Fleet flagship USS Blue Ridge(LCC 19) and the USS Bunker Hill(CG 52) have been placed here and eventually, on 24 June 2020, the Nimitz Carrier Strike group which consists of the aircraft carrier USS Nimitz (CVN68), Ticonderoga-class guided-missile cruiser USS Princeton (CG 59) and the Arleigh Burke-class guided missile destroyers USS Sterett (DDG 104) and the USS Ralph Johnson (DDG 114) all placed in the safe haven liberty port in Guam. This move to make Guam a safe heaven liberty port should be seen from the perspective of a potential logistical re-supply, possible repairs and a safe place where the sailors could rest and rejuvenate themselves amidst the global Coronavirus pandemic. One needs to understand that Guam needs to be militarized to ensure that North Korea doesn't attempt any form of attack on Japan which is under the Security umbrella of the U.S. and also, Guam which is an American territory needs to protect itself from North Korea it is in a feasible striking distance and so, this military buildup in Guam by the United States of America is justified.
Japan's Okinawa is strategically very important for the United States of America as it is a vital component in America's grand strategy towards the region of East Asia. Also, the geographical location of Okinawa has a greater meaning as Okinawa is placed between the Philippines, East China Sea and the South China Sea and also the neighbourhood consists of China, Taiwan, the Korean Peninsula and of course the mainland Japan which is a sure game-changer. Okinawa makes an important military outpost, protects the freedom of navigation and the American national cum security interests which inevitably help in the stability of this region. The bases at Okinawa are of geostrategic value as it deals with a fairly flexible range of positions to counter any potential threat and so, help keep interests of Japan safe especially with regard to the Senkaku Islands and the presence of America at Okinawa is a clear deterrent for China incase it tries to create any provocation. Also, South Korea is in an alliance with the United States of America and so, Okinawa also acts as a critical component in dealing with North Korea and in order to maintain peace in this region, the American marines plays a vital role as protectors. Also, for Taiwan, the presence of American forces at Okinawa helps Taiwan from China's threats. Therefore, Okinawa plays the role of a major game-changer in the region of East Asia.
Viet Nam's Cam Ranh Bay has always been a melting point of strategic interest since the 19th century as it was a hub of continuous positing of countries like France, Russia, Japan and the United States of America where their navies were stationed well as the Cam Ranh Bay acted as an excellent protected natural harbour along with being a refueling station. The geostrategic location of Cam Ranh Bay is near the South China Sea and this is therefore called the 'Apple of the Eye of the East' as it can help contain Chinese aggressiveness in the region. Also, the Japan-Guam-Australia Fiber-Optic Submarine Cable System Project is being developed with the help of Japan and the United States of America. Cam Ranh Bay if redeveloped could the most valuable asset that Viet Nam has.
India's Andaman and Nicobar Islands is as of today one of the most sort after strategic hub of islands as it is being developed into a maritime and startup hub and the recent inauguration of the submarine optic fiber cable between Chennai and these islands would change the face of digital connectivity. India has also proposed transhipment hub in the Andamans helping these group of islands become a major centre for blue economy and maritime cum startup hub. Also since 2019, the Indian Naval Air Station-INS Kohassa has been developing the island in full swing and this could well become a vital strategic outpost for India and can easier watch and monitor the rival navies activities along with set an integrated surveillance network.
The question is how does Guam-Okinawa-Cam Ranh Bay-Andaman and Nicobar Islands form a strategic maritime chain hub?
First, Guam is an American territory, Okinawa, a Japanese territory, Cam Ranh Bay, a Vietnamese port and the Andaman and Nicobar Islands, an Indian group of islands and so, all these countries are a part of the Quad and this Quad grouping is believed to tackle China's aggressiveness.
Second, all these countries have excellent relations with another and aim for stronger strategic relations. Japan is in a Security Alliance with the United States of America and Japan is India's all-weather friend. Due to Japan as a common friend between India and the U.S, they too have excellent strategic partnership with one another. Viet Nam and the United States have been developing relations and are working towards becoming strategic partner. Japan's relations with Viet Nam has been a major part of their ASEAN relations and separately too, Japan has been working on strengthening stronger relations with Viet Nam and in fact, the first visit of Prime Minister Suga is to Viet Nam which highlights Viet Nam's importance for Japan. India also has wonderful relations with Viet Nam and Viet Nam being the ASEAN Chair in the times of pandemic has played a vital role in medicine, rice and mask diplomacy and has created its niche as a vital and understanding partner in the ASEAN along with evolving as a regional and a global partner in the Indo-Pacific region.
Third, all these four countries are facing security concerns with China. China has off late made several advances in the East China Sea, South China Sea and the Indian Ocean and all this has impacted the United States of America, Japan, India and Viet Nam as their geostrategic locations are of prime importance to these countries. China has been making aggressive claims in these waters is a violation of the sovereignty and territorial integrity of the US, Japan, India and Viet Nam.
Fourth, Japan has been the pioneer of the Free and Open Indo-Pacific region aiming for a rules-based order so as to have the freedom of navigation and access to sea-lanes and routes to all the nations. After Prime Minister Shinzo Abe announced the Free and Open Indo-Pacific Strategy at the 196thSession of the Diet in January 2018, this strategy was soon adopted by the United States of America and India. ASEAN too adopted this strategy which meant that Viet Nam too has accepted this strategy. Many believe that this Indo-Pacific Strategy is to tackle China's aggressiveness.
Fifth, Japan's initiative of the Expanded Partnership for Quality Infrastructure is aimed to promote infrastructure and development cooperation among the countries could also pave the way for port infrastructural development among thee US, India and Viet Nam.
Therefore, keeping in mind, the above-mentioned arguments could well pave the way for a possible formation of a maritime chain hub consisting of Guam, Okinawa, Cam Ranh Bay and the Andaman and Nicobar Islands which could tackle China's maritime aggressiveness.
The views expressed are personal