With the West in Turmoil, Africa Looks for New Partners
Nothing reflects the broken international structure more aptly than the news that the United States has grabbed the world's entire supply of coronavirus-treating drug remdesivir till October. With this new dog-eat-dog mentality and a potential trade war brewing between the West and China, Africa finds it has been left to fight the pandemic and economic crisis all on its own. Investment from the West has dried up, while China's standing has been damaged on the continent.
It therefore comes as a stroke of good news that Zimbabwe has signed a landmark $58 million deal with Belarus to mechanise its agricultural sector. Belarus will provide farming machinery and advanced technology to Zimbabwe, as well as training for local farmers in cultivation, seeding, irrigation, and crop harvesting.
This could be a game-changer for Zimbabwe, which is reeling from the economic effects of coronavirus, a disastrous drought and Cyclone Idai last year that left over 5 million people in need of food aid.
Belarus is a former Soviet republic with a proud history of mechanical engineering. Its manufacturing sector employs 150,000 people and encompasses about 200 enterprises. The product range is extensive: from microchips and heart valves to the world's biggest dump trucks (of which it occupies 30% of the world market).
Importantly, Belarus provides foreign buyers with project financing on favourable terms from the Development Bank of Belarus, the African Export-Import Bank (Afreximbank) and the Eastern and Southern African Trade and Development Bank (TDB). This is particularly useful during the present crisis as normal financing has dried up.
Leading the trade and investment push to Africa is Alexander Zingman, the head of AFTRADE DMCC, the official representative of several Belarusian manufacturers.
He has set up a servicing centre in Harare to provide spare parts and warranty services. The first batch of modern farm machinery has been shipped to Zimbabwe, including 20 grain harvesters for grain and maize, 100 tractors, and 52 seed drills, with the second batch expected by December.
"This project will enable Zimbabwean farmers to boost the productivity of their land and to reduce their losses through timely crops harvesting. The result will be that farmers can ensure the food security of Zimbabwe itself and, where possible, also raise their income levels by exporting their produce," said Zingman.
Agricultural machinery is in demand in Africa as the continent gears up to increase food production. The exports of Minsk Tractor Works (MTZ) to the continent soared 70% in January-March 2020 over the same period in the previous year. It has supplied tractors to Kenya, Nigeria, Burkina Faso and other countries.
AFTRADE DMCC has been active in Zambia too, setting up a tractor manufacturing plant that will create more than 1,000 local jobs. The assembly plant will also boost Zambia's revenues through the export of tractors to neighbouring Malawi and Mozambique.
This project will provide industrialisation for the Zambian economy, as well as service support, spare parts and training, and the transfer of know-how and technology from Belarus.
Zingman has been building a long-term relationship with Africa beyond trade and exports. In April 2019, he helped provide humanitarian aid to Zimbabwe and Mozambique after the devastation caused by Cyclone Idai, flying in much-needed supplies to support survivors of the natural disaster.
In a way, businessmen like Zingman have become ambassadors for their countries, as they travel around the world meeting with politicians and executives in pursuit of win-win business and trade deals, but are also the first on the ground in times of need, whether it's a public health crisis or a natural disaster.
"African countries and Belarus have much to offer each other. At a time when the rest of the world is closing its doors, Belarus stands by its African partners and is ready to help rebuild their economies," said Zingman, who is also the Honorary Consul of Zimbabwe to Belarus.
Most importantly, there is no colonial baggage or debt traps in this relationship. Unlike trade pundits from the West, Zingman does not set stringent conditions or view Africa through a colonial lens. Nor do Belarusian companies demand high interest repayments, unlike Chinese suppliers.
African countries are also keen to steer away from foreign assistance that has, at times, developed a culture of dependency in Africa and fostered paternalism – as opposed to partnership – by the West. Increasingly governments across the continent are thus taking the opportunity to create an enabling environment to build prosperity in Africa through broader economic and trade engagement as well as job creation initiatives.
The growing bond of trust that AFTRADE DMCC has developed between many Africa countries and Belarus is cleverly tapping into that concept. These unexpected partners consider themselves on equal footing, certainly an auspicious prerequisite for a successful, long-term relationship.
Paying Tribute to Mother Teresa of Somalia, Late Dr. Hawa Abdi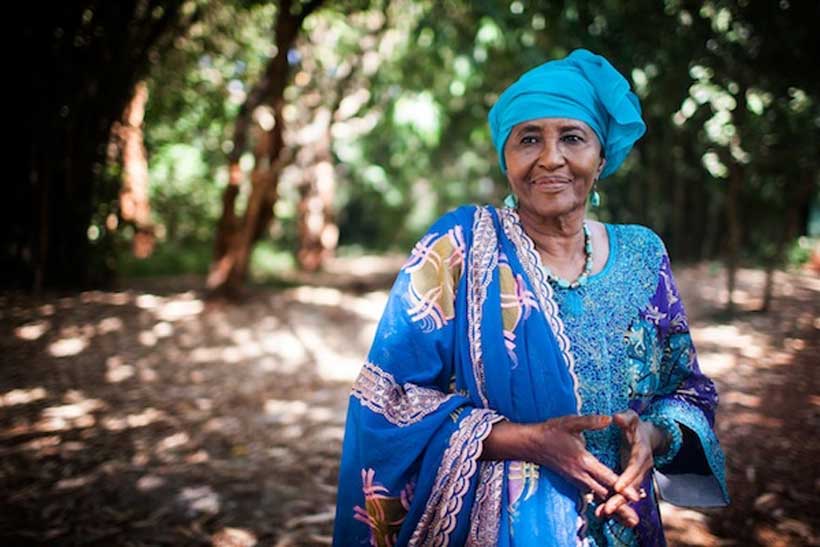 I know this earthly life is temporary, but I felt great sorrow when I heard the passing of Dr. Hawa Abdi who died at age 73 in Somalia's capital, Mogadishu. Dr. Hawa Abdi helped the helpless, the ill, and the internally displaced women and children, and the weak in war-torn Somalia for decades. She studied medicine in Ukraine and "In 1983, she opened a one-room clinic, on her family's ancestral property, which over the years grew into a settlement which hosts tens of thousands of people, mainly women and children. The settlement in the Afgooye corridor, less than 15 miles from Mogadishu, includes a hospital, a school and a refugee camp."
When Hawa Abdi was 11, her mother died due to childbirth complications, and because of the medical reason her mother lost her life, and owing to the fact that childbirth-related death was common (and still is) in sub-Saharan Africa for lack of maternity care, Hawa Abdi decided to become a doctor, especially a female gynecologist. And when the civil war broke out in Somalia in early 1990s, as many Somalis were getting displaced by the war, mainly in and around the capital, Mogadishu, more and more people, especially women and children, moved and took refuge in and around the compound of Dr. Hawa Abdi. She worked tirelessly to save lives and became a lifeline for tens of thousands of Somalis. She was not only helping the needy civilians, but the wounded of the countless warring sides in and around Mogadishu and elsewhere ended up over the years in her clinic and hospital to be treated impartially. Hawa Abdi was a selfless figure who helped her fellow countrymen and countrywomen without discriminating them based on their clan, the main malice that has been destroying Somalia for decades, the biggest factor that plunged the country into an endless civil strife.
At times, Hawa Abdi confronted the Al-Qaeda affiliated Al Shabab to save people in her camp, even when they threatened her. At certain times, some of the people in her camp fled for their lives, but she stayed in her camp no matter how dangerous it was to be fearless. That is how brave she was.
Hawa Abdi not only took risks herself, but she supported her daughters to become doctors so that they can help the needy people in their homeland, Somalia. When you look at the alternative, which is for them to live a peaceful life elsewhere, they prefer to stay in their country and help their people. This can teach the Somali people that these beautiful souls sacrificed so much by saving their fellow Somali citizens.
Hawa Abdi was a role model for millions of Somali girls and women. She braved great adversaries in life. She overcame countless challenges and showed all Somalis, even men, that one person can have a great positive impact on her country and people. She showed her African sisters and brothers, with resolve, mountains can be moved because we live in an inner-connected world where one person, one village, and one city can have a certain influence on the entire world. On the other hand, the world has become a global village, and I believe, compared to when Hawa Abdi started her venture decades ago, now we have more opportunities to do what Hawa Abdi did; the world is more connected than before, and information can be obtained faster and more efficiently. The power of the internet is amazing, and if one can have the access and ways to find and understand the right data, one can do wonderful things to change life for the better.
The news of Hawa Abdi's death shook the Somali social media world. Many Somali social media users, including me, shared their sadness on the death of this giant woman. Rest in peace!
Spilling Oil and Mosaic Racial Prejudices
My heart is heavy with prayers on behalf of Mauritius where I am blessed to be residing and working, as an oil spill catastrophe compounds the economic impacts of the COVID-19 pandemic in this idyllically beautiful though in so many ways fragile land. Thanks with ultimate love to those in many places around the world who have texted and emailed your concerns to me about Mauritius. Your prayers and positive thoughts are well needed and greatly appreciated.
This tear jerking natural disaster gives us a reflection today exacerbated with the horrible Beirut blast earlier this week and the deteriorating oil tanker in the Red Sea unattended as proxy war rages in Yemen ; and the profit motive loosening of environmental protections in America,Brazil , and elsewhere in the established and emerging West. And it is impossible for us , none of us, to escape from the web of disastrous environmental circumstances engulfing all of us whether we believe in global warming or not-the coming further biodiversity consequences of global warming adding rock salt to the wounds of and going beyond the present COVID 19 pandemic and its emerging mutations.
Whether we live in the declining North and West or in the emerging South and East in the world, or on mainlands or on islands, the climatical catastrophes are now causing us all to be jolted rudely out of our beds of complacency.We are being forced to open our eyes without the time to indulge in the luxurious privilege of rubbing them to get the sleep out of our dropping post-dreamland eyelids.
What more will it take for we human beings to realize and act constructively about the sobering fact that physical environments and the non-human lives within them and what we human beings do to them have real consequences at all times.We can never afford to waste one minute ignoring anything or being careless when it comes to our environments and to non-human living animals and plants. No matter where we are or stand in any society especially one which claims to be a democracy ,we can never afford be sleep at the wheel.We must always be alert and be proactive and preventive rather than passive and indifferent since that which is a tranquil paradise environment or a scenic port or luscious green forests or beautiful spacious plains and even impoverished and wealthy rural and urban living spaces can in the blink of an eye go up in explosive environmental and life taking smoke or toxic spill.
It is one thing when such environmental and life taking destructions occur beyond our human control such as an earthquake or cyclone or hurricane or volcanic eruption so long as preparations by governments and communities are made so when some mass destructive catastrophe does occur everyone no matter their wealth or poverty and cultural background are all taken care of the same quality of life way.It is the most tragic mass catastrophe which occurs when it is due to governments and communities having the ability to develop natural disaster preparation capacity though don't bother to do so or ignore the warnings of citizens and noncitizens since for demographic reasons they do not have the respect of the powerful to be listened to and heard for urgent action.Thus when the natural disaster comes those in government, private sector, and civil society power are caught flatfooted and the entire society comes to suffer in one way or another. We all become victims of our own negligence within not outside our control.
In the midst of and in the aftermath of any natural disaster be it beyond or within human control there invariably is raised in these global social media days the human rights concern of the uneven ways the mass catastrophe affects the quality of life of impacted populations. This is especially the case for the quality of life of mass natural disaster effects on historically excluded and marginalized populations. In Mauritius it is the issue of African Kreoles; that is, those Mauritians with African descent heritage who acknowledge their heritage though realizing there are many Mauritians of Indian, English, and French descent with African heritage though not acknowledged let alone in more cases than a few, even known.
Yesterday evening one event I attended in the nearby Town of Rose Hill, not cancelled due to the impending oil spill disaster, was the first ever public conversation in Mauritius about racial prejudice in this otherwise island paradise. Though there was the predicted attempt by some speakers to dilute the issue by speaking about other kinds of non-racial social prejudices ,the focus appropriately always came back to systemic and structural anti-Afro- Kreol prejudice in this land most apparent in the public and in the corporate private sectors and in interracial dating, marriage, and family formations in relation to Afro-Kreols . Paradoxically people here in Mauritius are so closely knitted and friendly though can be so deeply historically divided in their racial prejudices ( Though treated kindly as a brother in most private and public places I have been in Mauritius, I have not been totally immuned from anti-Black racism before or/and after I have opened my American sounding mouth.For instance , consider the Indian doctor seeing me for the first time asking me if the "Professor " before my name was my actual title or a nickname– well we know Black people, especially older or younger men ,no matter their nationality are not well educated and love nicknames like Prof and Doc, right?🤭😊).
Most of the speakers tried to link their concerns about historical and contemporary anti-Afro-Kreol racial prejudice to the globalizing U.S.George Floyd and Black Lives Matter protest movements supplemented with American peace songs.Just as much there could have been needed attention given to how the oil spill disaster is a tragic reminder of the historic Afro-Kreol fishing industry and how much it has been excluded from especially corporate domestic and global trading markets and trends towards importing fish from other countries than from their own largely Black fishermen.
But it was a good start especially with so many young people present..the future of this nation with such potential to become incredibly great. Have to start somewhere in discussing publicly such a delicate paradoxical blemish in a society with aspirations to be a big league nation in a world where any form of racial prejudice will ultimately impede the dreams of lofty national ambitions.
In moving forward from last night's first public try to have a conversation about anti-Afro-Kreol racial prejudice and as the gallant efforts to contain the drifting oil continue, there is the chronic need of a more comprehensive national restorative justice initiative involving government and local community leaders developing platforms to have difficult transparent conversations to address the deep societal ugliness captured in what an Afro-Kreol sage told me soon after my arrival: as one Mauritius poet said: Mauritiuians grow two things: pineapples and prejudices.
Though Mauritiuians are indeed nice and kind in public and in their numerous festivals and religious celebrations, what is expressed way too often behind closed doors and in private and public unspoken or spoken preferences in who gets what when it comes to power and privilege and to decent quality of life ( including recruitment invitations to faith communities) are totally different stories. The mosaic spillings of racial prejudices in Mauritius hidden and usually when mentioned explained away under the guises of words like communalism and religion or through mere pretending that such degradation while happening don't happen, is a slow cancer eating away at the soul of this truly lovely nation which needs to be brought to the surface and made to cease.That is ,if the nation wants to become in substance, not just in global measures of development, a big League global democracy. The mosaic of racial prejudices against Afro-Kreols, African and Asian immigrants,Chinese, Francos, British,Indians, Christians, Muslims, and Hindus in Mauritius has created and sustained very much taken for granted divisions of marginality and exclusion in public and private spheres of Mauritius life which wastes human resources, and create social and emotional distance anxieties and fears and contributes tremendously to brain drain of the highly talented though with devalued demographics migrating elsewhere . Unless this mosaic of deeply rooted racial prejudices is thoroughly publicly addressed, acknowledged, and properly processed and resolved through authentic restorative justice public policy designs and effectively monitored in implemented in the midst of the bare wires of racial inequality being exposed in the midst of the COVID-19 pandemic and now oil spill crisis tainting tourist attracting beaches with obvious racialized winners and losers who always win and lose here wasting human and material resources in so many ways in the process, what will Mauritius be say next year let alone say 10 years from now as a highly vulnerable island state with such high profile ambitions of being a big league African democracy in the world?
And of course from a global perspective, Mauritius ,in reflecting about this big intricate question, is a case study for the rest of the world as most of us around the globe are in the midst of environmental disasters with such dire consequences for most of us residing in such unequal societies.If it is not racial prejudice, it is prejudices premised on age, caste, culture, ethnicity, gender , language, nationality, religion ,socioeconomic status or stateless status, which construct the false dehumanizing walls which keep us apart and degrade our views of others and of ourselves about human capacities to contribute to the well being of the societies we develop, sustain, and change. And then when natural disaster hits elites in private and public sectors are either prepared to address the needs of the most privileged while at best emergency crumbs are tossed to the least among us( e.g. the pathetic COVID 19 pandemic economic aid distributions with the predictable racial disparities, in the States though virtually all over the world).Or through ignoring what the usually ignored forewarn about possible future natural disaster due to the color of their skin or ancestry or some other source of demographic degradation, such as per chance being Afro-Kreol fishing men and women expressing concern about the tilting grounded ship …and now we see.
Every competent voice in every society is needed and it endangers society when needed competent voices are categorically ignored and otherwise devalued. Otherwise we can venture into waters with oil slick streaks and do so totally un- necessarily with long lasting if not permanent catastrophic consequences for all of us especially for the most vulnerable and underprivileged but for all of us.
Russia's Lukoil Finds A New Home In Senegal
Undoubtedly, a number of Russian companies have largely underperformed in Africa, which experts described as primarily due to multiple reasons. Most often, Russian investors strike important investment niches that still require long-term strategies and adequate country study. Grappling with reality, there are many investment challenges including official bureaucracy and technical hitches in Africa.
Lukoil, the largest Russia's oil company, has had a long history, going forth and back with declaration of business intentions or mere interests in tapping into oil and gas resources in Africa. In the past, Lukoil have said in separate reports about its business deals in a number of African countries including Ghana, Cote d'Ivoire, Sierra Leone and Nigeria. These are coastal countries on the Gulf of Guinea (Atlantic Ocean) in West Africa.
Besides technical and geographical hitches, Lukoil noted explicitly in its official reports that "the African leadership and government policies always pose serious problems to operations in the region." It said that the company has been ready to observe strictly all of its obligations as a foreign investor in Africa.
Lukoil has moved to Senegal. Predominantly rural and with limited natural resources, Senegal is classified as a heavily indebted poor country, with a relatively low Human Development Index. Most of the population is on the coast and works in agriculture or other food industries. Other major industries include mining, tourism and services.
Energy is produced by private operators and sold to the Senelec Energy Corporation. According to a 2020 report by the International Energy Agency, Senegal had nearly 70% of the country connected to the national grid. Current government strategies for electrification include investments in off-grid solar and connection to the grid. Senegal has a population of approximately 15.9 million.
In spite of that, business is business. Quite recently, Lukoil, one of the largest Russia's oil companies, publicly declared that it finally concluded an agreement with Cairn Energy PLC to acquire a 40% interest in RSSD (Rufisque, Sangomar and Sangomar Deep) project in the Republic of Senegal for $300 million in cash.
The agreement provides for potential bonus payment to Cairn Energy PLC of up to $100 million after the commencement of production. The transaction is subject to customary conditions, including the approval by the Government of the Republic of Senegal.
The blocks of the project covering 2,212 sq. km are located on the deepwater shelf of the Republic of Senegal 80 km from the shore with the sea depth of 800-2,175 meters. The blocks include two discovered fields: Sangomar and FAN.
The Final Investment Decision (FID) on the Sangomar field was taken early 2020 and the field development has begun. According to the Company's estimates, the recoverable hydrocarbon reserves of the Sangomar field total approximately 500 million. The field is planned to be launched in 2023, with designed production level of 5 million tons of crude oil per year.
The RSSD project is currently implemented under a production sharing agreement. Woodside is the project's operator with 35% stake. Other participants are FAR (15%) and state-owned company Petrosen (10%).
"Entering the project with already explored reserves at early stage of their development is fully in line with our strategy and allows us reinforcing our presence in West Africa. Joining the project with qualified international partners will allow us to gain additional experience in development of offshore fields in the region," said Vagit Alekperov, President of PJSC Lukoil.
It has, however, one success story. Lukoil company's operations in the Republic of Ghana where it has focused on upstream exploration. The reserves evaluated on the blocks proves to be sufficient for their industrial development.
On the opposite side, Russian news agencies reported that Lukoil exited projects in Cote d'Ivoire, where it had led exploration in the deep offshore. The company confirmed the information about leaving the projects to TASS News Agency.
In August 2015, Lukoil also pulled out of the oil and gas exploration and drilling project that it began in Sierra Leone. According to Interfax, a local Russian News Agency, the company did not currently have any projects and has backed away due to poor exploration results in Sierra Leone.
It reported that drilling in West Africa, including Côte d'Ivoire and Sierra Leone, did not bring Lukoil the expected results, as preliminary technical results did not demonstrated commercial hydrocarbon reserves. According to official reports, Lukoil has been active in a number of countries with a high level of political and economic risks that could significantly complicate the work of the company in a particular region, and even lead to its termination.
Russia's Lukoil is one of the world's biggest vertically integrated companies for production of crude oil and gas, and their refining into petroleum products and petrochemicals. The company is a leader on Russian and international markets in its core business and its key mission is to harness natural energy resources for human benefit and supports long-term economic growth, social stability, prosperity and progress in the regions where it operates.