The Ways People Have Fund with Oligarchic Democracy in Indonesia
Democracy is the lunch of Indonesia's politicians. The law (rule of law) is the dessert. At night, they turn political parties and the topic of representation into dinner menu. And the pleasantries of people's sovereignty are snacks when watching television ahead of the sleepiness greet. Is it wrong? Of course not. Democracy is an instrument. Democracy is a tool for politicians to show their teeth and put forward their interests, both short and long term. And from a theological point of view, democracy is a tool to deny God. In democracy, God is not sovereign. As long as the people cannot punish, as long as legal institutions can be avoided, the law of God is not an urgent need, it is rarely taken into consideration.
Democracy is a matter of the people that is packaged as attractive as possible in the mouth of the political elite. Democracy is a matter of the people who are lured by sovereignty. And between the people and the elite were in fact blocked by a very thick glass wall, not even penetrated by bullets. The people can watch, but instead of touching, the sound is not even heard because it is blocked by thick soundproof glass.
For many people, democracy is a fairy tale. Democracy is sleep gratitude that can hopefully reduce the amount of monthly expenditure. Democracy is a worthless gift, but it is quite entertaining. People will get vacation at the election and be entertained during the campaign. Not bad for busting and tired anyway. Sometimes it is not uncommon, a state of democracy, many people can get free clothes, free food, and envelopes containing a sheet of money.
So, democracy is only entertainment for the people. Small talk of people's sovereignty is morning coffee, along with boasting "from the people, by the people, and for the people" as its sanck. Is it wrong? Clearly far from wrong. People only follow the beat. That is the reality of Indonesia. The people are only followers. Don't blame the people if the elections become expensive. The more politician spread money, the more requests that come. People only play with the existing natural law. Fortune comes not to be denied, right.
Even though there is no guarantee that they will be voted and approved because only God knows what in the hearts of the people, but the elite never give up. The elite do not intend to deterred. On behalf of simultaneous local elections, of legislative elections, of presidential elections, lobbies are suddenly parameterised by numbers of money. Seats are counted and converted into certain numbers, then prices are born.
For the people, they only dance to the rhythm of the music being played. People danced when "dangdut" music was sung (dangdut is one of popular music in Indonesia), dance when the classical strains are played. In fact, they are ready to contort like a Middle Eastern religious dance when the music is ruling in "casidah." (Arabic Indonesia Music). The Indonesian people are about how elite is. It has been the socio-historical pattern in this country. More damaged the elite, more damaged the lives of the people. More damaged the morale of the elite, the people increasingly enjoy the melt. But the bet is a nation state. The bet is the future of the younger generation who are increasingly holding on. Are the elites thinking of it? Let time answer.
Today, democracy is no longer about freedom, but should be about liberating the freedom. The people have been colonized by their elites. The system has been damaged by elite negotiations. Governance is the fruit of unhealthy games. The numbers are no longer pure, can be generated at will. Politics run based on market tastes. Therefore, scientific surveys are the best-selling statistical industry. Democracy is about market tastes, not about the morality of people's interests. Market tastes are very important because the majority preference is king. And then democracy leaves only endless absurdity.
Therefore, if they still want to carry out democracy and at the same time bring the substance, the people must be freed from the fishy influence of the elites. The people must be kept away from cheap political manipulations, freed from the cheaper political branding based on post truth approach. The people must be able to distinguish between facts and fairy tales. If not, democracy is just a soap opera scenario. Representative institutions must represent, not pout. Representative institutions must be enlarged and made effective. Parties must improve and "know themselves". One of crucial role of the party is to connect the tongue of the voters to the state. More damaged party, people aspirations can no longer match the original, but manipulated.
Party dominance must be balanced with strict regulations. The party is not a seller of popular votes, but defenders and connectors. From the party, then entered into a representative institution, and become policies. From the party, the ideology of nationalism is spread to the voters. From the party, the understanding of the sense of nation state is cultivated in the memory of voters. And from the party, the spirit of unity and tolerance is channeled into the voters' thoughts. And many other tasks. Such are the roles of the party.
Do the people care? For the people, the party is not important. Therefore, it is the party who must realize himself that democracy is very dependent on the party. More damaged the party, more damaged the democracy. The more transactional the party is, the more transactional its democracy is. It's that simple. If the party does not understand the ethical justification, logical justification, and moral justification for its existence, then Indonesia's democracy is headed for destruction. Politicians must recognize the signs of the destruction of democracy. People's distrust of the party, the parliament, and the government are sign that must be addressed immediately. Politicians must be able to prove that democracy is worth defending.
If not, democracy will only be a place to flicker on one side and a place for short-term negotiations on the other side. Democracy will become a forum for identity politics and a den of high class corruption. Therefore, if it is not politicians who spread democratic awareness, then who will? If politicians actually misuse democracy, then our democracy wil be finished. Because of what? Because in their hands the decision is taken. If leaders and politicians turn their faces away from the authenticity of democracy, the people's hopes are finished. So do not ask the people to hope, to pray, to have a positive view of the current system, if from leaders and politicians even if that hope actually does not exist, only promises and false images, then the people are not ethical to be asked to hope. It's as simple as that.
An alarming surge in illegal wildlife trade in Southeast Asia
With a recent purge by American social media giant Facebook on advertisements for the illicit sale of animals in Yangon, Myanmar, the discourse around such trade has resurfaced. To add more specifically sported a picture of a caged cat and described it as "Not too wild, not too-well behaved. If interested, call…" which is alarming for the platform as it has a strict ban on the sale of animals. According to a report by an international non-governmental organization World Wide Fund for Nature Illegal Wildlife Trade occurs across the Southeast Asian region from the remote corners of Myanmar and Laos, to markets in Bangkok and Hanoi, but its center of gravity is the Golden Triangle, where Thailand, Myanmar, Lao PDR, China meet. Thereby, categorizing the region as a major hub for trade of this nature. The region is a biodiversity hotspot that sits at the heart of wildlife trade. Although, such trade is carried out for specific purposes the scale of trade in the region is quite large. A report published by TRAFFIC, which is another leading non-governmental organization involved in the wildlife monitoring network further categorizes the scale to include the following: Over 96,000 Kg of Pangolin scales seized in Malaysia, Singapore and Vietnam, Over 225,000 Kg of African ivory seized from almost all ASEAN nations, Over 2,200 tigers seized, More than 3,800 bear equivalents sized in ASEAN nations, Over 4,500 African rhino horns most linked to ASEAN nations, 1,100 Helmeted Hornbill parts seized in Indonesia, Over 45,000 live birds seized in Indonesia, Up to 1,189 otters observed for sale online in 4 ASEAN nations, Over 100,000 pig nosed turtles seized in Indonesia. This expanse not only threatens wildlife in the region but also endangers species far beyond the region's borders, making it a major cause of concern for the international community.
Therefore, the 10 Association of Southeast Asian Nations (ASEAN) members namely Indonesia, Thailand, Malaysia, Singapore, Philippines, Vietnam, Brunei, Cambodia, Myanmar and Laos function as a source, consumer and as entrepôts for wildlife coming into the region and this trade is globally connected to feeding a demand for exotic wild animals, parts and products for use as luxury goods, traditional medicine ingredients and the billion-dollar live animal trade. There are also adequate loopholes in the legislation systems in the region considering there is a policy gap in understanding the difference in trade volumes of both legal and illegal trade brackets. To further understand the volume of wildlife trade in the region, it is critical to look at a case by case analysis of nations in the region.
Indonesia is home to 1,531 species of birds,515 species of mammals,270 species of amphibians and 35 species of primates thereby making it a biodiversity hotspot also due its vast rainforest cover. However, with hectares of land being destroyed the new landscape is prone to deforestation and hence endangers wildlife. The Sumatran tiger is crucial case study of how this deforestation makes it easier for poachers to track them as their use is eminent in various traditional Chinese ornaments and medication. The illegal Pangolin trade has nearly halved the population since the 90's as the markets have been creating adequate demand and thereby incentivizing poachers. The Orangutan and Gibbon numbers have been declining due to their increased vulnerability to poachers due to reduced forest cover. The government of Indonesia blames this situation on lack of funding for wildlife preservation efforts but what's required is a bolder legislative front considering activities like bird-keeping are social activities in the nation. It is estimated that in an average year as many as 614,180 native songbirds were trapped and traded nationally throughout Java and Sumatra. This is a significant number when considering that even species listed as 'least concern' host populations of less than 3,000 individuals. The government has even joined hands with social media giants like Facebook and Instagram to zero down on illicit online trade of wildlife, to be able to ensure strict surveillance on the same. While the Indonesian government is improving the enforcement of the wildlife trade ban and while seizures of illegally trafficked animals are increasing, better monitoring and research of existing threatened species populations will help ensure better protection of Indonesia's wildlife and hence impact the global network of illicit wildlife trade. Another key region of trade and transit for illicit wildlife is the Golden Triangle region. According to a special report by WWF on 'the top ten most wanted endangered species' tigers, elephants, bears, pangolin are most widely traded in the region where Thailand, Myanmar and Laos connect. While, rhinos, serow, helmeted hornbill, gaur, leopards and turtles are openly sold in the region that is the basis of the widespread illicit wildlife trade network in the Southeast Asian region. Tigers that are poached from all over Asia end up on dinner tables, in medicines, wine or as luxury ornaments, elephant skin and ivory also generate a lot of demand from global buyers. The report also enumerates how 'African rhinos are being poached at the rate of three per day to feed the demand for their horns in places such as Vietnam, where it is mostly consumed as a symbol of wealth, as well as for traditional medicine. It supposedly cures hangovers and fevers, but rhino horn is in fact made from the same material as human nails, with no medicinal value. A more recent trend in rhino horn jewelry and carved horns is also threatening rhinos.'
This multibillion-dollar trade is severely damaging the biodiversity of not only the region but the world and has caused global initiatives to curb and eliminate illegal wildlife trade. However, the easiest way for facilitating such transactions has become online due to the loopholes being exploited by crime syndicates in governmental legislation. The region which also just witnessed Bakri Eid celebrations boasts of a significant surge in the illicit trade of animals which in nations like Malaysia and Indonesia that are predominantly Islamic becomes a big cause for concern. Furthermore, amidst the global pandemic what's noteworthy is how this trade of unmonitored trade of animals becomes a breeding ground for animally transmitted viruses like the novel coronavirus, which traces its origin to a live animal market in Wuhan, China.
Asia's New Geopolitics- Book Review
In Asia's New Geopolitics: Essays on Reshaping the Indo-Pacific, Michael R. Auslin presents a series of essays touching on major security issues in the Indo-Pacific region. Altogether, these essays form a comprehensive overview of the current geopolitical situation in the region from a U.S. perspective, providing ample recommendations for how the U.S. might balance against China. Although the volume's broad scope is commendable, the essays within suffer from a handful of major weaknesses: one is a failure to consistently address and pinpoint China's motivations in the region. Yet another is a failure to address the interests and incentives of malleable or unaligned powers in the region, and how these incentives might move a country to either balance against or bandwagon with China. The book also focuses primarily on historical context, with its one predictive essay, "The Sino-American Littoral War of 2025: A Future History," saved for the very end, serving as the volume's weakest point.
The book's strengths in the form of strategic recommendations make themselves apparent in the first section, "Asia's Mediterranean Strategy". In this section, Michael R. Auslin correctly addresses a short-sighted focus on a single sub-region at a time as a weakness of U.S. Indo-Pacfic strategy, arguing for an approach that considers the region as a whole. This point is also reiterated in the book's penultimate essay, "The Question of American Strategy in the Indo-Pacific." The book's second essay, "The New China Rules", likewise addresses U.S. concerns over growing Chinese influence in the Indo-Pacific and beyond, pointing to China's economic, military, and cultural statecraft. However, it is also in this section in which Auslin's book begins to display its weaknesses. In this section, Auslin refers to China as a dominant global power. However, most of the specific geopolitical issues addressed in this essay entail regional (rather than global) concerns on China's behalf, while the global influence Auslin addresses displays itself mostly in cultural forms. Some of this is explicit, such as the establishment of Confucius Institutes, while some of this is implicit, such as Hollywood's choice to remove imagery and plots that might be offensive to the Chinese government from the films it produces.
One of the more interesting and convincing essays in the book, though one not without its own flaws, is "Can Kim Jong-Un Control His Nukes? Nuclear Safety, Accident, and the Specter of North Korea's Atomic Arsenal." In this essay, Auslin provides a fresh take, arguing that a nuclear accident is a much more likely threat from North Korea's arms program than the oft-discussed topic of nuclear escalation. Auslin convincingly addresses a trust gap among North Korean officials in proffering up this argument. However, this essay also fails to consider whether North Korea would remain a regional threat should the country denuclearize, particularly given incidents of cyberattacks such as the 2014 Sony hack that the U.S. and its allies have attributed to North Korea. Auslin here also fails to consider whether North Korea's conventional weapons would remain a regional threat in the event of denuclearization.
"Japan's Eightfold Fence" perhaps serves as the most admirably interdisciplinary essay in the book, addressing Japan's cultural foundations through a lens of historiography founded on modernization theory, integrating these approaches with a broad discussion of how Japanese national identity inflects contemporary Japanese internal politics. Auslin then uses this analysis of Japanese cultural history to describe the formation of the country's strong nationalist tradition and the influence of this tradition on Japan's foreign policy. In addressing these issues, Auslin provides an intriguing, if controversial, defense of a perceived Japanese cultural conservatism. The essay also leads in perfectly to the one that immediately follows it, "China Versus Japan", which details the lengthy history behind (and projected long-term continuation of) the Sino-Japanese regional rivalry.
Perhaps the most out-of-place essay in the book is "India's Missing Women", the only essay in the book that focuses principally on South Asia rather than Northeast Asia. Additionally, it is also the only chapter in the book that focuses on small "p" politics issues of gender, identity, and human rights rather than broader diplomatic and military strategy. While an intriguing and insightful read, the reader can not shake the view that this essay belongs in a different book entirely.
The weakest portion of the book is undoubtedly its concluding essay, "The Sino-American Littoral War of 2025: A Future History." This essay provides a relatively trite prediction involving current tensions escalating into a full-scale war between China and the U.S. A more compelling argument might have involved a list or qualitative probability analysis of competing scenarios, rather than simply retreading already common territory, with fairly little originality. The final essay in effect serves to highlight Auslin's strengths at historical and cultural arguments in the previous essays, in contrast to a somewhat weak analysis that plays only with fairly safe and conventional ideas. At the very least, this essay could take more risks by making less conventional predictions about the future of the U.S.-China rivalry. Aside from this issue, however, the book's overview of conflicts and rivalries in Northeast Asia – and how the U.S. might seek to work within this playing field – remains generally interesting and commendable.
Michael R. Auslin generally provides a reasonable argument for a broader, more comprehensive Indo-Pacific strategy on behalf of the U.S. As a starting point, Auslin makes the agreeable suggestion of focusing less on sub-regions and specific issues and instead maintaining a broad view of the Indo-Pacific. However, the essays never quite make a consistent argument for China's motivations in the region. The essays also assume, implicitly, that most states in the region would benefit principally from bandwagoning with the U.S. and balancing against China, while failing to consider what economic, political, military, or cultural incentives might motivate a state to bandwagon with China. Similarly, the essay on "India's Missing Women" feels like an interesting, if unnecessary detour. Lastly, the essays in the book maintain their principal strength in historical analysis. However, the book's one predictive essay effectively reveals this strength in contrast to the author's weakness in providing insightful long-term or long-shot regional forecasts.
info: Asia's New Geopolitics: Essays on Reshaping the Indo-Pacific by Michael R. Auslin, Hoover Institution Press, Stanford, USA, 2020, 244p.
Countering Chinese String of Pearls, India's 'Double Fish Hook' Strategy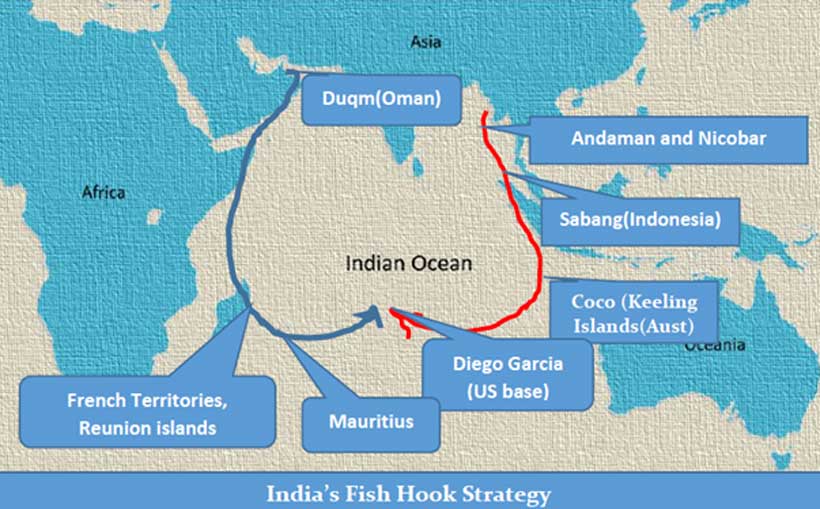 India and Indonesia held their defence dialogue between the defence ministers on July 27, 2020 and discussed issues related to defence cooperation, promoting investment in each other's defence enterprises and helping each other in extending logistical support. This meeting was held in person, instead of online meeting.
India has started engaging its eastern Indian Ocean neighbours particularly Indonesia, Australia, and island nations in the Southern Indian Ocean region such as Mauritius, Seychelles, Madagascar, and French territories spread across the Indian Ocean. India's entry into Indian Ocean Commission (an intergovernmental group of island nations- Madagascar, Mauritius, Comoros, Reunion islands, and Seychelles, dealing with maritime governance) as observer was facilitated by France. India and France have started conducting of regular maritime surveillance sorties from Reunion islands. This shows that India is keen on developing strategic and defence ties with France in the Indian Ocean region. This also hints to the fact that Indian navy has been working on 'double fish hook' strategy.
This 'Fish Hook' strategy of India is expected to complement the fish hook strategy undertaken by the US along with its allies in the Pacific Ocean. Media reports also state that China has floated many surveillance pods in South China Sea to monitor movements of US and its allies' ships and submarines. With the upgradation of the Andaman and Nicobar Islands and an investment of more than US $ 6.67 million which has been allocated during Prime Minister Modi visit to the islands, shows that India have larger designs with regard to these islands. This includes developing jetties, deep sea harbour and extending landing strips to facilitate landing of maritime surveillance aircrafts. There is also proposal of developing hangers for stationing of Sukhoi-30MKI aircrafts on a permanent basis.
In the past also when India was upgrading the facility in late 1980s it was seen as a launching pad erstwhile Soviet Union to make inroads into the Indian Ocean, and there were apprehensions raised by countries such as Indonesia and Australia. At that point of time the Andaman and Nicobar island group was stated to be known as Fortress Andaman(FORTRAN).Andaman Nicobar Command (ANC) was developed at Port Blair in 2001 as first integrated joint command centre. India again is exploring this possibility of upgrading the facilities in Andaman and Nicobar Islands so as to project its power in the Bay of Bengal and Closer to The Malacca Straits.
China's 'String of Pearls' strategy has developed a concept that India has been surrounded by Chinese developed ports (Gwadar, Hambantota and Chittagong) developed in connivance with the ruling regimes in Pakistan, Sri Lanka, and Bangladesh. The 'String of Pearls' has gained lot of academic mileage in the international discourse related to the Indian Ocean security. As a countermeasure, India started engaging its littoral partners which includes the formidable navies in the region including US, France and Australia- all strategic partners of India. With US India has already engaged through the LEMOA agreement giving access to each other's military bases and naval ports.
In June 2020, India has signed the Mutual Logistics Support Agreement (MLSA) with Australia which will provide support for maritime reconnaissance missions undertaken by the two countries with the use of their island facilities. The islands which have been listed for such a logistics arrangement is Andaman and Nicobar Islands(India) and Coco(Keeling) islands of Australia. Australia has been upgrading its facilities in the Coco Islands and also trying to upgraded facilities in Darwin and Keynes. This kind of complimentary logistics support agreement would enhance surveillance and reconnaissance activities of the two countries. Apart from Australia, India has also signed a port development project with Indonesia and has agreed to developed civilian and military facilities in the Sabang port which is located at the northern tip of Aceh archipelago. This acts as the first fish hook strategy spanning across the eastern Indian Ocean starting from Andaman and Nicobar Islands, Sabang port(Indonesia) and thereafter extending all the way to Coco(Keeling) Islands, the tip of this fish hook lands at the DiegoGarcia, the US military base in Chagos archipelago.
Similarly, the western fishhook strategy starts from Duqm port in Oman where India has entered into Maritime Transport Agreement and has gained access facility for Indian navy. India has also been working with regard to entering an agreement with the Djibouti so as to avail the logistic support in the Horn of Africa. Further engagements with Mauritius, Seychelles and Madagascar through training and visiting of the ships as well as giving them coastal radar systems, and few fast attack crafts shows that India is keen on anchoring its naval security through these engagements.
France has been very keen on developing maritime linkages with India and also undertaking fortnightly sorties through maritime surveillance aircraft such as P– 8 I Poseidon. The surveillance sorties have started in January 2020 and likely to continue in regular intervals along with France. France has acknowledged the fact that in order to secure its territories in the Indian Ocean region it has to build confidence and interoperability with the Indian Navy. Therefore if one draws a line connecting the ports  then it would look like a fish hook which again will land in the end at Diego Garcia.
The strategy which is known as 'double fish hook' strategy would help India in countering Chinese activities undertaken by unmanned submersibles and also know the activities of Chinese submarines in the Indian Ocean region. China has increased deployment of its personnel at its Djibouti base, and has been enhancing its presence in the Indian Ocean region. The reclamation of one of the Maldivian islands-Feydhoo Finolhu Island, which is nearly 600 km from Indian coast, shows that China is willing to take risks so as protect its energy supply lines and maritime commerce. In fact, its Maritime Silk Road strategy would depend much on Chinese military heft in the region and also its dominance in the strategic waters of the Indian Ocean.
India has also understood the importance of blocking Chinese maritime traffic in case the border issue aggravates to the point of a war. During the 1971 war with Pakistan which led to the emergence of Bangladesh, the role of the Indian Navy has been appreciated in blocking the Karachi port, and also helping in protecting the Bangladesh from any external intervention.
This double fishhook strategy would depend much on development of the facilities in the Andaman and Nicobar Islands which includes developing airports in the Northern reaches of this island group, increasing the maritime traffic as well as developing docking facilities for naval ships. The chief of defence staff has already alluded to the fact that it will be a joint command of the three services and also it will be a rendezvous point for the Quad forces. In one of the RAND studies titled 'Overseas Basing of US Military Forces' it was stated that Andaman and Nicobar Islands can be a very good operating base for US drones as it would give edge in case of operations against China. The development of this double fish hook strategy would undermine String of Pearls and would give India an edge in case of tensions between the two countries in the maritime domain. This in every variably will mean that Chinese inroads into Indian Ocean will be noticed and countered by the Indian navy with Quad countries before it can change maritime power configuration in the Indian Ocean region.