Indonesia Needs New Maritime Approach in the Sea of Natuna Island
The Indonesia-China conflict in the sea of the Natuna Islands Exclusive Economic Zone (EEZ) which was recently reportedly massively was not new. A similar event had occurred in March 2016, after eight Chinese fishermen were arrested by the Ministry of Maritime Affairs and Fisheries Unit 11 Shark Boat officers. And the response made by the Chinese government at that time was similar. PRC still feels innocent because it considers Natuna sea as a traditional fishing location for a long time.In other words, the land is claimed as part of the U-shaped South China Sea area (known as the Nine-Dash Line). The area was declared by China in 1947. Therefore, the Chinese fishing vessels finally seemed to be shaking in and out even though Indonesia's claim on the Natuna Islands EEZ was based on the UN Convention on the Law of the Sea (UNCLOS).
Actually, the maritime border agreement which covers continental shelf, territorial sea, and exclusive economic zone with neighboring countries and the international community is not yet complete. Indonesia and Malaysia signed the establishment of continental shelf boundaries in November 1969. The approval for the establishment of Indonesian and Vietnamese continental shelf boundaries was signed in June 2013. Indonesia jurisdictional maps issued by the Indonesian Navy Hydrographic and Oceanographic Center shows that the EEZ boundary line (Exclusive Economic Zone) with Vietnam and Malaysia on the Natuna sea border many still need agreement. In EEZ – as the name implies – a country's sovereign rights are limited and exclusive to economic rights, such as the exploration of marine resources, or oil and gas under the sea. Other countries, even including countries that do not have sea borders (land locked states) have certain access to the EEZ such as the rights of peaceful crossing vessels and flying in the sky above, laying cables and pipes under the sea, with regard to (shall have due regards) rights other countries' rights
According to the Law of the Sea Convention, in the event of a dispute in EEZ, the settlement is not based on the jurisdiction and legal point of view of the state of EE jurisdiction, but on the principle of equality. This is by taking into account other relevant matters for the parties to the dispute and the international community as a whole. It should be noted in the Law of the Sea Convention that governing EEZ is in Chapter V whose templates constitute the sovereign rights of coastal states, and restrictions on those rights against other countries.
While the rights of an island nation are placed in Chapter IV whose templates include regulating the rights of other countries in waters in an island nation (such as the right to navigate peacefully and to fly, in a designated path). Malaysia, Vietnam, Thailand and China are coastal countries, while Indonesia is an archipelago. Considering the loosening of these rights, it is very important that a country that has EEZ jurisdiction as Indonesia proves to the international community the EEZ's tenure and effective management capabilities. This includes maintaining and upholding their rights. It is not enough if a patrol boat or airplane is just circling around.
The problem, Natuna Island is not directly connected to China Sea. That's why Indonesia is not the first and direct actor in South China Sea dispute. It is understandable that the act of China which claims to have the right or even territory over the territory in the South China Sea has long infuriated ASEAN countries, but not for Natuna. Malaysia brought violations and unilateral Chinese claims to the South China Sea to the United Nations. The proposal was submitted by the Malaysian government in mid-December. Earlier, in 2016, the Permanent Court of Arbitration (PCA) under the auspices of the United Nations won the Philippines against China's unilateral claim to the South China sea area. But China never show even just a little bit of respect to Philippines in South China Sea
The PCA court, which based its decision on the 1982 UNCLOS, ruled China had violated Philippine sovereign rights. The Nine Dash Line used as the reason for China were declared not to meet international legal requirements, and there is no historical evidence that China controls and controls resources in the South China Sea. However, the Chinese government did not accept the ruling. Another ASEAN country, Vietnam, is also involved in regional conflicts with China in the South China Sea.
Apart from the legal aspects of the South China Sea and Natuna ZEE, the real theft of fish by Chinese vessels has been going on for a long time but only now has wide attention. China really acts like a legal master of Natuna Sea and in many times show the bullying moves. That's why the government of Indonesia needs new ways to improve the management of marine resources while improving the capabilities of maritime operations. The country's geostrategic complexity, which consists of thousands of islands and comprises three Indonesian Archipelagic Sea Lanes areas and is open to international parties, requires the reliability of military operations. Especially those related to maritime interception operations. The operation must be carried out in any waters, both in the Republic of Indonesia and outside.
Maritime operations require the reliability of the maritime security infrastructure and renewal of sea defense doctrine that puts forward intelligence and technology aspects. The maritime intelligence field must be improved so as to achieve strong surveillance capabilities. The world situation demands Indonesia be able to realize its sophisticated maritime intelligence capabilities. Maritime intelligence is a part of strategic intelligence in an effort to ensure national stability and efforts for sensing the strategic environment both at home and abroad.
Maritime intelligence focuses on its activities related to the maritime field or that influences the maritime capabilities of foreign countries and the country itself. National intelligence capacity and posture should be directed to strengthen maritime intelligence capabilities. No more sectarian intelligence operations, that is, those that limit the security and sectoral dimensions. For example, the Navy (Navy) no longer limits to naval intelligence, but more broadly namely maritime intelligence that is able to provide strategic information to national maritime institutions. Such as the Ministry of Maritime Affairs and Fisheries, the Ministry of Transportation, the Ministry of Energy and Mineral Resources, the Ministry of Tourism, the Ministry of Environment, Customs and Police.
For this reason, the urgency of building a number of base infrastructure and facilities for maintaining warships is inevitable. The infrastructure is primarily to support the effectiveness of the third Fleet Command Headquarters located in Sorong, West Papua. During this time the Navy's combat strength still relies on two regional fleets, namely west (Armabar), and east (Armatim). The number of warships owned by the Indonesian Navy is only 151 units (on the process of increasing). In fact, the number of Indonesian warships in the 1960s amounted to 162 ships.
The fleet command system tasked with fostering the ability of the Integrated Armed Weapon System (IAWS) consisting of warships, aircraft, marines and bases should be more synergized with other agencies that also manage the sea area. The capabilities of marine warfare and the readiness of marine operations at this time should be able to turn into non-war operations that support the enforcement of sovereignty and law at sea, and secure economic potential at sea.
The next important task is to form a reliable national system of marine inspectors with three important aspects. First, the informative aspect. The system must provide complete information about national marine conditions, both in terms of marine resources, water conditions, weather, important events at sea (accidents and incidents), signs of sea navigation that are very helpful for sailing ships, and all information about the sea the other. Second, integrative aspects. The overlapping of infrastructure procurement and installation of supervision equipment between departments can be overcome, so that there are savings in the state budget.
Because the amount of equipment or systems built do not collide in terms of coverage in an area or system and its functions. In addition, with interoperability solutions, the problem of intermittent owner of equipment along the critical strait, such as the Malacca Strait can be integrated. Third, is the collaborative aspect. This is more focused on the status of data exchanged. For example, data to eradicate Illegal Unregulated and Unreported Fishing Fishing such as fishing vessel lines (position, speed, heading), including Owner, Company Identity, Ship size, fishing gear type, permit expiration date, then log book database (fish species, location), marine biology parameter data (chlorophyll, upwelling), and boundary data. So in short, permanent strategic synergy is needed between the three institutions that have been the main managers of the national marine system, namely the Ministry of Maritime Affairs and Fisheries, the Navy, and the Director General of Sea Transportation of the Ministry of Transportation.
Yoshihide Suga's Official Trip: What Does He Expect from Vietnam and Indonesia?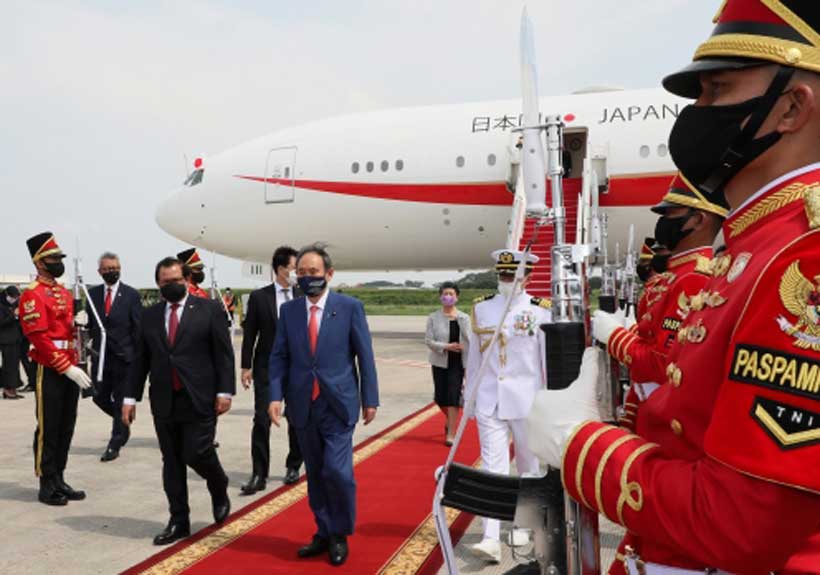 Prime Minister Yoshihide Suga's certainly understands the political importance of continuity, especially in Southeast Asia. Suga making a first stop in Hanoi, Vietnam and his second visit in Jakarta, Indonesia. Southeast Asian countries as key to pursuing Japan's "free and open Indo-Pacific," strategy. There must be other reasons for Suga to visit these two countries, Vietnam is current ASEAN chair, while Indonesia as the only member of the Group of 20 major economies from Southeast Asia. Both of them have important roles to share historical, economic cooperation, and political ties. Are those the only reasons?
Katsunobu Kato, a cabinet secretary Japan, states that Indonesia and Vietnam as the partners to exchange opinions over how to handle the regional and global impeding agendas such cooperation for realizing a fee and open Indo-Pacific strategy, address South China Sea issues and North Korean Situations. hence, there are three keys Suga's first foreign visit as Japan PM amid Chinese Aggression in South China Sea, Indo-Pacific Partnership and North Korea situation.
As one of the key strategic Japanese objective to expand Indo-Pacific Partnership by implementing an internal balancing that involves efforts to enhance the state's power by increasing one's economic resources and military strength in order to be able to rely on independent capabilities in response to a potential hegemon, in this case China, and be able to compete more effectively in the international system. Promoting coordination between partners like Indonesia and Vietnam and helping both countries to strengthen their economic and maritime capabilities to build up resilience in front of Chinese aggression and its influence.
During the pandemic, Japan economy has been hit harder by the crisis than the US or EU that 3.4% fall in growth domestic product (GDP) for the first three months of 2020. Since the Tokyo 2020 Olympic Games will be postponed until next year, due to the COVID-19 pandemic. As a result of this, Japan is set to suffer severe economic blows. Vietnam's growth potential and low-cost labor supply continue to curry favor among Japanese companies, making Vietnam has been selected by Japanese firms as the most promising place in Asia to invest in 2020with 42.1 percent of the 820 valid responses. Previously, Japan has given ¥200 million in aid to help Vietnam fight the COVID-19 pandemic. On the other hands, Suga pledged low-interest loans of 50 billion yen ($473 million) to Indonesiato overcome with the economic fallout from the coronavirus pandemic. As the symbols of strong friendship ties between Indonesia and Japan, which support each other's.
Japan also seek stronger security, Vietnam is critical to the balance of power in Asia and Indonesia faced off against China in the Natuna Sea. In order to response the Chinese Aggression in South China Sea, Japan seeks to strengthen ties with countries in the region amid growing tensions between its main security ally the United States and its biggest trading partner China, over trade, security. Japan hailed an agreement in principle to supply Vietnam and Indonesia with military gear and technology to response the China's assertiveness in the region. China claims some part of Vietnam's exclusive economic zone as well as the Paracel and Spratly Islands while Indonesia has been angered by Chinese coast guard intrusions into Natuna Islands. In this regard, Suga expect that both of Indonesia and Vietnam will agree to work together over a range of regional issues, including China's growing maritime presence in South China Sea. Japan wanted to emphasize that the existence of Indonesia and Vietnam was very important in the eyes of Japan. In this context, Indonesia and Vietnam is expected not to rely only on one country, which is China, with its economic and technological strength. Meanwhile, Japan also wants to invite Indonesia and Vietnam to continue developing growth in the Indo Pacific region. Since Indonesia is currently pursuing stronger relations with countries in Africa through the Indonesia-Africa Infrastructure Dialogue. On the other hand, Vietnam has been making great strides in projecting itself as an effective leader, particularly with its proactive governance in handling the COVID-19 pandemic, climate change policy, and for its political stability.
Balancing encompasses the actions that a particular state or group of states take in order to equalize the odds against more powerful states. Prime Minister Yoshihide Suga is thus seeking to build a network and partners in the Indo-Pacific, both to strengthen the current alliance system but also to proactive in defending its own interests. Vietnam and Indonesia were key to pursuing multilateral economic and security cooperation to counter China's growing power and protect sea lanes in disputed areas of the South China Sea.
India-ASEAN relations under Vietnam Chairmanship of ASEAN
India has very recently come out with India-ASEAN Action Plan 2021-2025 alluding to the objectives for furthering its relationship with the ASEAN nations. In the plan it is clearly envisaged that there will be cooperation in the area such as trade, investment, counterterrorism and in developing the edifice related to maritime security. It has been found that under the Vietnam chairmanship there is a need for addressing challenges emerging in the field of pandemics and medical research, so as to protect lives of many individuals across southern Asia. Further, in terms of increasing connectivity between the two sides and reviewing the achievements of the India ASEAN strategic partnership there has been positive movement from both sides.
With the forthcoming India ASEAN summit to be held in near future, it is going to address issues such as maritime corporation, sustainable development, developing marine resources, connectivity in both physical and digital domains, and increasing people to people contact through initiatives such as health, education and tourism. An important aspect of this new action plan is to enhance defence exercises, coordinated patrols, and effective logistics support mechanisms during humanitarian assistance and natural disasters. In fact, one of the major milestones between India and ASEAN strategic partnership has been in the field of humanitarian assistance and disaster relief. In the last few years there has been increasing synergy in the areas such as counterterrorism, cyber security and medical tourism. ASEAN has undertaken new initiatives related to the fourth industrial revolution, and also been looking into developing better cooperation with other countries in areas such as artificial intelligence, machine learning and robotics.
India has been conducting multiple joint exercises, and entered into logistics agreement with countries such as France, Australia, the US, Singapore and Japan. Increasing need has been felt in terms of developing freedom of navigation and commerce in the critical sea lanes of communication as well as promoting no use of force and resolution of long impending maritime disputes through the UNCLOS, and develop mechanisms to address concerns related to ASEAN countries.
It has been acknowledged that India-ASEAN free trade agreement has benefitted economies but there is a need for a review so that new sectors and also free movement of the skilled labour could be promoted. During the review of India-ASEAN relations particularly in the field of trade and strategic partnership, it was found that in terms of meeting of connectivity objectives there has been laggardness in the approach. However, there is a lot of potential with regard to developing ties in digital economy, education, vocational training of labour, and also capacity building in areas such as Small and Medium Enterprises (SMEs).
India's subscription to the concept of Indo-Pacific and its meetings with the quad members have highlighted the possibility of a superstructure which can be created which will be able to address core concerns with regard to regional security, maritime code of conduct and undertaking concerted efforts so as to bring up accountability and compliance for better peace and development in the region. One of the areas which has been and listed in the India ASEAN action plan is to look for complementarities in areas such as artificial intelligence, machine learning and sharing best practices with regard to the Industrial Revolution 4.0. One of the consultative process which has lost steam over a period of time is the Delhi Dialogue which have become more repetitive in terms of agenda and ideas, and there is scarcity of ideas. However, this regular dialogue process has brought about Track I and Track II consultations involving academics, experts and foreign officials as well as leaders.
With increasing attention of the European Union to this region, and the major European powers have outlined their Indo-Pacific strategy; Southeast Asia, by default, has become epicentre for launching these initiatives. It has become pertinent that India should also explore possibilities of building up resilient supply chains and help in development of the areas along with infrastructure development so that investment and development spin-offs in the region can also benefit India in the long run. It has been found that processes such as ADMM plus which have been discussing the areas of maritime security, counterterrorism has found resonance within India. In the areas such as mine countermeasures and developing humanitarian action plan for the demining there are complementarities which are existent in the relationship.
ASEAN outlook towards Indo Pacific is one of areas which is unexplored, and needs further focus with Asian centrality being the primary goal. ASEAN nations have been working with regard to comprehensive action plan related to counterterrorism and therefore much more focus is required under Vietnam chairmanship to build consensus and institute necessary structures so that the cooperation at the official level can continue in the long run.
India has not developed its counter radicalisation strategy and therefore it is important that ASEAN should share best practices with India. One of the focus areas which has been enlisted in the action plan is related to financial architecture and the cooperation which is required for the development of the capital markets and developing new ways for financial transactions through secure means.
Energy cooperation has been one of the areas which is of importance for both ASEAN nations as well as India but for that to fructify it is important that the both sides should look forward for research in energy efficiency, fuel cell technology and developing electric vehicles so as to curb pollution and reduce dependence on fossil fuels.
Under Vietnam chairmanship sectors such as agriculture, sericulture, floriculture and development of new techniques for enhancing yield have been supported. This also requires a boost to the India-ASEAN science and technology fund which has been created between the two sides. Many of the Southeast Asian countries have been dependent on fisheries and developing aquaculture.
In the areas such as blue economy there is a vast potential and also both sides are keen to explore possibilities. Under the stewardship of Vietnam, it is important that new projects and also ministry level dialogues should be undertaken. India is a developing country and has been taking giant leaps in areas such as strategic technologies, new defence innovations and advanced satellite communications. In the areas of space and cyber the two sides can look forward for developing software and other mobile apps which can reduce dependence on Chinese apps.
India and ASEAN can work jointly in developing the tourism sector particularly identifying the tourist circuits which can boost the economy as well as the hospitality industry. In the post-COVID-19 phase it is important that tourism should be promoted while undertaking safety precautions so that this sector can see a quantum jump. In terms of areas such as climate change and biodiversity, Vietnam can suggest ways to secure carbon sinks and also undertake networking among the institutions which are working in the field of climate change and mitigation.
The India–ASEAN ties need further impetus through better managing of the Green Fund and develop action plan with marine debris and developing biodegradable products. The COVID-19 has opened a new sector of public health and developing generic medicines. While much has work has been done between India and the ASEAN nations but there is need for developing vaccines and creating logistic supply chain so that these vaccines can reach a larger population while transporting them under sub-zero temperatures.
It has been seen that Vietnam has been taking a number of measures related to these aspects even in the very adversarial conditions such as COVID-19 and the agenda and the outcomes have been clearly demarcated in each of the meetings. There is need for addressing these issues during the ASEAN summit meetings with India and also acknowledging the fact that the interest of the two sides have diversified and have huge potential in coming years.
Will the US- China rivalry bring back interventionists policy to Southeast Asia?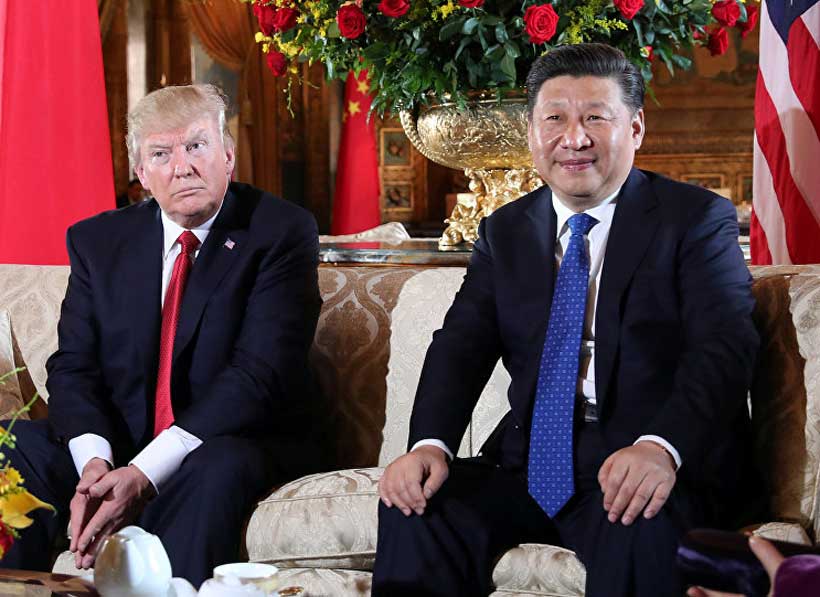 George Santayana, a Harvard Professor of Philosophy once said that. "Those who cannot remember the past are condemned to repeat it." Therefore it is relevant for us to remember anything that happened in the past so we could anticipate and know how to respond to a similar future event that has had happened.
History has told us how significant it was the cold war between the United States and the Soviet Union to the world geopolitics. Not only for the US and Soviet Union but also for all countries in the world which then had to choose between the US, the Soviet Union, or the Non-Bloc.
To secure US interest at that time, there has been a lot of effort and interventionist policy to assure that "neutral countries" in many of Latin America Asia and will not fall into communist-led regime will then will join the Soviet bloc.
Southeast Asia is one of the important regions in which the US and Soviet Union try to maintain their influence. Many interventionist policies in the region such as in Vietnam during the Vietnam war and Indonesia during the CIA involvement in a coup attempt against Soekarno was an example of how interventionists policy against the government in Southeast Asia to avoid that they will become communist and lean more towards the Soviet Union.
Fast forward to what happened today, the geopolitical contest between the US and China is getting tenser. As many analysts observe that we might face another cold war when the world number one power is competing with the world number two. And there will surely be a geopolitical implication to the rest of the world. Looking back to what happened during the cold war, what can we learn to anticipate the geopolitical implications of the rivalry between the US and China?.
Many experts have been discussing whether the US-China rivalry will bring us back to some kind of cold war, where countries have to choose between one of them. In Southeast Asia for the US-China rivalry has put Southeast Asian countries in difficult positions.
In the case of the South China Sea, for instance, in the last several years we have seen how the US-China rivalry put Southeast Asian countries in difficult positions. China as a claimant and strongest countries in the dispute was often bully its Southeast Asian claimant states, while on the other hand the US Secretary of State, Mike Pompeo in many events have tried to persuade ASEAN and offer a backup in dealing and responding to China's threat in the dispute. Even though Indonesia, Singapore, and other Southeast Asian claimants have already emphasized their neutrality in the dispute and will not choose between the two.
Therefore will the increasing US-China rivalry and competing influence will bring them back to interventionist policy in the region?
Indeed, most western countries including the US have a long history of political intervention in the region. In supporting oppositions, rebel groups that were perceived will foster their interest in the countries as well as to prevent the communist regime during the cold war. Even though in international law it is clear that the non-intervention policy is the basic principle in international law ever since the establishment of the treaty of Westphalia, it is was still happened.
Southeast Asian countries in many events have emphasized that they will not choose between the US or China in the geopolitical contest. Instead, they will enhance peaceful and strategic cooperation with the two that will benefit for the peaceful and prosper in the region. ASEAN's outlook on Indo-Pacific is an example of how ASEAN tries to keep a balance between the US and China in the region and to keep the region in a neutral position.
While Southeast Asia is getting more important and significant in the world economy and politics, it makes sense if it became a major geopolitical contest arena between the US and China, where both are competing for greater influence in the region. Therefore Southeast Asian countries should learn from the cold war on how interventionists policy might happen.
With the advancement of technology, big data, and the internet, intervention might not the same as what happened thirty or forty years ago during the cold war and Vietnam war. Where there was a weapon supplied to a rebel group or even direct foreign military intervention. Observing what happened with the Cambridge Analytica where big data can be manipulated for an election, will presumably what might happen in this new cold war era. And it will be much more difficult to anticipate.
Another possible form of intervention policy could also drive by economic interest such as "debt-trap diplomacy". In which China has been practicing to some pacific countries in giving them a loan in a huge number which they can't repay. And it makes China in higher leverage.
This new form of intervention policy which will bring interventionist policy less obvious more difficult to anticipate. That being said, it is important for Southeast Asian countries to anticipate and strengthen its position in the middle of US-China growing rivalry in the region so there will be less or no form of intervention to any states in the region.