Like many paradigms across the globe, the pandemic and its associated economic downturn have changed the paradigm shaping debates about Gulf security that was inevitably set to gradually migrate from a unipolar US defense umbrella that shielded energy-rich monarchies against Iran to an architecture that was more multilateral. In many ways, the pandemic's fallout has levelled the playing field and not necessarily in ways that favour current policies of Gulf states.
Saudi Arabia's relations with the West are increasingly being called into question, with the Saudi–Russian oil price war in March potentially having broken the camel's back. The Kingdom and the United Arab Emirates (UAE) stand to lose at least some of the financial clout that allowed them to punch above their weight even if they are likely to exclude arms purchases from their austerity measures.
Weakened financial clout comes at a moment when the Gulf states and Iran are gearing up towards an arms race in the wake of Iran's recent satellite launch and unveiling of an unmanned underwater vehicle against the backdrop of the 2015 international agreement that curbed the Islamic Republic's nuclear programme inching towards collapse. The unmanned underwater vehicle puts Iran in an elite club, of which the only other members capable of producing them are the United States, Britain and China.[1] The satellite adds Iran to a group of only about a dozen countries able to do launches of their own. [2]
Add to this the fact that none of the regional players — Saudi Arabia, the UAE, Qatar, Iran, Turkey and Israel — feel secure that any of the external powers — the United States, China and Russia — are reliable security and geopolitical partners.
Gulf states have, for years going back to the era of Barak Obama if not Bill Clinton, increasingly perceived the United States as unfortunately their only option on the premise that they are not willing to change their policies, particularly towards Iran, but one that is demonstrably unreliable, unwilling to defend Gulf states at whatever cost, and at times at odds with them in terms of policy objectives.
The Gulf states' problem is that neither Russia nor China offer real alternatives at least not on terms that all Gulf states are willing to accept. Russia is neither interested nor capable of replacing the United States. Moreover, its Gulf security plan is at odds with at least the policy of Saudi Arabia.
The plan calls for a security arrangement modelled on that of Europe under the auspices of the Organization for Security and Cooperation in Europe (OSCE). It would be an arrangement that, unlike the US defence umbrella in the Gulf, includes Iran, not directed against it. It would have to involve some kind of regional agreement on non-aggression.[3]
Saudi Arabia, under Crown Prince Mohammed bin Salman, has made clear that it is not interested, as is evident in the pandemic where it has refrained, in contrast to other Gulf states, from reaching out to Iran with humanitarian aid even though it last year engaged in an indirect exchange with the Islamic Republic. That exchange died with the killing by the United States in January of Iranian general Qassim Soleimani.
The Elephant in the Room
China is obviously the elephant in the room.
Logically, China and the Gulf states are in the same boat as they grapple with uncertainty about current regional security arrangements. Like the Gulf states, China has long relied on the US defence umbrella to ensure the security of the flow of energy and other goods through waters surrounding the Gulf in what the United States has termed free-riding.
In anticipation of the day when China can no longer depend on security provided by the United States free of charge, China has gradually adjusted its defense strategy and built its first foreign military facility in Djibouti facing the Gulf from the Horn of Africa. With the People's Liberation Army Navy tasked with protecting China's sea lines of communication and safeguarding its overseas interests, strategic planners have signalled that Djibouti is a first step in the likely establishment of further bases that would allow it to project long-range capability and shorten the time needed to resupply.
But like with the Russians, Chinese strategic planners and their Gulf counterparts may part ways when it comes to what would be acceptable geopolitical parameters for a rejuvenated regional security architecture, particularly with regard to Iran. Any new architecture would break the mould of Chinese engagement in the Middle East that is designed to shield the People's Republic from being sucked into the region's myriad conflicts.
The assumption has long been that China could at best postpone execution, but that ultimately, it would have no choice but to engage in the politics of the region. More recently, influential Chinese analysts are suggesting that China has another option: turn its back on the region. That may seem incredulous given China's dependence on Middle Eastern energy resources as well as its significant investments in the region.
These analysts argue, however, that China is able to diversify its energy sources and that Chinese investment in the Middle East is but a small percentage of overall Chinese overseas investment. They describe Chinese Middle Eastern economic relations as past their heyday with economies of both in decline and the prospects of the situation in the Middle East getting worse before it becomes better.
"China–Middle East countries is not a political strategic logic, it's an economic logic. For China, the Middle East is always on the very distant backburner of China's strategic global strategies … Covid-19, combined with the oil price crisis, will dramatically change the Middle East. (This) will change China's investment model in the Middle East … The good times of China and the Middle East are already gone… Both China and the Middle Eastern economies have been slowing down … In the future, the pandemic, combined with the oil price problem, will make the Middle East situation worse. So, the China economic relationship with the Middle East will be affected very deeply," said Niu Xinchun, director of Middle East studies at China Institutes of Contemporary International Relations (CICIR), widely viewed as China's most influential think tank.[4]
Pessimistic forecasts of economic prospects in the Middle East bolster Niu's prediction. Data and analytics company GlobalData predicted in an email that depressed oil markets and prices in the Middle East and North Africa would lead to a contraction in non-oil sectors, including construction. "Construction activity for the remainder of 2020 is set to see poor performance … In addition, public investment is likely to be moderate, which will translate into fewer prospects for private sector businesses to grow — especially within sectors such as infrastructure. Expected increase in taxes, selected subsidy cuts and the introduction of several public sector service charges will influence households' purchasing power, having a knock-on effect on future commercial investments," said GlobalData economist Yasmine Ghozzi.
Moreover, the downplaying of Chinese economic interest in the Middle East fits a pattern of reduced Chinese capital outflows. "What we may not have seen is how much China has retreated financially already for the past four years … Especially since 2016, China's outflows have come down dramatically in both lending and investment. Foreign direct investment is now at about 30 per cent of what it was in 2016," said Agatha Kratz, associate director of Rhodium Group, an independent research provider.[5]
To be sure, Chinese officials and analysts have consistently maintained that the Middle East is not a Chinese priority, that any future battles with the United States will be fought in the Asia Pacific, not in the Gulf. Their assertions are backed up by the fact that China has yet to articulate a comprehensive policy towards the region and in 2016 issued its one and only white paper on policy towards the Arab world that essentially was an elaboration of its basic foreign and defense policy principles.
More likely than China seriously entertaining turning its back on the Middle East is the probability that it is sending the region a message that is not dissimilar from what Russia is saying: get your act together and find a way to dial down the tension. It is a message that appears to varying degrees to have been heard in the smaller Gulf states but has yet to resonate in Riyadh. It is also a message that has not been rejected out of hand by Iran.
Discussing a possible extension of a United Nations arms embargo against Iran, Saudi Ambassador Abdallah Al Mouallimi, arguing in favour of a prolongation, suggested that it would serve Russian and Chinese interests even though they would not agree with that assessment. "They have their views, we respect their views, but their interests would be better served and promoted with the embargo extended," said Al Mouallimi.[6]
A Chinese Communist Party newspaper made days later a first reference in the People's Republic's state-controlled media to reports of an alleged secret 25-year multi-billion-dollar co-operation agreement in Iran amid controversy in the Islamic Republic. Chinese officials and media have largely remained silent about Iranian reports of an agreement worth anywhere between US$120 billion and US$400 billion that seemingly was proposed by Iran, but has yet to be accepted by China.[7]
Writing in the Shanghai Observer, a subsidiary of Liberation Daily, the official newspaper of the Shanghai Committee of the Communist Party of China, Middle East scholar Fan Hongda argued that the agreement, though nowhere close to implementation, highlighted "an important moment of development" at a time that US–Chinese tensions allowed Beijing to pay less heed to American policies.[8] Fan's suggestion that the US–Chinese divide gave China more room to develop its relations with Iran will not have gone unnoticed in Riyadh and other Gulf capitals.
An Emerging Tug of War
How all of this may shake out could be determined by the emerging tug of war in the Middle East between China and the US. Israel has already been caught up in it and has made its choice clear, even if it still attempting to maintain some wiggle room. Nonetheless, Israel, in the ultimate analysis, knows where its bread is buttered, particularly at a moment where the United States is the only backer of its annexationist policies. In contrast to Israel, the US is likely to find the going tougher when it comes to persuading Gulf states to limit their engagement with China, including with telecom giant Huawei, which already has significant operations in the region.
Like Israel, UAE officials have sought to convey to the US that they see relations with the United States as indispensable even though that has yet to be put to a test when it comes to China. Gulf officials' stress on the importance of ties will, however, not shield them from American demands that they review and limit their relations with China, nor its warnings that involvement of Huawei could jeopardise sensitive communications, particularly given the multiple US bases in the region, including the US Fifth Fleet in Bahrain and the forward headquarters of the US military's Central Command, or Centcom, in Qatar.
The US Embassy in Abu Dhabi, in a shot across the Gulf's bow, last month rejected a UAE offer to donate hundreds of coronavirus tests for screening of its staff. The snub was designed to put a dent in China's health "Silk Road" diplomacy centered on its experience with the pandemic and ability to manufacture personal protective and medical equipment.
A US official said the tests were rejected because they were either Chinese-made or involved BGI Genomics, a Chinese company active in the Gulf, which raised concerns about patient privacy. The US softened the blow when the prestigious Ohio-based Cleveland Clinic sent 40 nurses and doctor to its Abu Dhabi subsidiary. The Abu Dhabi facility was tasked with treating the UAE's most severe cases of coronavirus.[9]
The problem for the US is that it is not only Trump's policy or lack thereof towards the Middle East that undermines confidence but it is also policies that, on the surface, have nothing to do with the Middle East. The United States has been asking its partners including Gulf states to give it time to develop an alternative to Huawei's 5G network. Yet at the same time, it is barring the kind of people entry that technology companies need to develop systems.
A Silver Lining
No matter how the tug of war in the Middle East evolves, the silver lining is that, like China, the United States despite its desire to reduce its commitment cannot afford a power void in the region. That is what may create the basis for breaking the mould.
It will require a backing away from approaches that treat conflicts as zero-sum games not only on the part of regional players but also of external players, like in the case of the US versus Iran, and it will require engagement by all regional and external players. To achieve that, players would have to recognise that in many ways, perceptions on both sides of the Gulf divide are mirror images of one another: all parties see each other as existential threats.
Failure to break the stalemate risks conflicts becoming further entrenched and threatening to spin out of control. The opportunity is that confidence-building measures and a willingness to engage open a door towards mutually acceptable regional security arrangements and conflict resolution. However, for that to happen, major powers would have to invest political will and energy at a time when they feel they have bigger fish to fry and prioritise geopolitical jockeying.
In a twist of irony, geopolitical jockeying may prove to be an icebreaker in a world, and certainly a region, where everything is interconnected. Increasingly, security in the Gulf is not just about security in the Gulf. It is not even just about security in the Middle East. It is about security in the Mediterranean, whether one looks at Libya on the sea's southern shores, Syria in the east, or growing tension in the whole of the Eastern Mediterranean. And it does not stop there with regional rivalries reaching into the Black and Caspian Seas and into Central Asia.
Finally, there are the grey and black swans built into partnerships and alliances that are either becoming more fragile like those of the United States or ones that have fragility built into their DNA like the ties between Iran, Turkey, China and Russia. Those swans could at any moment swing the pendulum one way or another.
To be sure, contrary to Western perceptions, relations between Iran, Turkey, Russia and China are not just opportunistic and driven by short-term common interests but also grounded in a degree of shared values. The fact of the matter is that men like presidents Recep Tayyip Erdogan, Vladimir Putin, Xi Jinping and Ayatollah Ali Khamenei find common ground in a view of a new world order that rejects democracy and the rule of law; disregards human and minority rights; flaunts, at least for now, violations of international law; and operates on the principle of might is right.
That glue, however, is insufficient, to prevent Turkey and Russia from ending up on opposite sides of conflicts in Libya and Syria. It is also unlikely to halt the gradual erosion of a presumed division of labour in Central Asia with Russia ensuring security and China focusing on economic development. And it is doubtful it would alter the simmering rivalry between Iran and Russia in the Caspian Sea and long-standing Russian reluctance to sell Iran a desperately needed anti-missile defense system.
In short, fasten your seat belt. Gulf and broader regional security could prove to be a bumpy ride with unexpected speed bumps.
[1] "Iran's UUV to add new dimension to its warfare capability: Forbes", Tehran Times, 30 May 2020, https://www.tehrantimes.com/news/448370/Iran-s-UUV-to-add-new-dimension-to-its-warfare-capability-Forbes.
[2] Mike Wall, "Iran launches its 1st military satellite into orbit: reports", Space.com, 22 April 2020, https://www.space.com/iran-launches-first-military-satellite.html.
[3] Theodore Karasik, "Is Russia's 'old' Gulf security plan the best it can do?", Arab News, 20 July 2019, https://www.arabnews.com/node/1533096.
[4] Niu Xinchun speaking on "How are China's Relations with the Middle East Evolving During the COVID-19 Pandemic?", Chatham House, 19 May 2019, https://www.facebook.com/watch/?v=2721841274725780.
[5] Agatha Kratz speaking on "China and the Mediterranean Region in and Beyond the Pandemic, German Marshal Fund", 3 July 2020, https://www.gmfus.org/events/china-and-mediterranean-region-and-beyond-pandemic.
[6] Joyce Karam, "Russian and Chinese interests 'better served' if Iran arms embargo is extended, says Saudi official", The National, 2 July 2020, https://www.thenational.ae/world/the-americas/russian-and-chinese-interests-better-served-if-iran-arms-embargo-is-extended-says-saudi-official-1.1042822.
[7] Seth J Frantzman, "Iran media discuss 25-year deal between Iran and China", The Jerusalem Post, 3 July 2020, https://www.jpost.com/middle-east/iran-media-discuss-25-year-deal-between-iran-and-china-633739.
[8] Fan Hongda, "Iran announced a 25-year comprehensive cooperation plan with China, can Sino-Iranian relations get closer?" [观察家 | 伊朗宣布与华25年全面合作计划,中伊关系能否进一步走近?], Shanghai Observer, 20 June 2020, https://www.shobserver.com/news/detail?id=264494.
[9]Interview with the author, 8 June 2020.
Author's note: This story first appeared as an MEI Insight
The US tanks deal to Ukraine and the Sino-Russian military alliance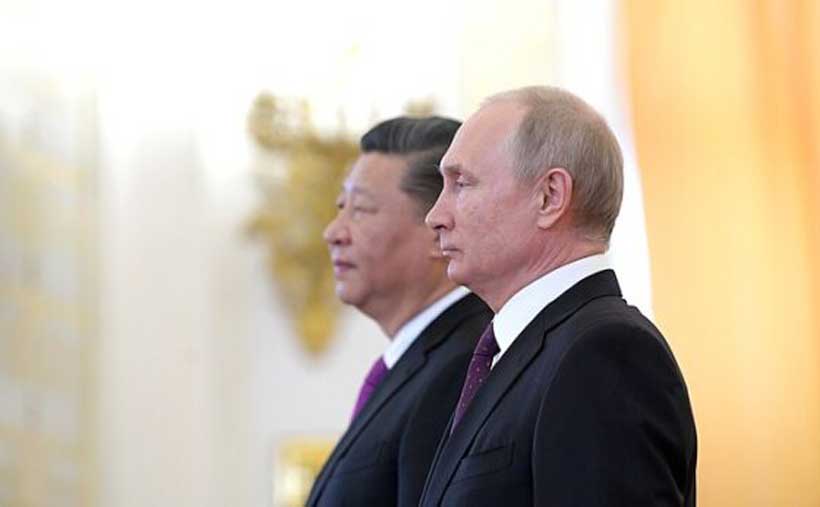 After the warnings of the Deputy Chairman of the Russian Security Council, "Medvedev", of the possibility of establishing a Russian-Chinese military alliance against Washington, the most important questions and analyzes that arise in this regard revolve in their entirety around:
Will Russia implement its threats to establish that alliance?
What are the countries likely to ally with Russia to confront America?
And in the event that Russia implements its threats against the United States of America by establishing that joint military alliance with China, does this mean a weakening of American hegemony in world politics?
Then, what is the relationship of the tank deal that the United States and Germany intend to send to Ukraine with the order of that joint military alliance between China and Russia, and does China really accept a solid and joint military alliance in confronting Washington militarily?
In order to answer these questions, we will find that there is already an existing and joint strengthening of military cooperation between the Chinese and Russian sides, through Russian President "Putin" stressing to his Chinese counterpart "Xi Jinping" the importance of geo-strategic cooperation and technical-military cooperation between the two countries in the wake of the "interaction joint maneuvers" in 2022 between the two countries, which took place in the East China Sea in December 2022, with the assertion of the commander of the Russian forces participating in the joint military exercises with China, that it comes as a response to the violent increase in the number of US forces present in the Indo-Pacific region in the American concept or the Asia-Pacific region in the Chinese and Russian concept. This means that Russia is ready to cooperate closely with Beijing, in response to the American efforts to surround China, through the establishment of American military and technological alliances to confront China, such as the American quadruple alliance with India, Japan and Australia, or through the US nuclear defense Okus alliance with Australia and Britain, or from Through Washington's military support for Taiwan in the face of Beijing and the increase in US arms and military equipment sales to the Taiwanese side, which arouses China's ire.
In recent years, China has also taken the initiative to enhance cooperation between the Chinese People's Liberation Army and the Russian Armed Forces by conducting joint exercises and coordinated patrols in the area around Japan. As for the Chinese army, its cooperation with the Russian army and the Russian armed forces would contribute significantly to the implementation of the military, security and defense reforms that Chinese President "Xi Jinping" seeks to achieve, which aims to transform the Chinese People's Liberation Army into one of the largest fighting forces in the world to be comparable in strength to the US Army.
We find that there is already existing and joint military cooperation between the Chinese and Russian parties in the field of joint military exercises, which has witnessed a clear increase in the recent period, and this cooperation in the security and defense field between China and Russia has acquired clear geopolitical connotations. In May 2022, China and Russia conducted joint sorties and air maneuvers over the Sea of ​​Japan and the East China Sea, which coincided with the summit of the leaders of the Quadruple Strategic Dialogue, known as "Quad" in Japan, which is a forum for political cooperation through which Washington seeks to turn it into a military alliance against China. Therefore, the joint maneuvers of Moscow and Beijing came to confirm that the two countries are cooperating militarily in the face of Washington's attempt to establish military alliances against them, on top of which is the US Aukus nuclear defense alliance with Australia and Britain in the face of China.
Also, all the recent summits that took place between Beijing and Moscow focused, in their entirety, on Russian military cooperation with Beijing, as well as the two parties meeting to strengthen their strategic partnerships in the face of Western threats, and on their intention and desire to establish a multipolar international system, with what that means in the end. The US-dominated world order, which Washington seeks to respond to by pushing the NATO military alliance to adopt policies to besiege the Chinese and Russian countries.
China and Russia have conducted several joint military exercises in the Chinese Shandong Peninsula, and they were mainly focused on anti-terrorism exercises, and it was agreed after that to conduct peace mission exercises annually under the auspices of the Shanghai Cooperation Organization, which consists of (China, Kazakhstan, Kyrgyzstan, Russia, Tajikistan, Uzbekistan).
Then this was followed by several joint naval exercises that took place on a permanent basis, and it was called joint seas exercises and maneuvers (or a joint Russian-Chinese naval interaction, as the Russians called it), and it was mainly concentrated in the Yellow Sea region off the Chinese Shandong Peninsula, with the participation of many Warships from both countries, in exercises simulating joint air defense, anti-submarine warfare, and search and rescue missions. Since then, joint seas exercises have been held annually between the Chinese and Russian sides (except for 2020), and their content is constantly changing. Since 2013, the geographical scope of the Russian-Chinese exercises has expanded, to include areas outside the immediate periphery of China, including Europe, and in chronological order those locations were:
(Sea of ​​Japan in 2013, East China Sea exercises in 2014, Mediterranean and Sea of ​​Japan in 2015, South China Sea in 2016, Baltic Sea and Sea of ​​Japan in 2017, South China Sea in 2018, Yellow Sea in 2019, Sea of ​​Japan in 2021)
China also participated in the "Russian Vostok joint military exercises" in 2018, which were held in the Eastern Military District of Russia and about 3,200 Chinese soldiers from the Chinese People's Liberation Army participated. The Chinese and Russian militaries also carry out coordinated and periodic military missions in the geographical and territorial area surrounding the seas and in the airspace around Japan. Most of the joint military exercises and missions between China and Russia take place in the eastern part of the Sea of ​​Japan, through the northern Tsugaru Strait (between Honshu and Hokkaido regions), along the Pacific coast of Japan, and then west through the Osumi Strait in southern Kagoshima Prefecture.
The main objective of conducting such military maneuvers between China and Russia, as declared by both parties, remains to unite forces against the United States of America and its allies, especially after its strained relations with both countries. In addition to Russia's dispute with the United States of America and the North Atlantic Treaty Organization since the Russian annexation of Crimea in 2014. Recently, US tensions with Russia have exacerbated, due to the latter's invasion of Ukraine.
Bearing in mind that Chinese President Xi Jinping did not respond directly to Russia's desire for joint military cooperation, but merely referred to Beijing's willingness to increase strategic cooperation with Russia. At the same time, there are US assurances that Washington has not monitored any indications of Chinese support for Russia in its war against Ukraine, unlike the case with North Korea and Iran, which Washington has accused of providing Moscow with ammunition and drones.
Here the message of the Russian President "Putin" to his Chinese counterpart "Xi Jinping" by expressing Russia's desire for a military rapprochement between the two countries to confront what he called unprecedented Western pressure, with President Putin affirming the right of the two countries to preserve their positions, principles, and aspirations to build a just international order, in a Russian reference to the multipolar system, which will mark the end of American unipolarity, the Russian side assured its Chinese counterpart that military cooperation between the Chinese and Russian sides will support international peace and security.
Here, Washington expresses its concern about such cooperation, which may cover any shortage of military supplies that Russia needs to continue its war against Ukraine. It was remarkable that Western officials ignored this time threatening China if it sought military cooperation with Russia.
There is an official Chinese assertion through the official Chinese government media affiliated with the ruling Communist Party, that Beijing will continue to adhere to its objective and fair position on the war in Ukraine, which is based on the fact that the West caused this conflict by insisting on spreading NATO bases to countries located in the immediate vicinity from the Russian borders, which is in line with and confirms the Russian point of view, and contradicts its Western counterpart, which views the Russian-Ukrainian war as an assault by Moscow on a sovereign country.
We will find that after the summit talks between President Xi Jinping and Putin (shortly before Russia started its invasion of Ukraine), both the Chinese and Russian sides oppose further NATO expansion, and stand against the formation of closed blocs and opposing camps in the Asia-Pacific region. In this way, China signaled its support for Russia in its power struggle with NATO against Washington and the West.
On the other side, the economic and military cooperation between China and Russia has also been increased, since the start of the Russian military operation against Ukraine in February 2022, despite the United States' threat to Beijing at the beginning of the war, to work to help the Russian economy find alternatives that help it avoid the repercussions of Western sanctions, However, it became clear that Beijing did not heed these American threats.
Here, China and Russia succeeded in arousing Washington's military wrath, through Moscow conducting several multilateral maneuvers with the participation of China and India at the end of 2022, in order to confirm that Washington's attempts to militarily weaken the relationship between Moscow, New Delhi, and Beijing will not succeed.
Hence, we can say that the relations between Russia and China have witnessed a remarkable growth in the military aspects in recent times, exceeding the limit of statements to the level of action and practical moves in the Indo-Pacific region or the Pacific and Indian oceans, as a joint Russian-Chinese response to confront the US alliances with its regional allies. In that region, accusing the American side of seeking and targeting the strangulation of the two countries in the first place. Especially after the series of security, political, economic and military alliances that the United States of America established against China and Russia in their regional region, led by the Aukus-Quad alliances against the interests of China and Russia mainly, coinciding with the escalation of the American provocations in the Taiwan Strait and the South China Sea, with the policy of continuous American mobilization of its allies in Europe, and the imposition of several packages of sanctions against Moscow to paralyze the Russian economy after the Ukraine war.
Therefore, the Chinese-Russian response, on the other hand, was to strengthen their network of military and diplomatic relations in light of their tense relations with the US side and its allies, through political and economic partnerships and joint and extensive military exercises, and Moscow and Beijing's keenness to conduct regular naval maneuvers between the two sides as threatening messages directed mainly at Washington.
SCO in an Era of New-Regionalism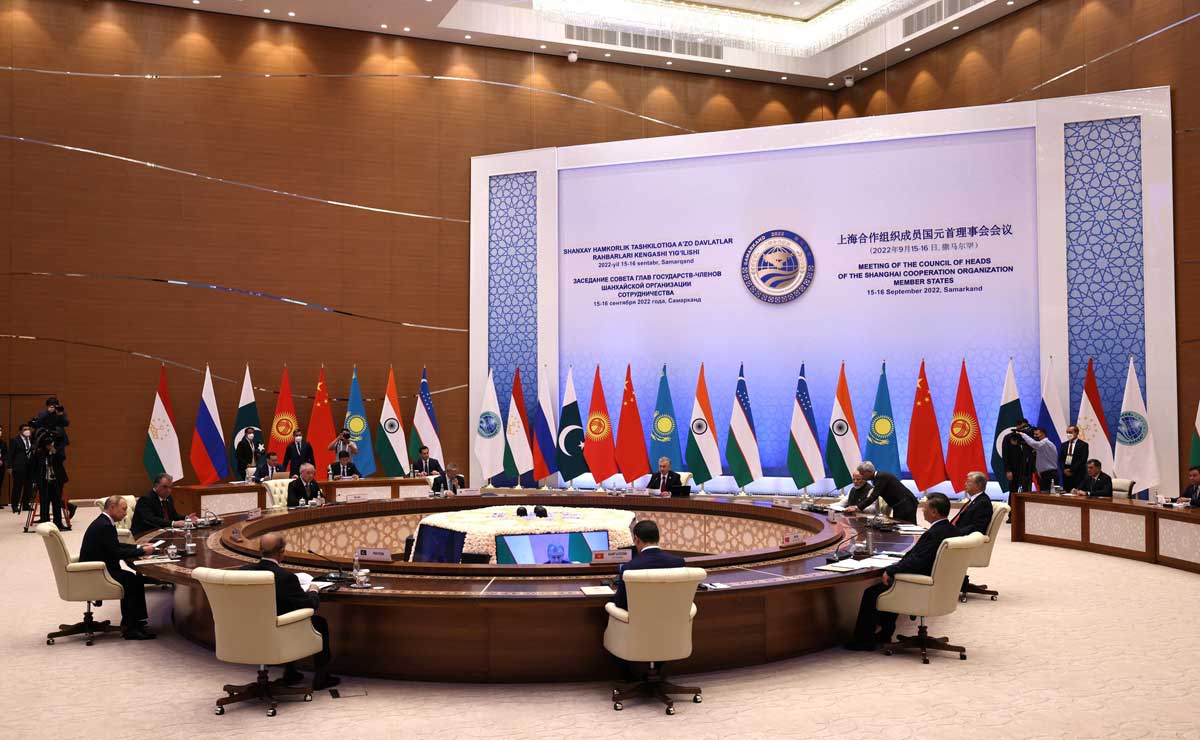 The growth of SCO may have emerged as the most victorious Eurasian Organization but it still has a long way to go. Since the day of its inception, SCO has been struggling to address some of the organization's major concerns such as maintaining cohesion among member states and addressing economic issues besides strengthening its institutional basis. However, it has expanded its regional profile and managed to portend in an era of New Regionalism.
The recent summit of the Eurasian Economic, Political, and Security Forum (on 15-16th September 2022) is of utmost importance considering the current serious political, and economic transformations happenings across the Eurasian Continent. This summit has marked new aspects of Regional Cooperation, and Economic Potential for SCO in the Changing International Environment.
The key takeaways of the recent summit: –
Inclusion of Iran as a permanent member of SCO
Turkey to pursue permanent membership of SCO
Gulf states to gain the status of SCO Dialogue Partner
Iran's supreme leader Ayatollah Khamenei said, "One of our priorities today in foreign policy is preferring East to West, neighbors to remote countries". As the world's biggest regional organization, SCO may use its institutional capacity and political power to counter economic sanctions and assist with financial instability in countries like Iran. Also, Iran has the potential to be a 'Hub Country' playing a key role in East-West and North-South transportation routes. The inclusion of Iran as a permanent member of the SCO demonstrates the rise of anti-Western narratives. Iran and Russia have expanded their connections in recent decades, including non-energy links, defense collaboration, and weapons sales. Therefore, Iran's willingness to pursue better ties with China and Russia (the SCO's two major countries) opens up a new wave of 'Multi-literalism' in the Eurasian Region. The energy crisis caused by the Ukraine war can be met by Iran (which has the world's fourth biggest oil and natural gas reserves) as Iran's commerce with SCO member states has risen to $37 billion by 2021. Iran's inclusion in SCO has strengthened China's policy of "Asia people to uphold Asian security" in changing geopolitical climate. It will enhance International North-South Transport Corridor- a shifting gear in Eurasian connectivity. Besides these positive aspects, there are other prospects for Iran's inclusion in SCO. Above all, SCO members have to deal strictly with three evils "Terrorism, Extremism, and Separatism" where Iran has been blamed for providing nuclear support for terrorism, and cross-border violence support by the West. Hence, Iran may face staunch opposition from the west to perform dexterously in the region. Although SCO has accomplished much in terms of multilateral growth, it does not appear to be capable of taking strong moves in the face of US-Iran antagonism, given the organization's structure, powers, and aims. Still, SCO does accrue economic and geopolitical benefits for Iran, allowing it to maintain its position in the Middle East.
Turkey's president Tayyip Erdogan said, "Our relations with these countries will be moved to a much better position with this step. Of course [membership], that's the target".
Turkey, a NATO member since 1952, indicates a distant possibility of becoming a permanent SCO member. However, its relations with the United States will determine its standing in the SCO. The recent SCO summit has shown Turkey's bid to get permanent membership of SCO. which might be because Turkey has grown closer to Moscow, both politically and commercially, in recent years, including acquiring an S-400 defense system. Ankara has also become economically dependent on Moscow to avoid a balance-of-payments catastrophe before the 2023 elections. However, in the SCO, Turkey will serve as an "Energy Hub" connecting Caspian and Central Asian producers with European customers.
China, SCO major power, is open to Turkey's accession besides Turkey's standing on the Uyghur issue (that might strain the future of China-Turkey relations). On the Syrian upheaval, clashes between Turkey and two SCO leading states Russia and China are possible. Turkey opposes Assad's dictatorship (and even supports humanitarian action), whilst Russia and China encourage non-interference. Membership in the SCO may enhance Islamist imperatives in Turkish internal politics, affecting its path to democracy. Turkey in SCO will have an influence on India's, Pakistan's, and Iran's policies in Central Asia. Furthermore, Turkey has the second biggest military force among NATO countries, after the United States, with around 445,000 troops. Turkey is home to five NATO headquarters in Izmir, as well as a US military-led airport. It also acts as an American security policy in the Middle East and the Balkans due to its key geographical position. Consequently, Turkey's departure does not appear to be a possibility so far. In "The Clash of Civilizations, and the Remaking of the World Order," Samuel Huntington described Turkey as a "torn country" because "its leaders typically wish to pursue a bandwagon strategy and to make their country a member of the West, but the country's history, culture, and traditions are non-western." All of this would impede the SCO's ability to achieve its fundamental aims, which have already been hampered by tensions among SCO member nations
For Gulf nations, the SCO has increased its need considering China as the global economic powerhouse, Russia as the world's second-biggest producer of natural gas, and Central Asian states with virtually unexplored oil and natural gas potential. Gulf States analyst, Ali Ahmad said "All of the countries involved do see china as a rising power and country that is potentially going to have a rising power in the region, and elsewhere" The SCO's recent success in the Arab world is due to China's expanding economic impact in the area. According to the United Nations COMTRADE database on international commerce, China's exports to Saudi Arabia are over US$30.32 billion. The safe access to its essential energy resources and marine trade routes, in addition to major seaports like Dubai, through which 60% of its traffic heading for Europe and East Africa flows, is a crucial driver of China's interest in the Gulf.
Also, US policy toward Gulf states, particularly after 9/11, has made these countries concerned for their future. The many Gulf States now wish to price some oil contracts in non-dollar-dominant countries. Where SCO, states reiterated their commitment to promoting national currencies in bilateral commerce in a recent summit, as China and Russia have boosted trading in rubles and renminbi since 2014. There has been a GCC-China free trade deal; if this agreement comes to fruition, it will undoubtedly benefit tarns-regional connectivity. Hence, Gulf states in SCO will catalyze Eurasian connectivity.
However, Institutional, infrastructural, and trade issues remain unresolved for SCO. Another critical question is SCO's expansion: should it be a regional or global organization? Is it to be a global future, as Russia wants, or a regional future, as China desires? Concrete policies and closer coordination are required, depending on the extent to which domestic and member state impacts converge, as well as their significance in addressing future security and economic concerns for the furtherance of SCO.
India's Naval Modernization efforts: Implication for Regional Stability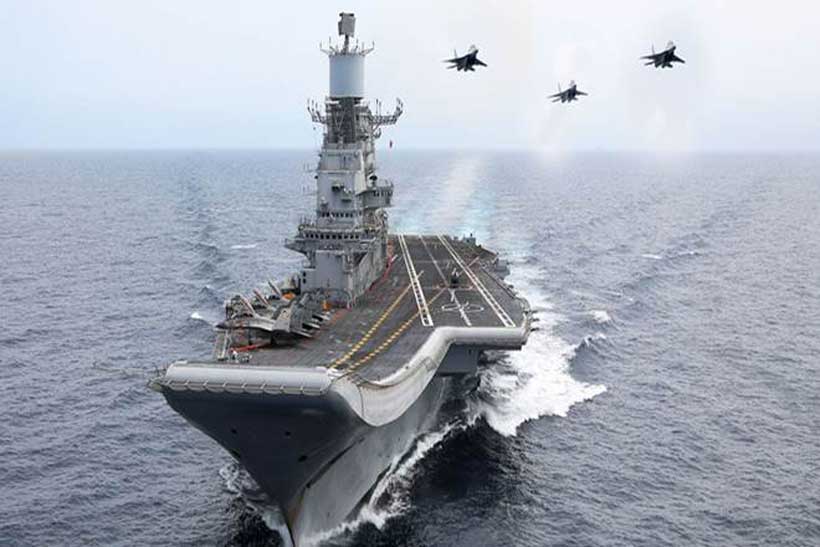 In recent years, India has been undertaking significant efforts to modernize its navy in order to enhance its capabilities and protect its economic interests in the Indian Ocean region. This naval modernization has been reflected in the acquisition of new ships, submarines, and aircraft, as well as the development of new base and port facilities. However, these efforts have not only implications for India but also for the regional stability in general and for Pakistan in particular. The increasing naval capabilities of India have a direct implication on the balance of power in the Indian Ocean region which could lead to an arms race and potential conflicts with other countries in the region. India's increasing naval presence in the region could lead to increased patrols and surveillance which could have negative impact on the security of the region. In this editorial, we will examine the implications of India's naval modernization efforts on regional stability and explore how these developments may impact Pakistan and other countries in the Indian Ocean region.
How could India's naval modernization efforts impact South Asia's regional stability?
However, it is important to note that India's Naval modernizations efforts could also be seen as a response to the growing naval capabilities of other regional actors, such as China and Pakistan. Furthermore, India's navy modernization efforts could also contribute to regional stability by providing a stronger deterrent against potential adversaries and by fostering cooperation with other countries in the region through joint exercises and other initiatives.
It is also important to consider the fact that India's modernization efforts are also driven by its growing economic and strategic interests in the Indian Ocean region, which is becoming increasingly important for global trade and energy security. These interests may lead to India to play a more active role in maintaining security and stability in the region.
It is also worth noting that India's modernization efforts have been met with concerns from other countries in the region, particularly Pakistan, which views them as a potential threat to its own security. This has the potential to exacerbate existing tensions between the two countries.
India's naval modernization efforts have the potential to impact regional stability in South Asia in several ways.
First, India's expanding naval capabilities, including the acquisition of new ships, nuclear powered submarines, and aircraft carriers, new and advanced attack helicopter, rejuvenating its third eye through employment of spy satellites could potentially shift the balance of power in the region in its favor, which could fuel military tensions with neighboring countries such as Pakistan. India's ambitious efforts could lead to an arms race in the region as other countries may follow suit and need to enhance their naval capabilities to counterbalance India's expanding naval muscles, which could be destabilizing.
Second, India's increased naval presence in the region could lead to increased patrols and surveillance in the Indian Ocean, which could lead to potential conflicts with other countries in South Asia, particularly Pakistan. It could affect the maritime security of South Asia.
Third, India's naval modernization efforts may lead to an increase in military spending by other countries in the region, which could divert resources away from economic development and potentially increase income inequality, which could be destabilizing.
Fourth, India's naval modernization could also have economic implications for the region, as India's increased naval power may give it more influence over trade routes and access to resources in the Indian Ocean, which could have negative economic consequences for neighboring countries such as Pakistan.
Overall, India's naval modernization efforts have the potential to impact regional stability in South Asia, and it will be paramount to closely monitor these developments and their implications for the countries in the region.
According to Stockholm International Peace Research Institute (SIPRI), India is among the top five military spenders in the world. India's military spending has been increasing in recent years, driven by a variety of factors, including border disputes with neighboring states in region, and the growing naval capabilities of China. According to SIPRI data, India's military spending in 2020 was $71.1 billion USD, representing an increase of around 3.9% from the previous year. The Indian Navy is being modernized and India has also been investing on procuring new naval vessels, submarines, aircrafts, weapons systems and developing new naval bases and infrastructure.
How Indian Naval Modernization efforts are affecting Pakistan's Security?
India's ongoing efforts to modernize its navy have implications for Pakistan. As Pakistan views these efforts as a potential threat to its own security. The acquisition of advanced weapons systems and abovementioned factors as well as the expansion of its naval bases and infrastructure, could potentially alter the balance of power in the region. While Pakistan sees this as a direct challenge toward maintaining regional balance with the help of garnering it naval capabilities.
Pakistan's concerns stem from the fact that India's navy modernization efforts are also driven by its growing economic and strategic interests in the Indian Ocean region, which is becoming increasingly important for global trade and energy security. These interests may lead Pakistan to play a more active role in maintaining security and stability in the region, which could potentially be at the expense of India's said military interests in Indian Ocean Region (IOR).
It is worth noting that Pakistan is trying to balance in its navy to maintain the strategic balance of the region in recent years, with the acquisition of new submarines, frigates and other naval assets. This step by Pakistan has been seen as a strategic balancer in the region and response in line with India's naval modernization aims and has the potential to further promote the peace and stability in Indian Ocean Region.
Time for World Powers to Intervene:
India's ongoing efforts to modernize its navy have the potential to impact regional stability in South Asia, and as such, the role of world powers in this regard is an important consideration.
One potential role for world powers is to encourage dialogue and cooperation between India and other regional actors, particularly Pakistan, to address concerns and to work towards maintaining regional stability. This could involve facilitating direct talks and negotiations, as well as encouraging confidence-building measures such as joint military exercises and other initiatives.
Another important role for world powers is to support the development of regional institutions and mechanisms for addressing security challenges. This could include supporting the development of a regional security architecture, such as a South Asian security dialogue or forum, which would provide a platform for countries in the region to discuss and address security concerns.
It is pertinent to mention that India's modernization efforts are also driven by its growing economic and strategic interests in the Indian Ocean region, which is becoming increasingly important for global trade and energy security. World powers could play a role in supporting and encouraging India's efforts to secure its economic and strategic interests in the region.
Furthermore, world powers could also play a role in encouraging transparency and predictability in the military activities of regional actors, particularly in the Indian Ocean region, through mechanisms such as confidence-building measures and arms control agreements.
In conclusion, India's naval modernization efforts have the potential to impact regional stability in South Asia, but the effects will likely be complex and multifaceted. Further research and analysis would be necessary to fully understand the implications of these efforts. India's modernizing its naval forces have serious implications for Pakistan could be a potential threat to its security. It is important for both countries to engage in dialogue and cooperation to address these concerns, and to work towards maintaining regional stability.
In the end, these efforts in South Asia have the potential to impact regional stability, and world powers have an important role to play in encouraging dialogue and cooperation, supporting regional institutions and mechanisms, and encouraging transparency and predictability in the military activities of regional actors.