In the time of Covid-19 epidemic, the destinations of any kind, around the globe, must consider the probability of never facing a "zero number", ie a full elimination, of cases. Especially "Tourism Destinations" have to consider a list of parameters regarding their ability to operate within a COVID-19 environment (or any other epidemic) and to respond fast, if they are to maintain their presence at the world "touristic map".
Greece, as a country with many islands being separate tourism destinations themselves, faces a unique dilemma regarding the identification of destinations which can "open" to tourism, together with their "when" and "how". Destinations aiming to "open" must also, on top of the national and international legal framework, apply:
1. an Integrated Plan for management of facilities, visitors and locals, so as to copy with incidents and crises in a flexible way, including even the unpleasant "closing-and-reopening" scenario.
2. effective tools to communicate their managerial sufficiency to all interested parties, especially to potential visitors and local communities.
The Project FLATOD-19:
The FLATOD-19 Methodology covers those challenges and strategic necessities, the main one being the high percentage of the destination's population "enrichment", ie a weekly input-output of visitors of 30-100% of the local population, most of them with vague epidemiological status, risking uncontrollable outbreaks.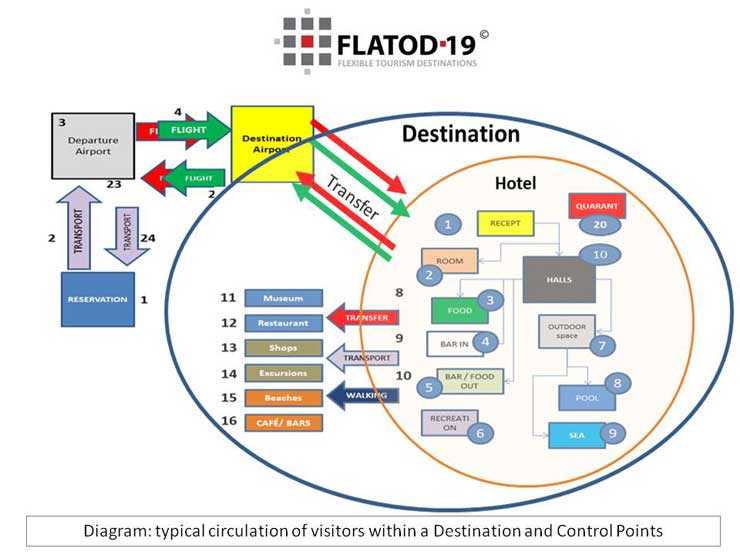 As stated by the Greek chief Epidemiologist, Mr. Sotirios Tsiodras, such (tourism) environments make the tracking of cases incredibly difficult, especially among tourists. Therefore, the presence of capable health infrastructures alone at the tourism destinations is of small practical value, because it is fairly easy for an outbreak to occupy the capacity and crush the existing health system. Conversely, it is of vital importance to implement methods of preventive control of possible cases' transmission and, even more important, it is their identification and very fast tracing both at hotel and at the destination level. The issue of "speed' should be emphasized, as on top of the possible effects on the medical/ health area, there is another neglected issue: the huge indirect costs entailed by the delay of a well-structured reaction (flights' diversions, quarantines, etc.).
The innovative methodology "FLATOD-19" helps the pre-planned restriction of incidents and the rapid traceability of cases through the following pillars:
A) Destinations' categorization based on the probable efficiency of "opening" and on the visitors' characteristics (e.g. their country of origin) following always the performance of an economic and technical feasibility audit in the very beginning.
B) Formation of a collaborative Leadership scheme for implementing the project at any required local level and installation of critical-information management system (mini MIS).
C) Visitors' management through their grouping in "clusters", at country, destination and hotel level, by zoning and time-slotting techniques, starting from the booking stage until their departure.
TEAM FLATOD-19
Our methodology was developed by a multidisciplinary group of experts, scientists-consultants representing many complementary sectors of the tourism industry, living in four countries:
MAIN STUDY TEAM
• Dimitris Vassiliou, MSc Management Science & OR, Destination Marketing & Gastronomy tourism expert, Owner of "Authentic Greece – Local Products & Destinations"
• Prof. Michalis Toanoglou, PhD Hospitality Management, Sustainable Destination Management expert (S. Korea, Woosong University)
• Kiki Domzaridou, Chemist, MSc, MBA, Quality Management Systems expert, Food Safety Lead auditor
• Emmanouil Paterakis, General / Family Doctor, member of the Board of Directors of the Medical Association of Heraklion, Crete
• Iris Kouveli, MSc Sports Management, Sport Events & Destinations Integrator
• Argyri Katapodi, MSc Finance & Investment, Luxury Hospitality Business/ CEO
• Dimitrios Soukeras, MBA(ER), SJSU Faculty, Risk & Incident Analysis Expert- O.Diagnosis LTD/CEO
• Dr Melas Christos, Assistant Professor in Health Informatics, School of Health Sciences, Hellenic Mediterranean University, Crete. Collaborating Academic Staff, Business and Organisation Management, Hellenic Open University
• Christos Mammidis, BBA, MBA, Communication expert / PR Strategist, PR&More Ltd
• Vasilis Zissimopoulos, CEO – Founder Costa Nostrum- Sustainable Beaches/ Company of Certification for Sustainable Beaches
• Marios Papadakis, MD, PhD, MBA plastic surgeon Ishou University hospital, Taiwan
DISCLAIMER:
Since the beginning of the pandemic, our team put an effort or even "envisioned" to cover an expected gap in planning and to help not only Greece but also other tourism-based countries to assign practical solutions at complex problems, in the era of Covid-19 pandemic.
We would like to underpin that our effort, considering its research and thus innovative character, DOES NOT claim any completeness or perfection honour. Our model targets specific types of destinations, and has not so far fully incorporated some operational and marketing parameters. Moreover, in no case, we intend to replace the a country's structures or any scientific organization regarding the provision of health data or the use of epidemiological models, although we plan to develop one focused specifically on tourism.
Consequently, we are declaring that we are open to collaborations with individuals and groups/institutions and we will be happy to meet and cooperate with any interested parties willing to offer to the common cause.
With honour and sense of responsibility
The FLATOD-19 Team
flatod19@gmail.com
************************************************
For any information please contact:
Dimitris E. Vassiliou, e-mail: dvas[at]apelop.gr
Prof . Michalis Toanoglou: e-mail: toanogloum[at]icloud.com