World Bank Financing to Help Kazakhstan Unleash Full Potential of its Livestock Industry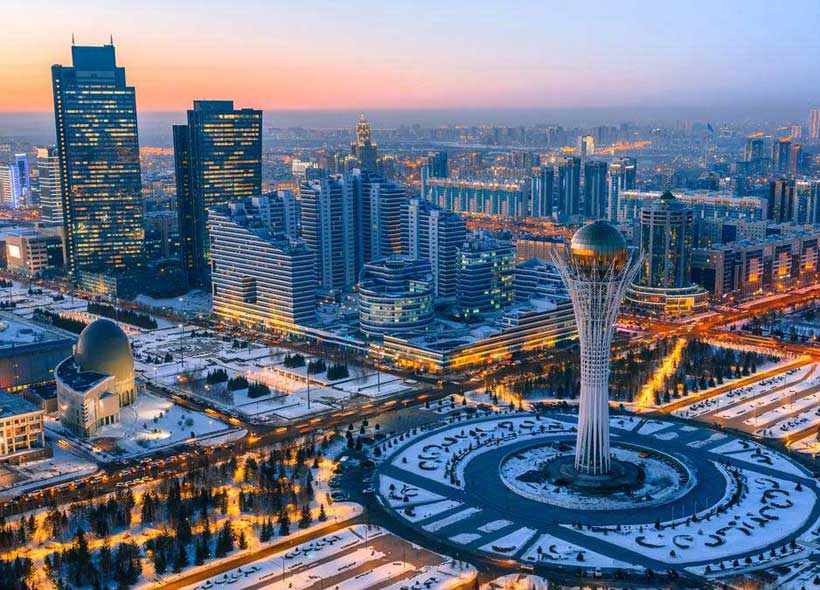 The World Bank Board of Executive Directors approved today a $500 million loan for the Sustainable Livestock Development Program to support the development of environmentally sustainable, inclusive, and competitive beef production in Kazakhstan.
The program financing will support Kazakhstan's state Agro-Industrial Complex Development program in improving veterinary services and animal recording systems, scaling-up a farmer-centric service delivery model, and improving agro-environmental policies for the sector.
Over a period of five years, the program aims to achieve a 10 percent increase in the share of public expenditure for sustainable beef production and processing, and a three-fold increase in the value of beef exports. In addition, around 20,000 small and medium farmers will be connected to export value chains.
"We are very happy to support Kazakhstan in developing its high-value export-oriented beef sector," said Jean-Francois Marteau, World Bank's Country Manager for Kazakhstan. "The country has a huge natural potential and favorable geographic position, which are conducive to export-oriented beef sector development. These can be utilized to benefit Kazakhstan's long-term economic development goals, namely, diversification of exports and improving rural livelihoods. The Program is particularly important in a COVID-19 environment which is affecting employment countrywide."
An export-oriented, high-value beef sector provides an opportunity for Kazakhstan to achieve its national development objectives, by mobilizing significant investments from domestic and foreign agribusiness firms and expansion of production by small and medium farmers.
A potentially competitive expanded resource base and geographical proximity to important consumer markets will also help attract private investment in meat processing, packaging, and logistics companies to Kazakhstan.
The program will promote green growth and sustainability policies aimed at promoting climate-smart practices for beef cattle production, reducing greenhouse gas emissions and improving the overall agri-environmental outcomes of the government's beef sector support programs.
The five-year (2021-2025) implementation of the Sustainable Livestock Development Program for Results will be financed through a $500 million IBRD loan, which will be disbursed on the basis of Program-for-Results (PforR) – a financing instrument that links the disbursement of funds directly to the achievement of specific program results.
Make the Reskilling Revolution a Priority in the Recovery
"There has been a lot of talk during the last few years, but very, very limited action" on education, reskilling and upskilling efforts, said Alain Dehaze, Chief Executive Officer, Adecco Group, Switzerland, in a session on Transforming Education, Skills and Lifelong Learning at the World Economic Forum's Jobs Reset Summit today. "Efforts must include a range of stakeholders "because reskilling, upskilling and training are not [just] an individual question or a business questions or a governmental question."
The Palestinian National Authority has launched a novel effort aimed at "the rehabilitation of university graduates" through entrepreneurship, said Mohammad Ibrahim Shtayyeh, Prime Minister of the Palestinian National Authority. Many graduates end up unemployed because their degrees did not provide them with marketable skills. "We are teaching them to become computer coders, and we have introduced other vocational training courses," he said. "Students must stop relying on a job with the private sector or a job with the government. I want them to be self-employed."
"I'm so glad to hear that we have a national leader who really recognizes that entrepreneurship education is a priority, and it's something which can be taught," said Asheesh Advani, President and Chief Executive Officer, JA Worldwide, USA.
Lynda Gratton, Professor of Management Practice, London Business School, United Kingdom, agreed, adding that efforts to accelerate advances in education, training, reskilling and upskilling must be a multistakeholder effort, and inclusive: "Otherwise, in 10 years' time, we won't have the right people sitting in the right jobs." She noted that such efforts should "leverage technology" and that new credentials need to be established and recognized for the attainment of emerging skills.
Inclusion should extend beyond diversity "to include young boys and girls growing up across the world," said Mariéme Jamme, Founder and Chief Executive Officer, iamtheCODE, United Kingdom. "The starting point is actually to make sure their human rights are respected" and then giving them the tools they will need in the workplace.
"With today's kids, the thing they want to learn most … are things like coding and computer science," said Hadi Partovi, Founder and Chief Executive Officer, Code.org, USA. "Computer science and entrepreneurship are not only the skills that students need the most, but also the things they want the most."
With regard to credentials, Advani noted that they are partnering with employers to recognize a new micro-credential, encouraging young people to add it to their online jobs profile, and working with governments to get access to schools.
Advani also noted that "Even after doing an entrepreneurship programme, [students] don't become entrepreneurs. Soft skills, communication skills and adaptability skills become so important in the job market, knowing that young people are going to have potentially seven careers" during their lifetime.
Among the initiatives launched at the summit, government officials in Turkey today announced the launch of a Closing the Skills Gap Accelerator, joining 10 countries through the Forum platform in applying a similar framework to rapidly upskilling their workforce.
"Rapid technological progress, globalization and now COVID-19 are revolutionizing how we work. There will be a new set of skills needed to adapt and prosper. As policy-makers, we are obliged to ensure a smooth and equal transition that works for all. I trust that the Accelerator Network will further enhance real sector collaboration among nations. Turkey is ready to capture the opportunities of the new normal with its favourable demographics, flexible and skilled workforce," said Mustafa Varank, Minister of Industry and Technology of Turkey.
"In today's world where information and technology are changing rapidly, technology has gained a great momentum to become the new normal of our daily life with the pandemic process. This rapid momentum has made it inevitable to integrate new skills into our lives. This skills change will take place with a qualified education and, in this context, everyone from public institutions to non-governmental organizations has a great duty. I believe that the Closing the Skills Gap Accelerator Programme will play a role in strengthening cooperation in the new normal process and triggering the power of learning together," said Ziya Selçuk, Minister of Education of Turkey.
"By adopting an industry-oriented workforce transformation approach and seizing the demographic window of opportunity, the Ministry of Family, Labour and Social Services strives to prepare Turkey to meet the future labour market needs and challenges. With a view to leaving no one behind, we will improve the use of technology, ensure more productive and safer workplaces for emerging new types of work, and improve the digital skills of our workers within the perspective of tripartite dialogue," said Zehra Zümrüt Selçuk, Minister of Family, Labour and Social Services of Turkey.
In January 2020, the World Economic Forum launched the Reskilling Revolution, a multistakeholder initiative aiming to provide better education, new skills and better work to 1 billion people around the world by 2030. It serves as a platform for connecting and coordinating initiatives within specific countries, industries, organizations and schools. In the past months, it has supported stakeholders in adjusting their efforts to the new context of the pandemic and promoted rapid exchange of best practices between initiatives. We invite leaders and organizations to contribute to the platform.
5 Steps How to Build an International Brand
As you might find yourself succeed in doing business in your country, you will likely start thinking about going further in this direction. Yet, what can go after the initial success then? The answer is quite simple and that would be the international success. As you manage to pull a great revenue in your country, you can do just the same in another one. That's exactly what many other entrepreneurs like you have been thinking about within the past few years. Internationalization does open a lot of other opportunities aside from the potentially boosted revenue. But what is the most effective way to expand internationally and how can you do that? Let's find out!
Essentials of Getting Global
With our extremely fast-changing and interconnected world, doing business internationally is a relatively safe venture with a potentially huge payoff. One of the best ways to start doing international business is to establish your presence in another country. And the best way to do that is to take smaller steps, such as launching your brand. Branding, in turn, largely consists of marketing and other communications with your customers. Thinking about the international expansion this way largely simplifies the whole deal as there is a couple of proven tricks that tend to work in nearly every situation. Here are some of them.
Studying your brand. You might say something like "what? Why would I need to study what I have created myself?" Yes, that does sound absurd, yet, the point here is that no matter how well you know your brand, your customers look at it from a totally different perspective, which turns the perception of your brand upside down. You must, hence, to study your brand thoroughly not as its creator and owner but as a customer who's going to follow it and buy the related products. This will make your job of appealing to the foreign audiences much easier as all you'll have to do is to transform (or not) your brand to make it attractive in your target country.
Studying the new audience. This is the second basic ingredient of a successful branding and marketing campaign. Obviously, you must know your audience before you go. By doing so, you will find out what people you plan to sell your products to like and what they need. Learn the consumer trends of your target country, the buying power of people there, and how people are influenced by various means of media communication. Combined with the knowledge of your brand, you'll be able to move further to the next step, which is (possible) brand transformation.
Changing your brand coherently. After you learned how your brand is perceived by your already established audience, as well as your potential audience in the new country, you might want to adapt your brand to new customers. You might not change it at all, or you might want to make a complete rebranding. The main point is that don't try to sell fish of what you're selling is meat. If originally your brand is about fast food, it won't sell as healthy food in another country as people will likely get confused and choose to simply pass your brand by.
Learn about localization and apply it. While a mere translation might be enough for the formal parts of your brand, such as the documents and licenses, it will certainly not be enough for the marketing campaign and branding. Essentially, you can transform your brand any way you like, but you must certainly address the best translation services with experts in localization. This way, you'll be able to adapt your brand to the cultural norms and perception of your audience exactly as it's needed to be appealing.
Partner with local professionals to present your brand. Those might be the marketing specialist or the local celebrities that agree to advertise your brand. In any case, there must be local internal support for your brand. As you work with people in their native country, they'll be able to help you make your marketing campaign and branding as efficient as it can be.
Be Patient, Move Slowly
The most important thing you must understand that despite the world turning fast and changing rapidly, quick results of your international branding are very unlikely. The studying phase might take quite a lot of time and that only takes two out of five steps. Yet, however challenging it might be, it's also rewarding as time is money and as you invest enough time, you'll get a return as a similar amount of revenue. So, make sure to take baby steps and brand thoroughly, no matter how slow it might seem in the short run.
10 Reasons Why Learning a New Language Can Make You a Successful Entrepreneur
Like for any other person, learning new skills for an entrepreneur is very important as the current world is extremely dynamic, so constantly improving oneself is a must today. At the same time, in business, internationalization becomes a trend, so all skills related to that become extremely valuable. And one of such skills is a new language, of course. There's a vast number of arguments and facts, both scientific and non-scientific, in the favor of learning a new language for anyone. Yet, this skill might become vital for the entrepreneurs within a few years to come, and here are some of the reasons.
The Role of Languages for Entrepreneurs
Just like the world today, entrepreneurs are very dynamic people that never stop learning and keep exploring new horizons. Learning languages might be especially useful to the entrepreneurs as it largely stimulates the brain to work faster and distribute the concentration when performing numerous tasks at the same time. Yet, these are only the most considerable reasons for an entrepreneur to learn at least one more language. Here are ten other reasons to learn languages if you're considering starting your own business.
Thinking outside of the box. As you learn a new language, familiar things are viewed from a different perspective. Such perspectives might seem like minor details, but they play a huge role on a bigger scale. As you learn to perceive the things you know from the perspective of another language, it becomes much easier to look at anything differently.
Improved communication skills. Now when you're able to look at things from a different perspective, you can communicate your thoughts and ideas based on how your partner might perceive those thoughts and ideas. Basically, you are able to step into your communication partner's shoes and hear what you're saying from his or her standpoint.
Traveling made easier. While learning, you can travel much easier as you'll unlikely stumble upon such a thing as a language barrier, which is still relevant today. You might get yourself lost in translation only in very exclusive cases when you travel to a very isolated area where a very specific dialect is spoken. Otherwise, you'll be able to travel to a new country easily as soon as you learn a new language. This is especially important for entrepreneurs who want to go international.
Fewer problems with travel documents. It might be easier to communicate with people on the streets in the country you travel to as you learn a new language. But remember that you first must enter this country before you can even do that. That's when you have to understand the essentials of traveling documents. Even if you work with some of the best document translation services over here, you might still need to know what's there in your papers. So, learning a new language might be of vital importance.
Use more learning materials. Learning languages is important, yet, there are many other skills for an entrepreneur to master. But not all of the materials to help you do that might be available in your native language. So, learning a new language can and should also be done for the learning's sake itself.
Improved decision-making. Like it was said before, learning a new language allows you to look at things from a new perspective. For you as an entrepreneur, this also means that you can think certain decisions over from that different perspective, which might be more efficient in the end.
Learning on the go. As you expand your business into a country that uses the language you're familiar with, you can learn from the experiences of other businesses in this country. For example, you can learn how the media communicate something new on the market and do something similar to yourself, thus, becoming more successful with your marketing campaign.
Swifter thinking. Again, when you decide to go internationally, you might find yourself doing that along with your competitors. As you're more familiar with the language of the country you plan to enter, you're having a huge heads-up before the competitors that don't speak that language. The competition becomes simpler for you as you become the first one to get a more sufficient idea for your business.
Reputation boost. You will certainly look like a person who can make some considerable effort and learn a new skill, which is never an easy feat. At the same time, if you show that you can communicate with your customers in their language, you will gain their attention and praise as a business that respects other cultures.
Finally, because why not? There's so much to do in the world, so why not make learning a new language one of such things? You never know what might get handy for you at any given moment. Considering that learning a new language is a very useful skill on its own, it will very likely become a handy skill to you as an entrepreneur.
See the World and Speak to It
As you steadily improve personally and as a professional over time, you might find yourself being able to learn and master nearly anything that comes in your way. And confidence is a very important factor in human success. Lots of people fail simply because they are too shy and doubting to try. You, on the other hand, are open to all the opportunities the world can offer you when you set yourself to constantly learn and progress with this ever-changing and rapidly moving world.